9 Charming Farmhouse Front Yard Landscaping Ideas: Simple Beauty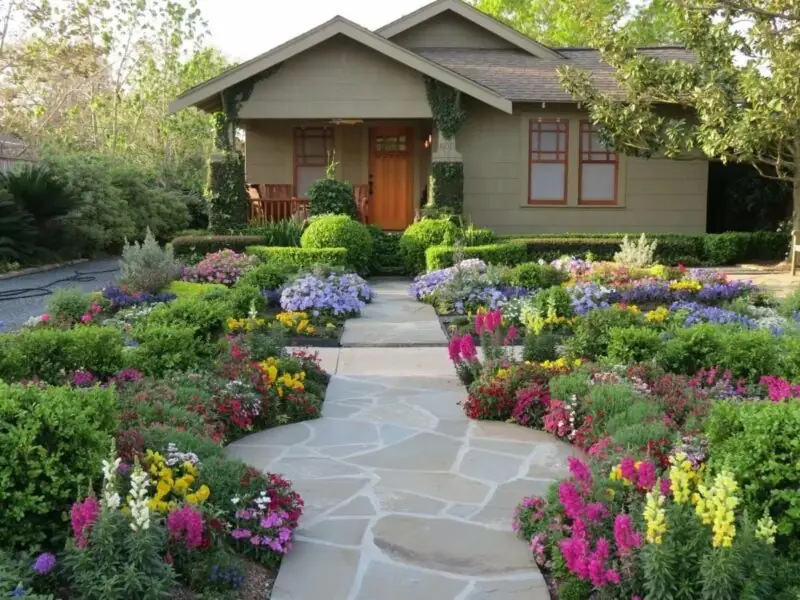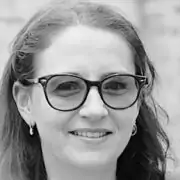 The popularity of farmhouse-style homes continues to grow noticeably recently, so it's not even a surprise that people tend to pay more attention to their front yards and put more effort into designing them. The obvious truth is that everybody wants a front yard that looks like it's straight out of a magazine. A stunning landscape design can truly elevate the rustic charm of your farmhouse-style home and turn it into a picturesque outdoor space.
We've compiled some of the most fascinating and lovely Farmhouse Front Yard Landscaping Ideas just for you in this blog! Our goal is to inspire and guide you in creating a design that will just wow your guests.
Meadow-Like Farmhouse Landscape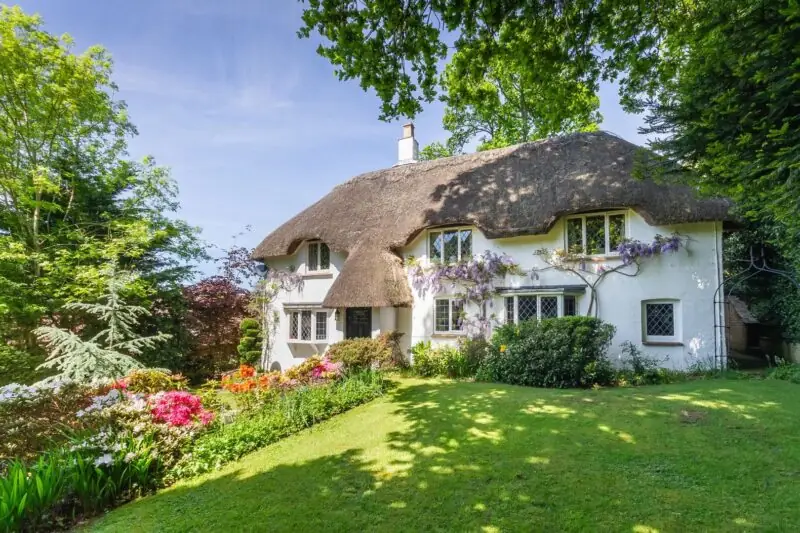 Creating a meadow-like design is a natural and rustic solution that is perfect for farmhouse-style homes and requires way less maintenance than a traditional lawn.
The first and foremost thing you should consider is to plant a variety of natural tall grasses and wildflowers. Think switchgrass, big bluestem, black-eyed susans, and purple coneflowers. The good thing is that these plants look stunning, and they also attract all sorts of pollinators that can add even more life to your front yard. Plus, you'll be supporting local ecosystems by providing habitat for bees and butterflies.
So if you decide to design a meadow-like modern farmhouse landscape, you'll have an appealing yard with minimal effort, and you'll also be doing your part to support the environment.
Incorporate a Fire Pit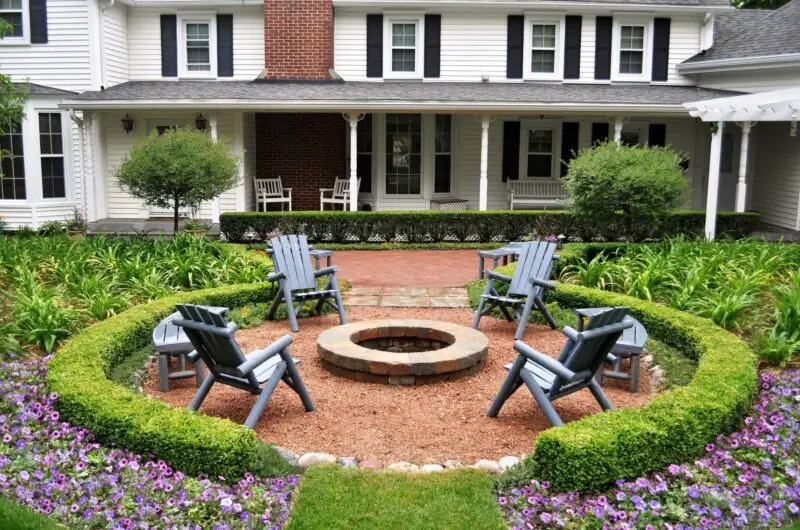 Are you ready to bring some rustic beauty and privacy to your front yard? Then think about incorporating a fire pit into your front yard. There are lots of different styles of fire pits out there, from simple and classic designs to more elaborate and modern ones. This stone fire pit with several comfortable armchairs around intensifies warm vibes into the house and make the space even more inviting and cozy.
What About Adding a Water Feature?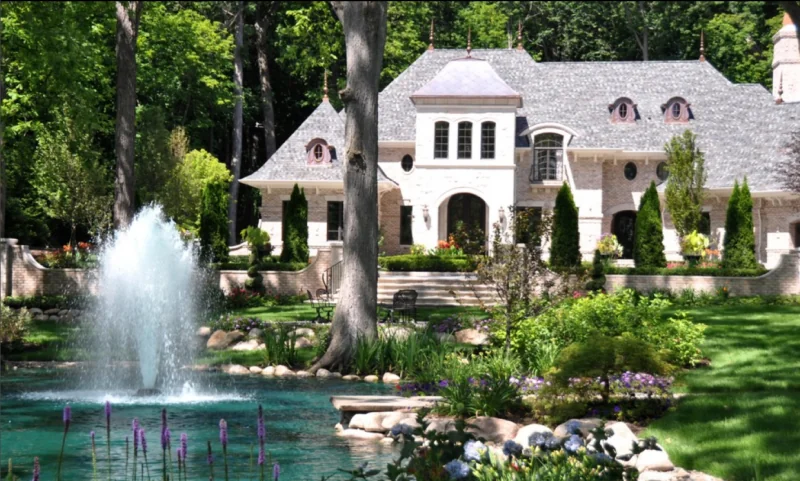 Not to mention that a water feature may be constructed to accommodate any size yard; it undoubtedly can compliment your current landscaping elegantly. There are numerous alternatives for personalising your water feature, from a modest birdbath to a magnificent fountain. You may even add lights to highlight your water feature at night, creating an excellent environment ideal for outdoor partying or leisure.
And let's not forget about the therapeutic benefits of water. The sound of rushing water has been demonstrated in studies to reduce tension and encourage relaxation, which makes it an ideal addition to any outdoor meditation or yoga area. So, why not bring the relaxing sounds and beauty of nature into your garden?
Another advantage of a water feature is its adaptability feature. It can be tailored to any size yard and fitted into any landscaping style. A water feature can complement and improve your current design, whether you want a minimalist modern aesthetic or a lush and fanciful garden. Besides, it can either be a beautiful focal point or a subtle accent that unifies the entire environment.
Install Lamp Posts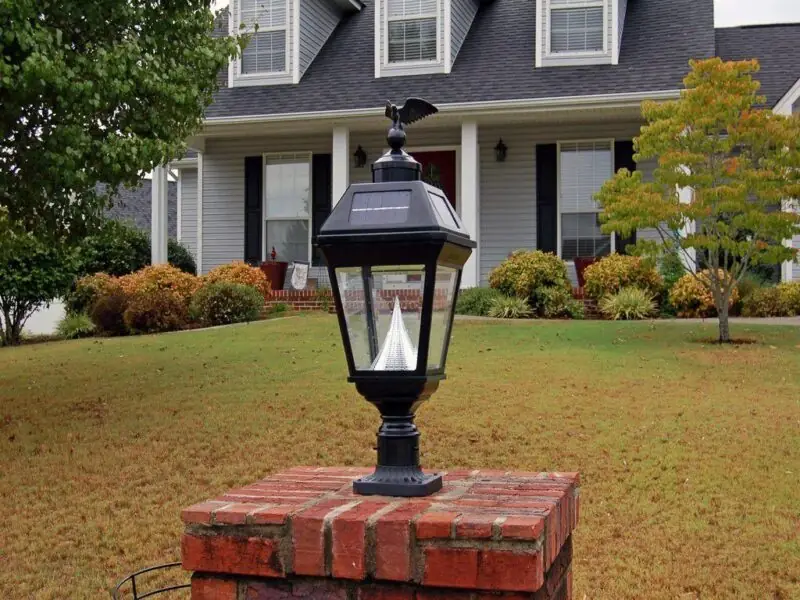 Imagine a charming house nestled in a quiet neighbourhood, with a beautiful stone exterior and elegant lamp posts lining the driveway. The warm glow of the lights brings a welcoming ambience and provides a sense of security and safety. On top of that, keep in mind that it's also very easy to maintain can be installed at different heights and locations into your cozy front yard.
Bring Life With Garden Plants, Flowers, and Decorative Grasses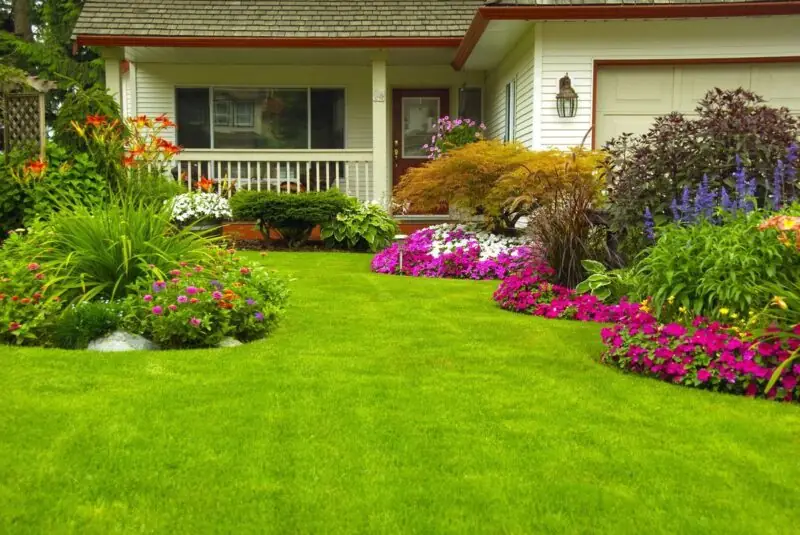 If you want to make your outdoor space more vibrant at home, adding shrubs and decorative grasses is never a bad idea. You can choose low-growing shrubs to use as groundcover, or taller varieties to create a natural fence or windbreak. They bring life and to any surrounding and can transform your frontyard garden into a colorful and magic space where you'll be just happy to spend your time in.
Modern Farmhouse Fresh Lawn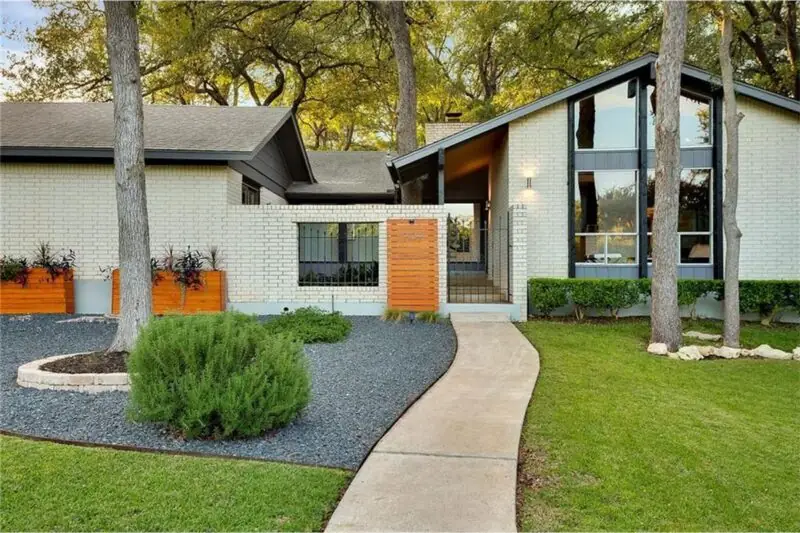 Are you looking to embrace a modern and fresh look in your frontyard? One of the best ways to do that is to install a lush green lawn. A well-manicured lawn brings extra value to your property and also enhances the overall curb appeal of your home. One of the most common picks include Bermuda grass, St. Augustine grass, and Zoysia grass.
Include Vintage Decor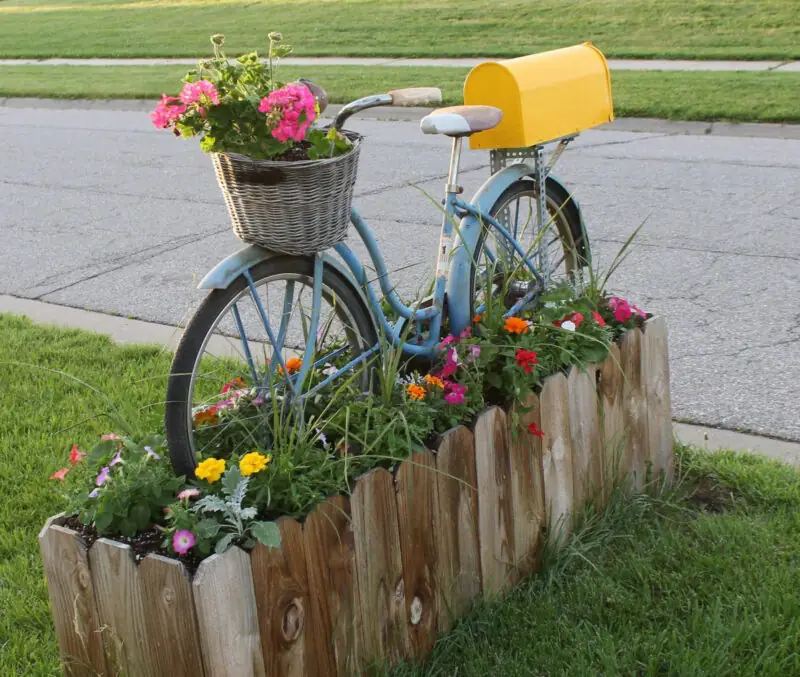 Are you looking to add a nostalgic flair to your farmhouse front yard? Think about incorporating vintage décor items into your landscaping.
A rustic stool, an antique watering can, or a vintage mailbox can all bring character and appeal to your outdoor space. These objects not only create a warm and inviting atmosphere but they also act as conversation starters for visitors.
Vintage décor is also a sustainable and eco-friendly alternative because it repurposes existing objects and eliminates waste. Besides, if you want to include your personality in your yard, we recommend you get some unique vintage pieces from the local flea market and give them a new life so that they can make visitors feel right at home.
Rustic Stone Walkway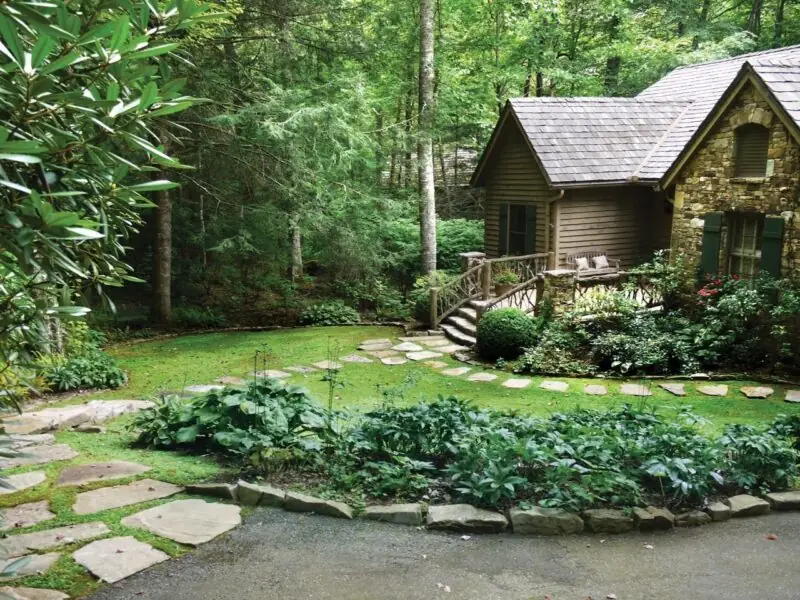 Incorporating a rustic walkway into your farmhouse front door will bring charm and warmth to your outdoor setting. A natural stone walkway can provide a pleasant route that inspires people to wander around your front yard. It not just adds an aesthetic value, but it also provides a practical benefit by leading people to your front door. Also, think about adding a few lanterns or garden lights to your walkway to create atmosphere and flair.
In addition, you can get inventive with whatever supplies you choose when creating your pathway. We recommend you try using stones of various shapes and sizes for an even more natural look
or use reinvented wood pavers for a rustic flare. On top of that, another thing you can do is plant low-growing plants or moss between the pavers to provide a natural and smooth transition from the walkway to the rest of the front yard landscaping.
Overall, a rustic pathway is a simple and inexpensive method to improve the aesthetic and practicality of your garden.
Go Stylish By Installing a Pergola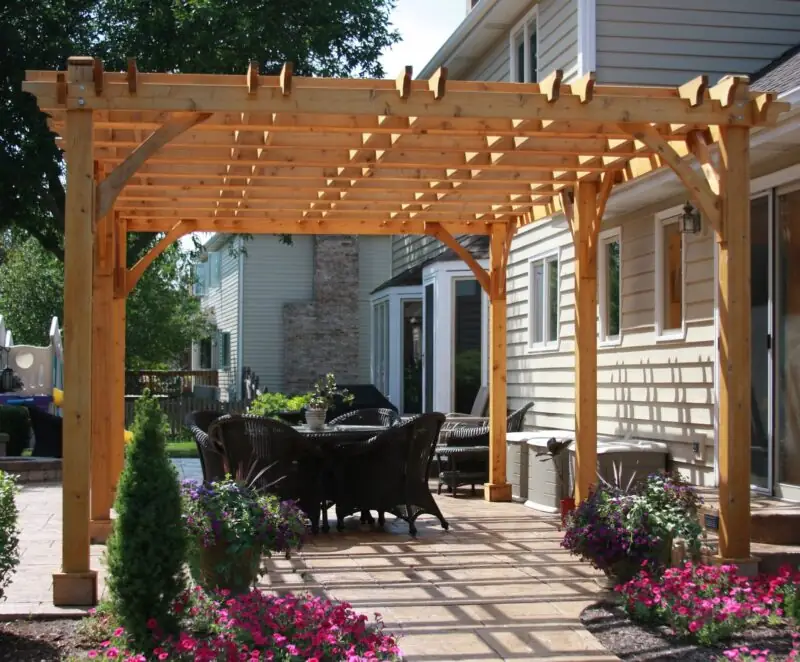 A pergola is a lovely and useful addition to any farmhouse front yard. It can provide a shaded area for relaxing and enjoying your outside space, as well as an arrangement for growing climbing plants like grapes or wisteria. The good thing is that a pergola can be built from various materials, including wood, metal, or vinyl, and can be designed to match your current scenery.
What's more, you can also add a retractable canopy or drapes for extra shade and privacy. In fact, the modifying possibilities are infinite, which is one of the main reasons that make a pergola a special and personal addition to any front yard.
You can also use a pergola for outside meals with your family and friends. It's the ideal backdrop for a romantic dinner beneath the stars. Alternatively, you may invite your friends over for a fun and vibrant party, with the pergola serving as the entertainment focus. You can make it a night to remember by incorporating dazzling lights, music, and delicious cuisine!
Farmhouse Front Yard Landscaping Ideas FAQs
How can I beautify my front yard?
Do you want to improve the appearance of your front yard? We recommend you create a meadow-like setting with natural tall grasses and wildflowers that attract pollinators. It's not only gorgeous, but it's also good for the environment! A rustic fence or trellis that could act as a focal point and offer support for climbing plants is another method to bring in a bit of charm. Moreover, a water feature can help you achieve your goal of creating a quiet environment! The good thing is that it can be customised to match any size yard or landscaping design. We also suggest you incorporate Vintage décor elements, such as a mailbox or a rustic seat, which will surely help you to create a friendly ambience. 
How can I decorate my front yard for cheap?
There are various inexpensive ways to transform your front yard. Here are some of the most common suggestions:

Repurpose existing stuff: Look around your house or at thrift stores for old items that may be reused as yard décor. An old wheelbarrow, for example, may be transformed into a planter, and old wooden boxes can be stacked to make a rustic display.

Use plants: Plants are an inexpensive way to add color and texture to your yard. Plants that are native to your location are easier to care for and will thrive in your environment. You may also save money by purchasing plants in bulk.

Make your own décor by becoming creative. You could build a birdhouse out of scrap wood or a wind chime out of old spoons or beads.

What about lighting?: String lights or solar-powered lights could change your yard at night. They are affordable and simple to set up.
The Final Thoughts
As we have already noted above, there are several ways to bring charm and character to your front yard, ranging from meadow-like landscaping to a rustic fence or trellis. So why not include a water feature as well? The soothing sound of running water is ideal for outdoor yoga or meditation.
Always remember that landscaping is all about showing your individuality and creativity. So don't be frightened to try new things and explore!
And that's it. These farmhouse front yard landscaping ideas might help you create a cool and unique design for your house project.