Above Ground Pools with a Deck: Ideas for Any Budget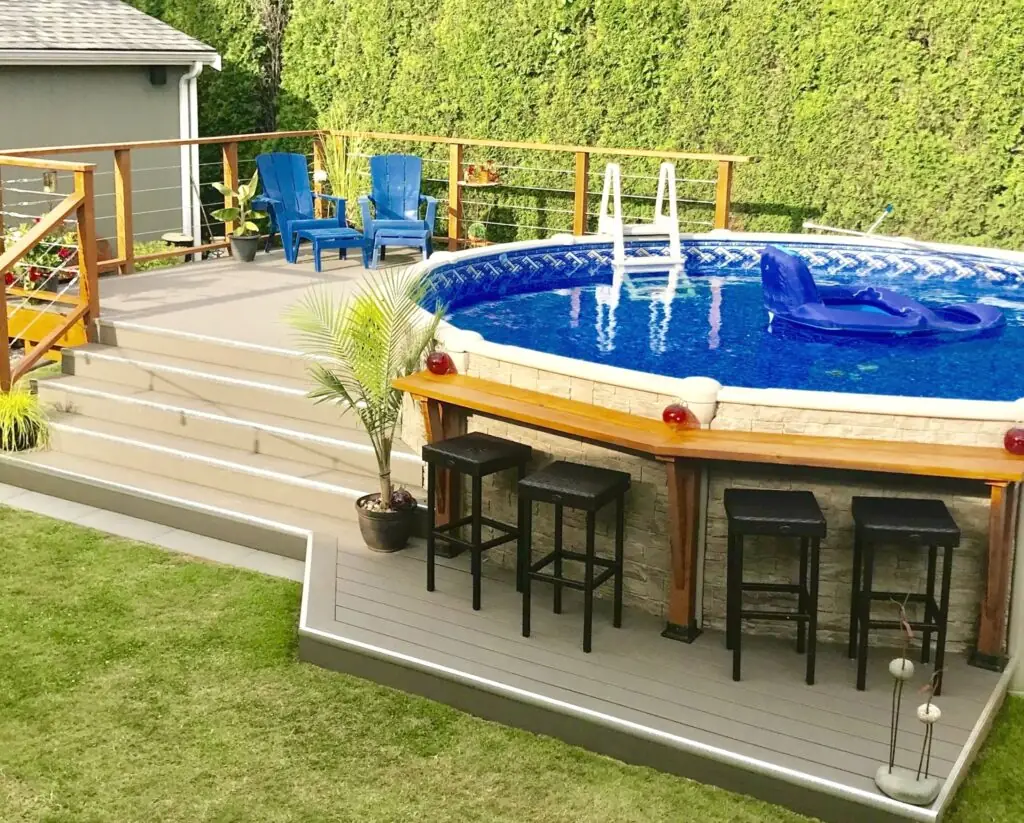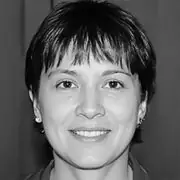 There is nothing better for the summer — and easier to install — than above ground pools with a deck. Ideas for your casual swimming area range from absolutely basic to a veritable paradise! Not only does a decking provide a functional space for lounging and relaxing before and after swimming, but it can also enhance the style and vibe of your swimming area.
Still, factors like the budget, available space, and the necessity to pick the right design that complements your home can make choosing the proper style of your above ground pool with deck difficult. Designs you can choose from are truly numerous, and you can feel overwhelmed. The good news is that you don't have to give up on creating your poolside dream! Just because your home doesn't have enough room for a perfect floor-level landscape pool doesn't mean creating a swimming area isn't possible.
Fortunately, we know some of the best above ground pool deck ideas that can help you create the poolside paradise of your dreams! We've put together this comprehensive guide complete with inspiration, designs, tips, and above ground pool deck ideas pictures: whatever you choose, your decking it will blend perfectly into any space without breaking the bank.
Create a Modern Rectangular Poolside Decking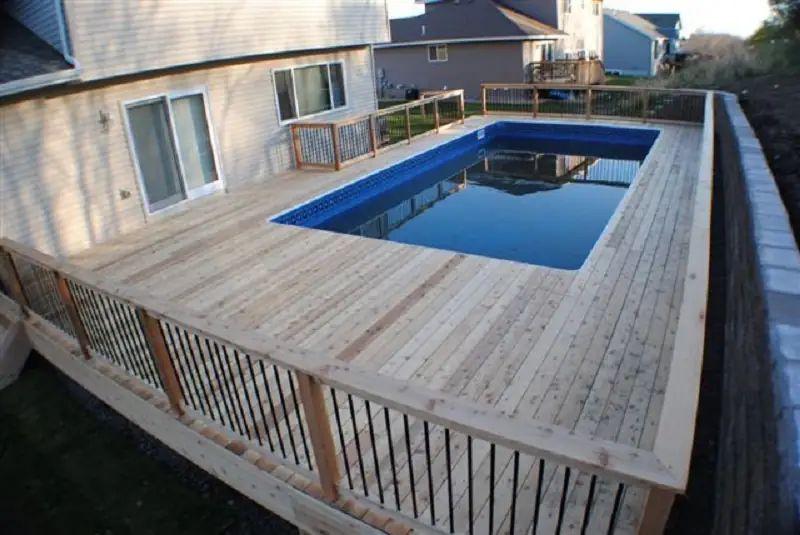 If you want a clean and contemporary look, a modern and minimalist approach might be right up your alley: why not choose rectangular or square-shaped designs?
Rectangle above ground pool deck ideas use simple geometric lines and a monochromatic color palette to create sleek, elegant, and sophisticated aesthetics. Don't forget to add pops of color with brightly colored outdoor furniture and accessories.
Semi Above Ground Pool Deck Ideas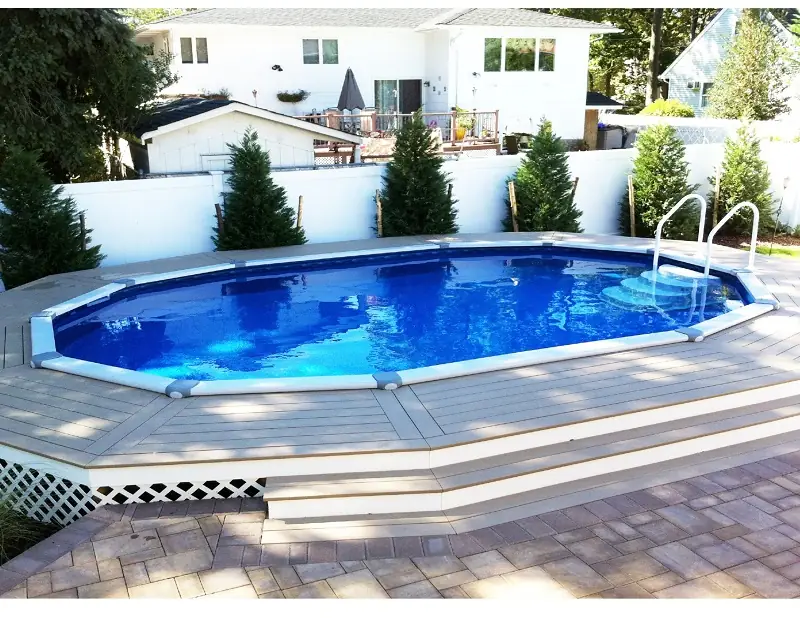 If your yard is sloped or uneven, a semi-upraised decking can provide a level surface for your poolside. Yet, their most significant feature is that they can add rustic and natural appeal to your space.
The trick to recreating this design is to partially bury the pools in the floor or set them on a slope. Consider creating a patio area that follows the contours of the poolside for a natural and organic look. Also, use wood, stone, and other natural materials around the swimming area to create a warm and inviting atmosphere. Add lush greenery and potted plants to complete the look.
Above Ground Pools with Built In Decks
If you are looking for a straightforward and stress-free above ground pool with a deck, the better ideas and plans you may have made use of built-in decks. Built-in decks are an excellent option for homeowners who want to streamline the design of their swimming area effortlessly. These decks are pre-designed and built to fit specific pool models. They are often made from high-quality materials and can last for many years.
Try the Wrap-Around Technique…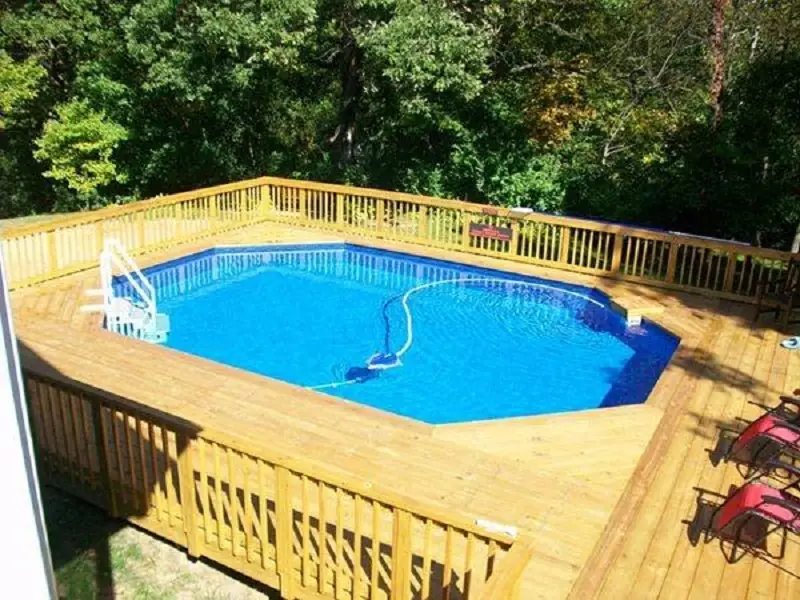 Low on cash? There's good news for you: you can still create a stunning swimming area. One of the best ways to do this is to use repurposed materials to design the decks. For people looking for a much more budget-friendly option, consider creating wrap-around decks that follow the contours of your pools.
A wrap-around design provides plenty of space for lounging and sunbathing. More than this, it is one of the best ideas for people with a small yard and those looking to save cash because it only requires that you use the same decking material in your swimming area to create a seamless transition that stands out.
To ensure your inexpensive above ground pool deck ideas look right in your space, simply add decor features like an umbrella or two for shade, and you are ready to soak up the sun in style.
…or DIY Budget-Friendly Ideas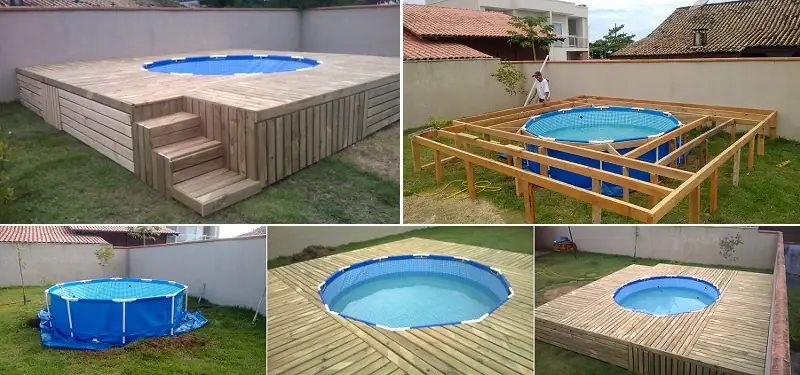 Designing a raised swimming area with decking doesn't have to break the bank. If you are on a budget, there are still plenty of easy above ground pool deck ideas that can make a big impact.
The simple trick is to engage your DIY skills! And if you are not the handy type, don't worry! There are plenty of easy above ground pool deck design ideas that don't require extensive construction or DIY skills.
Use simple materials like pressure-treated lumber or composite decking to ensure a stress-free construction and keep costs down. Alternatively, use premade pools and decking or deck kits, which come with all the necessary materials and instructions for easy installation. If you're thinking of adding more décor, incorporate easy-to-assemble outdoor furniture, such as Adirondack chairs or chaise lounges, for a comfortable and inviting yet budget-friendly space.
Multi-Level Backyard Above Ground Pool Deck Ideas for Large Spaces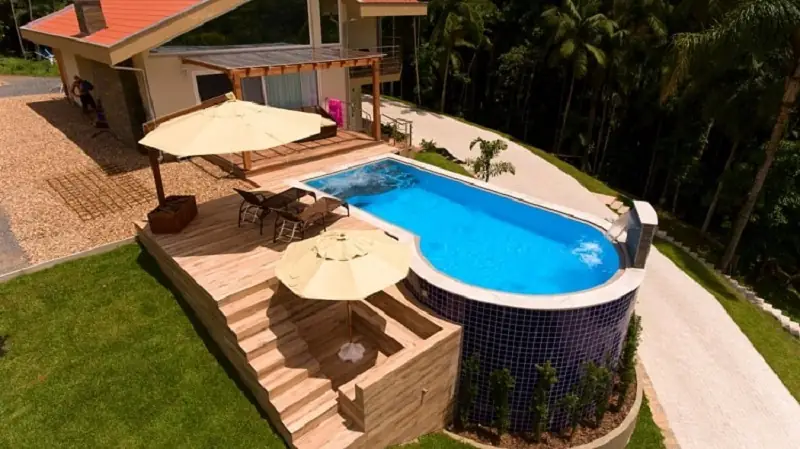 A multi-level deck can add visual interest to the swimming area, but this design looks better when used on rectangular pools. One factor to keep in mind when designing multi-level decks around swimming pools is to create contrast and texture to give the design a homier and classic feel. To do this, use different materials, such as wood and composite, for contrast and texture.
Above Ground Pool Deck Ideas for Small Yards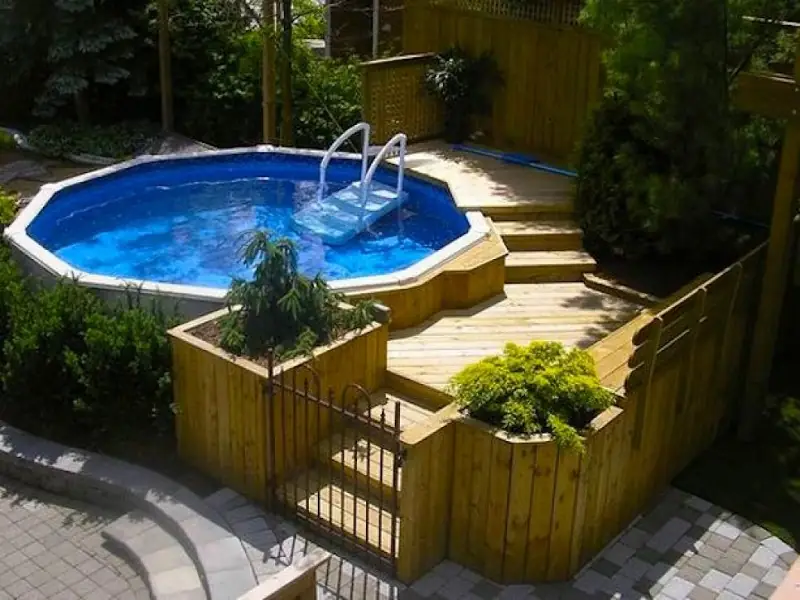 Even if you have a small yard, you can still enjoy the benefits of a raised poolside with decking. The trick is to try a minimalist approach with simple decking materials and built-in seating to maximize the space.
One of the best above ground pool small deck ideas for small spaces to consider is to try a square-shaped poolside design with wraparound decking. This gives your small areas a cleanly cut design, no matter the space available. Then, use space-saving furniture, such as stackable chairs or a bistro set to ensure mobility around your small yard.
FAQs
In this section, you will find the answers to the most common questions about raised pools with decks.
How Much Are Above Ground Pools with Decks?
The cost of designing these types of pools with decks at home can vary depending on factors such as the size of the pool, the quality of the materials used, and the accessories you plan to use. Averagely, projects like this will cost $2,000 to $10,000 for a basic design.
Can You Buy a Raised Pool with a Deck?
Yes, you can purchase raised pools with built-in decking. Many manufacturers offer poolside decking combo packages, which can be a convenient and cost-effective option for homeowners who are considering this design option.
Is Decking Around a Pool a Good Idea?
Decking around swimming pools can be a great idea for several reasons. It can provide a safer and more secure walking surface around swimming pools, and it can also enhance the overall appearance of the swimming area. Additionally, a well-designed poolside decking can add value to your home and create a space for outdoor entertainment and relaxation.
How Long Do Above Ground Pools Last?
The lifespan of your raised pools varies depending on factors such as the quality of the materials used, how well the pools are maintained, and the climate and weather conditions in your area. On average, pools that are higher than floor level can last anywhere from 10 to 25 years.
How Big Should Upraised Pool Decks Be?
The size of these pools will depend on the available space, the style you want, the layout of your backyard, and your personal preferences for outdoor living space. In general, decks that are at least 6 feet wide can provide enough space for walking and lounging around the swimming area, while larger decks may be necessary if you plan to incorporate additional features such as outdoor furniture or a grill.
Conclusion
Adding decks to your raised pools can not only improve their functionality but also enhance their aesthetic appeal. Then again, to achieve the effect and ambiance you want, choosing a design that resonates with your personal style and home is essential. From modern design and rustic appeal to a budget-friendly, built-in, multi-level, and rectangle-shaped pool with decking, there are many ideas that will suit any backyard style. So, if you are considering any of these above ground pools and deck ideas for your swimming area, just make sure to incorporate them appropriately to get the style and functionality you desire.