9+ Ideas for the Living Room: Furniture Arrangement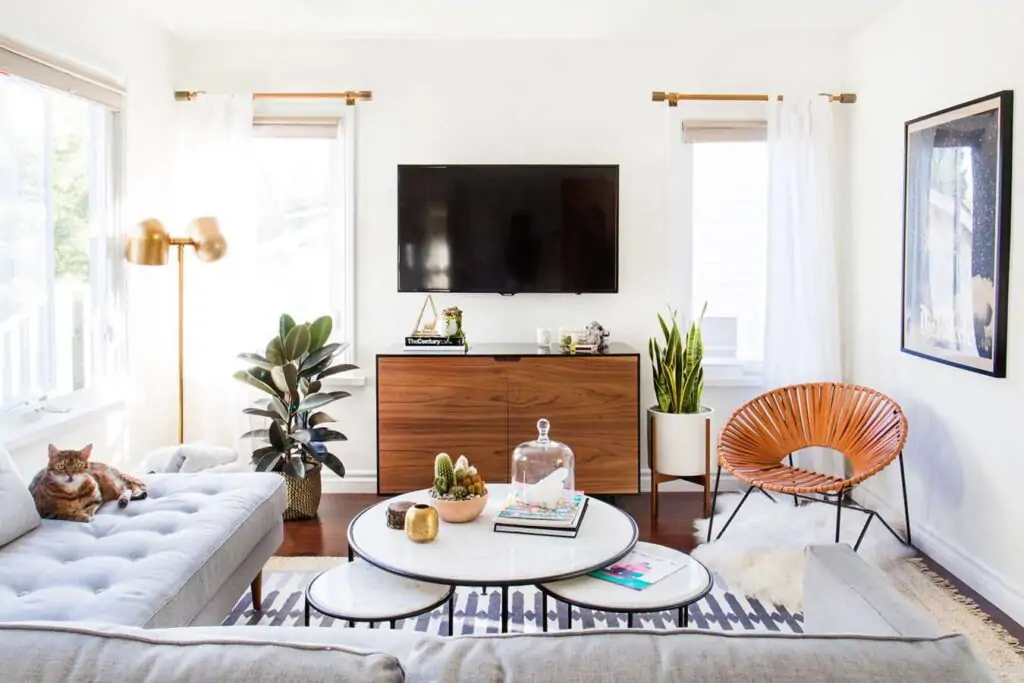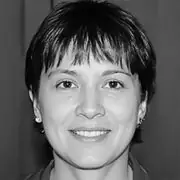 The living room is the most used part of the house, so it's only natural you make it as attractive and comfortable as possible. One of the most used decorating ideas for the living room involves furniture renovation and rearrangement. Still, achieving your design goals can be a challenge, especially if you are looking for furniture placement ideas that effortlessly blend into the decorating style of your seating area. Luckily, we've designed this guide to help you out.
Whether you live in a formal mid-century house, a farm-style cottage, or only have a minimalist space, keep reading to find our best and fresh living room furniture arrangement ideas that keep your seating space functional and comfortable.
1. Add a Curved Comfort Daybed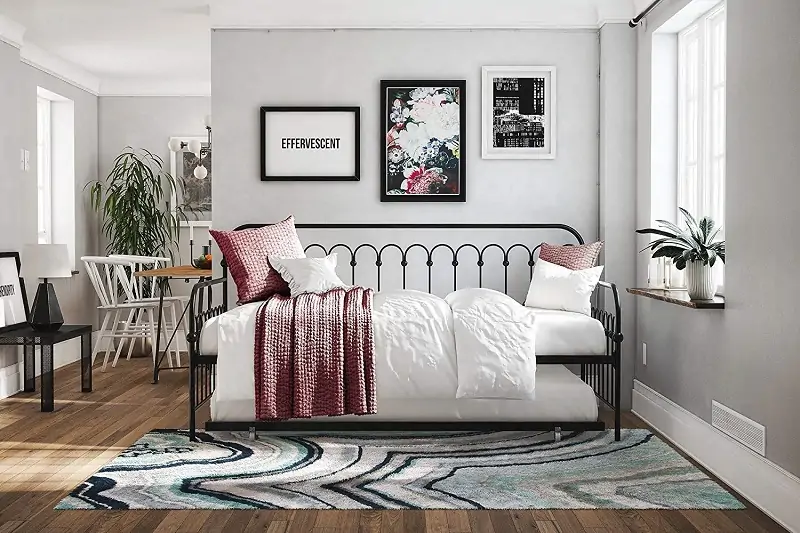 How possible is it to add a bed to your small living space? Very plausible!
Making the most of your very little space in small sitting areas is essential when adding furniture seating.
Whether you have a traditional-style space or a modern rustic or elegant living room, a daybed is a good piece of furniture that fits any home design. Then again, more than the comfort it offers, the biggest reason we love this idea is that it serves several functions.
A daybed can easily double up as a couch, a guest bed, a lounger, or a reading spot. It offers the luxury of a chair and traditional bed used in the bedroom so you can lounge in style.
For small apartments, an idea like this will work best as having a multifunctional daybed that functions as a chair and bed offers a better space-saving solution than placing a big, bulky sofa that takes up lots of space.
Pro tip: if you're thinking of installing a daybed in your small apartment, consider an upholstered piece that allows you to relax while sitting and ensures comfort on all three sides. Also, throw in some throw pillows and a blanket to give it a bedroom vibe.
2. Relax in Style with a Hanging Chair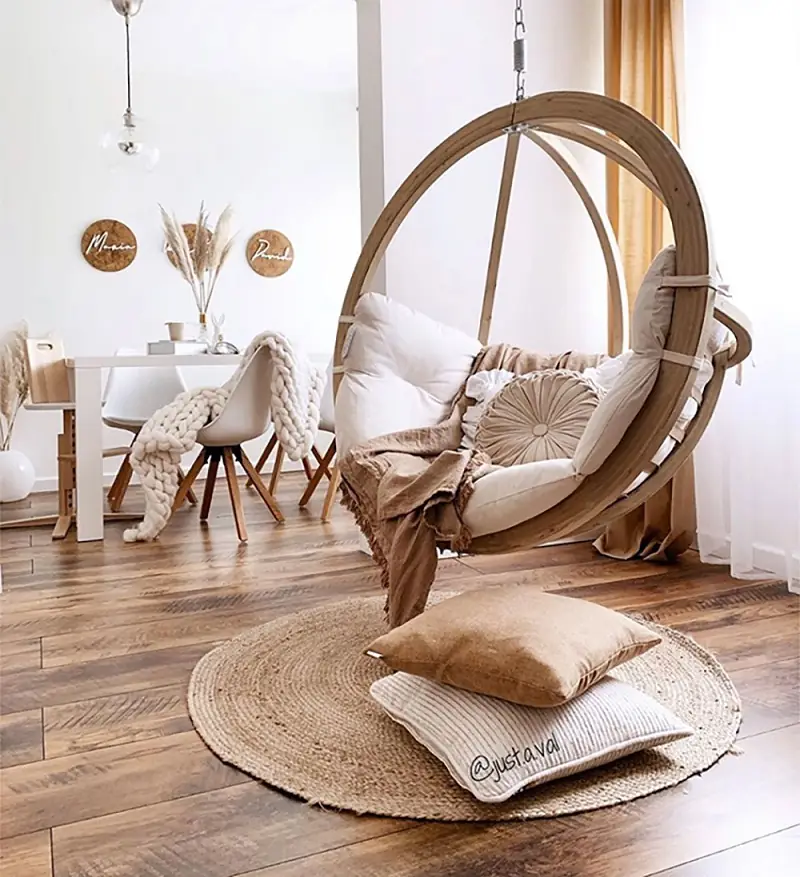 After choosing a good color for your living room walls or adding plush sofas strategically, your space may still feel too intense for your taste.
Hanging chairs are some basic design ideas for living room furniture setup that helps you add a fun, casual, and unique element to your sitting area. From hammock designs to rattan and egg-shaped chairs, hanging chairs are comfortable to sit on, have trendy fixtures, look appealing, and, last but not least, are ergonomically perfect for all kinds of spaces.
Ideas for small living room furniture with hanging chairs will seem more practical when you hang them with strong ropes and throw in some pillows to add to their relaxing appeal.
3. Match the Furniture to the Walls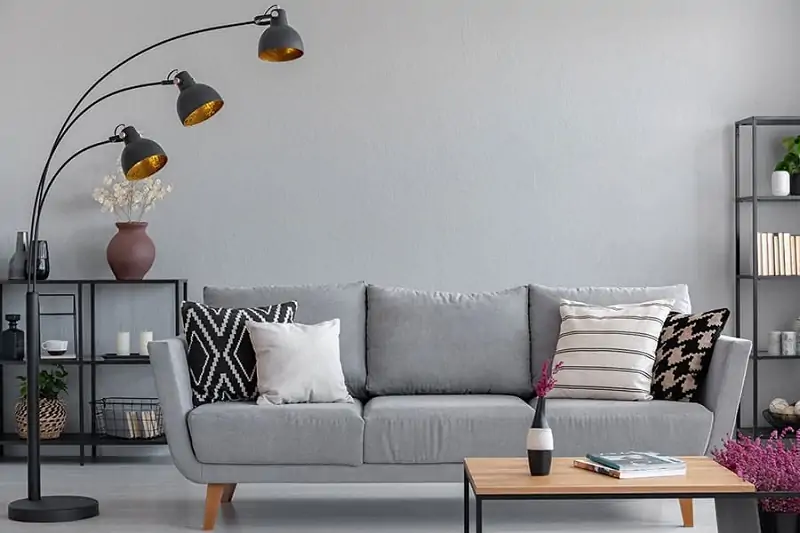 The biggest challenge of choosing a decorative style and design accent that suits every single piece of furniture in your parlor is the limitations placed by wall paint.
Most people choose trend hues that make it difficult to match their sofa, desk, or twin chairs with wall paint. Fortunately, you can effortlessly make a decorative statement by giving your sitting area a clean, uniform look.
For instance, if your wall is painted white, choose white fabrics for your furnishings. Matching color schemes won't only pull your space together seamlessly, it will also make the area appear larger, especially if you have a small apartment.
Pro tip: While designing the furniture the same color as the wall ensures uniformity, the colors do not have to be in the same shades. For a more enhanced look, use the dark and light shades together.
4. Arrange Your Furniture Symmetrically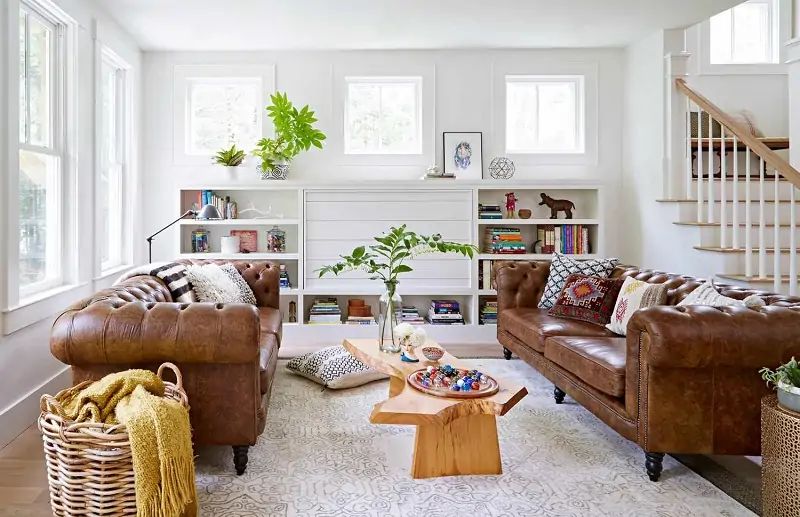 When considering ideas for living room furniture layout, you also need to give leeway to mobility; but this is barely possible if you own overly large pieces. Luckily, you can easily incorporate a symmetrical layout to maximize your space and seating patterns.
The best way to achieve a symmetrical layout is to arrange the chairs or sofas opposite each other. It gives your space a sense of order and an attractive balance.
5. Focus on the Fireplace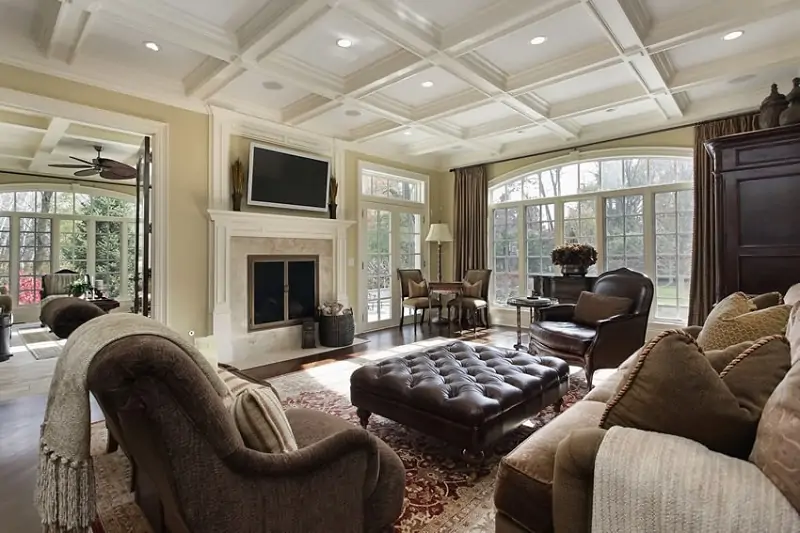 Positioning is essential when arranging home seating, but an appealing, functional, and relaxing parlor will always need a focal point to stand out. So, when finding a suitable placement for your large sofa, chairs, and daybed, consider using the fireplace as the statement corner of your design.
To do this, place a pair of chairs and a small coffee table in the middle facing the fireplace. Living room furniture ideas with a fireplace center stage will seem more welcoming during the cold winter and late fall months.
Transform your living room into a warm and inviting space with more beautiful fireplace design ideas.
6. Ideas for Both the Living Room and the Dining Room: the Perfect Combo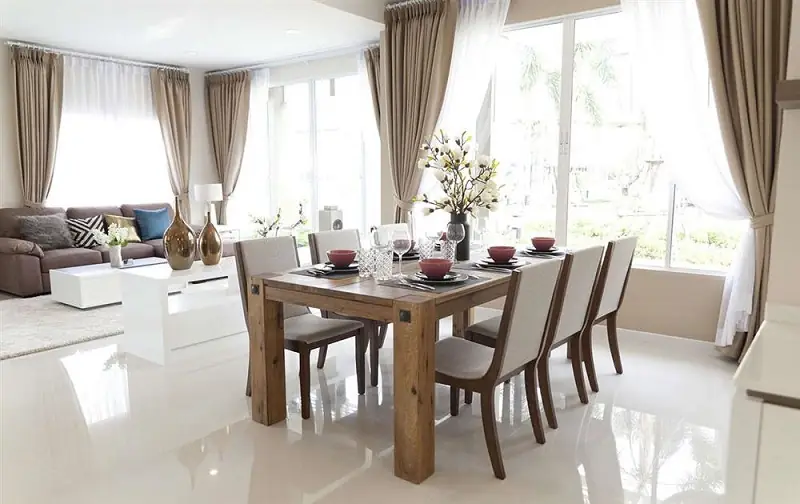 As every part of the house has a different architectural setup, making provisions for your dining and relaxing sitting area can be a challenge. The simple solution is to use strategic furniture placement to create two separate zones for dining and practical seating.
To do this, arrange some seats closer together in the wide open area. It gives the idea of a spacious family or hosting zone in the open parlor. Then, turn some sofas facing away from the conversation area to define the dining.
7. Create a Cozy Hideout Around Your Window Area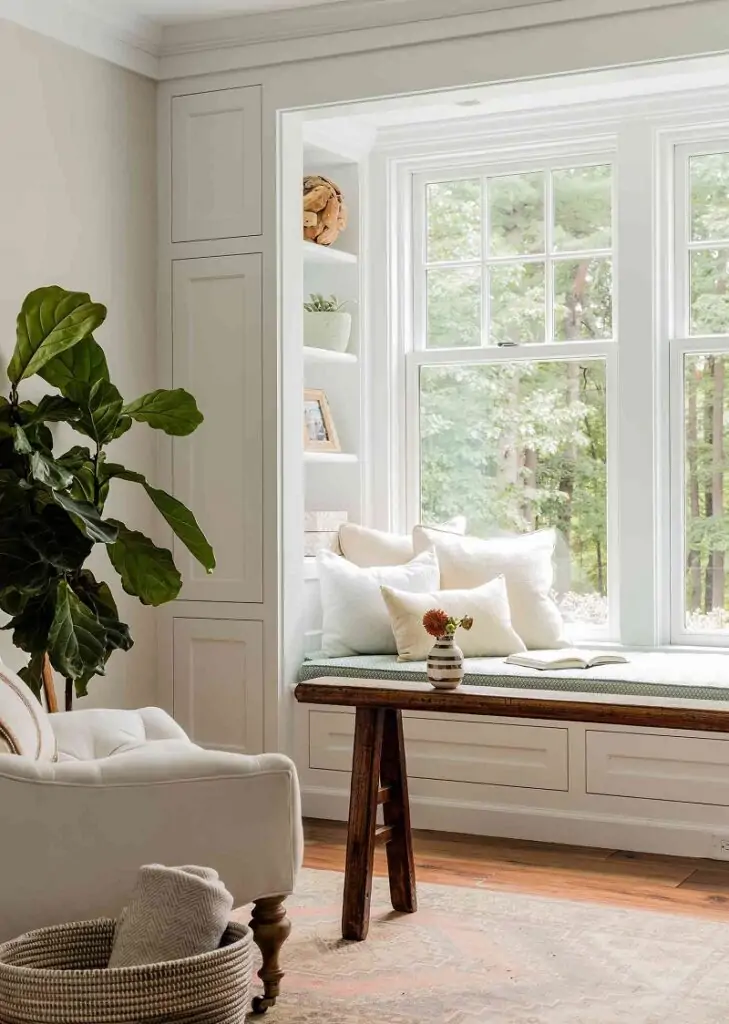 Who says your windows are only useful for letting in air and natural light? They can be more than this if you take out time to arrange a pair of comfortable chairs, a small desk, a table lamp, and an ottoman beside it to form a quiet haven for your leisure time. If possible, use seats with eye-popping fabrics to make the window area a focal point and distinguish it from the rest of your parlor.
8. Match Neutral Walls with a Brown Sofa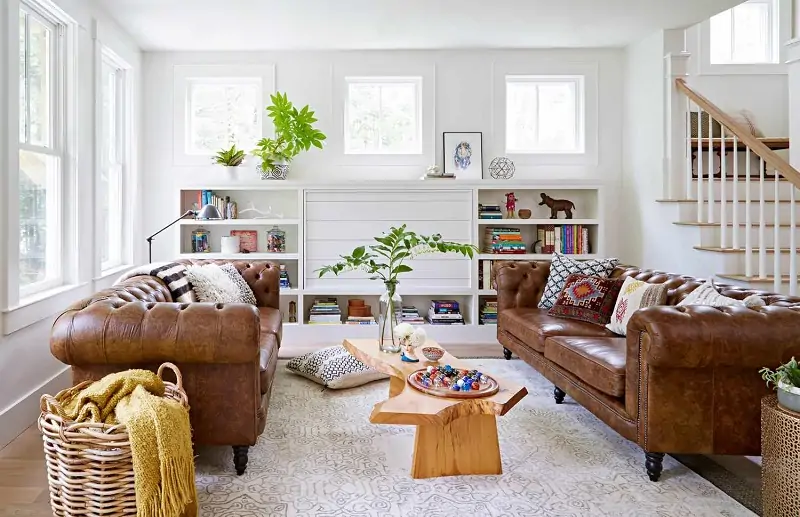 Modern property owners love the minimalist touch neutral walls give their apartments. It's no wonder they often match their neutral paint ideas for a living room with brown furniture. So, if, like many modern homeowners, you are considering using warm, earthy shades like cream and beige on your walls, don't forget to use interior design ideas for a living room with a brown sofa, desk, or hanging chair to match the modern trend.
9. Add Seating with Interesting Shapes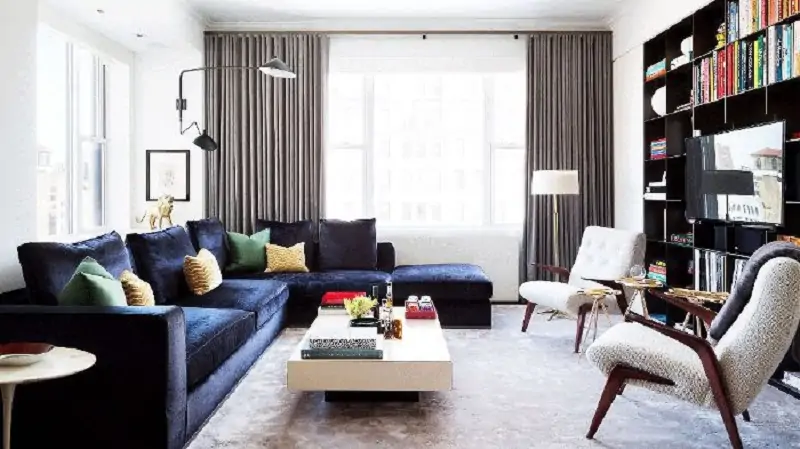 In addition to our décor ideas for the living room with brown furniture, consider installing exquisite fittings with intriguing shapes.
Shapes affect the aesthetic appeal of an object. So, if you have a low-slung ceiling, consider using a floor sofa with a low back. This way, your seating accessories fit into your room's height. An advantage of a low-slung chair is that it gives your small parlor extra space you never knew existed.
FAQs
In this section you will find the answers to the most common questions.
What Is the Best Furniture to Use in the Living Area?
The best living room furniture decorating ideas for your small or large parlor will depend on the available space and how you plan to use the space and furniture. The right fittings can make a huge difference, no matter the architectural setup of your home. You don't want something too tiny for a large area since it can easily drown in the large backdrop.
How Should I Arrange My Sofa?
When arranging your chairs and sofa, your placement patterns will determine how successful your interior design efforts are. So, you need to consider the shape and size of the furnishings to ensure they fit seamlessly into your room's dimensions.
Then again, the most important thing to keep in mind is to arrange every item strategically so that it does not dwarf the statement features of the house.
Conclusion
Tables, chairs, sofas, and desks can be tricky to arrange, no matter how large a room is. Still, the greatest joy for anyone considering a fresh arrangement for their home fittings is that the ideas to use are nearly endless. Of course, your room's layout and how you plan to use them will determine how best to place your seating pieces. But installing a hanging chair, a curved daybed, using symmetrical arrangements or matching color options, or a window placement that helps you enjoy the beauty of nature are only some of the numerous effortless ideas for living room furniture that suit any space.