15 Versions of a Pergola with Lights: Ideas to Inspire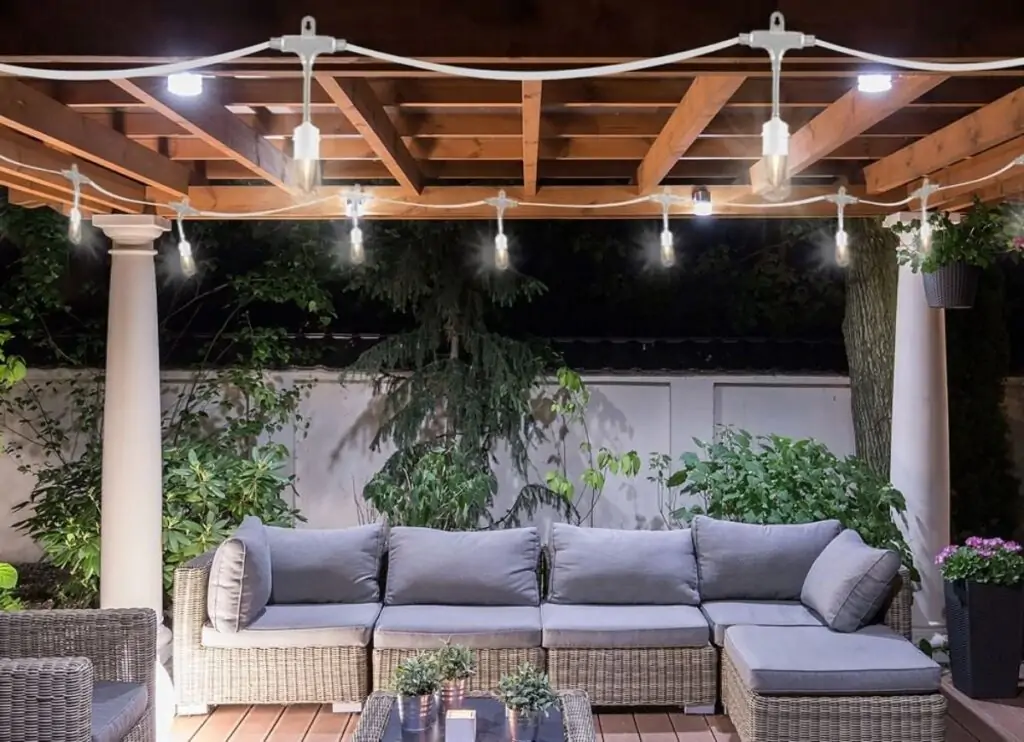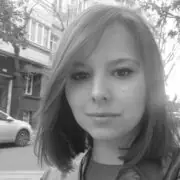 When it comes to choosing a design for your pergola with lights, ideas that you can find range from the ones that are easy to implement to very complex ones. We think that one of the most important functions of lighting is to create the right mood for you. Looking at pictures and figuring out how they make you feel is a big part of choosing the idea that will satisfy you. We put together some images to help you navigate the variety of designs, so buckle up and let's take a look!
1. The Sum Is Greater than Its Parts: Simple Often Equals Beautiful
One of the easiest ways to decorate a pergola with string lights is just to weave the strands between the beams. It's so easy that the hardest thing about that is probably figuring out the best way to hide the wiring for pergola lighting that goes to the power source (or an extension cord if you need one) — for example, by putting it into the darkest corner and fixing in place with construction tape.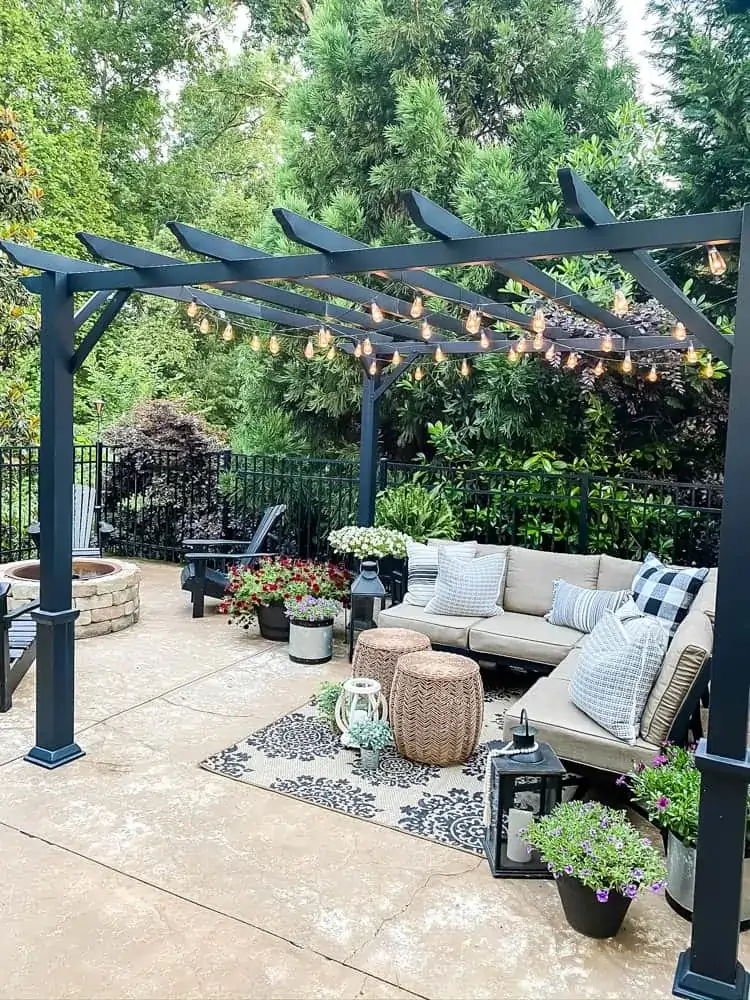 2. It's Beginning to Look a Lot Like Christmas: Add Some Color
If you think that when it comes to pergola string lights, the ideas should always have a festive feel about them, try replacing ordinary monochrome LED or incandescent lamps with multicolored bulbs. Why shouldn't you feel holiday cheer every day in every season?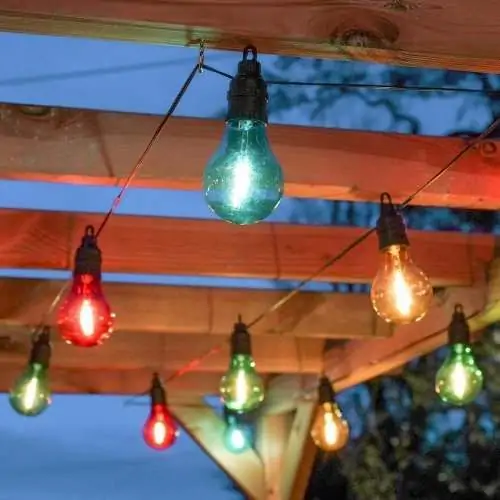 3. The Wall of Light: Use It as a Tool
There are other ways to put string lights on a pergola — ideas like this one, for example, may be great for you if this space is in a darker corner of your backyard and you need a lot of illumination. The curtain-resembling strands will form a kind of wall, continuing the lines made by the roof beams. The end result is very pretty!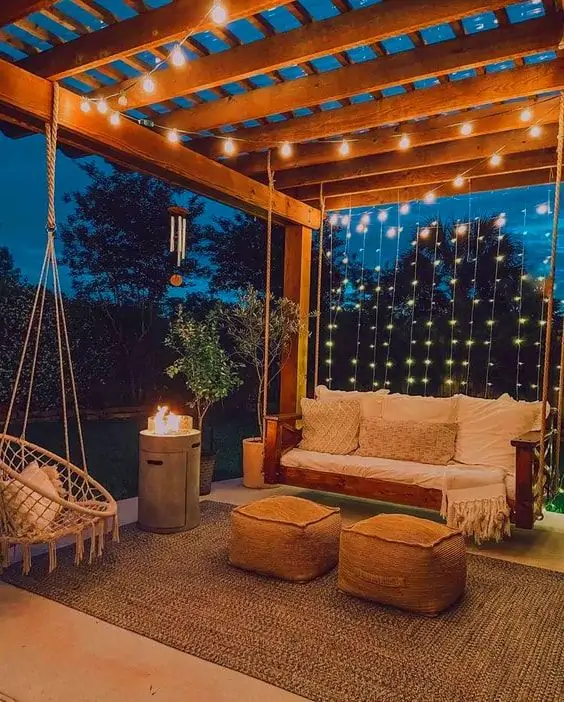 4. Variety Is Good: Design with a Purpose
This patio is a cool example of decorating a pergola with hanging lights: strings of lightbulbs that are great for creating a soft glow are complemented by pendant lamps, which are used to highlight particular areas.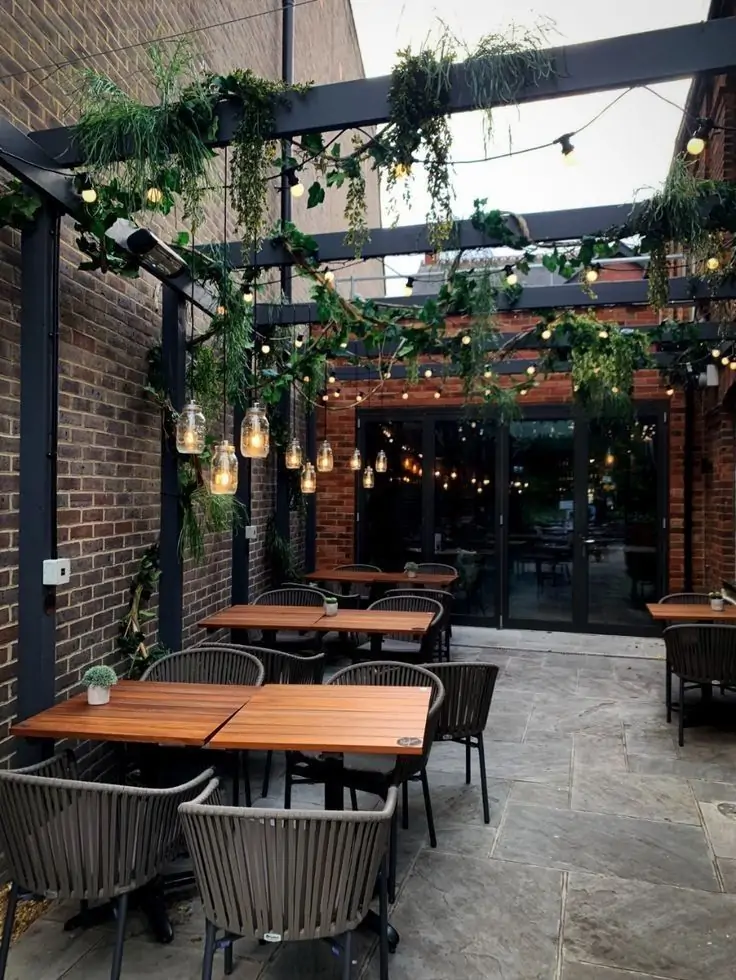 5. Close to Nature: Add a Wild Touch
A pergola with vines and lights is a real attention-grabber: decorations like these will make any space look cool and fresh. This boho-inspired design with paper lanterns and lush greenery is perfect for a chill afternoon — or a cozy evening.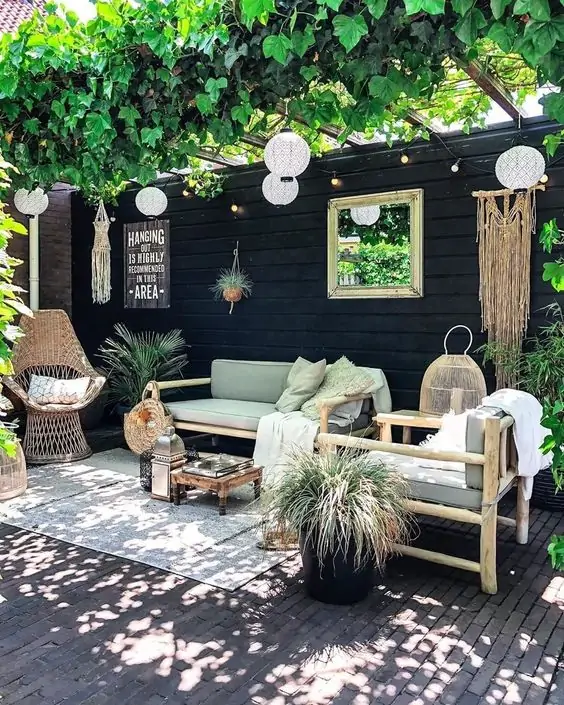 6. Like a Picture from a Book: Lanterns Can Elevate the Design
Hanging glass lanterns is one of the heart-stopping pergola light ideas that are impossible not to like. They will work well both as a source of light and a design element. A must-choose to give your place a sophisticated, chic look.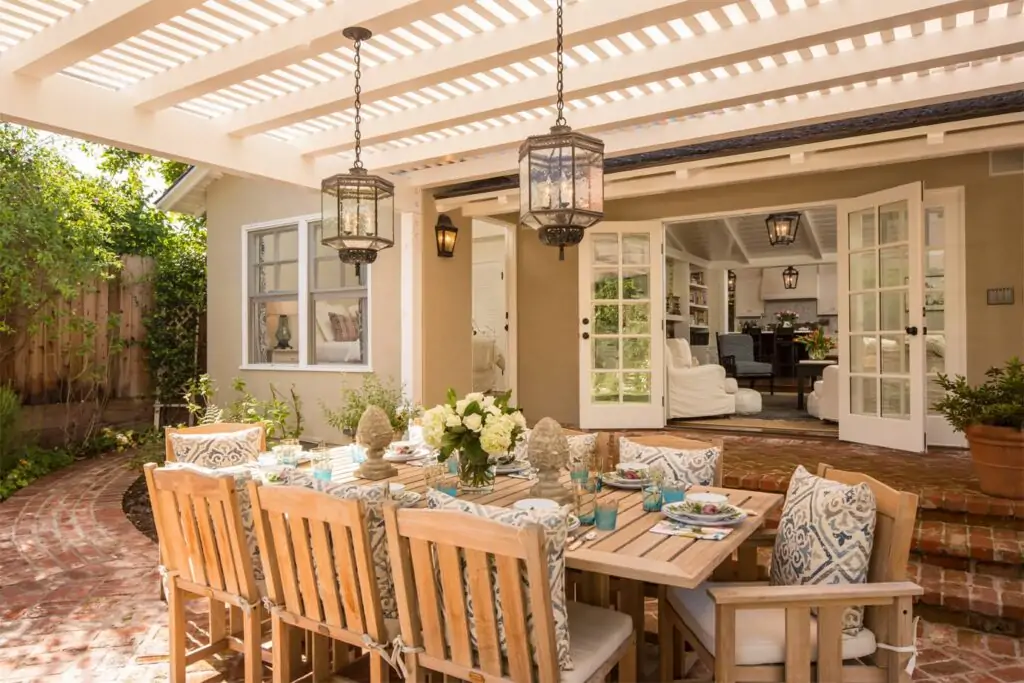 7. Mind Your Manners: Turn a Patio into a Great Hall
Expanding on the previous idea, here's another take on how to decorate a pergola with lights: use chandeliers filled with candles to create a timeless, classic vibe. Mix in some strings if it feels too dark!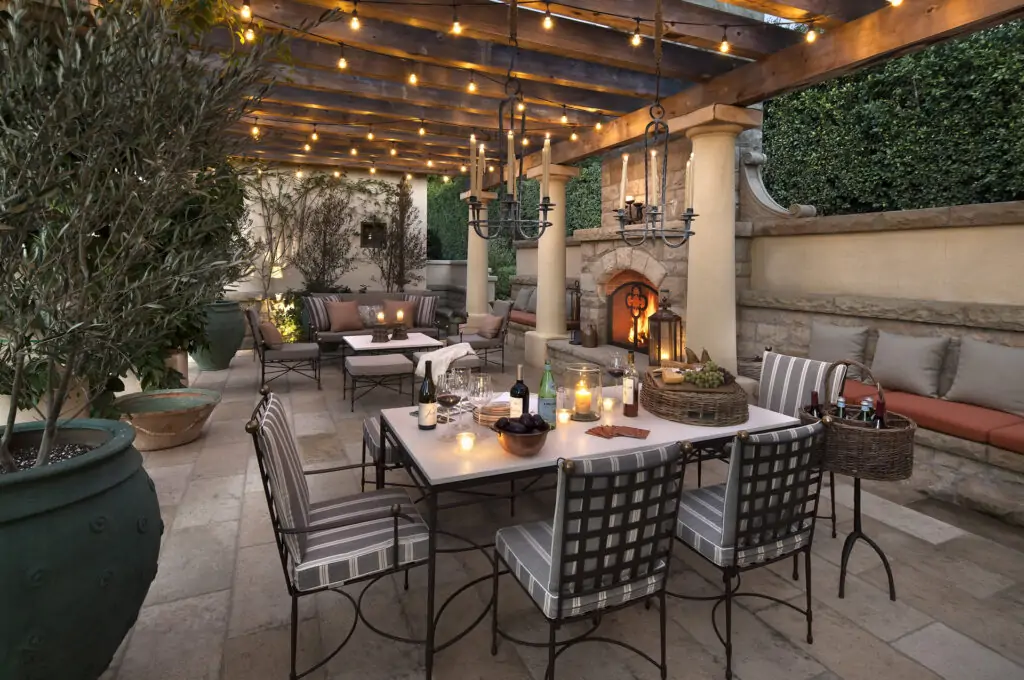 8. Music of the Spheres: Add a Contemporary Twist to an Old Idea
This example of an outdoor pergola with lights demonstrates another variation of the same concept as shown in several previous images: smaller, spread-out light sources plus a few brighter, more concentrated ones. Those hanging globes look pretty modern, though — to match the general design vibe of this backyard.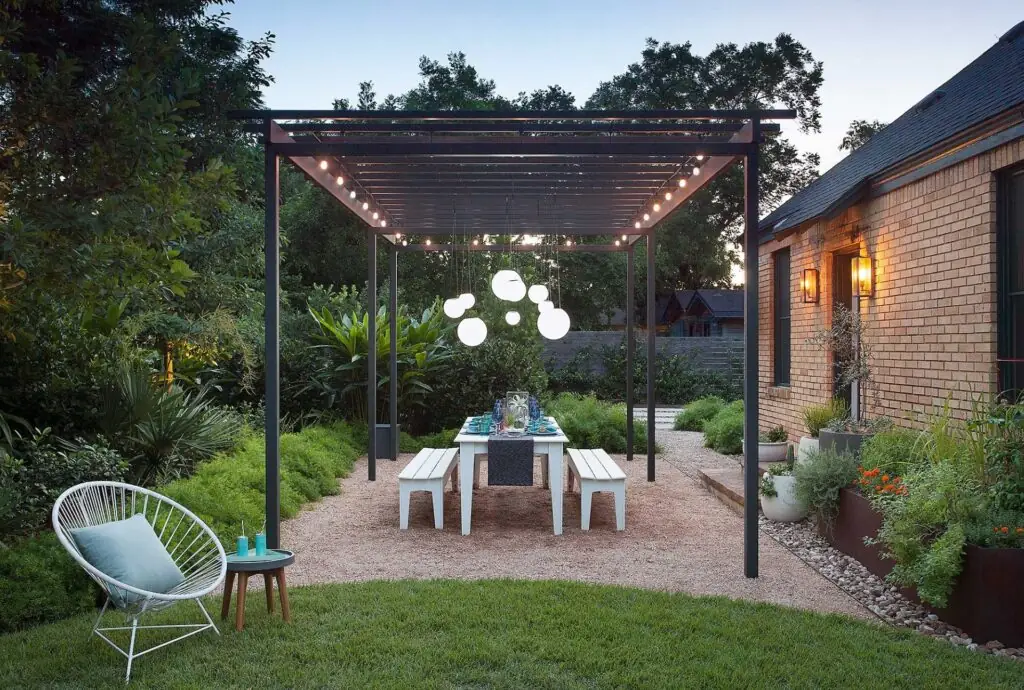 9. A Warm-Up: Spend Your Evenings Mesmerized by the Fire
Here's another one of classic garden pergola lighting ideas: put a fireplace in there! This way, you have a source of both light and warmth, not to mention that a fireplace is an amazing element of decor (and a property value driver!) that fits almost any home.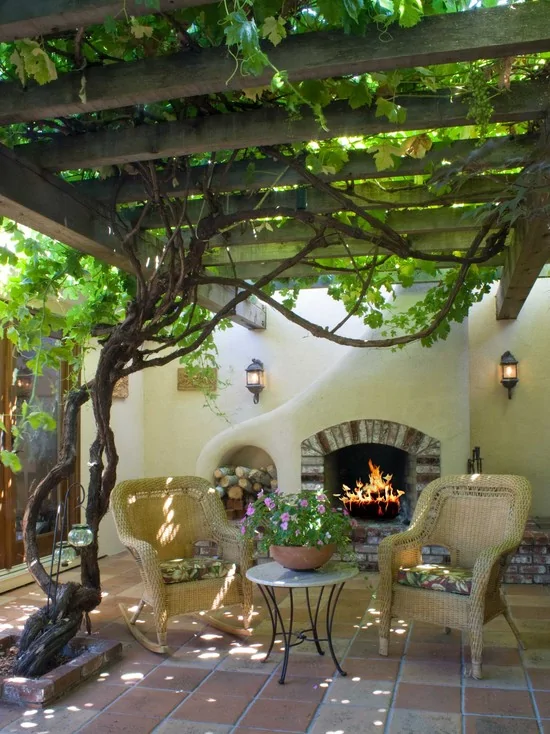 10. The More the Merrier: Combine, Don't Choose
There are a lot of pergola lighting options out there — and why don't you use several of them at once? This example has it all: a fire pit, some string lights, hanging lanterns, and standing lanterns, and this ensemble is simply divine in its beauty! Sometimes you just have to have it all, we guess.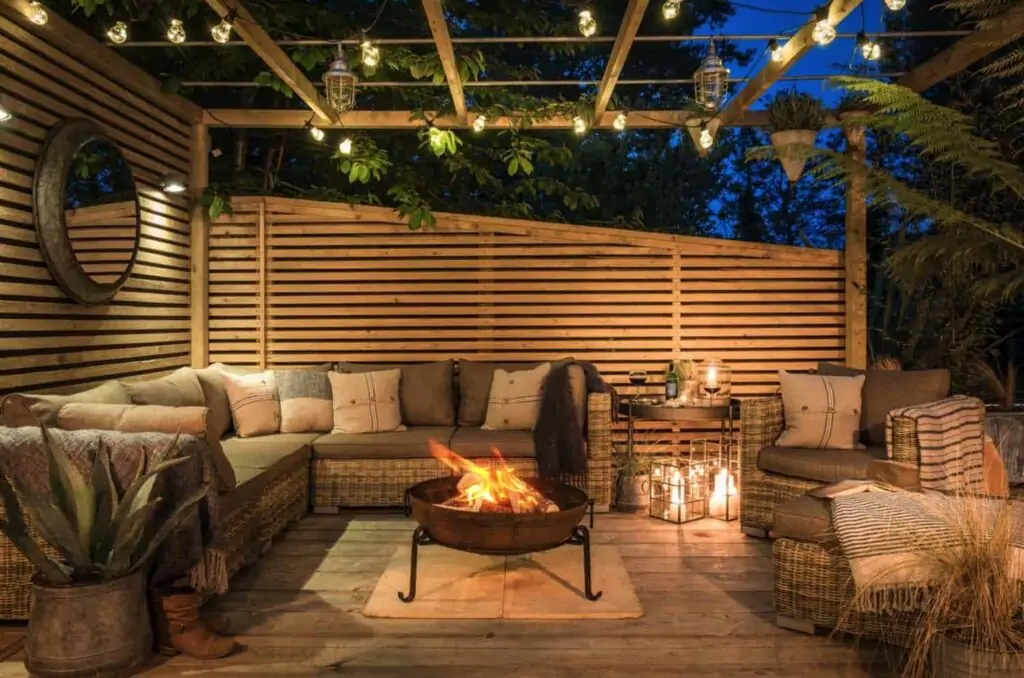 11. Have Some Fan: Subvert Expectations
Ceiling fans are not only good for indoor design! You can enjoy a pergola with lights, and a fan like this picture suggests. Lighting makes the space comfy, while the fan helps to create a pleasant movement of air and works as an element of decor.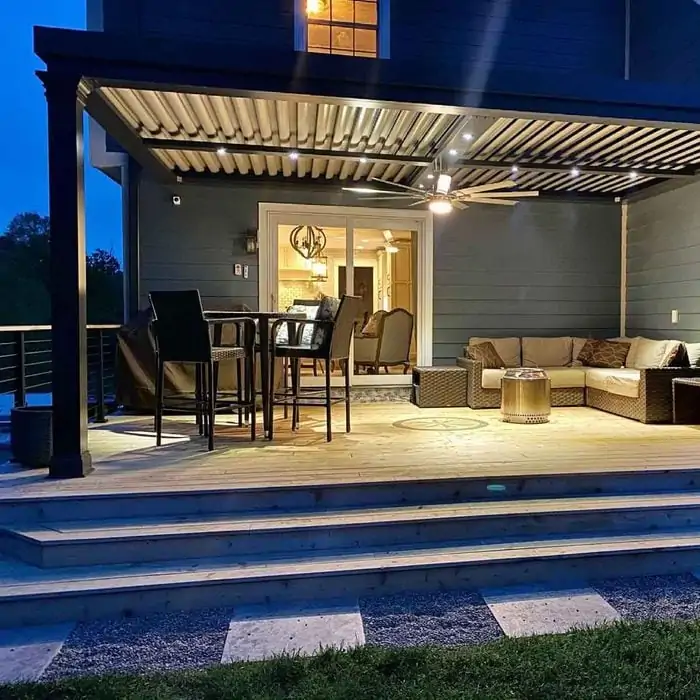 12. Making a Stand: Take Your Style into Account
While most pergola lights ideas usually include some kind of hanging lamps or strings, it's not really necessary to use them. This space is lit by floor lights, and it looks great! It's the kind of lighting that fits modern style very well, so if that's your preference — consider it.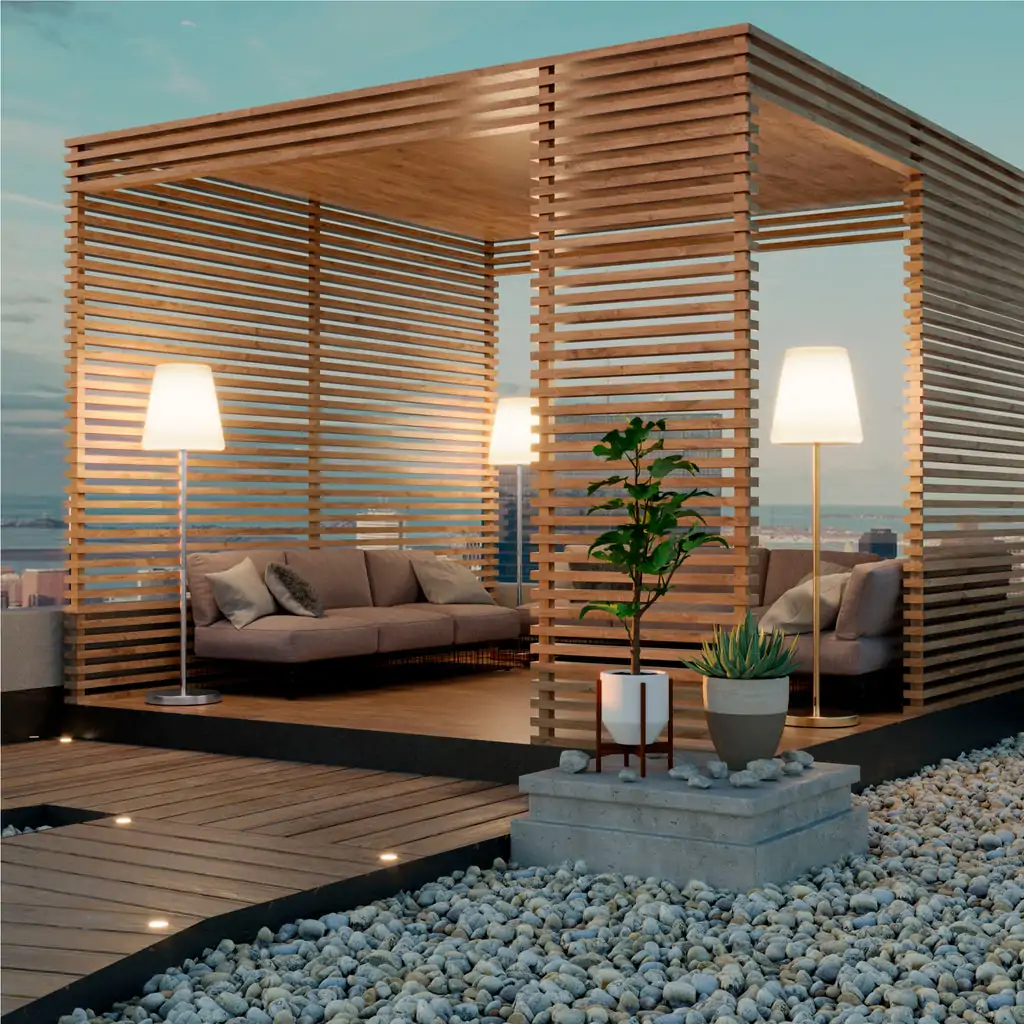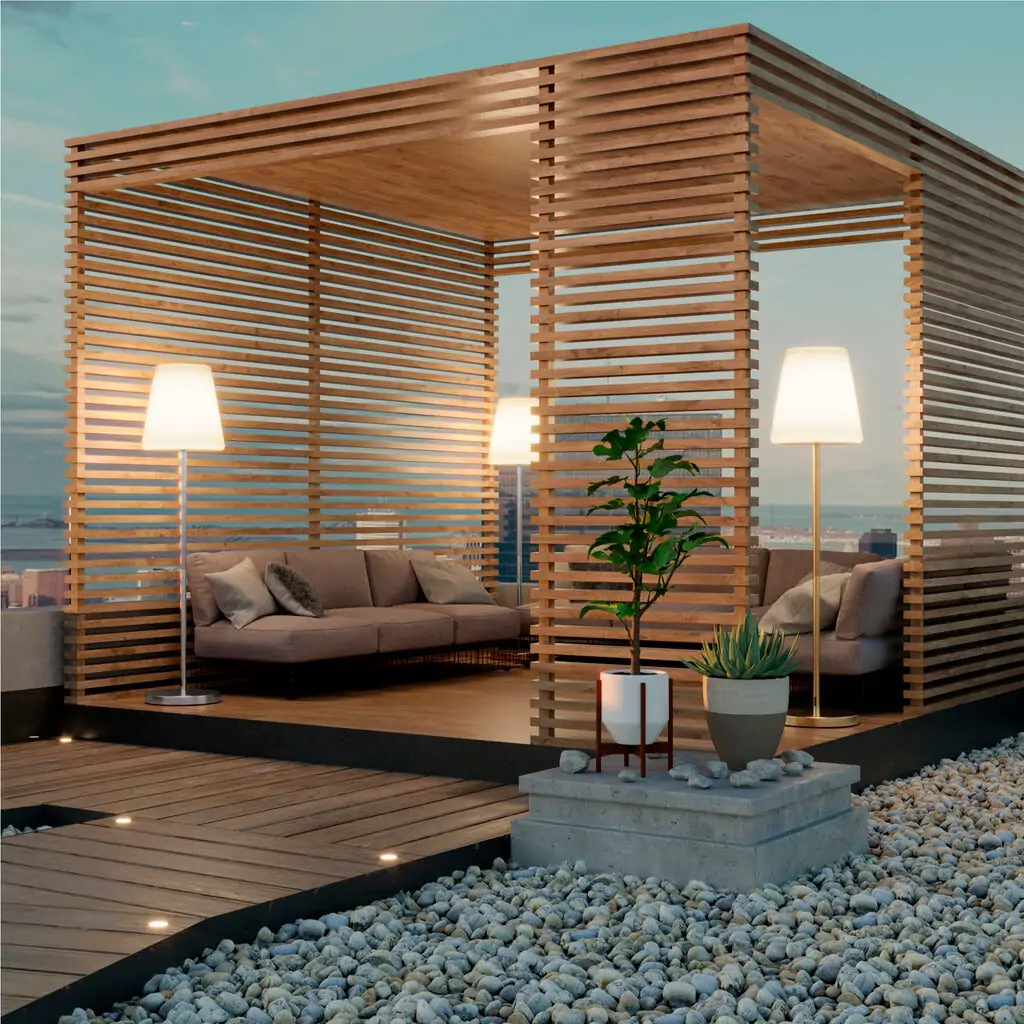 13. Shadows and Light: Play with Geometry
If you prefer lighting ideas for a pergola that can make a statement, you may want to look at something like this one. Bright floodlights with cleverly designed lampshades make beams of light look like a part of the place's architecture itself.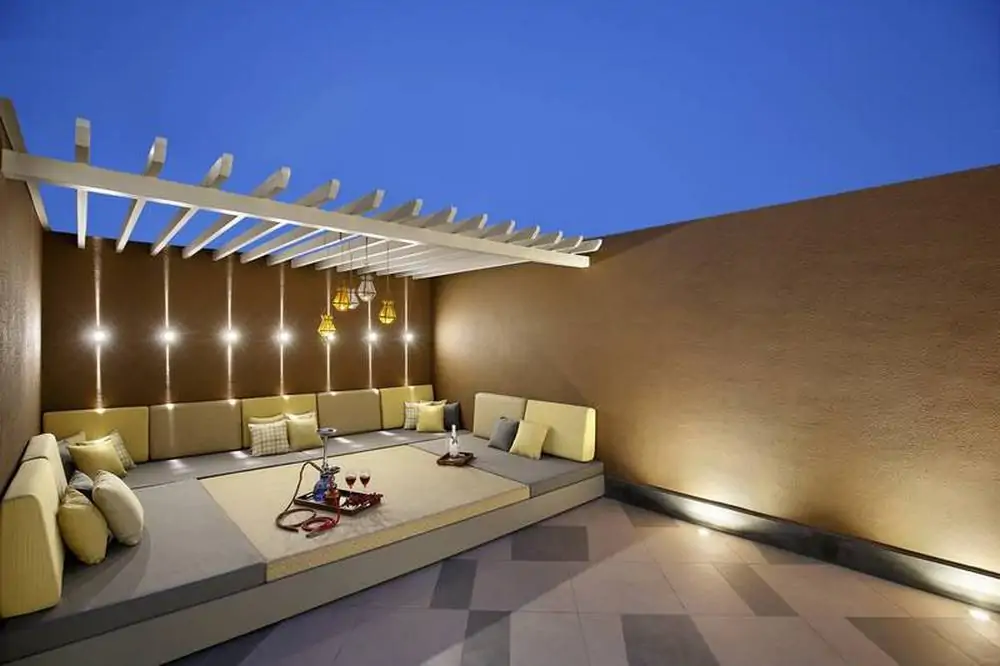 14. Lighting in a Bottle: Reuse Old Things in New Ways
When it comes to LED strings, the first obvious question that may come to mind is how to hang outdoor lights on pergola. Still, even if you solve this matter as simply as possible (i.e., using several nails and a hammer), this doesn't automatically mean that your place will look unappealing. Quite the contrary, if you use a simple trick: put your lights in a bottle (or a mason jar) to transform it into a cool lantern. Put a few of them around your space, add some hanging strands, and feel like you're in a fairytale!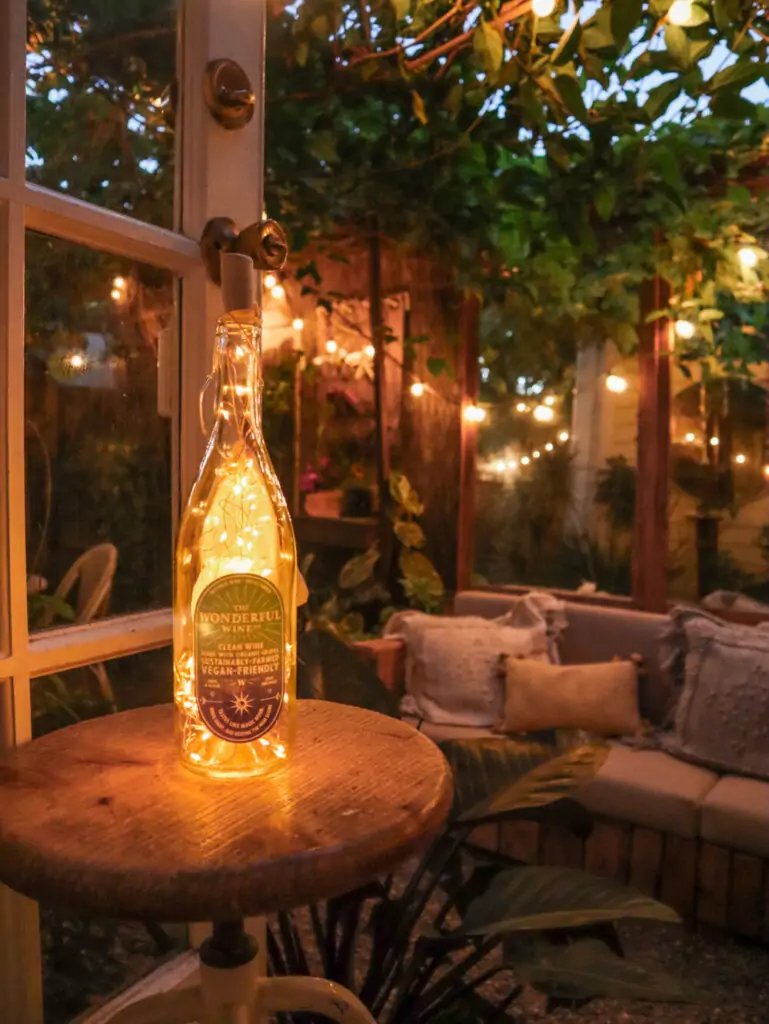 15. Shine On: Create Mystery with Neon Glow
If you're a fan of all things futuristic, this may be your kind of pergola with lights! Cool neon LED lighting brings decidedly sci-fi vibes into the backyard. And if you're not ready to commit to putting up a whole roof like this, there are LED strips that you can start with and see how it goes.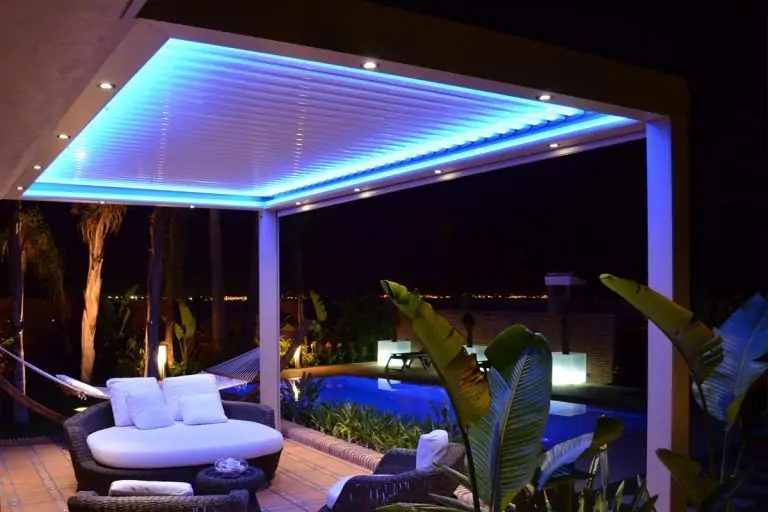 FAQ
You can find the answers to popular questions about this topic below.
What Is the Best Pergola Lighting?
Let's quickly sum up the most popular ways you can light the place up and some of the features of each of them.
String lights: probably the easiest to implement and the most versatile option, with variations in length, colors, and size — from small LED to incandescent bulbs. However, you may need a lot of them for proper illumination, and the wiring can look less than ideal if there's nowhere to hide it — but those are probably the only possible issues.
Wall sconces: another nice option for softer lighting. Won't work in standalone pergolas with no walls, obviously.
Pendant lights: a great way to highlight some areas in particular, like the seats or the dining table. There are many variations, so you can pick one that suits your style. For example, chandeliers help create a classic, exalted look; paper lanterns are great both for a modern backyard or a boho chic one; colorful lampshades will bring in exotic vibes. Those light sources will require proper installation, though — as opposed to just hanging the strings.
Floor lamps: those can give your space quite an interesting, cozy look. They make quite a statement, though, so it may be hard to pick one for you: there's no "one size fits all."
Open flames: fire pits and fireplaces are amazing both for lighting the space and setting the mood. Their installation requires a lot of thought, planning, and compliance with the fire safety rules, though.
Small local sources of light: strategically placed table lamps, candles, and lanterns are great additions but probably won't cut it as the only light source.
Are Pergolas Good for Shade?
We talked about ideas for lighting for pergolas, but can you hide from the light in there if you want to? The answer is yes: first of all, even the basic construction provides a bit of shade, but if you live somewhere very sunny, you can install a solid roof or — our favorite — use vines for additional protection! The space should be illuminated only when you want it to be.
How to DIY Pergola Lighting?
The most affordable, easiest, and the overall best DIY option is to put up string lights. You can use as many or as few of them as you want, create elaborate shapes, or just fix them to the roof and be done — everything depends only on your capabilities and desires!
To find out more about DIY installation, watch this video:
Conclusion
Our choice of lighting is usually tied very closely to the feelings and emotions we want to evoke and sustain. This is why it's important to visualize the way it would look before we make any decisions. We picked those images to help you choose your pergola with lights — ideas that we hope will set you in the right direction.