Complete Makeover: Top 5 Paint Ideas for Your Basement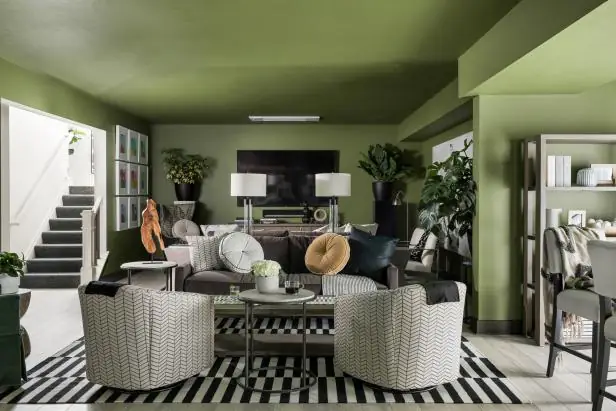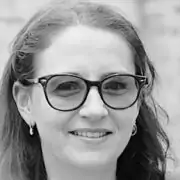 Looking for some fresh and creative paint ideas for your basement? You're in the right place!
Have you ever walked down to your basement and wondered why it's one of the most neglected rooms in your home? It's understandable – most people tend to spend more time and energy decorating and personalizing their main living spaces, like the kitchen and living rooms. However, your basement has the potential to be so much more than just a storage area or laundry room.
With a little creativity and some fresh paint, you can turn it into a relaxing and joyful space that you will love spending time in. In this article, we'll explore some of the most popular and stylish paint color ideas for the basement that will help transform your space from drab to fab! So, let's get started and give it the love and attention it deserves.
Moody Blues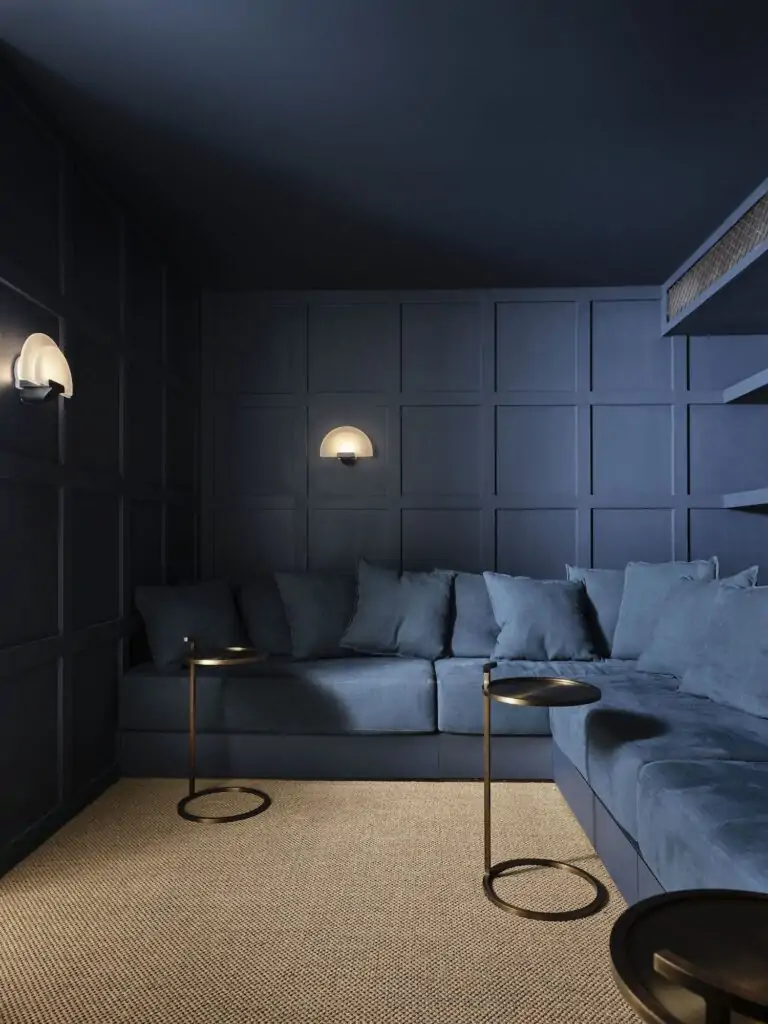 If you want to bring extra drama to your basement, Moody Blues is the way to go! These deep shades of blue, such as navy or indigo, work particularly well in basements with high ceilings, as they can create a sense of intimacy and warmth that makes the room feel more comfortable and welcoming.
The beauty of Moody Blues is that they can complement any design style, whether it's traditional or modern. Pairing navy or indigo walls with warm wood tones like oak or walnut can create a classic and timeless look that never goes out of style. You can also add some gold accents through decorative items like picture frames, lamps, or curtains that will elevate the room's elegance and give it a touch of glamour.
Besides, for a bold and playful look, you can even mix and match shades of blue to create a unique and eye-catching color scheme. For example, you could paint one wall navy and the rest light blue, creating a bold and modern statement.
Ultimately, the key to choosing the perfect paint colors for the basement is to keep in mind the atmosphere you want to create. Moody blue vibes will turn it into a warm, inviting oasis you'll never want to leave!
Soft Greens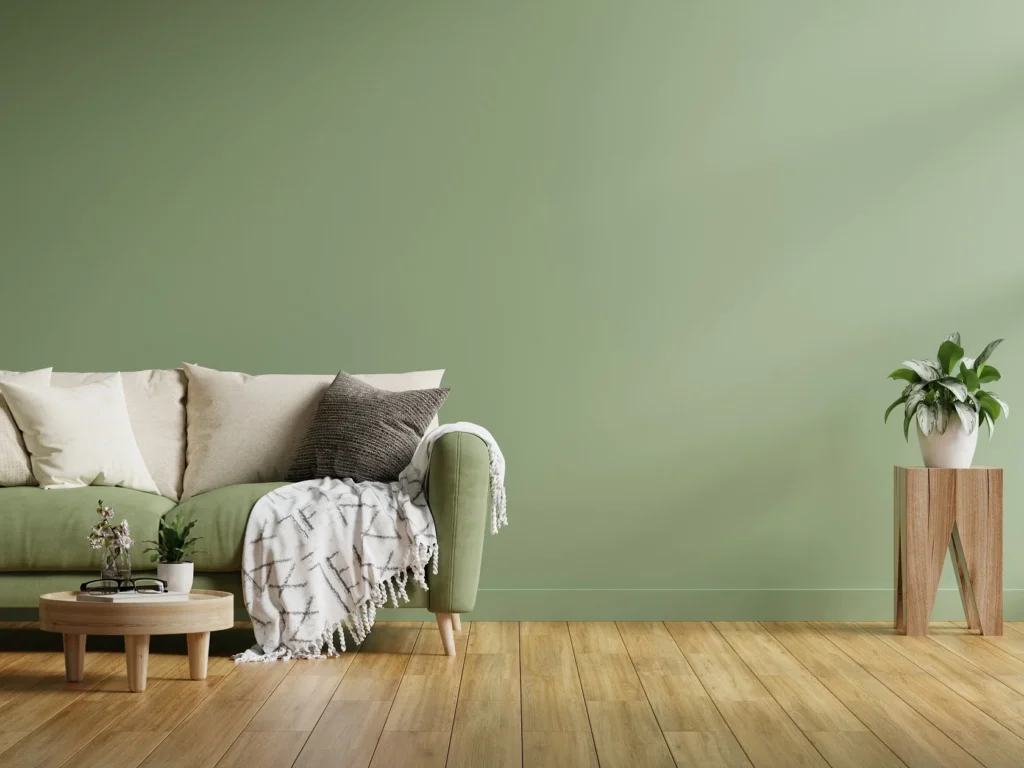 If you are searching for ideas for the best color paint for basement walls, soft greens might be just the color you need! Soft greens are becoming increasingly popular in interior design, and it's not hard to see why. They work well in space with minimal natural light, as they can brighten it up and create a sense of freshness.
Vibrant greens can also add a pop of color and energy to a dull room, while darker greens can create a sophisticated and cozy ambiance. You can choose from a wide range of shades, from mint green to olive green, depending on the mood you want to set in your space.
On top of that, to complement your soft green walls, you can add green furniture, such as a plush green sofa with cream or white pillows or a green accent chair. This will create a cohesive and harmonious feel throughout the room and will bring extra warmth and depth to your decor.
What's more, for those who love a fresh and modern look, adding some greenery is never a bad idea! You can add potted plants or succulents to your decor, adding the elements of the natural beauty of the outdoors inside.
Incorporate Stripes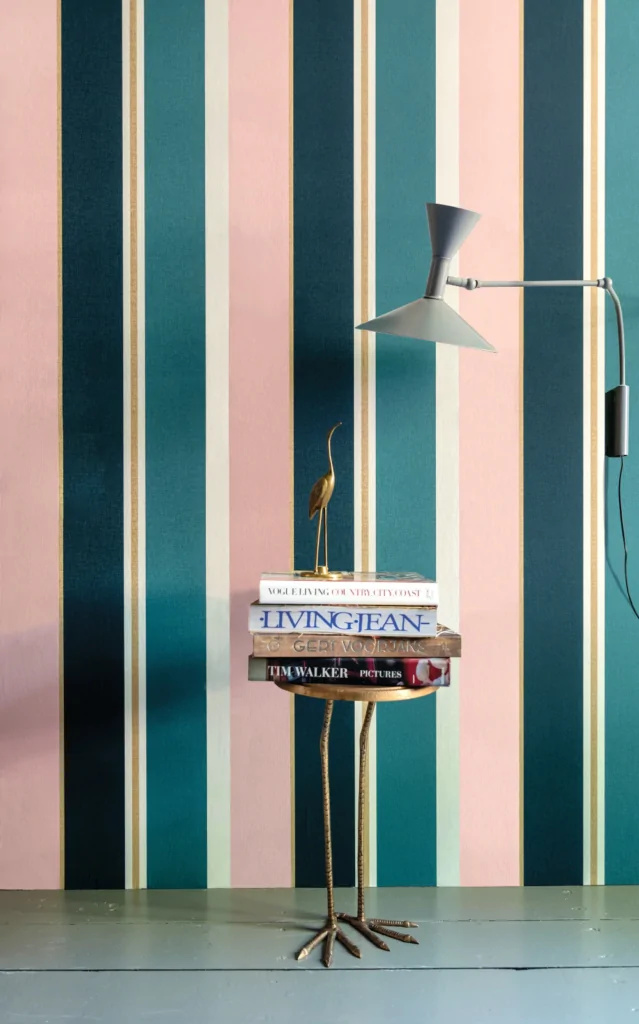 Looking for unique paint ideas for the basement family room? Why not try painting stripes on your walls! Stripes are a versatile and fun way to create a unique and playful atmosphere in any space. You can choose two or three complementary colors and alternate them in thick or thin stripes, creating a stylish and eye-catching pattern to make your basement stand out.
Stripes draw the eye along their length, creating a sense of movement and dimension in the space. So, if you choose horizontal stripes, they can make your basement feel wider, while vertical stripes can make your ceiling look higher. The trick is choosing the right color and stripe width to complement your decor and furniture.
Once you're done painting your stripes, you can add some finishing touches to your striped walls with decor accents like picture frames, shelves, books, or wall art. This will tie the whole look together and make the place even more special.
Warm Neutrals
Looking for cozy and comfortable paint colors for a basement apartment that's perfect for movie nights and game days? Consider painting your walls in warm neutral colors like shades of beige, taupe, or cream! These neutral hues are the perfect backdrop for your favorite decor accents, from colorful throw pillows to quirky wall art. Plus, they bring just the right amount of sophistication to your space without being too stuffy or formal.
Add plush rugs and comfy seating like bean bags or floor cushions to make your neutral-colored basement feel even more relaxing. These touches will make it the go-to spot for all your friends and family gatherings. And don't forget about the lighting! Soft, dim lighting can make all the difference in creating a cozy ambiance.
Metallics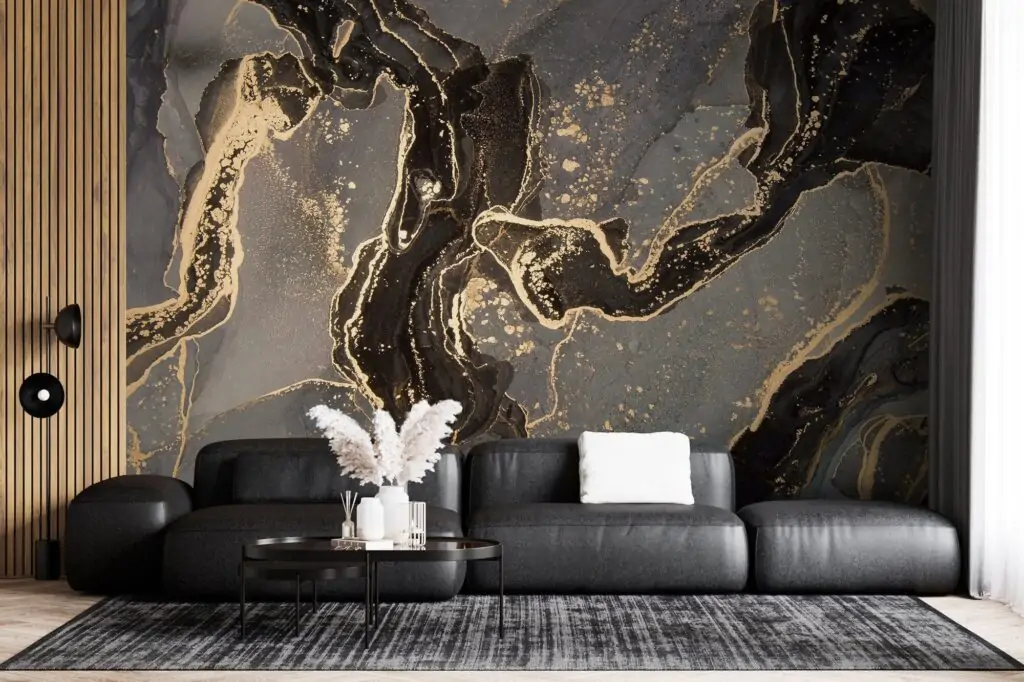 If you're looking for two tone paint ideas for the basement, why not go for gold, silver, or bronze? Metallic shades can add a touch of glamour and sophistication to your space, making it feel more luxurious and stylish. Plus, they work with various decor styles, from modern to eclectic.
Pairing metallic walls with dark wood or black furniture can create a dramatic and chic look that's sure to impress. The combination of metallic and dark shades creates a stunning contrast that's both eye-catching and bold.
When choosing a metallic shade for your basement walls, consider the mood you want to create. Gold can add warmth and coziness, while silver is basically a synonym for a sleek and modern look. Bronze or copper, on the other hand, can bring a touch of vintage or industrial style to your room.
The Bottom Line
With a little bit of imagination and some fresh paint, your basement can be transformed into a stylish and welcoming space. From moody blues and striped patterns to metallic accents, there are so many ideas you can experiment with. By selecting a color scheme that reflects your personality and pairing it with comfortable furniture and accessories, you can create a design that's perfect for relaxing, entertaining, or even working from home. So, what are you waiting for? Get started on your transformation today and bring your vision to life with these creative paint ideas for the basement!