19 Best Small Space Organization Ideas to Try Right Now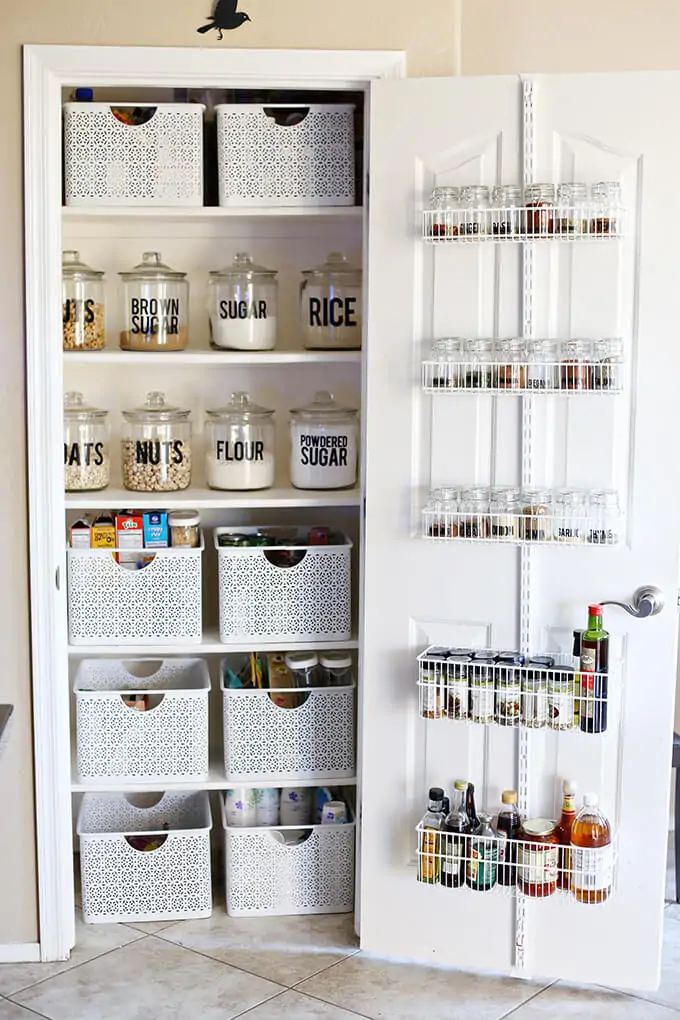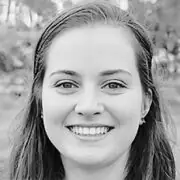 "When life gives you lemons, make lemonades." Use this adage when faced with home management difficulties such as limited storage area and apply ingenious small space organization ideas to turn the situation around quickly without breaking the bank.
So, if your workspace seems way too cramped to drive productivity, instead of dialing your agent for a bigger apartment, check out these 19 creative hacks to maximize your available room.
1. Use Hooks and Peg Rails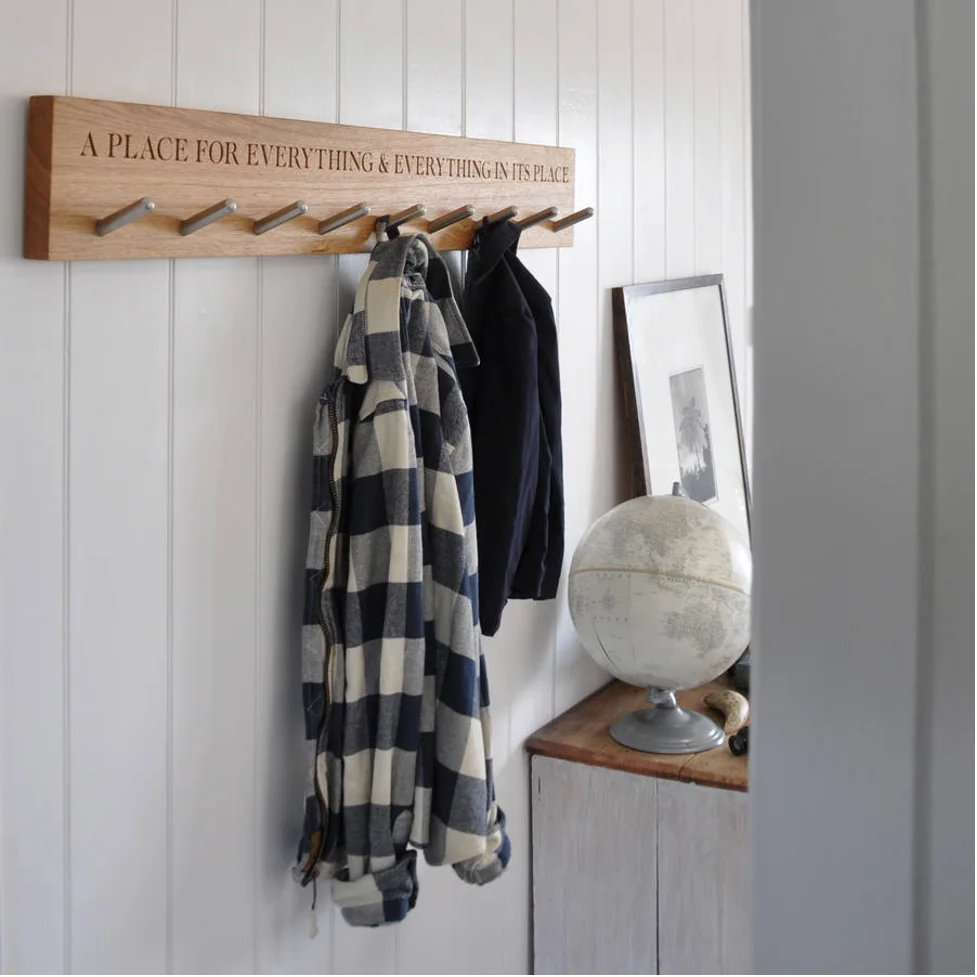 Hooks and pegs are truly the best way to apply small space organization on a budget. They create storage areas in your rooms without taking up any floor space. They can also be handy for your home decor because many of them are designed to be appealing even when nothing is hanging on them.
Wall hooks and pegs are handy for small space organization everywhere in the home, starting from the kitchen, hallway, and corridors and ending with the bedroom and bathroom. Organization ideas like these are great for hanging clothes, kitchen utensils, small tools, and other suspendable items.
2. Add Open Shelves to Your Walls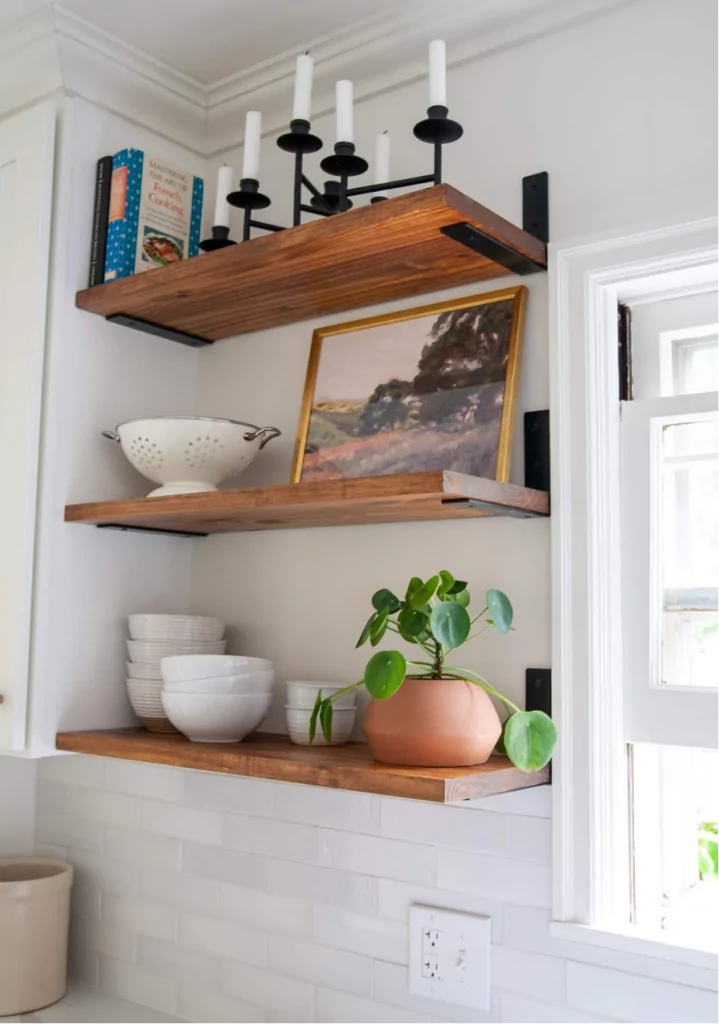 Short on-floor storage capacity? What about some floating shelves for your bits and pieces? Wall shelves are one of the most handy small space organization hacks ever. You can use them to store anything, from books to spices to figurines.
3. Use Side-On Mug Hooks in Your Kitchen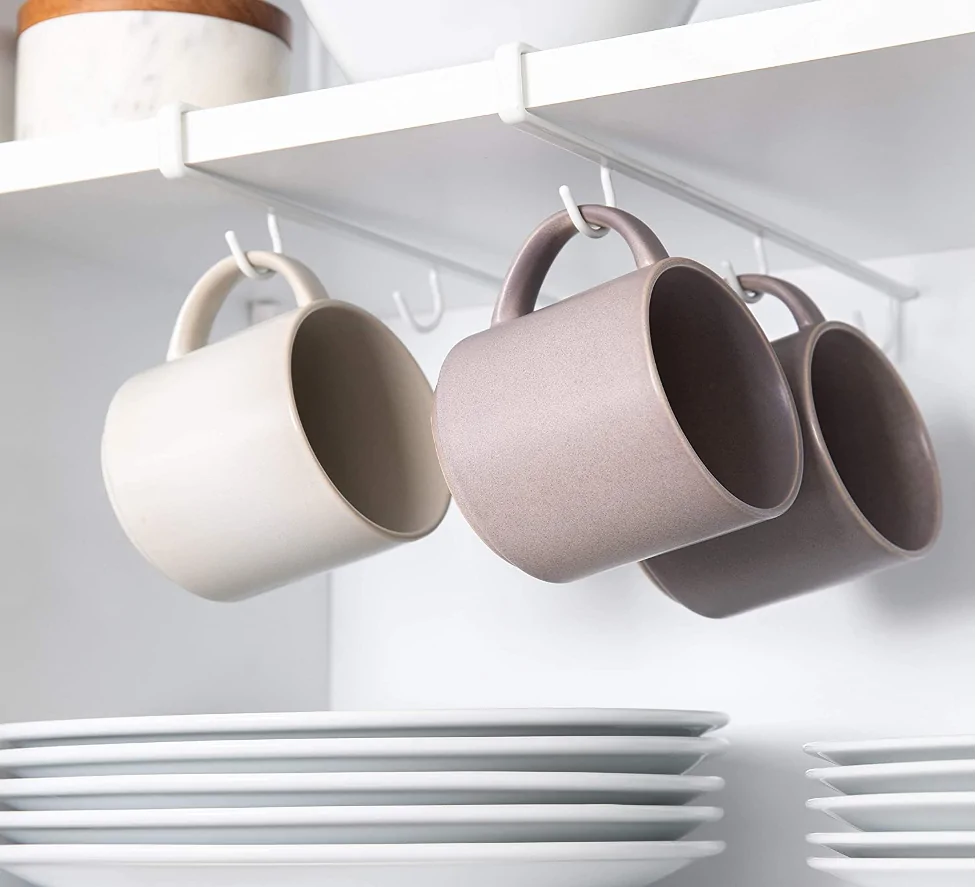 Do you have a mug storage shelf in your kitchen? Normally, arranging all your mugs on such a shelf can make it look cluttered and disorganized. However, when you use mug hooks, you can hang all your mugs on them and still have plenty of storage area for another crockery. You end up getting a clutter-free and truly spacious shelf.
4. Cutlery Organizers
Utensils that are stored in drawers tend to very quickly eat up all their space. Use compact cutlery organizers to neatly arrange your utensils in the drawers and free a great deal of space. Some brands even label each small compartment in the organizer so you will not misplace your spoons, forks, and knives.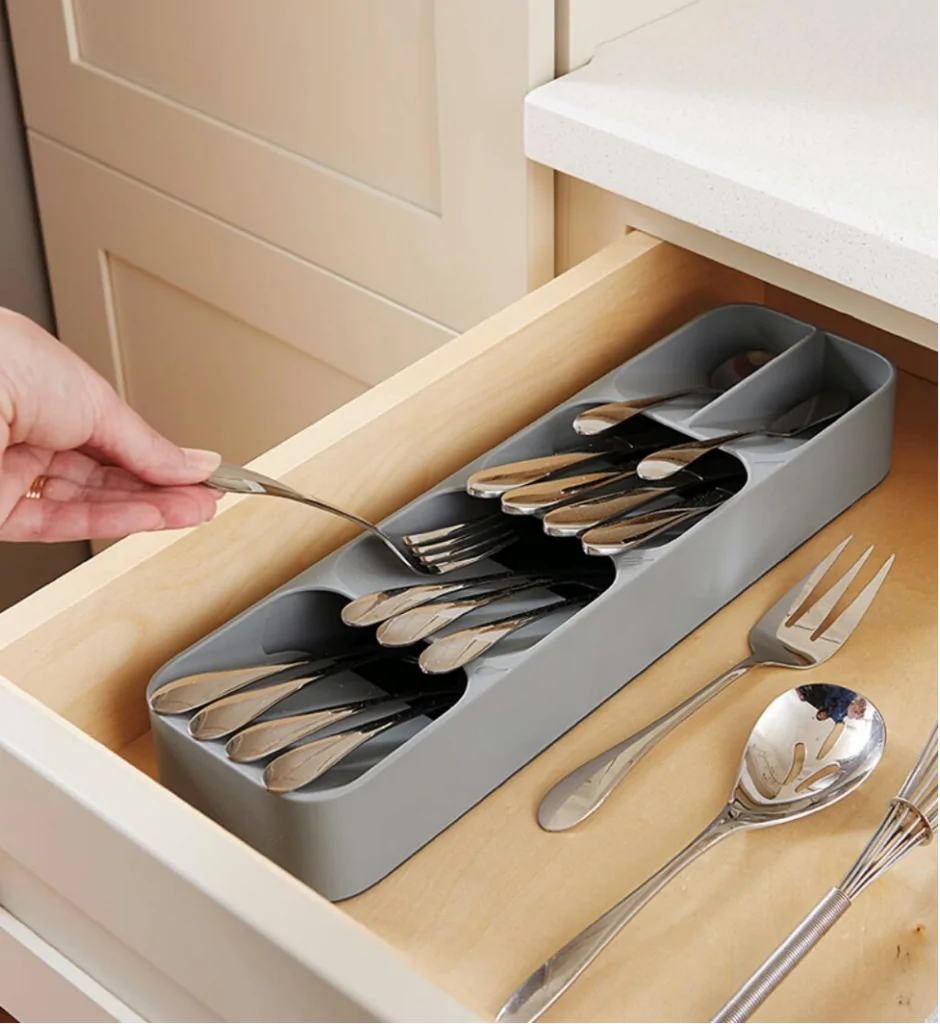 5. Use Tension Rods in Your Laundry Room
Sometimes you need to quickly find some extra space to dry your clothes. Tension rods will come in handy: they are extremely useful in turning every nook of your home into a makeshift drying station. What's more, tension rods are very easy to store, and they do not cost a fortune.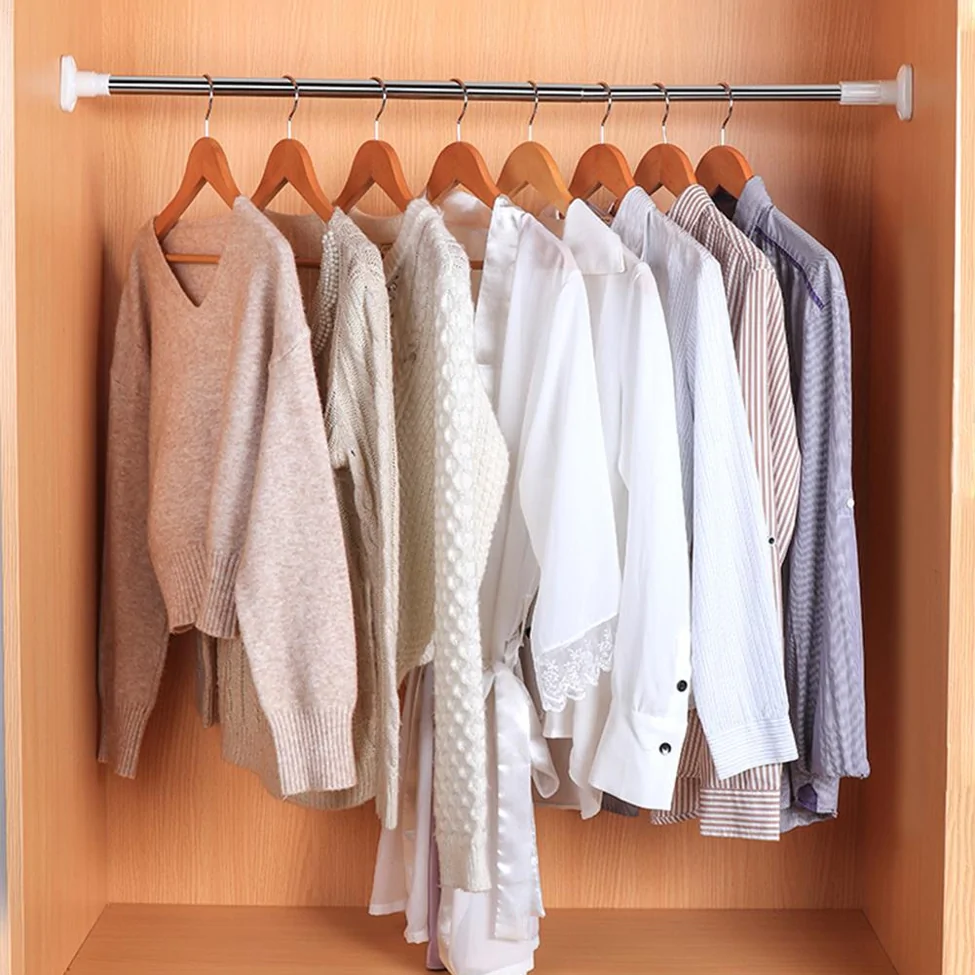 It is very easy to adjust the length of such a rod to place it wherever you want. You can even use tension rods under your sink in the bathroom and anywhere else to organize all kinds of your stuff.
6. Hanging Laundry Bags
Laundry hampers very often get in the way and make your room look unorganized. As a viable replacement, get door-hanging laundry bags and keep your stuff in them. They can hang such bags on the back of any door to keep them out of sight. The hamper has a zip underneath so that getting your clothes from it will never be an issue.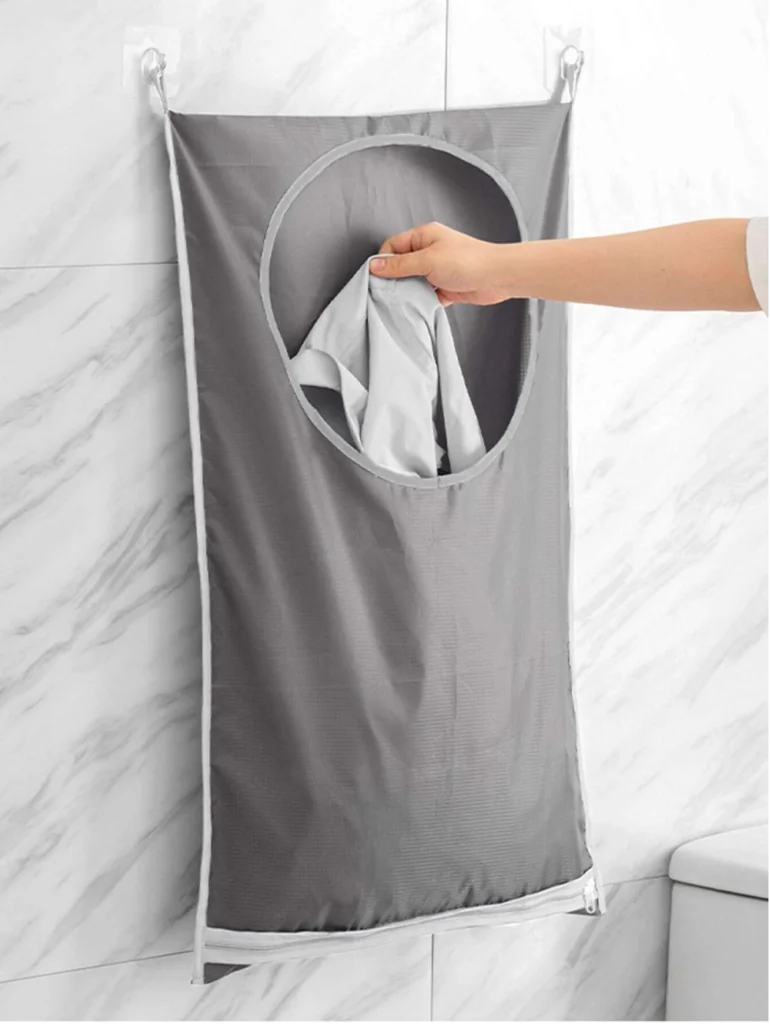 7. Under Shelf Storage Baskets
These handy baskets make space organization in small places a cinch! Get a couple and slide them into various flat surface areas in your home. Your small fridge, for instance, will boast a considerably greater storage area if you equip it with undershelf baskets.
You can also use baskets like these in your bathroom, kitchen, and bedroom: they are affordable, durable, and extremely easy to install!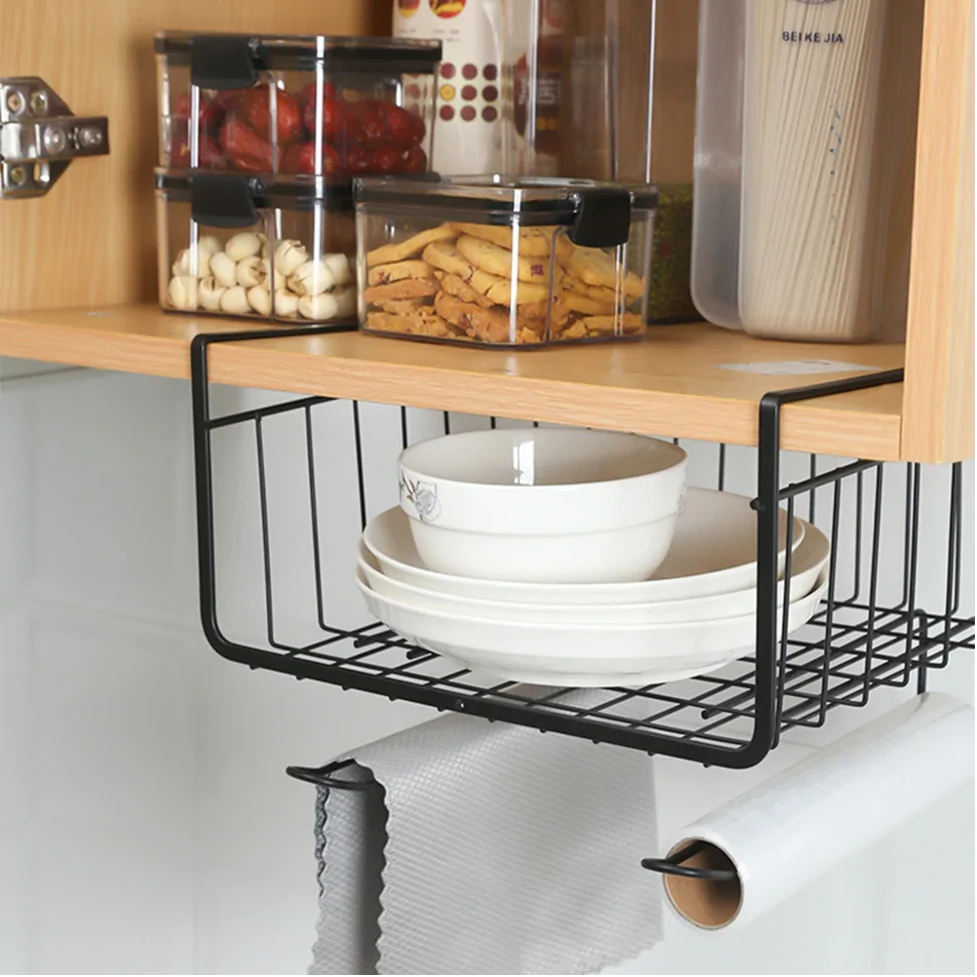 8. Floating Storage Frames
If there are toiletries all over your bathroom, then you really need to get floating storage frames. The same goes for your books, laps, vases, and whatnot that clutter your living room.
These frames are available in different sizes and designs and can be easily attached to your walls to create more storage capacity. Appealing and adjustable, ideas like these will help you clear up your dresser and get immediate access to any item you might need.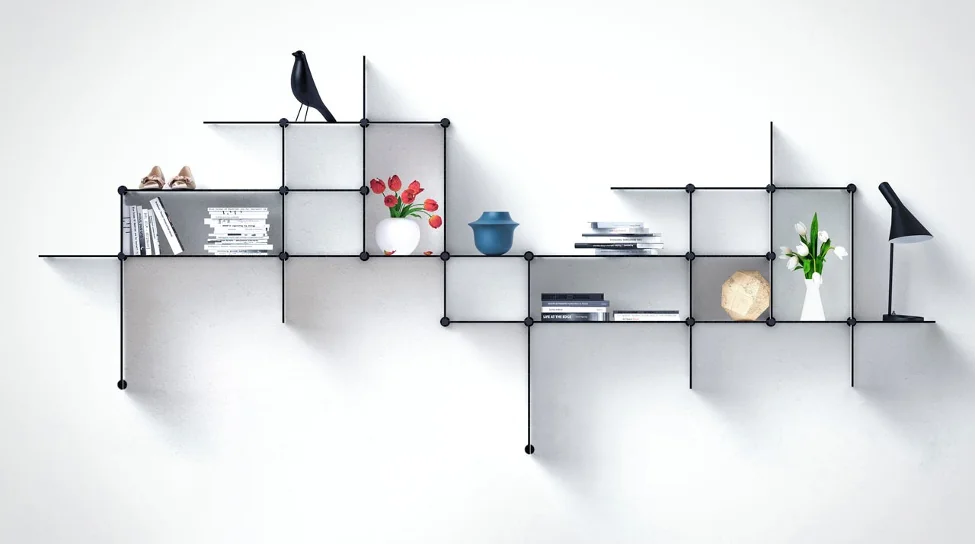 9. Towel Rods
No more room to keep your towels on the shelves? Try these amazing back-of-the-door towel rods for a change. These rods can fit anywhere, but the ideal place is the back of your door, where they will not be an obstacle. You can easily attach two such rods to any door and get ample space to hang your towels to dry.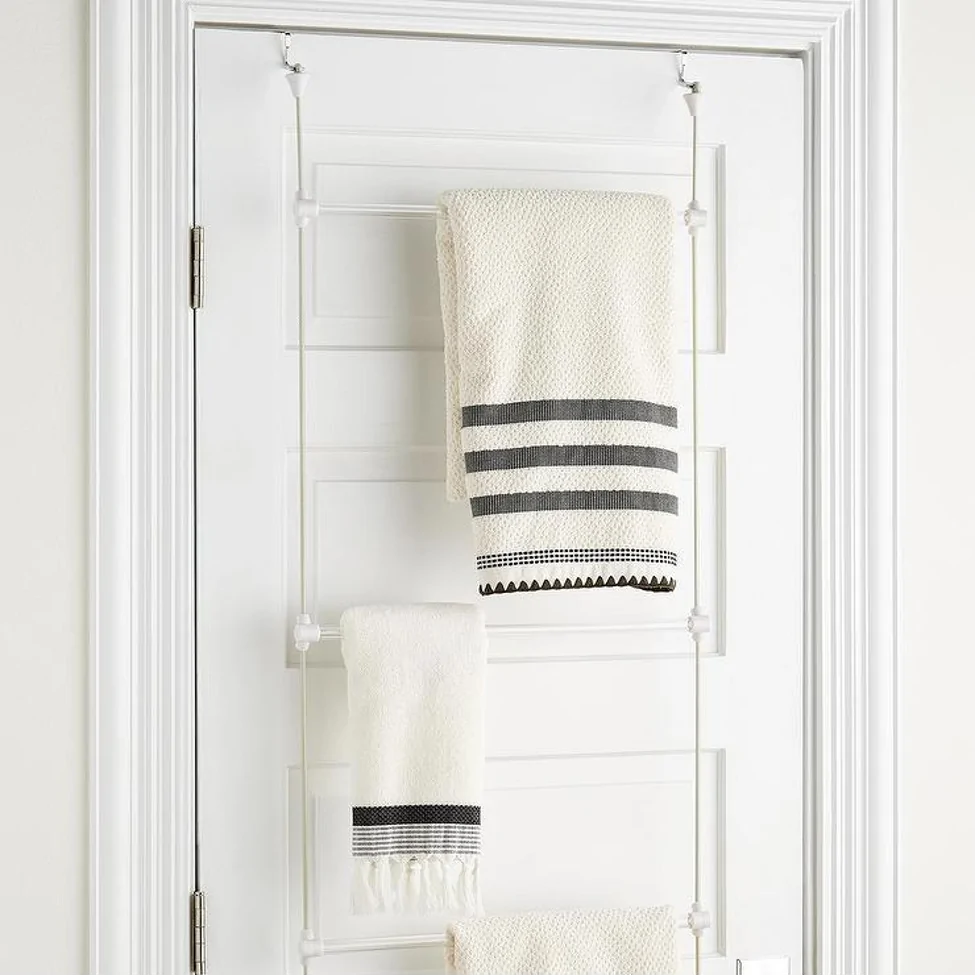 10. Under Bed Drawers
Underbed drawers are one of the most convenient organizational ideas for small spaces. They are a creative and efficient way of freeing up space in your bedroom. Instead of having a normal-height bed, you get yourself a higher one with additional room for drawers underneath the frame. You can store really anything in these drawers: from your clothes and shoes to rarely-read books and other items.
11. Corner Nightstands Shelves
Need some budget-friendly ideas for your small room? Then give a try to corner nightstand shelves: they are one of the extremely effective (and also quite cheap) organization ideas for small spaces. These small sectors can be placed in the corner of your bedroom right beside the bed. No need for stools, tables, and bulky shelves: a corner shelf of the right size can supplant them all. An ideal place for your lamp, books, alarm clock, and other small items!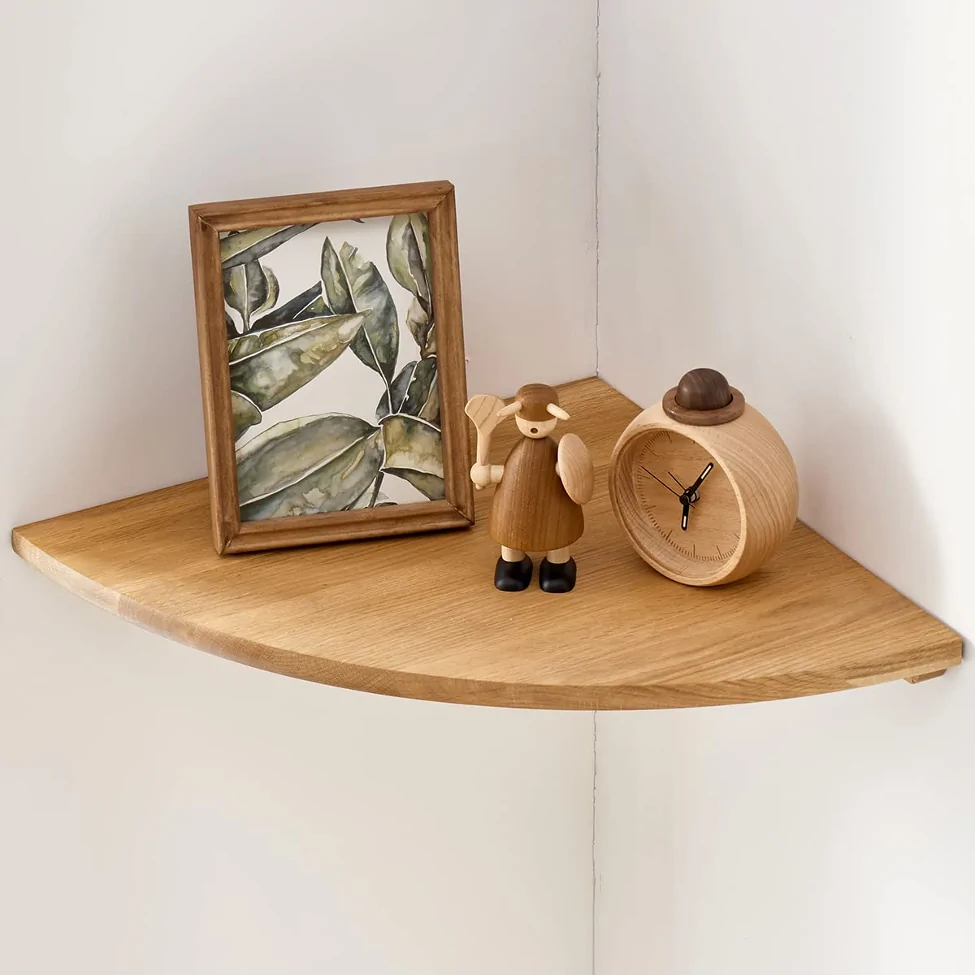 Corner nightstand shelves are available in different sizes, designs, and styles. Some are permanent fixes, while others are detachable.
12. Use the Room Under the Stairs
Most stairs have plenty of space under them: why don't you use them for storage? It won't be difficult to equip this area with shelves, hangers, and rods to unclutter all your other rooms. What's more, you can even turn this area into a mini resting place that adds to the aesthetic of your home, just as seen in the picture.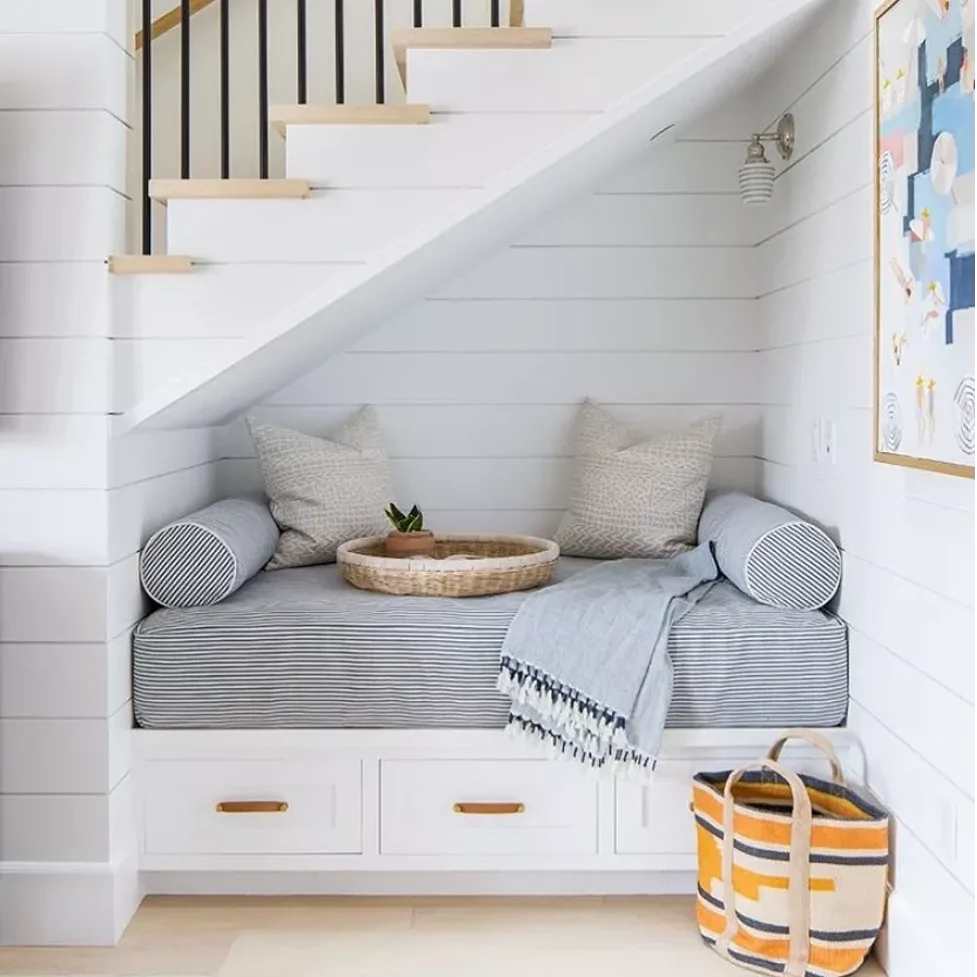 13. Thin Rolling Shelves for Your Bathroom
Try these slim rolling shelves if you have a small bathroom with little or no space to place your stuff. Although these shelves are narrow, they are at the same time wide enough to store different items that you need in the bathroom. In addition, the design of their wheels allows you to move them in any direction. So, if such a shelf stands in your way, simply move it to where it won't be an obstacle.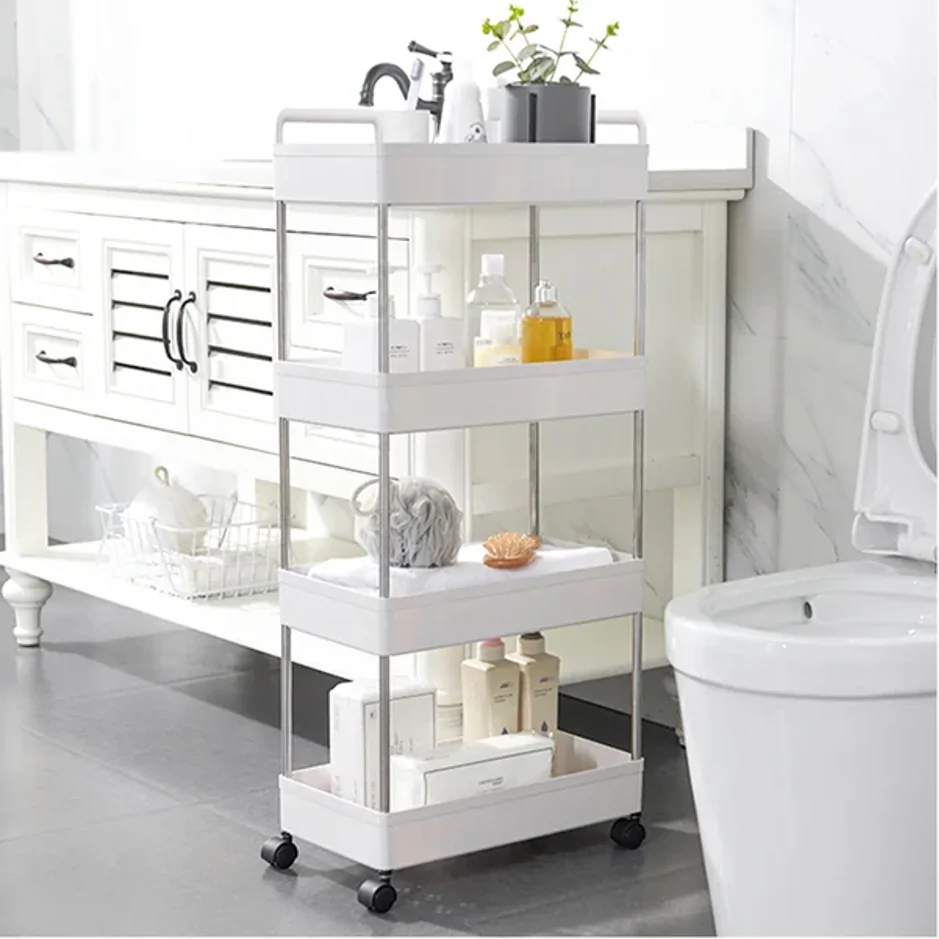 14. Tiered Shelves
One of the best answers to the question of how to organize small spaces is to use tiered shelves wherever possible. They take as much floor area as a regular table but offer the important advantage of having several horizontal surfaces that can be used for storing your bits and pieces. You can easily fit shelves like these anywhere in your kitchen, study room, bathroom, bedroom, or any other place where they are needed.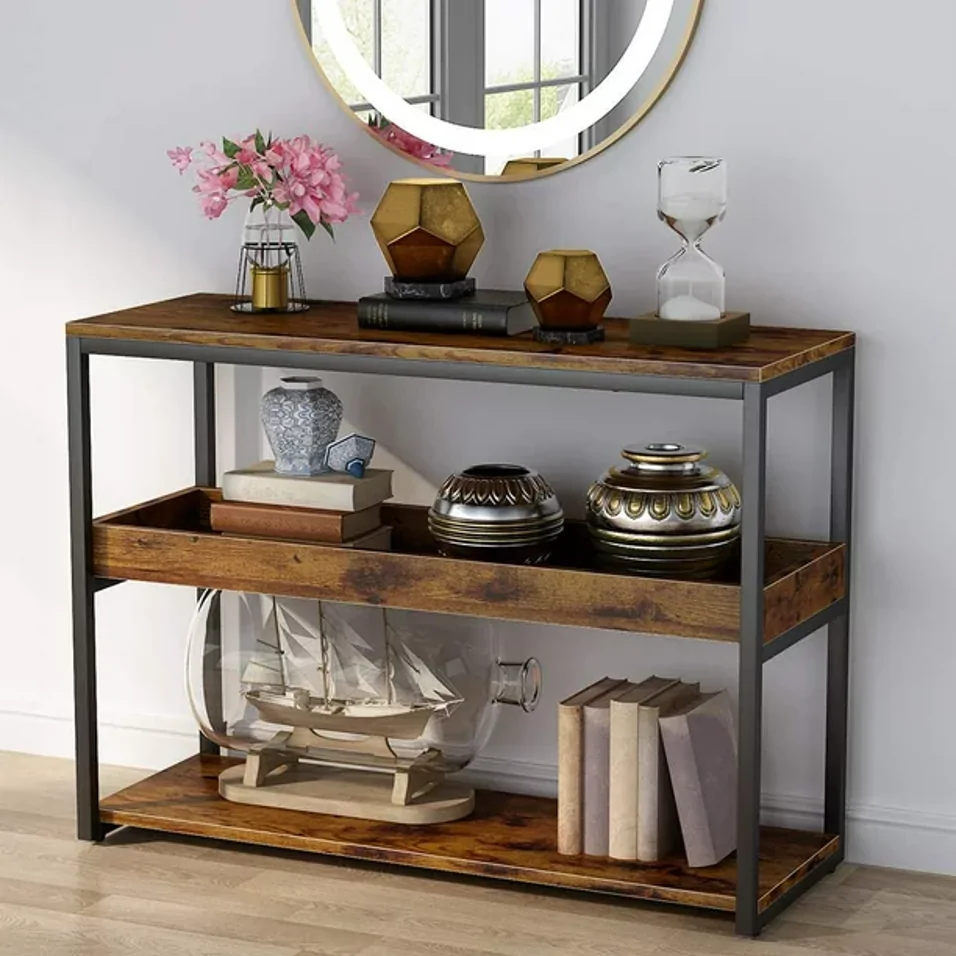 15. Collapsible and Multipurpose Furniture Pieces
Get the most out of your furniture by deciding on dual-purpose and collapsible designs. For instance, you can buy a sofa or an armchair with some extra space underneath that is ideal for storing your shoes, clothes, and books without taking up extra floor area.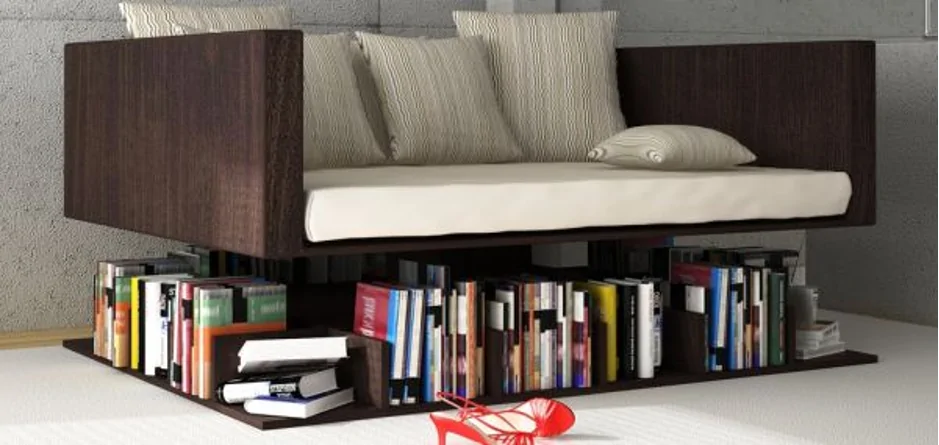 16. Use Shelves for the Space Under Your Kitchen Sink
Need extra room for supplies in your kitchen? You can effectively use the space under your sink and store your sponges, soap, gloves, and other kitchen cleaning supplies there. Simply install a roll-out shelf like the one in the picture. You can also use small round or square containers with a shelf so that all the things you might need are in their proper places and there is no clutter.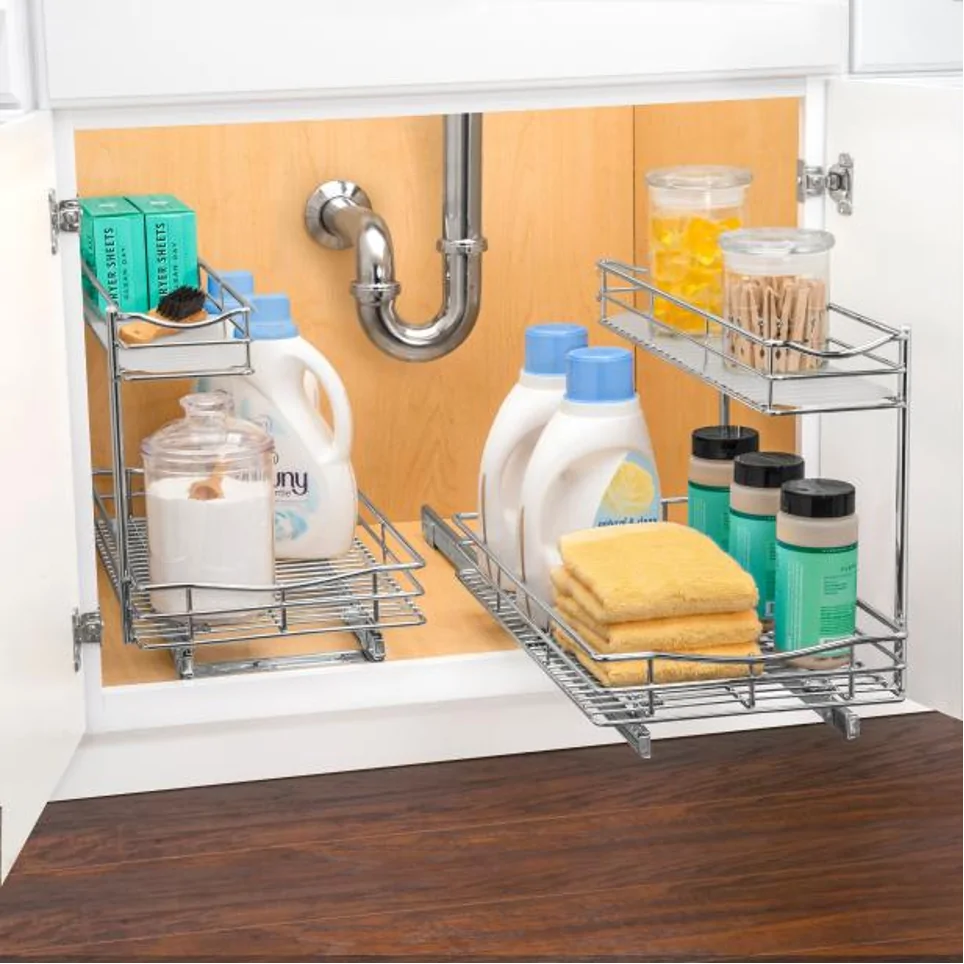 17. Install High Wall Shelves
Looking for sophisticated organizational ideas for small spaces? High-wall shelves create extra storage space and add a pleasant rustic look to your room. Their great distance from the floor makes the area look less cluttered as opposed to mid-wall shelves. You can use them in your study to store your books, bedroom to keep your linen, and kitchen to create a place for rarely used items.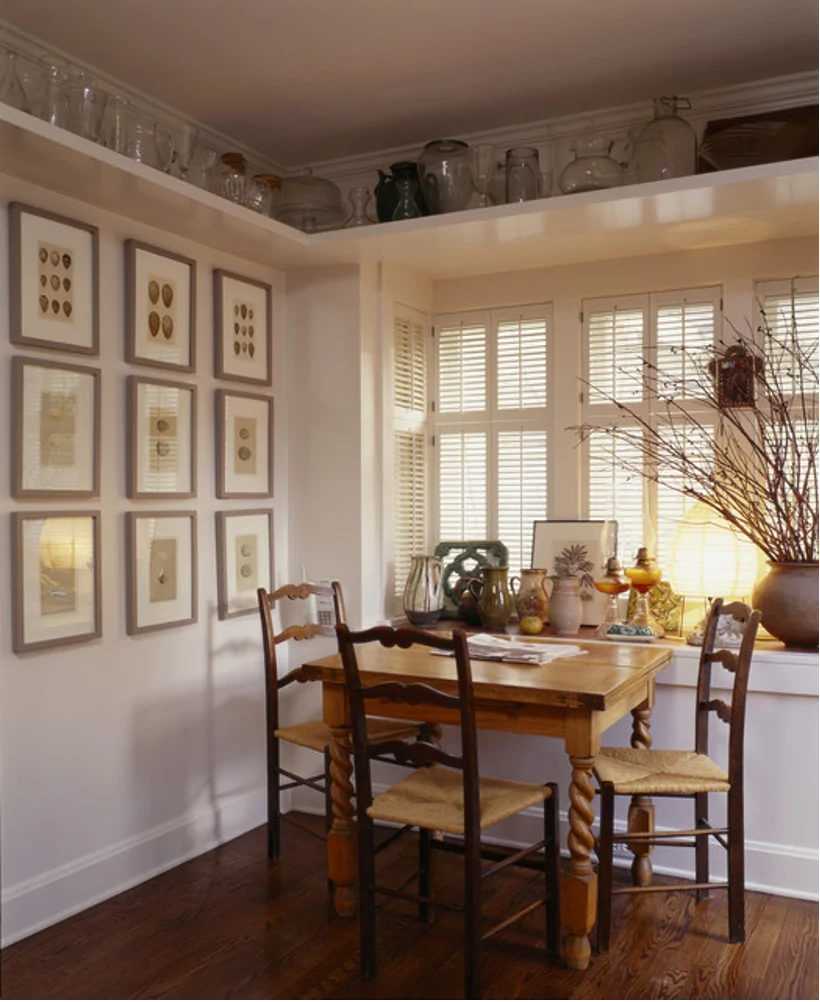 18. Sliding Mirror Shelves
What about a multifunctional piece of furniture that serves as both a mirror and a storage shelf for your toiletries? Mirror shelves are one of the most creative ways to manage your small spaces.
They usually look like normal wall storage cabinets but have mirrors instead of regular doors. You are supposed to slide the mirror to the side to access your toiletries and slide it shut to see the reflection of your face.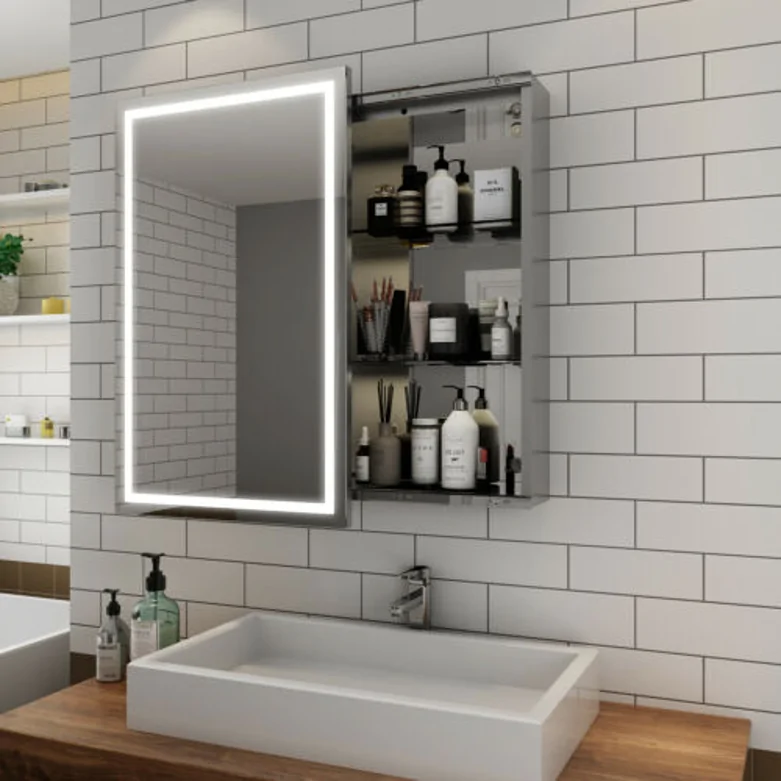 19. Wire Baskets
If you don't have enough shelves in your closet, separating different types of clothes can be a major issue. Use wire baskets so that you get very fast access to your clothes and your hoodies and gloves do not get all jumbled up. You can add quite a few wire baskets below your hanging clothes so that every inch of your space is used effectively.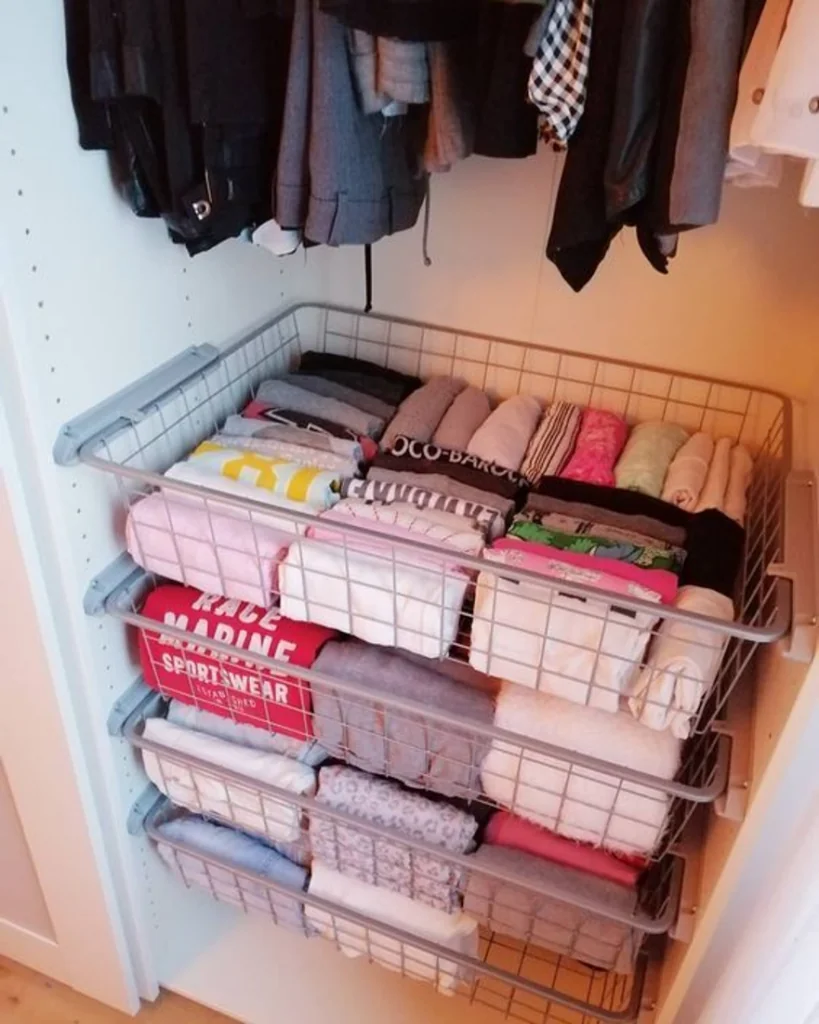 Conclusion
The small space organization ideas we have shared above will assist you in maximizing the storage area in your home; what's more, all of them have a sophisticated look and can be used for decoration as well.Most of the solutions we suggest are very affordable and do not require a major budget. So, if your room can only boast of small space, organization ideas like the ones we suggest are sure to come in extremely handy.