20 Inventive Pool Coping Ideas and Innovative Hacks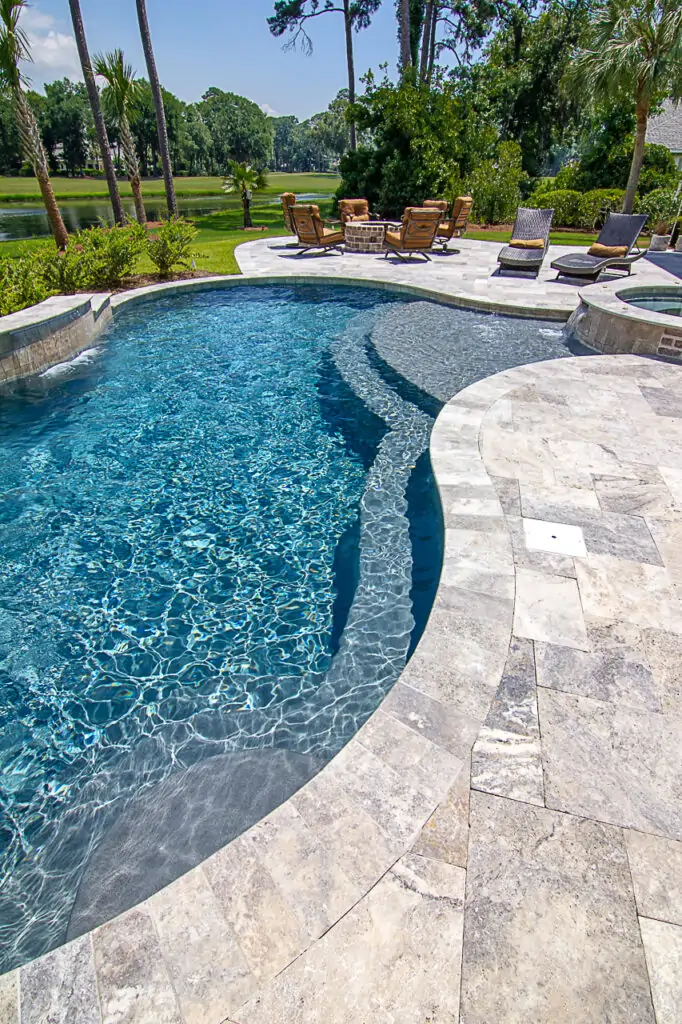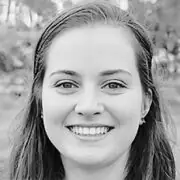 Summertime is the perfect season to find some creative pool coping ideas. Whether you're taking a break from the summer heat or hanging out with friends and family, swimming is always a blast. Still, the best is the enemy of the good: if you're looking for ways to make your swimming experience even better, look no further.
This article will offer some of the modern pool coping ideas and hacks for you to consider. From unconventional materials to clever DIY projects, this article has got something for everyone. You can also check our pool coping pictures to have an idea of the real feel before you apply any tips mentioned here. So dive in and get ready to take your swimming game up a notch!
1. Get Creative
There are endless possibilities when it comes to creative coping ideas. You can use stencils or stamps to create patterns in concrete or stone, or you can use colored epoxy to create a unique design. Be sure to talk to your local professional about the best way to get creative.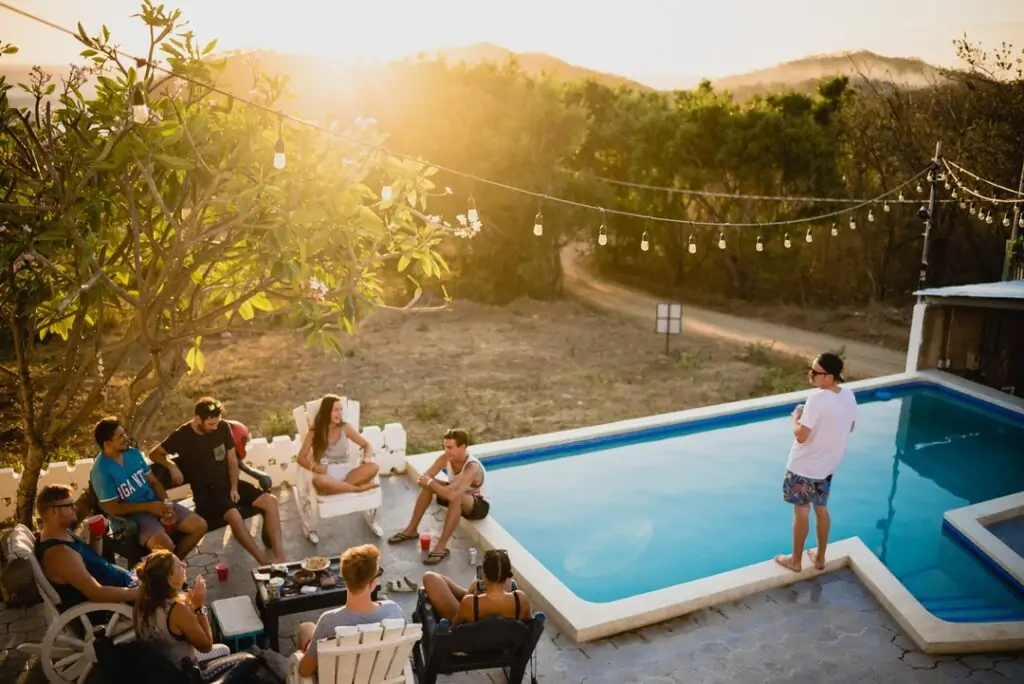 2. Go for Precast Concrete Pavers
They are really one of the best swimming pool coping ideas to consider. Precast concrete pavers are popular because they are both durable and low maintenance. They come in a variety of colors, shapes, and sizes, so you can create a custom look quickly. Pavers can also be used to create innovative patterns and daring pool coping designs.
3. Travertine Pavers
Travertine is a natural stone that comes in a variety of colors and textures. It's a popular choice because it is both slip and heat-resistant. Installing travertine pavers can be one of the best inground pool coping ideas that can really make your pool stand out.
Furthermore, travertine pavers are a classic choice for many people. They're beautiful and elegant, and you can choose from a wide range of colors and styles. As they are durable, you don't have to worry about them getting damaged or becoming unsafe.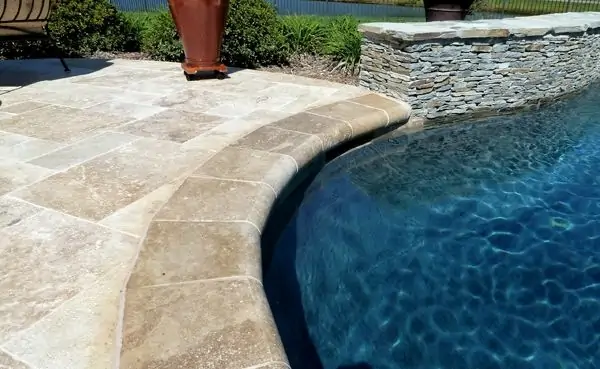 4. Brick Pavers
Brick pavers are another popular choice on the list. They are durable and easy to maintain. They also come in a variety of colors and styles, so you are sure to find the perfect look for your pool. While their appearance is similar to that of travertine pavers, brick pavers are typically more affordable.
In addition to that, they're easy to clean and maintain, so you can enjoy swimming for years to come without having to worry about making repairs or replacements.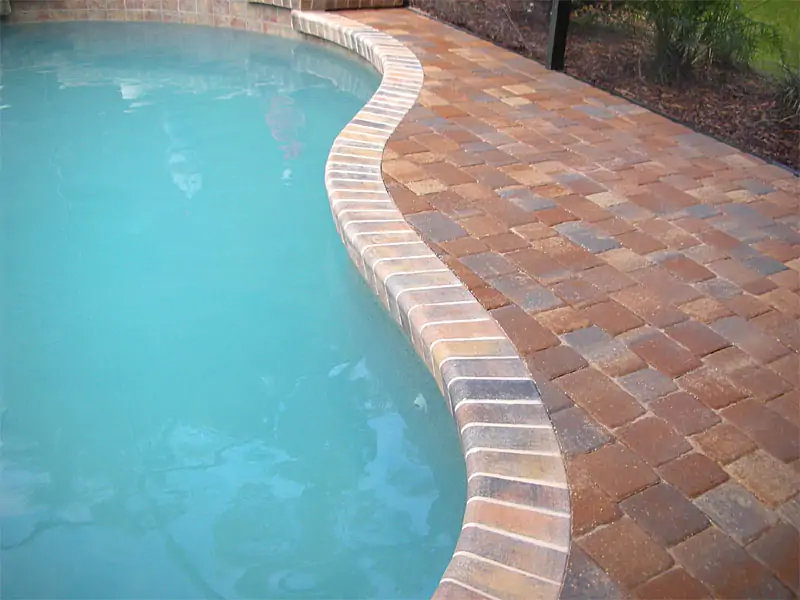 5. Flagstone Pavers
Flagstone is a type of sedimentary rock that's very popular for use in pools. These pavers are a great option if you're looking for something a little different. Just like the two above-mentioned options, they also come in a variety of colors and textures, so you can create a truly unique look.
A considerable benefit of flagstone is that it is extremely durable, so you won't have to worry about it cracking or chipping over time. Flagstone is also slip-resistant and heat-resistant, which makes it a great choice.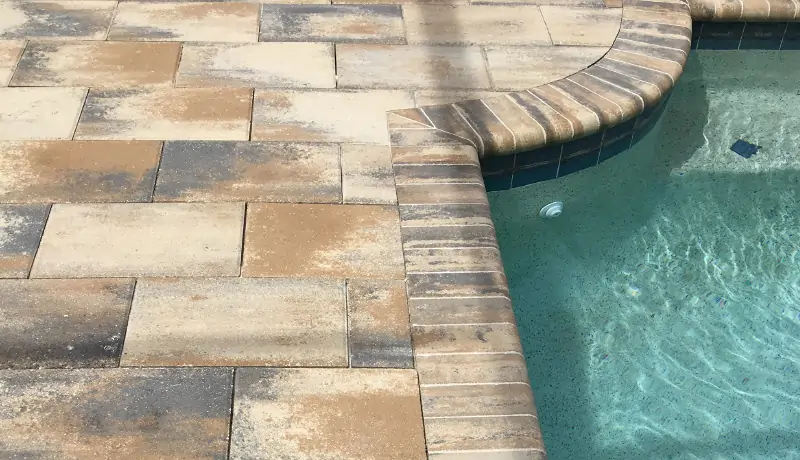 6. Use Concrete Pavers for Easy Maintenance
If you want something with a more contemporary style, concrete pavers are a terrific option. When it comes to concrete, the variety of colors and styles you can choose from is truly immense: you will have no problem creating a truly unique aesthetic. Plus, they're extremely durable and will virtually last for years before there is any need to make repairs or replacements.
In addition to that, concrete pavers are a great option for those who want an easy-to-maintain option. Concrete pavers are stain-resistant and easy to clean, so you won't have to spend hours scrubbing your pool deck. Be sure to seal the concrete pavers to protect them from weather damage.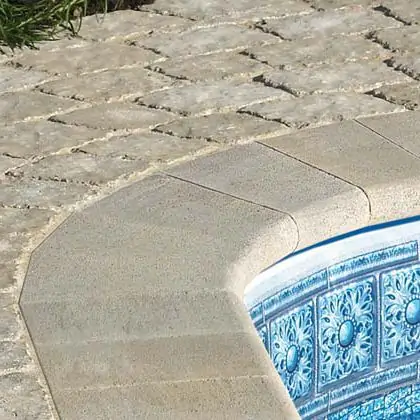 7. Glass Mosaic Tiles
If you were looking for some stunning pool coping and tile ideas, you are in the right place. Tile is a popular choice because it's durable and extremely easy to maintain. Tile comes in an immeasurable variety of colors, shades, forms, and styles, so you can find the perfect look for your swimming area.
Glass mosaic tiles are a beautiful and unique option for a one-of-a-kind look. Cleaning them will never be an issue, and you can virtually create pieces of art using them.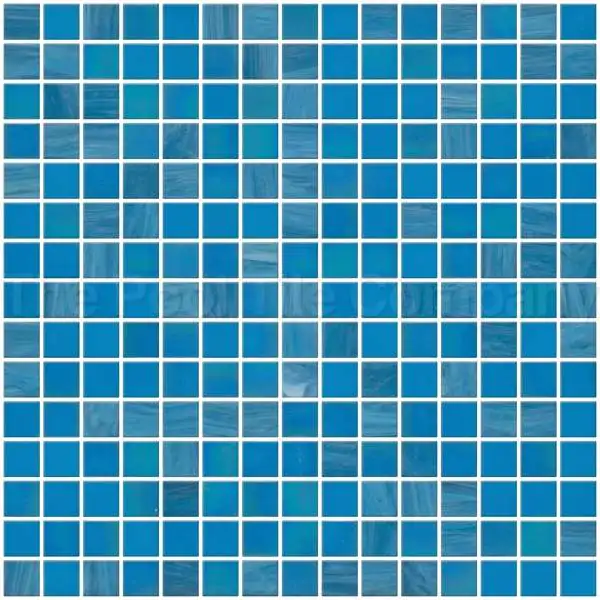 8. Use Interlocking Pavers for a Custom Look
If you're looking for a custom look, interlocking pavers are a great option. Different forms and styles allow you to create a unique look that no pool other than yours can boast of. Be sure to use a sealer on the pavers to protect them from weather damage.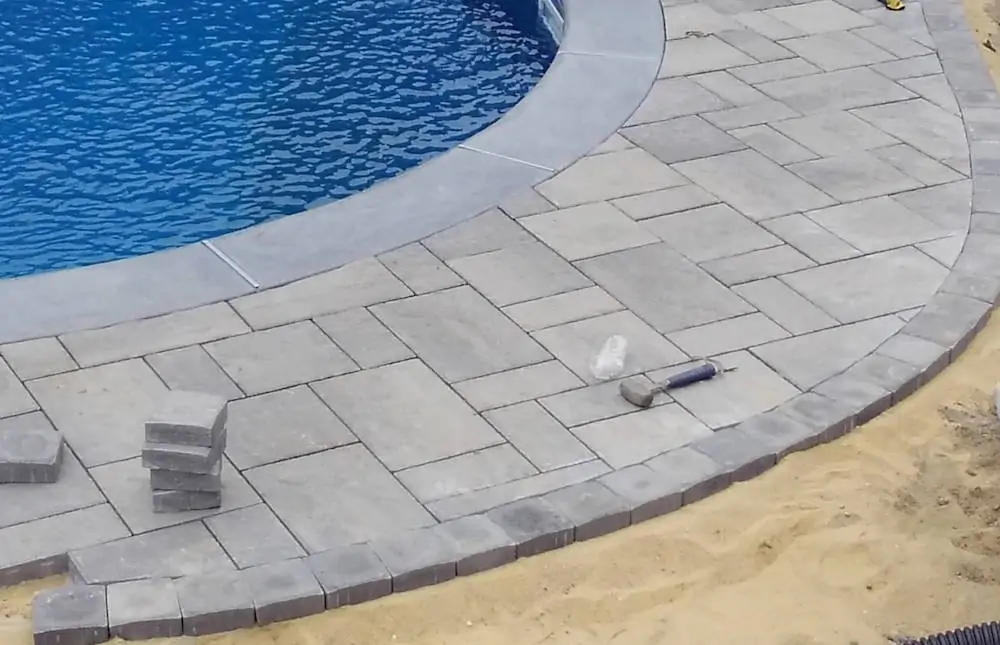 9. Poured Concrete Coping
Poured concrete is a great way to create an ultra-modern design that will make your pool look even bigger and more impressive. The finished product has no break in its finish on either side. It combines minimalist elegance with exceptional functionality so that you get truly stylishly designed walkways!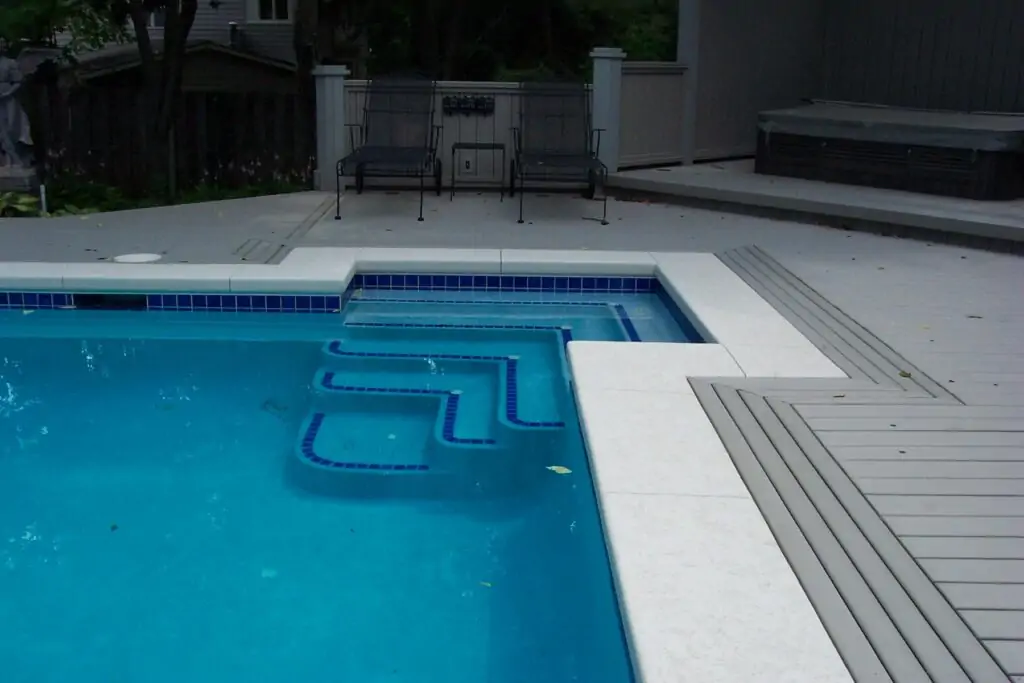 10. Install Stone Veneer for a Natural Look
Do you want to add splendor to your pool coping? Stone ideas are what you are looking for. If you want a natural look, stone veneer is a great option. Stone veneer is made from real stone, so it has a natural appearance that will complement any home style. Stone veneer is also easy to maintain and can be cleaned with just a garden hose.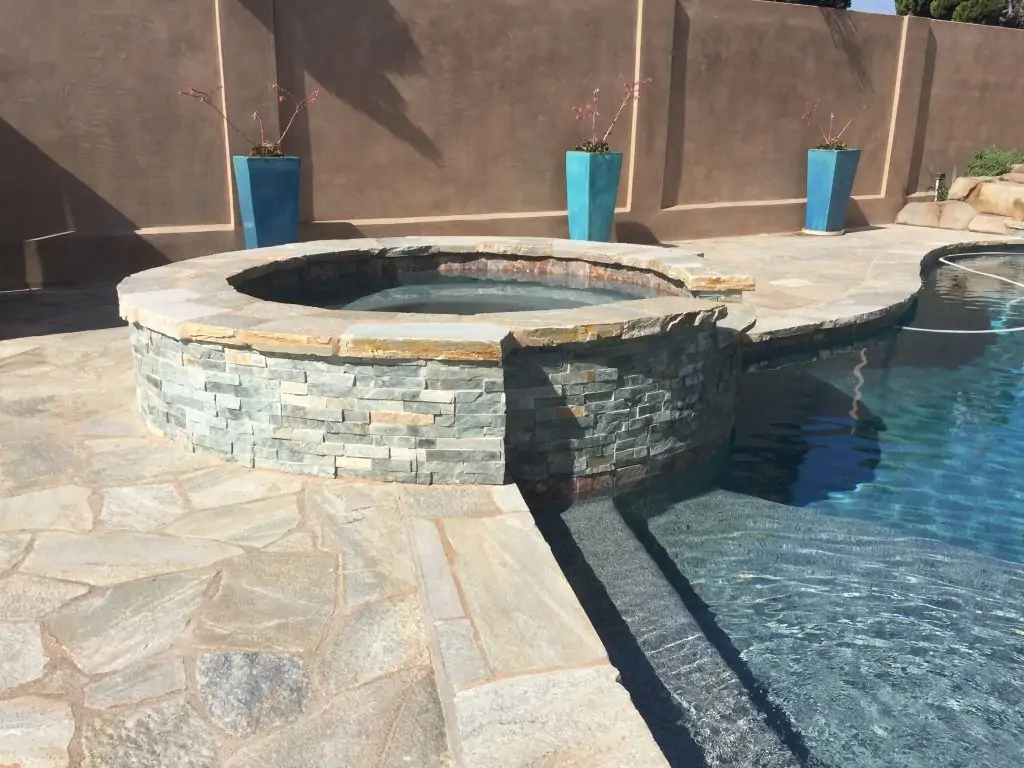 11. Use Pavers Instead of Traditional Concrete Coping
Pavers are a great option because they allow you to choose from numerous colors, sizes, and styles. You can also create patterns with them to add visual interest. Plus, they're easy to install and maintain.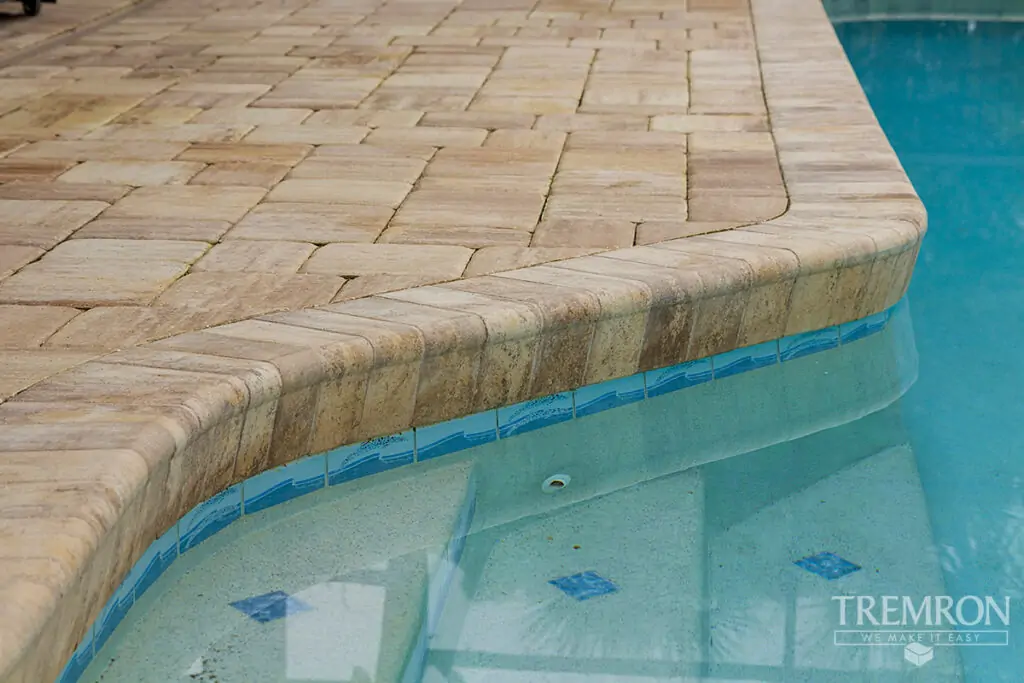 12. Use Two or More Pool Decking Material
Mixing various materials is one of the most practical coping ideas for pools. There are many different types of decking materials on the market, so you have plenty of options to choose from. Variety is the spice of life, as they say, so why not embrace it?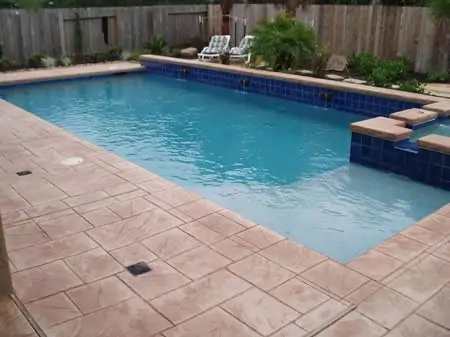 13. Incorporate Built-In Seating into Your Pool Coping Designs
This is a great way to save space and add functionality to your swimming area. Built-in seating can be used as a place to rest when you're not swimming.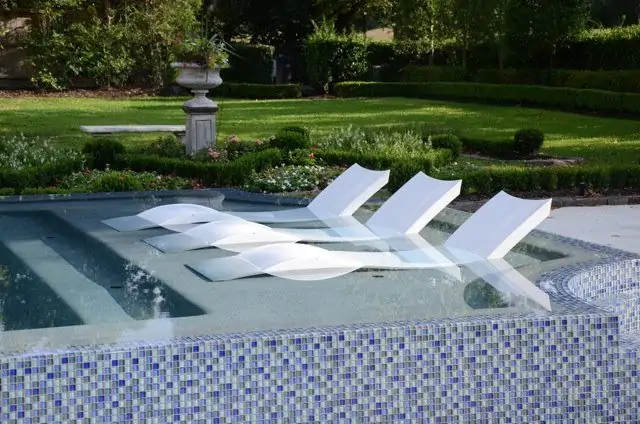 14. Use LED Lights to Create a Dramatic Effect
LED lighting is versatile and can be used in many different ways in your swimming area. You can use LED lights to accentuate features in your space, create ambiance, or even illuminate the water. Some of these lights can change their color depending on your programming, and you can really get creative with this option.
You can use LEDs to highlight certain features or create a certain ambiance in your swimming area. Last but not least, LED lights are energy efficient, so they'll save you a hefty amount of money over time.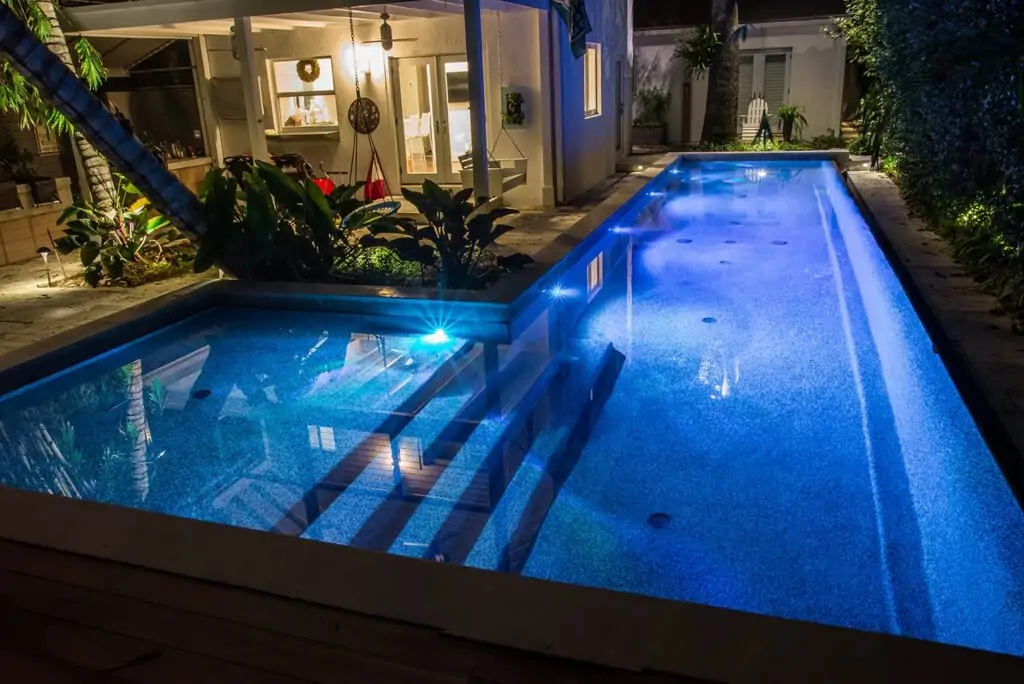 15. Add Water Features for a Relaxing Oasis Feel
Water features like fountains or waterfalls can really transform your swimming area into a tranquil oasis. They also add the benefit of masking any noise from traffic or neighbors that might be nearby.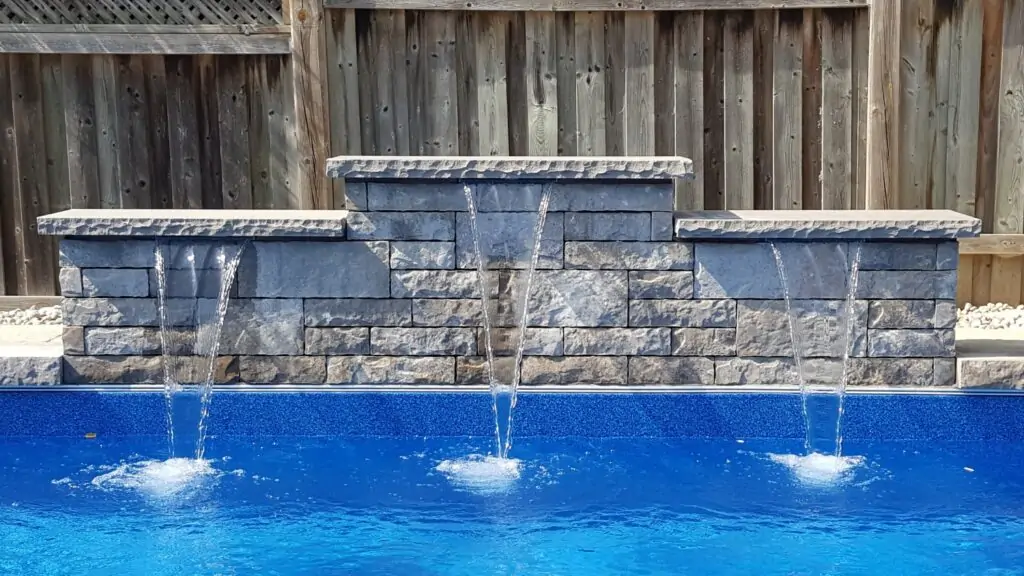 16. Stamped Concrete Coping
Stamped concrete is another option for those looking for a more custom look. Stamped concrete is an amazing way to add texture, interest, and dimensionality to your home design. With its realistic stone-like patterning it's perfect for creating a natural aura in any space. Stamped concrete is less durable than stone or precast concrete, but it provides a more custom look.
You can also use colored concrete or epoxy to create a design in the coping. This is a more permanent solution, but it will give you a lot of flexibility in terms of design.
17. Use Pebbles or River Rocks
Pebbles and river rocks are a beautiful and natural way to finish off your swimming area. Use them to create a one-of-a-kind look for your space: isn't it great to imagine yourself on a real river beach? Pebbles and river rocks are also slip-resistant, which makes them a safe choice for pool areas.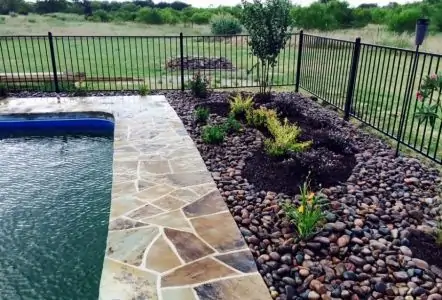 18. Use Stainless Steel Edging
Stainless steel edging is a modern way to finish off your pool area. It's clean and sleek, and it won't rust or corrode over time as other metals can. Stainless steel edging is also slip-resistant, making it a safe choice.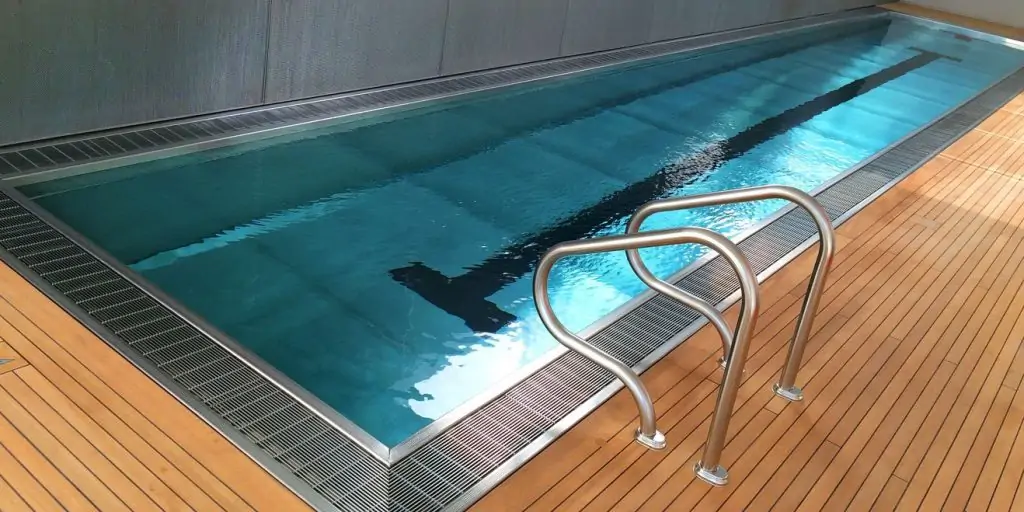 19. Stone Coping with a Wooden Deck
This coping around the pool is both outstanding and quite lovely. The natural stone edging looks quite stunning when surrounded by a hardwood deck. The patio area, which includes outdoor furniture, has a light tint that complements the color of the stone coping.
20. Surround Your Pool with Lush Greenery
Incorporating greenery around the perimeter can not only enhance its aesthetic appeal but also provide privacy from neighboring yards. Consider adding tall hedges, tropical palm trees, or colorful flower beds to add a natural touch to your swimming experience.
Additionally, strategically placed potted plants can serve as both decorative accents and functional barriers for safety purposes.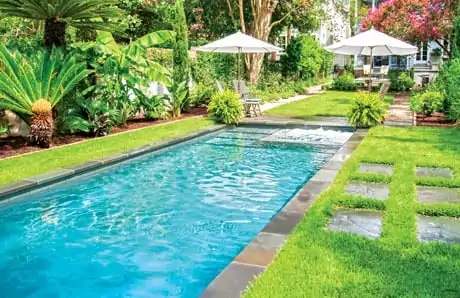 Conclusion
There were different pool coping ideas to enhance your swimming experience. By using pavers, getting creative with your decking material, incorporating built-in seating, using lights, or adding water features, you can take your pool area from ordinary to extraordinary! No matter what ideas fit your situation, be sure to research all your options before making a final decision.