The Best Shoe Storage Ideas to Use in Your Garage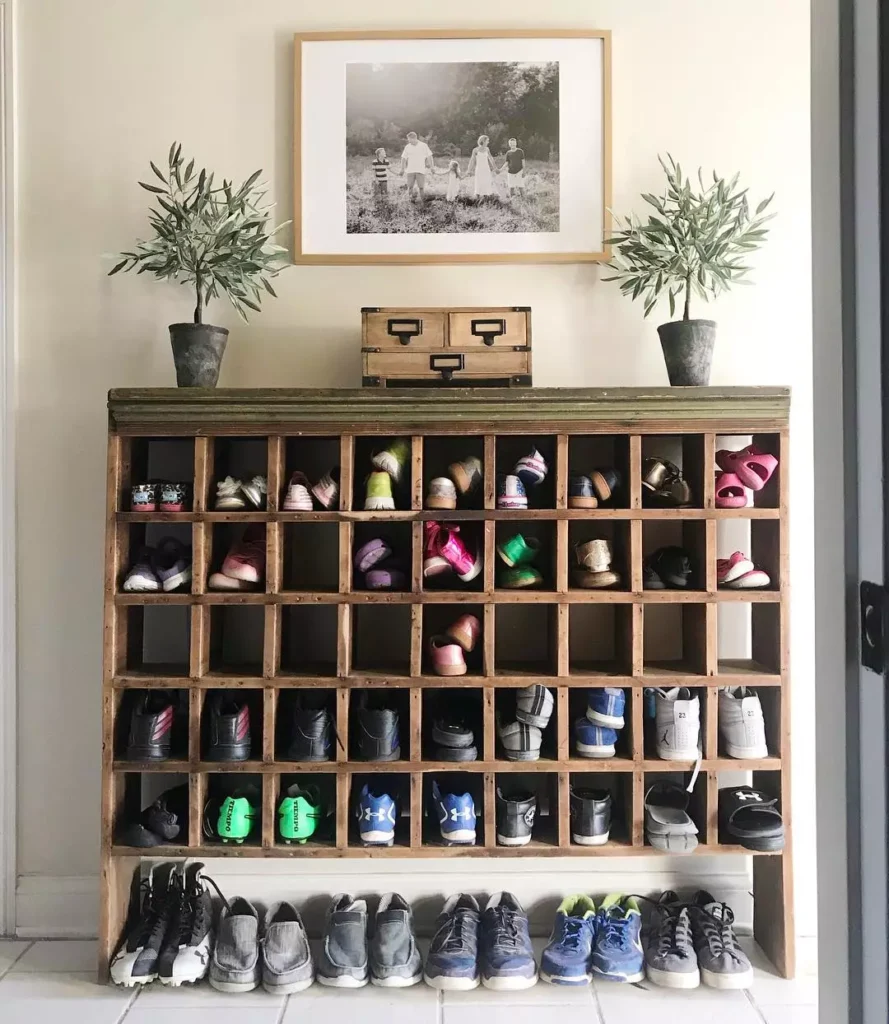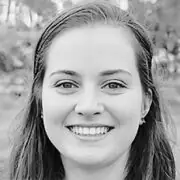 Whether you're living alone or with a growing family, shoe storage can often be something to think about. The garage is often a space that can be used for almost anything, and this is why we're going to go over some of the best shoe storage ideas to be used in the garage.
We understand that everyone has slightly different space, and that's why our options explore all kinds of shoe storage ideas for the garage: from traditional racks to dedicated cabinets and even corner shelves.
Shoe Rack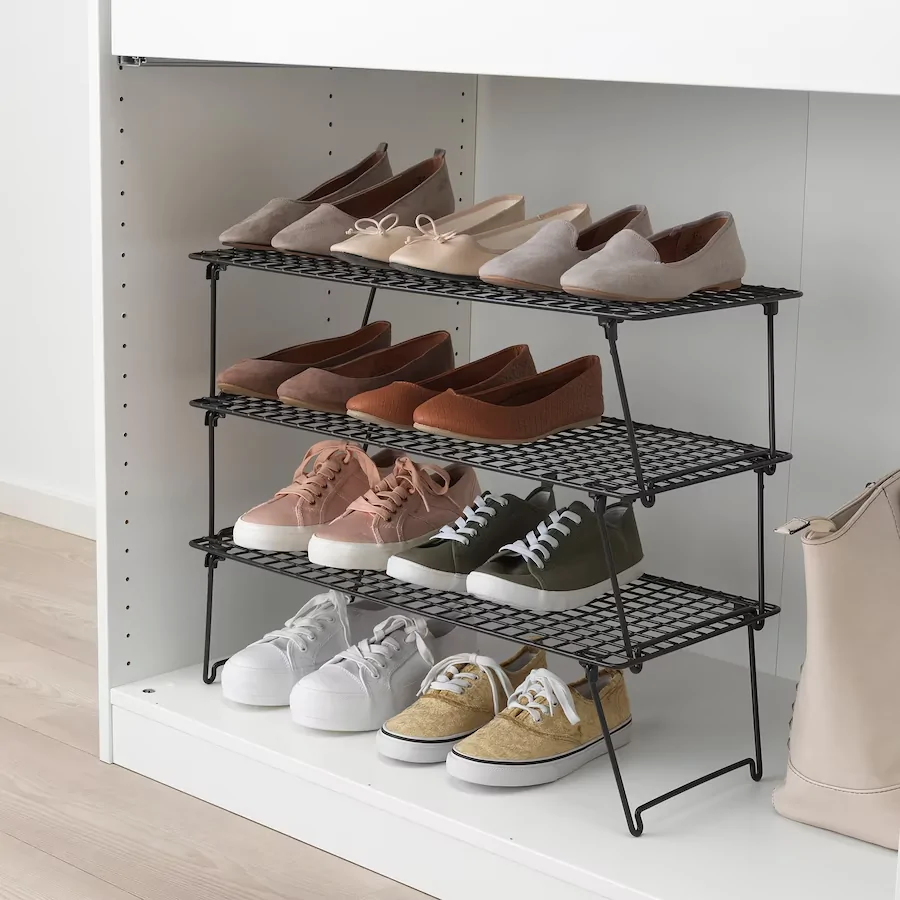 The traditional rack has been around for a while, and it still does a pretty decent job at storage. When looking for extra shoe storage in the garage, simple solutions like a traditional rack are the first to be considered. This is because of its compact size and fair usability.
You can find racks in many different shapes and sizes catering to different needs and spaces. If you have a space that is compact, a small rack with 2 shelves should be enough. Even a small rack like that can hold up to 6 pairs of shoes. Most racks take more space horizontally, so you don't have to worry about them congesting the space.
Racks can be easily found on Amazon, Ikea, and many other retailers. They also tend to be affordable and easy to assemble.
Corner Shelves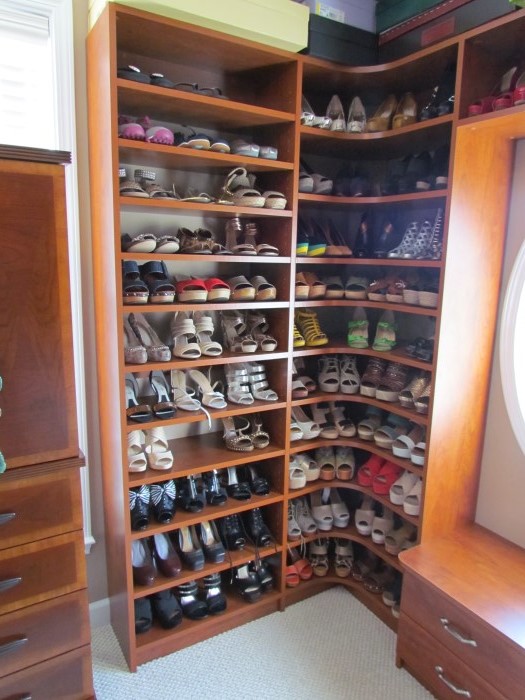 Have an unused corner in? Perfect! A corner shelf is a great answer to how to store shoes in the garage. These shelves are often found on 2 or 3 levels and occupy your corner wall.
Most corner shelves are fixed into the wall, so you don't have to worry about them blocking a walkway. However, you can also find some corner shelves that can be placed on the floor. Corner shelves can be tucked away perfectly into the side of your garage and tend to fit a decent amount of boots, sandals, high-heels, and any other types of footwear. Anywhere from 6 to 15 pairs can easily be placed onto a corner shelf.
As a matter of fact, if you're looking for simple garage shoe storage ideas and DIY is your hobby, a corner shelf should be given through because of its easy assembly and cutting. All you have to do is measure and cut planks of wood that can then be placed on the wall.
Shoe Cabinet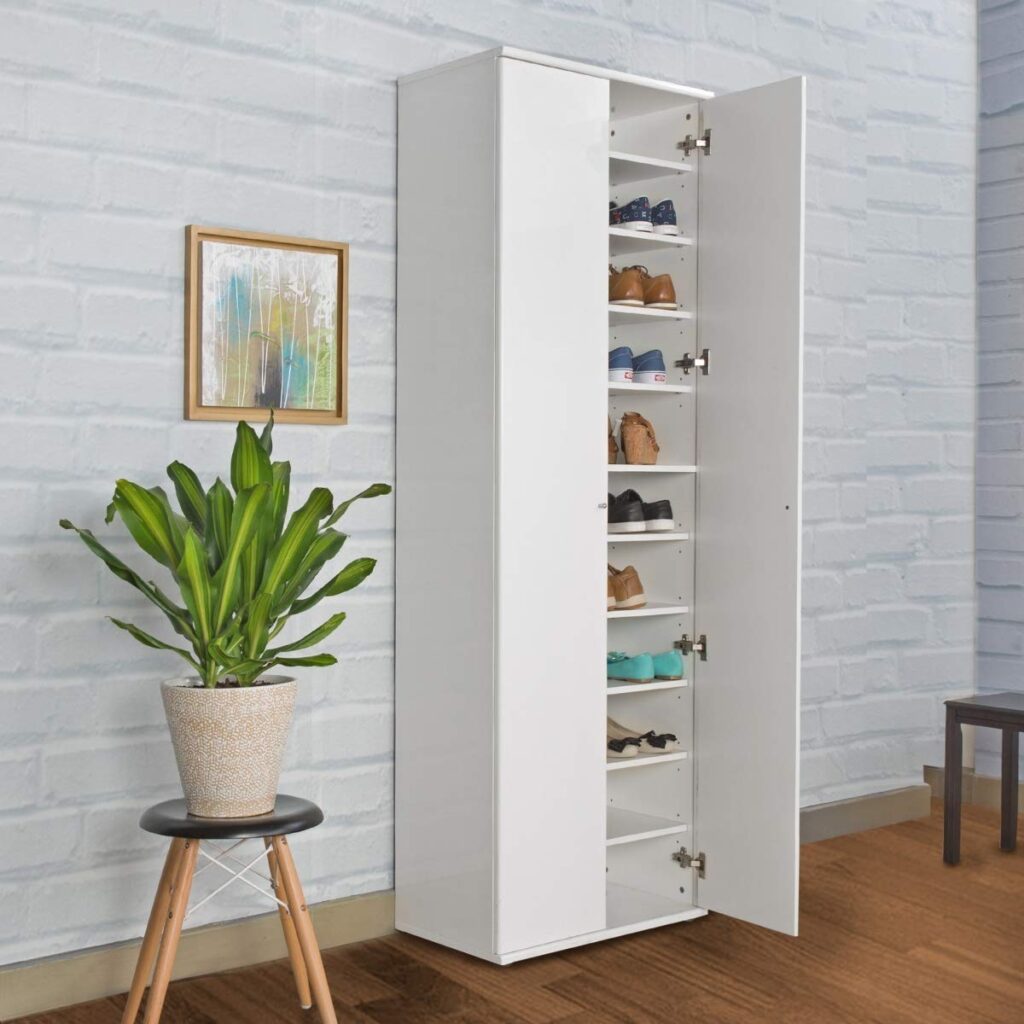 Storage ideas for the garage can take an interesting turn when you bring a shoe cabinet into the picture. These are usually well-built, tall, and pretty accommodating cabinets where you can store your footwear.
Cabinets are often used by families. They're also popular among people that have a specifically expensive taste for their footwear. This is because cabinets can be very effective in protecting your footwear from too much sunlight, humidity, and dust.
While a cabinet can be a great idea for how to store shoes in your garage, they are often expensive and tend to occupy a lot of space. Therefore, you should make sure you have a spacious area for a solution like this.
Stackable Plastic Boxes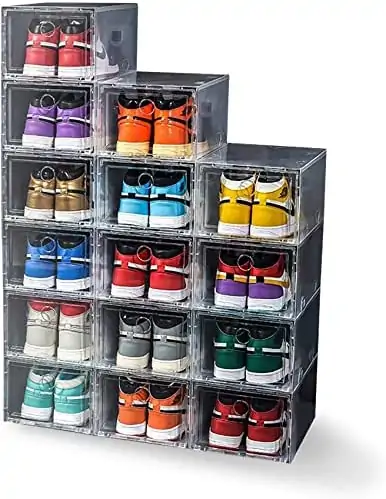 Shoe rack ideas for the garage don't get any simpler than this. You can actually purchase separate plastic boxes and stack them up to use as a rack. A plastic box stacked rack is good for a number of reasons. Firstly, it's very affordable, and you're not paying for any space you're not using. You can simply buy more boxes as you need and add them in.
Secondly, plastic boxes can be stacked in any way or form. Depending on the space and size of your garage you can stack them horizontally, vertically, or both! Plastic stackable boxes are also great because they're transparent, and you can always see which shoes you want without having to open the wrong shelves.
Plastic stackable boxes are mostly used by children because they are comparatively cheap and don't easily break. They also provide a good amount of protection from dust.
Hooks or Pegs
If you're someone who has a compact or small space, hooks and pegs are among the better garage shoe storage solutions. All you need are some hooks or pegs, and that's all! You can buy hooks from Amazon, most retail stores, or even many convenient stores. They're usually very cheap and easy to install.
The advantage of using hooks is that you can place them anywhere in your garage and use them to hang your shoes. Furthermore, since they don't cost much money, you can always remove them and change their location without burning a hole in your wallet.
If you're someone who lives in a very warm or humid environment and worries about odor, hooks and pegs can help with ventilation since they're hanging in the open.
Slatwall for Shoes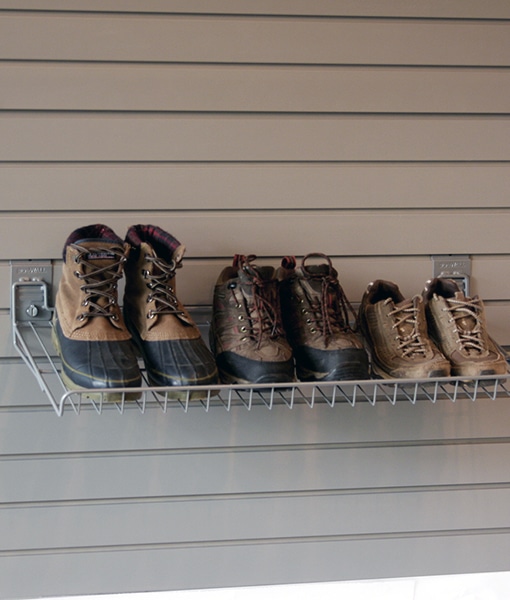 A Slatwall can be a great addition to your garage. Not only can you find shelves that will slide directly into the Slatwall, but it can be used for many other types of attachments as well. The multi-use capabilities of a Slatwall are definitely worth the price.
Many garages these days come with slat walls built right into them, so you don't have to buy one; all you have to do is buy the right slide-in attachment. The advantage of a Slatwall is, you can buy as many shelve attachments as you want and you can place them anywhere along the wall — either all in one place, or you can space them out according to the sizes/colors/purpose/owners of the shoes or the available space you have.
The only thing you have to be careful about when using a Slatwall is the weight, as it can't handle too much.
Wire Racks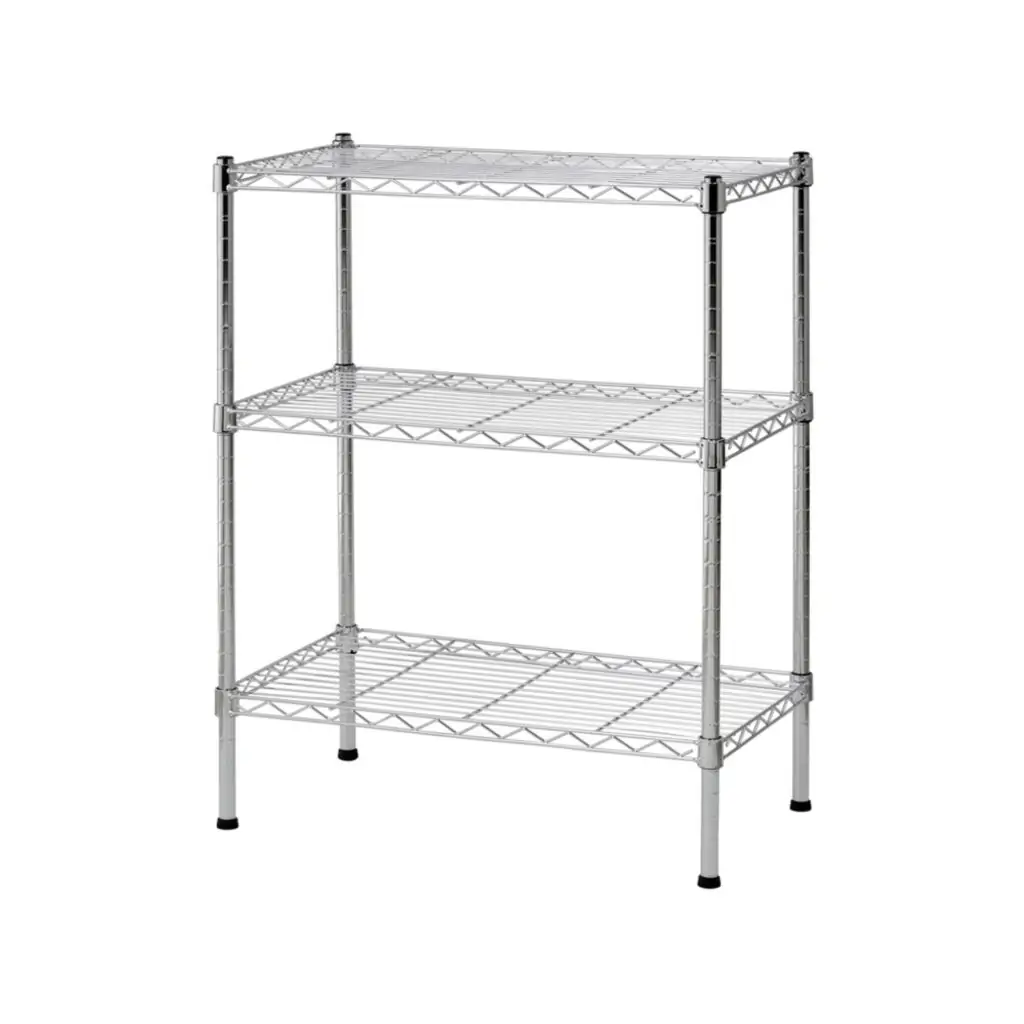 Want some really simple solutions for shoe storage in your garage? Ideas like wire racks are the best choice. Wire racks can be found in places such as Ikea and Amazon and can fit easily into most spaces.
Most wire racks can be attached from the ceiling using hooks or even suspended using wires. This makes storage of the racks themselves very easy. Wire racks are also open and allow for cross-air ventilation. However, they can become a bit of a hassle if you suspend them from the ceiling when it comes to accessing them for your shoes.
Wire racks are mostly used in garages that have most of their space taken up by cars, so you can suspend a wire rack on top and access your footwear anytime. They're also very useful for families, as everyone's shoes can be placed on them.
PVC Pipes
Remember when we said we're looking into all kinds of garages? Well, that also includes the very small ones and/or situations when you only have a limited budget.
PVC pipes have long been a great alternative to purpose-built racks. They are extremely cheap to purchase and can simply be cut according to whatever length you want. Similar to stackable plastic boxes, PVC pipes can be stacked in almost any shape or size.
PVC pipes can either be glued to the walls or simply stacked on the floors. This results in a pattern of compartments that you can make according to your needs. All you have to do is make sure you're picking the right size of PVC pipes, and that's all!
Use an Old Bookshelf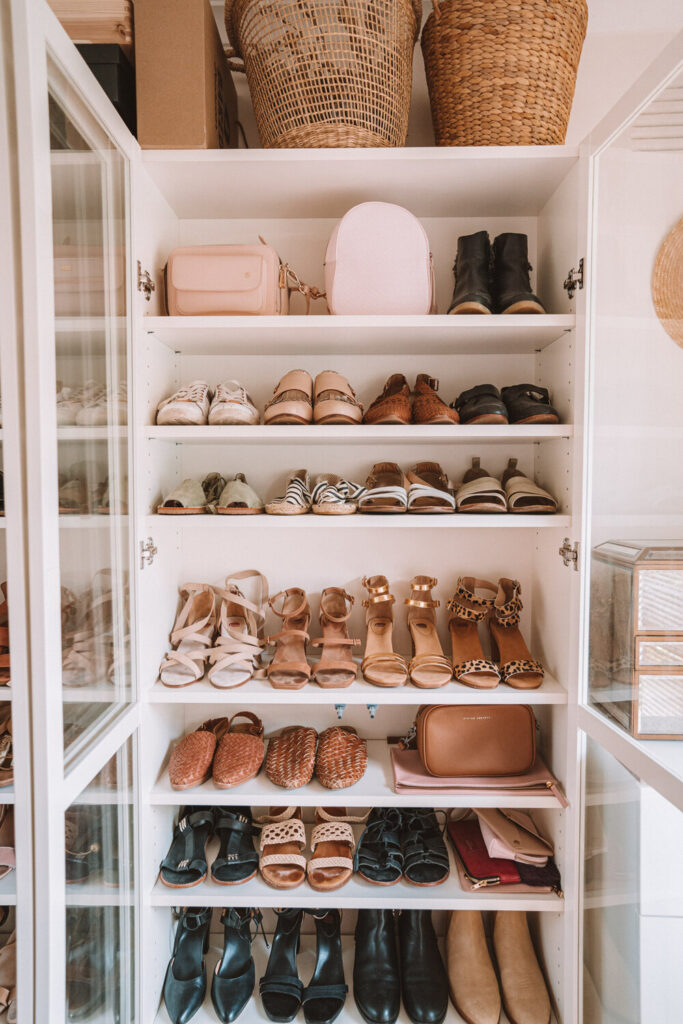 Shoe storage ideas for your garage also include using an old bookshelf. This genius trick doesn't use any money and gives you a great amount of room to fit your shoes. Most of us have old bookshelves that aren't being used, and those are perfect alternatives for a rack!
By using an old bookshelf, you get to have the kind of space an expensive, purpose-built cabinet would give you. However, an old bookshelf still won't give you closing doors, so your footwear is not protected from sunlight, humidity, or dust. Still, it is a major advantage to have a large bookshelf ready to be used as your shoe rack.
Bookshelves can often take up room, so if you're considering going for this shoe storage solution, you better make sure you have the right kind of space for it.
Conclusion
When deciding what shoe storage ideas to use in the garage, you can choose from numerous creative solutions. Always check your budget, and measure your space beforehand so when you go to look for racks or other pieces, you can be sure. Humidity, temperature, air ventilation, and dust are some important factors that you should consider at all times.