7+ Truly Stunning Decorating Ideas for Small Decks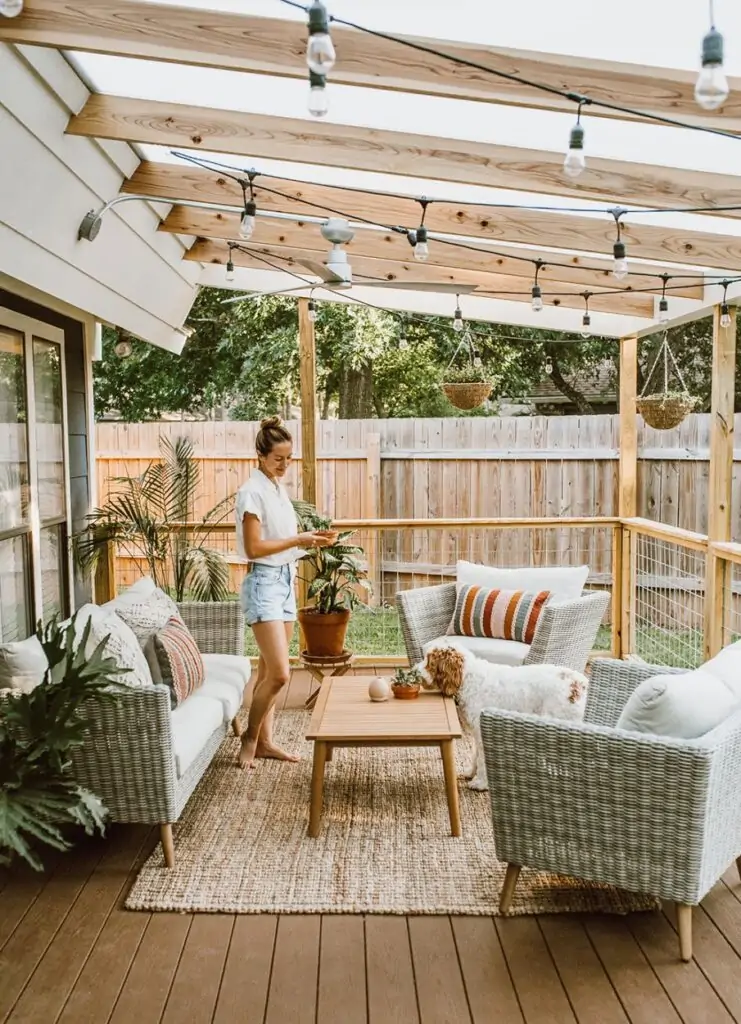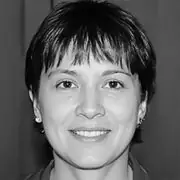 If you have a tiny yard with almost no space, you may think that building a deck is pointless. Still, backyard decks are a great way to create a fun outdoor space for the family – even a minuscule deck can provide these perks if you utilize the right ideas for small decks.
No matter how constricted or tight your backyard may seem, in this guide, you will find some of our favorite deck ideas for small yards that will help you make the most of your outdoor space.
1. Make Use of Vertical Space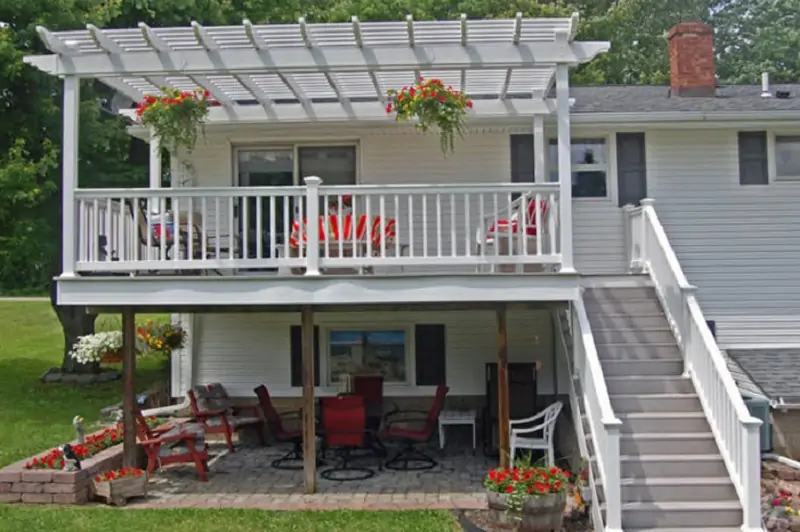 If you have limited space, consider a multi-level set up. The best part of this idea is that you can create an impressive two-story lower and upper deck area, with the lower part serving as a patio. Hence, the focal point of this idea is that the result looks like a multi-level apartment complex outdoors. Then again, how well you utilize these ideas for small decks and patios will determine the level of their aesthetic appeal.
For the small low deck ideas, you want to create separate areas for different activities, such as dining, lounging, and gaming, since it is the area the family will be more likely frequent.
When considering small upper deck ideas for the top part, you can also include vertical elements, such as built-in planters, wall planters, or hanging baskets, to add interest and make the most of your space.
2. Make It Colorful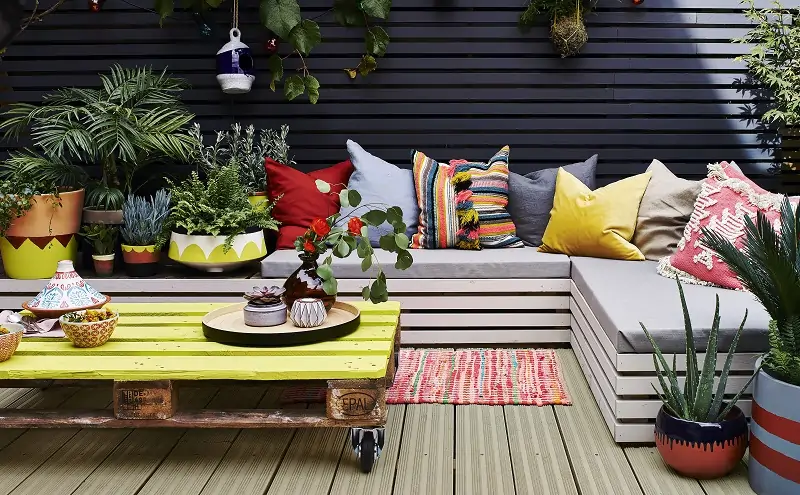 Light colors have their perks outdoors. For instance, using colorful plants such as hydrangeas and daisies helps to add colorful vibrancy to your tiny balcony. Also, creating light-colored accents with accessories like throw pillows and rugs will add more warmth to your living area.
Besides this, light colors create an illusion of a larger space while offering illuminative effects.
3. Install Hanging Furniture…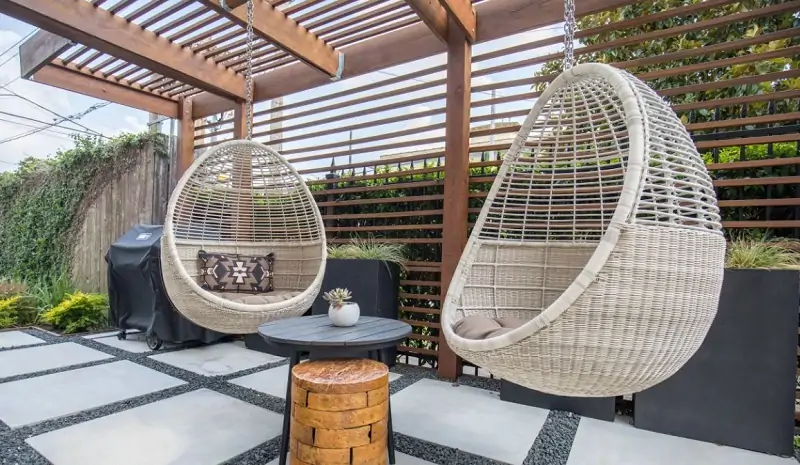 When considering furniture ideas for a small deck, a lot of homeowners prefer placing traditional couches, chairs, and loveseats to accommodate more people and get a space-saving option.
The truth is that when it involves the outdoors, creating a seating layout that accommodates multiple guests is not always the goal. It is functional furnishing that makes your space stand out, which should be your aim. So, instead of the traditional couches, consider installing hanging chairs.
4. …Or Try a Banquette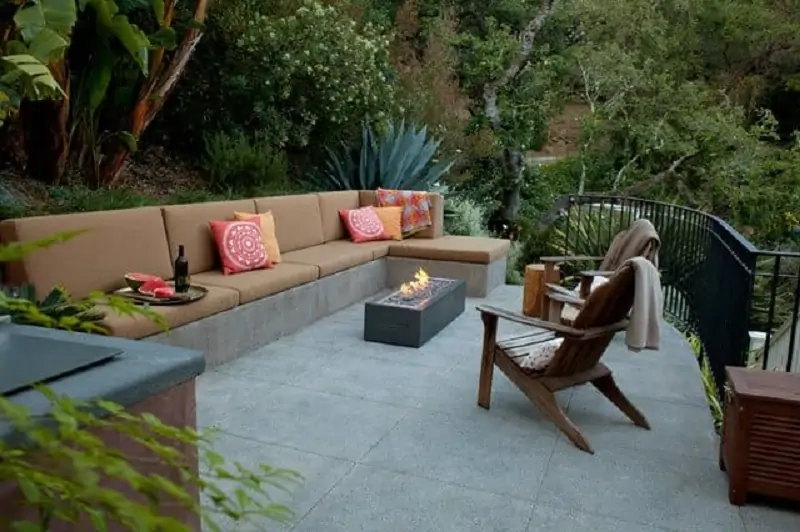 If hanging chairs do not appeal to you and you don't like the traditional couches in your space, a simple chair like a banquette fixed on the side wall of your balcony is a good choice.
Small side deck ideas with banquettes often used in a restaurant will make your space feel more inviting for friendly communication and also serve as a good reading spot.
Although a banquette may look like a simple long and low bench, it is more than this. It is designed to be ultra-comfortable with features such as padded cushions and backrests, which make your personal time more enjoyable.
5. Make It Glow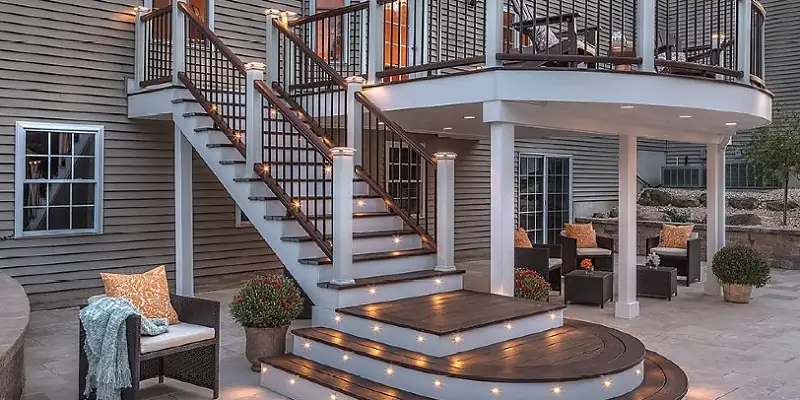 Outdoor decks need lighting to add ambiance and make your space more functional at night. Besides this, another beautiful reason to use light on your backyard decks is that you can use them to create different atmospheres. Warm, yellow-toned light can create a cozy, intimate atmosphere, while cool, white light can make your space feel alive.
In addition to creating ambiance, lighting is also important for safety. It is important that you have sufficient outdoor lighting, especially so that you can see and move around safely.
Consider using overhead lighting, a tabletop lamp, a string light, and a fireplace to add layers of light to the environment. On the other hand, outdoor lighting can be left on for a long period. So, it is important to choose a light source that is energy-efficient — LED lights are an obvious and very popular choice.
6. Ideas for Adding Small Deck Decorating Accents on a Budget
Decorating your home can come at a high price. If your budget is limited, that doesn't automatically mean you cannot achieve the same upscale design found in most modern homes. Some of the best small deck ideas for decorating on a budget you should try include:
Mix-Match Materials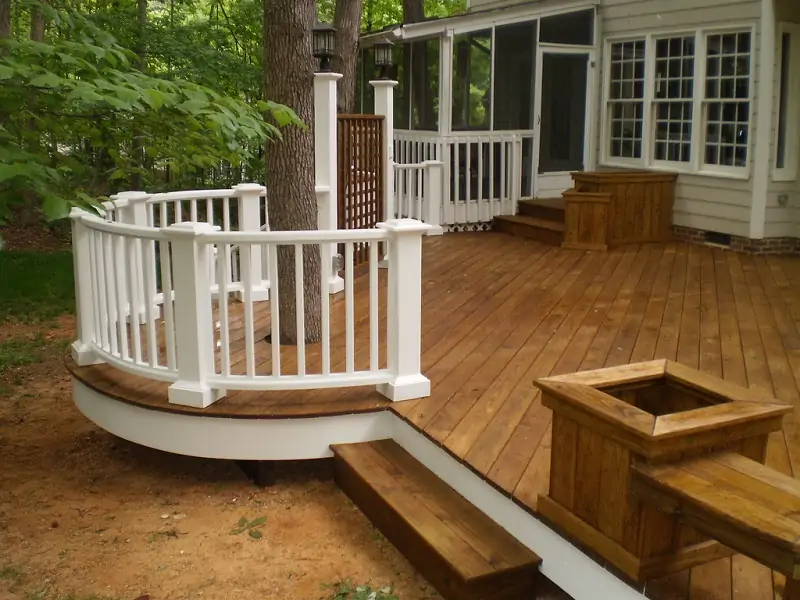 Stone, composite, brick, gravel, wood, tiles, metals, plastic, and fabrics are some materials homeowners use when adding decorative pieces to their decks. The good news is that you don't have to stick to only one of them when decorating your own backyard decks.
Instead, consider mixing materials such as pressure-treated wood and composite for your bench, railing, and even tables. You could use wood for the main decks or composite for accents or trim and mix and match different types of wood to create a unique look. This combination will add visual interest and texture to the deck.
The best part of this idea is that you won't have to spend so much on one single (and rather expensive) material. Composite costs more than wood: if you are looking for a way to save some money while still putting into practice your long-desired small composite deck ideas, replace composite materials (where possible) with wood. What's more, by using two different materials, you will create a unique and inviting outdoor space.
Another good option to make your deck attractive and inviting is skirting. Please check out some ideas to consider.
Optimize Different Texture Furniture

Beautifully textured pieces often complement each other, whether on the front or backyard deck. So, if you need small front deck ideas or ideas for backyard decks that make your decking stand out, the simple trick is to add more textures.
Consider using a mix of wooden, metal, and plastic furniture, or mix different types of wood to create a warm and natural look.
This idea also plays a significant role in reducing your budget since it allows you to invest in different accessories and materials at varying prices.
Benefits of Small Decks
Most people crave some privacy. While you are unlikely to get it in a crowded living area, a tiny balcony can be exactly what you need. The cozy and intimate atmosphere small decks create makes them a great place to relax and unwind without feeling exposed to the crowd.
Small decks are also more affordable and budget-friendly, especially when it comes to decorating. They allow budget-friendly designs like pallets, recycled materials, or choosing low-cost materials such as pressure-treated lumber, so you won't have to worry about the cost.
More than this, they are considerably easier to decorate and accessorize than larger decks, as there is less space to work with. It means that you are sure to find small outdoor deck ideas that look stylish — there will be no need to spend countless hours worrying about what you should do to make all corners of your area stand out.
Whether you are looking to create a relaxing retreat or an inviting space for entertaining, outdoor decks can be a great addition to your home.
Besides, it's not that difficult to build with our step by step guide with pictures.
FAQs
Here you will find quick answers to the questions most people have.
Should You Decorate Your Small Decks?
Whether or not small decks decorating ideas are worth it will depend on your specific needs and goals. Consider your space, the atmosphere you want to achieve, and whether you can afford maintenance costs when you add decorative accents. Regardless, decorating your backyard decking will make your outdoor space look beautiful and inviting.
How Do You Decorate a Small Deck on a Budget?
The simple answer is to get thrifty. Find free furniture that can blend with the theme you aim to achieve or repurpose old furniture. Otherwise, if you plan to buy most items, mix materials and furniture, with one being lesser than the other. This way, you won't be spending so much on one expensive piece.
How Long Can A Deck Last?
The lifespan of a backyard deck can vary depending on the materials used, the level of maintenance it receives, the local climate, and the quality of construction. With proper care and maintenance, your decks can last for many years while serving their functional purpose of relaxation and entertainment.
Conclusion
Backyard decks offer more perks than you think, especially when you add decorating accents to them. So, whether you need short deck ideas or decorating ideas for a small deck, all you need to do is follow our tips above to create a beautiful and incredible exterior space that meets your needs while reflecting your personal style.
Hopefully, our ideas for small decks will help you create a relaxing, beautiful, and functional outdoor space that you and your family can enjoy for years to come.