15+ Stimulating and Exciting Ideas for Bathroom Colors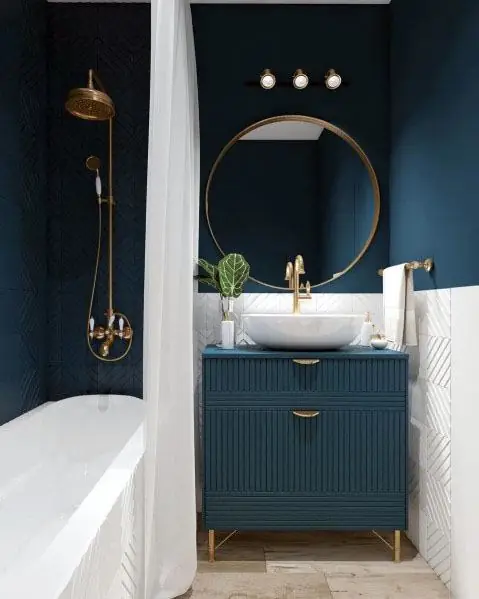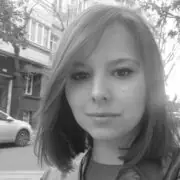 It's important to look at some ideas for bathroom colors for inspiration before remodeling the whole place: this room is visited quite regularly, so you'll have to live with your choice — and the choice here can be very confusing. Light or dark, pastel or bright? All of those can be legitimate — but you need to take into account your own demands and try to visualize what you want. So, let's look first — and then leap!
1. Modest Elegance: Consider a Complex Dark Shade
If you're searching for ideas for bathroom paint colors that will make this room look more elegant — consider dark, muted shades such as this one. In this example, the wet asphalt color of the walls is combined with natural wooden accents, creating a look of understated chic.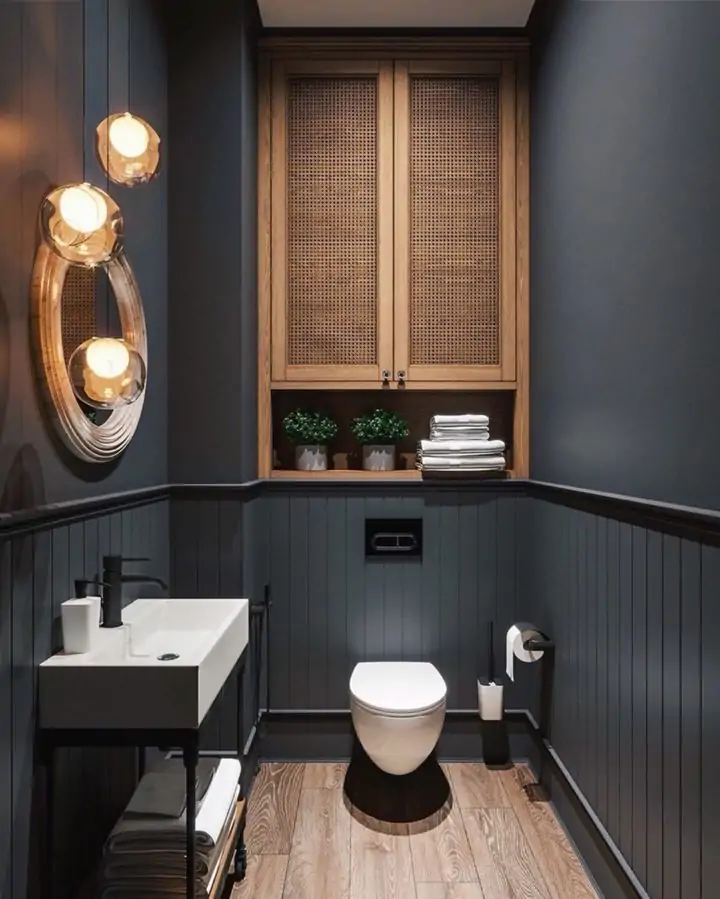 2. Chaotic Neutral: Something to Add to a Simple Room
Another beautiful example of bathroom decorating ideas is color schemes like the one in the photo. It combines neutral shades with colorful accents such as these floor tiles. In this case, the walls have to be relatively plain so that the room still looks tastefully decorated.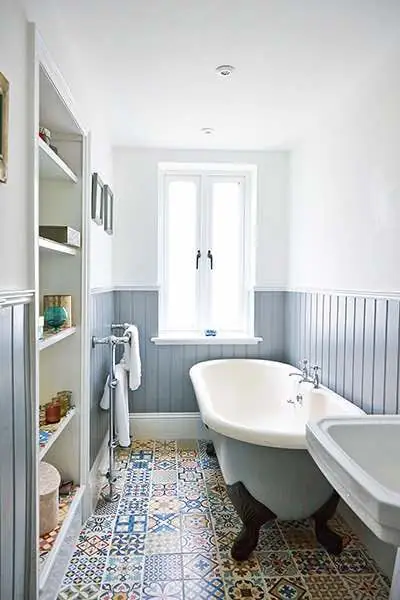 3. Beachy Vibes: Teleport Yourself Somewhere Else
If you're somebody who's not afraid to depart from the neutral palette, turquoise is one of the top colors for a bathroom. A bright and interesting shade, it brings a lot of associations with seaside resorts to mind: so why not try to make yourself feel like you're somewhere in the Caribbean waves and not in your house?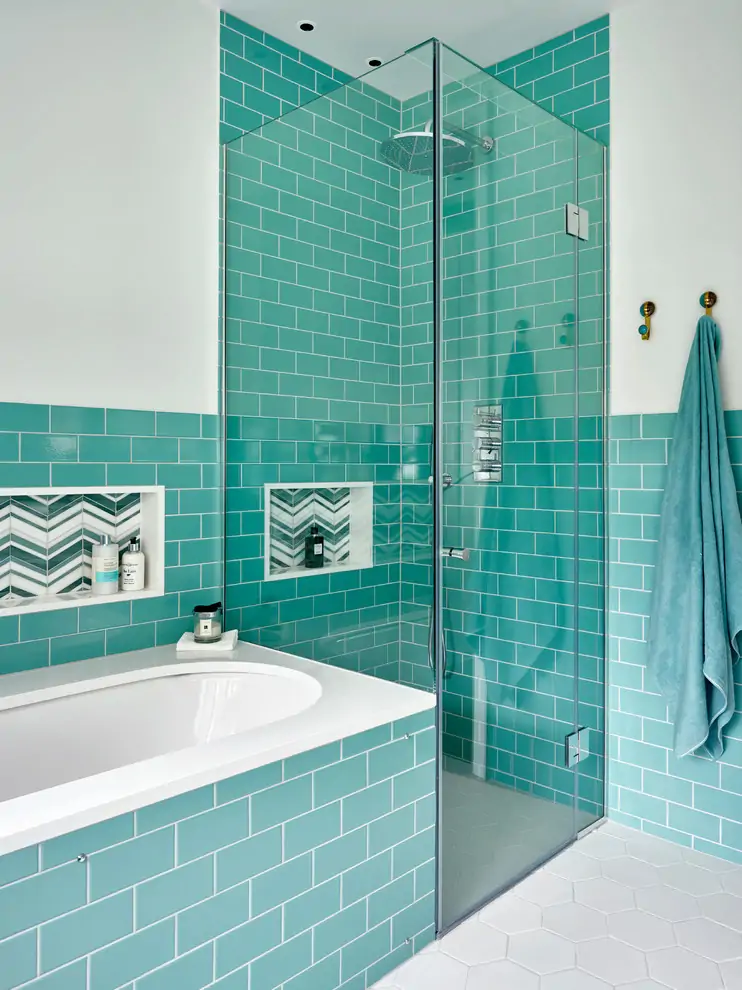 4. The Grand Navy: Another Way to Get to the Sea
Here's another direction to take if you'd like to use shades of blue in your bathroom color scheme ideas but are looking for something calmer than bright splashes of turquoise. The combination of navy blue and white is a perfect choice for that: deep and rich, this palette just exudes tranquility.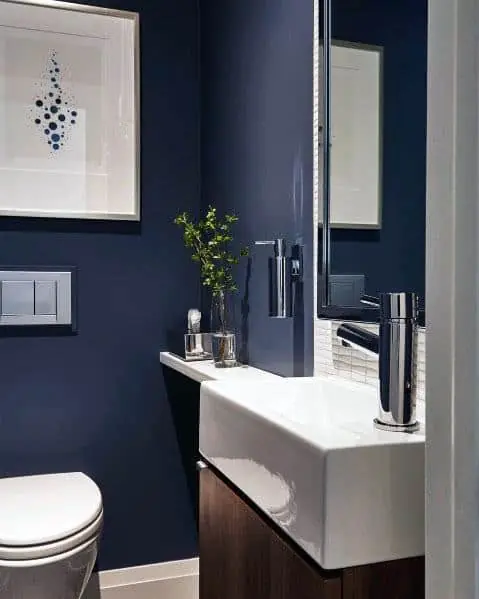 5. One of Each: Utilize Different Parts of the Color Wheel
Color palette ideas for a bathroom often feature some stark contrasts, and no wonder: this tiny room just begs for something to draw attention! Here, orange, gray, and white create a perfectly balanced, bright space.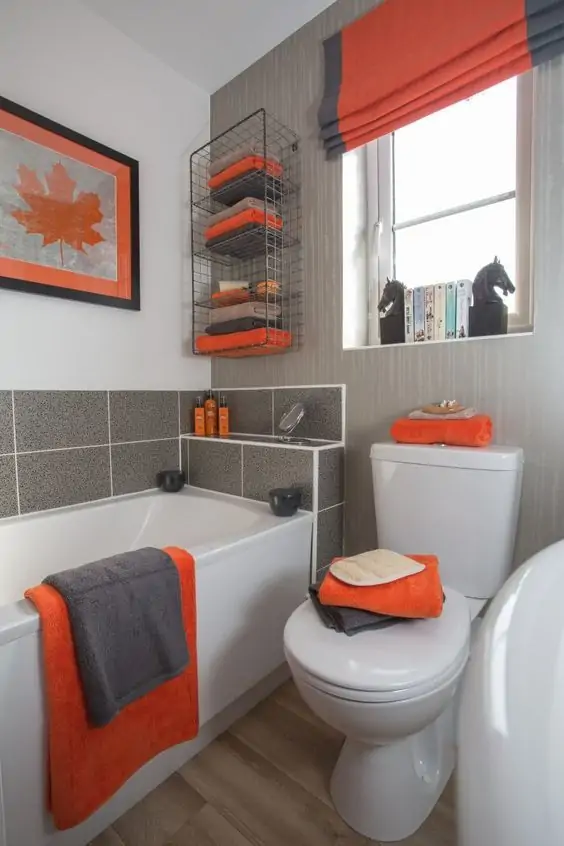 6. A Familiar Accent: Use Contrast to Trick the Eye
Black and white walls are a viable option for decorating a small bathroom: those ideas for colours work well if you play your cards right! Here, a black accent wall in an otherwise very light room creates depth, and shiny gold details visually add space — and chic.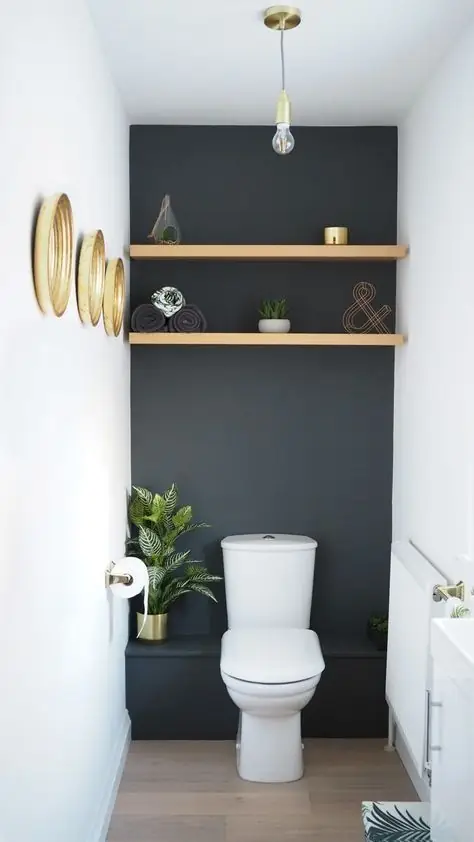 7. Shopping for Danishes: Add Some Sweetness
One of the trendier ideas for bathroom color schemes these days is the Danish pastel aesthetic. Airy and romantic, those colors are bound to make you feel cozy and relaxed. And if you're not sure whether your chosen shades fit this scheme, here's a hint: if you walk into this room feeling like you're in a Wes Anderson movie, you're on the right track.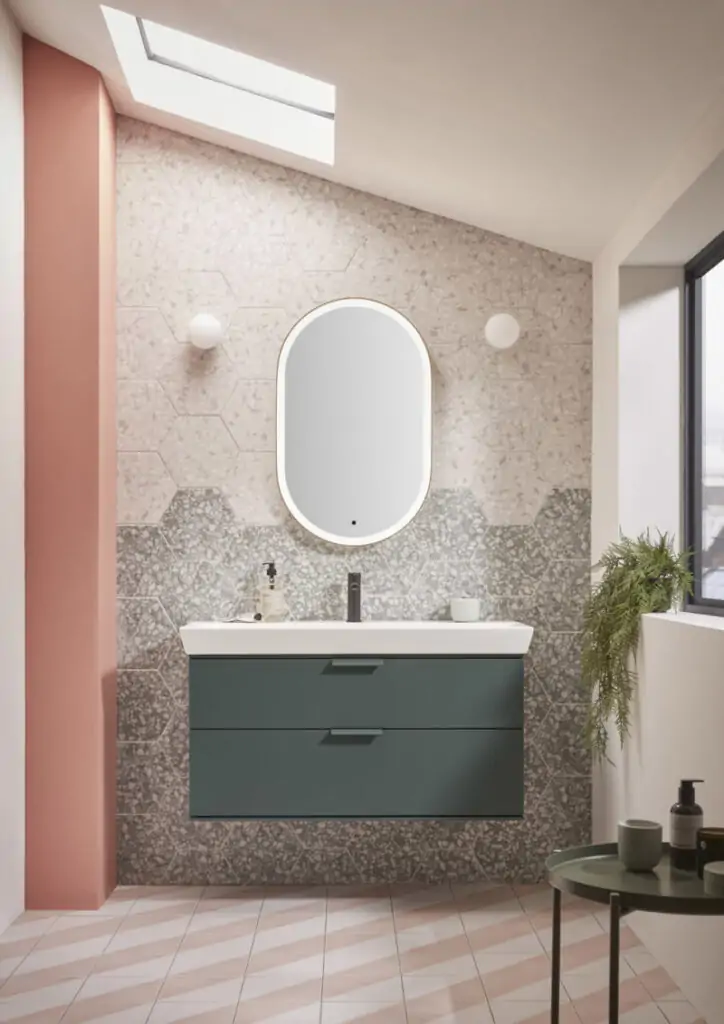 8. Bathtub Time Machine: Choose Colors Appropriate for the Right Era
A similar pastel palette is also often used in retro ideas for bathroom wall colors. If you like those colors, tiling, and soft rounded corners in your design solutions — take a closer look! This quaint space is a great source of inspiration.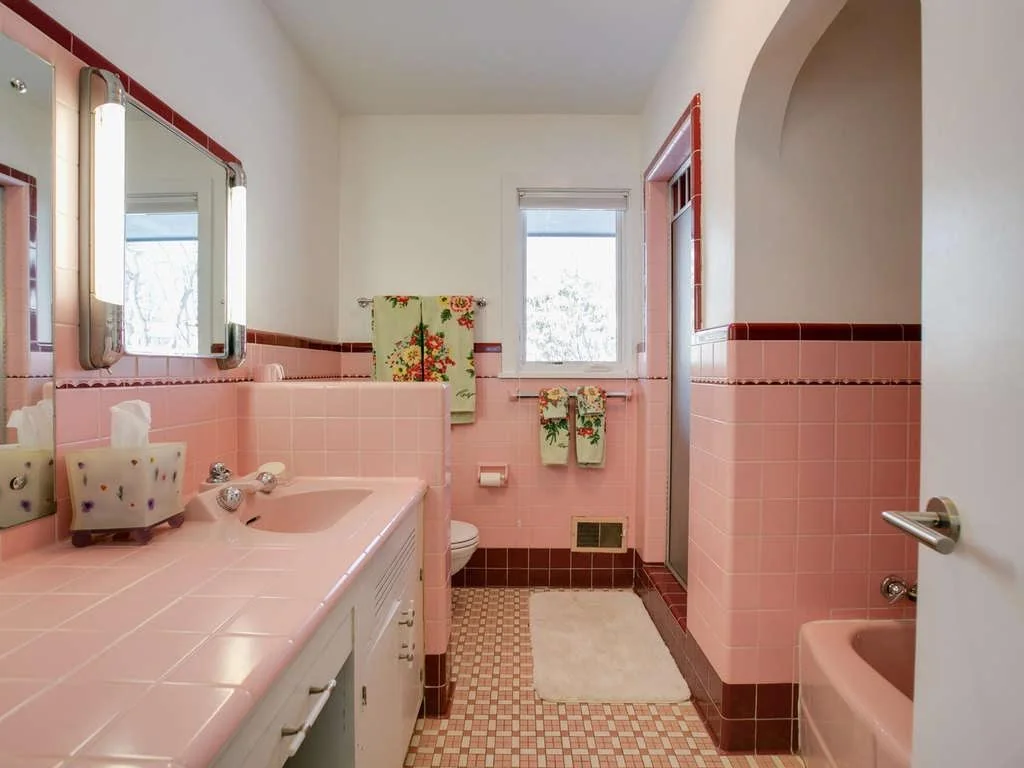 9. Bold and Beautiful: Help Yourself Wake Up
If you, on the other hand, don't shy away from even the brightest shades when considering ideas for paint colors in a bathroom, this solution is exactly what you need! The bright, juicy yellow shade used on these walls is bound to give you a boost of energy and lift your mood.
10. A Slice of Orange: A Substitute for the Sun
Continuing along the same lines — a sunny palette — this orange also looks great! Note that bright shades like this one often appear among color ideas for a bathroom with no windows: the warm-toned room compensates for the lack of natural light.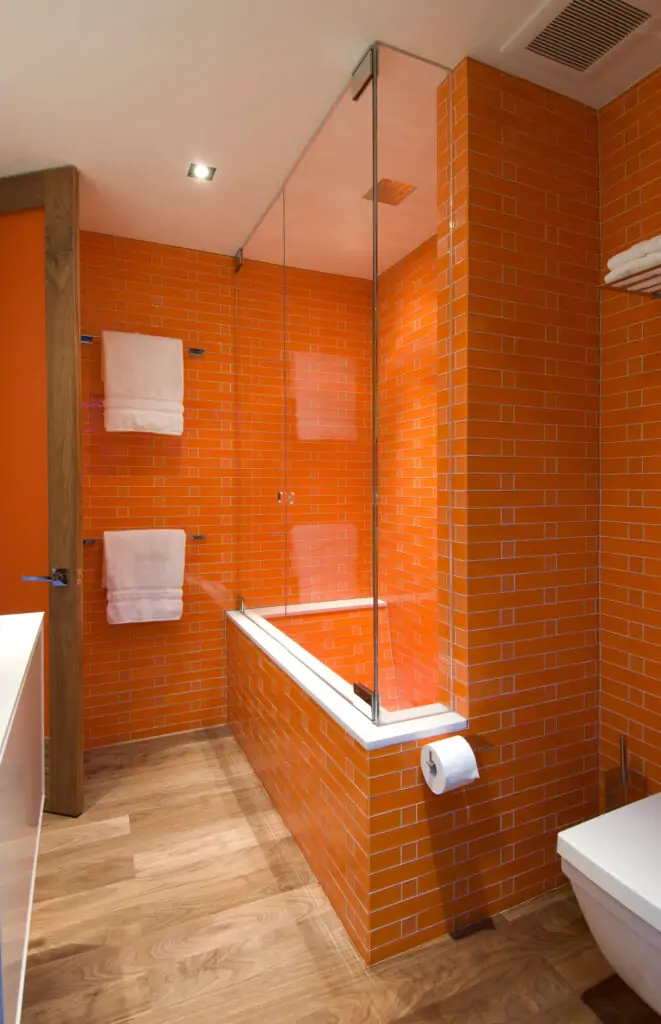 11. Blueberry Nights (And Mornings): Keep Your Personal Preferences in Mind
Honestly, there are so many directions that you can take while choosing a shade for your bathroom that the best answer to the question of how to pick bathroom colors is probably "Just go with your favorite"! This pretty purple is quite different from any of the previous ideas — and yet it still works.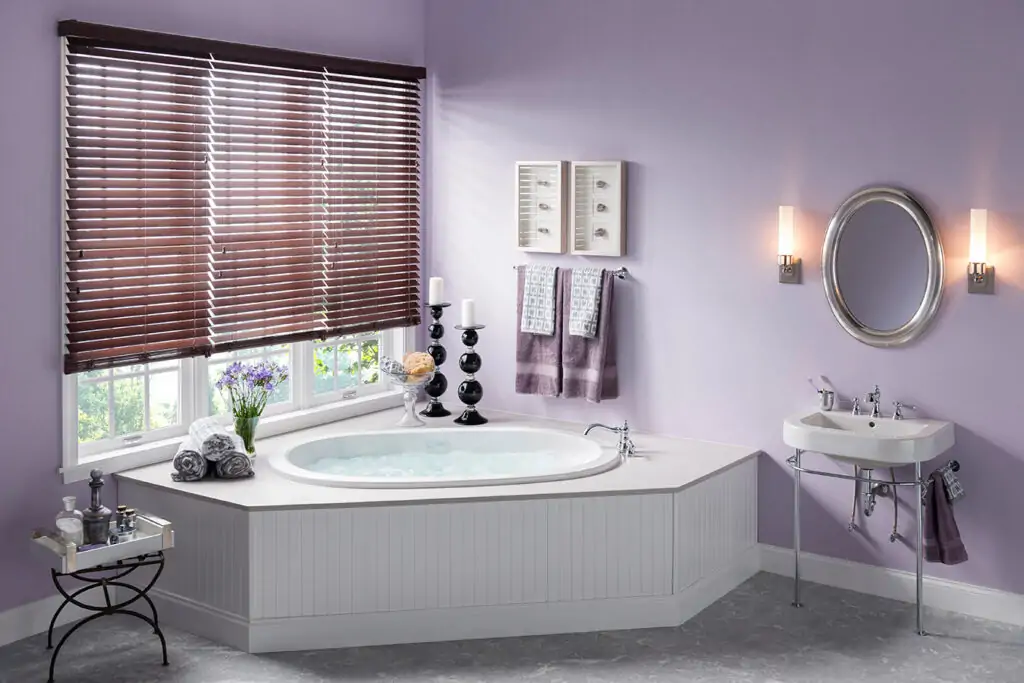 12. Calming Influence: Don't Forget the Greens
Don't skip shades of green while considering ideas for the bathroom decorating colors! Stylish and trendy, this color can also influence your mood, filling you with peace and tranquility. A great choice if this is how you want to feel after visiting this space!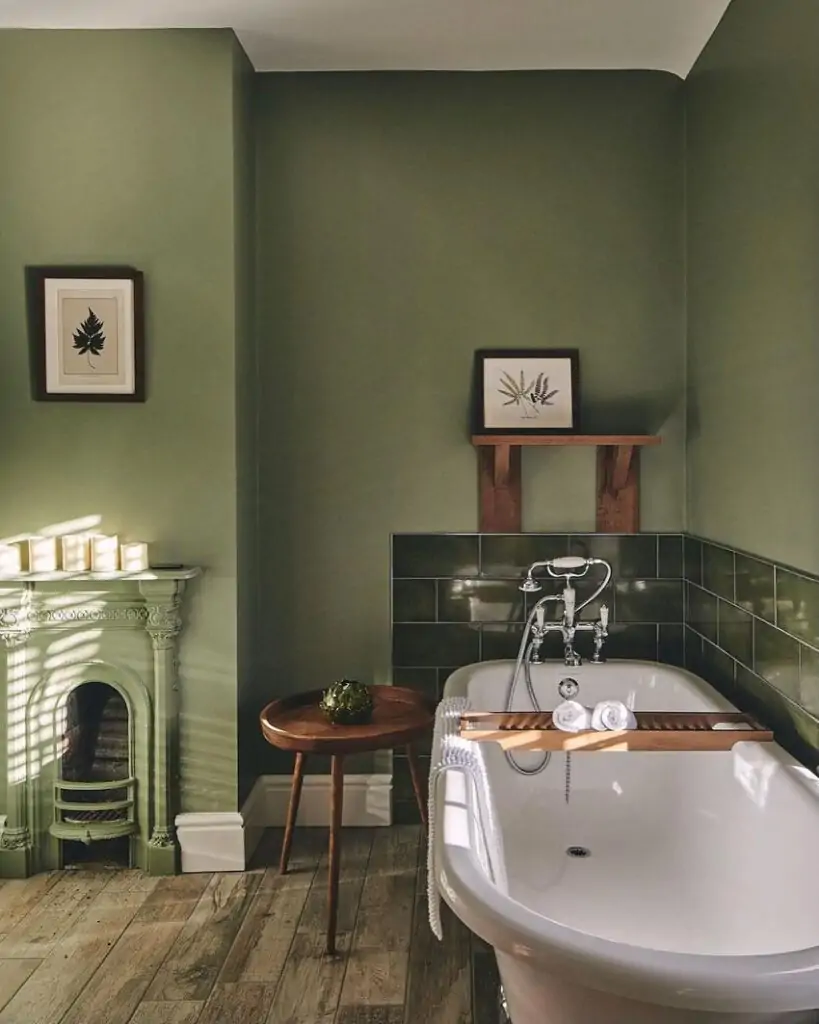 13. Whitewashing: Decorate the Space in a Light Palette to Help It Look Bigger
When you try to figure out what colours are best for a small bathroom, many people will say that a tiny space should definitely be light, even white. It's definitely a good choice, as evidenced by this industrial-style bathroom that looks chic and spacious despite its actual small size.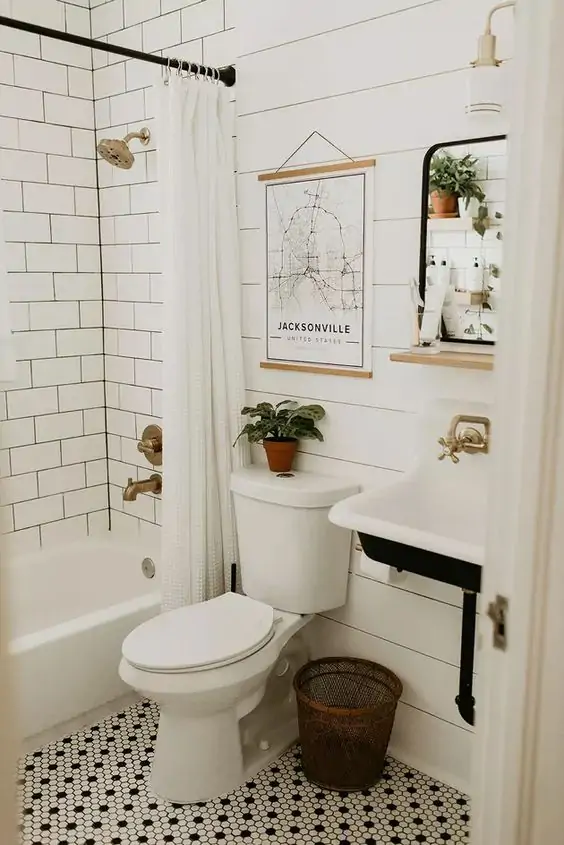 14. Cozy Corners: Use Dark Shades to Create Comfort
What's funny is that there are people who will answer the question of what colors to use in a small bathroom in the opposite manner — they'll say you can definitely paint it dark! Of course, this approach demands greater care in choosing the shades. You will also need to put in a lot of light details to balance the palette out and make sure the space is well-lit — but it certainly can be done.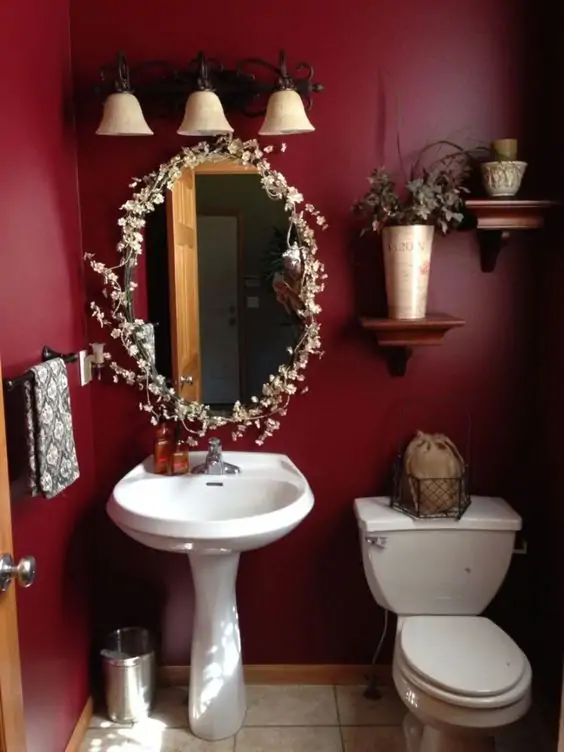 15. Two Sides of the Coin: No Need to Make a Choice
And if you still can't decide what you think — should a small bathroom be painted light or dark? — you don't have to choose! Just use both to accent and divide your room: your indecision can be turned useful.
FAQ
Below you can find some answers to popular questions on this topic.
How to Coordinate Bathroom Colors?
A classic way to create a color scheme is to pick three colors: a lighter shade, a darker shade, and an accent. It's also pretty easy — whether you like a more neutral palette or more pronounced contrast, you will be able to find a suitable choice. You can also balance your palette out depending on your taste and whether you'd like a lighter or a darker space. This is not the only way, though: you can use multicolored patterns as accents, for example, or use a lot of brighter colors — or forgo the accent entirely.
What Are Some Ideas for Wall Colors and Textures for the Bathroom?
We talked quite a lot about colors, but what about textures? There are several options you can use to make your walls more interesting.
Tile is a classic choice for this room, and it's easy to play with its texture since there are such wide varieties. Besides the typical glossy tiles, take a closer look at rougher ones for something extra;
Stone can be great if you like a neutral, natural setting — or for some accents in an otherwise bright bathroom;
Wainscoting — adding this detail breaks the monotony and creates a nice contrasting texture;
Wallpaper can be a risky choice in a room that's generally quite humid, but with proper maintenance can also look amazing;
Combining all the textures to create different zones works very well in this room.
What Bathroom Colors Are in Right Now?
According to design experts, these colors are not only trendy now but are here to stay:
Warm earthy tones, from dark brown to beige;
Rich greens;
All things blue;
Peachy pastels;
Complex shades of gray.
And, of course, neutral shades and white don't really go out of style, either.
If you need even more visuals for inspiration, watch this video with color combinations:
Conclusion
It may be hard to make a decision about the color palette to use for your bathroom, so it's crucial to look at the variety of available choices and imagine applying them to your space. Hopefully, our ideas for bathroom colors can help you do just that! And you're always welcome back here to pick up some more tips, hacks, and ideas.