Popular Décor Ideas for Kitchen Island to Try Right Now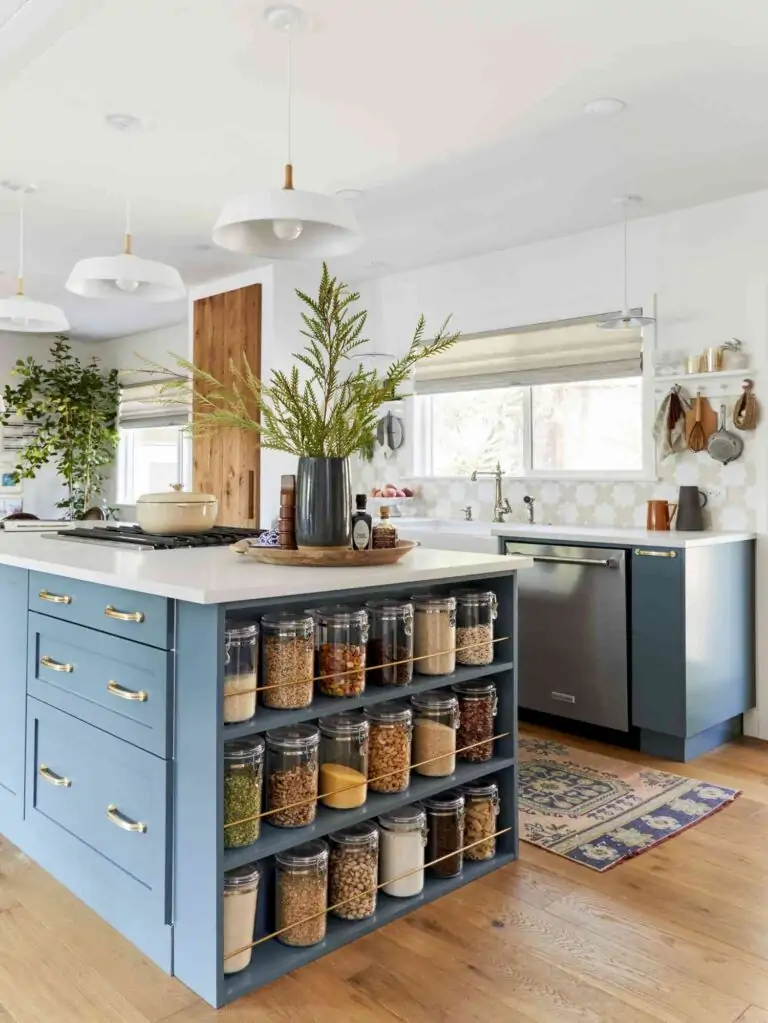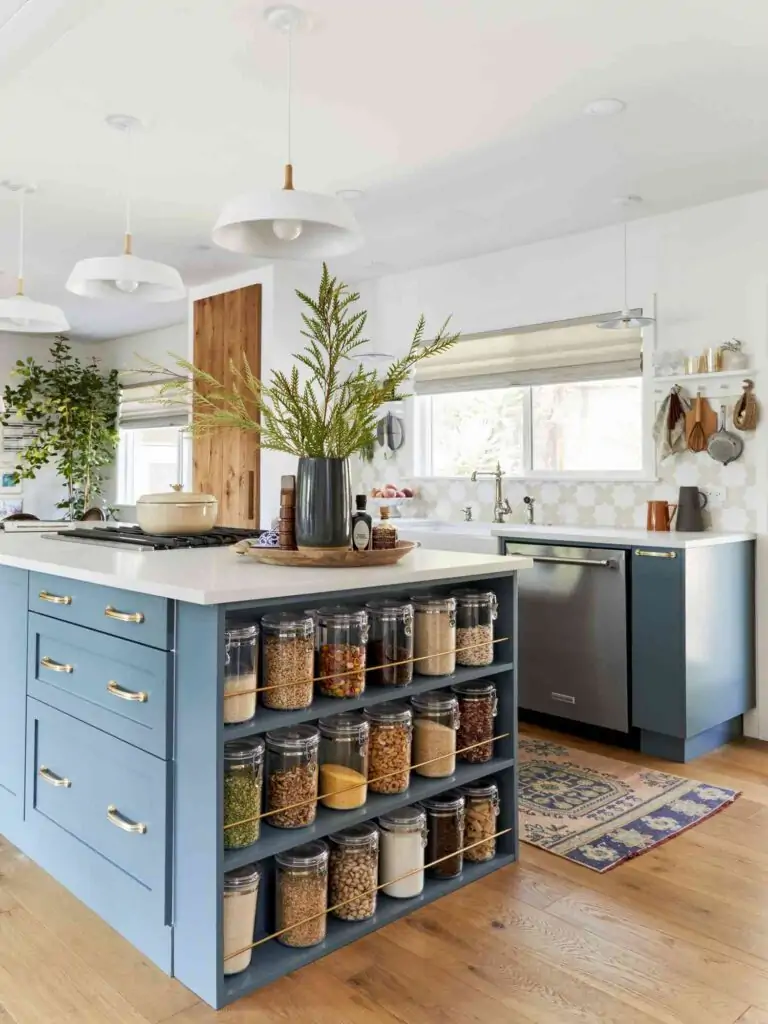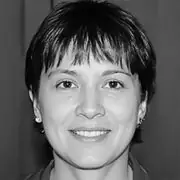 Creativity is an innate characteristic of humans. So, when it comes to finding good décor ideas for the kitchen island, the possibilities are endless.
For the most part, the kitchen island plays a functional role in small and large apartments by adding extra storage space for cooking. Then again, it can also inject stunning artsy visual appeal into your cooking area, thanks to its dynamic countertops, cabinet finishes, and décor accents that make your meal area stand out.
If you find your meal area missing the finishing touches that can give it a stylish edge, continue reading to learn how to decorate the kitchen island for Christmas and other festive occasions or on a regular day to give your cooking space the focal point it deserves.
1. Try Something Unexpected with a Fruit Scale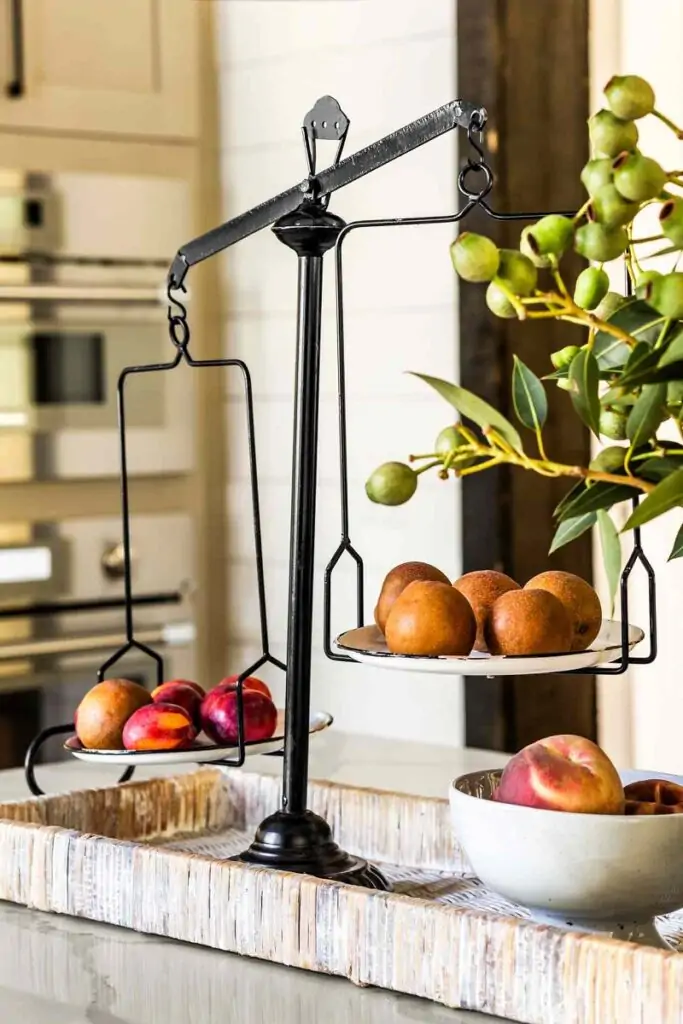 Having a bowl of fresh fruit is a standard staple in most kitchens, but it doesn't have to be like that in your cooking space. Whether you love bananas, apples, kiwis, mangoes, pumpkins, or grapes, you can never go wrong with a functional fruit scale.
Here, this repurposed vintage stand helps you create an appealing centerpiece that looks almost like a Christmas tree. We love modern kitchen island decor ideas like this because they add a minimalist pop of color without overwhelming your space.
2. Set a Homey Atmosphere with Fresh Plants or Flowers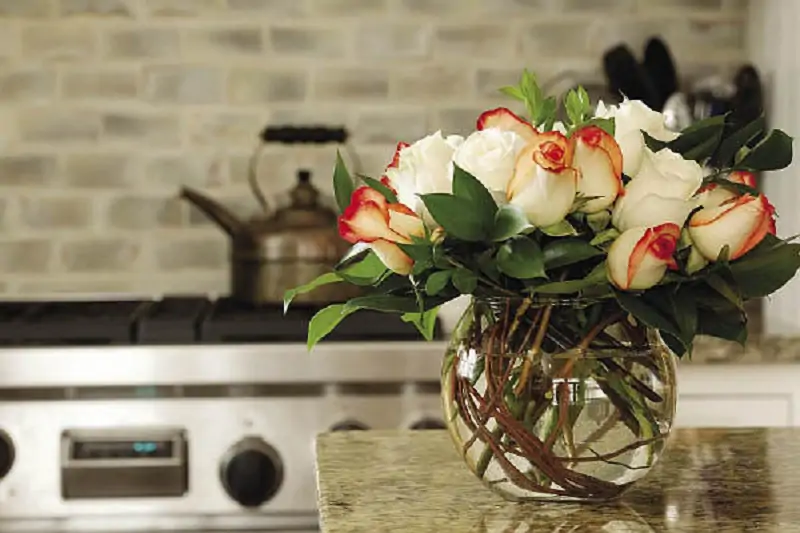 People with small apartments often have their living rooms openly flanked by their kitchens. So, if your kitchen is on display most of the time or it is a place you use for mingling with friends, then styling it with homey and welcoming bits is the key to making visitors feel relaxed.
Plants and flowers are among the better small kitchen island décor ideas that help create a stunning focal point as well as welcoming and homey vibes in your cooking space.
The cooking island in the picture looks soul-warming: there are colorful flowers in the vase that mimic a bouquet that make all the difference.
The best part of this idea is that you can easily switch up its look from a welcoming feature to a more elegant focal point, depending on the occasion. Just get an exquisitely sculptured vase that speaks elegance or a simple glass mason jar to add a minimalistic and welcoming character without breaking the bank.
3. Christmas Décor Ideas for the Kitchen Island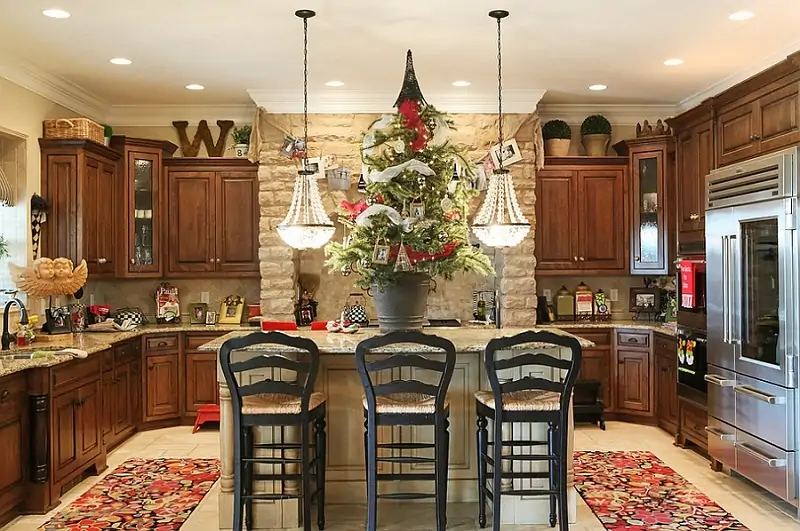 Adding decorative Christmas accents to your cooking island is a great way to create an exciting space to get you in the Christmas mood.
We love how this design incorporates small pieces significant to the Christmas season, from the lighting fixtures to the Christmas tree and bold branches to add the warmth of Christmas into the space.
Then again, this decor idea doesn't have to be explicitly for the Christmas season. Whether New Year's Day, Thanksgiving, Valentine's Day, or the Fourth of July, just find small pieces and fun accents that fit the season to decorate your style.
4. Use a Seat that Complements the Island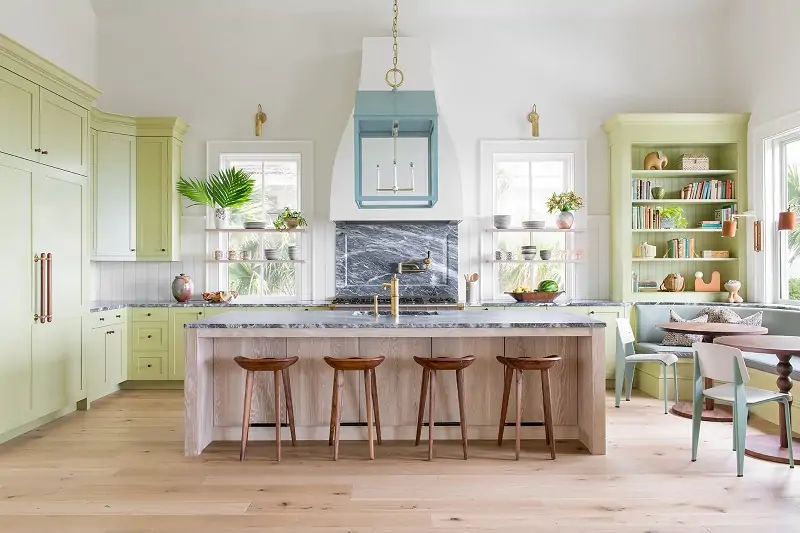 When adding decorative accents to your kitchen islands, don't focus solely on making the countertop stand out. Instead, consider the seating fixtures.
Of course, you want to choose something that feels comfortable while also serving a functional purpose. Still, the best way to completely transform the aesthetics of your cooking isle without focusing on the countertop is to choose a chair or stool that compliments it.
Then again, the trick to achieving this is to consider the theme of the space. Wooden stools look good in a farmhouse setting, while metal chairs are often suitable for industrial-style or contemporary homes.
5. Install Overhead Lights Above Your Cooking Isle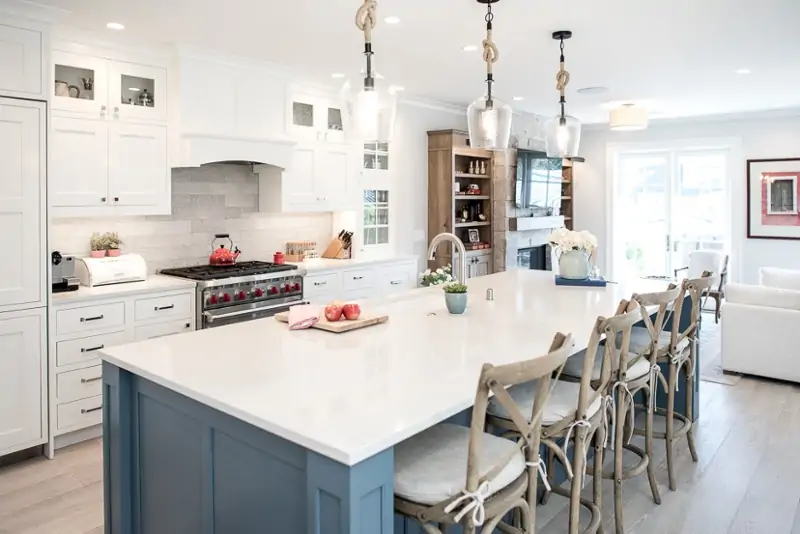 No part of the house is a stranger to overhead lighting. In the kitchen, lighting fixtures deliver visibility and brightness that makes cooking at any time of the day possible.
Of course, an overhead lamp gives your space an effortless glow needed for your cooking chore, but it also adds a romantic accent when dining with loved ones.
Just ensure that when choosing for your cooking island kitchen décor ideas like this, it is important that you pick a lighting fixture that doesn't disrupt mobility and looks odd. Instead, choose overhead lights that balance style, size, and aesthetics.
6. Keep the Counter Organized with a Decorative Tray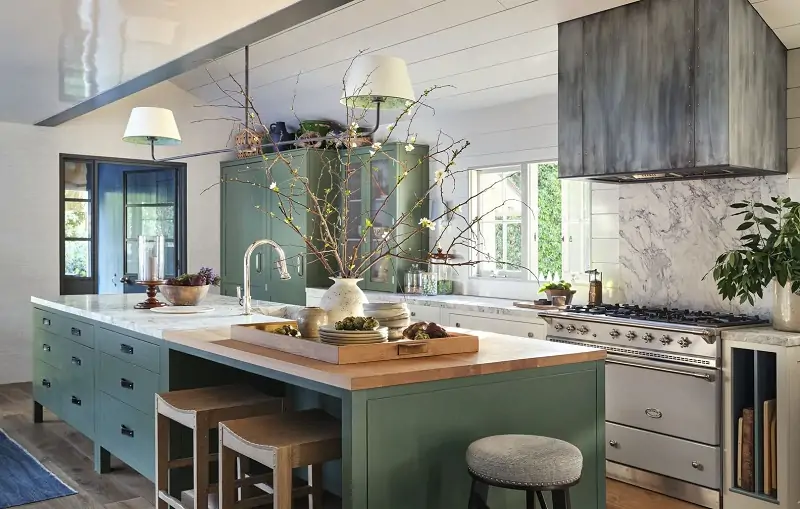 When you have so many things on your counter, it can be challenging to keep your space clutter-free, especially when cooking. Using a decorative tray makes the countertop look cohesive and is a charming way to organize your foodie-focused bits and pieces.
Kitchen island counter décor ideas with trays are also a convenient way to make extra space for cooking. All you have to do is lift the tray, and everything on the counter moves. More than this, it makes for easy cleanup anytime you need to tidy the counter after preparing a meal or during cleaning up.
If you're considering kitchen island countertop décor ideas with a stylish tray, choose metal trays for your industrial-style or contemporary home and wooden trays for your rustic or farmhouse home.
7. Decorating Ideas for a Large Kitchen Island in a Penthouse
The penthouse is the masterpiece of all homes. So, when it comes to adding decorative accents and a focal point that leaves your visitors awed, premium quality designs are a must-use.
We absolutely adore these polished stainless-steel panels: from the chrome-top counter to the metallic wallpaper and vintage swivel metal chairs, and this cooking space looks absolutely gorgeous.
8. Keep It Simple When in Doubt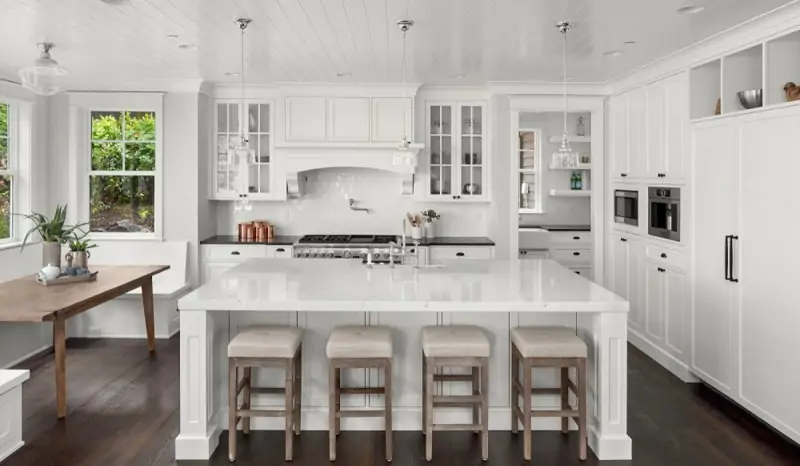 Most times, choosing a design that fits into your space can be an overwhelming chore, especially when considering fall décor ideas for the kitchen island.
The simple trick to overcome this is to keep things straightforward. With only a simple vase, bowl, ceramic plate, flower, or colorful designs, you can easily make your cooking area shine.
Generally speaking, minimalist décor ideas are the best timeless designs for situations when you don't know how to add décor to a kitchen island.
9. Don't Limit Décor to Countertops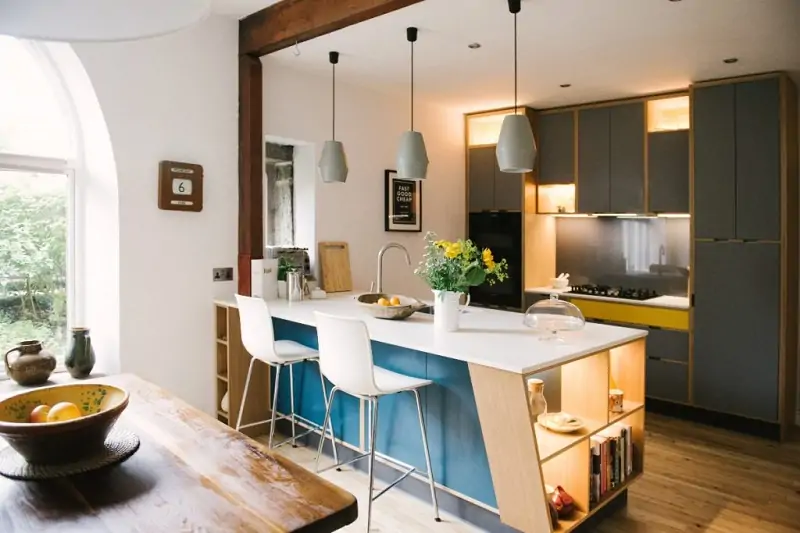 There is more to the kitchen than the countertop: shelves, drawers, and cabinets play important functional roles. Then again, shelves and cabinets don't have to be built separately from your meal-prepping island. Make them a cohesive and all-in-one accent by adding them as additional built-in storage.
FAQs
Here you will find the answers to the most common questions.
How Should I Decorate My Kitchen Island?
If you are just moving into a new home, your greatest advantage is that you have an open area to try out new ideas. Still, the most important consideration for anyone thinking about how to decorate their island in the kitchen is the purpose of the space.
A family-oriented design means you need to incorporate stools and storage space. You also want the same theme for guest-centered purposes but ensure you add extra room for mobility. On the other hand, a meal prep zone design should maximize the counter for proper organization and functionality.
What Is a Good Size For a Kitchen Isle?
The best size for a cooking isle is the one that will allow the island to perform its functional role well while not making your space feel cramped. So, when deciding on an isle that will fit into your space, choose an option that leaves you with enough breathing room from the isle to its surrounding appliances.
Should Your Kitchens Have Extra Storage Space?
Additional storage is always a plus, especially when you have a small area. Plus, kitchen islands often take up space. So, rather than use their massive size as a balancing beam for the countertop, creating extra storage using them will be a great way to ensure a clutter-free space.
Conclusion
Kitchens are the most important part of the house – they are places where you spend most of your time cooking up the food that keeps you and your loved ones happy all day. The last thing you want is for it to look dull and uninviting when you spend so much time in it. From fitting a fruit scale, tray, and natural plants or flowers on the countertop to using overhead lights, seats, and a design you can easily switch up during various occasions, these décor ideas for the kitchen island will add stunning personality to your space, no matter its size.