Creative Pool Patio Ideas That Look Absolutely Stunning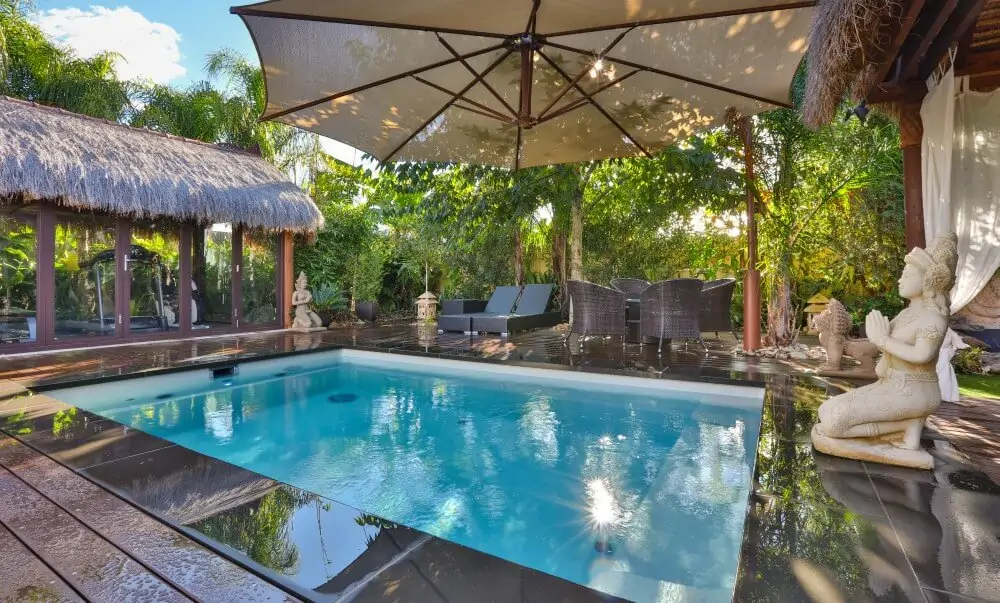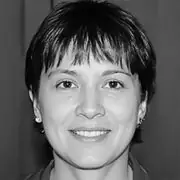 Having a poolscape at home means you will likely spend your time outdoors swimming, sunbathing, socializing, or lounging. For this reason, you need to make your poolside design more charming and relaxing with pool patio ideas to enhance your space.
Poolside patio design can make the swimming area feel more relaxing or, on the contrary, akin to a lackluster wall. So, when choosing pool deck decorating ideas for your home, choose ones that complement other parts of the house and your lifestyle.
Check out our favorite pool patio designs to create an ideal poolscape for your home.
1. Backyard Patios and Deck Ideas
When designing your outdoor poolside space, consider the deck and patio placement pattern.
The swimming area will no doubt take up quite a large space in your home. So, to make the design worth the time, consider the space left before making any move. Once you do that, it's time to make your patio and deck area stand out. Some good patio and deck ideas to consider include:
Create a Garden Oasis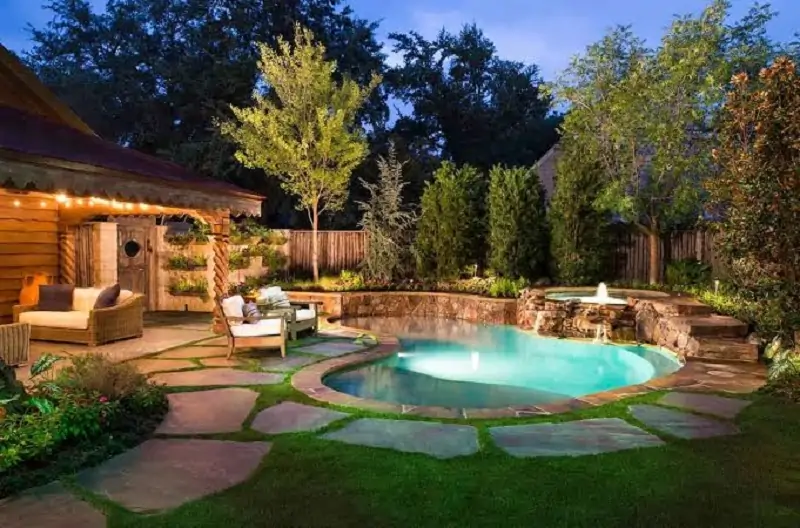 If you are a nature lover, a natural garden patio will be one of the best modern pool patio ideas to try.
The best part of this pool deck decor idea is that it fits every patio, no matter the space available. By adding a natural landscape at the poolside, you create a serene escape from everyday life. If your poolscape has more space, add a bubbling fountain or cascading waterfall feature. They are sure to heighten the overall appeal of your garden.
Install Single Pavers…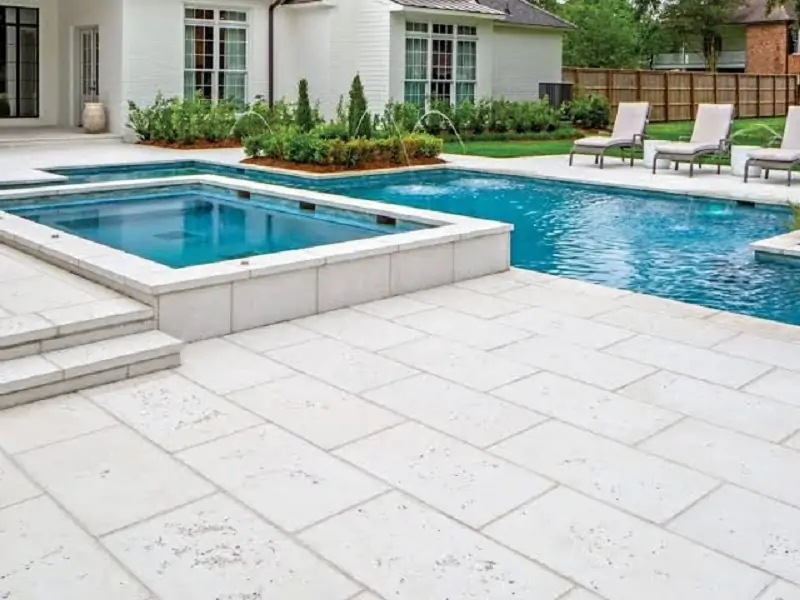 While a garden oasis is a good idea, many people opt for paving ideas around the pool patio to give it a more modern feel.
One good thing about pool paving ideas is that you have so many options to choose from. Pavers come in different materials, from natural stone to porcelain, concrete, tile, and wood. The similarity between these materials is that they all offer a smart finish. However, all have varying degrees of durability.
When installing pavers, also consider if they are slip-resistant when wet and find out whether they are heat-reflective. Concrete and wood usually have both these features. However, unlike modern stamped concrete pool decks made from concrete materials, wood creates a natural effect and, depending on how you style them, can take your poolside to the traditional ages. Plus, they are easier to maintain.
…Or, Play with Multiple Pavers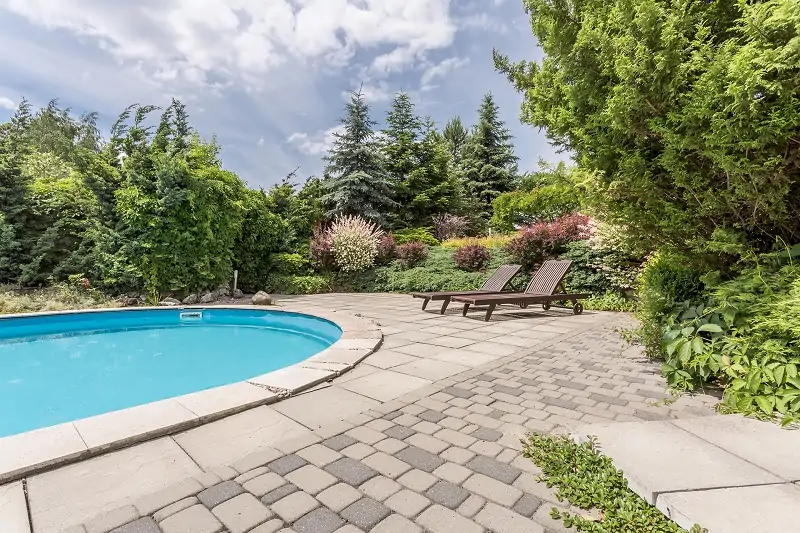 Why stick to a single paver when you can create interesting contrasts with two or more?
This mix-and-match idea is one of the best pool patio ideas on a budget pool owners can try. It allows you to combine cheap and high-end pavers to create interesting patterns on the patio.
Just choose two or three pavers in similar shades, then match them up creatively to suit your taste.
2. Pool Deck Furniture Ideas
Determining the type of furniture to use on your poolside patio is one of the most important things to consider when decorating the patio. The good news is these pool furniture ideas don't have to look practical. They just need to look the part.
On the other hand, furniture ideas can vary from using corner sofas to sun loungers or small center dining tables. Hence, you will have many options to choose from. Be sure to choose the right furniture placement ideas to suit your space. Some good furniture ideas for patios include:
Use Spacious Sofas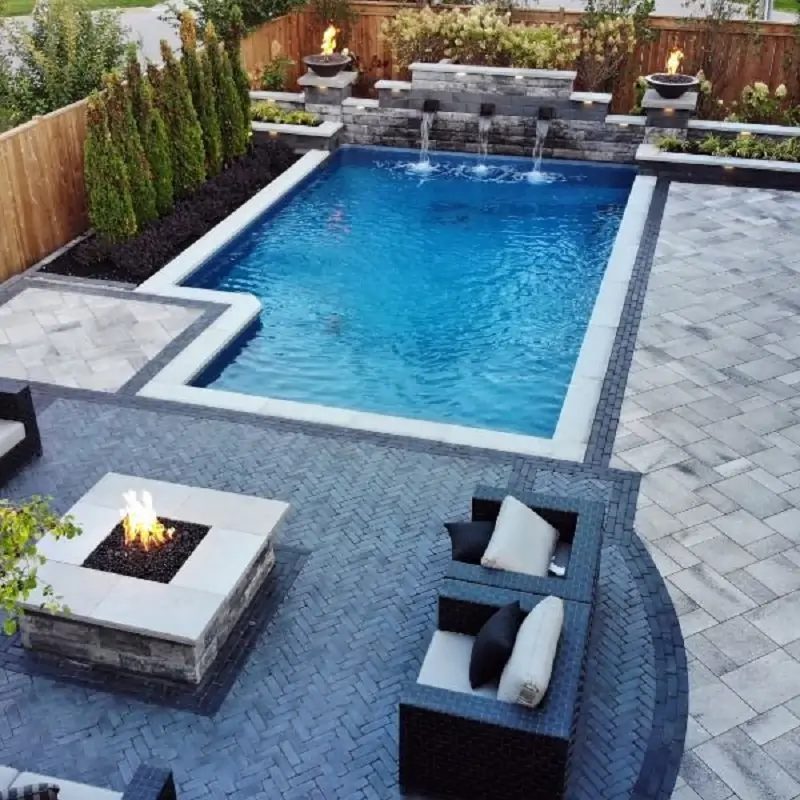 The most common furniture piece you'll always find around the poolside is the sun loungers. While they are great, they won't offer a comfortable and spacious relaxation space for socializing outdoors.
If you love poolside parties or prefer hosting small family gatherings outdoors, a modular sofa will be a good addition to your poolside.
A sofa adds contemporary style to your poolscape while helping you add a homey feature that makes your poolside area stand out.
Replicate Indoor Sitting Outdoors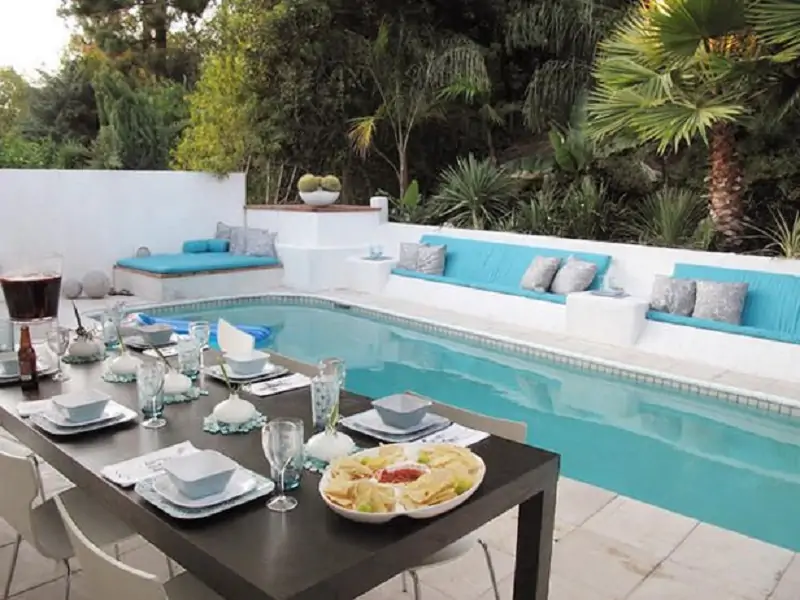 Another way to make your poolscape feel homier is to use furniture placement plans and styles that compliment your home indoors sitting. How? If your home has a dining table, create a small one to use outdoors and place it strategically at the poolside with two to three chairs around it.
Arrange the small dining tables on the deck area to complement your indoor space while offering enough room for movement.
Choose Weather Resistant Furniture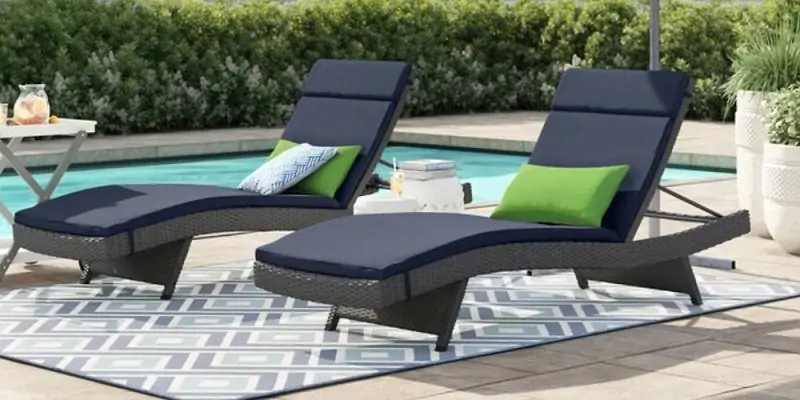 Using a piece of furniture at the poolside means it will be exposed to splashes of water with a mixture of chlorine and salt. On the other hand, it's not enough to include some pieces of furniture on the poolside only to worry about ruining them from heavy rainfall and possible rusting. To avoid this, use weather-resistant furniture.
Good weather-resistant furniture is made from natural or polyester fibers so they can retain their bounce even during a heavy downpour. It will also be water resistant and should be made with high-tech materials like polished stainless steel and aluminum, so it will not rust easily.
3. Add a Stylish Pergola to Your Small Backyard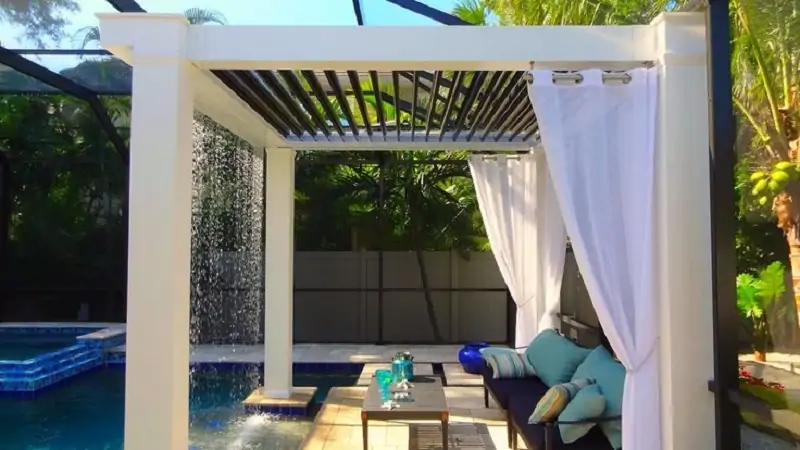 Sunbathing and lounging right under the sun are relaxing poolside pastimes, but sometimes the weather is far from being pleasantly cool and comfortable.
Installing a pergola is one of the best pool patio cover ideas that provides a stylish shade to stay cool on a sunny day.
The best part of pool pergola ideas is that you'll find pergolas in different sizes and designs. So, whether you are a proud owner of a huge backyard or in search of a pergola to fit your small backyard pool or patio ideas, you will always find something to complement your space.
Besides this, a pergola allows for many decorative accents to make your poolscape unique. From intimate lighting for your pergola to lifting accents and curtains to create drama, a pergola helps you create a relaxing and cozy poolscape.
Enhance your spot to relax in the shade even further with our pool cabana ideas. On top of the style, it adds the functionality to change and store swimming gear.
4. Make it Family-Friendly with an Outdoor Grill
When you are the only one in your large family with a stunning swimming area, the chances are that you will host every family gathering. To make family time outdoors fun, install a grill station on your poolscape.
An outdoor grill is not just perfect for family gatherings but is also ideal for romantic poolside dining. Just add some lighting features and place seats strategically to enhance the romantic vibe.
Transform your pool area with more outdoor kitchen ideas to consider.
5. Add a Fire Pit Deck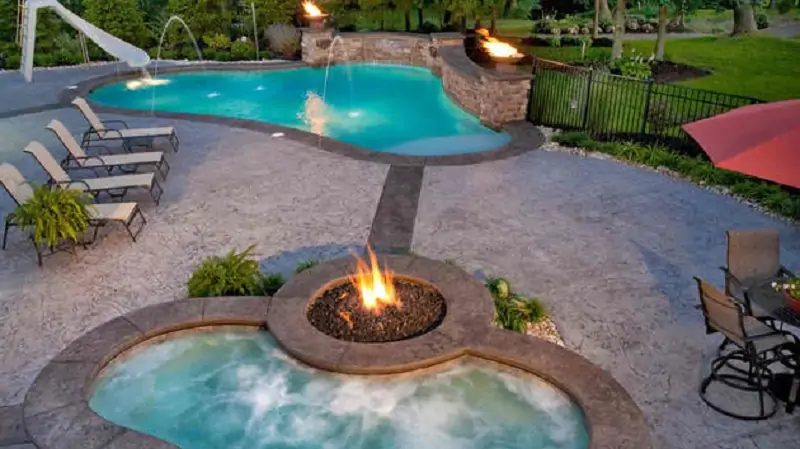 Have you ever experienced a camping trip? If you have, you know how relaxing it can be sitting beside a fire pit, socializing, and sharing a bottle of beer with loved ones. So, add an inground fire pit on the deck.
There are many design ideas for fire pits to fit your pool patio. Inground pool patio ideas like this make your poolside glow in the dark and help you share intimate time with loved ones when lounging beside the fire.
FAQs
How Do I Make My Pool Area Pretty?
It's easy to make your swimming area look pretty. All you need to do is install some unique pavers, an evergreen landscape, a garden oasis, or multiple seating elevations. Highlight your pool with eye-catching pool patio lighting. Add some privacy to the place with pool fence ideas. Simply put, decorate the patio with creative accents, colors, and textures, so your poolscape does not look bare.
What Should I Put Around My Inground Pool Area?
There are several things you can put around your swimming area to make it stand out. From a fire pit to an outdoor grill, seating furniture, dining table, a cascading waterfall, or a pergola: the list of ideas is really enormous.  
What Material Can I Use for the Area Around a Pool?
The right pool deck decorating ideas greatly depend on your choice of materials. When choosing them, consider both the patio's surface and your furniture.
Concrete, wood, stone, brick, and tiles are the most commonly used materials for making swimming decks and patios. These materials not only look good but are also durable, easy to maintain, safe, and reasonably priced.
As for your furniture, choose stain-resistant fabrics that won't fade easily when exposed to UV rays or chlorine. A good furniture material for poolside will also be mold- and frost-resistant and come with a polyester or natural fiber filling that is water-resistant and retains its bounce under heavy rainfall.
Aluminum or stainless-steel furniture frames are truly unbeatable because they are corrosion-resistant and look beautiful no matter how long they are exposed to weather changes.
Conclusion
A pool is a classic feature of every home but won't feel relaxing with decorative accents to give it life. From installing pavers and small pieces of furniture to adding an outdoor grill, pergola, inground fire pit deck and creating a garden oasis, finding the perfect decorative accents and pool patio ideas to liven your patio and deck will give your poolscape a beautiful focal point that is perfect for outdoor entertainment.