9 Inventive Kitchen Hood Ideas You Were Looking For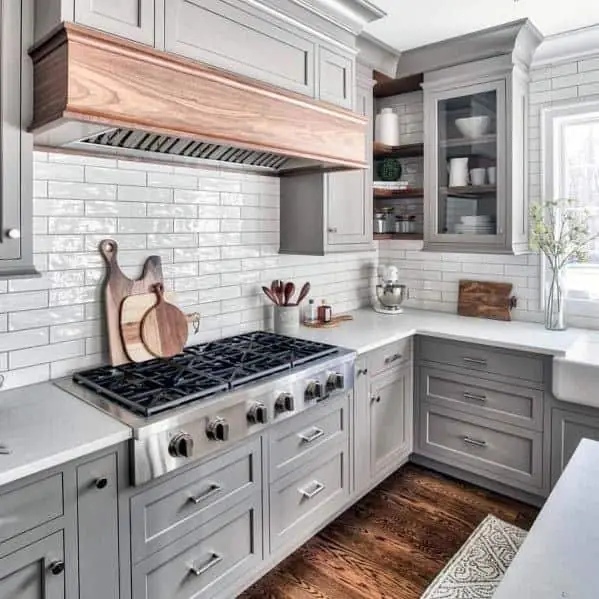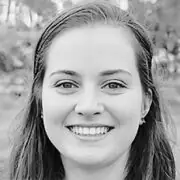 To be looking for some lovely kitchen hood ideas to give your cooking space the desired look is understandable. Back in the day, a plain makeshift chimney would serve the purpose. However, modern times are blessed with ample kitchen hood design ideas. The color, texture, material, shape, and craftsmanship of your cooking canopy matter when choosing an ideal design.
We have picked out 9 fresh ideas to help transform your cooking space:
1. Cover It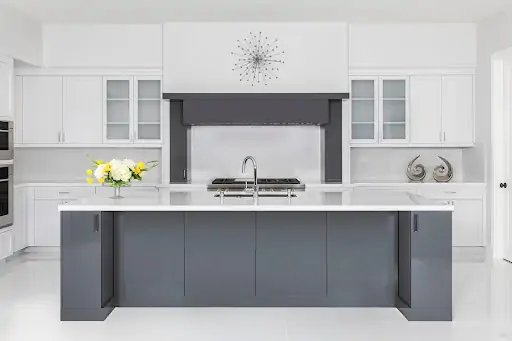 Covering the protruding parts of the extracting system is always a good choice and the best idea you may have. Like in the picture above, this cover can be used as a canvas for an attractive centerpiece.
When choosing the color for the cover of your extractor hood, you have two options. First, as they did in the picture, you may decide to make it an inseparable part of your kitchen cabinets. Second, you might want to use a contrasting shade that goes well with your room's color palette.
2. Cabinet-cum-Chimney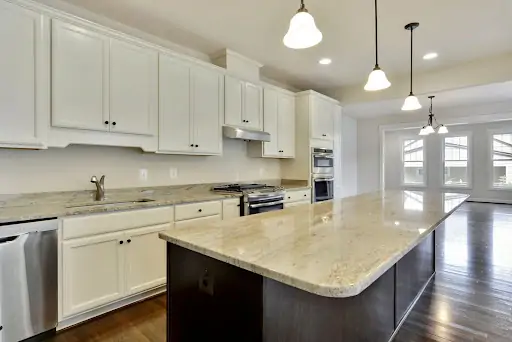 This is one of the most pleasantly minimalistic ideas you can use. Simply place the hood right under your cabinet. The exhaust duct will cross through the cabinet and remain hidden. You will still be able to use some parts of the cabinet (although you might need to install some additional shelves there). While this storage is not recommended for edibles, other items like dinnerware and glassware can be safely placed in this cabinet-cum-chimney.
3. Tube-Shaped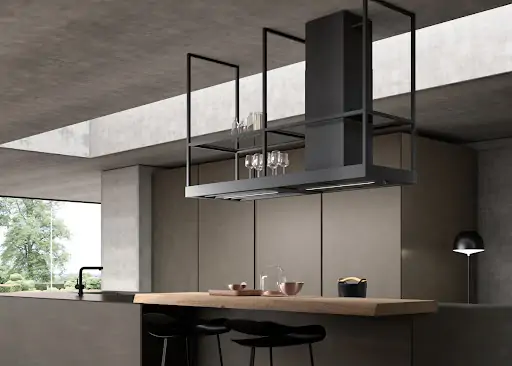 Who said that a tube could not be elegant? You can find one of the best kitchen hood ideas for an island in the picture. First, its modern industrial design looks bold and stylish. Second, it offers you additional space for keeping your kitchen utensils. Third, its dark color complements the rest of the room and makes this tube a real statement piece.
While ceiling racks are great for storing, if you find that they make your room too busy, you can always use a slender tube and allow it to stand from your ceiling in the full glory of its design.
4. Hide It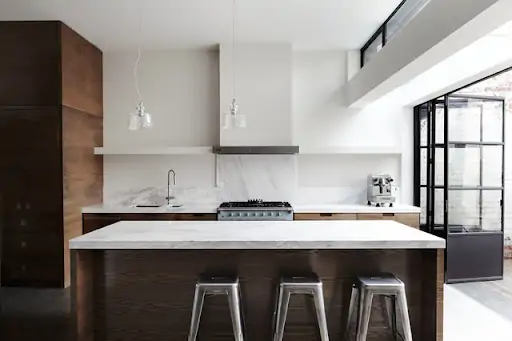 If you prefer a minimalist interior design style, you should decide on hidden range hood ideas. Like they did above, use a cover to hide the ventilation duct and let the cover blend seamlessly with your walls. Refrain from using bold colors, and do not place a centerpiece here – you want to make this part of the room as inconspicuous as possible, not draw attention to it.
Then again, to avoid making your design solution dull, you can choose to use a contrasting color for the hem of the opening. Still, it depends on how liberal you are ready to be.
5. Contrasting Stained Style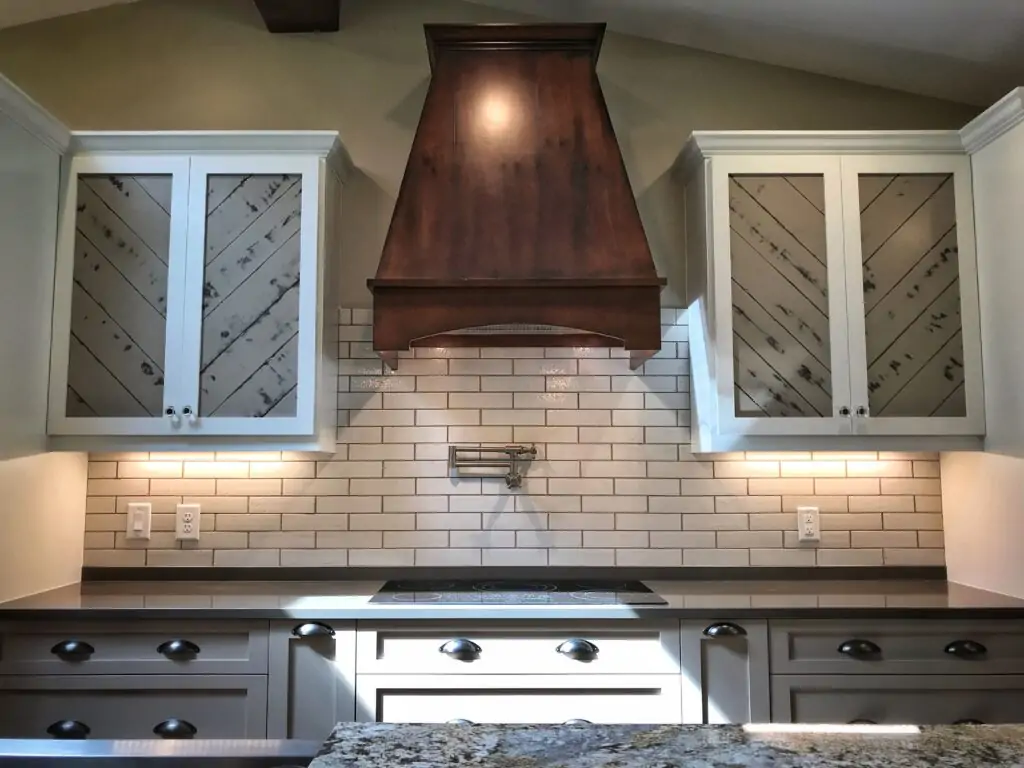 If you like boho style above everything else, this is truly the best kitchen hood range idea. Subway tiles, minimalist lighting scheme, cabinets with contrasting doors, and — the one and the only — a large and conspicuous (if you've got it, flaunt it, as they say) — gigantic hood. The paint makes you genuinely believe it is made of rust-covered steel.
Sharp contrasts play a significant role in creating a boho-styled place. If you want to achieve a similar effect, make sure you use colors of proper intensity. If you choose to use brown or black for your cooking canopy and your background is off-white, it will leave a stronger impression compared to using red, green, or blue.
6. Stained Wood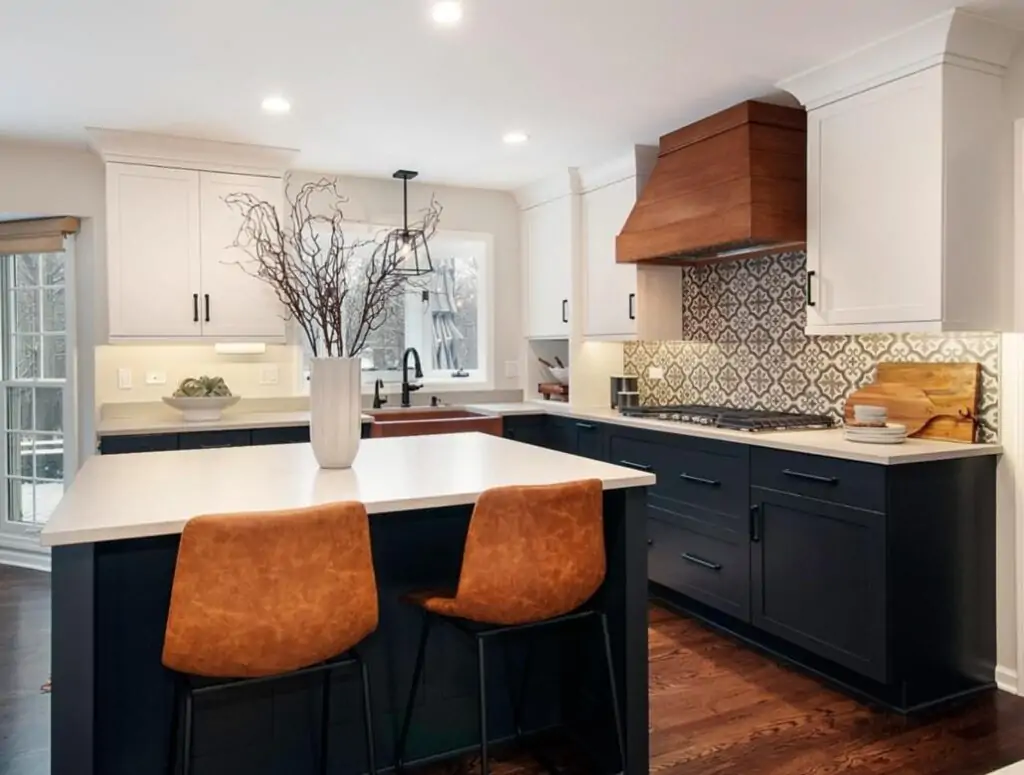 Stained wood is a great vintage choice for your cooking area to accentuate its retro vibe. The combination of the stained wood standing alone or in sync with furniture can bring out that rustic feel everyone likes and enjoys. If you want to create a lovely relaxing atmosphere, this idea is what you need.
What's more, there is no need to limit yourself with your range hood. Backsplash designs that share the same retro and rustic approach will help you make your kitchen space even more serene.
7. Stainless Steel Canopy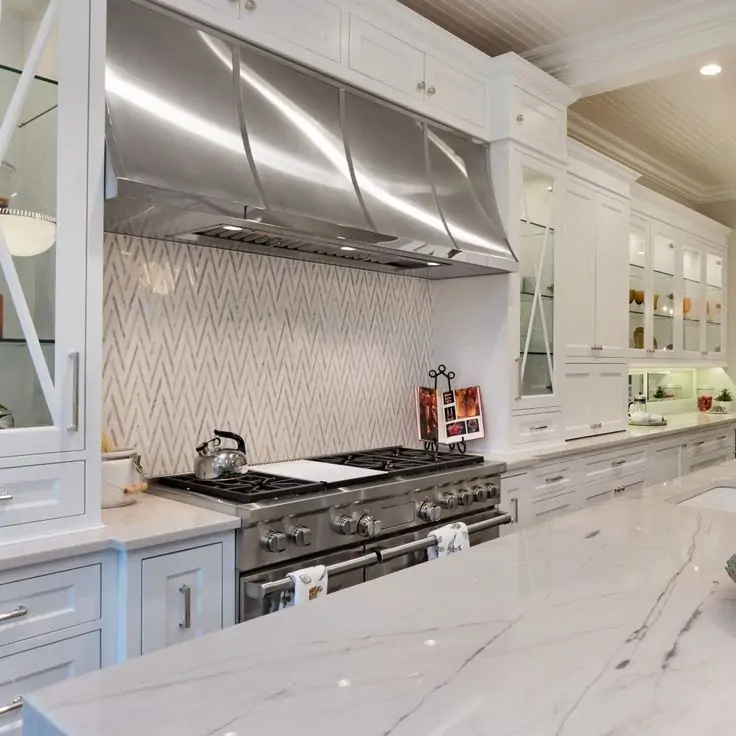 Sometimes, the simpler solution you choose, the more stylish look you get. Stainless steel is among the top modern kitchen hood ideas that will never go out of fashion. You can choose to have a single funnel stainless steel canopy or one with broad wings on both sides to add a timeless vibe to your cooking area.
Speaking of modern times, it can be suggested that you go digital with your stainless steel choice. Get yourself a hood equipped with a motion sensor for a truly futuristic feel.
8. Perennial Classic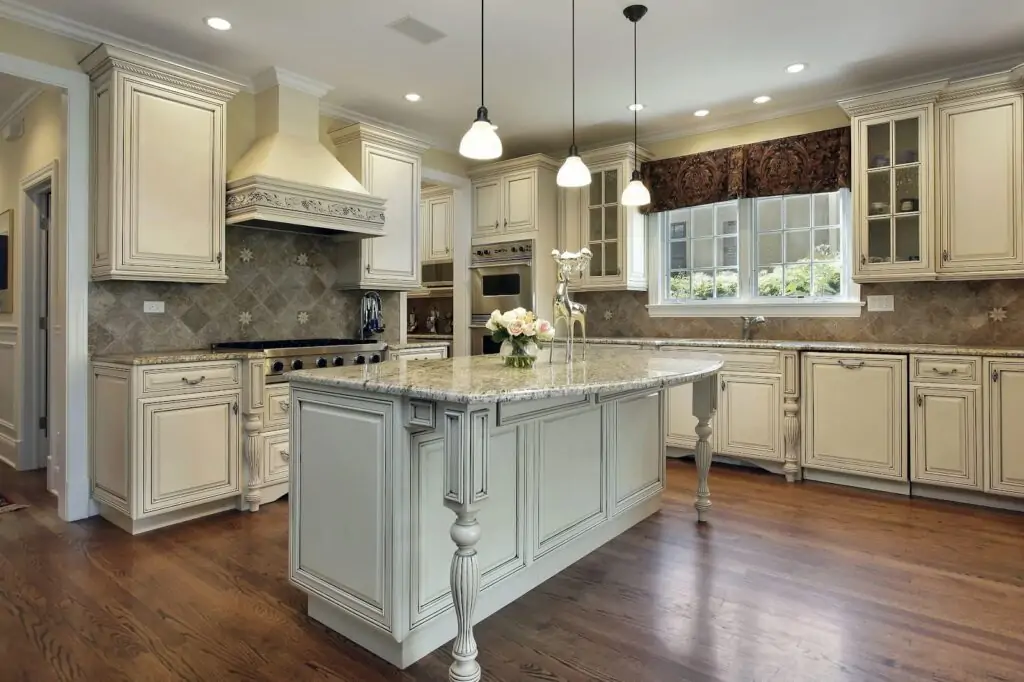 While not common these days, this classic design approach cannot be really called a thing of the past. It is something people return to again and again. This kitchen's traditional look speaks volumes about your sophisticated space and preference for an exquisite vintage aura.
If you have a limited budget and cannot afford expensive furniture and an expensive paint job, you can simply choose a wallpaper with a vintage design. It allows you to change the look of your area whenever you want without spending a fortune.
9. Farmhouse Style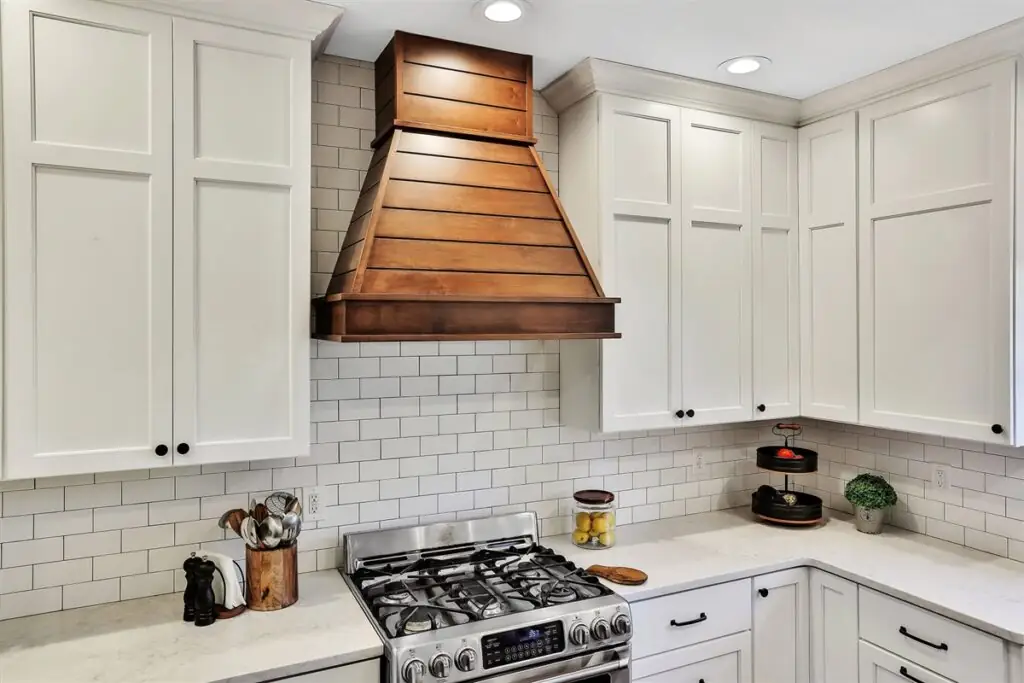 A simple rustic solution can make your hood the center of attention in your farmhouse-styled space without being extraneous. Nothing can beat the earthly feel and simple aesthetic of wood: it will rhyme perfectly with subway tiles and simple yet elegant white (or off-white) cabinets.
If you were looking for farmhouse range hood ideas, you could not go wrong choosing wood as your centerpiece. The contrasting color it offers is ideal for creating a relaxed and calm vibe in the room.
10. Pillars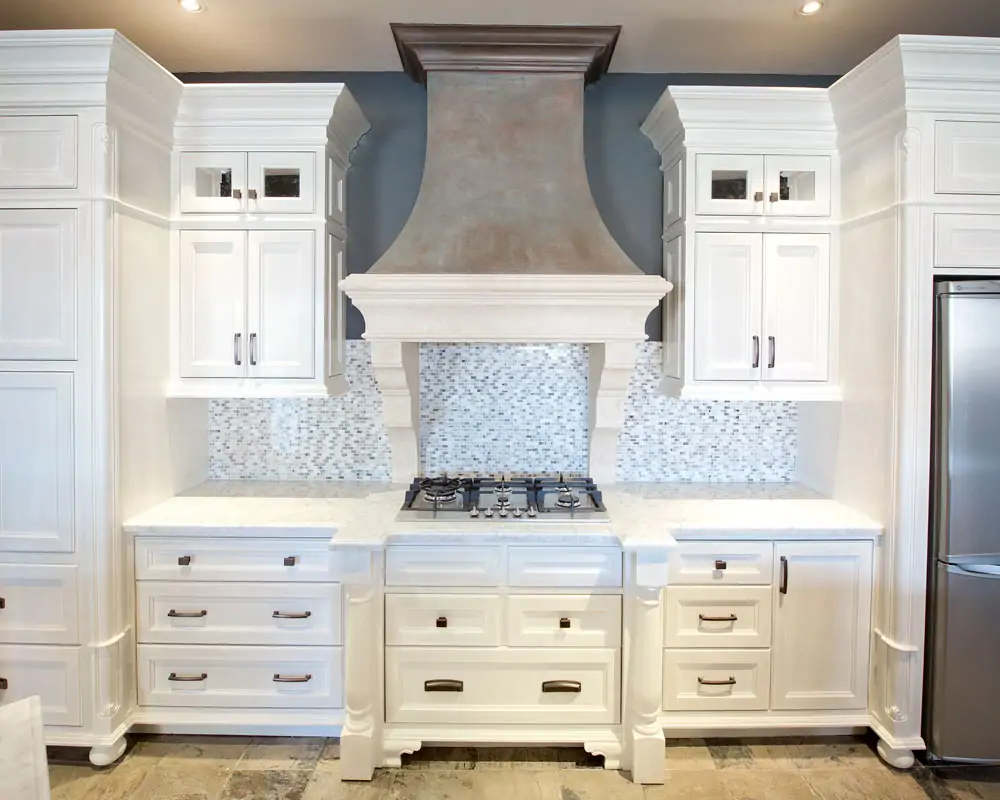 Are there more ways to make your kitchen hood rhyme with your cabinets? One of the best classic ideas you may have is to use a frame made up of two vertical pillars that go from the stove right to the extractor device above. These pillars do not support the weight: their sole function is to make the transition between your furniture and the hood as smooth and unobtrusive as possible. Note the inverted stairs pattern of the pillars: they go wider and wider until they blend seamlessly with the canopy.
11. Use Kitchenware of the Same Color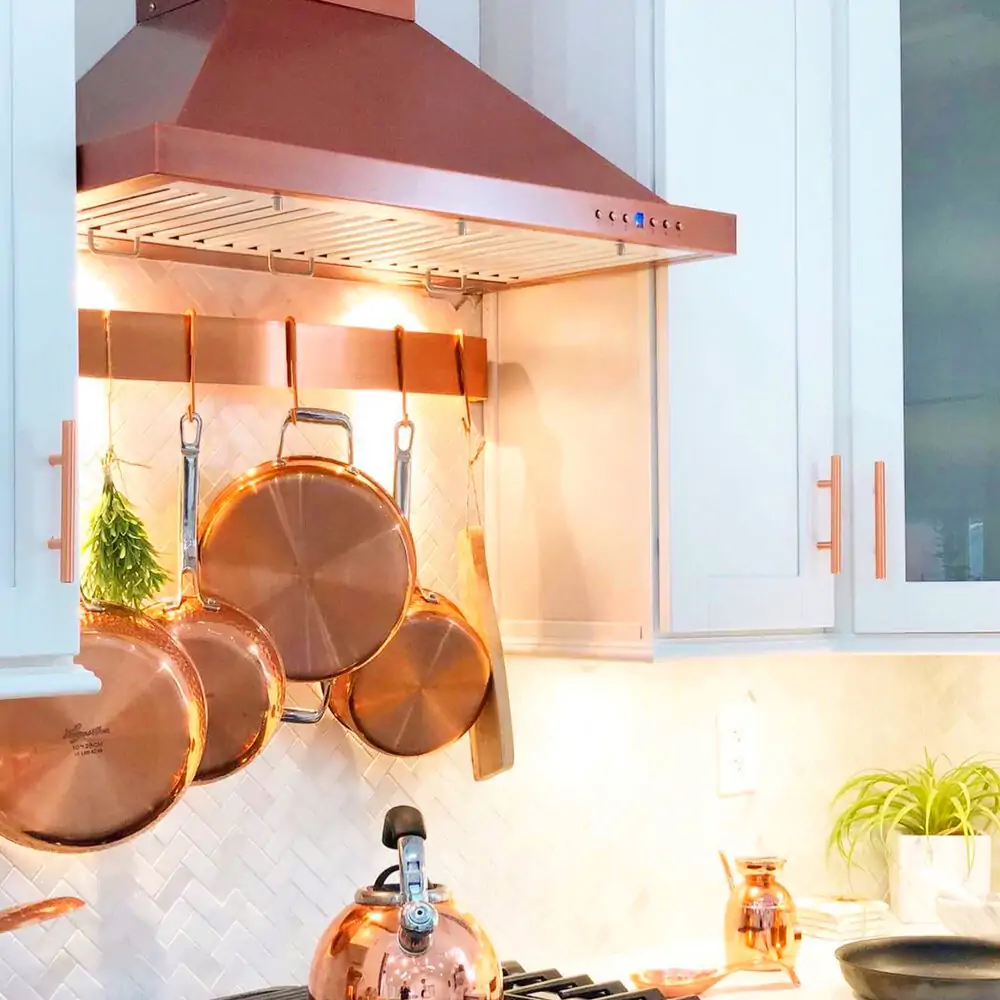 While brass kitchenware has limited functionality (it is only safe to cook rice using it), its warm, shiny appearance is impossible not to like. Brass has a pleasant earthy feel about it which borders on rustic style: if you want to introduce some rustic notes to your kitchen but are not yet ready to fully embrace this design approach, decorative pans made of brass are exactly what you need.
And once you have a set of brass kitchenware you use as a colorful decoration, what about getting a hood with a similar reddish finish? A single look at it is enough to feel optimistic.
12. Let There Be Light
If you have a kitchen island equipped with a stove, you simply cannot do without bright ceiling lights to have a good view of what you are doing. At the same time, you need a high-powered extractor hood to quickly get rid of food smells that otherwise are free to wander in any direction.
To have the best of both worlds, you need a chandelier-cum-hood like in the picture. The modern-looking chromium-plated pipe is very close to the stove, so the smells don't have the slightest chance to escape. Also, numerous bright LED lights located near the ceiling provide enough light. A perfect win-win combination!
13. Slanted Position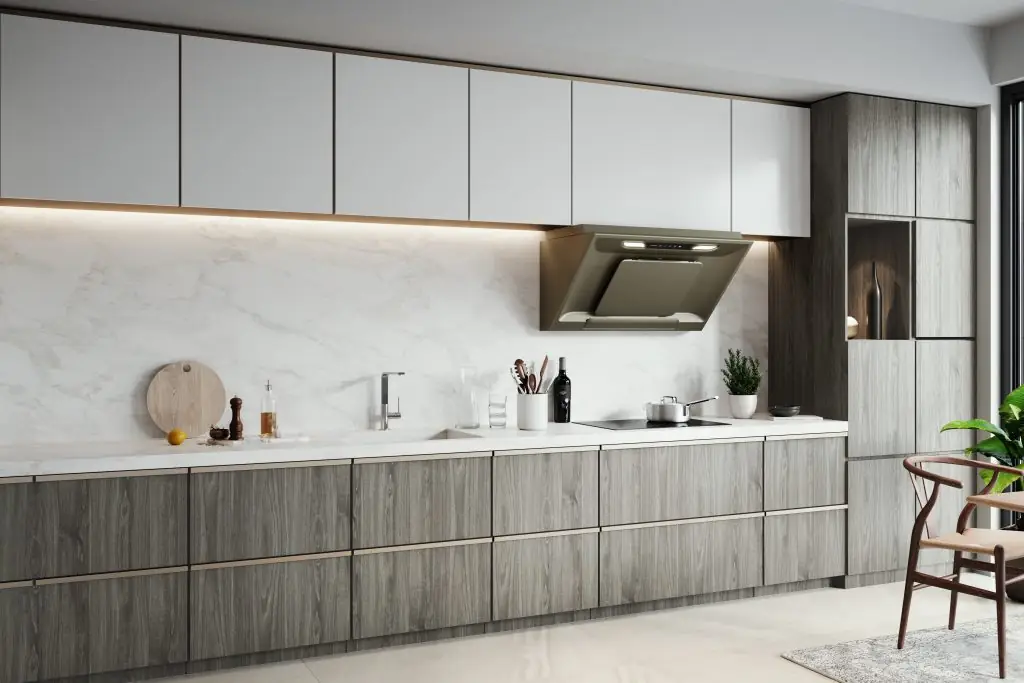 If you want your kitchen to look as modern and original as possible, the traditional horizontal positioning of the extractor device might seem boring and clichéd. Use one that is meant to be placed diagonally: a combination of an industrial metal finish and the unusual slant of the hood help your kitchen look truly eye-catching and state-of-the-art.
What's more, slanted hoods can more easily and considerably faster extract smells that permeate the whole space of your kitchen, and due to the convenient placement of the grid and fans their maintenance is a bit less complicated.
14. Curved Cover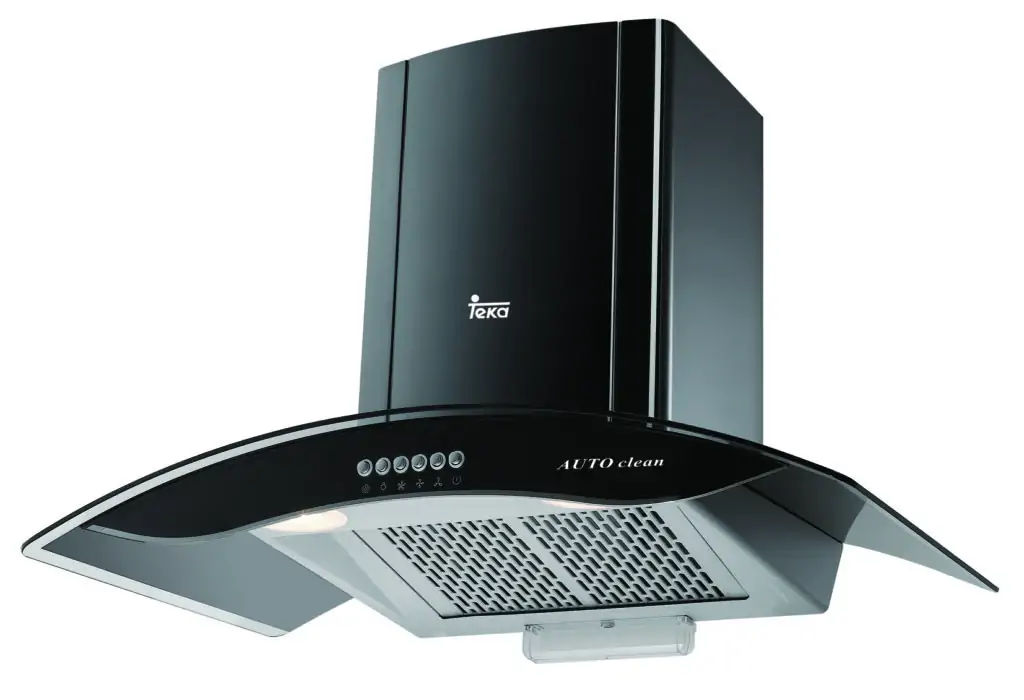 One of the time-tested ideas to introduce futuristic vibes to your kitchen is to use a sleek extractor hood that features a semi-translucent curved cover. A built-in LED light with a modern minimalist appearance is bright enough for you to cook without ever stretching your eyes. Dark matte paint looks daring and vigorous.
Even if you are an owner of a traditional or even rustic kitchen, an accessory like this can be used to add some energy and provide a counterpoint to an otherwise peaceful and serene environment. If not overdone, eclectic mixes can work pretty well.
15. 100% Minimalist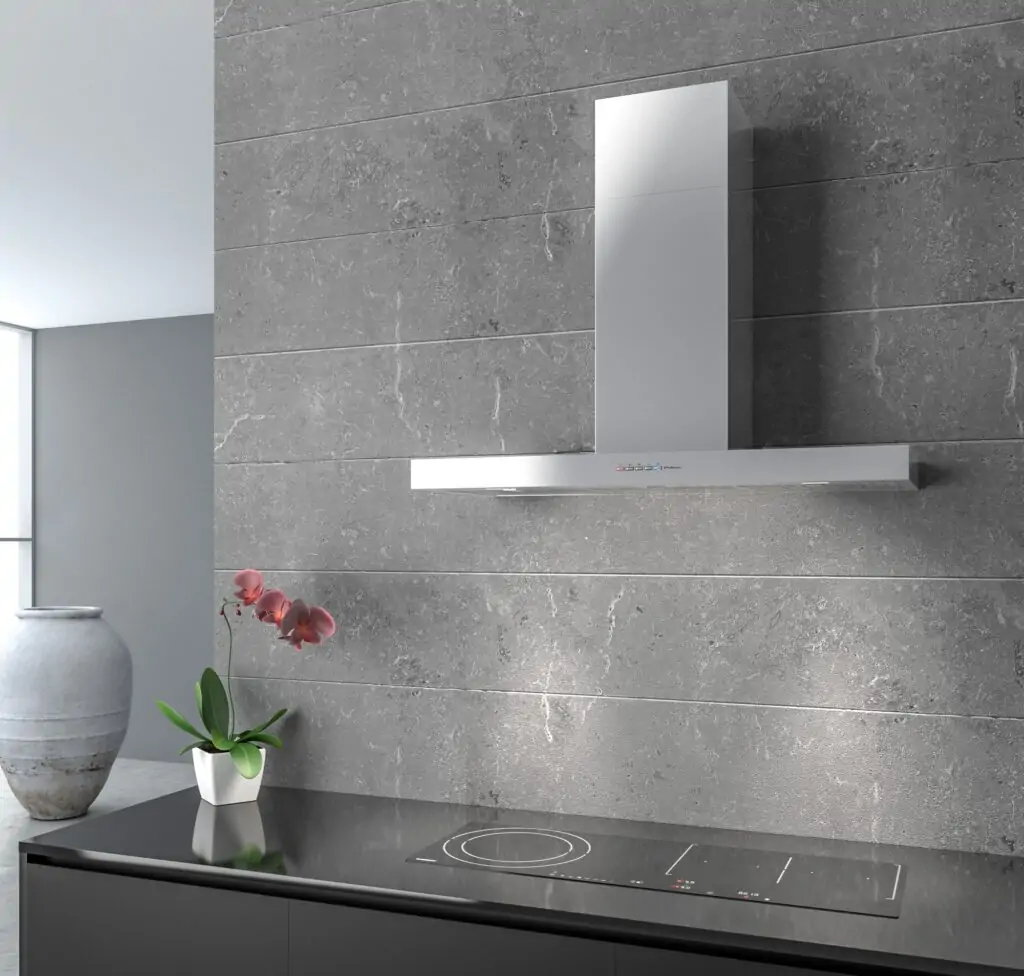 Here you can see a minimalist approach at its finest. The induction electronically-controlled stove features no protruding parts, and the gray-tiled walls look both unassuming and ultra-futuristic. A simple T-shaped metal extractor hood with a slightly lighter shade of gray is ideal for this space station-like kitchen.
Still, however modern and unadorned you want your kitchen to look, you need a bit of color to make this place feel cozy and lived in. So, details like a vase and a red flower are really a must, as they provide much-needed contrast and optimistic vibes.
Conclusion
Sometimes the design of your cooking canopy is enough to make all the difference. Make it a central element or hide it in plain sight, go rustic or choose an industrial-style solution: you cannot go wrong with our top-notch kitchen hood ideas.