41 Nice and Cool Teenage Room Ideas for a Girl, No Matter Your Budget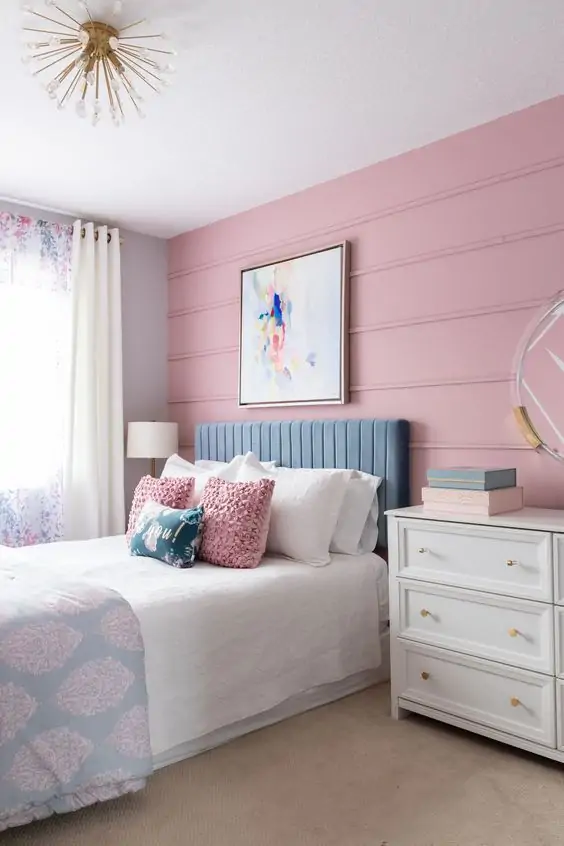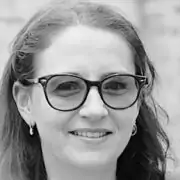 Let's talk about teenage room ideas for a girl that are nice and trendy.
Your girl does many things in her bedroom — sleeps and studies, chills out and has fun with her best friends, reads books, and just relaxes at the end of a long day.
In our review, you find plenty of elegant and classy design techniques to make a dream bedroom for a girl. There will also be some confident and daring recipes to help your daughter express herself.
1. Remember That a Girl Bedroom Starts from a Unique Bed
To spruce up even the most ordinary bed, upholster an oversized headboard, and your daughter will always feel splendid. Not only is it a comfortable attribute, but also a very stylish one. You can even decorate the whole wall over the bed in such a manner.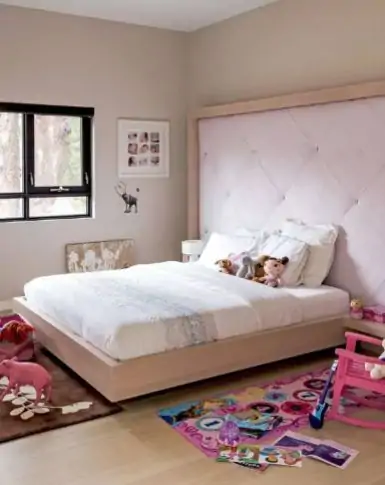 Did you instantly realize a remarkable feature of the upholstered headboard? It's a fitting place for photos, memos, and garlands your teen loves!
An utterly opposite choice is an astonishing headboard made of extraordinary materials. It's all about willingness, not convenience. The more unexpected a headboard is, the bolder atmosphere your girl will enjoy.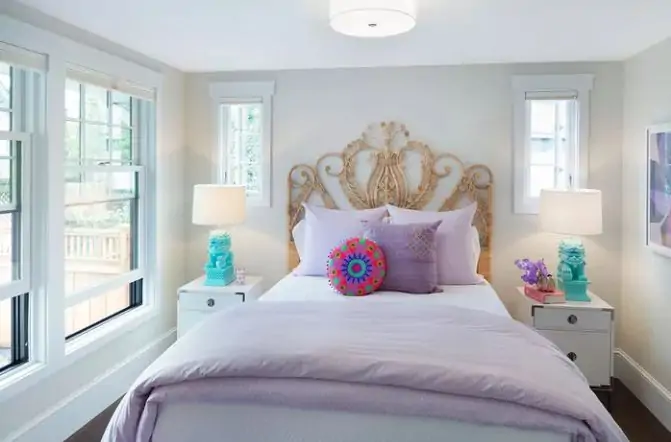 Add a spirit of royalty to the room by arranging the canopy above the bed. It will provide contrast to the bedspread like in the photo below.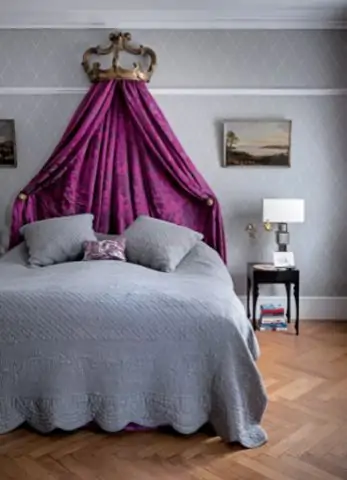 The next canopy bed harmoniously fits into the overall color ensemble. It is a trendy and sizeable idea for a teenage girl dream room. Bedding and designs are in the beige shade that helps us feel an airy space. Don't miss the time when your daughter is an ultimate princess.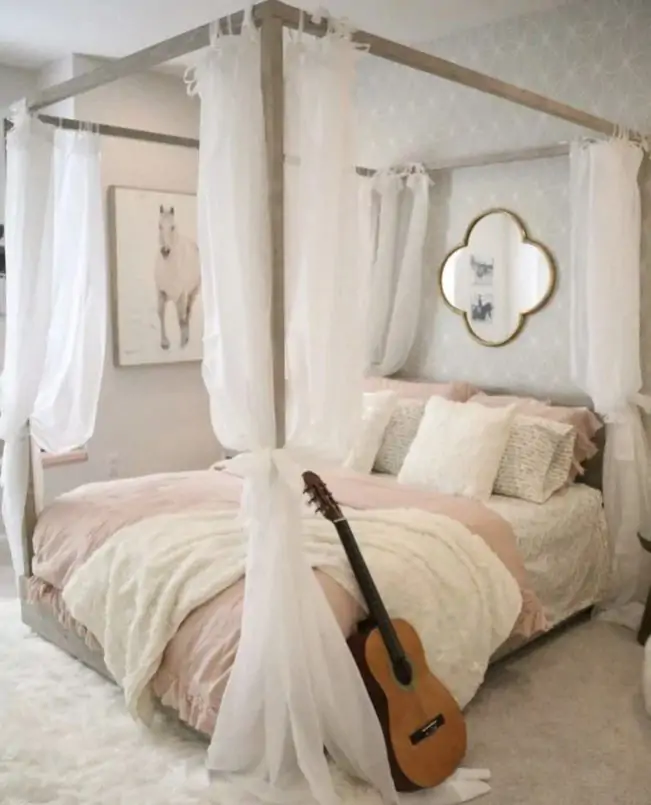 2. Think About a Fascinating Built-in Dream Bed
Don't worry about money! We suggest incredible ideas on every budget.
The example below is suitable for a tiny room. Keep in mind that space under the window is an impeccable choice to build in a cozy bed.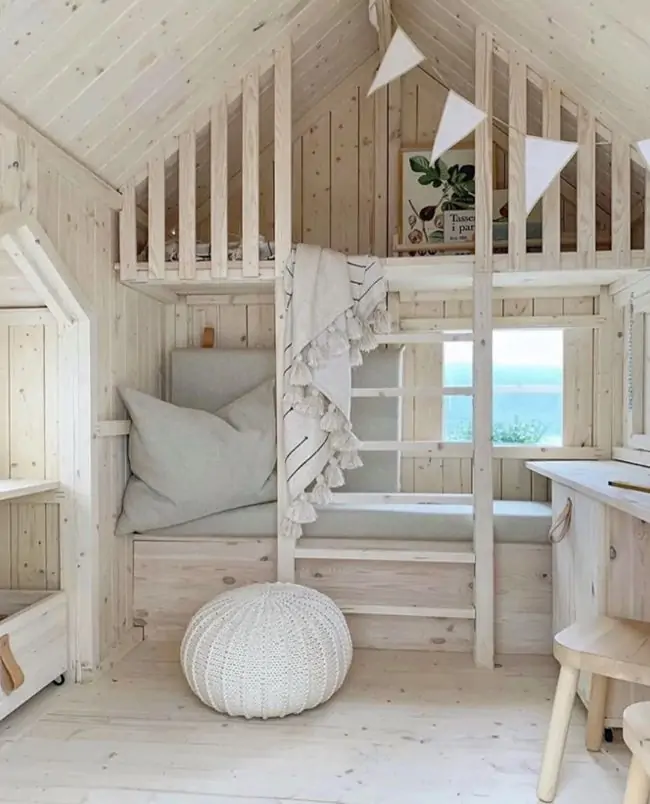 Here is one more teenage room with a bed under the window.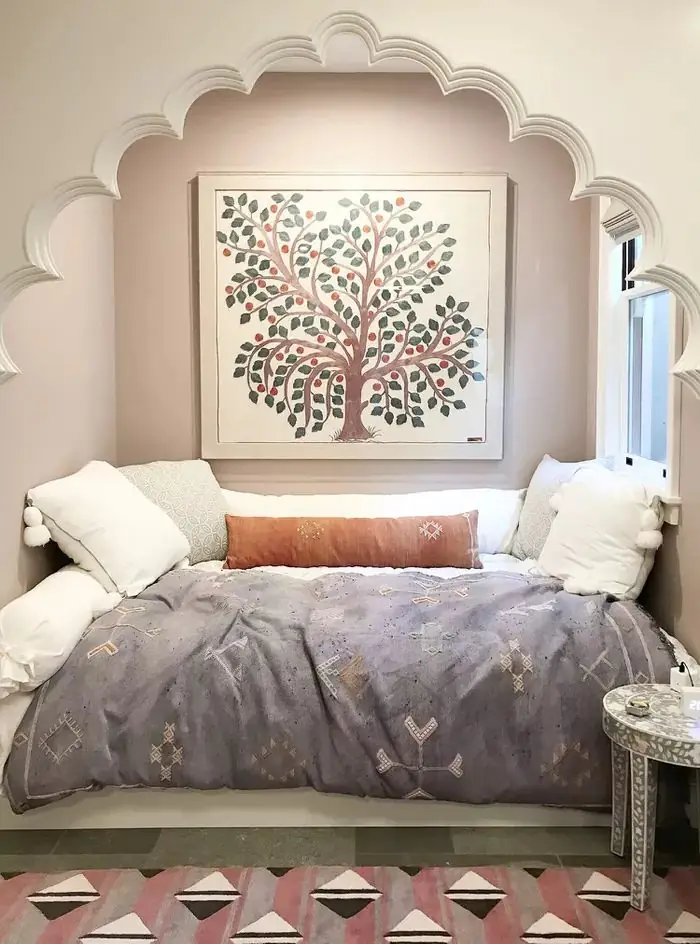 If your budget is large enough, you can hire a carpenter to make a custom built-in bunk bed. Take a look at the room and catch your inspiration for a fabulous makeover.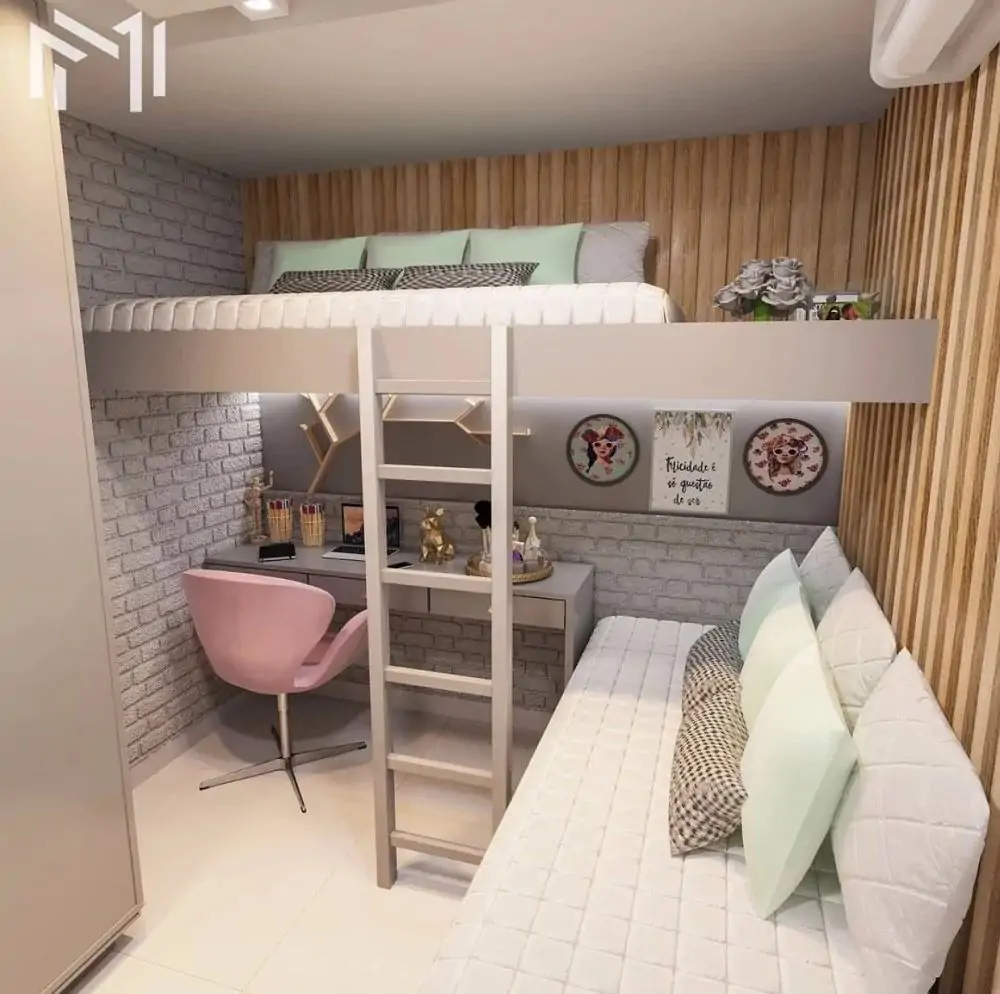 What a dream custom loft bed with a desk area! One of the perfect room ideas for a teenage girl.
How to take advantage of high ceilings? Hire a pro and arrange a built-in bunk bed with a peaceful balcony for a flawless chill-out zone.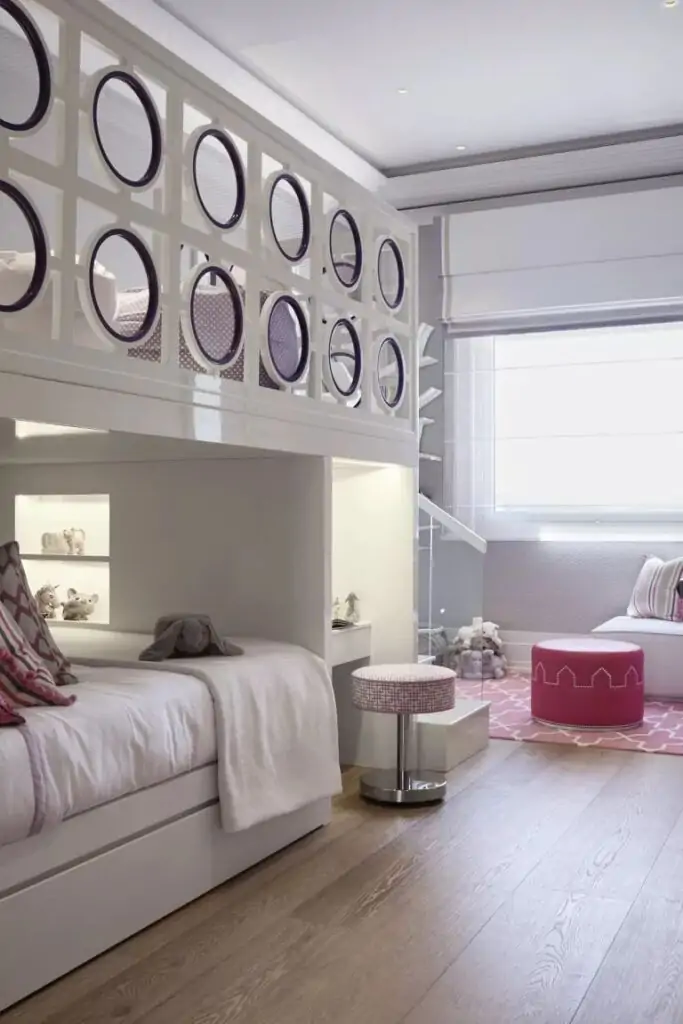 3. Add Colors to Your Bedding to Make the Most Effortless Design
The simple makeover ideas based on your bedding are genuinely refreshing. Change your linens, blankets, curtains, or carpet in the same color scheme and patterns, and you get the overall impression that is nothing but beautiful.
Let's check out some charming and affordable finds.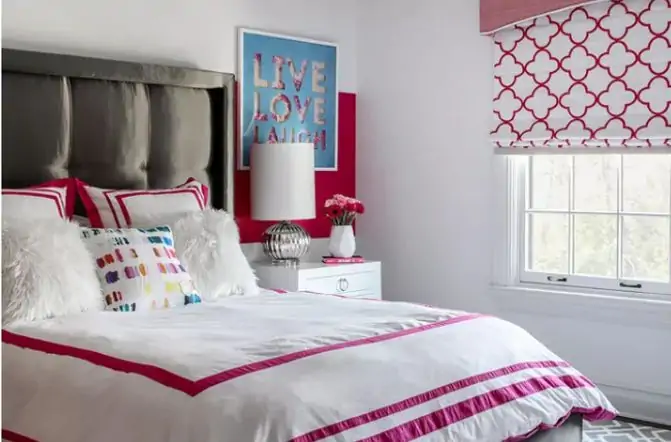 What is pretty enough to adorn a nice and cool teenage room for a girl? Match or repeat bedding colors in other design details such as blinds, curtains, or a sizable picture on the wall.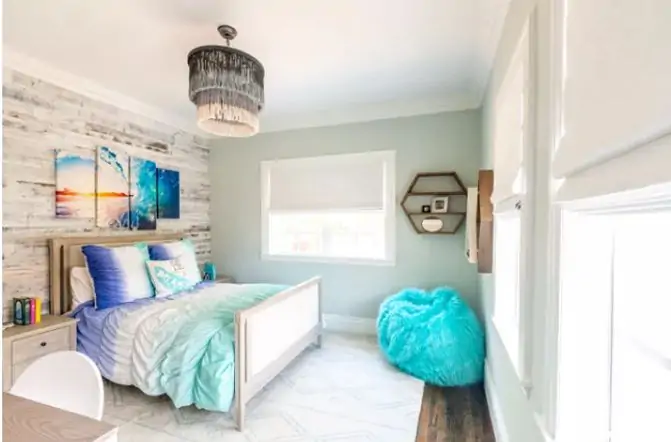 Be careful when mixing prints on textiles, walls, and accessories. Your teenage girl will study in the room, and too much-complicated décor may prevent her from being concentrated.
4. Focus on a Dramatic or Cool Accent Wall
If you don't have the means to create an expensive or technically sophisticated project, don't postpone a fresh makeover for a dream bedroom. We suggest the ideas that work for every budget.
The most affordable way is to turn one wall into a stunning design accent. Take a good look at these beautiful examples that immediately catch your attention.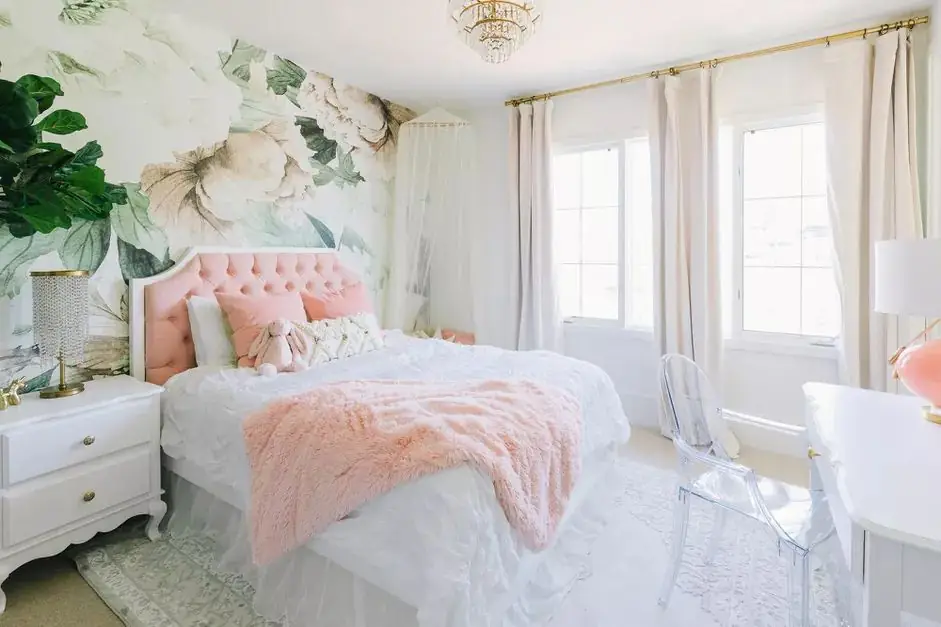 This design can last a long time and only requires a photo wallpaper that the room owner will choose. Also, you can use a not expensive technique in large décor when the same color repeats in several details.
Depending on where the bed is located, you can make accent paintings on the walls around the bed. Falling asleep in the middle of fabulous mountains is a relaxing fantasy for an introverted teenage girl.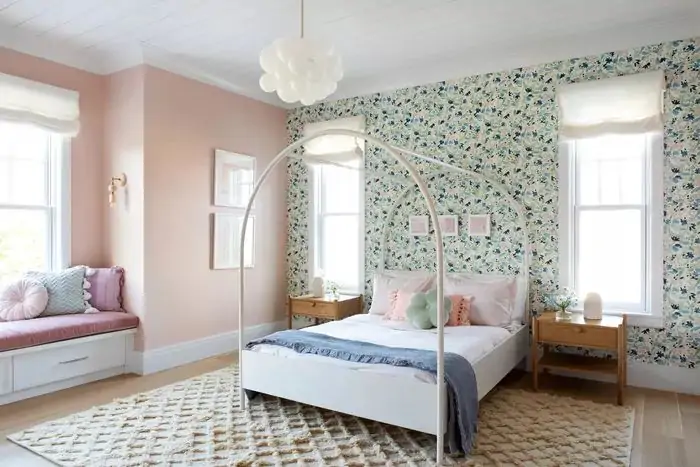 Compare the pictures above and below. Can you tell the difference? Most likely, a small intricate pattern for an accent wall is worse than a polished neutral option, a giant photo print, or a painted shape. This is one of the most frequent mistakes, so keep it in mind when choosing a design project.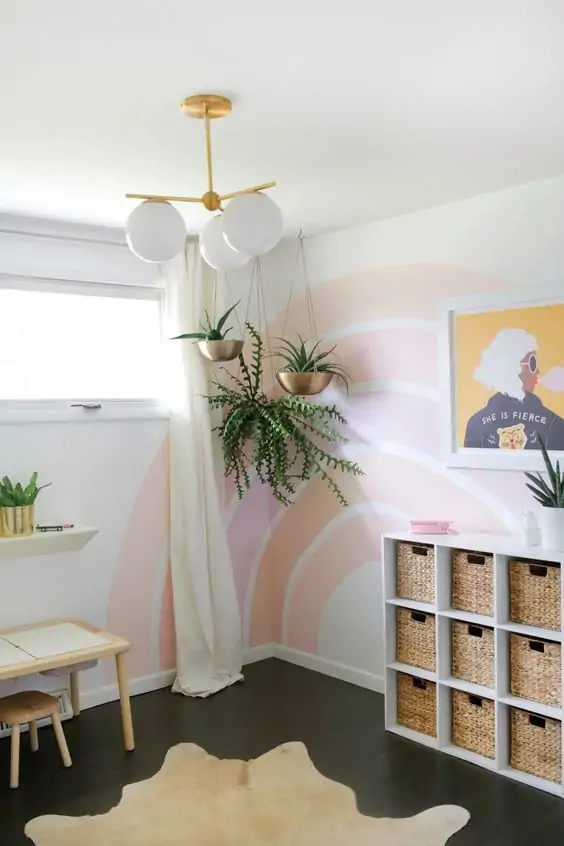 Never forget that the rainbow style remains one of the universal makeover ideas for a girl. Try on some unique finds for your inspiration to make a dream bedroom.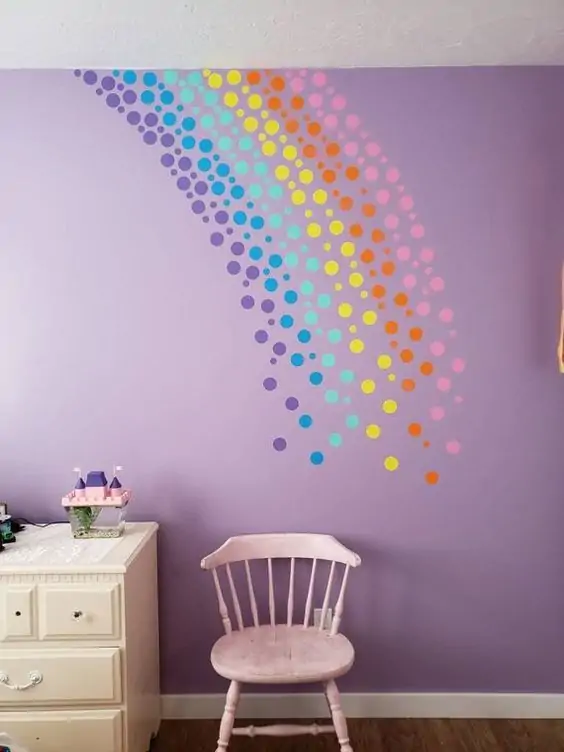 You can use stickers and paintings in this simple redoing. What's more, there is no need to draw an arc; multi-colored stripes are enough.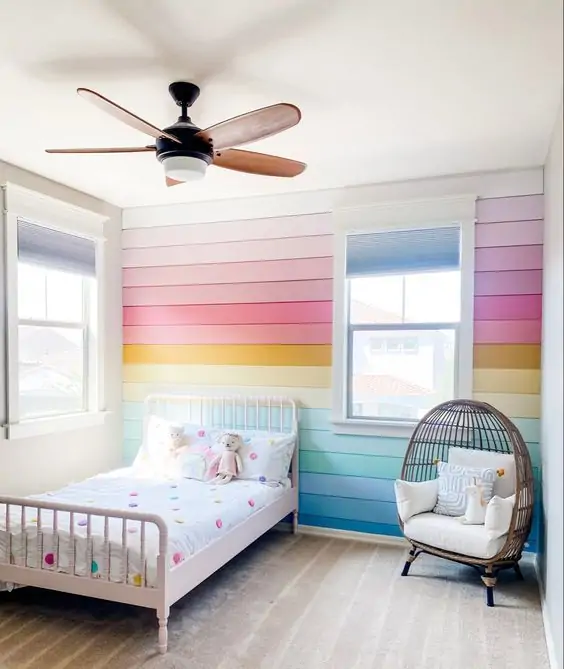 5. Propose Grey Room Ideas When You Deal with an Older Teenager
The easiest way to incorporate an attractive grey scheme into your makeover is to focus on the textures. You can combine many shades like in these neat pictures.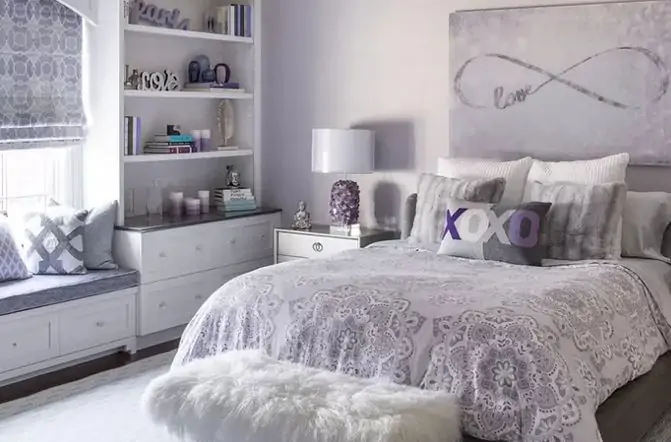 This option is most often not suitable for intensive and extended studies. Arrange the desk zone with more lively colors or add some colorful dynamic points.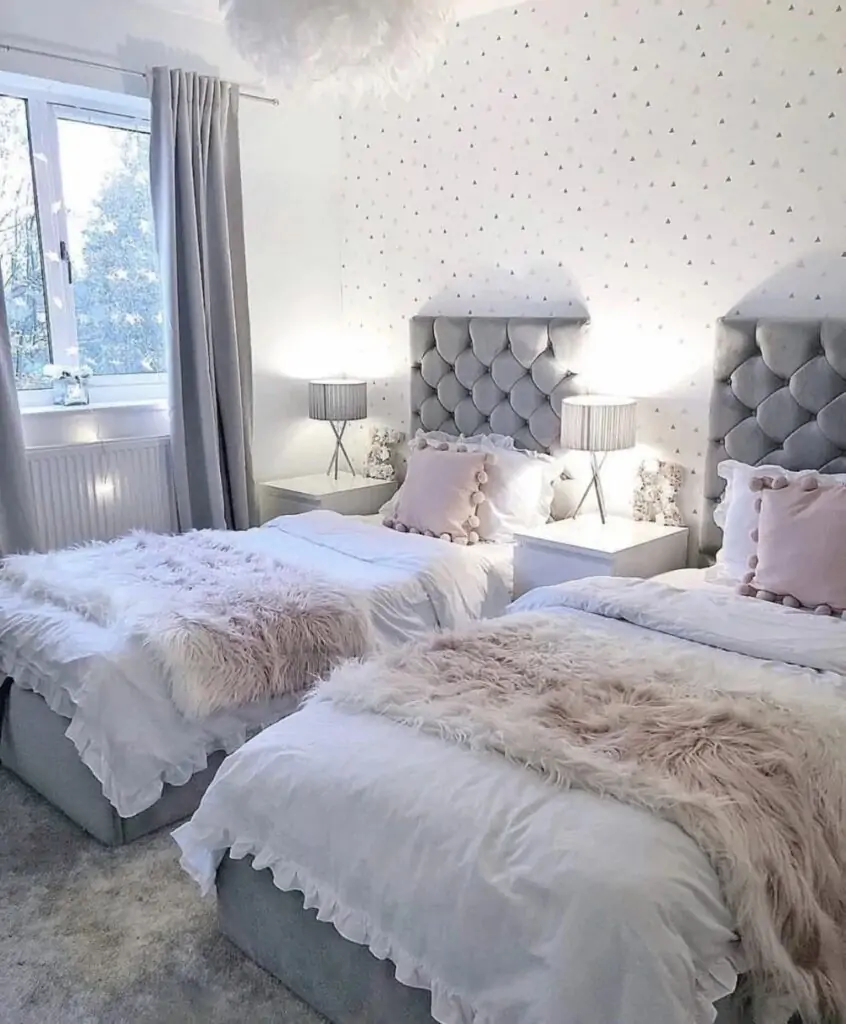 In the following photo, you can see how to gather many exciting ideas in grey design together — an upholstered headboard, fur carpet and blankets, modern 3d-elements in adornments, and retro white bedding that looks gorgeous but doesn't cost much.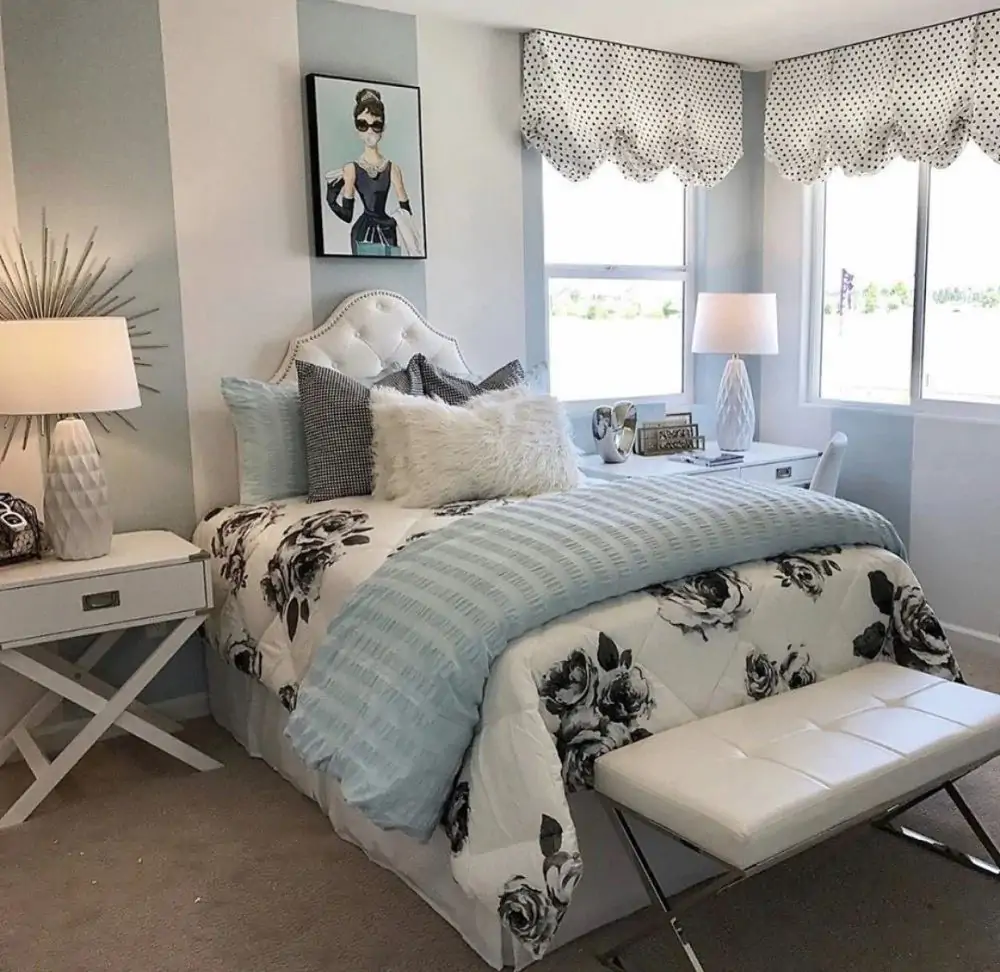 This room fits perfectly for the time on the edge of adolescence and adulthood. For ages like these, grey or beige color is an excellent base.
6. Don't Forget That Pink Is Always a Nice Option for a Girl
Pink colors are still close to perfection when looking for something classic but not plain for an up-to-date teenage room. Check out some great ideas and catch your drive to makeover!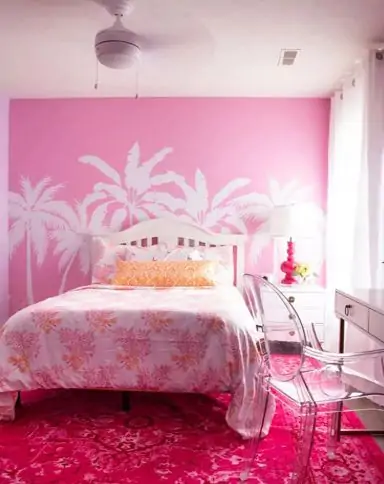 In the picture above, there are several smart and bright details. The accent wall with sizeable exotic print and saturated crimson carpet makes the room unforgettable. Every girl will love a transparent armchair that will never go out of fashion.
If you join the boho universe, you will discover a lot of new ideas. Use a mirror in a dazzling frame, add wicker furniture, and a fluffy coarse-knit bedspread. A brightly painted wall will also fit.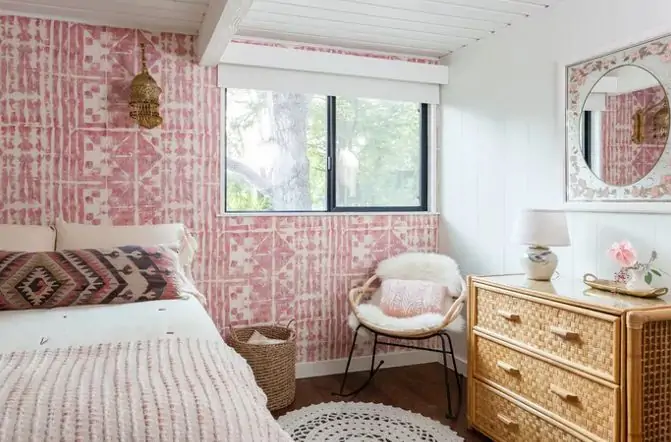 Look at another design project where the accent wall is painted in solid pink. As a result, we can see an airy and elegant room for a teenage girl. No mess and overcoloring! A charming scheme of pastels and white is perfect for your pillows, curtains, blanket, and headboard.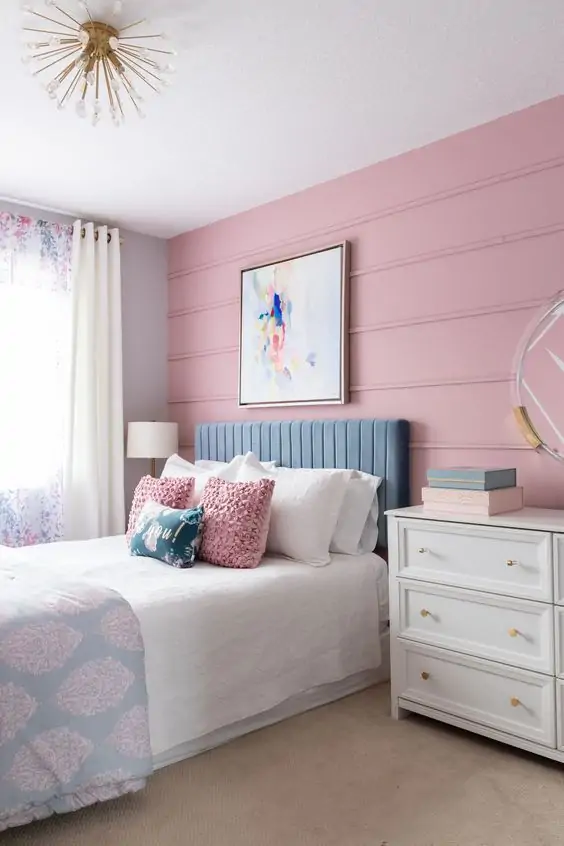 In the next photo, a retro geometric print on the wall is perfect for any age. Choose soft textile decorations to highlight the reassuring spirit.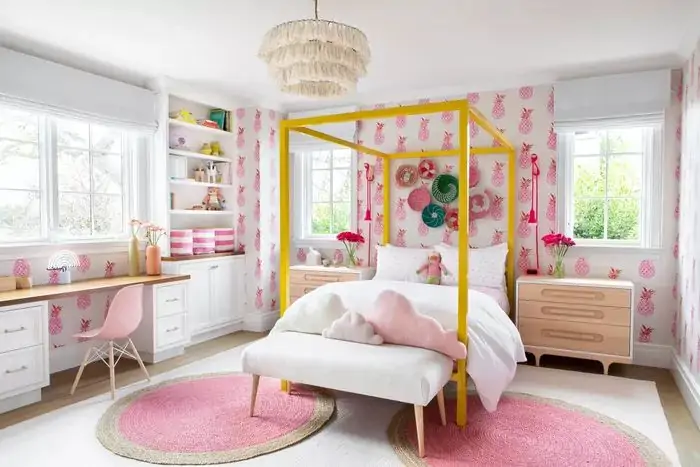 If you have decided to design in a popular girlish color, note the ideas in the picture above. A wall with a large print and a frame for a canopy appears again. A highly comfortable chair in modern style matches the primary color while round pink carpets collect all details in harmony.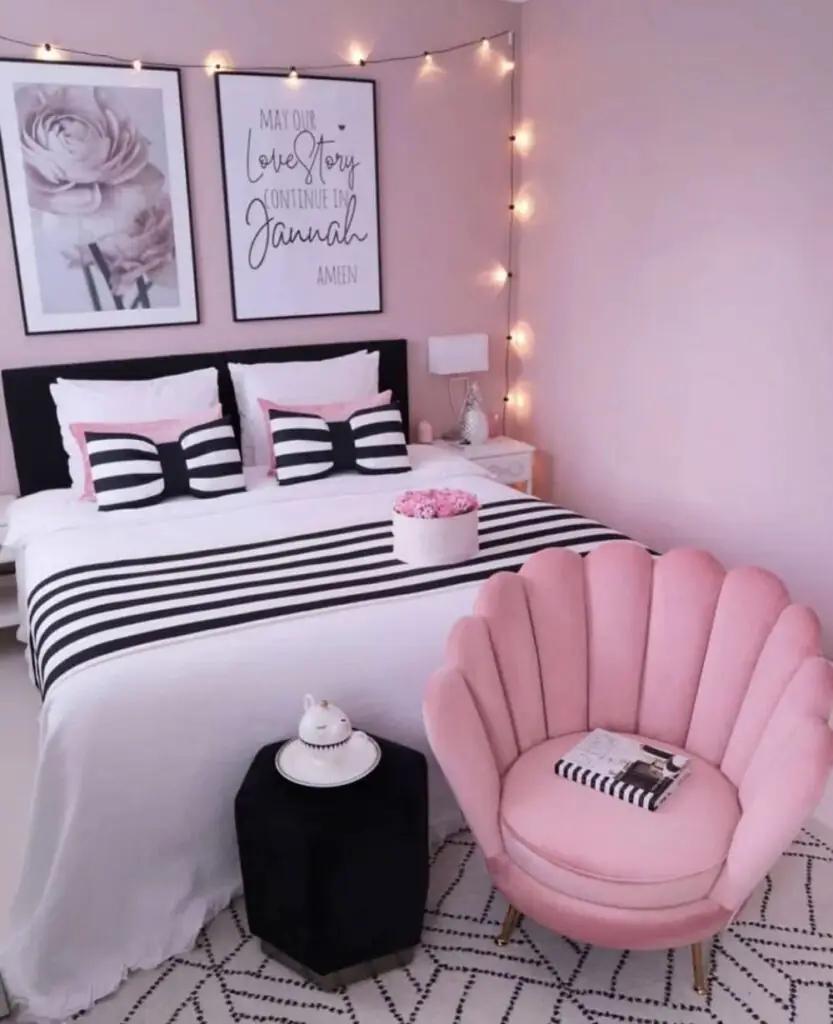 If your courage is truly remarkable, create contrast color combos with pink as a basis. Isn't the room above daring and really fresh? This is all about an ambitious plan to be always happy.
7. Arrange a Pretty and Functional Desk Area
Always look for a place under or near the window for a teenager's desk to provide more daylight in the working area. Check out our interesting finds to get more ideas for your design.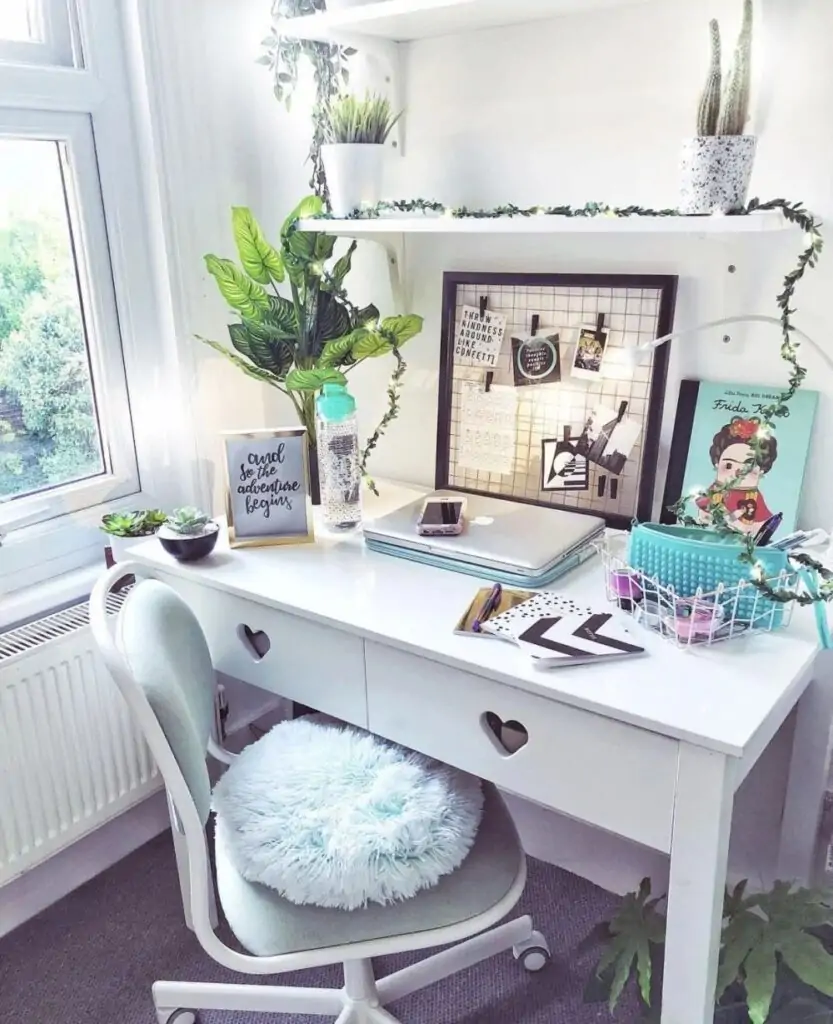 Even the smallest room can accommodate everything you need to study. Use the built-in furniture.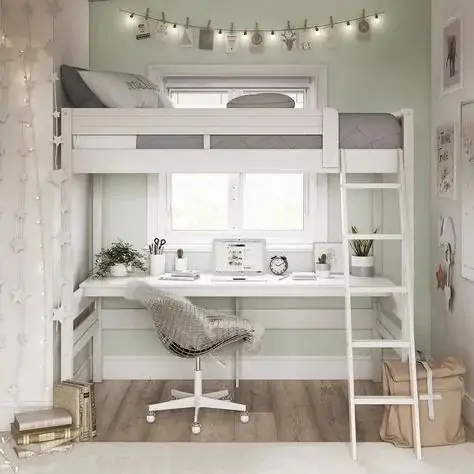 The following photo is the case when neat and neutral mean the best. Note that closed shelves are a must to avoid too much dust.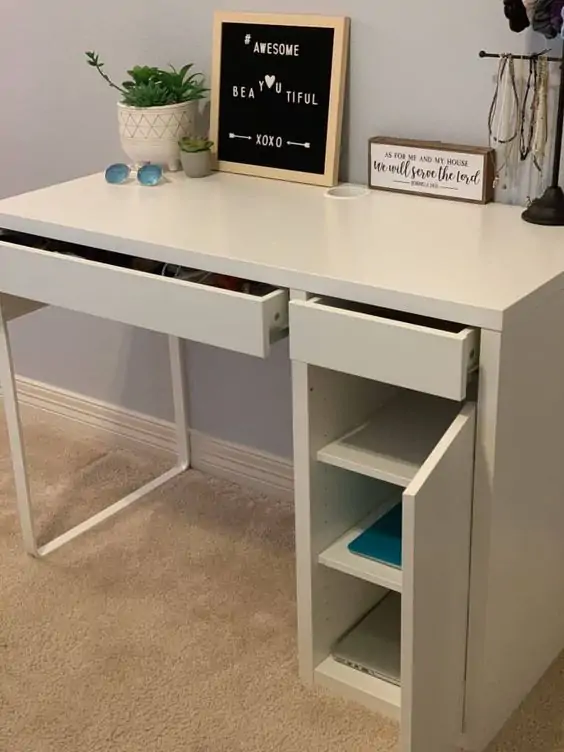 Be sure to select an ergonomic armchair to give your special one maximum care.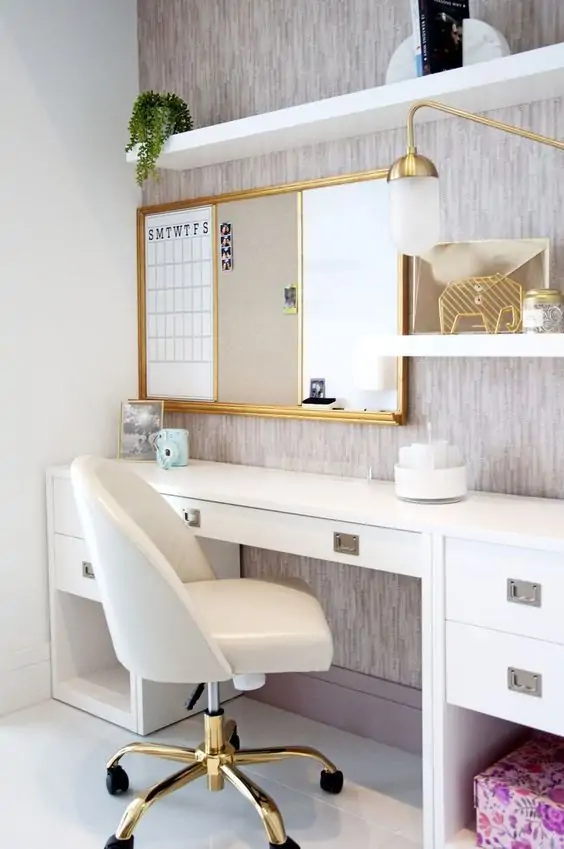 8. Find Attractive Ideas to Get in a Playful or Meditative Mood
You can create a reading nook in a small quiet space sheltered by stairs. Many comfortable pillows and a shelf for your daughter's favorite books will create harmony in this restful place. Also, check out unused corners to find the right place to chill out in.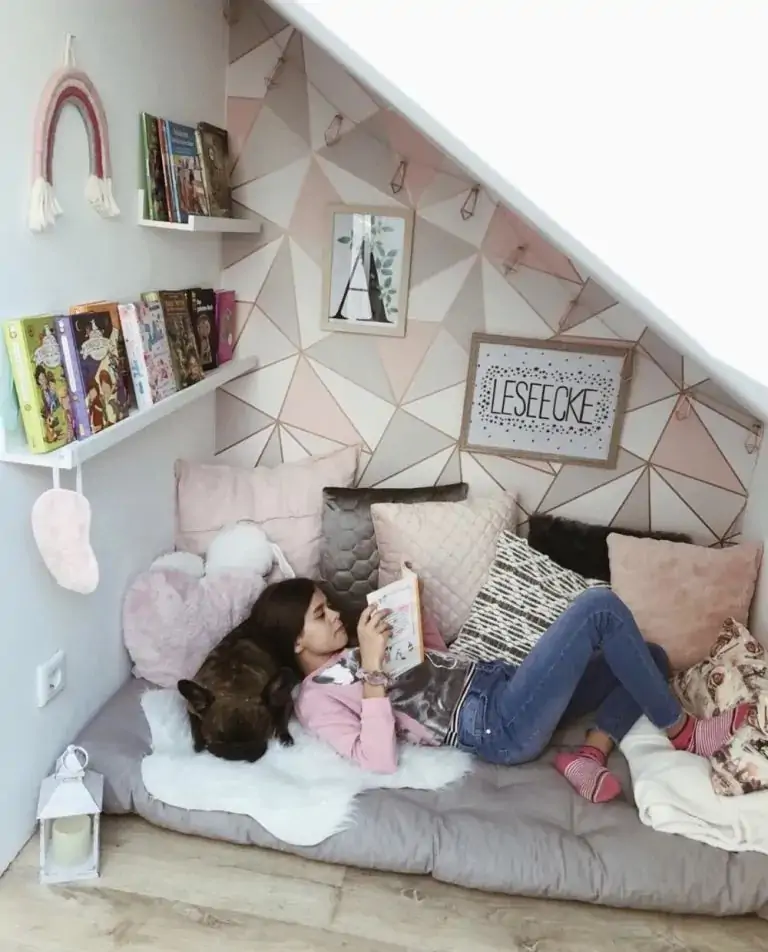 Another exciting option for a teenager who likes reading is a picturesque canopied seating area like the following photo. What's more, anybody will want to stay here to hang out with their true friends.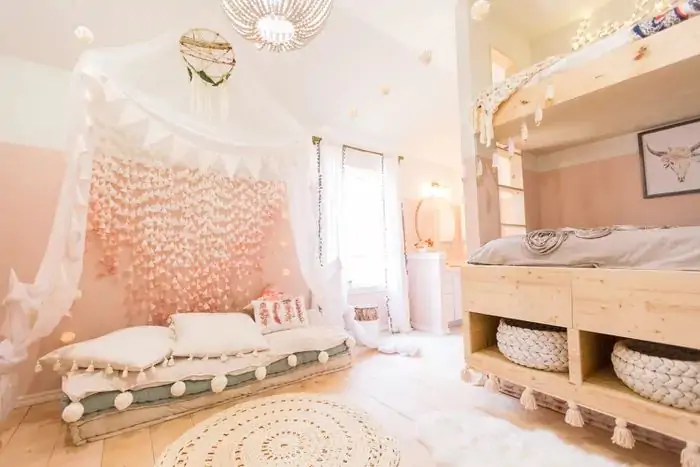 What cool chill-out ideas will work for a younger girl? Sure, it's a tiny house placed inside the room.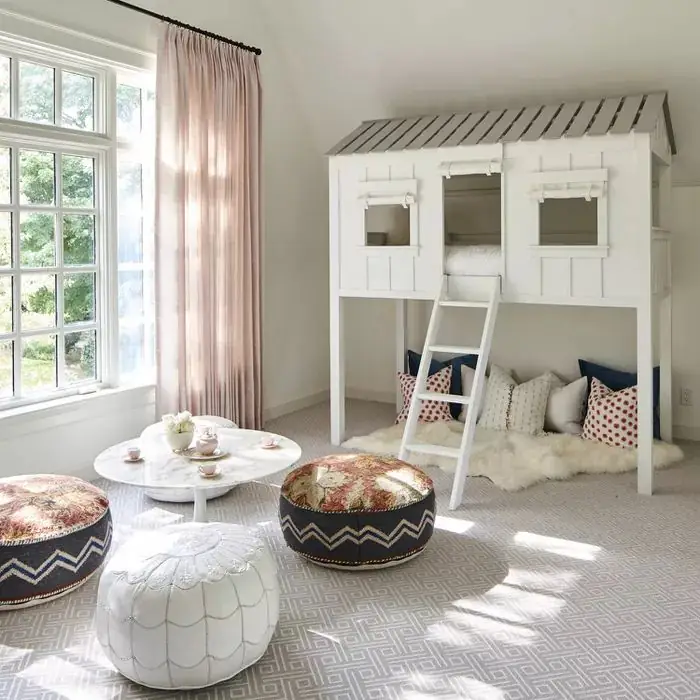 One more idea can be called a room within a room. It needs a high ceiling and house-shaped bedframe over the mattress on a decking.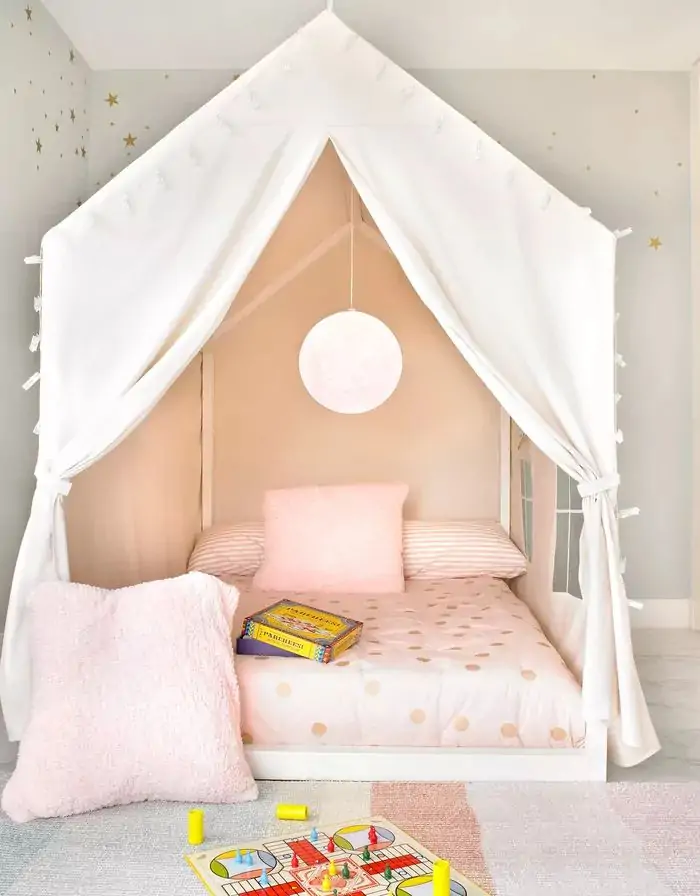 If your daughter's room is spacious enough, you can implement various solutions for maximum comfort while relaxing or hanging out with friends. Discuss our finds to decide what kind of swing, hammock, or chair you like most.
A wide hanging chair in retro style is suitable for an older teenage girl and will be a good choice for grown-ups.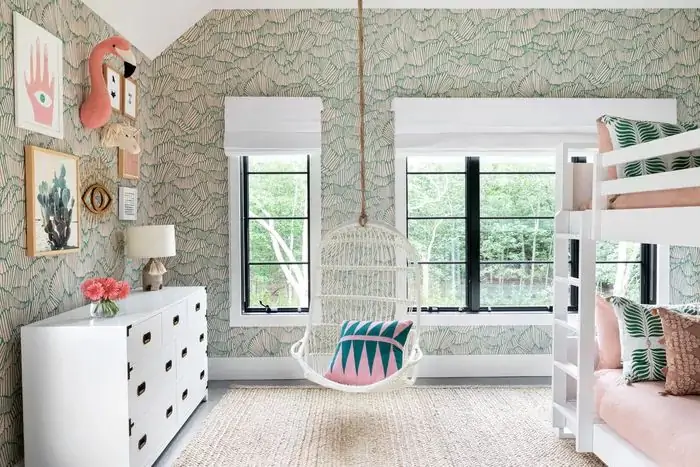 Note the room below and its daring color scheme that expresses a total joy of life.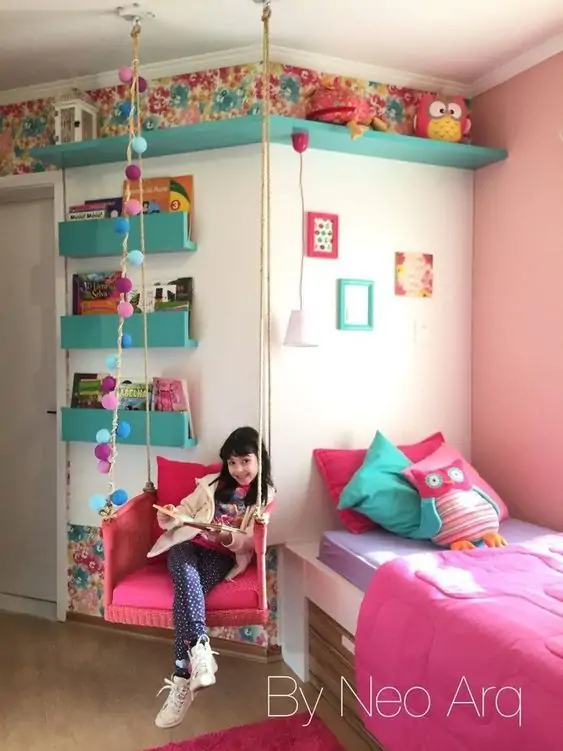 Rather than spend your money on a massive chair, buy or do yourself a lightweight hammock for a younger girl.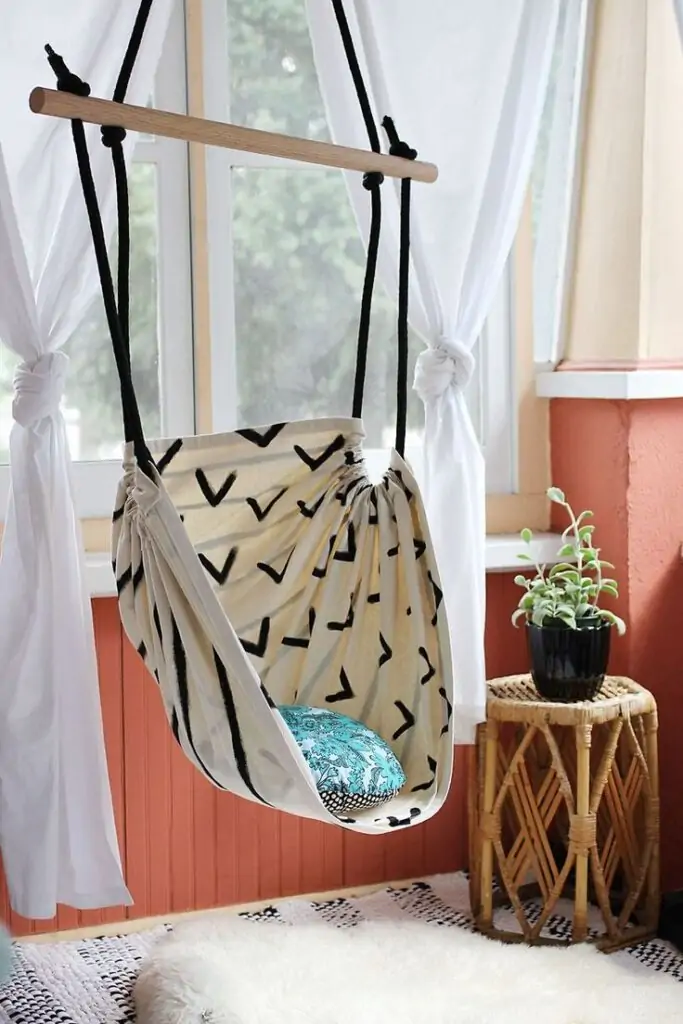 9. Inject Color Drama, Funny Lightning, or Some Easily Modified Classic
Ask your daughter for help and look together at the creative design: what photo is the most appealing to you both?
Don't dismiss the thought of a dark accent wall and gorgeous rainbow color scheme for all your beddings. This technique alone is enough to make the room unique.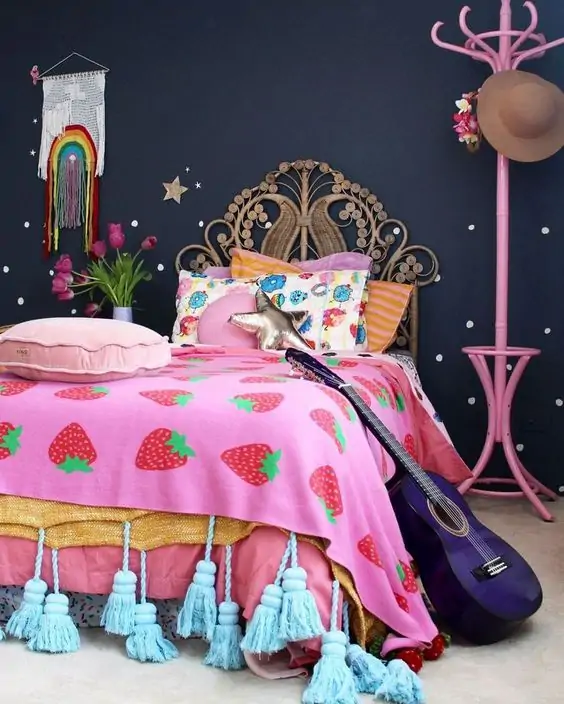 If we were teens, we would prefer to express our senses primarily through colors. Black and white contrast with glammy decorations is picking up trends in the last few years.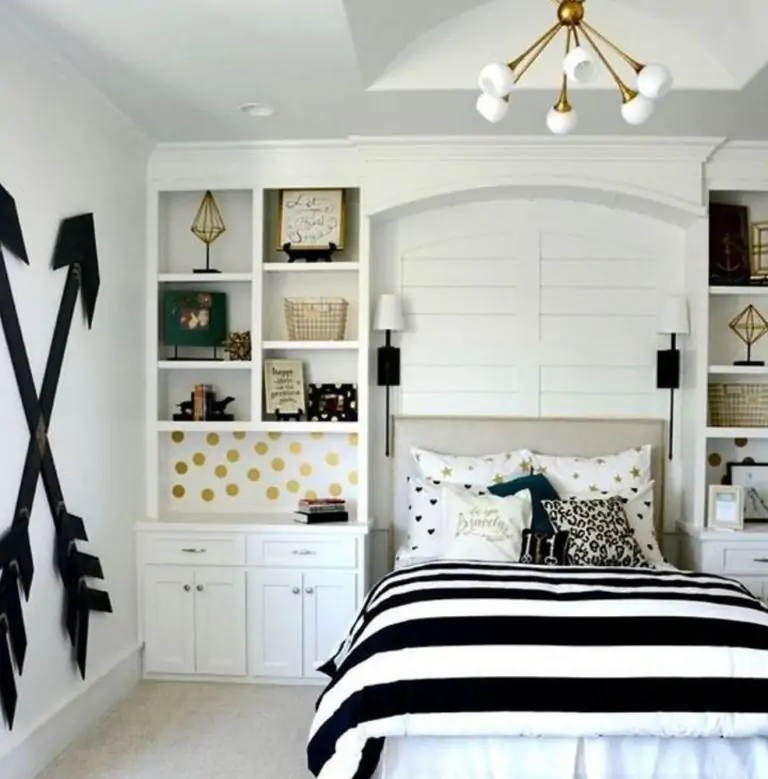 Keep in mind that retro design can be highly flashy too.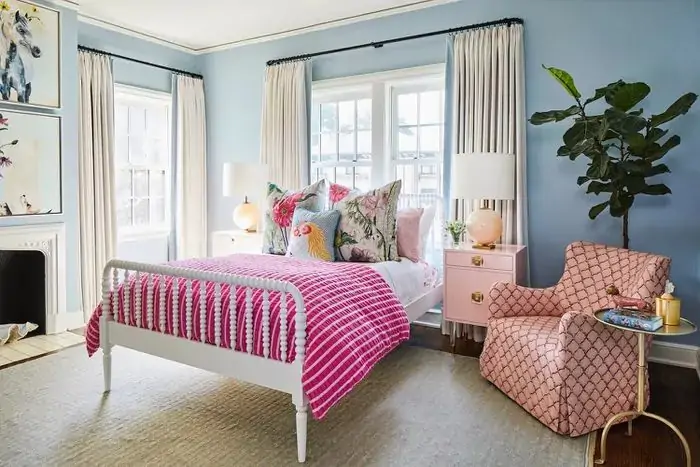 If your girl adores a calm and warm atmosphere, choose a retro design based on a sunny palette over the room rather than using contrast shades. There is only one shortcoming: opened shelves collect too much dust.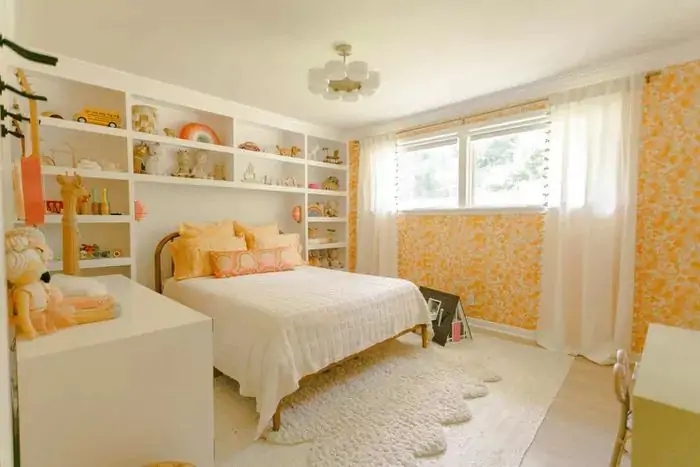 The contrast blanket and pillows catch your eye. Use them for a design idea with classic built-in furniture and convenient closed shelves like the following photo. You can change the color accents through the whole palette any time you like!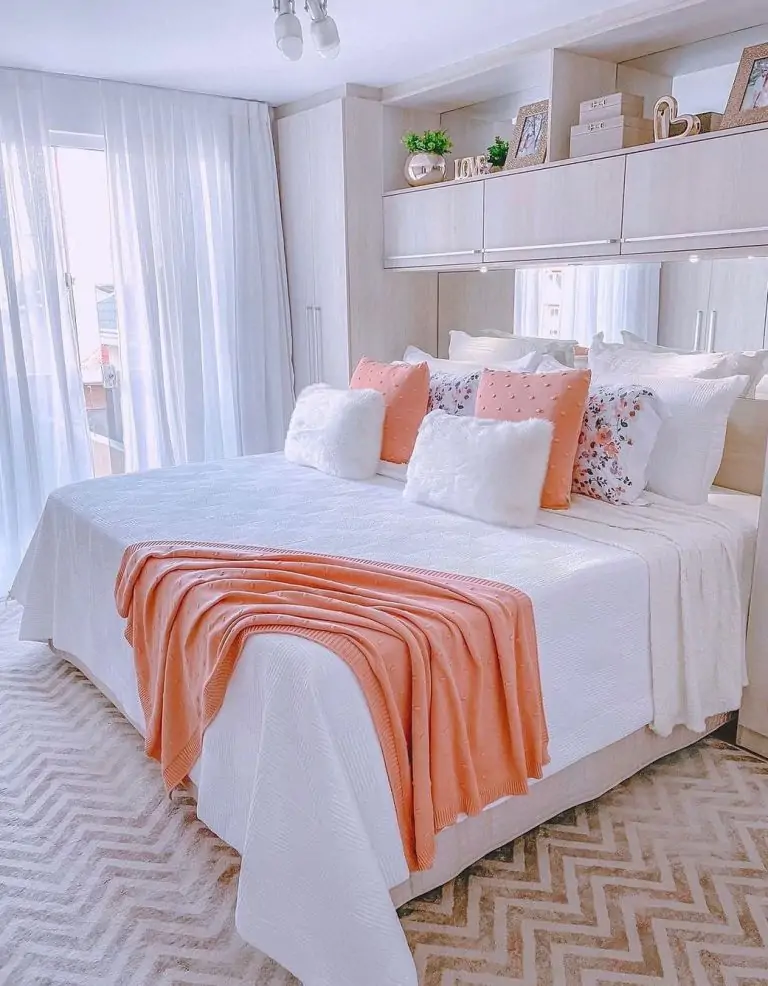 Choosing the ideas for neutral design, make sure that it won't be boring. Like the photo below, one or two large objects with luxurious adornment will come to your aid.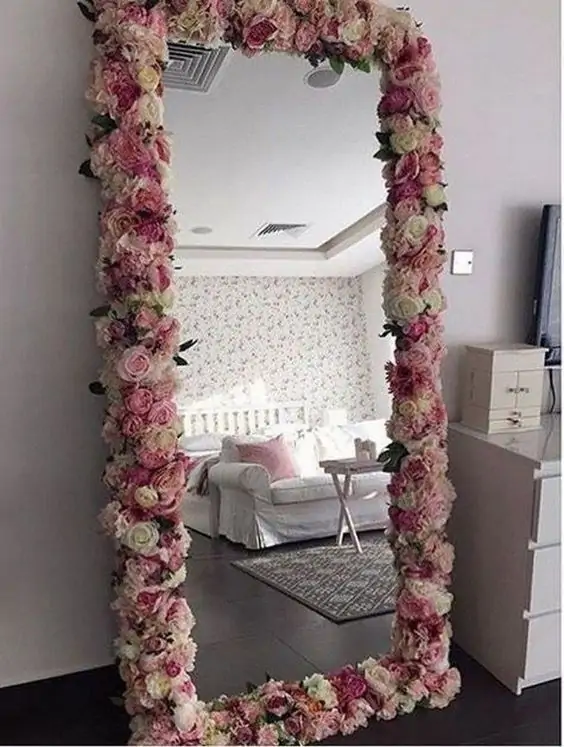 A huge garland accent wall will be a massive hit of your nice and easy makeover. How cool it is to hang your favorite photos on luminous threads!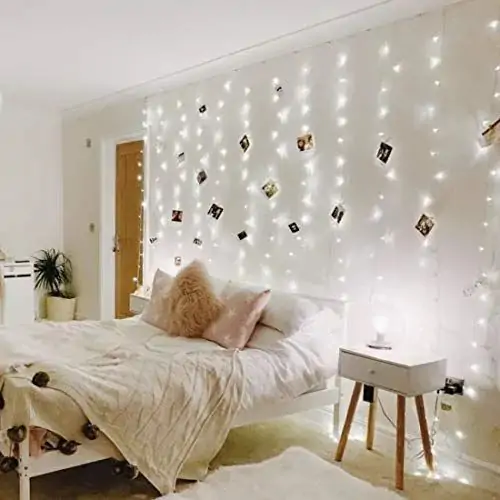 Though we haven't run out of lovely design ideas, this review is over. See you next time in the articles about a teenage room for a girl or boy. Share tips with your beloved ones, choose the most suitable for you, and make your best home together!