13+ Most Practical Shoe Storage Ideas for Your Closet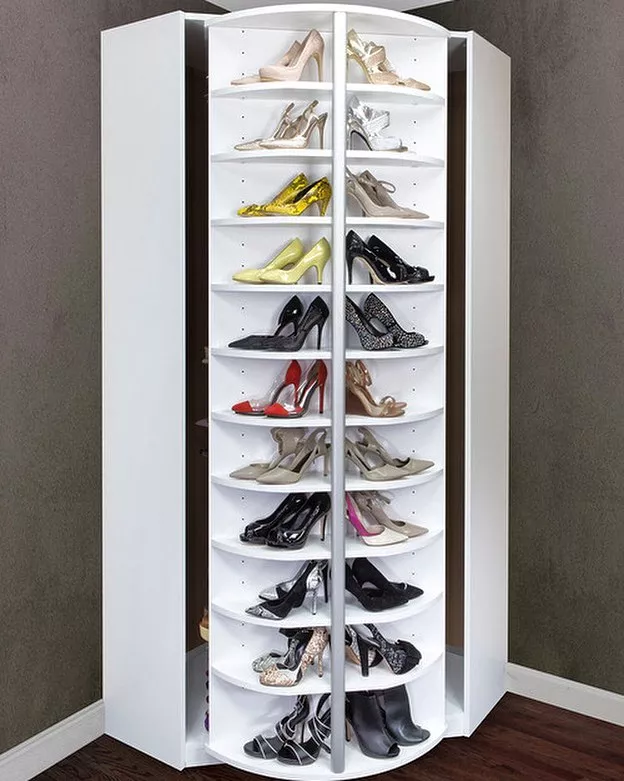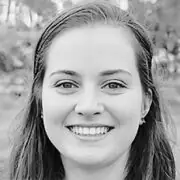 These days shoes have become less of a necessary clothing item and more of a luxury statement. It is not uncommon for people to have numerous pairs of footwear, and proper storage can be a problem. Choosing the most practical shoe storage ideas in the closet is essential to preserving your luxury items.
Creating space in an already small closet might be a challenge for some people. It might also be challenging for collectors to store their precious footwear properly. If this sounds like you, keep reading.
Start with those shoes lying fallow on the floor of your wardrobe closet, piled up in your small entryway, or lazily tossed in the boxes in your garage. There are different organizer ideas for small closets; this article describes them in detail.
Ideas to Choose From
Finding the best system to store footwear in your home can be tricky. Sometimes, you have a lot of shoes and nowhere to arrange them. You also have enough boots and sneakers but little space to keep them in your home. But do not worry. Here are some of the best closet solutions to give a try.
1. Miniature Cubby Organizer
The miniature cubby organizer is probably the best shoe storage solution for closets. A piece of furniture like this can make readily available a great number of shoes. Then again, if your needs change over time, these organizers can be used to store other things.
This organizer is worth using because any of its shelves can accommodate up to four pairs of slippers/loafers/boots/moccasins. On the other hand, the main disadvantage of the miniature cubby organizer is that it takes up ample space. So if you have plenty of room to spare for just footwear, this is your best choice.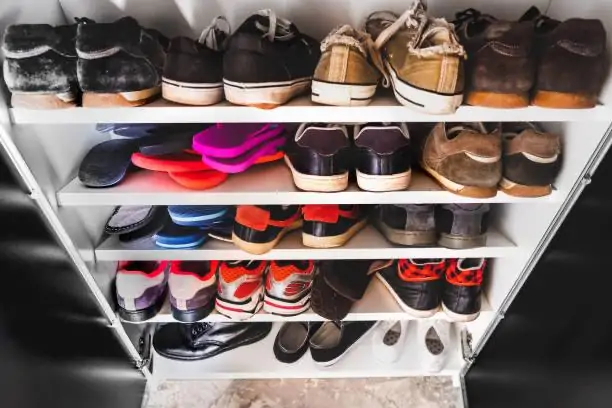 2. Shoe Pyramid Stairs
Such a pyramid consists of wooden shelves that form a rack. Unlike other racks, this shoe rack idea for a small closet has a natural look that is very easy on the eye. It will be a good choice for people with plenty of wooden furniture or hardwood floors.
The pyramid stairs are also good if you're on a budget, as they can be built manually. However, they might not provide enough space, or if the shelves are too high, some of the space can be wasted. Still, a solution like this is sure to leave your guest envious. Even if you get tired of keeping footwear in this pyramid, you can repurpose it to keep other household items.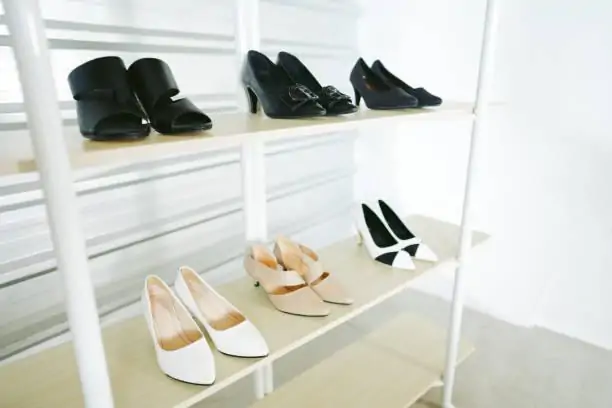 3. Under the Stairs
Stairs are necessary for every multi-story house, which doesn't mean the stairs can't serve other purposes. If the size of your stairs-cum-closet is large enough, you can find ample room for your footwear inside it. What's more, this idea also allows you to keep your frequently worn sneakers/loafers/pumps/flats by the front door.
A location like this is also unbeatable when it comes to storing shoes worn for specific seasons, like winter boots, or a specific event, like construction boots.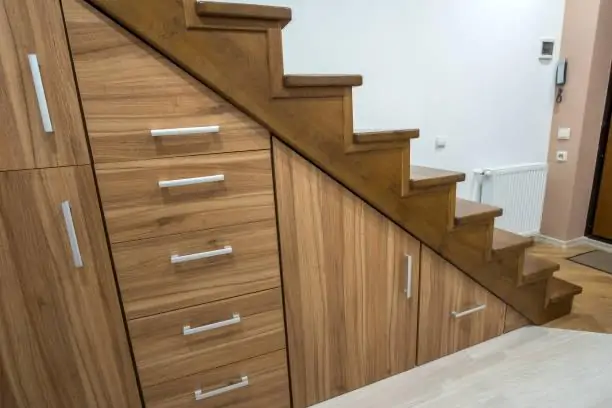 4. DIY Wooden Cabinet Storage Solution
Do you want your floor clear of any kind of rack or storage? Do you like DIY? If both answers are yes, then this is your best choice.
Such cabinets are both durable and attractive because they are made of time-tested wood. If large enough, they have enough space to hold your whole family's shoes. You can even customize the size of the boxes to suit your specifications. The top of the cabinets can be used as shelves for storing small plants or books. And, if necessary, such a cabinet can be placed inside your closet.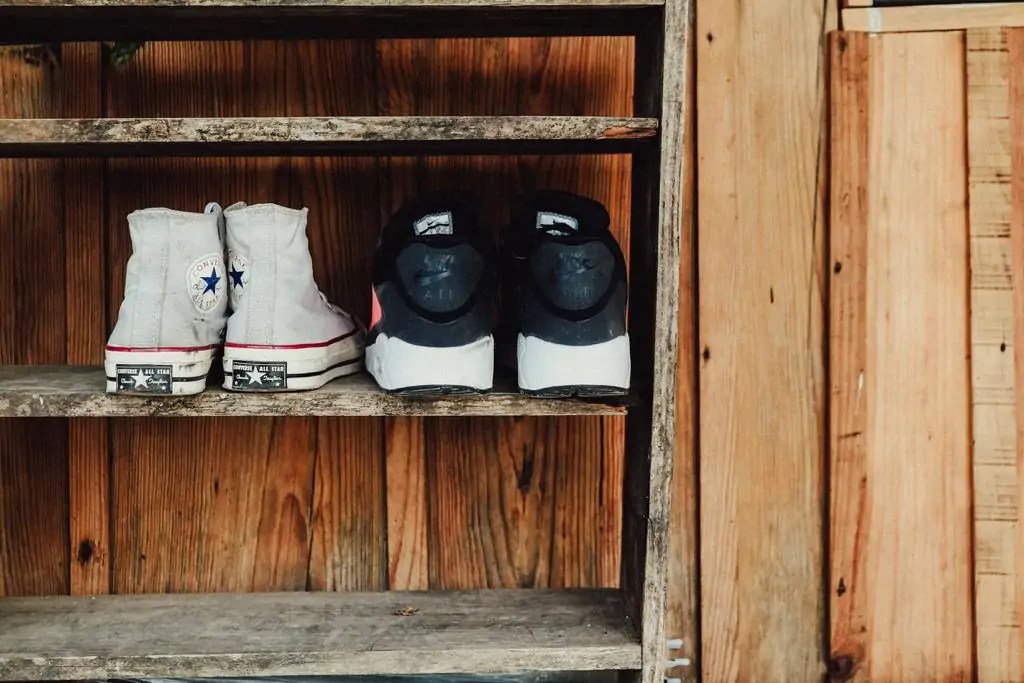 5. Shoe Folio Cabinet
This folio cabinet combines easy access with space-saving efficiency. It also allows you to get your frequently worn footwear like sneakers really quickly: simply keep them at the top Brogues and oxfords that you put on only on special occasions can be stored at the bottom.
Just like the DIY wooden cabinet discussed above, this folio cabinet can be kept either in your closet or, if needed, placed near the entrance of your mudroom.
The only drawback of this solution is that you need to do your best to prevent dirt from building up in different folios because cleaning different folio levels might be challenging.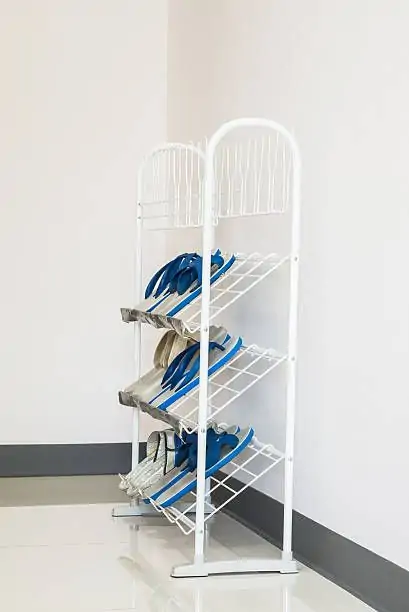 6. Wall Hangers
Pick the draped hangers for your most formal shoes that require immediate access. This hanger should be placed on a wall near your closet or right inside it. This storage idea is a godsend if you frequently wear heels but constantly find it challenging to search among cubbies or boxes.
The benefit of this hanger is that you will find the shoes you wish to wear the most right away. If you want your hangers to stand out, buy ones that are painted in bright contrasting colors.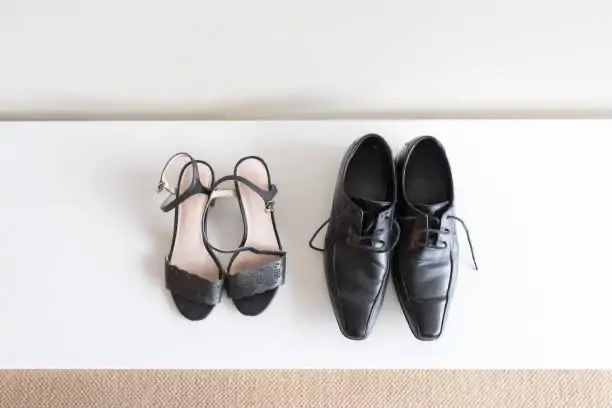 7. Closet Shoe Cubby
A closet shoe cubby is one of the best shoe storage ideas to use in a cupboard. Get a rolling cabinet if you wish to organize your footwear in the best possible way or if your walk-in closet doesn't have enough space to fit all your shoes.
The metal rod on each level ensures that everything from women's heels to men's hiking boots is sufficiently supported. Still, you might want to exercise caution when taking the pair you need off the rack as it is all too easy to knock down other pieces of footwear with a careless movement.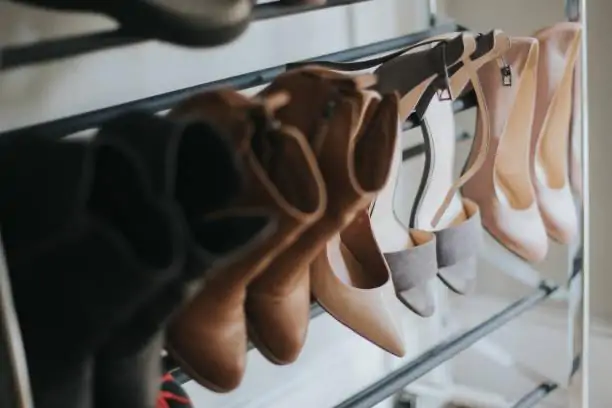 8. Walk-in Closet Shoe Shelves
Every girl dreams of owning a gigantic walk-in closet with enough room for all her slingbacks, stilettos, and pumps. If you have enough space in your room, then a solution like this is definitely worth trying. In the picture you can see the shoe storage idea to be used in a walk-in closet that has similar dimensions across the upper cubbyholes. The ones below are significantly larger and offer enough space for boots.
There are some drawbacks to this solution, though. If your walk-in closet is very high, you will need a stool to reach things placed on the upper shelves. Properly looked-for walk-in closets can be beautiful, but you must maintain them fairly frequently, or your room will end up looking untidy.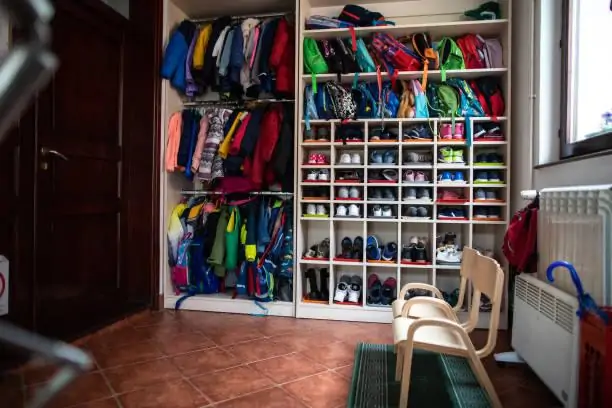 9. Washroom Mesh Shoe Holder
You can choose to use the readily washable metal racks in place of storing your dirty outdoor footwear in a wooden or fiber storage container. The metal mesh design allows the air to flow freely and lets you easily find the pair of shoes you're looking for.
See Also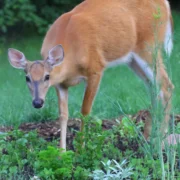 There is more than enough room on each shelf to keep anything, including basketball, tennis, and running shoes.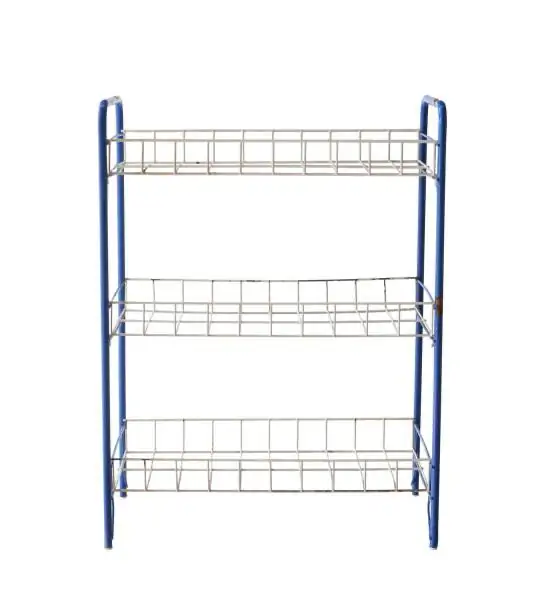 10. Shoe Drawer
These shoe organizer ideas for a walk-in closet allow you to keep all your most valued high heels in one safe and concentrated spot. Thanks to the drawers' ability to fall back into the cabinet, you won't ever have to be concerned about tripping over your footwear that is scattered on the floor.
You should arrange your most worn footwear at the top of the drawer for easy access. Thanks to the two metal support bars on each level, your heels will stay in position and won't leave any dents. Such a closet can be placed either inside your closet or simply left standing by the wall.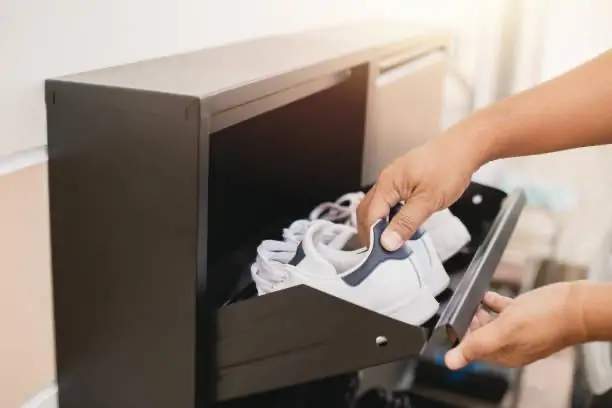 11. Shoe Storage Inside Your Furniture
This shoe storage idea uses a wardrobe cum bed. It is a highly creative solution that is effective, space-saving, and useful. This storage space disguises itself as a piece of furniture with a hollow space or drawer that lets you store anything — including your shoes. Once they are placed inside, simply shut the drawer. An excellent piece of functional furniture!
The benefit of this storage idea is that your footwear — like slippers or flip-flops — is kept hidden but still accessible. It is one of the most practical storage ideas, and this attractive piece of furniture is the ideal finishing touch for any house.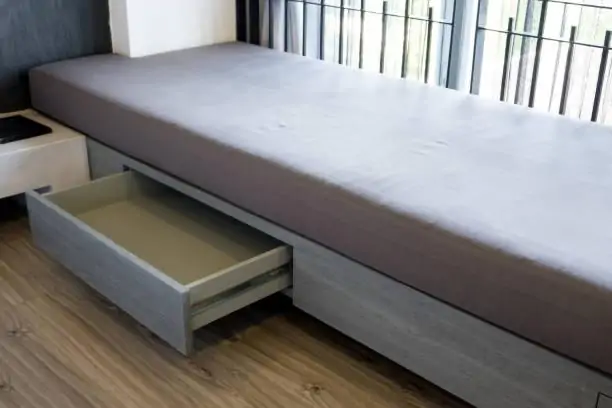 12. 24-Pocket Shoe Organizer
A 24-pocket organizer is an excellent option for people with a severe lack of shelf space. The transparent plastic is hardly seen and can be attached to the backside of your closet door. This organizer elegantly suspends your shoes for quick access.
Still, there are some drawbacks to this solution though. First, you need to be cautious when arranging your footwear because some users have reported it falling out whenever they open the door of their closet. Second, it goes without saying that you should put your bulkier footwear in a different, more spacious spot.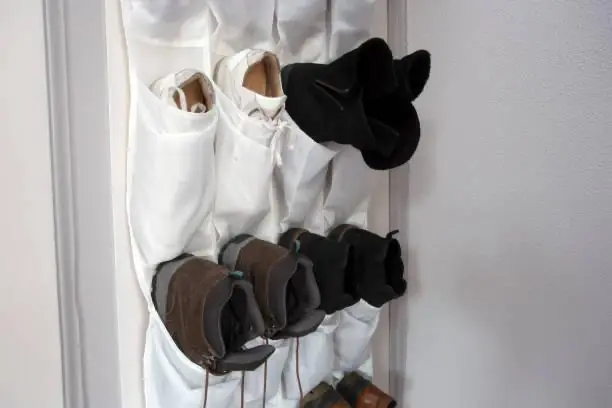 13. Small Floor Rack
This small rack — you can also buy one equipped with wheels — is excellent for utilizing the unused space under your bed or other furniture. When you consider how frequently you trip over all the shoes you previously had lying about, you will be glad you used this solution.
Unfortunately, this type of storage only works with flats because of a height constraint; high-top shoes and heels will need to be stored elsewhere.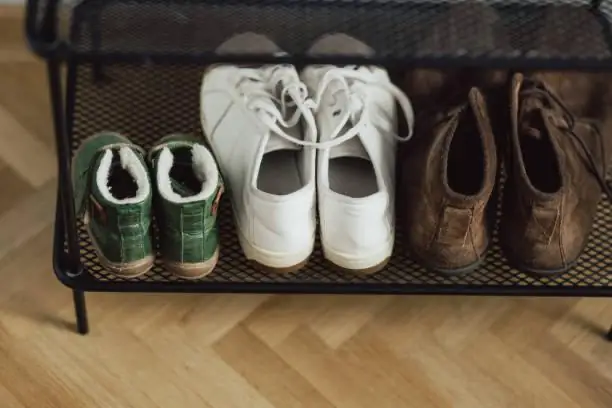 Conclusion
You can choose from several kinds of storage ideas. Figure out the kind of shoe storage that fits the available space and your storage needs. Know the type of footwear you'll like to store, how often you will wear it, and pick the most suitable place. Before choosing the kind of rack to go for, know your priorities. Is it going to be used for aesthetics, saving space, ease of access, functionality, or preservation? When you figure out your priorities, you'll be able to pick the best shoe storage ideas for your closet that suit your specifications.