Gorgeous Walk-in Tiled Shower Ideas for the Bathroom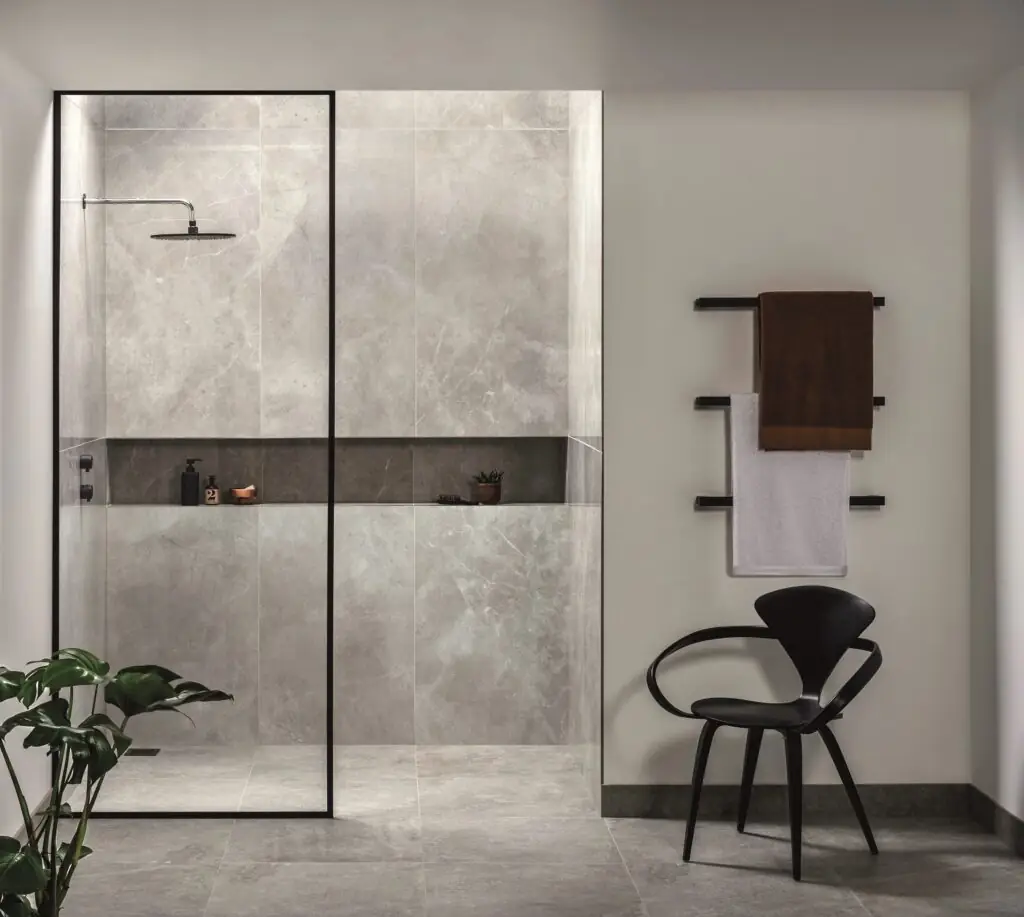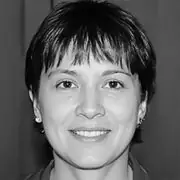 Walk-in showers add function to your bathroom, but only a few accessories can make them truly stand out. If you're looking for those finishing accessories that enhance the style of your recessed, floating, or corner shower setup, walk-in tiled shower ideas are the luxurious addition that inputs texture and color to your space.
Tiles are versatile decorative accessories that can easily add eye-catching elegance to any space. In a bathroom, they not only liven up the space but also define its corners so that the design scheme looks seemingly endless. Whether your bath space houses a small or large wet room, tiles are really a must.
Browse through our favorite bathroom walk in shower tile ideas to find inspiring design schemes to define your walk-in shower.
1. Corner Subway Tile Installation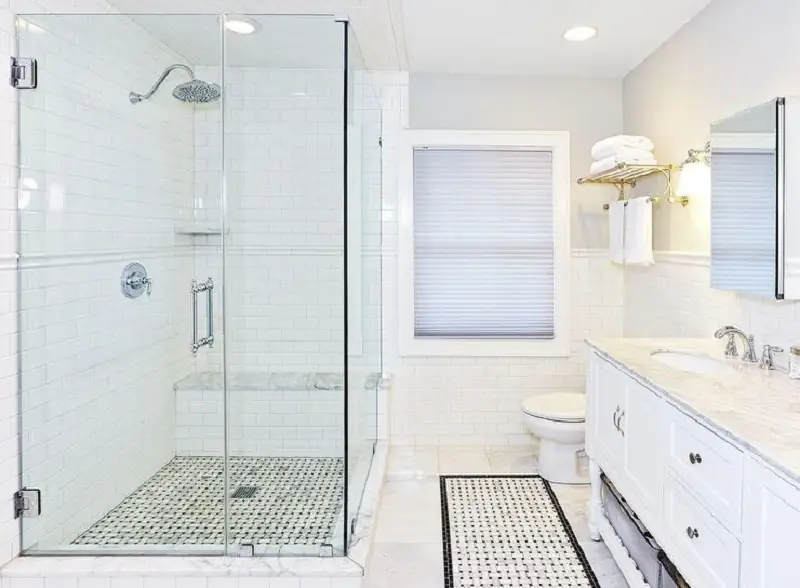 Walk-in showers will look great with subway tiles since they give your space a contemporary feel. Moreover, they offer timeless elegance, so you won't have to worry about refurbishing your bathroom any time soon. Just install it from the floor to the ceiling or only on the shower walls.
This picture showcases subway corner walk in tile shower ideas installed from the floor to the ceiling. We love the addition of the glass panels as it adds a classy design element to the small doorless bathroom.
2. Stone Mosaic Tile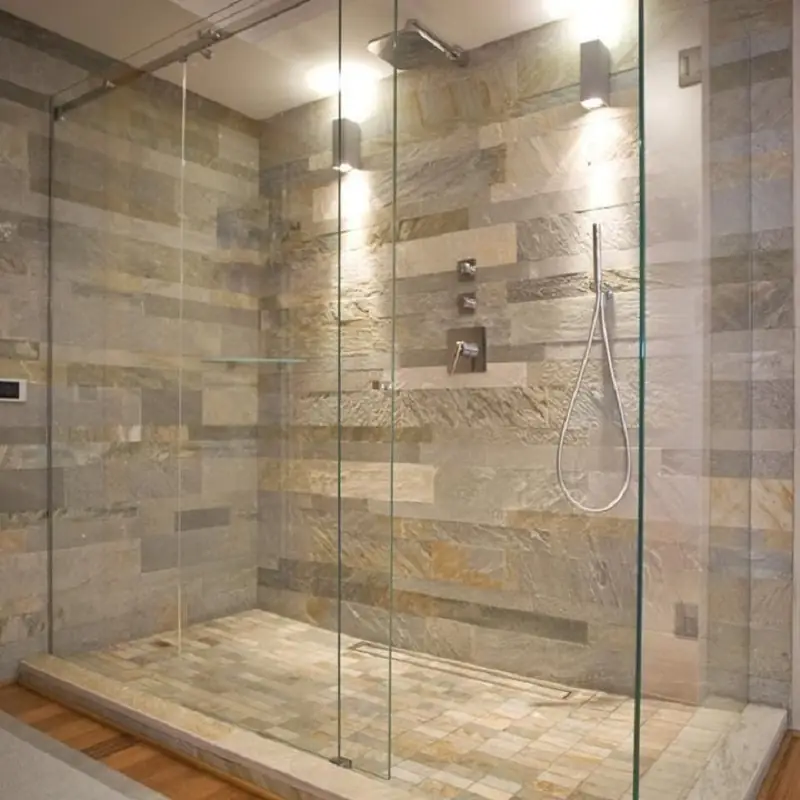 Mosaic tiles are intricately planned so that they create a visually stunning piece anywhere you use them. The only drawback to them is that they may look busy when used all over your doorless bath stall.
To keep the tiled walls and floor from looking too busy, a good idea would be to use different-sized mosaic tiles for your doorless washroom.
We love the stone mosaic tile design showcased in the picture. It becomes the center of attention once you walk into your bathroom. For small bathrooms, these doorless walk in tile shower ideas add a boundless appearance so you get the illusion of a larger area.
3. Embrace Your Love for Colors…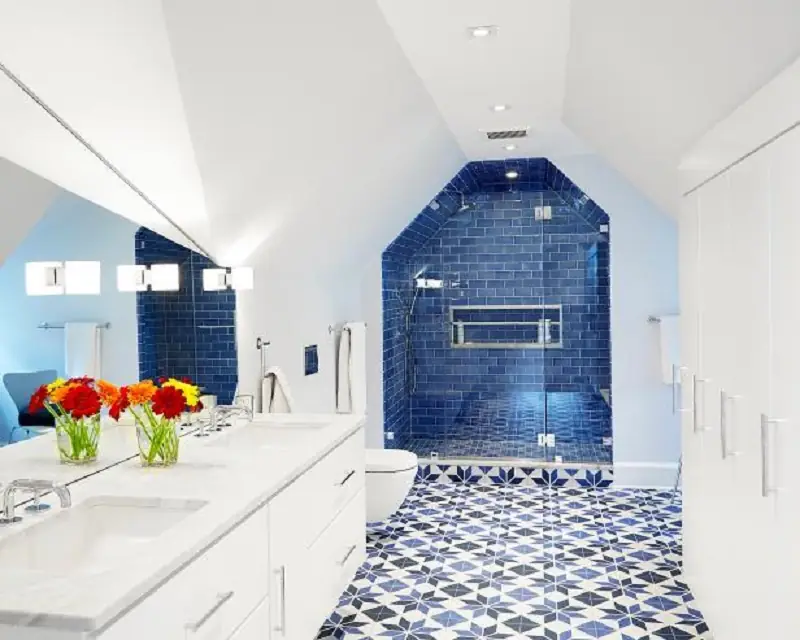 The biggest trend among today's Gen-Z population is being stylish in bold colors – and this doesn't just end with fashion. Gen-Z loves the thrill of trying colorful patterns on anything they own. It's no wonder our traditional and millennial parents are also getting increasingly bold with colors.
If you're adventurous and love colorful accents, colorful tiles in your walk-in bath will be an interesting addition. From pink to green, blue, yellow, terracotta, and earthy orange colors, your doorless tiled washroom will become a trendy focal point for your home.
4. … Or Create Color Coordinated Contrast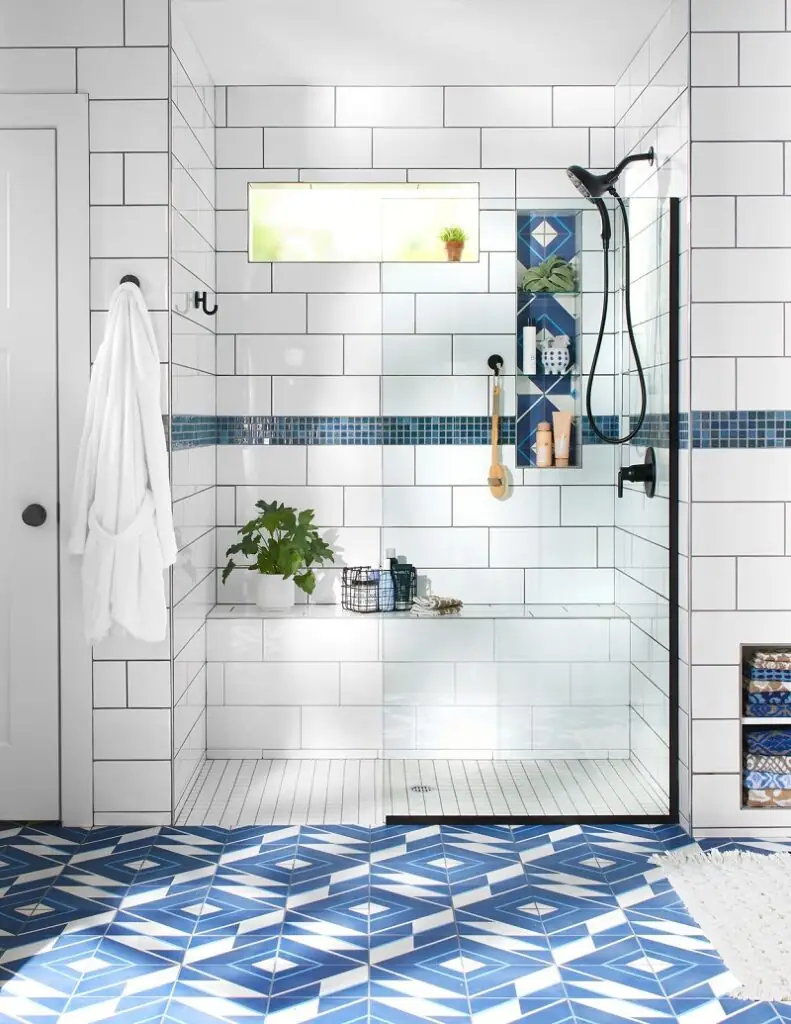 If you're struggling between choosing pink, blue, or orange colored tiles, then there's no need to worry about that.
The best part about modern walk in shower tile ideas is that you can easily mix and match any tiles to suit your needs. No matter their pattern, shape, or size, they'll easily blend to your taste. However, color plays an integral role in defining your bathroom's appeal.
In this picture, the high-shine white and black color contrast blends happily alongside each other, giving your bath area a breathtaking effect.
Pro Tip: When choosing wall or floor tiling for your doorless bath with little lighting effects, a white tile background with yellow contrast colors will offer light enhancement so that your wet room will feel warm and brighter. By introducing yellow contrast to the white background, you also make your tiled bath an interesting focal point that catches attention easily.
5. Black and White Cabana Stripes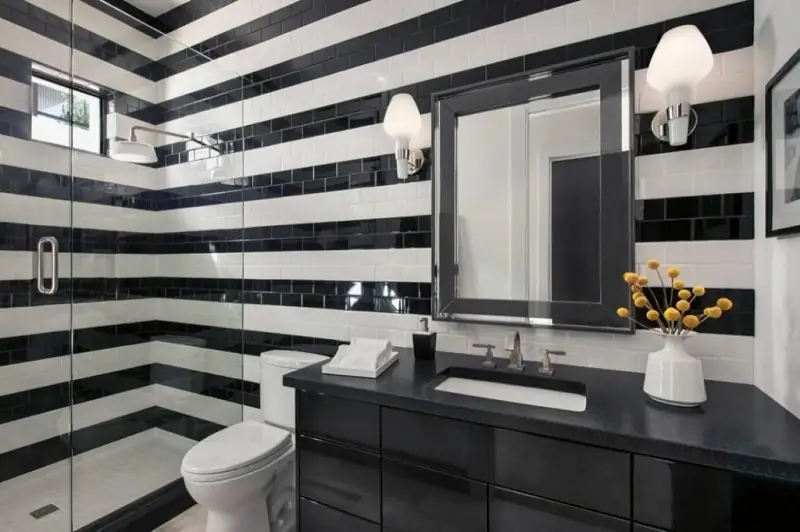 Homeowners with small bathrooms always feel that since they have limited space, tiling their doorless shower would be an expensive and unnecessary addition to their bath.
Just because you have limited space does not mean that small walk in shower tile design ideas are unnecessary. Small walk in tiled shower designs in your simple family bathroom won't automatically take up space or make your bath feel cluttered. Instead, tiled architecture will help you create a cozy and warm reprieve when you need to relax after a long day's work.
This black and white tiling adds a unique statement to your small washroom and makes it feel larger.
6. Geometric Pattern Tiles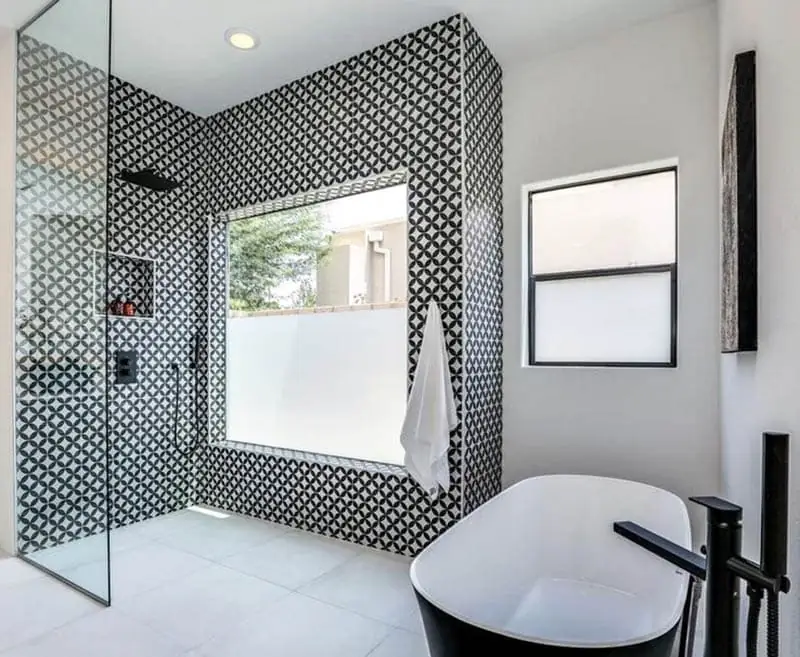 If you're a fan of patterns but don't want to use simple stuff, geometric pattern tiles could be the artsy addition your doorless wet room needs to look good. Kids usually love geometric pattern walk in tiled shower designs with no door, as they look really fun.
We love this design because it blends seamlessly with other bathroom accessories to give your bath a homey feel while adding sophisticated flair.
Pro Tips: Avoid using geometric pattern tiles for small walk in shower floor tile ideas. Used on the floor, they make your space look smaller than it already is.
7. Choose Dramatic Black Effect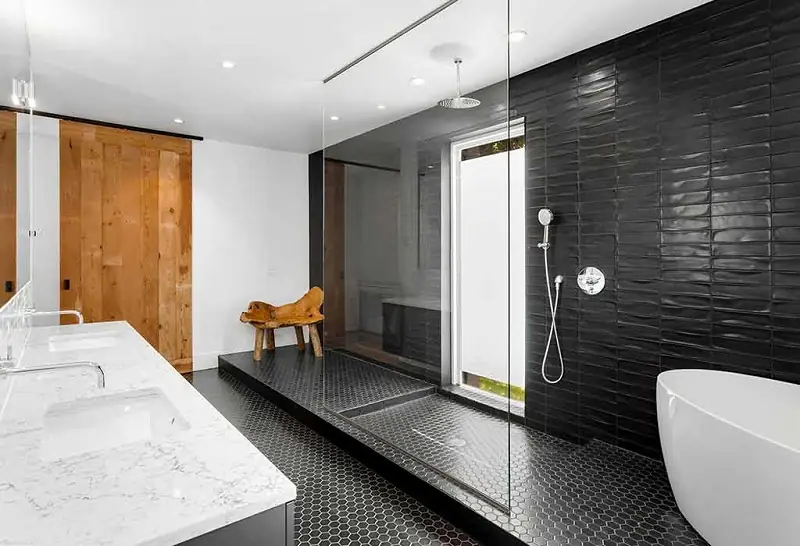 While more and more people are experimenting with color schemes, using bold colors like black will also be a great way to make your doorless bath.
Large bathrooms will benefit from this effect more. Black doesn't just evoke the feeling of solitude but also takes away the lifeless atmosphere of a large en suite bath.
The best part is that large walk in shower tile ideas like this are easy to achieve if you're considering DIY installation, as you won't have to worry about color blending.
Benefits of Tiling a Walk-in Shower
Bathroom tiles come in different types of materials, from stone to glass, porcelain, and ceramics, which means you have several alternatives to style your washroom.
While they add practicality to the bathroom, the possibility of tiling your space means you get to give varying finishing touches to your space since they come in different colors, shapes, sizes, and finishes. The best part is that tiles are usually designed to be washable and waterproof, making them a perfect aesthetic accessory for a place that attracts moisture.
FAQs
What is a Walk-in Shower?
Walk-in showers are a type of bathroom designed without a door, curtain, or bathtub to ensure easy navigation. However, this modern bath design allows you to install half walls or glass panels to improve their overall look.
Does Tiling Your Doorless Wet Room Add Value to Your Bathroom?
Yes, a tiled washroom can add value to your home and improve your quality of life. While this aesthetic accessory can be expensive and take up space, it transforms a lifeless bath space giving it a luxurious spa-like ambiance.
Can I Install Tiles in My Small Bathroom?
Tiles are a great addition to any space, no matter how small they may seem. However, in a small space, effective planning is key to making things work. If you have a small bath area, you can opt for a doorless or frameless doorway to create the illusion of space.
Should I Tile My Shower?
Whether or not you tile your bath area depends on you. Tiling adds functionality to your wet room, but it is one of the many decorative options available for designing a bathroom. However, it does add value and charm to your home.
What Tile is Best for Showers?
The best tiles for showers are non-slip and waterproof tiles like ceramics and porcelain. Thanks to their non-slip and waterproof properties, they make showering in a wet space safe.
What is the Easiest Shower Tile to Keep Clean?
While anti-slip and waterproof tiles are a must-have in the bathroom, you also need to consider using easy-to-maintain tiling so that it doesn't build up bacteria and also last long. The more dirty your bath walls are, the more difficult they are to maintain. Glass, porcelain, vinyl, and stone tiles are some of the easiest to keep clean.
Can I Tile My Shower Myself?
Of course, most people often choose the DIY route to install tiles in their showers. However, this process can be tiring and hard. Still, if you're confident in your skills, then why not? Be sure to pay attention to detail so that you get stunning results with your tiled walls. If you're worried about your skill level, leave the task to the professionals.
Conclusion
Tile ideas for bathrooms are endless and a good way to showcase your personality. Then again, the types of tile you invest in can make or break the overall aesthetics of your space. From subway tiles to dramatic black, colorful, geometric patterned, and mosaic tiles, our walk-in tiled shower ideas make the design possibilities for your space truly endless.