7 Creative Fence Gap Filler Ideas for a Better Yard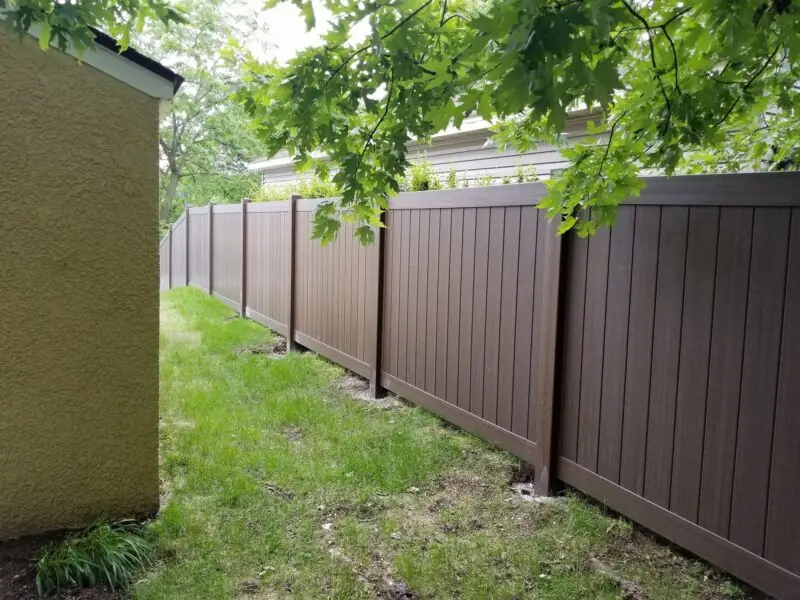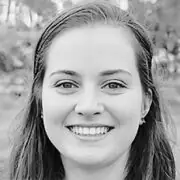 Filling fence gaps is an important step to ensure your property is secure and visually pleasing. This article will provide you with fence gap filler ideas. Each idea will be listed with its pros and cons, so you can make an informed decision on the best option for your needs. Aside from the methods, we'll also take a look at the different materials available.
Ideally, the best ideas should strike a balance between your needs and your budget.
Vinyl Fence Gap Filler Ideas
Vinyl fences are popular for their durability and low maintenance. However, even vinyl fences can experience gaps that need to be filled. Here are two great ideas to cover the gap under vinyl fence:
1. Bottom Gap Filler Strip
If you have a gap between the bottom of the fence and the ground, a bottom gap filler strip can be an easy and affordable option to fix the issue. The strip is designed to fit securely in the gap, providing a clean and finished look.
Bottom gap filler strips are long-lasting and blend well with vinyl fences, making them a popular choice among homeowners.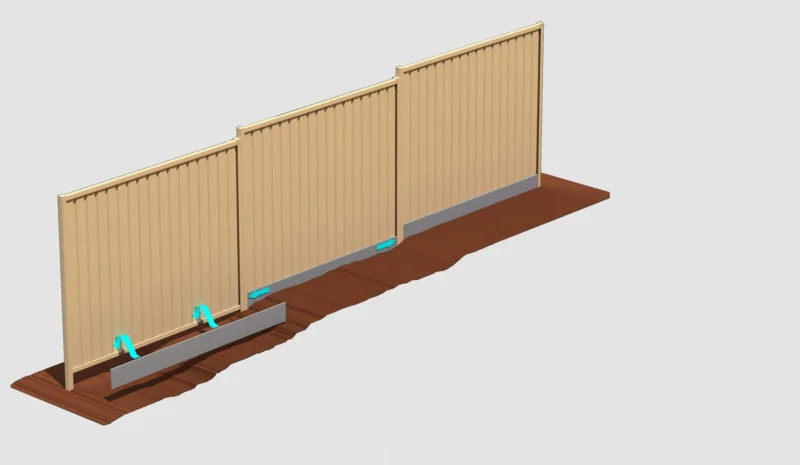 Pros
Easy to install: Bottom gap filler strips do not require specialized skills or tools for installation.
Affordable: Are relatively inexpensive compared to other options.
Long-lasting: Vinyl is durable and resistant to weathering.
Blends well with vinyl fences: The strips are designed to match the appearance of vinyl fences for a seamless look.
Cons
May not fit all styles: Compatibility with all styles is not guaranteed, so it is important to ensure a good fit before purchasing. 
Limited color options: There may be a limited number of color options available, which could make it difficult to find a suitable match.
2. Vinyl Lattice Panels
Vinyl lattice panels are a terrific solution to fill up the gaps in your vinyl fence while adding to its charm. Homeowners prefer this option since the panels are lightweight. You don't need professional help to install them; almost anyone can do it. Aside from improving the aesthetics, they provide greater privacy without compromising ventilation.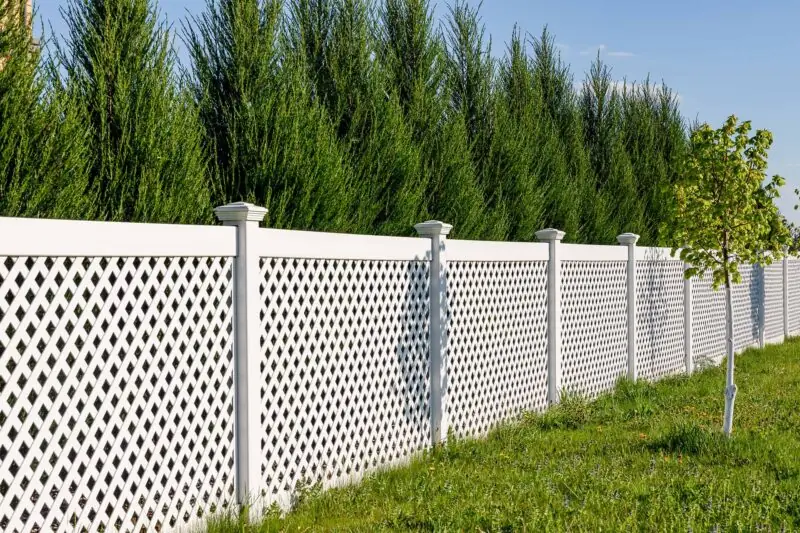 Pros
Aesthetically pleasing: Vinyl lattice panels are an excellent method to fill gaps in your fence, boosting its appearance and adding a unique design element.
Adds seclusion: These panels provide additional privacy to your yard while still allowing for airflow, creating a comfortable and secluded outdoor setting.
Quick to install: Vinyl lattice panels are lightweight and quick to install, making them a popular choice among homeowners.
Cons
May not be as durable: Vinyl lattice panels may not be as robust as other materials. This leads to wear and tear over time.
Periodic replacement: These panels may need to be changed frequently, which can be an annoyance for homeowners.
Not appropriate for harsh weather conditions: Vinyl lattice panels cannot endure extreme weather conditions. Strong winds and snowfall can easily cause damage or breaking.
Chain Link Fence Gap Filler Ideas
Chain link fences are popular for their affordability, durability, and low maintenance. However, they do not provide much privacy and may have large gaps that can compromise security. Here are some chain link fence gate gap filler ideas:
3. Privacy Slats
Privacy slats come as aluminum or plastic inserts that are fixed to a chink link fence. They offer increased privacy, and you have your pick among several color choices. The application process is straightforward; you weave them through the mesh. On top of being secure, they are cheap and can be applied quickly.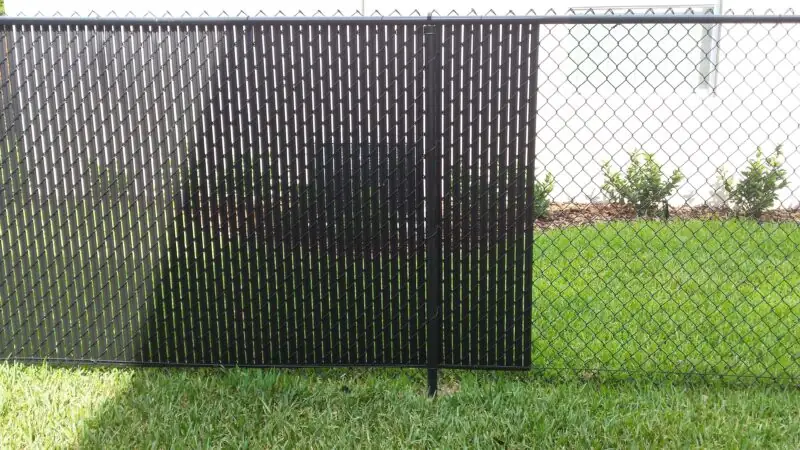 Pros
Affordable: Privacy slats are a cost-effective solution to increase privacy without having to install a whole new fence.
Easy to install: The slats can be readily put by weaving them through the chain link mesh without requiring any specialized skills or tools.
Increased privacy: Privacy slats can provide a great level of privacy, making them a popular option among homeowners who wish to create a more private backyard.
Color options: With so many color options, you'll find something that will fit your taste.
Cons
Limited compatibility: Privacy slats may not fit all styles. You need to make sure your choice is compatible with your current setup before you make a purchase.
Limited color options: Although privacy slats come in various colors, the selection may be limited compared to other gap filler options.
Visually unappealing: Some people may find plastic or aluminum slats to be less visually appealing than natural materials.
4. Hedge Slats
Hedge slats are artificial or natural slats that can be inserted into a chain link fence to mimic a hedge. They provide a natural and attractive look while also increasing privacy and security. Artificial hedge slats are made of plastic or PVC materials that mimic the look of natural foliage, while natural hedge slats are made of real plants like bamboo or ivy.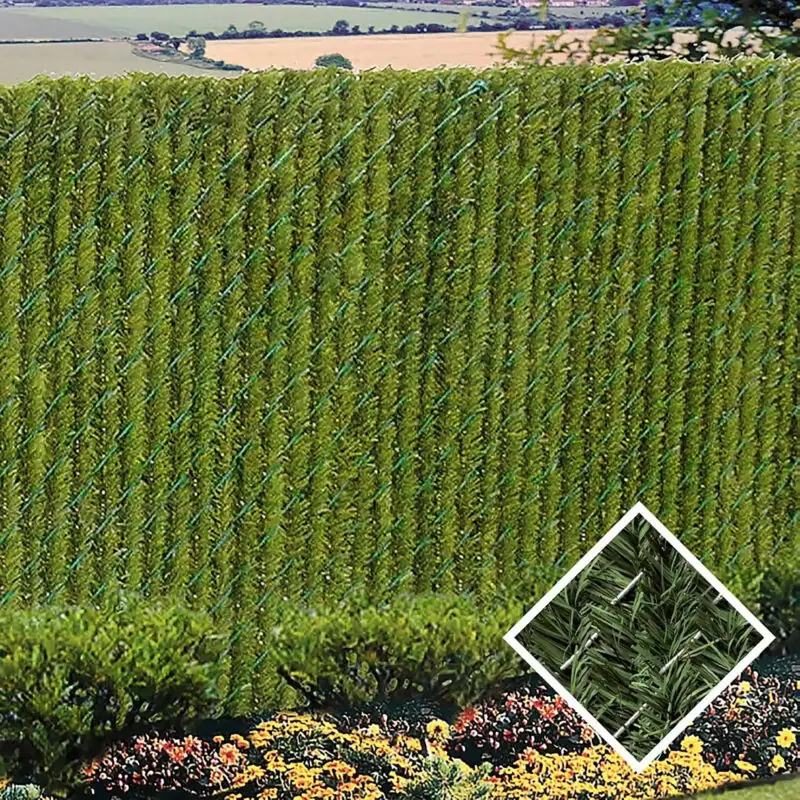 Pros
Natural and attractive look: Hedge slats can provide a natural and appealing look, making it blend in with the surrounding landscape.
Increased privacy and security: Hedge slats can significantly increase privacy and security by blocking the view from the outside and creating a physical barrier.
Long-lasting: Artificial hedge slats can last for a long time, and even natural hedge slats made of bamboo or ivy can last for several years.
Low-maintenance: Artificial hedge slats require minimal maintenance, unlike natural hedge slats that may need trimming or watering.
Cons
Expensive: Hedge slats can be more expensive than other options, especially if made of natural materials like bamboo or ivy.
Regular maintenance: Natural hedge slats may require regular maintenance, such as trimming or watering, to maintain their appearance.
Installation process: Hedge slats may require a more complicated installation process than other options, especially if they are made of natural materials.
Wooden Fence Gap Filler Ideas
Wooden fences are a popular choice for their natural and classic look. However, over time, they can develop gaps that compromise their privacy and security. Here, we will explore two variants. You can also use these vertical fence gap filler ideas.
5. Wooden Fence Panels
They come in a range of shapes and sizes to fit the existing setup. Wooden panels provide privacy and aesthetics in one single package. You can stain the color to match the color of your existing setup to make it even more seamless.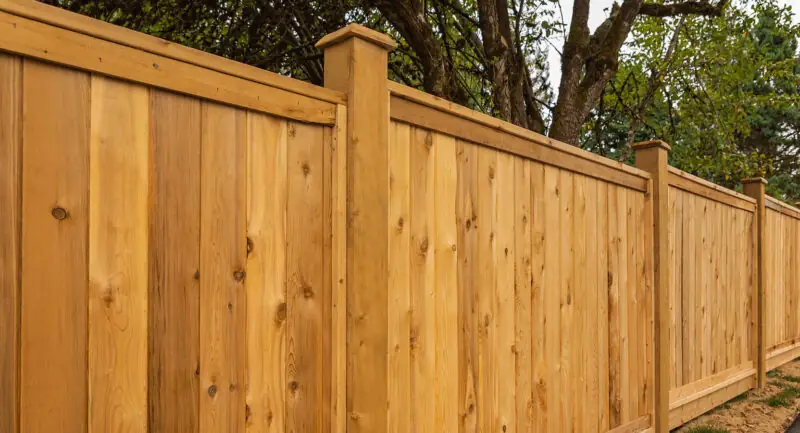 Pros
Aesthetics: These panels exude class and elegance. Why settle when you can have both privacy and beauty?
Customization: Homeowners have the option to alter their fence by staining or painting it to match the color of the existing setup.
Longevity: Wooden panels have a long lifespan.
Cons
Installation issues: You may require professional help to install these panels. They're quite heavy and can't be managed by a single person.
Compatibility problems: They may not fit all styles, and finding the right size and style may be challenging.
Regular maintenance: Wooden panels may require periodic maintenance, such as staining or sealing, to keep them looking their best.
6. Brushwood Fencing
This fencing is made with branches, and twigs weaved together. Think natural knitting, only applied to wood. It's an excellent choice for people who love eco-friendly options. What's more, it offers a natural look that stands out from the manufactured alternatives. You can cut and fit it around any post owing to its more DIY nature.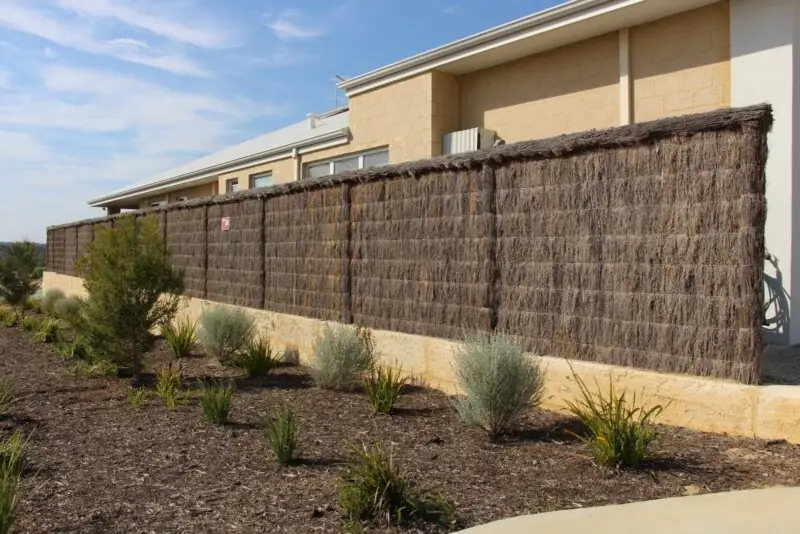 Pros
Natural and unique look: Brushwood fencing offers a natural look that stands out from other options.
Eco-friendly option: Brushwood fencing is an eco-friendly option. It will biodegrade over time without polluting the environment like plastics.
Adds privacy: Brushwood fencing can add privacy to your property. It creates a physical barrier that blocks the view of prying eyes from the outside.
Easily adaptable: Brushwood fencing can be modified to fit most applications.
Cons
Expensive: Compared to alternate solutions, brushwood fencing may be more expensive.
Requires upkeep: Over time, brushwood fencing may need upkeep. It is a natural material that can be affected by the environment.
Cannot tolerate harsh conditions: Brushwood fencing could not be as sturdy as other materials. It cannot endure extreme weather and will decay naturally over time.
Under Fence Gap Filler Ideas
In addition to the aforementioned ideas for filling the gap under a fence, there are other options to consider.
7. Fence Gap Filler Foam
Foam fence gap filler works best for closing small gaps. Spraying it into cracks will cause it to spread and close the gap. It is simple to locate in most hardware stores. There may be various variations. However, polyurethane is the material used most frequently. It compensates for its less appealing appearance by being less expensive.
It's also quite easy to install. Still, you'll need to replace it frequently depending on the wear and tear experienced due to environmental conditions.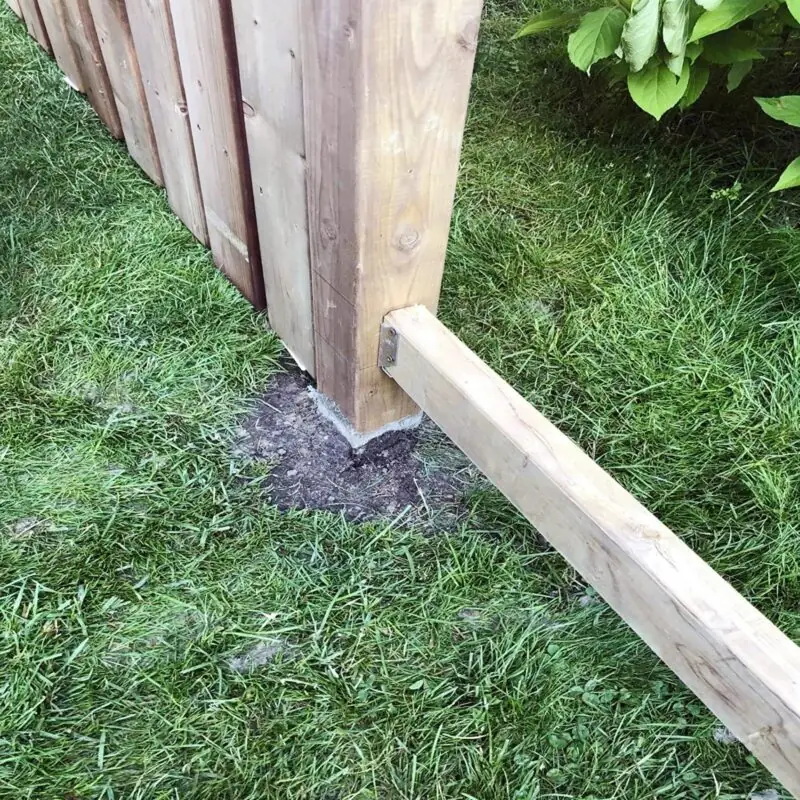 Pros
Easy to install: Foam comes in spray cans that can be easily applied to gaps in the fence.
Affordable: Filler foam is relatively inexpensive and can be found at most hardware stores.
Fills gaps completely: Foam expands to fill gaps completely, providing an effective barrier against animals, debris, and other potential intruders.
Cons
Not as visually appealing as other options: While foam can be painted to match the color of your fence, it may not be as visually appealing as other gap filler ideas.
May require frequent replacement: Depending on the climate and conditions in your area, the foam may need to be reapplied periodically to maintain its effectiveness.
Conclusion
There are several fence gap filler ideas that can enhance the look and privacy of your yard. Vinyl fence bottom gap filler strips and vinyl lattice panels are easy to install and durable. Privacy slats and hedge slats are great choices for chain link fences to add privacy.
Wooden fence panels and brushwood fencing provide natural and aesthetic appeal. Gap fillers and fence gap filler foam are affordable options for filling gaps in any type of application. Regardless of the option you choose, filling gaps in your fence can boost the aesthetics and privacy of your yard.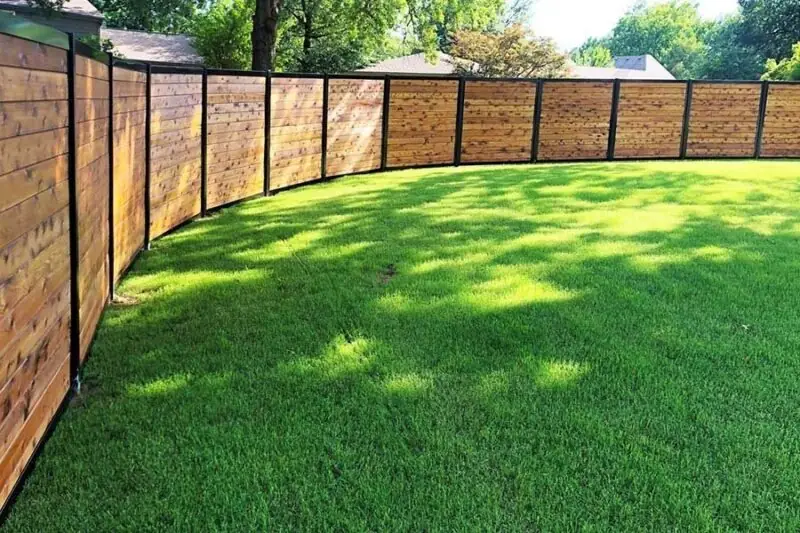 Explore the different ideas and choose the one that best fits your needs and preferences. Ultimately, the best fence gap filler is one that meets your needs and falls within your budget.