Simple Front Porch Swing Ideas: Perfect for Every Home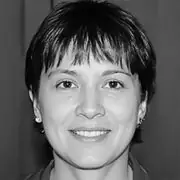 If there is one thing that makes your home attractive at first glance, it is how charming, inviting, and show-stopping your patio area looks, especially if it is equipped with a swinging bed or seat. Front porch swing ideas are a favorite outdoor design option among many homeowners as they can transform a dreary exterior into a colorful entertainment and relaxing respite to hang out.
A swing can easily improve the aesthetics of your outdoor space while serving a functional purpose, like sharing quiet moments with family, friends, intimate partners, and yourself. Besides this, it serves as a shelter from the harsh weather elements, keeping you cozied up all day while you enjoy a lazy day outdoors.
If you're ready to give your veranda a well-deserved facelift right from the start of the year, continue reading to find some beautiful front porch ideas for January and all subsequent months to elegantly outfit your entranceway.
Relaxing Swinging Daybed Ideas for Your Patio Area
A swinging daybed has a sofa-like design but offers the perks of the sleeping mattress often found in the bedroom.
Don't have a general idea of what a swinging bed looks like? The front porch swing images below show you what to expect.
Wicker Daybed Swings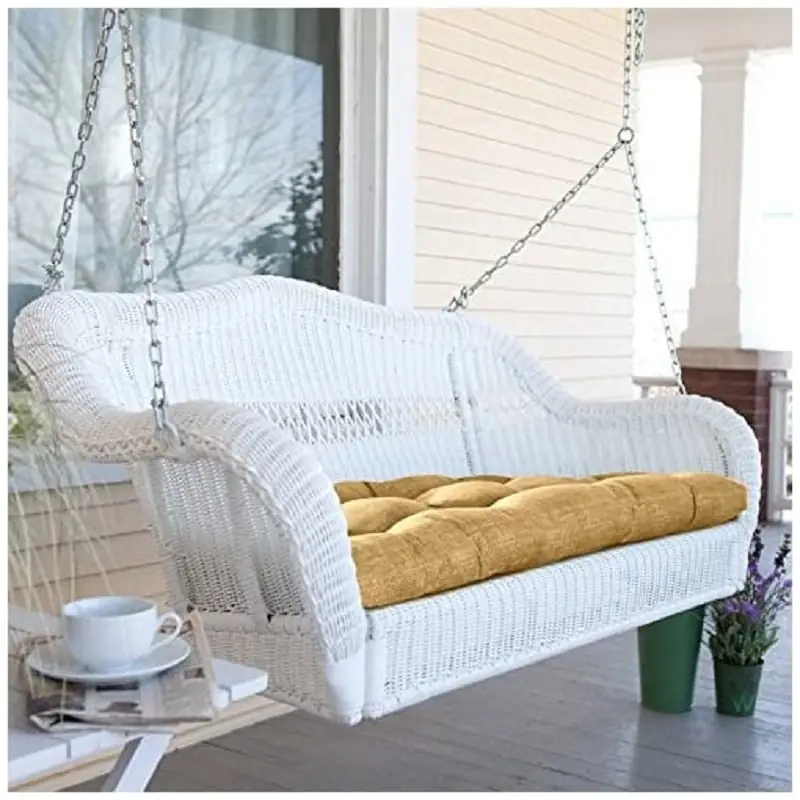 If you require something upscale but eco-friendly, wicker swings are an excellent option for your patio area or veranda. They are often made using reed, rattan, bamboo, or willow materials. Hence, they won't pose a damaging risk to your environment like most materials will.
Furthermore, they are easy to hang. Hence, you can spend less time with the front porch swing installation and more time relaxing. Still, the biggest advantage of using wicker for outdoor swings is that they are easy on the eyes. They make your entranceway look show-stopping without much hassle.
Antique Style Daybed is Timeless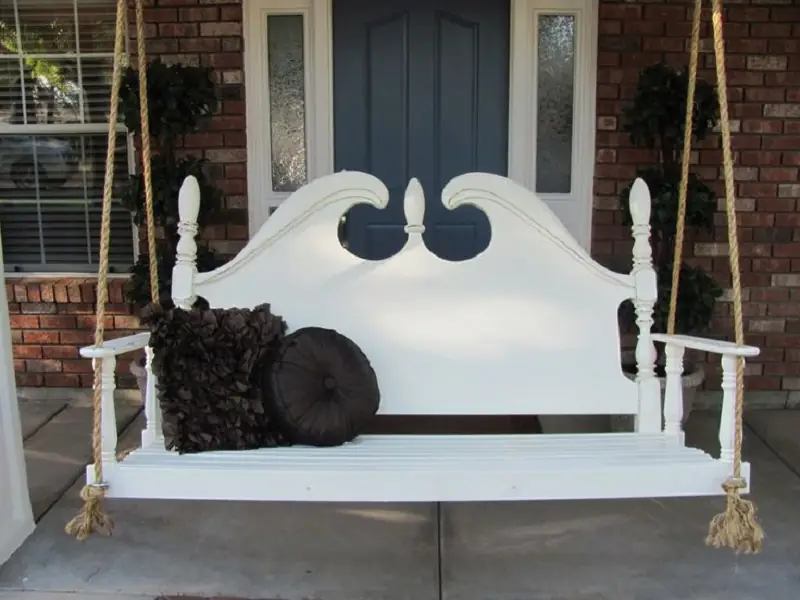 What's not love about antique furniture? Several elements make using an antique swing an easy and timeless aesthetic piece; their intricately designed upholstery, the flamboyant white paint scheme, textural materials, and neutral-colored blankets and pillows. Combine these elements, and you can effortlessly transform your modern-day home to exude a casual vintage vibe typical of the classic farmhouse.
Front Porch Ideas with Swing in the Garden
If your patio isn't big enough to fit a swing, then these small front porch swing ideas could be the answer. These swinging beds allow you to enjoy more peaceful leisure time with the natural elements.
Hang It on a Tree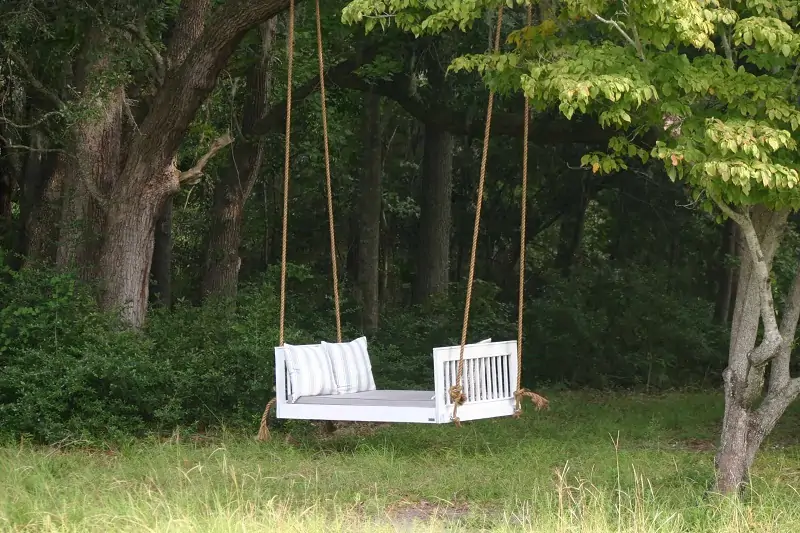 The difference between swings installed beside the doorway and in the garden opposite the entrance is that the latter allows you to rock freely and higher without restraints. Plus, this idea allows you to install a wider and larger swinging seat big enough for three.
Just be sure to use at least a 4-foot metal chain to ensure durability while swinging from a tree limb. Ropes are excellent for taking photos, but metal is way more reliable.
Outdoor Pagoda with Swings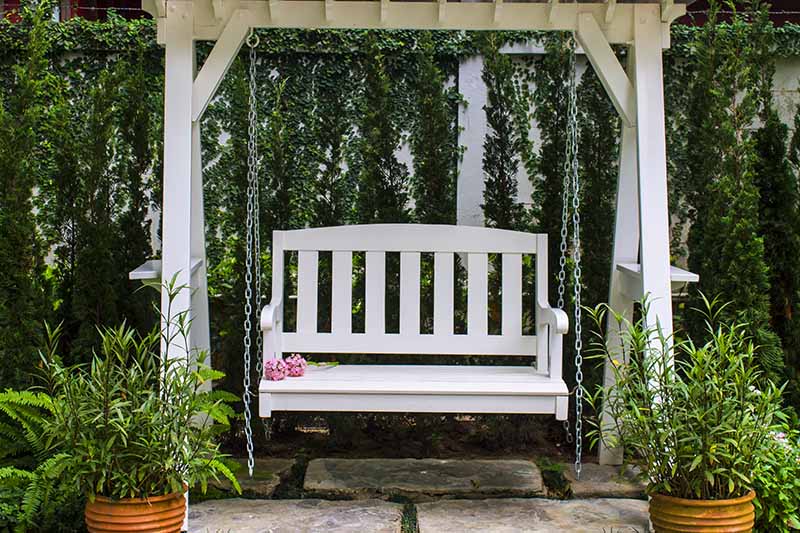 There's nothing like a scenic view right in the center of your garden. The small pagoda shown in this picture has everything you need to have a truly relaxing time.
If you're considering this option, the most interesting opportunity it offers is a green, relaxing space perfect for your health. From exquisite flowers to incredible plants, an outdoor pagoda allows you to surround yourself with natural plants, air, and sunlight, which makes relaxing a treat outdoors.
Single-Seat Swings for Small Houses
We have shown you some of our best double swinging seats and beds perfect for relaxing outdoors. Still, if your space is limited, does it mean you cannot equip your front porch with a swing? Ideas for spending time on your own on your small porch are endless: you are sure to find one that appeals to you.
Try an Egg-Shaped Wicker Set-up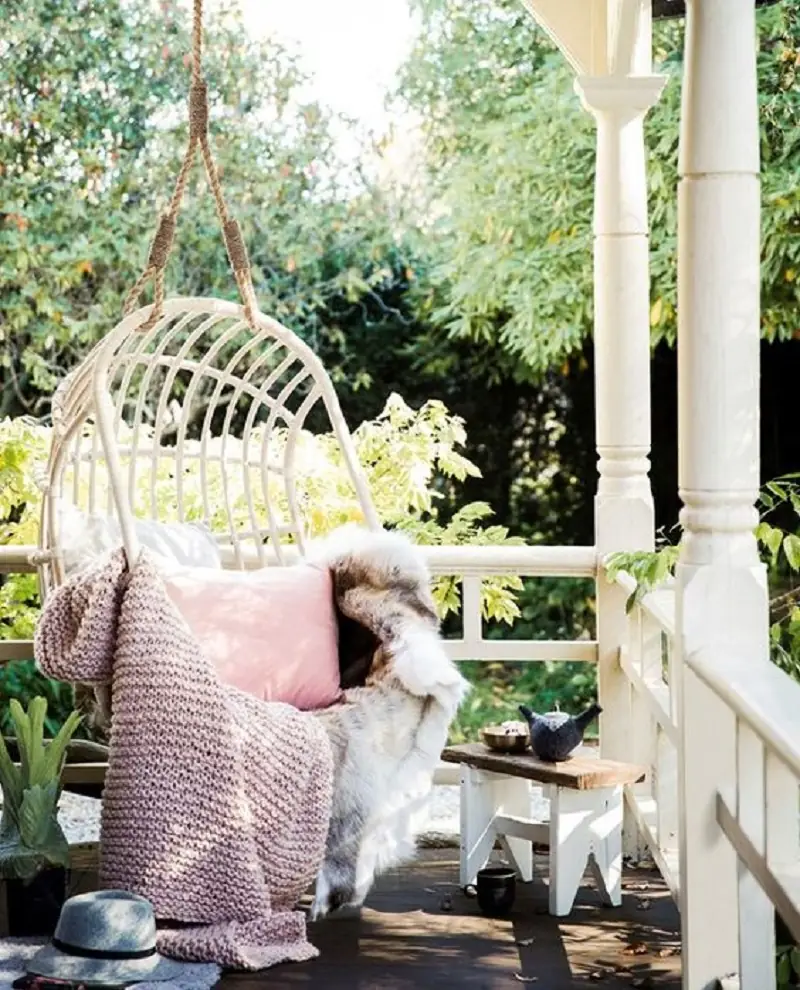 Egg-shaped swings are often cute and cozy, but they are a practical addition if you don't have much space. Like the classic swings, this egg-shaped swinging seat is designed with back support and is hung with a thick rope. Yet, its winning point is that it is easy to move, and thanks to its enclosed shell-like design, it feels like being in a secluded spot somewhere far, far away, making it easy to hide away when the need arises.
Small porch swing ideas like this one are also great for corner porches, as well as to be used both in the garden and indoors. Plus, you won't have to fear wear and tear when considering it for outdoor use. Wicker materials are tough and are perfectly suited for any weather condition.
Alternatively, use a Macramé Hammock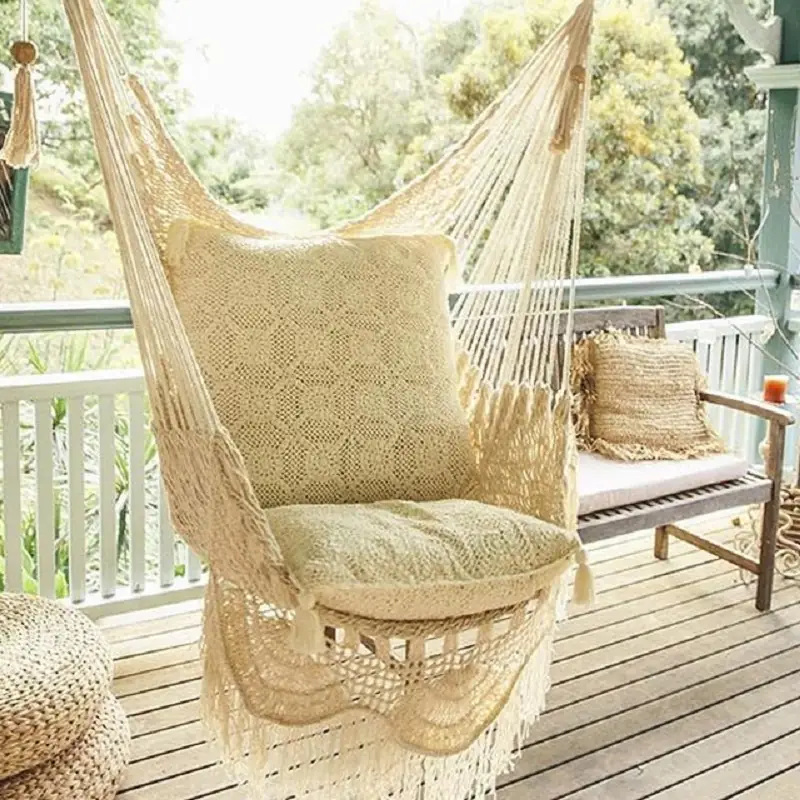 If you fancy anything that has to do with embroidery, needlework, or quilting, then a macramé hammock will be a good front porch swing DIY project to try out.
One of the reasons we like this idea is that it adds a bohemian vibe to your space. Additionally, it allows enhanced creativity using simple items like cotton twine, hemp, jute, or yarn. Plus, adding unique components like beads and colorful accents makes using a macramé hammock for your front porch swinging seat stand out.
Macramé hammocks are easy to hang, can fit into any space, and are very comfy for almost everyone. Besides this, kids just love snuggling in their curved fiber cocoons.
How to Choose a Porch Swing
Most homeowners find choosing a porch swing a difficult task. The simple trick to keep in mind when browsing for an outdoor swinging set or bed is finding the right materials that suit your taste and the weather, its design, and size.
The Material
Metal, plastic, wood, and wicker are the most common materials used when designing a swing. However, they typically work differently, especially in a place with high humidity.
Iron swings will easily rust if you live in humid locations, while plywood will retain moisture, swell and break. On the other hand, wickers and plastics can withstand years of humid conditions and weather without damage. Plus, they are eco-friendly and recyclable.
Also, keep in mind that all these materials have very different textures. It is important that you choose the option that you find to be the most pleasant to the touch.
Design and Size
You also want to choose a design that blends effortlessly with your home's setting. The advantage of this is that it makes your home appear unified while increasing your property's value.
However, you may also need to consider where to fit it on your veranda. Front porch swing dimensions vary from their length to their depth. Some are large enough for three, while others won't offer enough space for two. Typically, they range from 4 to 5 feet long and 18 to 36 inches deep.
It is important that you always consider vertical clearance. If the swinging set or bed is too large for a small space, it means you really installed a hovering sofa since you will be crouched down close to the ground, unable to sway.
So, whether you are considering wooden porch swing ideas or metal, wicker, or plastic options, the matter of how big your relaxation spot should be comes down to your personal preference and space availability.
How to Hang a Swing on Front Porch
The first thing you should know when hanging porch swings is that the swings need to have a starting height of 17 inches or more above the floor. Also, ensure it allows a 4 to 5-foot arc, making it sway effortlessly.
More than this, swings won't work effectively without hanging ropes or chains. Stainless or galvanized steel chains are durable and long-lasting but if you prefer ropes, choose high-quality marine-grade braided fibers. Also, ensure they have no signs of wear.
Hanging your swings won't also be possible without something structural. From trees to beams and joists hidden under the ceiling, hanging the swings on a strong structure keeps you and your family safe.
Conclusion
The front porch swing is a place to unwind outside your home, hold quality conversations and create special moments with loved ones. So, whether you need a quiet retreat to relieve stress or a fun space for entertainment, it will make a beautiful addition to your home, no matter its size. Just make sure to choose one that meets your needs and fits well into your space. From the traditional wicker to a macramé hammock and antique-style seating, these front porch swing ideas will take the aesthetics of your outdoor space to the next level.