Ideas for Small Bedrooms: Make the Most of Your Space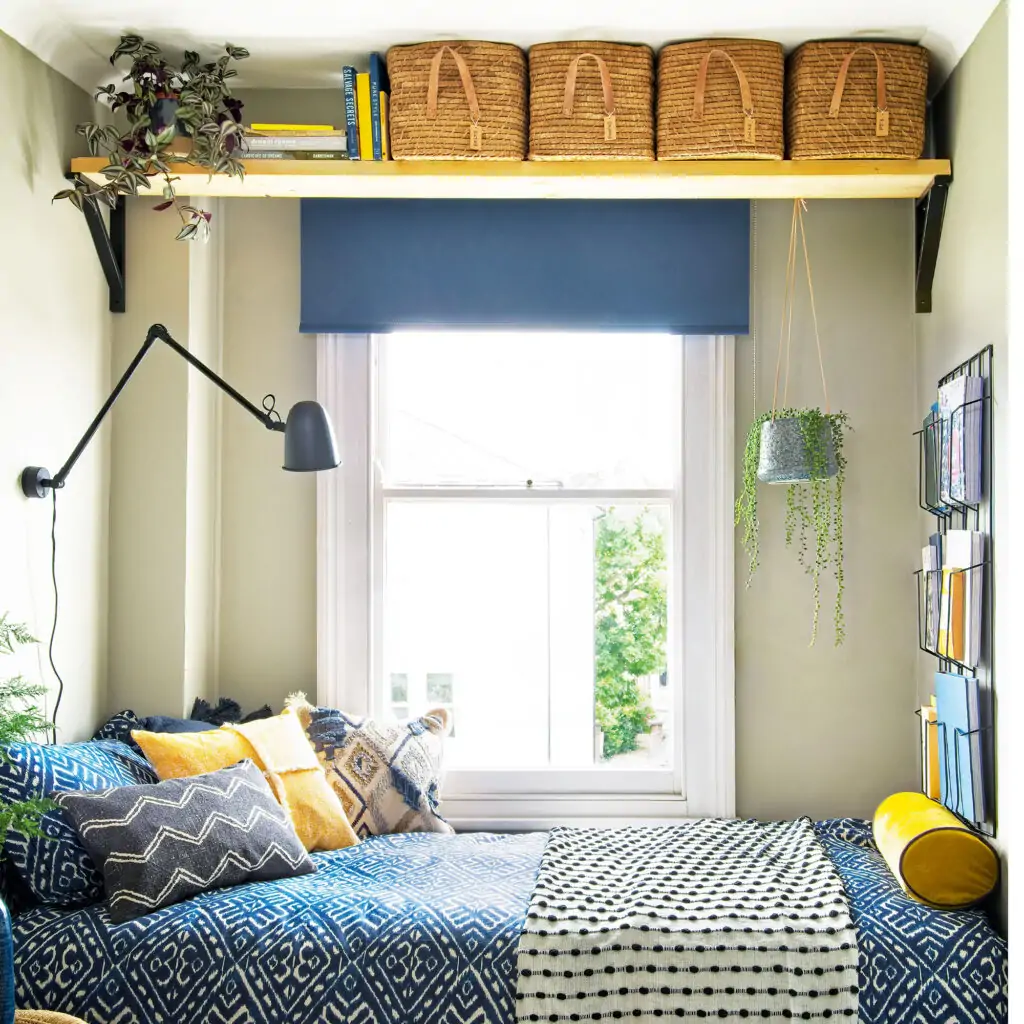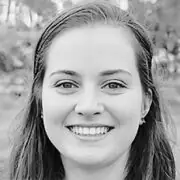 When it comes to creative ideas for small bedrooms, there are lots of great options to choose from. Maximizing your space and making the most of what you already have is the key to creating a cozy and comfortable bedroom.
Even though it might seem challenging, with a few clever design tricks and some handy pieces of furniture, you will be able to make any small room look larger, more inviting, and stylish.
In this article, we will provide you with some fresh ideas ranging from storage solutions to decorating tips that will help you make the most of even the tiniest bedrooms.
Install Mirrors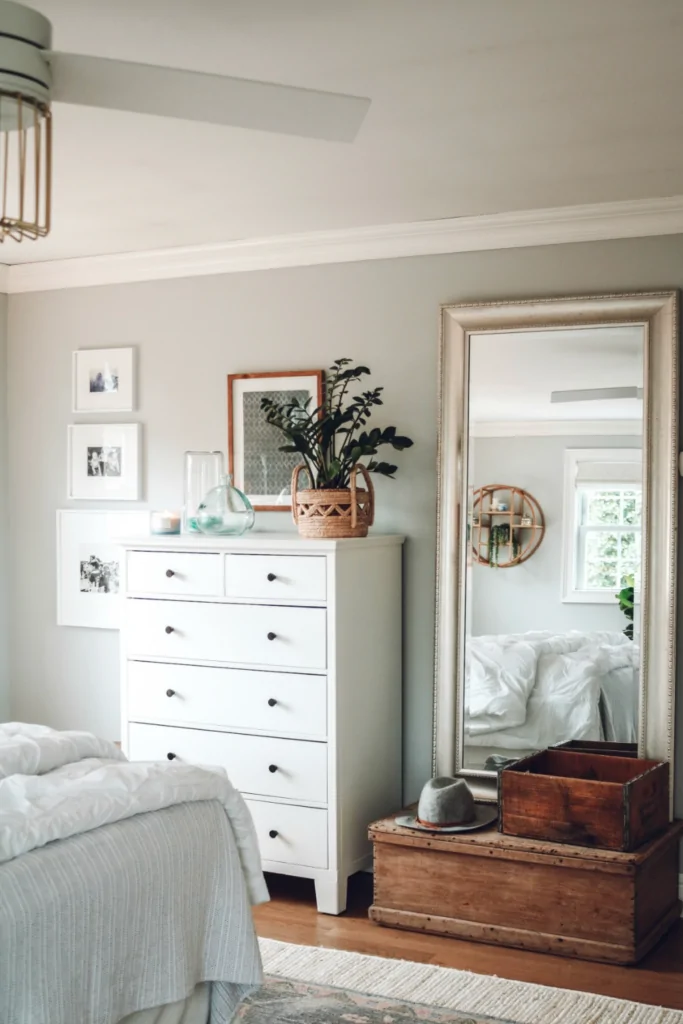 Mirrors can be a great way to create the illusion of a bigger space. They reflect natural light, create focal points, and even double as storage solutions.
One of the simplest and most common ideas for small bedroom design is to install a full-length mirror. Not only will it make your room appear larger, but it will also give you a chance to take a look at yourself before stepping out the door. Plus, it is great for taking full-body selfies. Simply lean the mirror against a wall or mount it for a more permanent look.
However, if you want to go wild and do something original, you can place mirrors in unexpected places. Hang one on the ceiling, place one behind a piece of artwork, or frame one and use it as a headboard. This can help you create the illusion of a larger space as well as give your room a way more creative look.
Decorate It with Books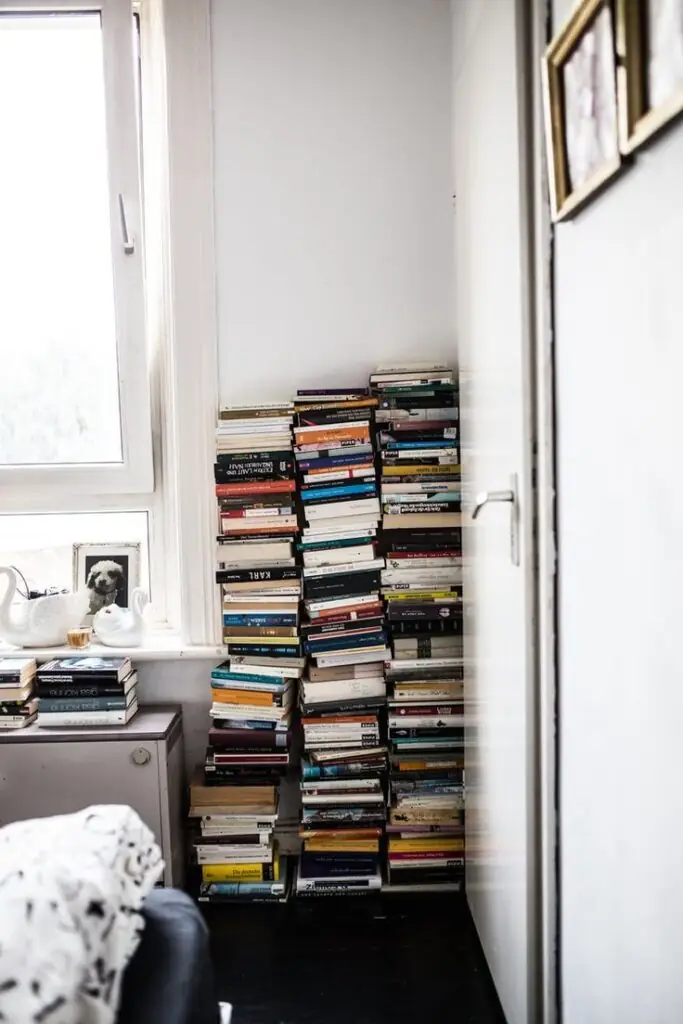 Never forget that books can make a big statement in even the smallest of spaces. Not only is it a great way to display your favorite reads, but using books as an interior design element can also help create a calming atmosphere.
There are lots of ways to incorporate books into your room design. You can use books to add color and a sense of personality to your room. Try grouping books of different sizes and colors together, or use them to create a wall display. Stack the books on top of one another with the covers facing out to create an ever-changing display of your favorite reads. You can also use books to create a focal point, like a bedside reading table or a library wall.
You can also fill in empty spaces with books or create a makeshift shelf from the books themselves. What's more, if you don't want to spend too much money, it is truly one of the greatest decorating ideas for small bedrooms on a budget.
Add a Rug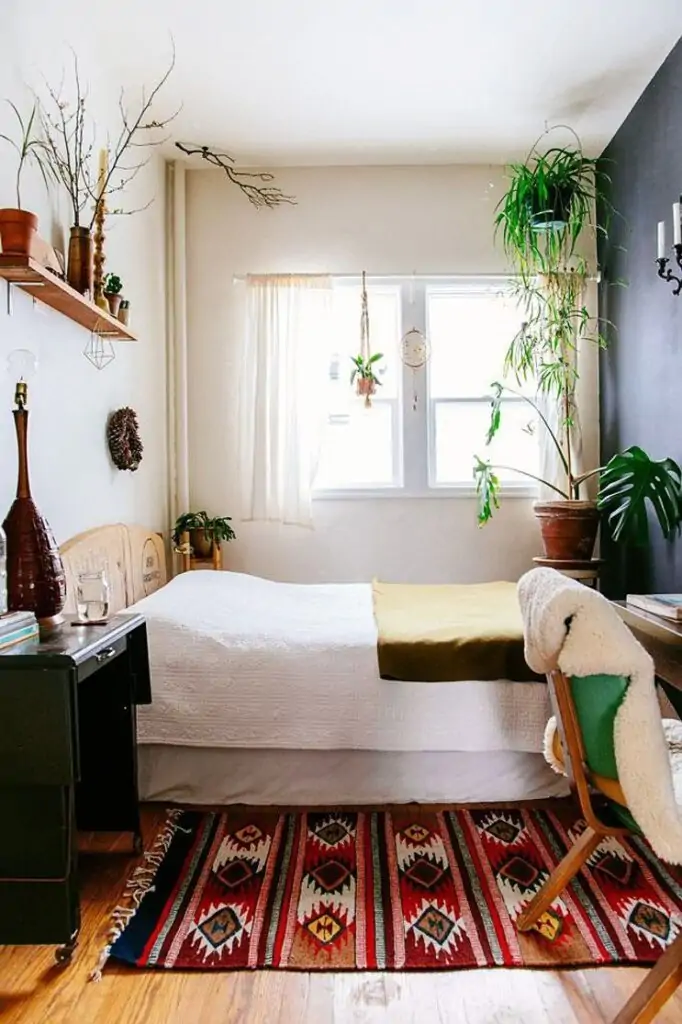 If you are looking for cozy and inviting ideas for small bed rooms and don't want to sacrifice too much space, then adding rugs to your room decoration can be a great way to go. Rugs can provide a soft and inviting surface to walk on while also serving as area definers. It is one of the more creative ideas to use rugs to divide your bedroom into several sections.
When choosing a rug, it is important to pick one that is the right size. A small rug can make a room feel cramped, whereas an oversized rug can overwhelm it. You should also consider the rug's material, as it will also affect how much space it takes up.
In terms of pattern and color, think of a rug as a piece of art with some character and personality. Going with a shaggy and textured rug is a great option if you want to bring in warm vibes.
Use the Right Lighting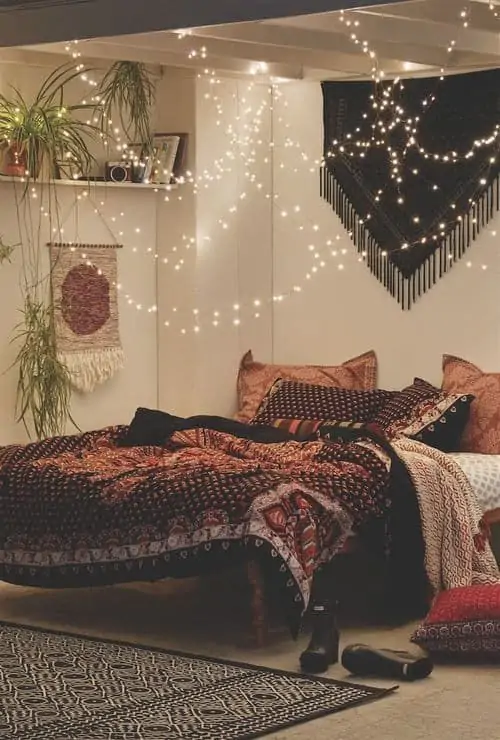 If you are looking for decoration ideas for really (and very) small bedrooms, string lights will be a perfect choice. String lights can help create a cozy atmosphere and brighten up your tiny space.
The most obvious idea is to hang string lights along the ceiling. This will draw the eye upwards and create an airy, dreamy feeling in your small bedroom. If your space allows, hang the lights in a zigzag pattern for a fun and unique look.
You can also hang the lights around the windows for a soft and subtle glow or use string lights to create a feature wall. Hang them in a pattern around a wall or even around a painting or piece of artwork. This will draw the eye and provide an interesting focal point in the room. So, don't be afraid to get creative: you don't really have to have a large budget to tastefully decorate your bedroom.
Add a Staircase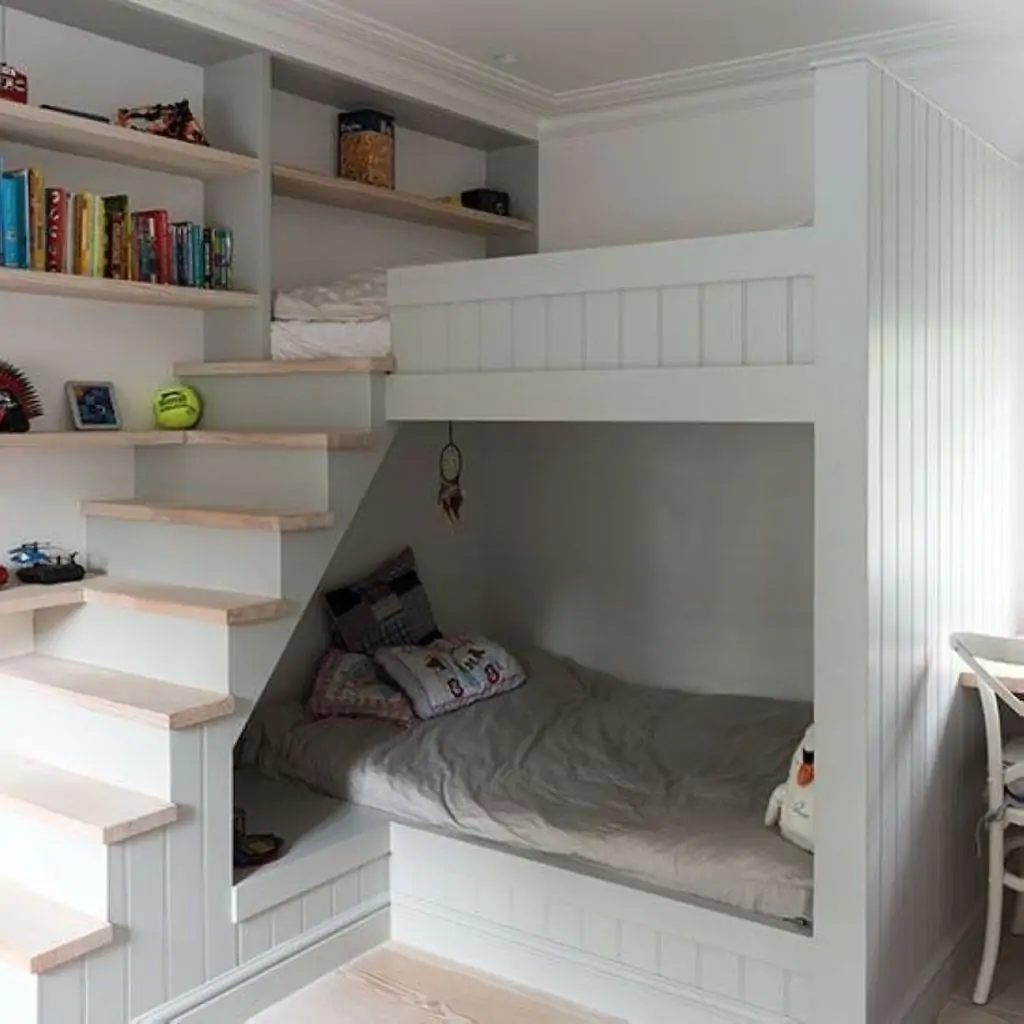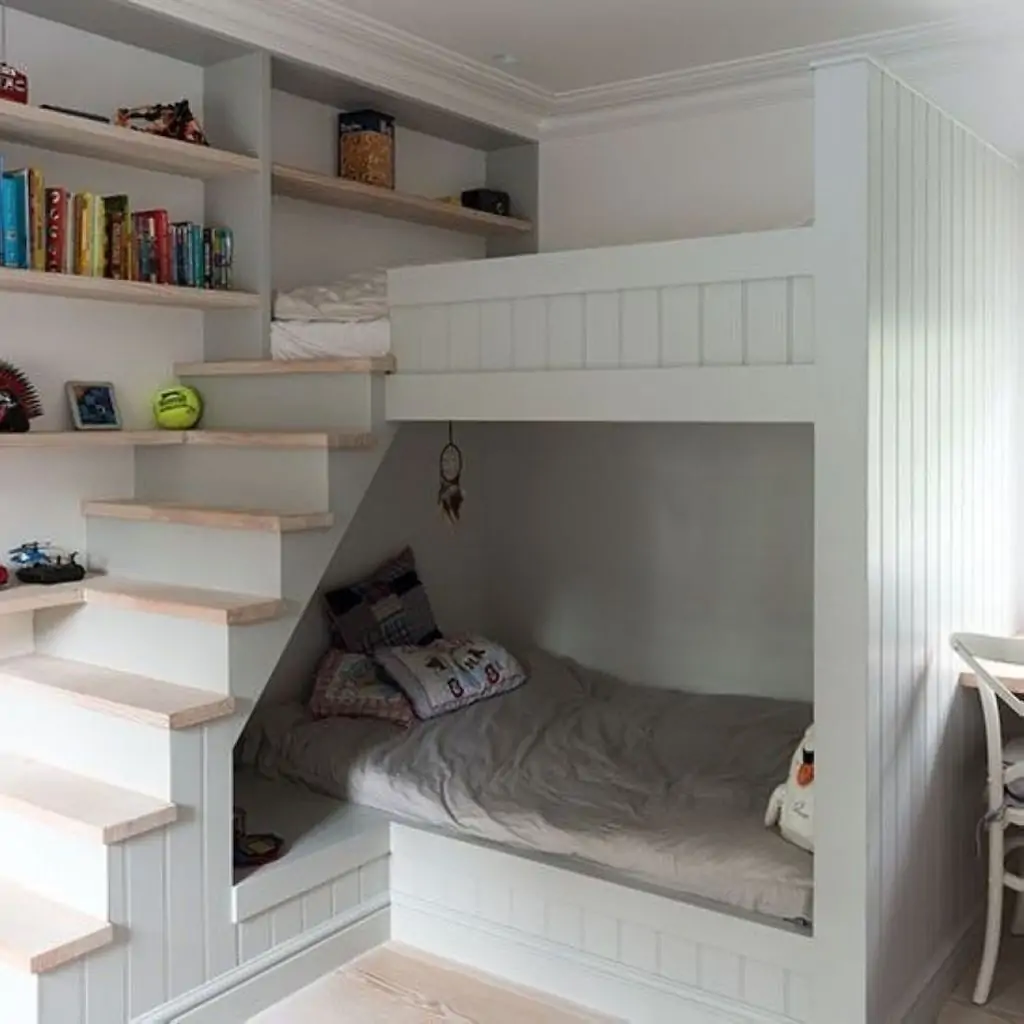 When it comes to ideas for small bedrooms with two beds, don't forget to make the most of your room's height. Generally, a staircase provides an efficient way to get from one level of the bedroom to another while also freeing up the floor space. What's more, a staircase is always the perfect solution, whether you are looking to add extra storage or a bit of style to your room.
On top of that, the steps of a staircase can be used to store inside them such items as books, magazines, toys, and even blankets and clothes. Notably, this is especially convenient if you have a room that doesn't feature many cupboards or shelves.
Overall, staircases are a great way to add function, style, and extra storage to a small bedroom. They can also be used to create the illusion of more space and make the room safer. Whether you choose a modern staircase or a more traditional design, it can be a great addition to any small bedroom.
Ideas For a Small Bedroom With a Queen Bed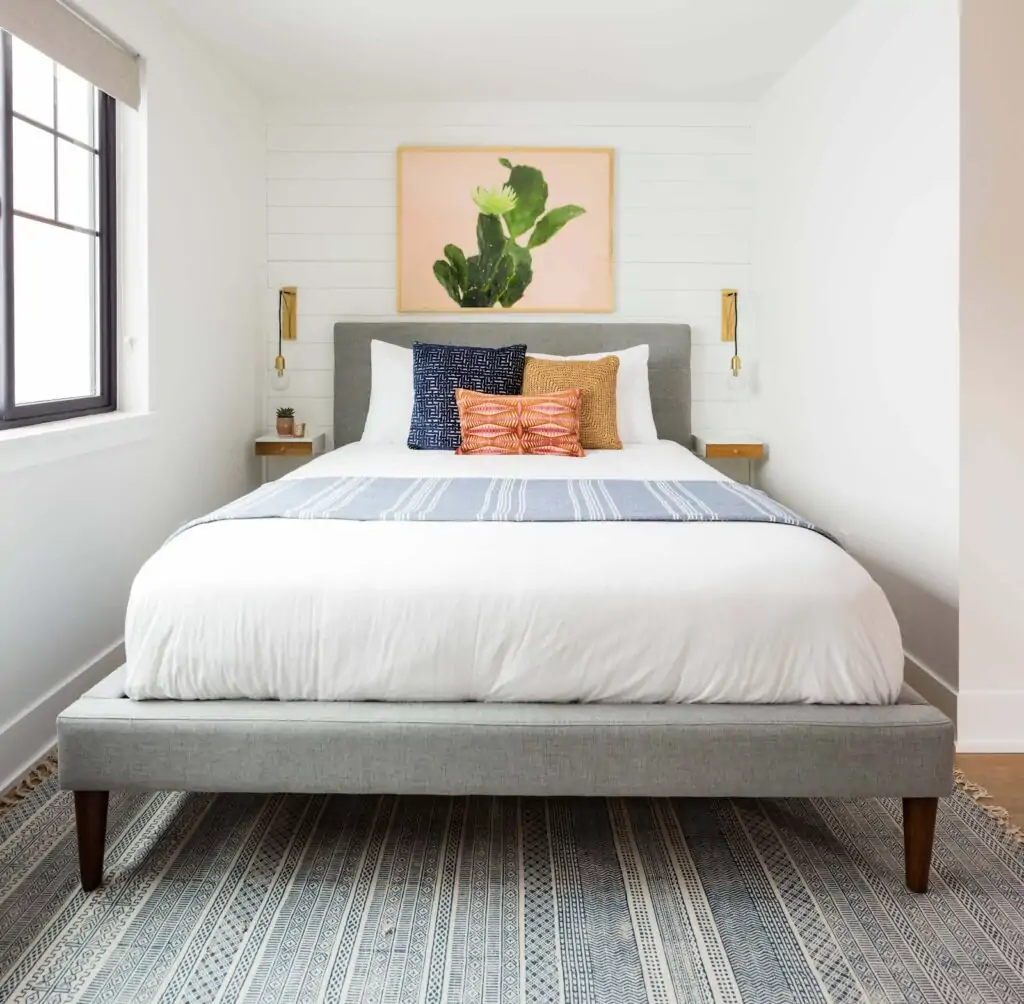 It might be a challenging task to fit a large queen-sized bed into your small space. However, keep in mind that there are still various ways to manage this while still enjoying a comfortable and relaxing bedroom.
First of all, give the top priority to choosing the right bed frame. Make sure it fits the space, and there is still enough room for you to move from place to place. Look for a queen-sized bed frame that is low to the ground or has a built-in storage compartment. This will help to save space and keep your bedroom looking less cluttered.
What's more, do not forget about the walls when decorating a small bedroom. You can hang a few floating shelves for items like books, photos, and artwork. A wall-mounted TV can save space and provide extra entertainment.
Overall, it can be best for you to choose multipurpose furniture, utilize wall space, and add pops of color and texture to create a cozy, functional retreat.
Summing Up
Small bedrooms can be challenging to decorate, but there are many creative solutions that can maximize your space and create a calming atmosphere. Above all, consider adding a few pieces of multipurpose furniture.
It will also be a good idea to look for extra storage furniture, such as a bed frame with built-in drawers or a nightstand with multiple compartments. Mirrors, floating shelves, staircases, and wall art can be effectively used to make your room feel truly cozy.Finally, opt for a color palette that is warm and inviting, and make sure to take advantage of natural light as much as possible. Overall, with these ideas for small bedrooms, you are sure to create a unique and beautiful space.