17 Choices of Lighting for Bedroom: Ideas to Light You Up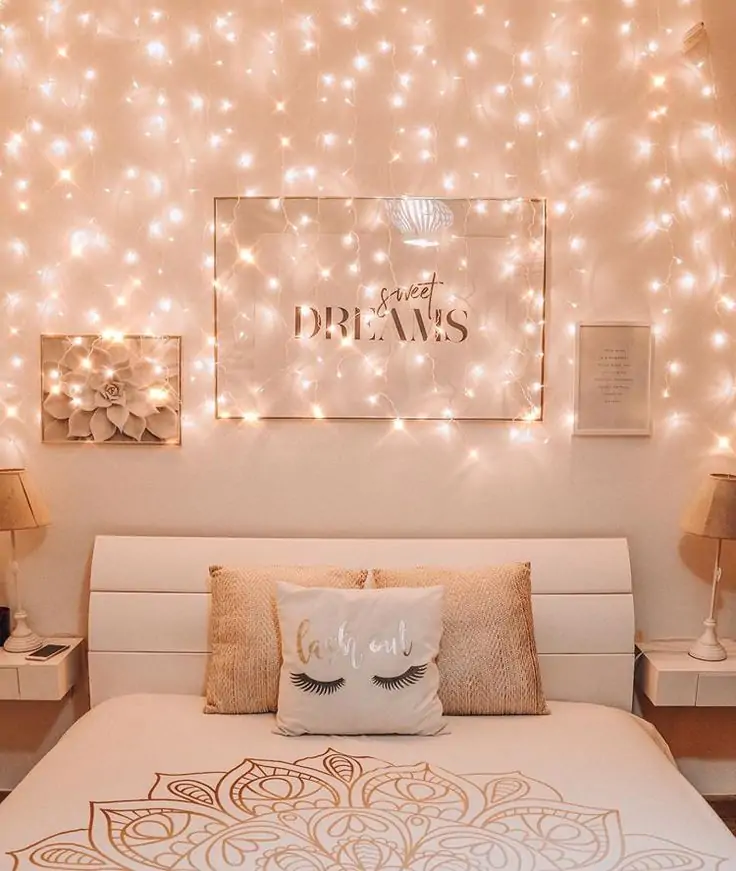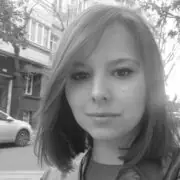 For somebody who's just starting to consider the lighting for a bedroom, ideas that are out there can be overwhelming because of the sheer amount of options available. We picked some of them to help you find out what you like — and decide on the direction you want to take in transforming your space.
1. Grand Designs: Some Things Are Timeless
Some people prefer to go the traditional route when it comes to picking the lighting for a bedroom ceiling. If you're one of them, we encourage you to follow the example you can see in the picture. You can't go wrong with a beautiful crystal chandelier — an undying classic.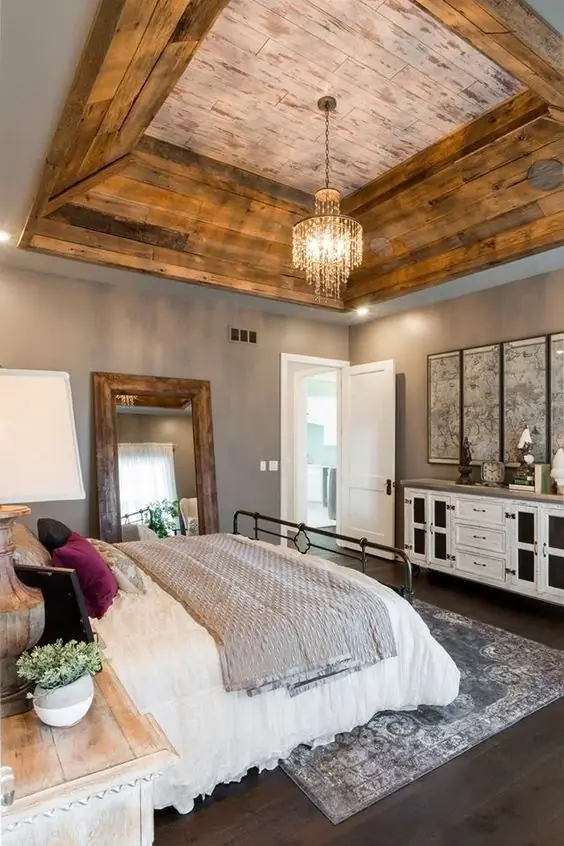 2. Dandelion Dreams: Minimalism Does Not Equal Boredom
For somebody trying to pick a ceiling light for a bedroom, the ideas certainly don't stop with the classics. Those minimalist lamps are perfect for a Scandinavian-style room — light and spacious.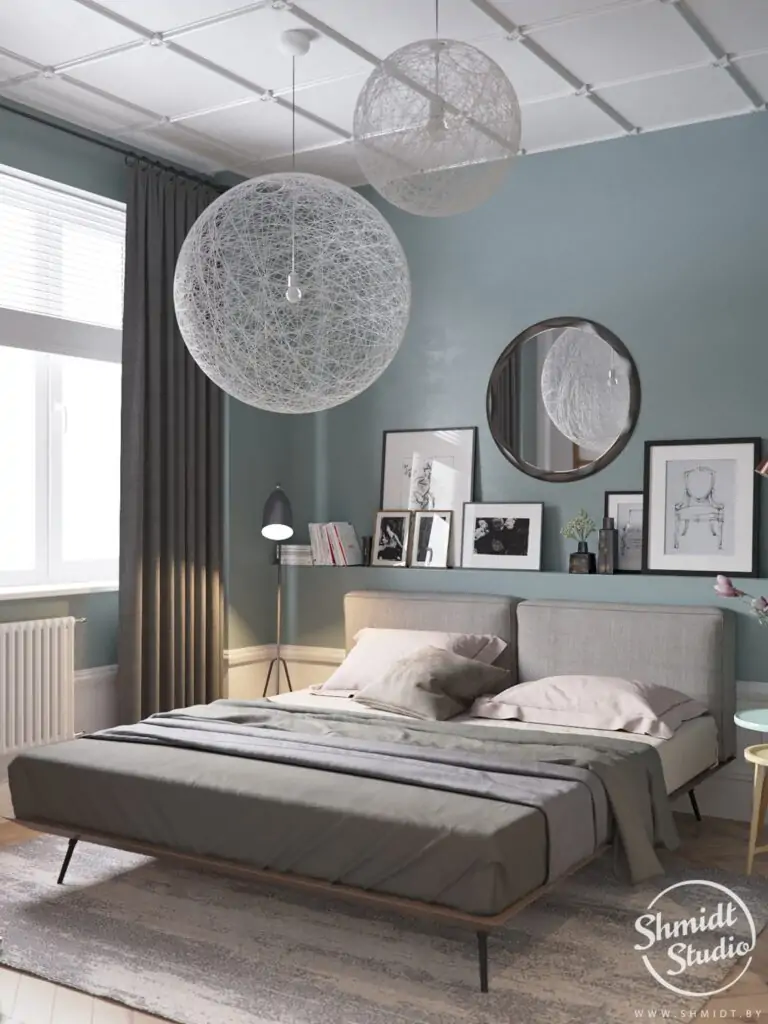 3. Magic Orbs: Some Lights to Draw the Eye
If you're looking for some unusual lighting for a bedroom wall, you will absolutely love this idea! Globe-like bulbs covered in dusky coating and pointing in different directions will give your room an air of mystery.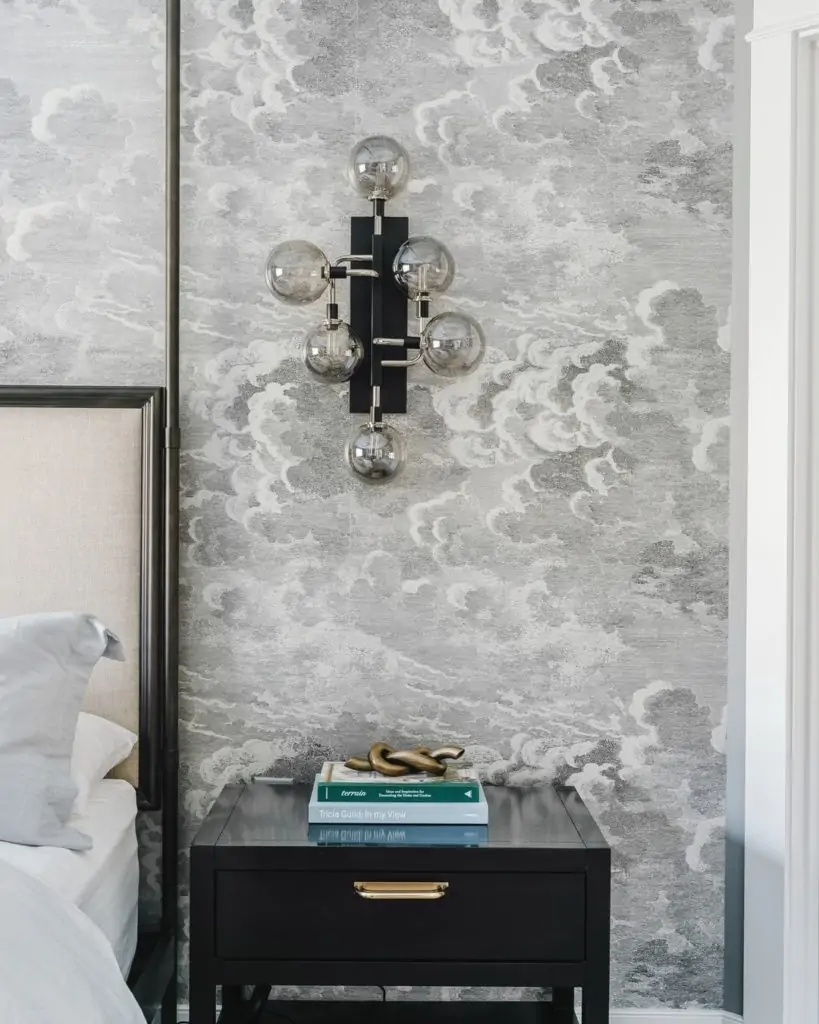 4. Simplicity Is the Key: Clean Lines Are in Style
If you are more inclined to choose hanging lights for the bedroom, ideas for those are also in abundance, so you're in luck! In this example, which is perfect for fans of the industrial look, brick walls and simple wooden furniture are complemented by stylish low-hanging chandeliers.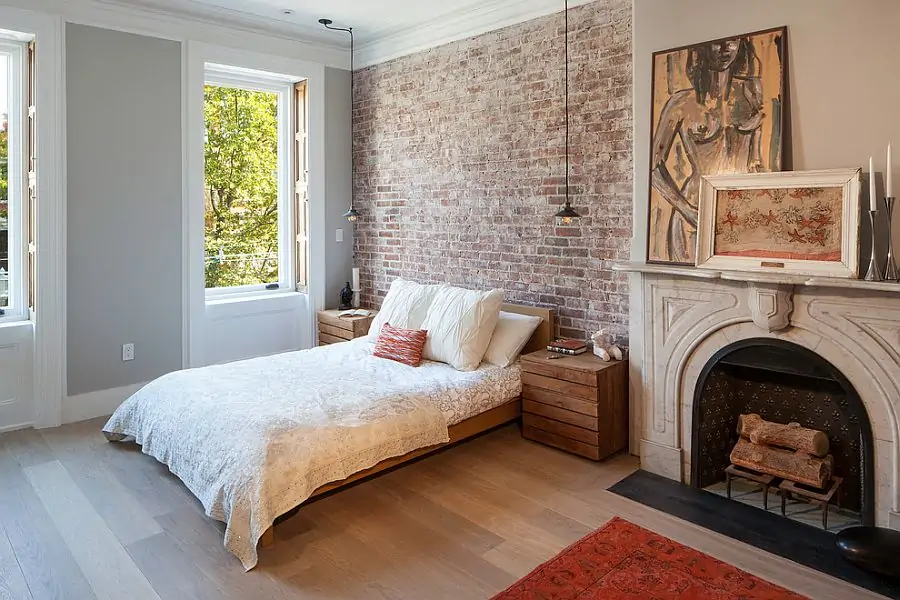 5. A Hint of a Celebration: Decorate Sparingly
For a long time, one of the trendiest lighting styles was to use some string lights for a bedroom. Ideas that are in vogue now range from decorating the whole room with those to just adding small accents. This loft's decorators have obviously used the lights very sparingly — but the results are amazing.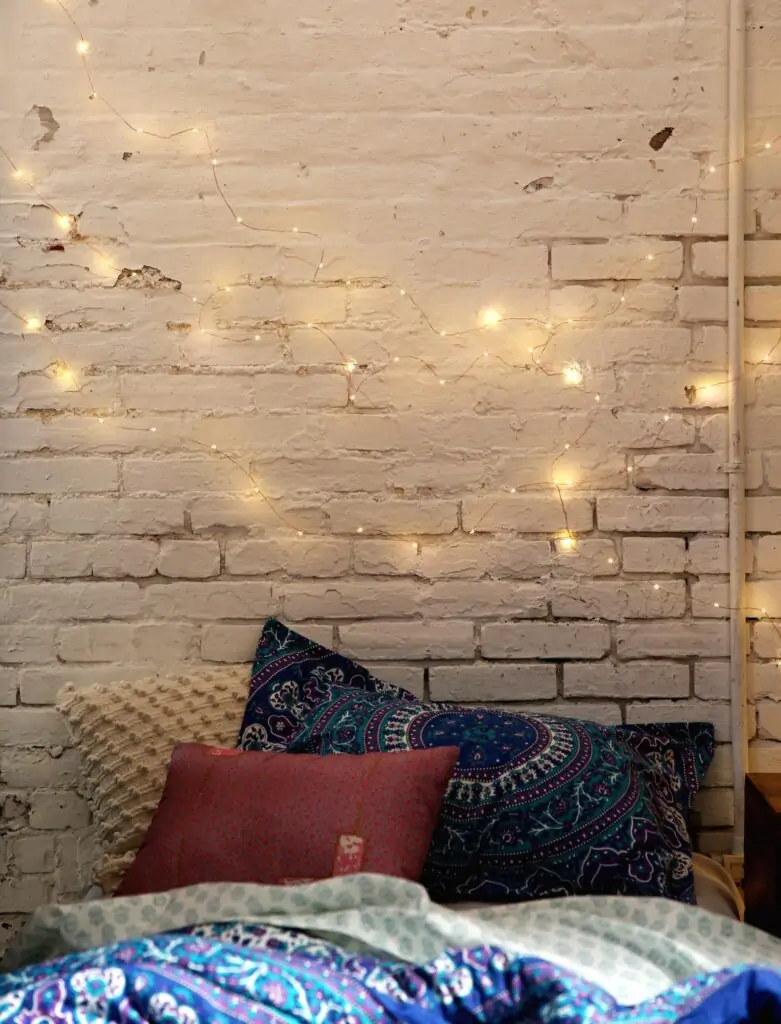 6. Bold Choice: Naked Bulbs Are Actually Great
If you like creating a cozy atmosphere in your sleeping space, you may also want to look at lighting ideas for a bedroom without a ceiling light, like this one. Hanging a string of lightbulbs from metal bed posts adds a decidedly steampunk-ish vibe to the room.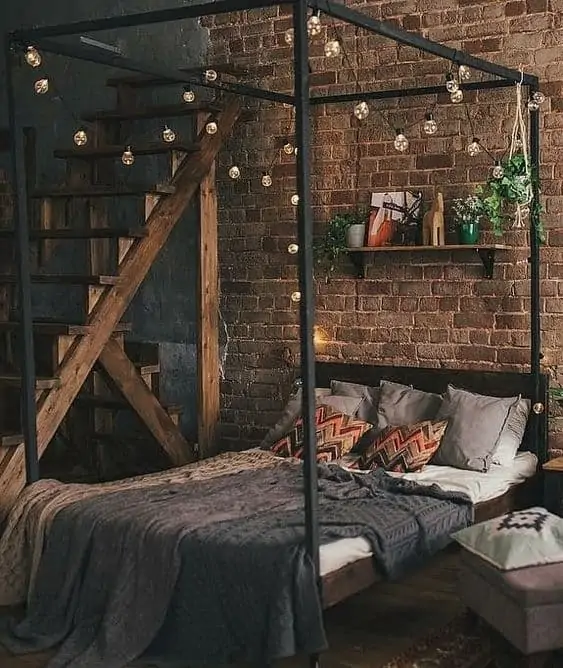 7. Close to Nature: Don't Shy Away from Statement Pieces
This chandelier will surely be appreciated by somebody who's looking for creative lighting ideas for a bedroom. A cross between antlers and tree branches, this detail brings a cool rustic vibe into the room.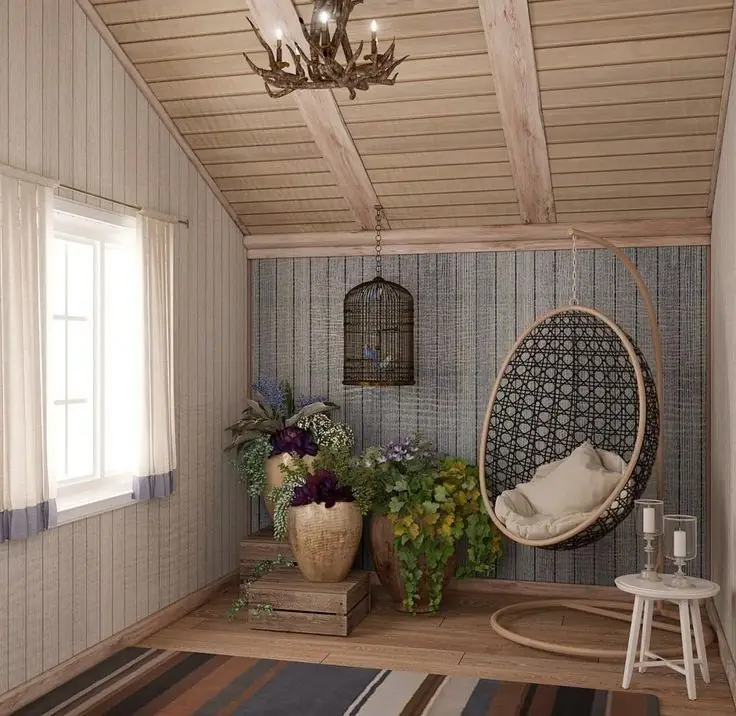 8. Switch It Up: Don't Limit Yourself
One way to organize the lighting for a bedroom without ceiling light is to use as many smaller light sources as possible. In this example, we can see a large window that lets in a lot of natural light; hanging lightbulbs on the wall that create character; table lamps on nightstands for convenience; and candles for additional coziness.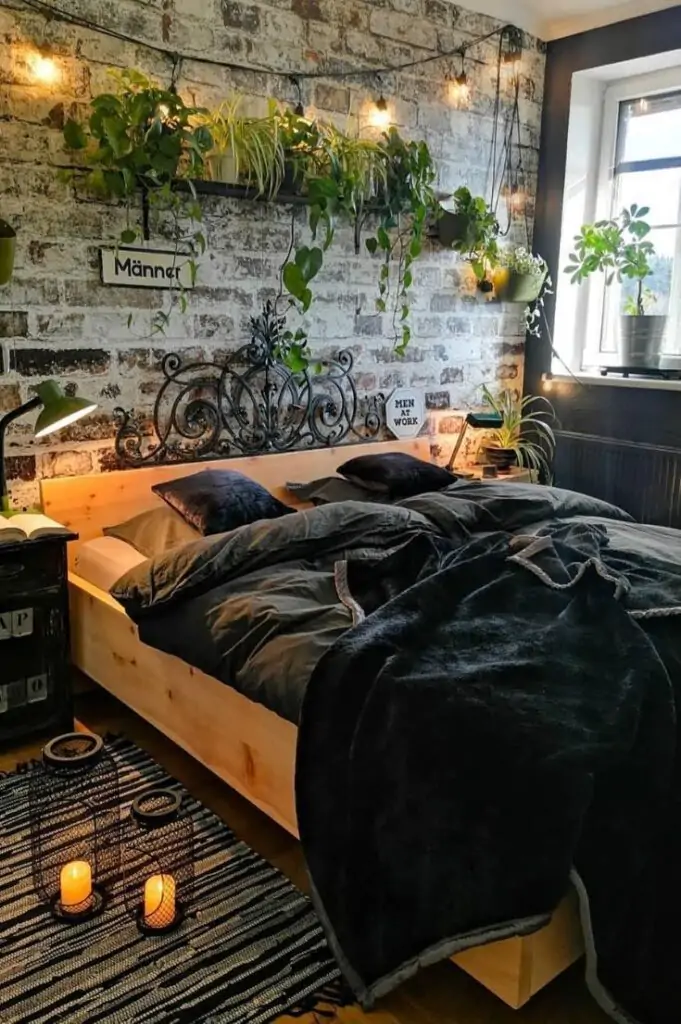 9. Hide the Light: Make Your Room Shine
Many people find recessed lighting bedroom ideas the most attractive for this space. It's understandable: recessed lamps give off a soft glow, which is perfect for this room, and they can be supplemented by other sources of light to provide more focused lighting options if the need arises.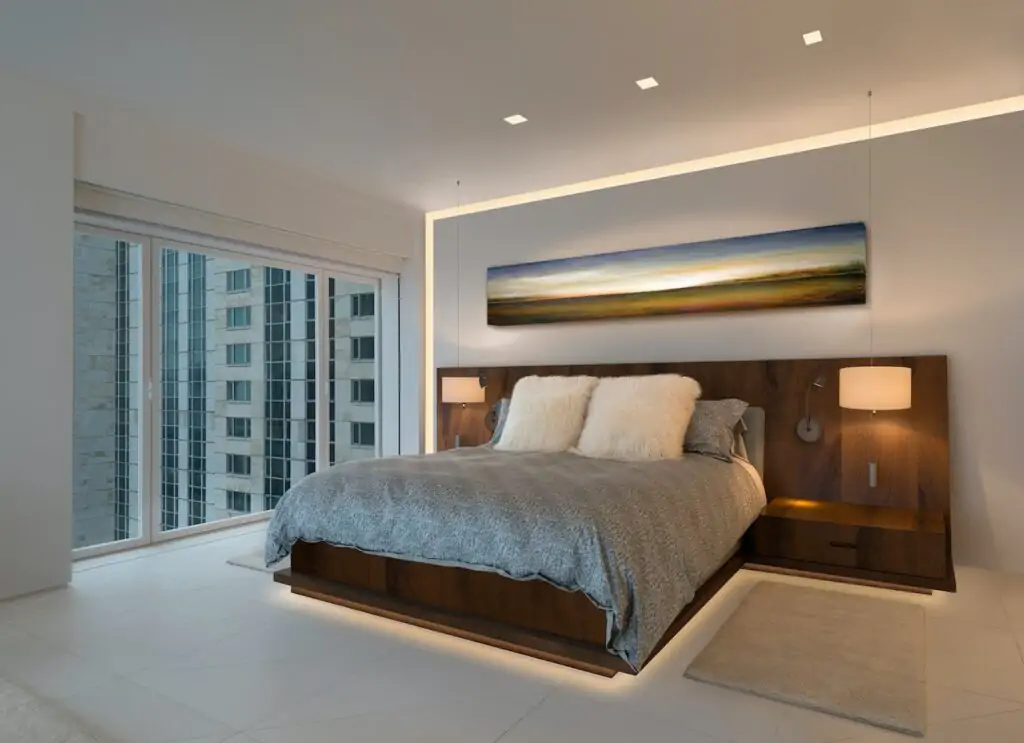 10. Neon Extravaganza: LED Rules
This trendy neon aesthetic is achieved by using LED lights for your bedroom ideas. Nowadays, it's both easy and affordable to get LED stripes of almost any length, so whatever look you can conceive is doable!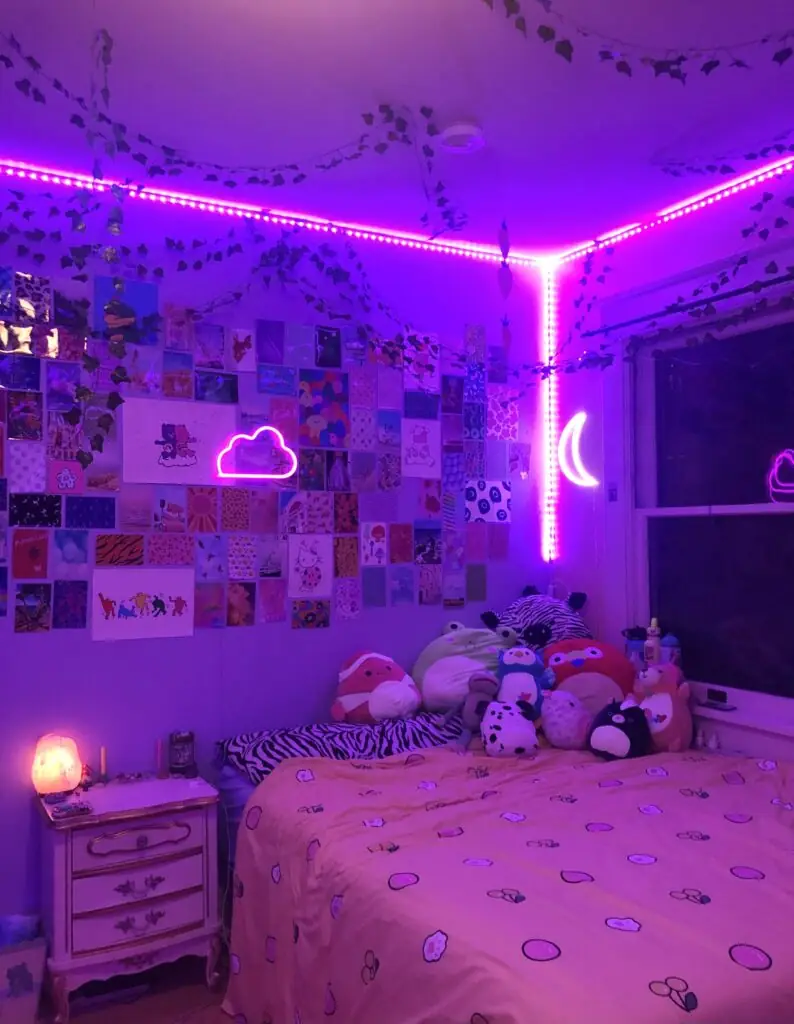 11. Straight out of a Fairytale: Add Some Mystery
Another popular design choice is using fairy lights for a bedroom — ideas that include this type of lighting are easy to find. Combining those lights with artificial plants and garlands makes the room feel cozy and lived-in — a true hiding spot.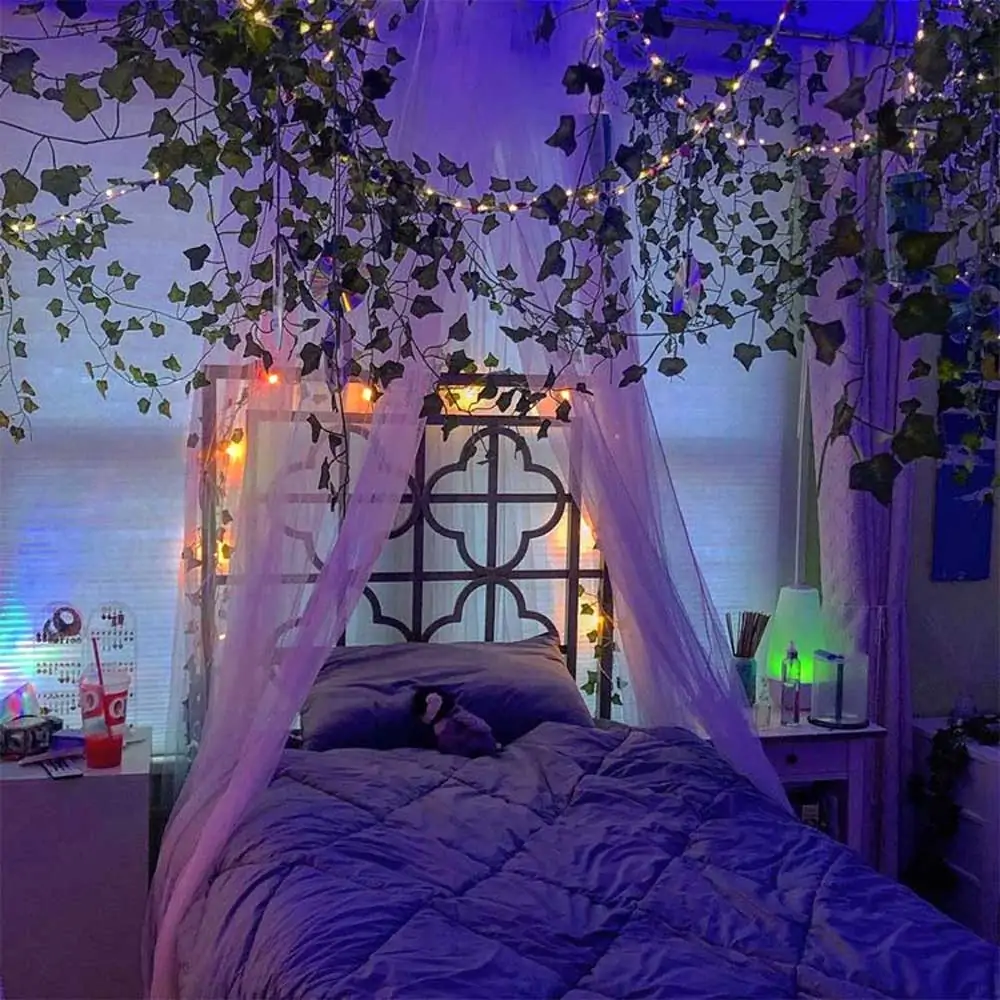 12. Color-Coded: Coordinate with the Rest of the Room
Let's switch back to more classic pendant lighting for bedroom ideas: when using them, make sure their colors match the shades of the walls and other elements of design. This black and beige chandelier fits nicely into a room that's designed in similar shades.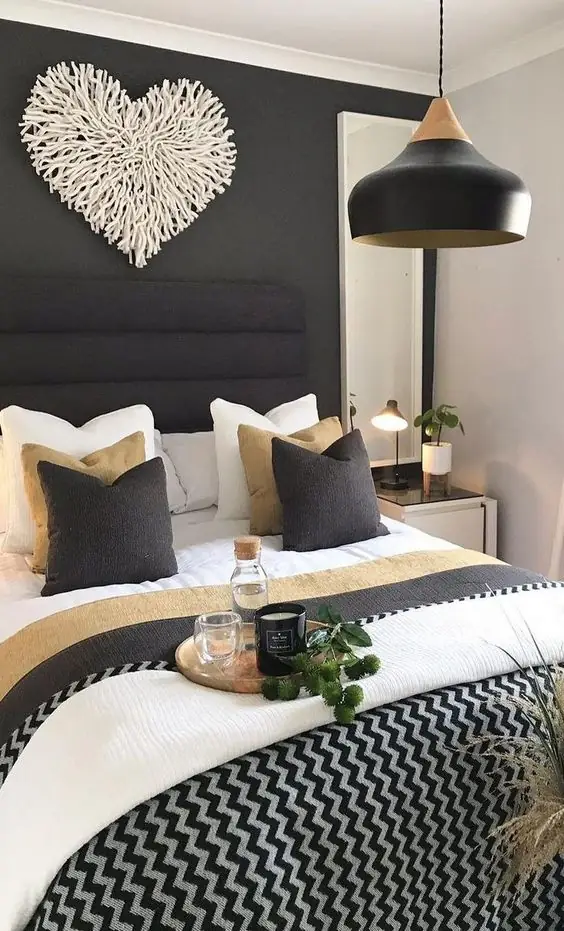 13. Lampshading: One Detail Can Change Everything
The easiest way to pick some truly unique lighting ideas for a bedroom is to pay attention to lampshades. Even an otherwise ordinary lamp can be made into an original statement with a cool shade design, like the one in the picture.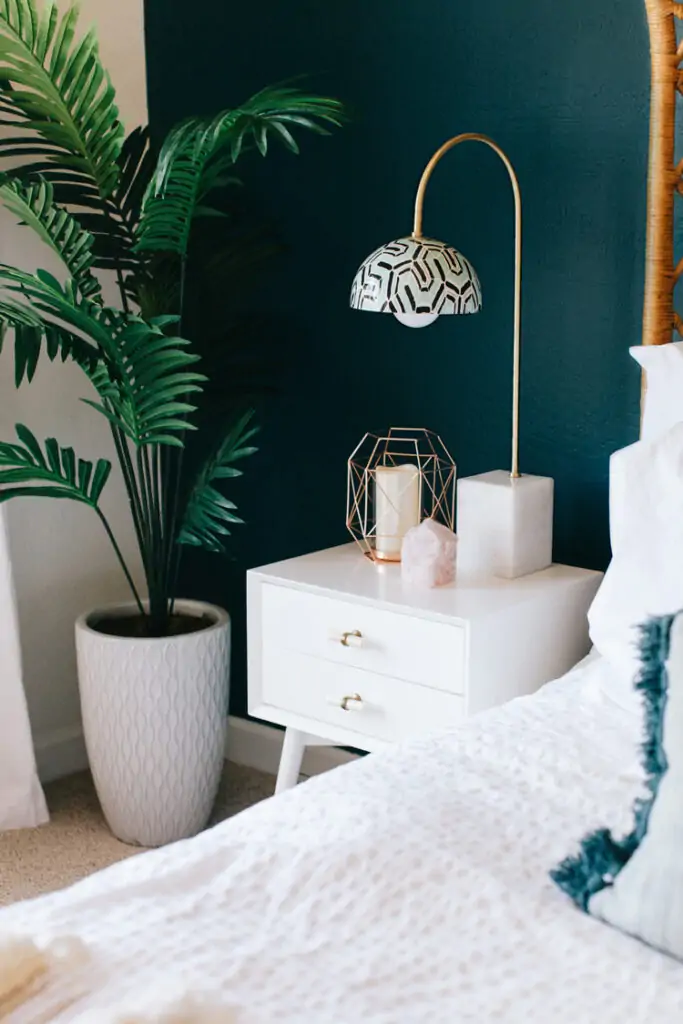 14. A Natural Look: Match the Style
Continuing with the theme of using lights for bedroom decor and not just for functionality — a woven lampshade fits well into this room's natural boho look. Despite its neutrality, the style looks very well thought out.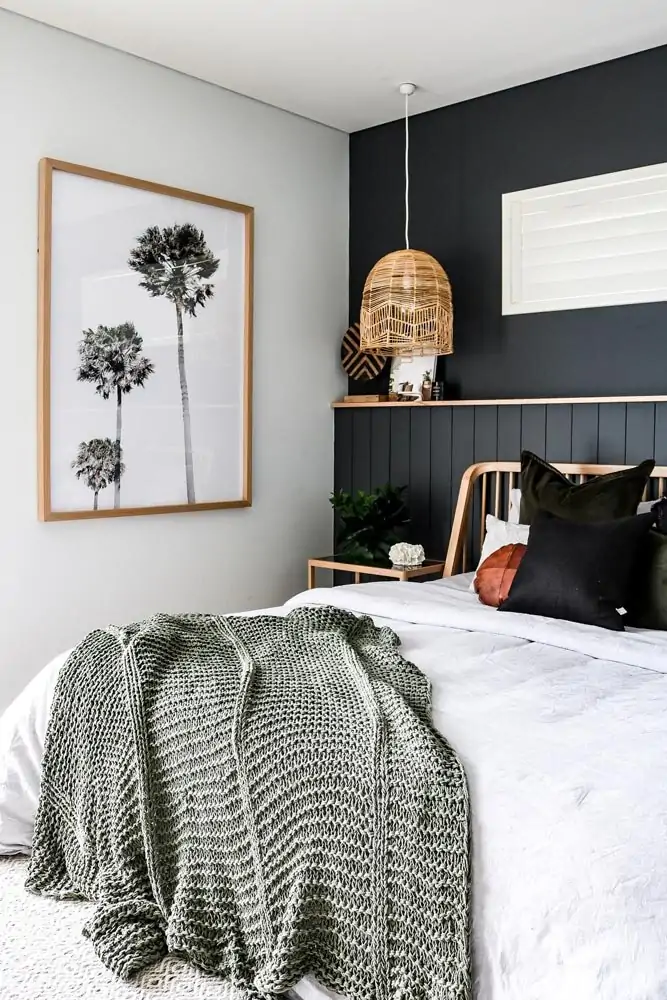 15. On the Spot: Versatile and Fun Options
There are numerous other very simple but really cool bedroom lighting ideas, such as using spotlights (or variations of them) as the main light source. Those kinds of lights are both stylish and convenient, as they are easily adjustable!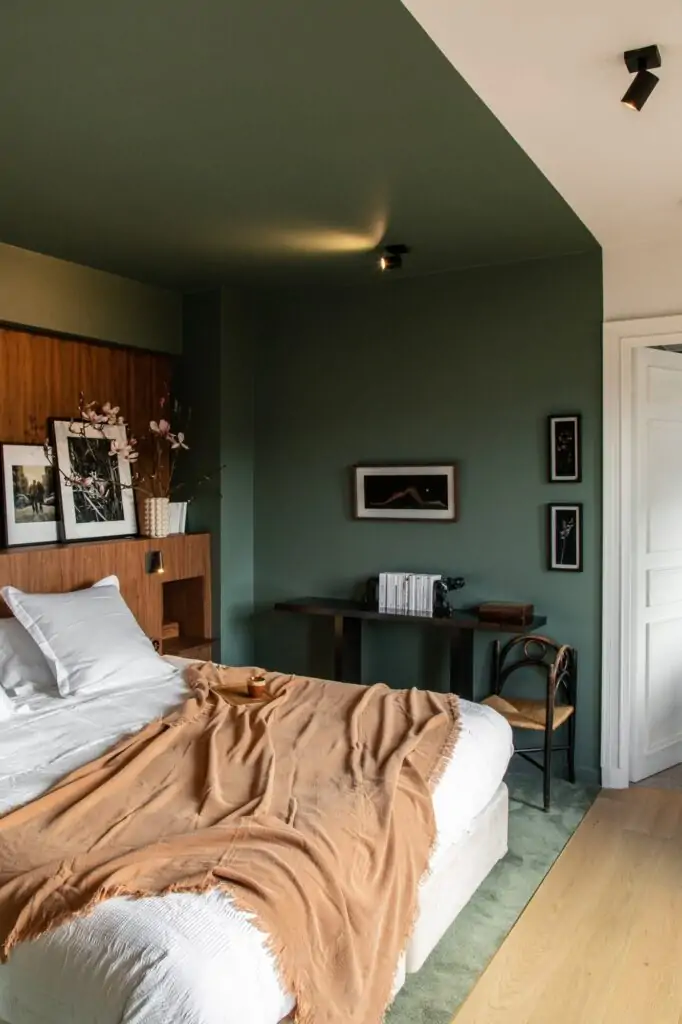 16. Focusing on What's Important: Think About Wheres and Whys
When you consider what kind of lighting for a bed you want to use, don't forget to think about the functionality. For example, if you like to read in bed and don't want to disturb your partner while doing that late, think about putting in a small, focused light source that can help you achieve just that.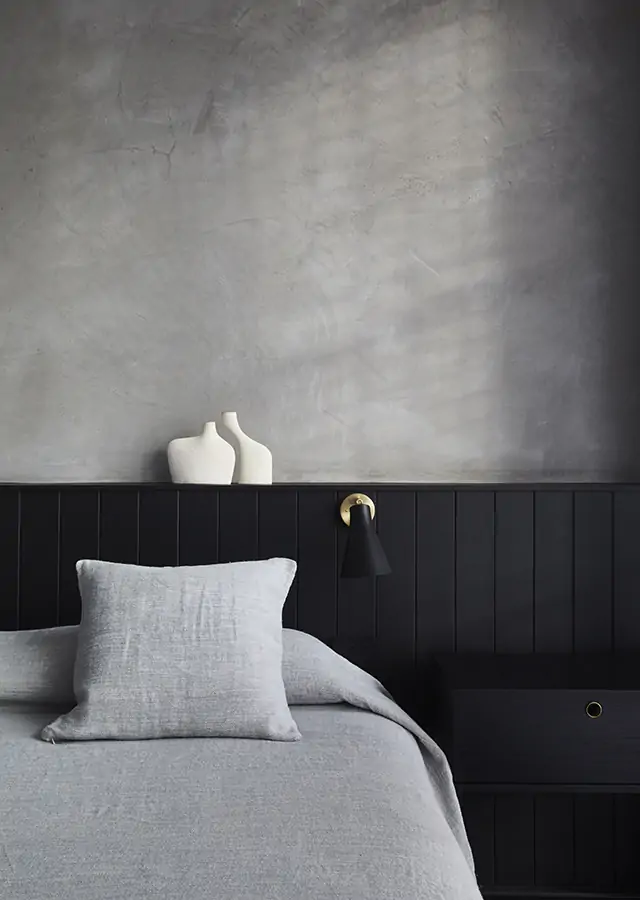 17. Small Is Great: Emphasize the Coziness
Small sources of light are also featured prominently in lighting ideas for a small bedroom: obviously, small spaces don't really need grand chandeliers. The bed nook in this example has a modest ceiling light and an even smaller wall lamp — but then again, would you even need anything else?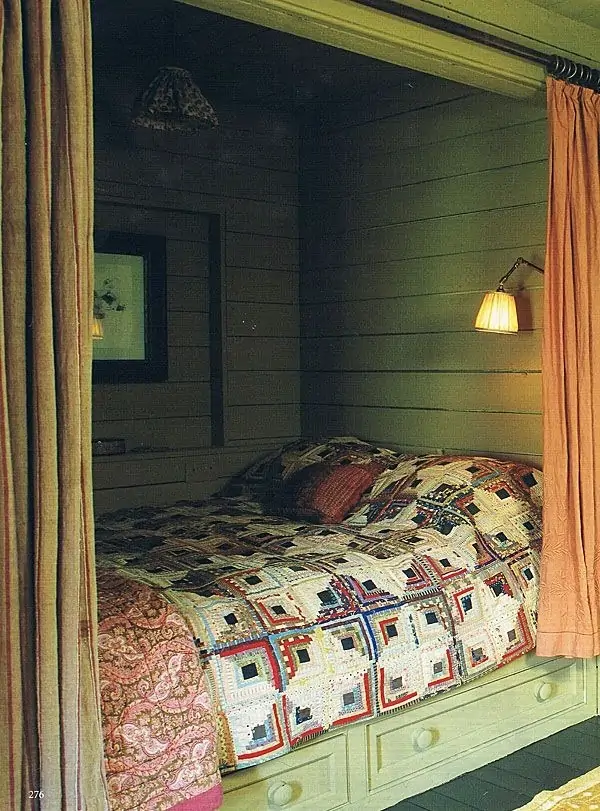 FAQ
Here you can find the answers to some of the popular questions that are asked about this topic.
What Lighting Is Best for Bedrooms?
The answer to this question will depend on your individual requirements. Here are some questions to consider that can help you determine what's right for you.
How much natural light do you get from your window, and how far into the room does it reach? Looking at those parameters can aid you in deciding how many lights you want and what their placement should be.
Do you need a ceiling light, or do you prefer many smaller light sources?
Do you want the lights in this room primarily to calm you down or to energize you? This will help you choose between the warmer and cooler shades.
What's the purpose of the room besides sleeping? Table, wall, and floor lamps should be utilized if you use the space for your hobbies, for example.
In general, using several light sources is a great practice and is usually very convenient.
Are Bedroom LED Lights Safe?
Led lights are actually a great option from the fire safety standpoint. They also consume very little electricity. One concern associated with them is the fact that they emit bluer wavelengths of light which are not very good for the eyes in the long term, so it's best to have additional warmer light sources to give your eyes some rest.
Where Should Lights Be Placed in a Bedroom?
Light up every corner of this room that's in use to avoid putting strain on your eyes: use reading lights next to or above your bed, table, or wall lamps close to your vanity, and some more sources around your closet. You can also use a ceiling light, although it's not really necessary if you find it to be too obvious an idea. In this case you can replace the main light source, such as a chandelier or a pendant light with something that's less of a statement piece: hidden recessed lights or hanging bulbs in parts of the room.
See more ideas, rules, and mistakes in this video:
Conclusion
There are many options to light up your private space nowadays. To help you choose the one you like, we put some outstanding choices of lighting for the bedroom — ideas to inspire you — into this article. Hopefully, one of them will light a spark in you! And you're always welcome back for more.