5+ Creative and Inspiring Ideas For a Small Nursery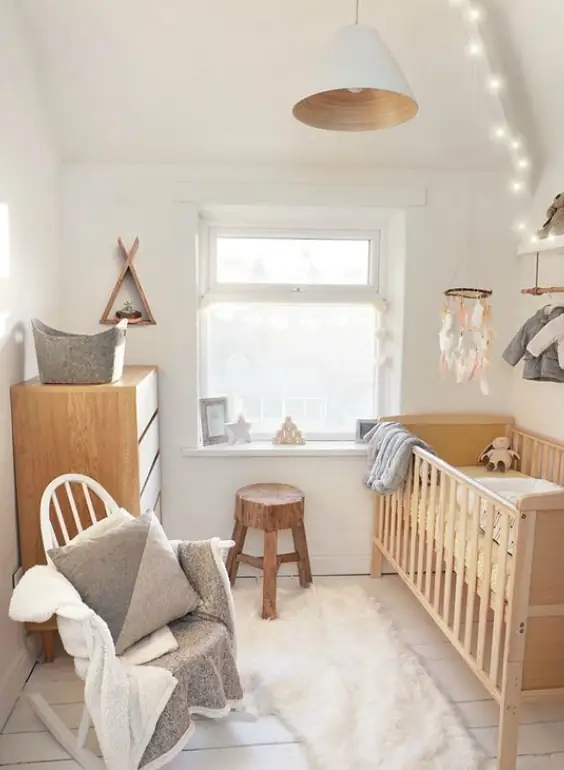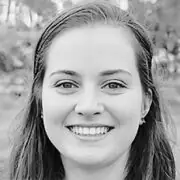 Are you expecting a baby and looking for fresh ideas for a small nursery? Creating a comfortable and functional room for your baby can be a challenging task, especially when you don't have the luxury of a large space. Fortunately, there are plenty of unique ways to make a small nursery look and feel inviting.
In this article, we will discuss some tips and tricks to help you make the most of your space. With a little imagination, the right furniture, and accessories, you can create the perfect nursery for your baby. So let's get started.
Use Walls for Hanging Shelves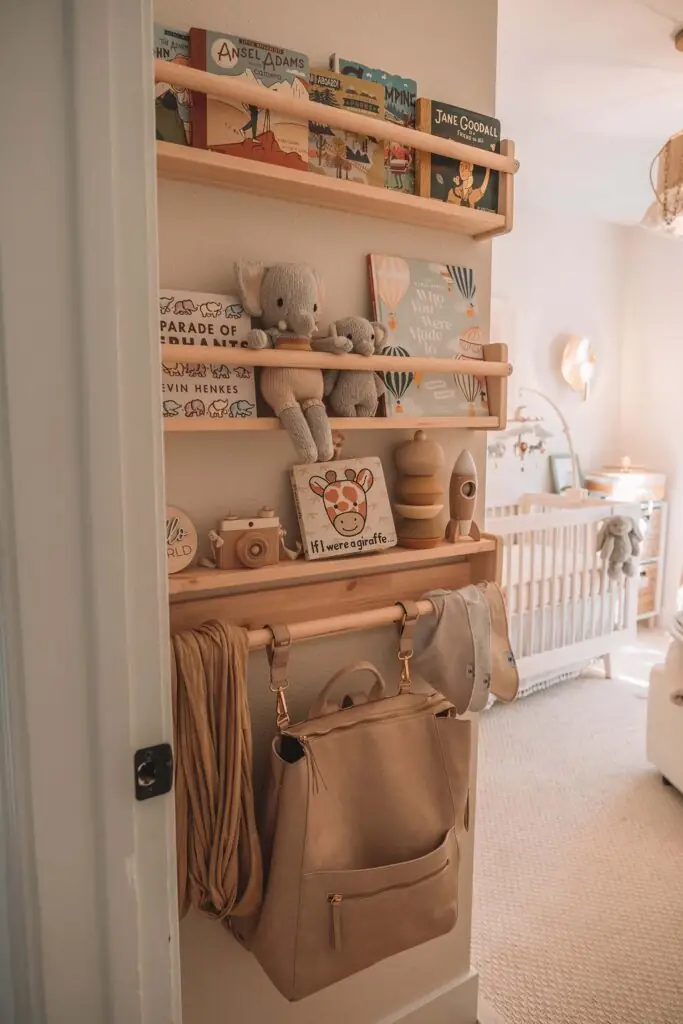 If you are wondering how to set up or decorate a small nursery, then using walls to hang several shelves is always a good choice. Shelves can be a great way to create a comfortable and attractive place for your baby. Besides, they can be used to take advantage of vertical space in a small room, providing a stylish and functional way to store items such as books, toys, and other necessities.
When styling shelves, try to keep their look simple and airy. You are also recommended to keep the color palette neutral and opt for decorative items with soft textures. This will help to create an inviting atmosphere that is perfect for relaxing and bonding with your baby.
On top of that, shelves can also be a great way to display photos and keepsakes. This will make the room a special place to be in for your family.
Incorporate Calming Lights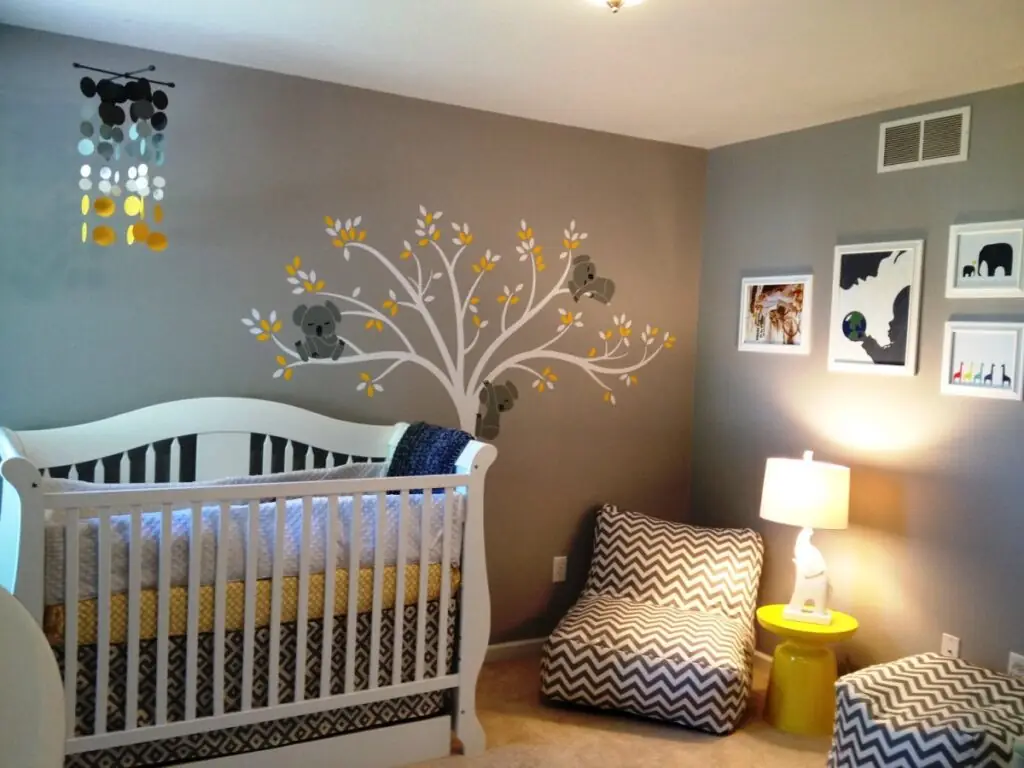 Calming lights are becoming increasingly popular as one of the greatest small nursery decor ideas. These lights come in a variety of sizes and colors, making it easy to find the perfect fit for your room. They can be used to highlight furniture or provide a soft glow for your baby's bedtime routine.
There are several different ways you can incorporate calming lights. You could opt for a light fixture that includes a nightlight, which can provide a soft, comforting glow. Alternatively, you can use ambient lights in the room, such as wall sconces or table lamps. These will help to create a peaceful atmosphere and can also be used to create a focal point in the room.
Additionally, you can place them near the crib to help make checking on your baby easier during the night.
Use Multi-Purpose Furniture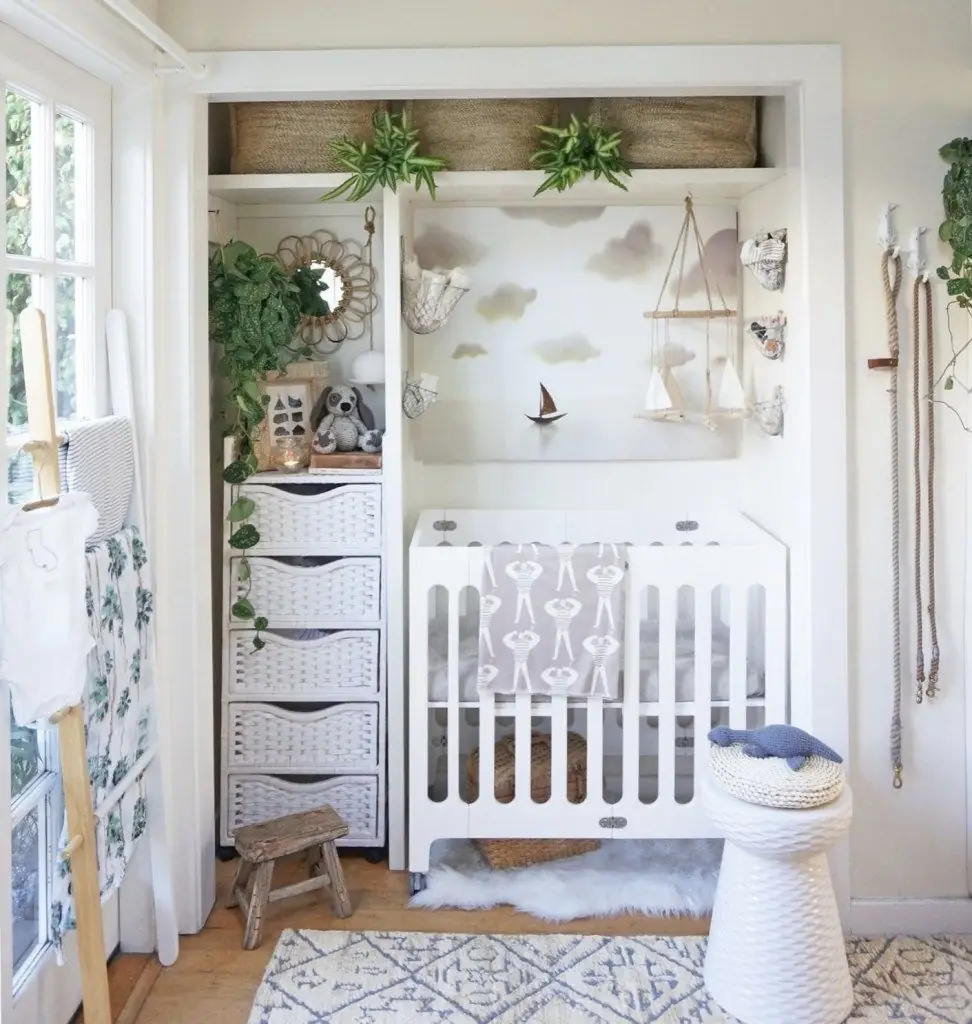 When it comes to nursery ideas for small apartments, it can be difficult to find furniture that is both functional and stylish. Multi-purpose furniture is always an excellent way to maximize the space and make the most of the room.
A versatile crib is a perfect choice for a small nursery. Many cribs come with a drawer underneath that can be used to store extra linens or clothing. You can also find cribs that have a changing table attached. This will eliminate the need for an extra piece of furniture, saving you space and money.
In addition, a beanbag is also a piece of furniture you should consider buying. This can be used as a comfortable seating area for you and your baby during storytime, and it can also be used as a play mat when your little one is playing. They usually come in a variety of colors and styles, so it is easy to find one that matches the decor.
Small Nursery Ideas For Twins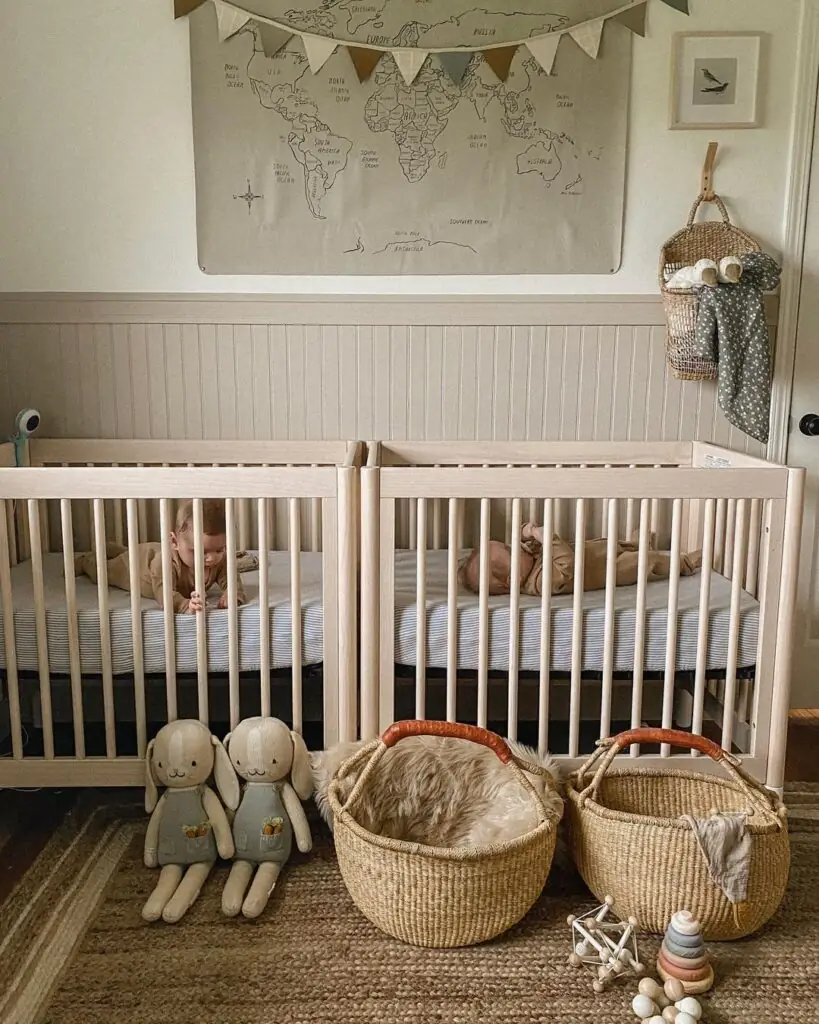 If you are expecting twins, chances are you are already feeling overwhelmed. Not only do you have to prepare for two little bundles of joy, but you also need to come up with a room design that will fit both babies and all their needs. The good news is you don't have to spend a fortune to design a stylish and functional nursery for your twins.
Choose a color scheme that's gender-neutral. A soft, neutral palette will help you create a sense of balance and calm. When it comes to picking out furniture, look for pieces that are dual-purpose.
You can place two cribs side-by-side, making sure there is enough space between them for you to move. You can also use bookcases or shelves to store diapers, clothes, and other items. No matter how small your room is, with a little creativity and some of the twin nursery ideas for small rooms, you can turn it into a comfortable place for your twins.
Add a Fluffy Rug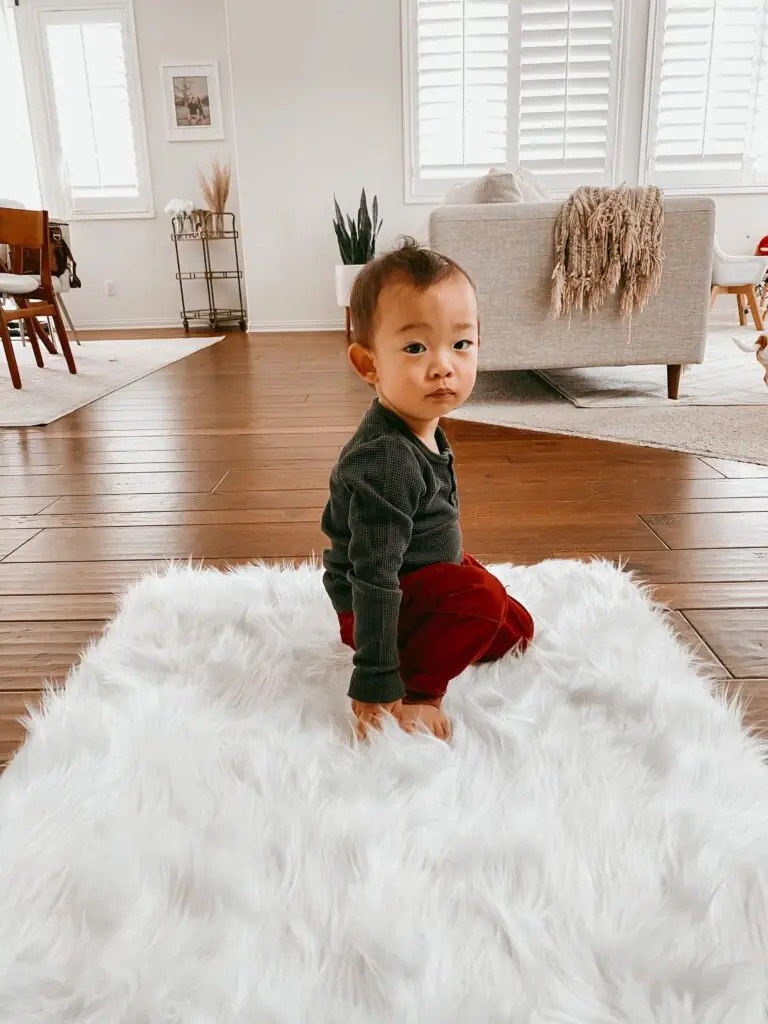 If you want to add some warmth and charm to a small playroom, cozy, fluffy rugs are the perfect way to make the house come alive. Not only do they provide comfort for little ones as they play, but a fluffy rug can also bring in some cozy vibes.
You should start by choosing a rug with a neutral pattern and color. This will ensure that the rug will blend well with any furniture or decor that might change in the future. A white, light gray, ivory or blush rug will be a great choice for a soft, subtle look.
Besides, a great feature of fluffy rugs is that they are made of hypoallergenic materials, so they are safe for babies with sensitive skin or allergies. They also have a non-slip backing, which is great for keeping kids safe on hard floors.
Space-Saving Closets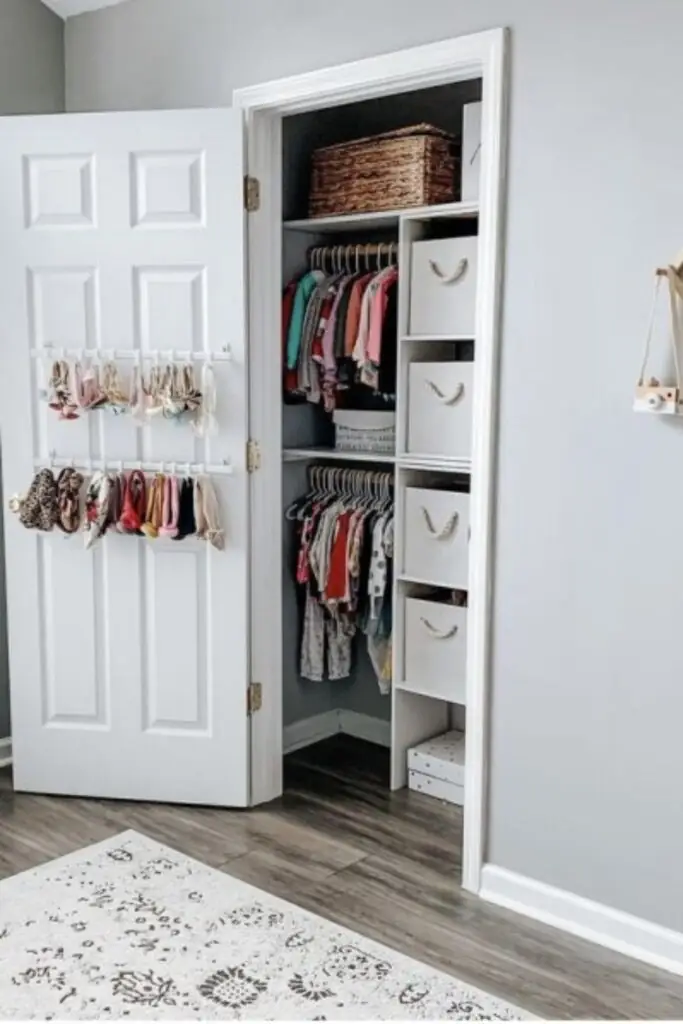 When it comes to nursery storage ideas for small rooms and spaces, every case is very different — solutions that are ideal for one room won't work for another. Still, that doesn't mean you can't create a beautiful and functional place for your little one.
Maximizing closet space is one of the most important things you need to consider. Utilizing a wall or even a door is a great way to create more storage in a small room. You can hang shelves, adding additional storage for items such as diapers, bottles, and other supplies. Using wall-mounted hangers is also a great approach to keeping clothing organized and off the floor.
If you are looking for a more creative solution, consider hanging baskets from the closet rod. Not only will this provide additional storage, but it is also a great way to bring in a pop of color. You could also hang a shoe organizer on the back of the door. These effective yet very simple small nursery ideas will help you make the most of your limited area.
Final Thoughts
Creating a playroom for your new bundle of joy does not have to be a daunting task. With the right strategy and a little bit of imagination, you can design a beautiful, safe, and comfortable area for your baby to grow and thrive.
Whether you go for neutral colors, bright and vivid shades, or natural textiles, designing a small nursery is an exciting and rewarding experience. Most importantly, do not forget to make it special. After all, it will be the place where your little one will spend the most precious moments of their childhood. So, with the right ideas for a small nursery, you can create an unforgettable place that you and your child will treasure forever.