10+ Inspiring Color Ideas for Your Bedroom Remodel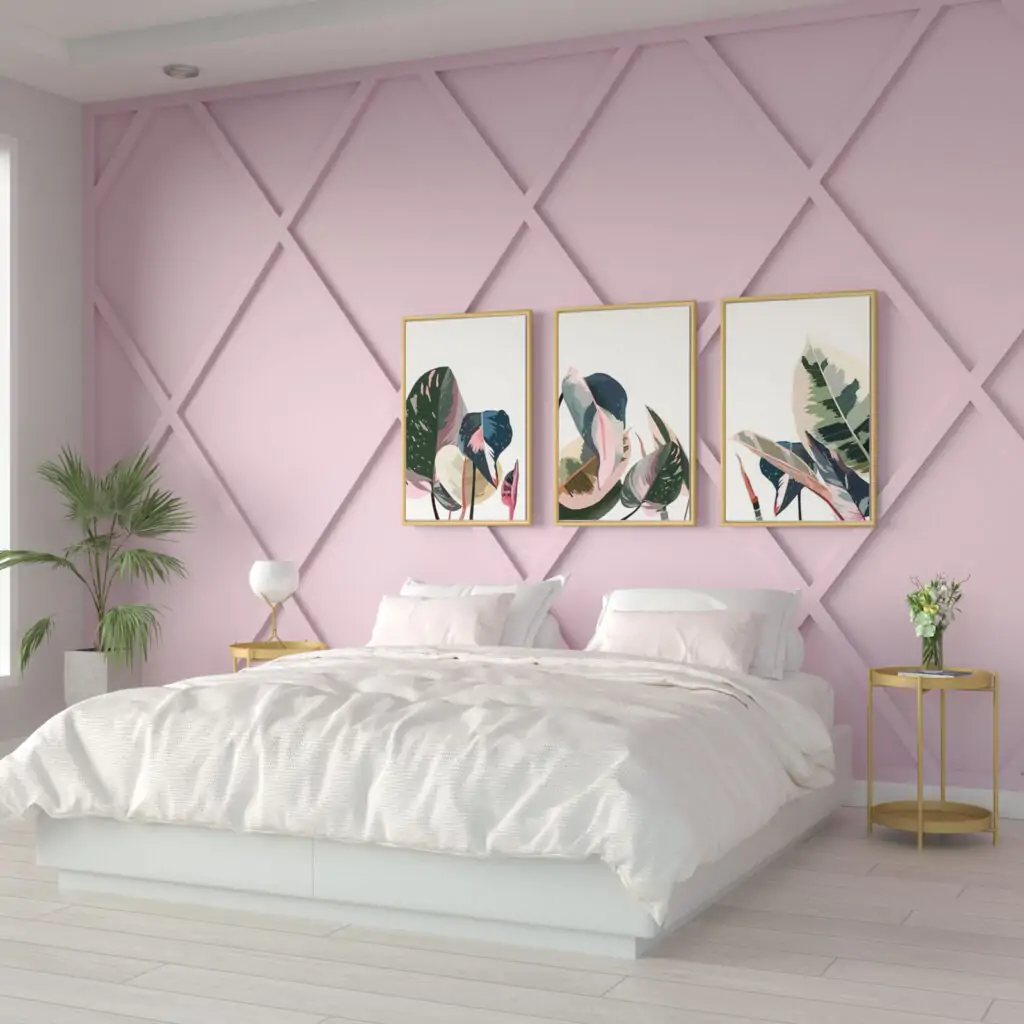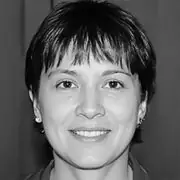 Colors mean different things to different people – they could hold religious and cultural meanings but also affect your mood and emotions. It can come as a surprise then that many people choose color ideas for their bedroom without considering how these paint schemes can directly or indirectly leave them feeling detached from their hidden sanctuary away from the stressful world.
On the other hand, many amateur designers combine mix-matched color palette ideas for the bedroom, creating a contrasting and overly busy atmosphere that does not echo your style. A choice like this leaves your walls imbalanced and in urgent need of interior remodeling.
It is true that flashy bedroom color ideas can help you create a magazine-worthy look for your space. Still, when it involves your private sanctuary, you deserve a harmonious color scheme that complements your style. Continue reading to find some of the best ways to seamlessly integrate meaningful paint schemes into your sleeping sanctuary.
1. Paint the Fifth Wall in Medium Gray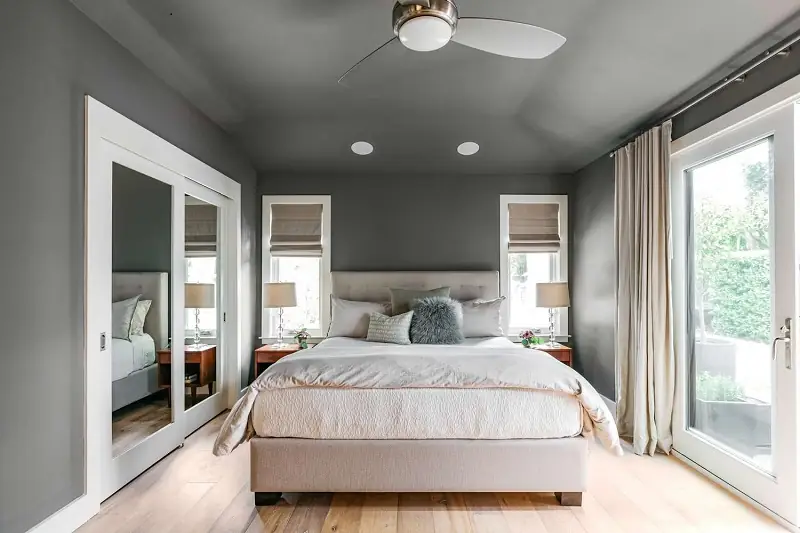 When it comes to interior decorations, the ceiling is one of the most frequently overlooked parts of the house that is left looking dull and ordinary. Remember, the ceiling, no matter how low or high, is part of your room's architecture and can significantly affect its character. Fortunately, classic paint schemes can make it stand out.
For most people, classic white paint is a favorite since it gives a minimalist yet sophisticated feel. Then again, if you have a small space, you want to consider using lighter colors like medium gray. Colors like this make your small ceiling look larger or taller.
Pro tip: When considering lighter shade color ideas for a small bedroom, medium gray is not the only viable option you have. Light tones like off-white, beacon gray, baby blue, and lime green offer the same effects as medium gray.
2. Choose Neutral Tones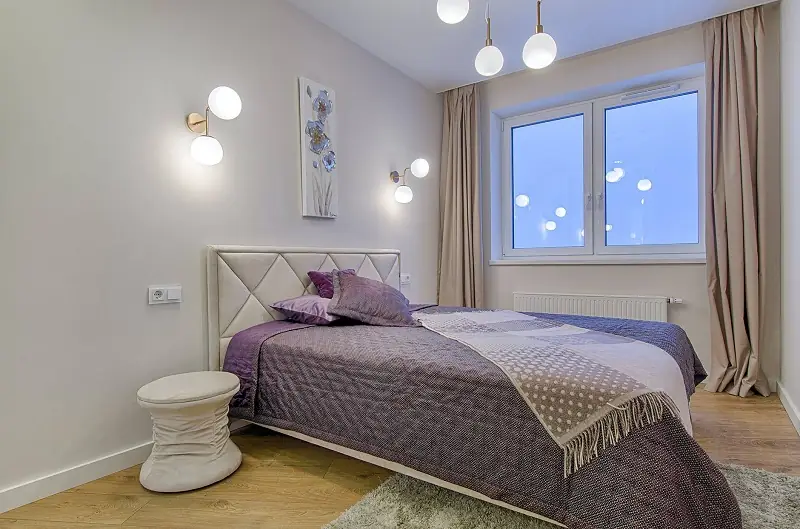 Neutral tones may seem dull, but they are some of the best bedroom colors ideas for adults. The simple reason is that most adults, especially today's Gen Zers, love a minimalist statement that allows for creativity.
Neutral pallets like cream and light lilac give adults complete control of how to decorate around the walls. Furthermore, their clean, soft, and simple pigments mean you won't have to worry about light reflections or distractions when trying to sleep.
In this picture, this muted pastel shade gives the sleeping space a comforting and calming atmosphere. The muted pastel shade also blends effortlessly with white, blue, black, or yellow tones, depending on the artistic touch you want to add to your sleeping sanctuary.
3. Nude Color Combinations for the Bedroom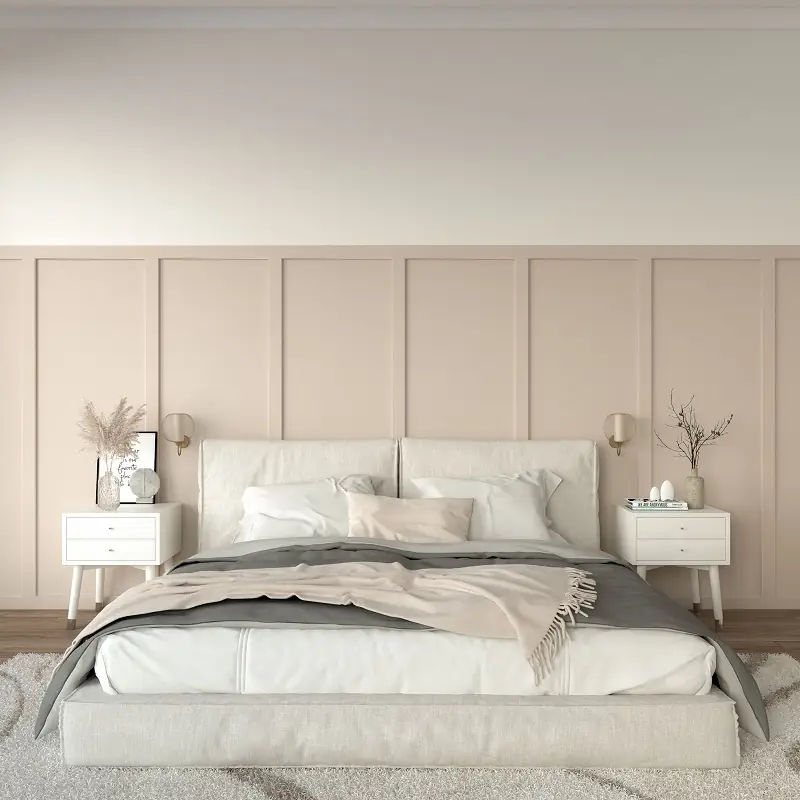 Nude colors were once among the most underrated neutral tones. These days, however, everyone in the fashion industry knows that a nude-based tone is a must-use since it helps create a bold, elegant, and classy statement. What happens when you combine different shades of nude?
Nude-based color combinations for bedroom walls are the mother of dramatic interior designs. Imagine mixing different shades of nude, from ivory to toffee taupe, champagne, stone, and dusty rose across the room's walls, furniture, and accessories. These combinations will give your space a luxurious glow, perfect for a relaxing time.
4. Use Chocolate Palette for Your Furniture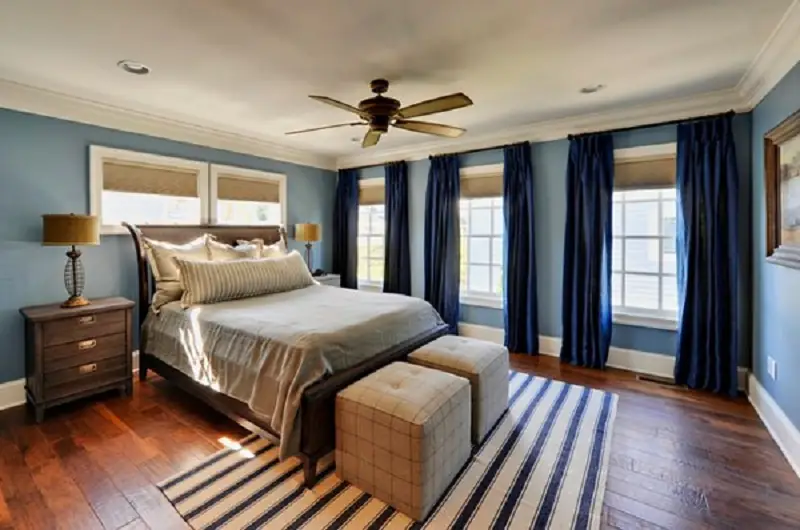 The very first thing you need to know about chocolate color is that anything goes with it. Chocolate hues are one of the best paint ideas for mens bedroom thanks to their bold, rustic, and dramatic vibe every macho man loves.
Then again, just like black, chocolate can make a room feel like the four walls of a dungeon if used excessively. So, an ideal way to insert chocolate textures into your space is to use them on your furniture.
In this room, the dark chocolate flooring and furniture make the light blue-colored wall look vivid. If you love neutral colors like gray and beige, the best part of chocolate-based paint ideas for bedroom furniture is they effortlessly blend with every other paint scheme in the room while adding a masculine finishing touch with ease.
5. A Pretty Pink for Your Little Girl's Room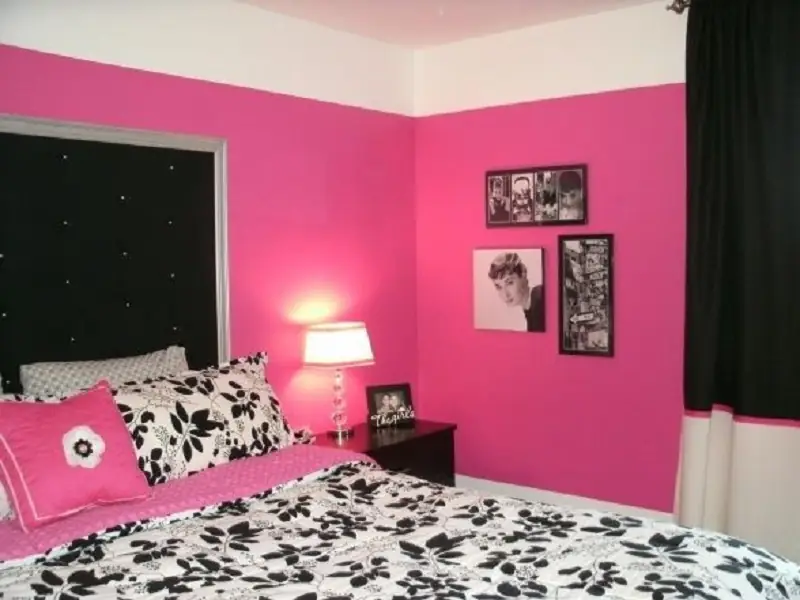 Every little girl dreams of having a pink Barbie-themed princess set up in her room. Making your daughter's dreams come true doesn't have to be so difficult with pink color schemes for the bedroom. On the other hand, pink might seem like a kid's fantasy, but you don't have to let go of your childhood dreams when it comes to pink tones.
This beautiful pink-themed room exploits the strongest shades of pink from the walls to throw pillows, making the room look sophisticated. We also love the lighting and black paint effects that further elevate this feminine design so ladies won't shy away from their childhood princess fantasies.
6. Terracotta for Your Guest Room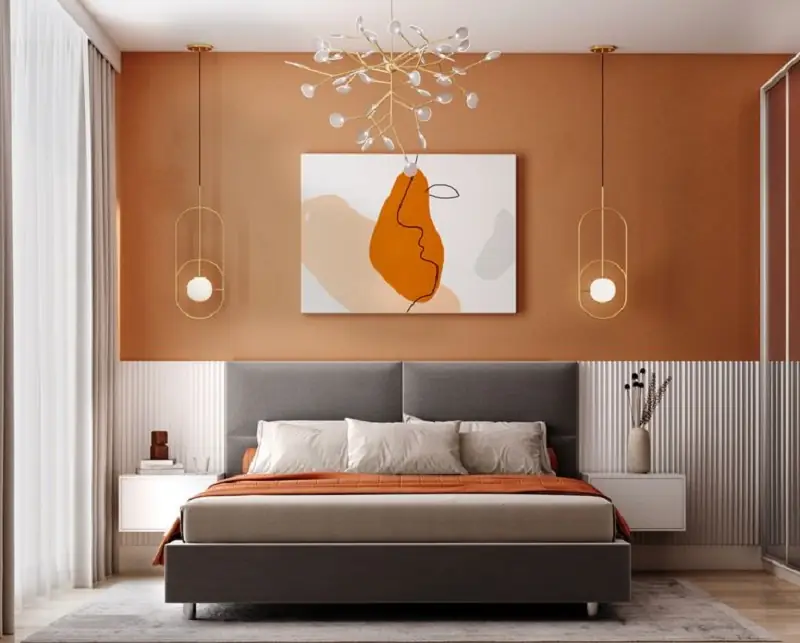 Like all understated colors, terracotta is a tone that can feel less creative at first glance but will be a welcome departure from the classic all-white color ideas for the guest bedroom most people use.
This terracotta wall canvas makes the room exude warmth in a simple yet dramatic way. Then again, what we really love about this idea is the unexpected appeal it offers. Most people won't expect a brown paint scheme in their room but love it when they find that the painted canvas allows them to experiment with color combinations, furniture, and accessories.
7. Khaki Green Makes Your Attics Look Sleek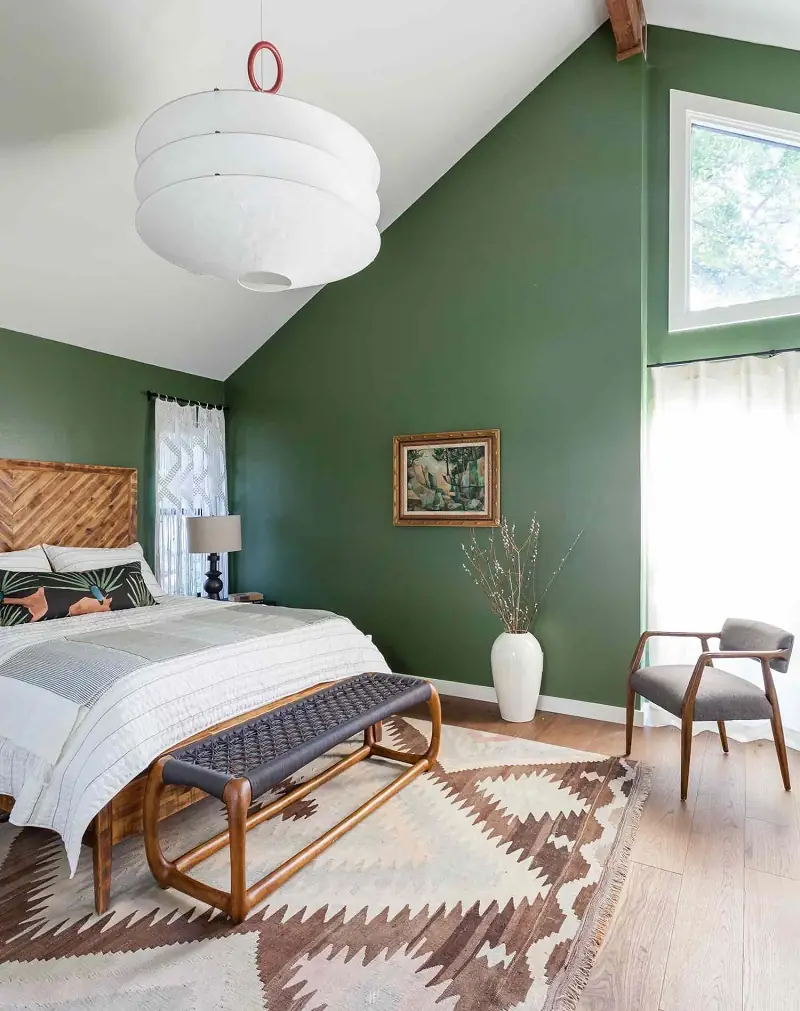 Love the outdoors and want to add some natural features of the outdoor environment into a part of your home? A nature-inspired shade of green will ideally suit an attic bedroom.
Paint ideas for attic bedrooms should not just look cool. An attic, like the basement, is a place most people rarely visit. However, it is a hidden part of the house that gives you access to watch the beauties of nature you love. Hence, when using paints for small attic rooms, ensure the accent color looks bold and breathtaking.
In this bedroom, the khaki green shades add a traditional vibe to the space. Plus, paired with the wooden chair, the khaki paint in this small attic room looks especially aesthetically pleasing.
8. Use High Gloss Paints for the Walls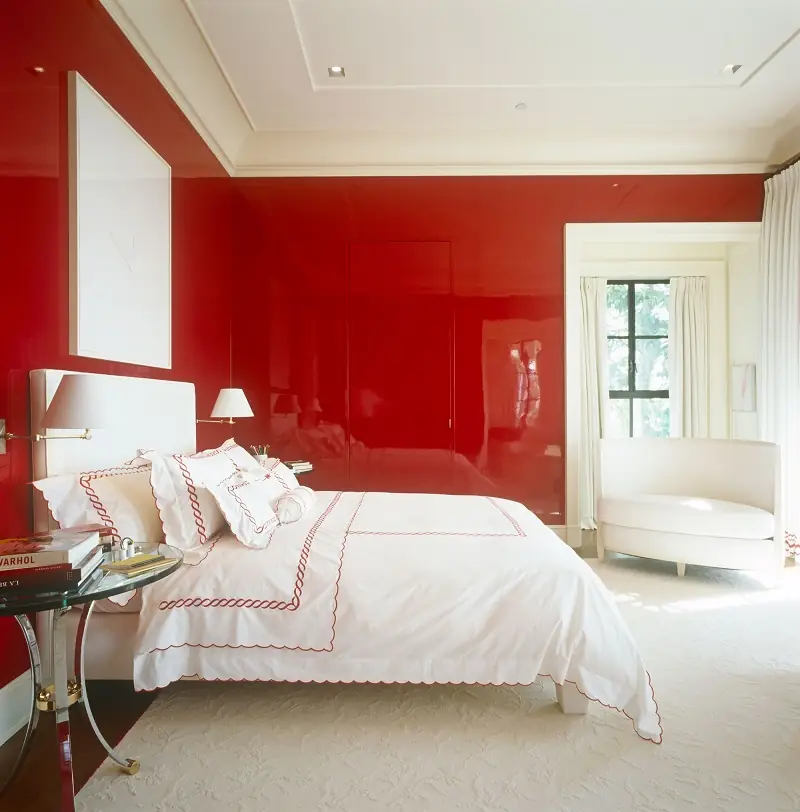 Glossy paints always look shiny, no matter the time of the day. So, if you love reflective colors and need some shiny paint ideas for bedroom walls to make a bold statement, high gloss paints are the right way to go.
An advantage of high-gloss paints is that they give off a bold yet timeless and jaw-dropping aesthetic appeal, as shown in this picture. In this bedroom, the rich glowing sheen of this red color bounces light across the room at night, giving your space a dimly lit, calming glow while you sleep.
9. Crisp White Walls Energize Your Space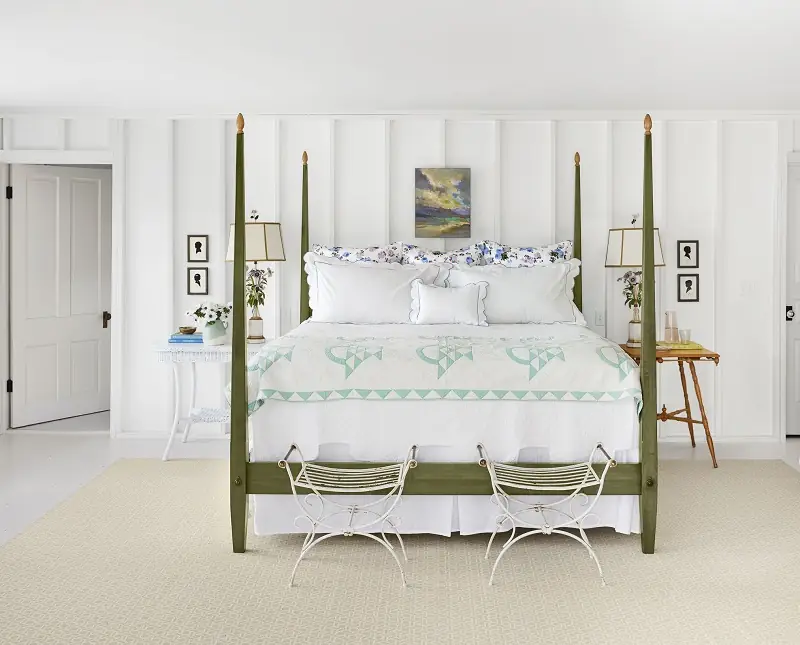 White is a standard color used by most people in their rooms, but some see a white hue as dull and lifeless. No matter what some people believe, if you need paint ideas for the master bedroom, an all-white scheme will be a simple yet timeless show-stopping tone to make your space feel fresh.
The biggest merit of all-white color ideas for the master bedroom is that although they lack color infusions, they allow you to make a statement with creative designs and highlights, such as art pieces, throw pillows, curtains, and small decorative accessories that make your room stand out more.
10. A Deep Dark Purple for an Emboldened Look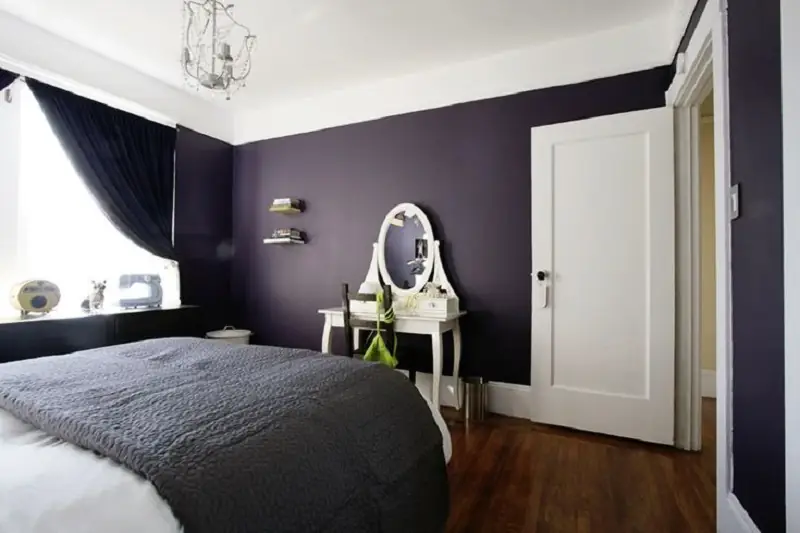 Dark colors are a modern trend, but as mentioned earlier, most people will rather opt for any dark color other than black. If a black or chocolate palette isn't to your liking, deep dark purple tones may be the safest bold color ideas for bedroom walls to try.
Deep blue paints create a cozy atmosphere when paired with white and neutral tones like cream and beige. You can also create a welcoming contrast by adding a piece of furniture painted in light hues.
What is a Good Color for a Bedroom
The best colors for a bedroom are entirely based on your preference. Do you need something that motivates you before starting your day? Or do you prefer a relaxing sanctuary for pure respite?
Soft colors add warmth to your space, making it feel cozy and intimate. Cool colors like light baby blue make your space feel refreshing. On the other hand, deep dark tones will help you create a bold, dramatic and energizing atmosphere. However, your guest bedroom will look better in relaxing tones since they appeal to different kinds of tastes.
Conclusion
So, what colors are good for a bedroom? The best paint for your relaxing sanctuary is one that echoes your style and personality. Neutral tones, off-white, crisp white, deep dark purple, nude, pink, medium gray, terracotta, chocolate, and high-gloss paints will bring out the best results when used right, and depending on the concept you have in mind, you'll find it easy to switch up your room's atmosphere with these colors.
Whether you love dark hues, soft tones, or cool shades, we hope you find one interesting option from our color ideas for the bedroom to add just the right character to your space.