15 Beautiful and Inventive Wainscoting Ideas for Bathrooms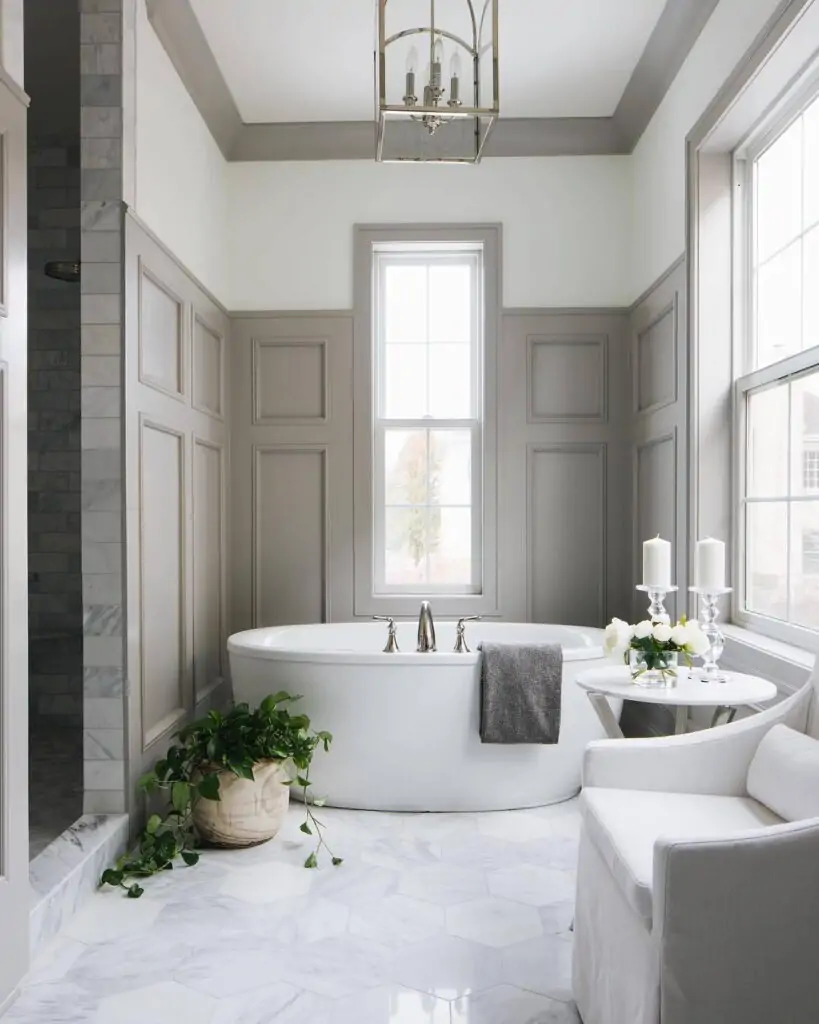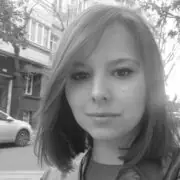 Wainscoting is a tried and true way to breathe some extra life into wall design — which is why wainscoting ideas for bathrooms present some great opportunities for decorating the room, which is usually designed for a purpose and not necessarily for beauty.
So, what exactly does it mean? Traditionally, this technique has meant covering the lower part (usually around a third) of the wall with wooden panels for decoration and protection. Today, this decor can be expanded to mean almost any type of paneling — which is good news specifically for using wainscoting ideas in a bathroom: wood can be a little bit high-maintenance in a humid environment, and therefore, it's good to have other options. There are no strict limits on the height of the paneling these days, either.
Need more convincing? Let's dive into pictures of ideas for wainscoting a bathroom, so you can see for yourself how powerful this kind of design can be.
1. Living Classics: Old-School Paneling for a Classy Vibe
Classic white panels fit this bathroom really well, giving it a clean, no-nonsense look. Interestingly, they don't distract from the decidedly modern fixtures and cabinetry but work in concert with them: for example, the wainscoted sleek glass shower cabin looks simply immaculate.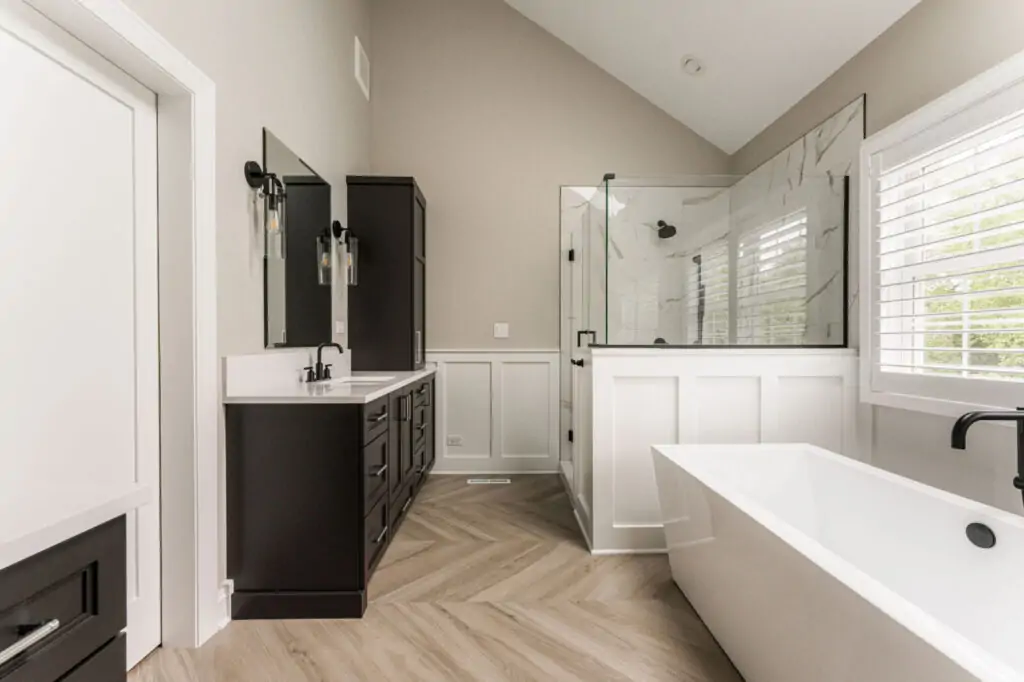 2. Farmhouse Chic: Beauty in Utility
For a long time, wall paneling was usually done in bedrooms or living rooms, and the bathrooms with wainscoting ideas could be seen mostly in rustic or farmhouse-style homes. While wainscoted bathrooms may have expanded beyond those styles, there's still something warm and inviting in a true farmhouse washroom — complete with the wood paneling. The hooks in the wall serve as a reminder that decor can be useful, too.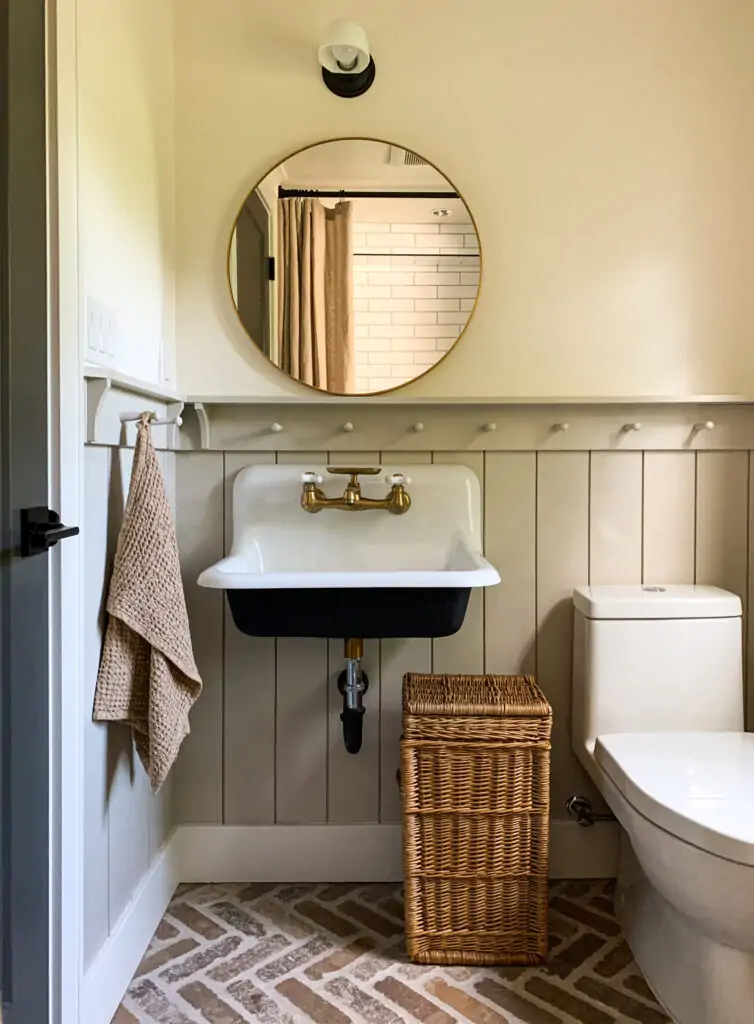 3. Divide and Expand: Graphic Walls
Wainscoting ideas for small bathrooms usually create a play on geometry to visually expand the room. For example, these simple wall panels, topped with tiles, divide the wall space, creating visual variety.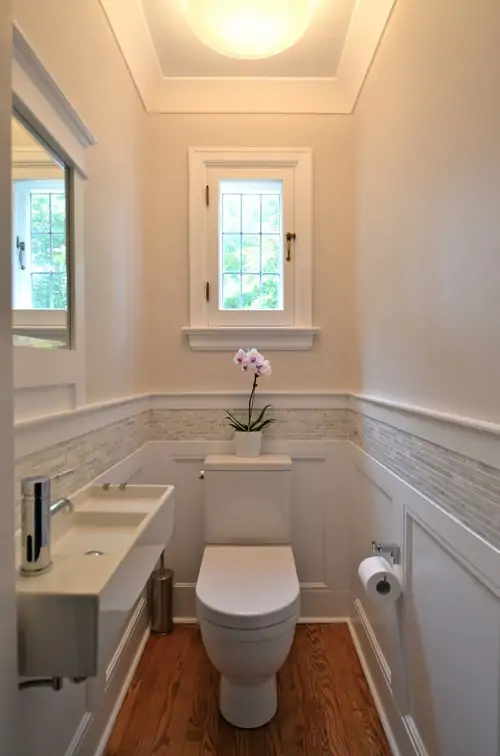 4. All Eyes on Me: Play with Contrast
There are other simple small bathroom wainscoting ideas, such as dividing the room with a sharp contrast between the walls and paneling. In this case, the wall is quite dark, creating a juxtaposition with white panels — this effect draws attention away from the room's size.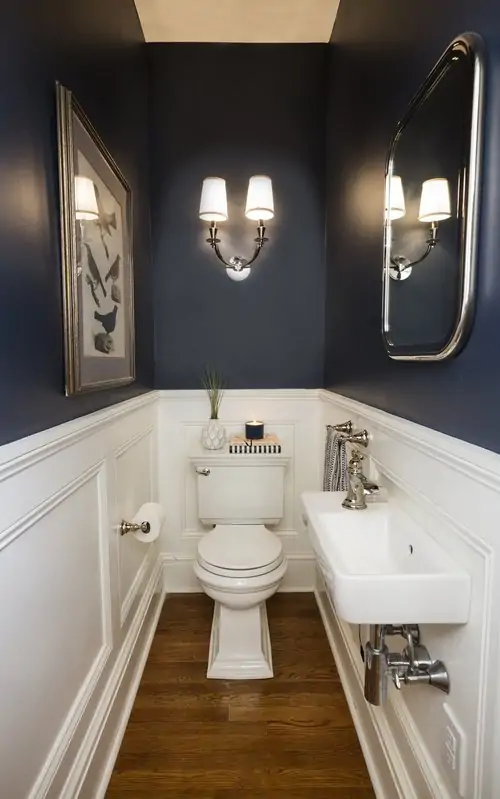 5. Beadboard, Beadboard Everywhere: Paneling Around Your Bathtub
Beadboard is one of the more popular materials for many reasons, one of which is that it's quite versatile. It's easy to decorate any part of your bathroom with this kind of paneling or apply other beadboard ideas for bathrooms — such as putting it around your bathtub and matching it with the wall panels.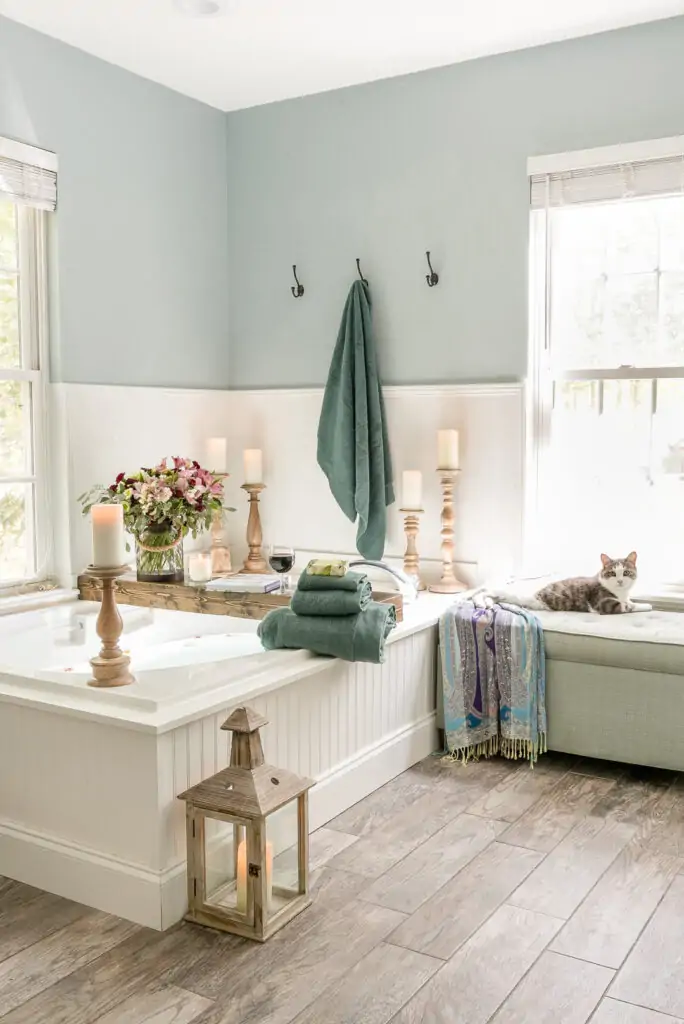 6. (Versa) Tile: Great for Accents
Bathroom tile wainscoting ideas can be amazingly simple: in the picture, classic square white tiles are used in contrast to the darker walls to create a superb ensemble. It also works in concert with the — equally classic — black tiling, creating accents in all the right places.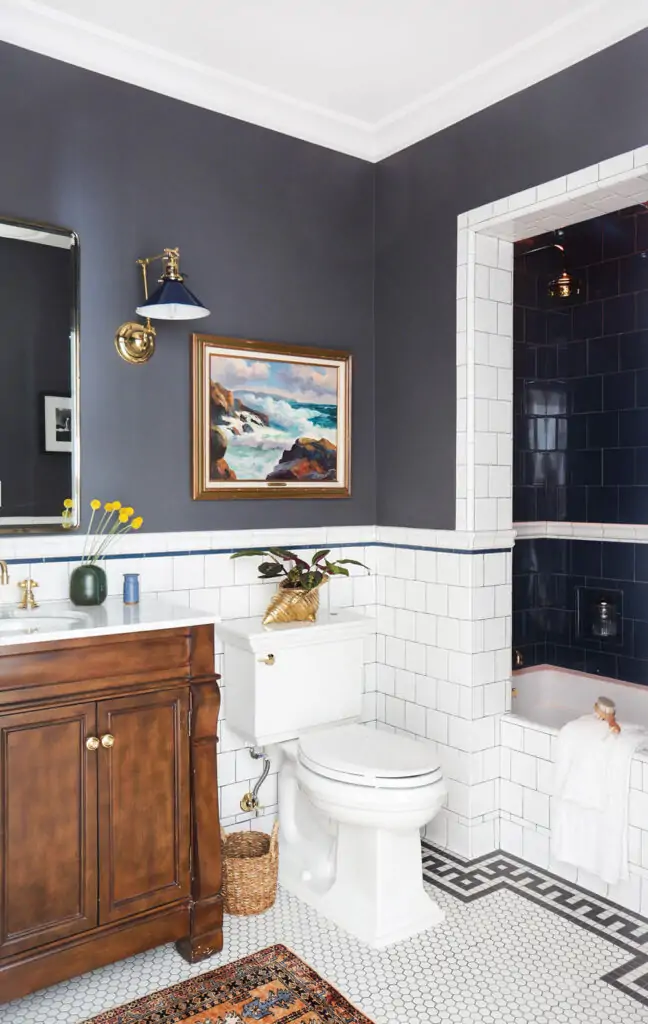 7. Patterns: There's More than One Way to Lay the Tiles
On the other hand, there's no limit to how complex your tiling can be! Here, the tiles are laid in a beautiful herringbone pattern. The floors are done the same way, creating a finished look — but note that the rest of the room is very simple to avoid visual overload.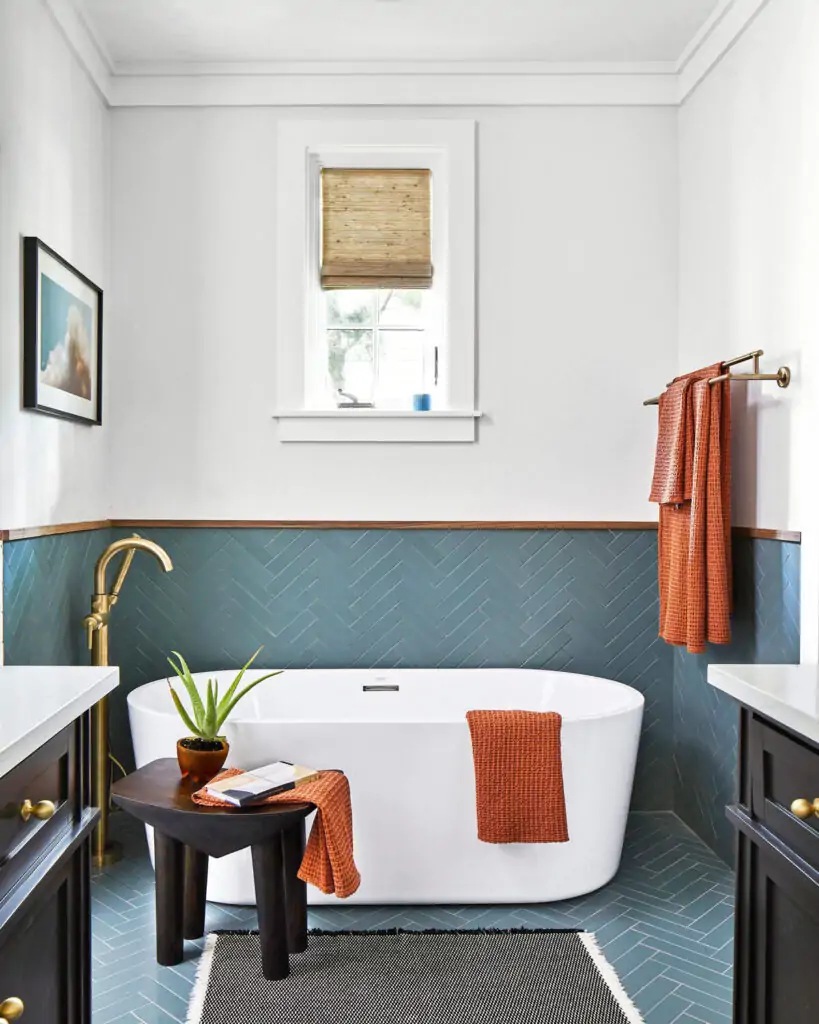 8. Easy on the Eyes: Mind the Color Palette
We'd be clearly mistaken if we didn't mention classic green among the color ideas for wainscoting in a bathroom. The green color calms your eyes and mind without being overwhelming (since it's used as an accent) — and what else do you need when relaxing in a bath?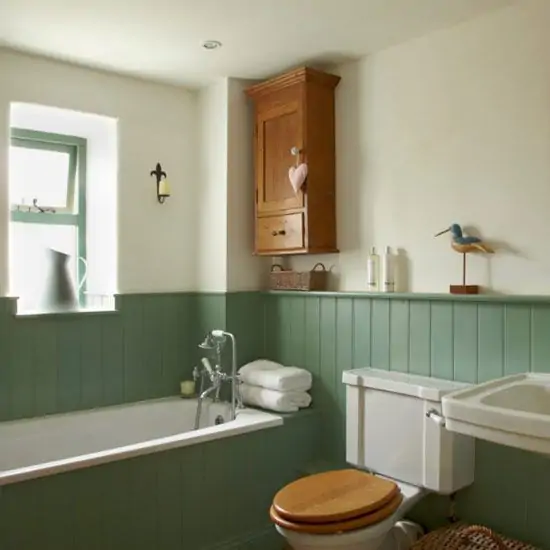 9. Look Alive: A Fun Vibe to Start the Day
Calmness may not be what you are looking for in your bathroom decor. Luckily, it's easy to design a bathroom that you'd feel energized in! One way to do that is to use rich-colored wall decor. In the picture, it's made of reclaimed wood planks, which can be an additional mood booster for an ecologically-minded owner.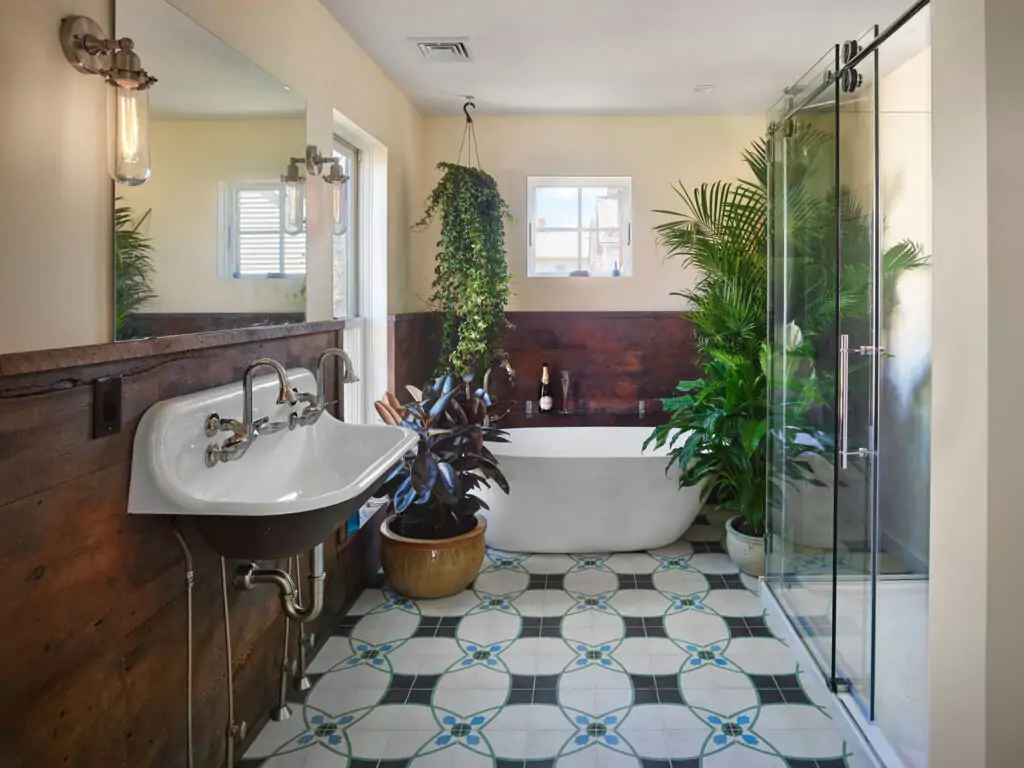 10. Dark on Dark: Not Everyone Can Pull It Off
Here's yet another idea concerning the color palette of bathrooms: you can make your walls monochrome! While just painting your walls one color might be boring, the texture of the panels is what makes this idea interesting. For example, the dark gray walls in the picture give the room quite a sophisticated look.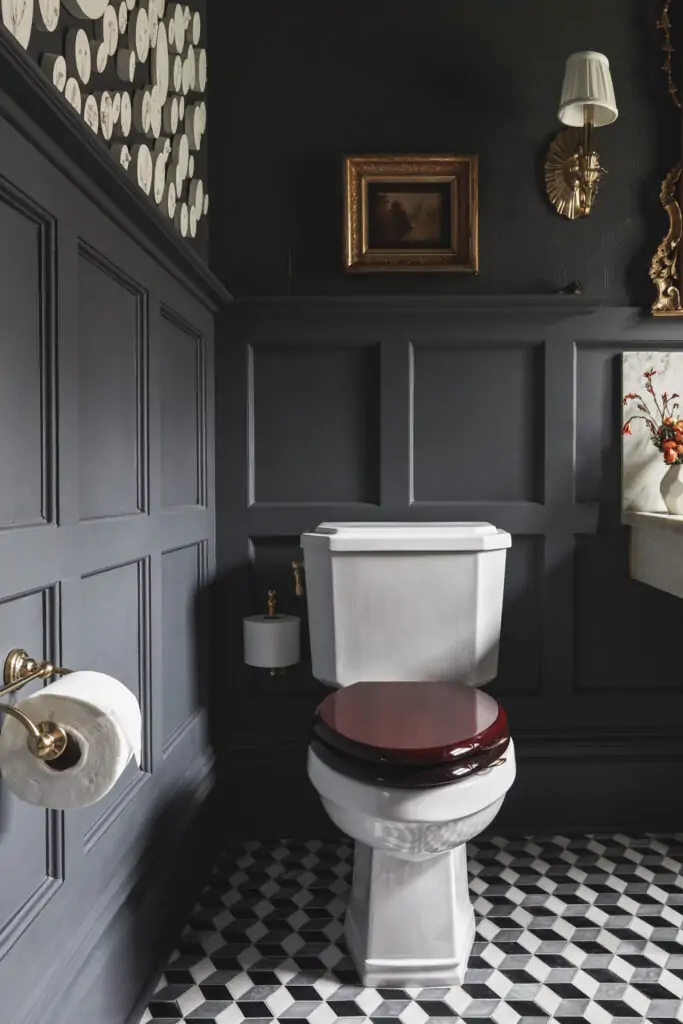 11. Accent, Accent on the Wall: Half-Measures Are Good (Sometimes)
You don't have to commit to remodeling your whole bathroom to try partial wall paneling out. Decorating an accent wall (or a couple of them) in this style works just as well! Here, faux brick detailing adds just enough playfulness to the room without being a show stealer.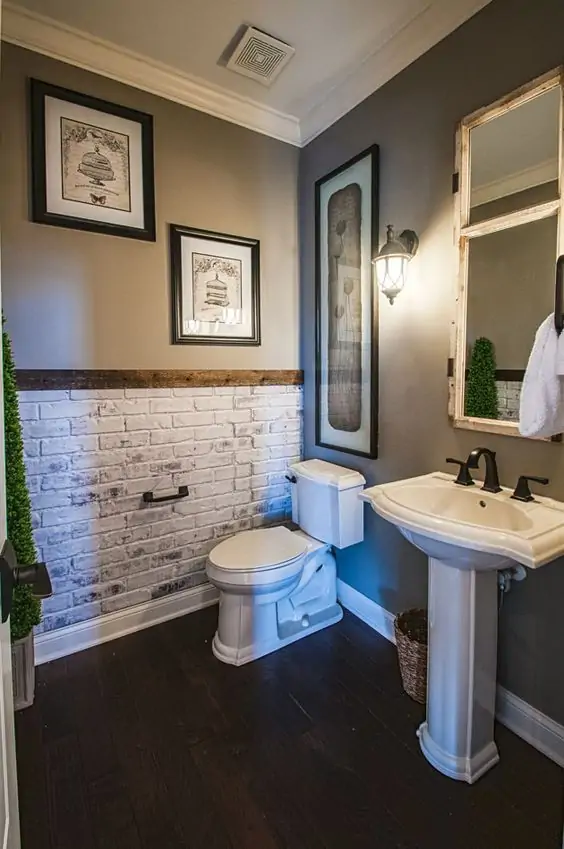 12. Upside Down: Rules — What Rules?
How high should wainscoting be in a bathroom? As we said, there are absolutely no hard and fast rules. Even though there are suggestions (i.e., putting panels on the lower third of the wall), they can easily be ignored, as evidenced by this picture where the paneling is actually on the upper part of the wall!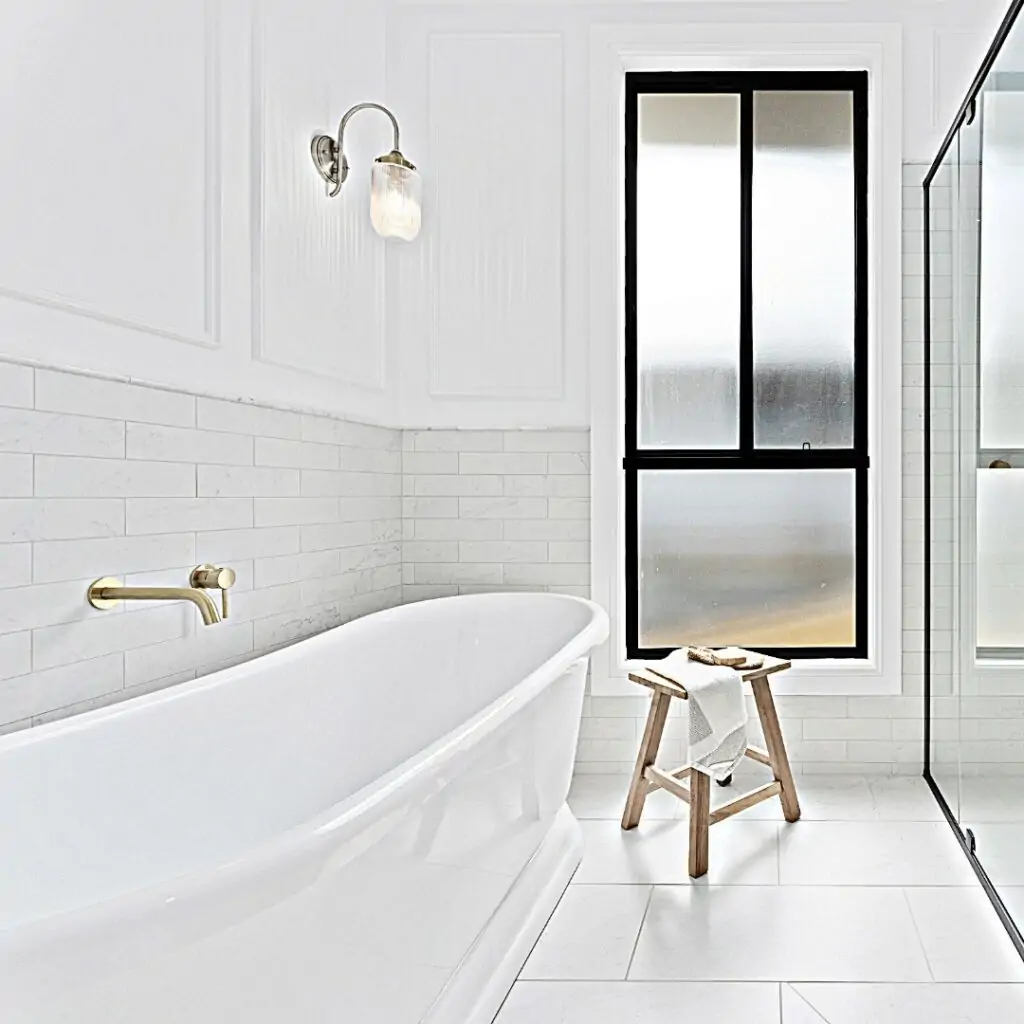 13. All in the Dose: Diluting the Noise
A great way to use panels is to balance out a playful wall design. An example can be seen in the picture: this black and white pin-up print could become a bit of an eyesore if it covered the walls floor-to-ceiling, but clean white paneling mellows it out and makes it look stylish instead.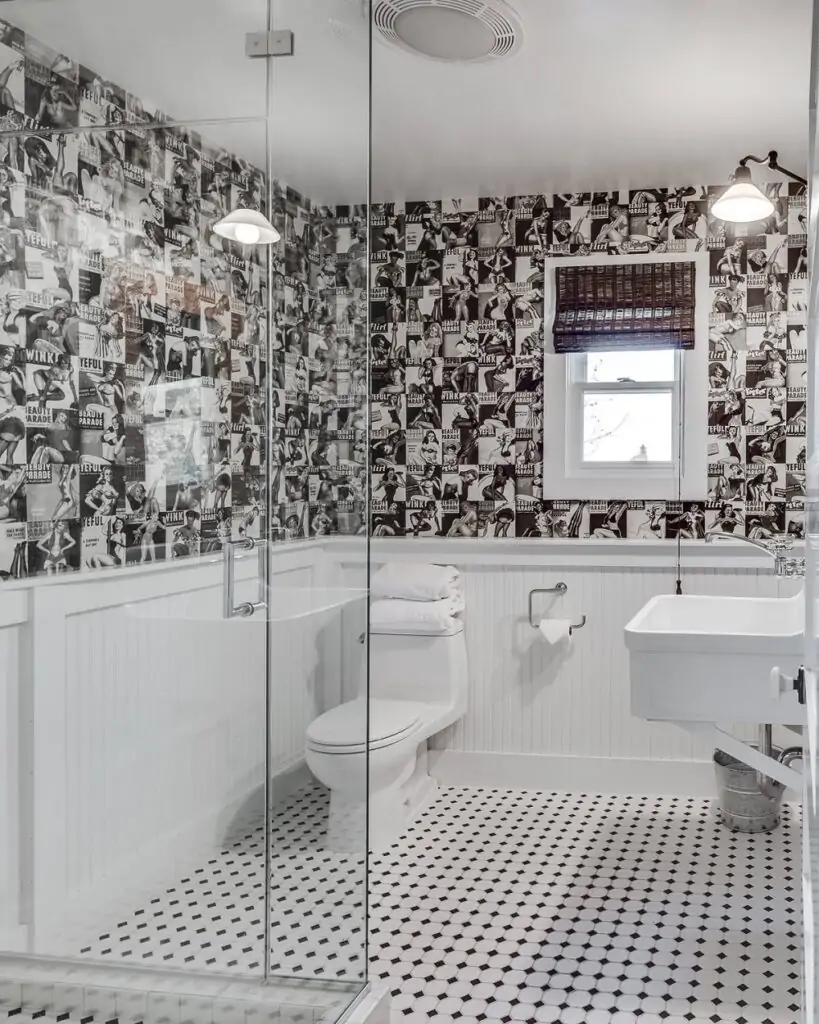 14. Trying It Out: Just like the Real Thing
If you're not in the mood for a huge remodel, can you put wainscoting in a bathroom? Turns out, you can: today, there are tile stickers available in shops, which makes the process as easy as pie! You may be a renter or an owner who is not ready to commit to serious changes, but don't let it stop you!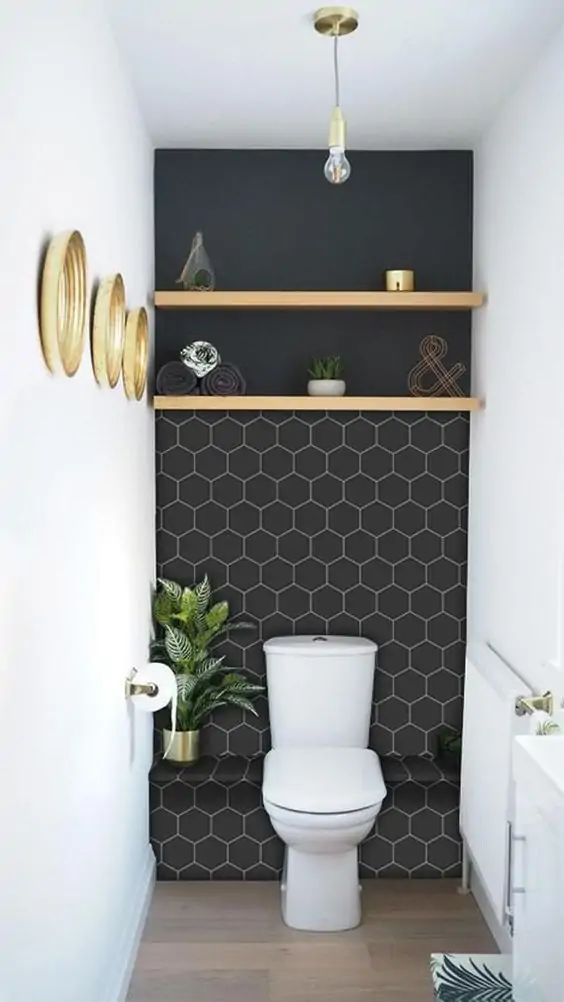 15. Total Look: Practical Prettiness
You can use wooden panels all around bathrooms, actually — like it's done in this example with a couple of different types of paneling. The classic wainscoting frame is still discernible here, though.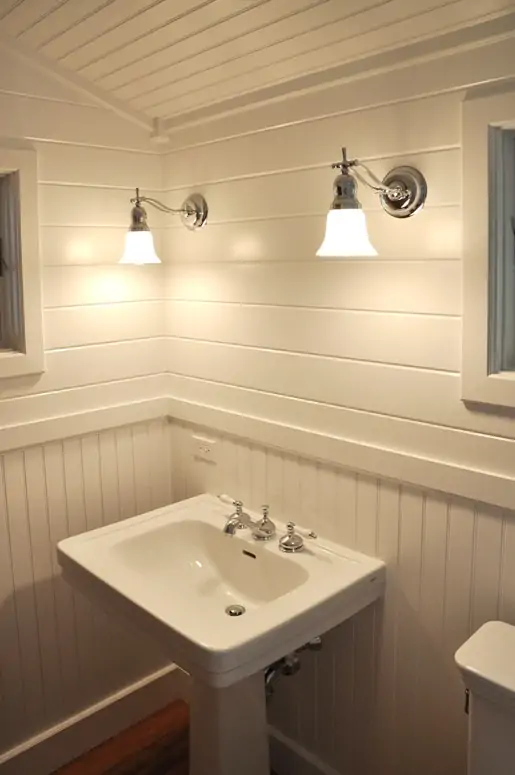 FAQ
Here are some answers to the popular questions about wainscoting.
Is Wainscoting Good for the Bathroom?
Wainscoting is a great design feature that can look good in almost any room due to the variety of available types and styles of paneling. This part of decor may turn out to be especially important in designing bathrooms — since those typically small rooms do not provide many opportunities to show off your imagination. Moreover, it can provide some protection for your walls, especially if it's high enough to serve as a backsplash. In other words — yes, wainscoting is a good choice for the bathroom.
Is Wainscoting Still in Style?
Wainscoting initially came into existence as a way to protect the walls and provide some insulation. While it may not be used primarily for those purposes anymore, it's still quite a popular design element. It kept up with the times, expanding the selection of materials and types — so, even though certain trends can come and go, decorating the walls with panels has never really gone out of style. 
What Type of Wainscoting to Use in the Bathroom?
While any style of panels can be used in bathrooms, depending on the way you want yours to look — for example, raised panels, board, batten, or shiplap — from the practical standpoint the best for this room is beadboard since its shape makes it more resistant to humidity than others. As for materials, the classic one is wood — but don't forget that it must be water-resistant and treated against mold and mildew. As an alternative, there's a variety of PVC panel designs these days, which may be easier to maintain. And, of course, you can always opt for tile decorating.
How to Install Wainscoting in a Bathroom?
DIY installation can be a difficult job, demanding precision. However, if you are determined to install it yourself, here are some pointers:
You can use either nails, screws, or an adhesive, depending on the material of your walls;
Generally, since wainscoting has a horizontal rail on top, you may want to start there, so it would give you the frame to work in;
Pay special attention to the corners: they should be beveled;
After putting up your panels, fill in the holes and seams with wood filler and caulk.
For a visual how to on wainscoting a bathroom, take a look at this video:
Conclusion
Wainscoting is a bold design solution to break the monotony of plain bathroom walls — and since there are so many styles now, there's a way to fit it into almost any room. Think about the wainscoting ideas for bathrooms and choose one to make it yours — and don't forget to come back for more design ideas!