15+ Inspirational and Stylish Ideas for Men's Bedrooms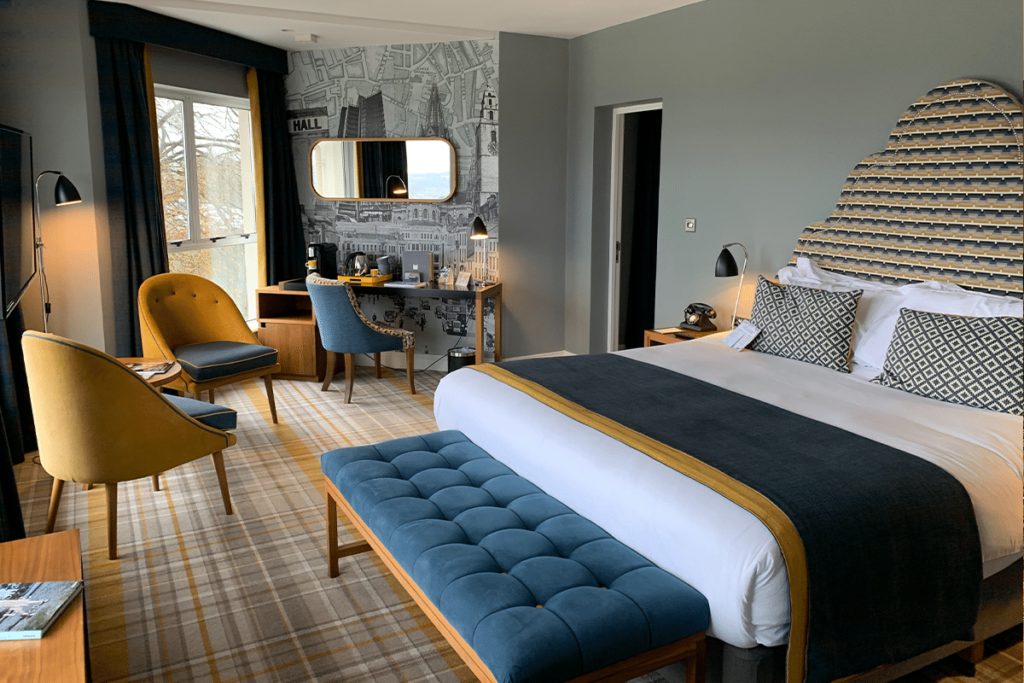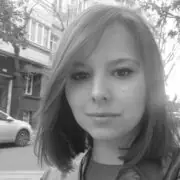 What comes to your mind when you think of ideas for men's bedrooms? If all you can imagine is either a sterile, neutral, and impersonal space or a stuffy, dark bachelor's den — we're here to prove you wrong! There are many ways to make this room unique and comfortable. The best ideas combine a personal touch with the common themes of masculine bedrooms' design, which can include:
Color scheme predominantly consisting of grayscale, brown, dark, or navy shades;
Balancing light and dark details;
Experiments with textures;
Bold accents;
Preference for straight clean lines
as well as numerous other features. So, if you want to get inspired by some male bedrooms design ideas — read on!
1. Rough It Up: Decorating by Feel
Many classic men's bedroom design ideas feature materials with a bit of texture, like leather and wood. There's a good reason for this: adding some roughness is an easy way to provide a masculine touch to a place that could otherwise feel too bright.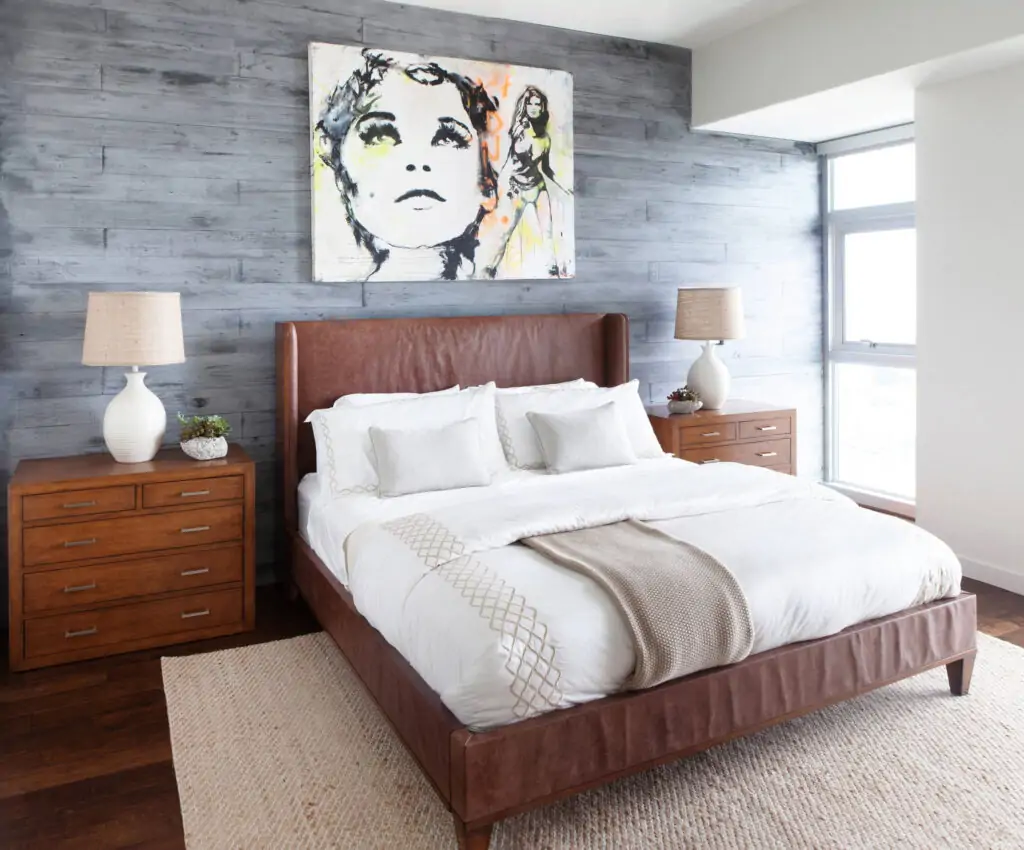 2. Containment Strategy: Freeing the Space
For someone looking for men's small bedroom ideas on a budget, one bed can transform the whole room! Here, a storage platform bed saves a lot of space — and money that could have been spent on dressers and closets. Win-win!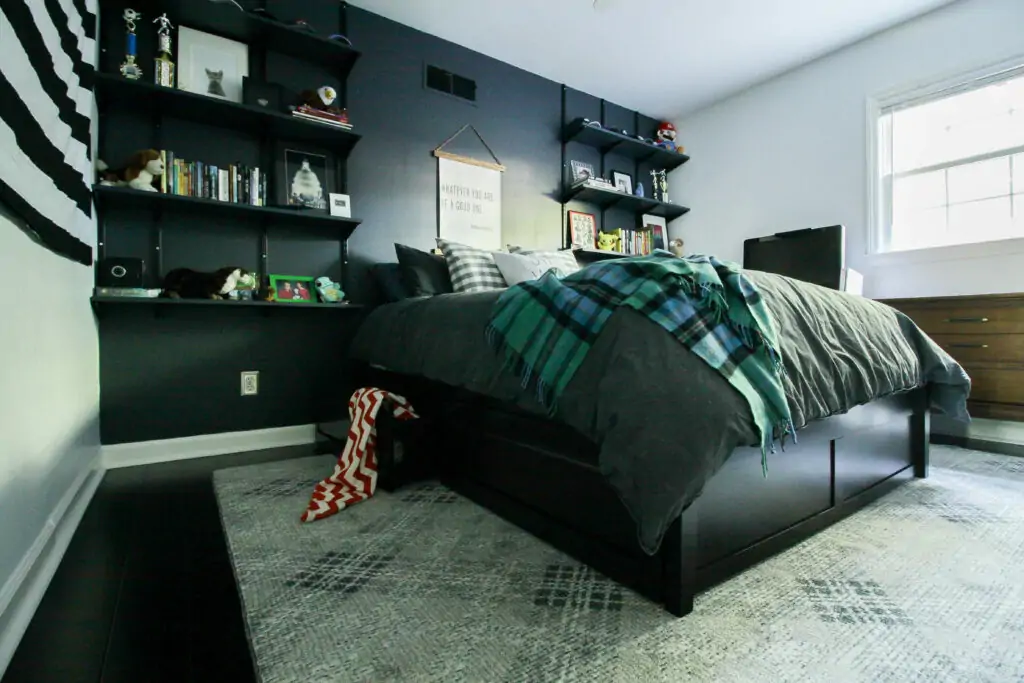 3. Easy Transition: Perfect Environment for Growing Up
When considering ideas for a young man's bedroom, keep in mind that young people tend to experiment with decor, as they may not have settled on their personal style yet. A great way to encourage those experiments is to provide easy ways to add personality to the room: for example, hang a corkboard and plenty of shelves — to fill them with the things the room's young owner wants to display.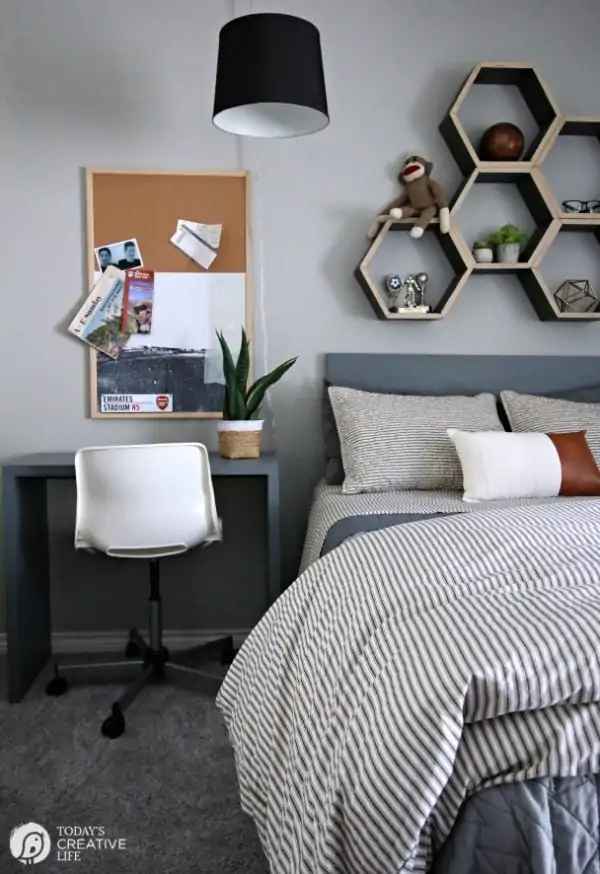 4. All in One: Putting a Few Ideas Together
The room in the picture is just choke-full of cool ideas for a mens bedroom. First of all, there's a rustic vibe provided by the vintage wooden set at the foot of the bed. Another nice detail is a caged lamp above the bed. And finally, the green bedding adds a beautiful color accent.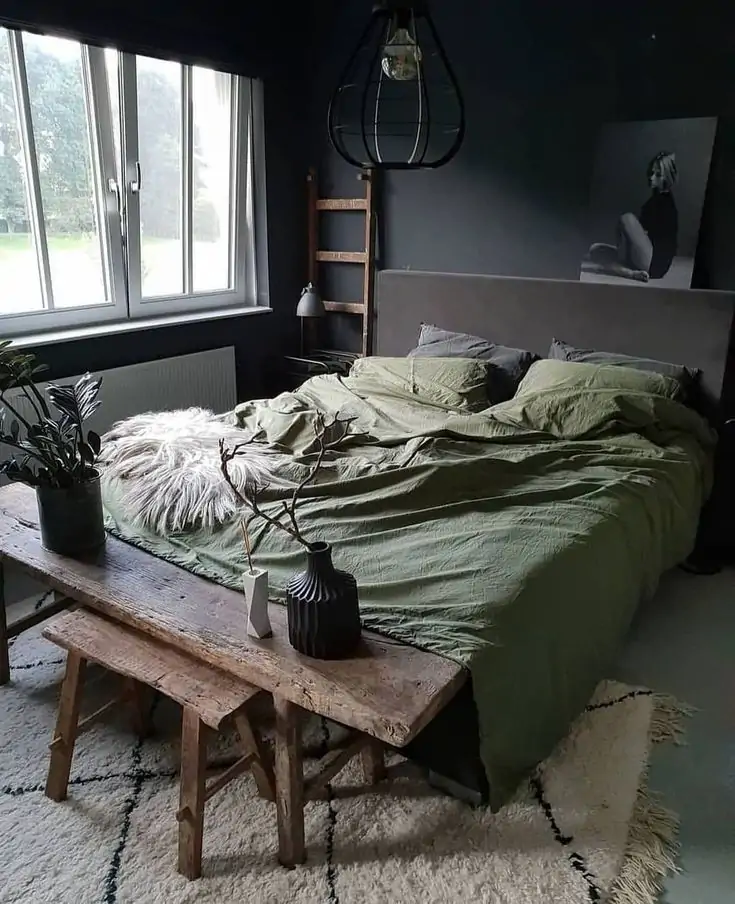 5. Cult of the Sun: The Art of Attracting Attention
Using calm pastels and grays is a way that's often used to decorate male bedrooms — but it's certainly not the only one. There are a lot of other options, which is especially noticeable when you look at mens master bedroom ideas like this one: you can't help but pay attention to the golden bed that dominates the room.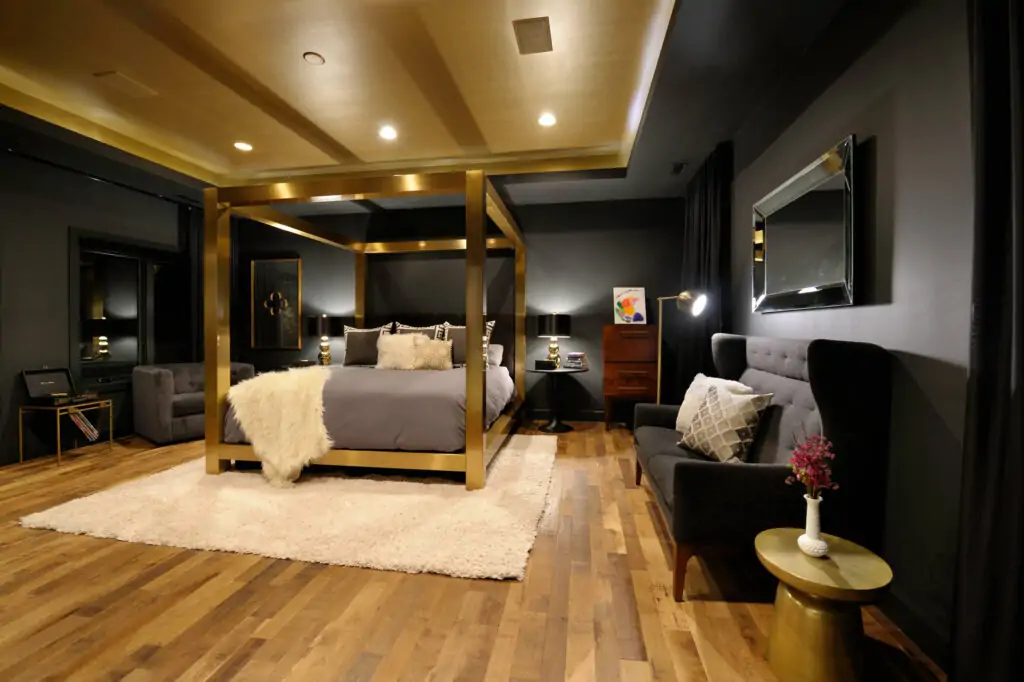 6. The Young Man and the Sea: Painting the Picture
Speaking of other color ideas for a mens bedroom, we'd like to note this choice: it proves that masculine doesn't have to mean dark or heavy. A beautiful, complex shade of blue that's far from the overused muted tones typical of men's bedrooms just exudes coolness.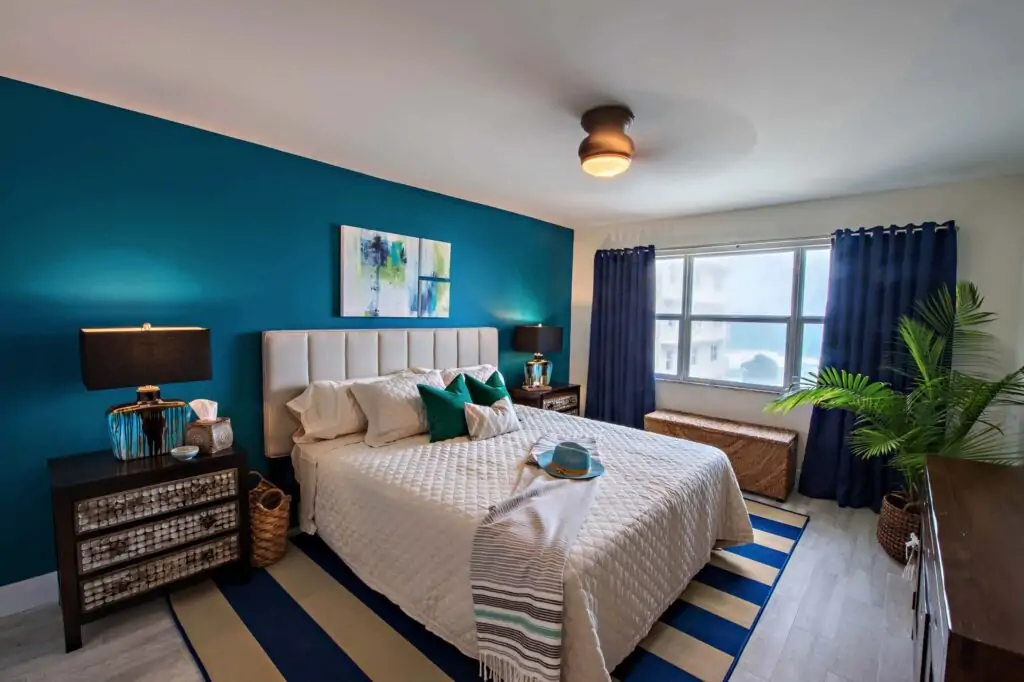 7. Brightening the Mood: Details Make the Room
Here's another example of using bright colors in your ideas for a male bedroom — this time just as accents. Yellow details on the bedding and the nightstand, as well as hints of orange inside the storage boxes, bring just enough mischief into this room.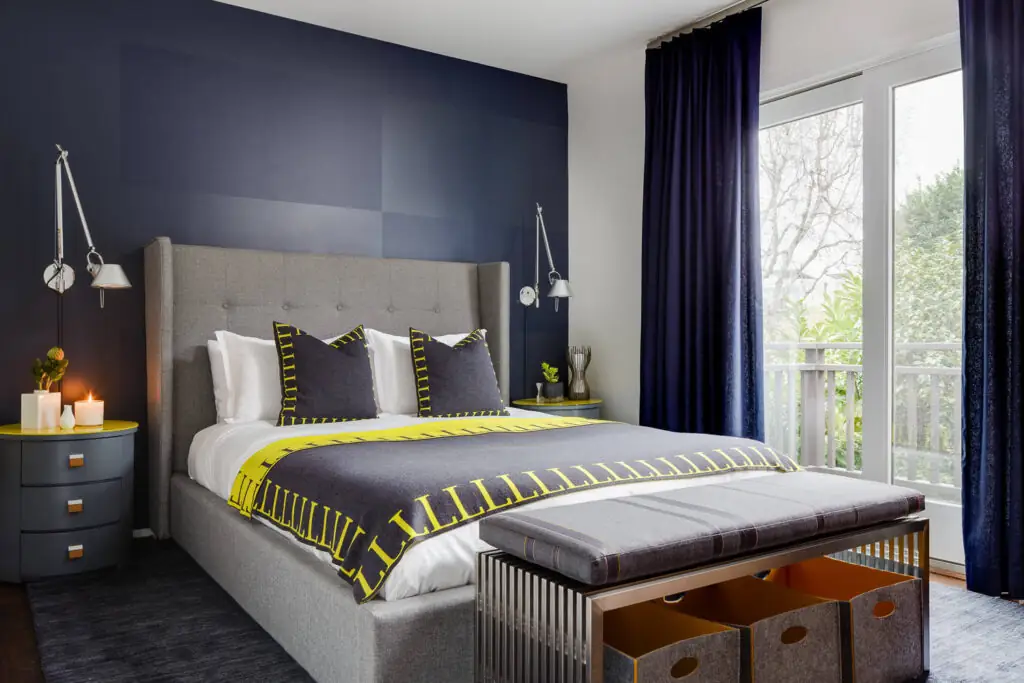 8. Play up the Contrast: Breaking Through the Monotony
If you're not ready to add much color to the room, there are enough cool mens bedroom ideas that are more or less monochrome, like this one. Intricately patterned wallpaper used to decorate the ceiling makes this black-and-white room anything but boring.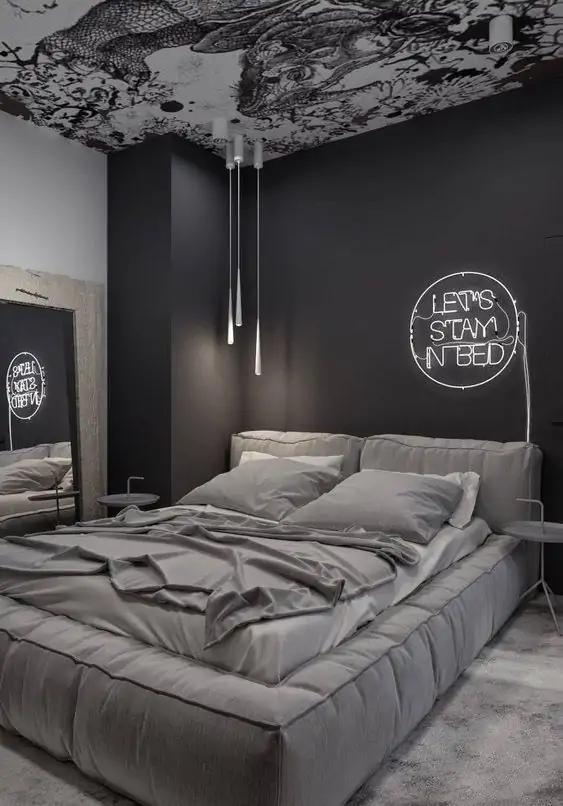 9. We All Float Down Here: A Cool Way to Transform the Room
Floating bed frames are quite trendy, and if you have some DIY skills, they can be considered one of the better men's bedroom ideas on a budget. The cost of materials needed to build this kind of bed can be as low as $100, and it gives the room so much character: talk about having a lot of bang for your buck!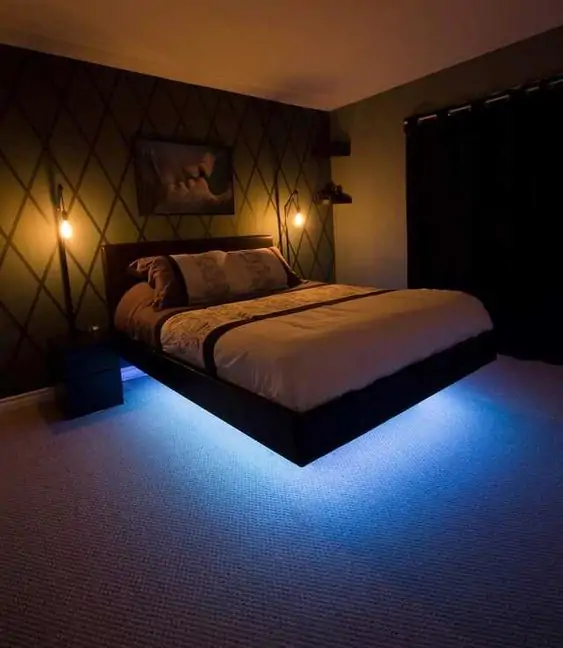 10. Light It Up: Figuring out Multifunctional Decor
The use of lighting is something you really need to consider while looking for ideas on how to decorate a men's bedroom. The one in the picture is a great example, serving both as a night light and as amazing wall art — but any kind of interesting source of light will go a long way in creating the room's character.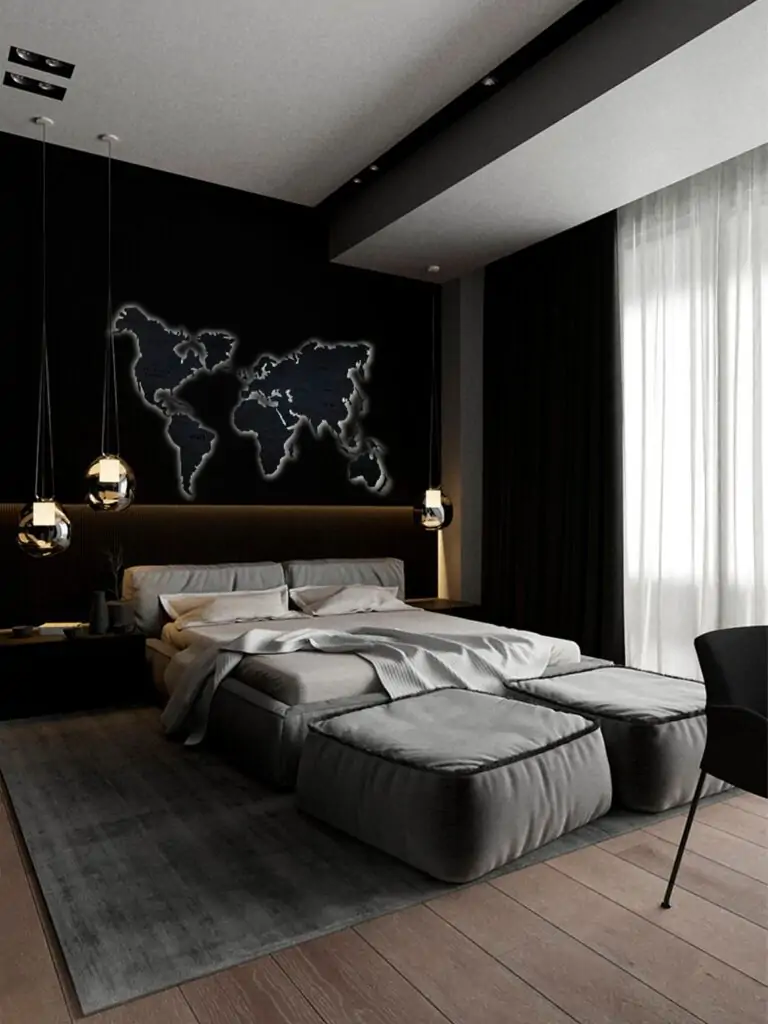 11. The Perks of Having Some Wallpaper: Adding a Dramatic Effect
So far, we have seen a lot of painted walls; how about some wallpaper ideas for a mens bedroom? We'd say that here, again, the texture is the most important factor to consider. Rough wallpaper is a great fit for a masculine space, while the dark shade brings depth and richness to its look. Note that seeing this kind of wallpaper all around you could feel a bit overwhelming: limiting it to one wall may be a good solution.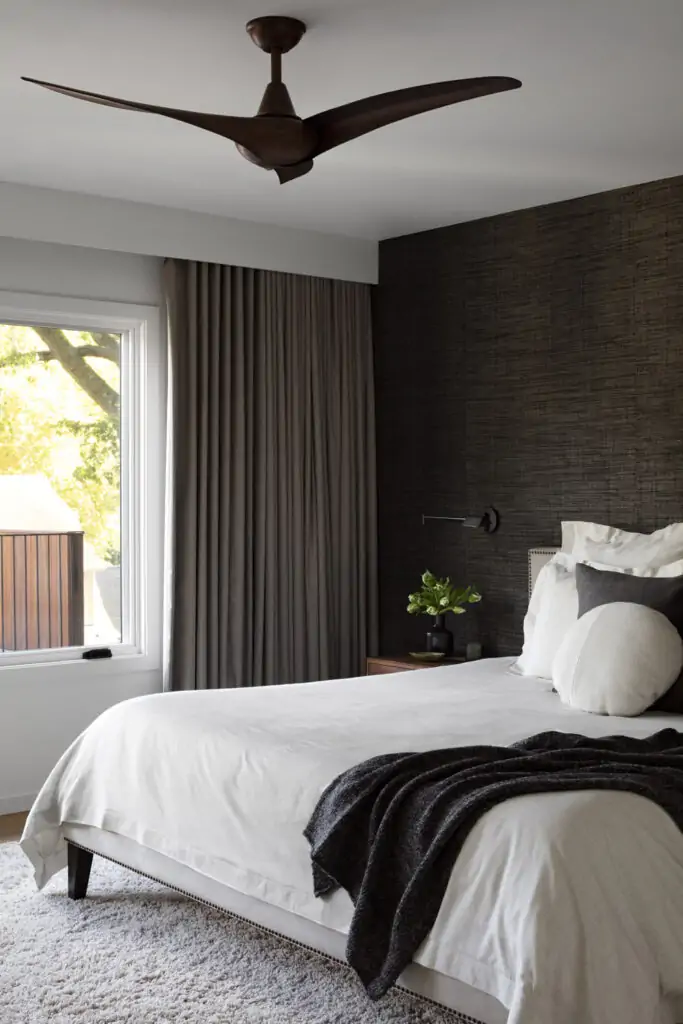 12. Padded Walls Are Cool: Making a Bold Statement
Talking about the wall design, ideas for men's bedroom decor like this one simply cannot be left out. So, meet the wide, floor-to-ceiling leather headboard! Among all the other cool details in this space, this headboard is undoubtedly the star of the show.
13. Expressive Art: A Focal Point to Put Some Color
Another way to bring some individuality into a male's bedroom design is, of course, to put up some wall art. Abstract paintings serve this purpose well, as evidenced by this example: the picture creates a splash of color in the neutral palette, showing that this neutrality is a choice and not just a lack of imagination.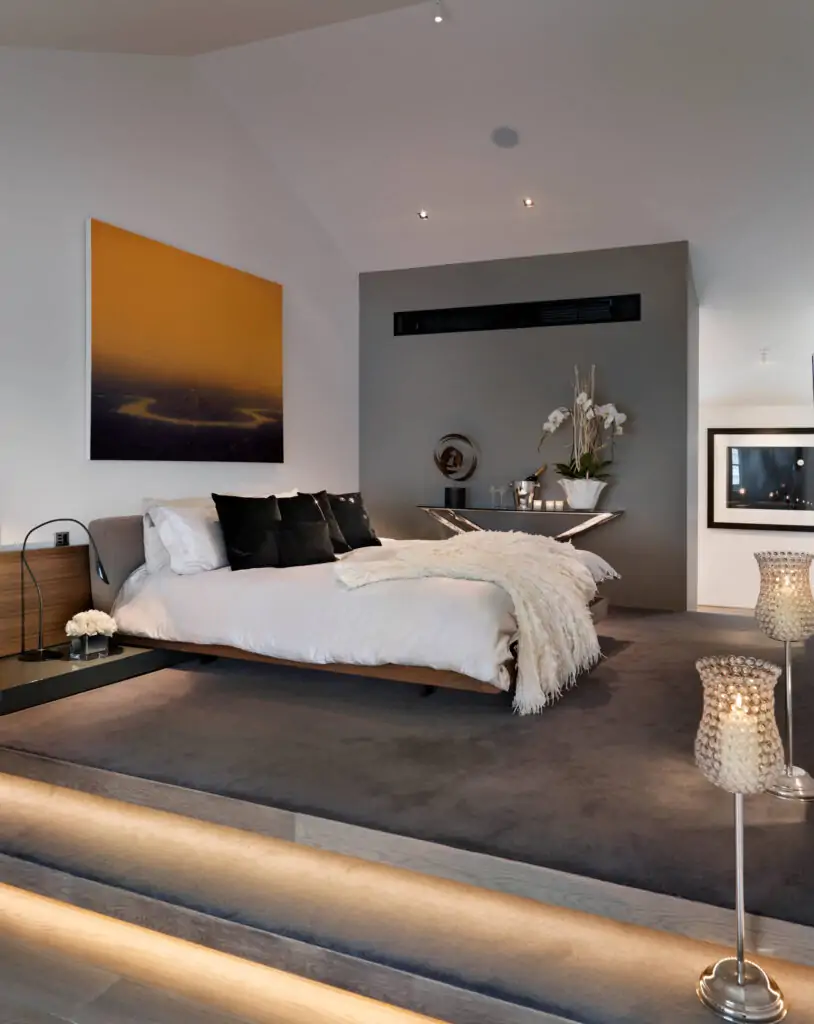 14. Defying Expectations: Decorate However You Like
There are other painting ideas for men's bedrooms that may be more suited to your personality. For instance, if you think that cat paintings are not masculine enough — think again! This example proves that any art can be made to fit your distinct style if you try.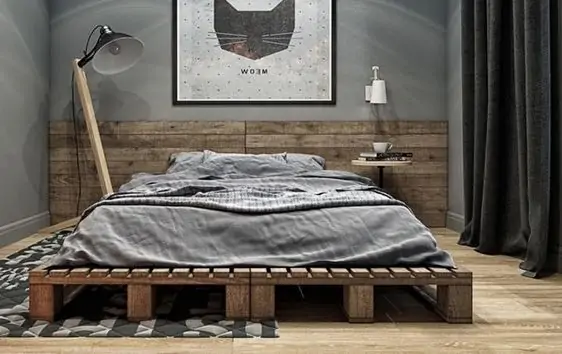 15. Keep Doing What You Love: Emotionally Charged Design
If you're searching for men's cozy bedroom ideas, look at this one: what can make you feel more comfortable than surrounding yourself with things related to your passion? In this case, it's hockey (obviously!), but any of your hobbies and favorite ways to spend time can provide inspiration.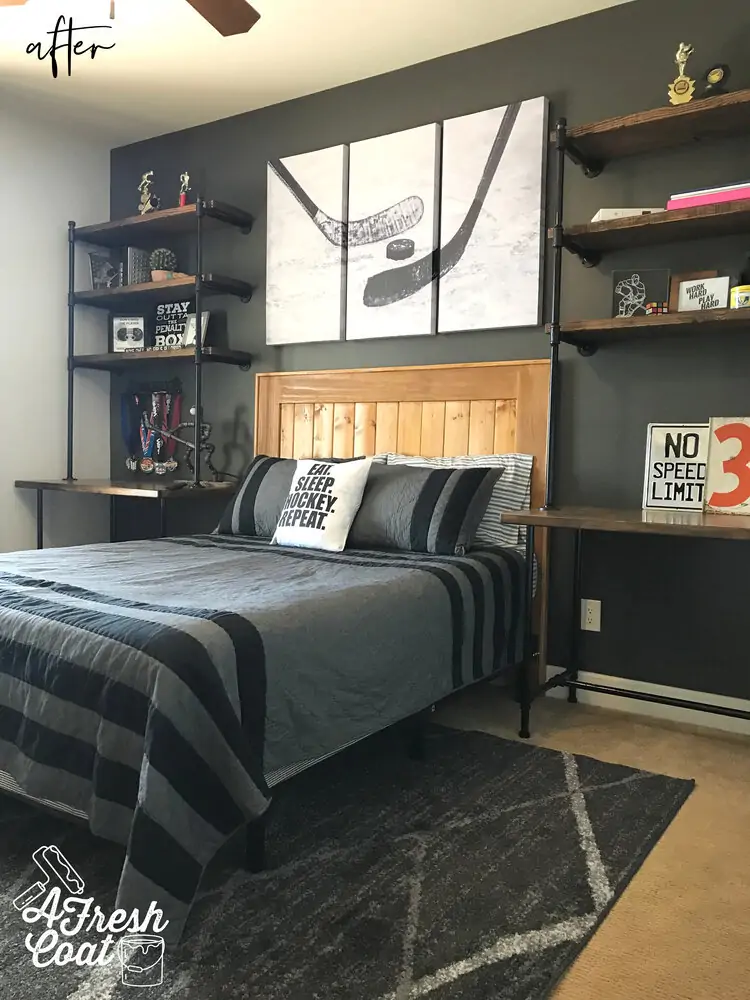 FAQ
Here are answers to some questions concerning men's bedroom design ideas.
What a Man's Bedroom Should Look Like?
While there are some general trends, of course, there's no exact answer to this question. However, here are a few suggestions for some things you might want to have in your bedroom to make it comfortable for yourself — and showcase your personality.
The kind of bed you won't mind spending a lot of time in — the importance of a cozy bed can't be overstated;
Source (or sources) of light suited to your taste — be it a naked Edison lightbulb or a classic library-style table lamp, make it your own;
Bookshelves — filled with your favorite books, of course;
Some wall art you'll want to keep looking at;
A comfortable place to sit.
There's a lot of other options for decorating bedrooms, so remember that the most important thing is whether you feel good in this room.
What Is a Good Color for a Man's Bedroom?
The classic palette for decorating masculine bedrooms includes neutral colors — gray, black, and white, shades of brown, blues, and pastels. Bright colors — especially cooler tones — can work too, although they demand a certain amount of boldness. A good compromise is adding a few bright accents throughout the room while keeping most of its space neutral.
What Are Some Men's Bedroom Ideas for White Walls?
Not everybody can — or wants to — paint the walls in their home; for example, a lease agreement may not allow this. However, even in this case there are many ways to add some character to the space!
Use bright bedding or pillows to make the place more fun;
Put up some art on the walls;
Bring in some potted plants;
Get interesting lighting — neon lights, for example, can add color even to the most boring room;
Use a statement piece of furniture to make it a focal point.
Are There Any Masculine Bedroom Furniture Ideas?
The main ways to express masculinity in the furniture are the right choices of color and texture. Traditionally, darker colors are more often used for furniture designed for men's bedrooms — such as dark gray, brown, and black. As for texture, it's easy to create the right impression with leather and dark wood. Vintage wooden furniture like benches or chests can work wonders, as well.
If you want some visual inspiration, watch this video showing a makeover on a tight budget:
Conclusion
There are some preconceptions about masculine bedrooms design. While some of them are rooted in reality, we positively cannot agree that men's bedrooms decor invariably has to be boring and gloomy. Hopefully, these ideas for men's bedrooms we've gathered to support our point prove our case! And you're welcome back anytime for more inspiration.