Top 19 Clever and Stunning Bathroom Ideas with Tiles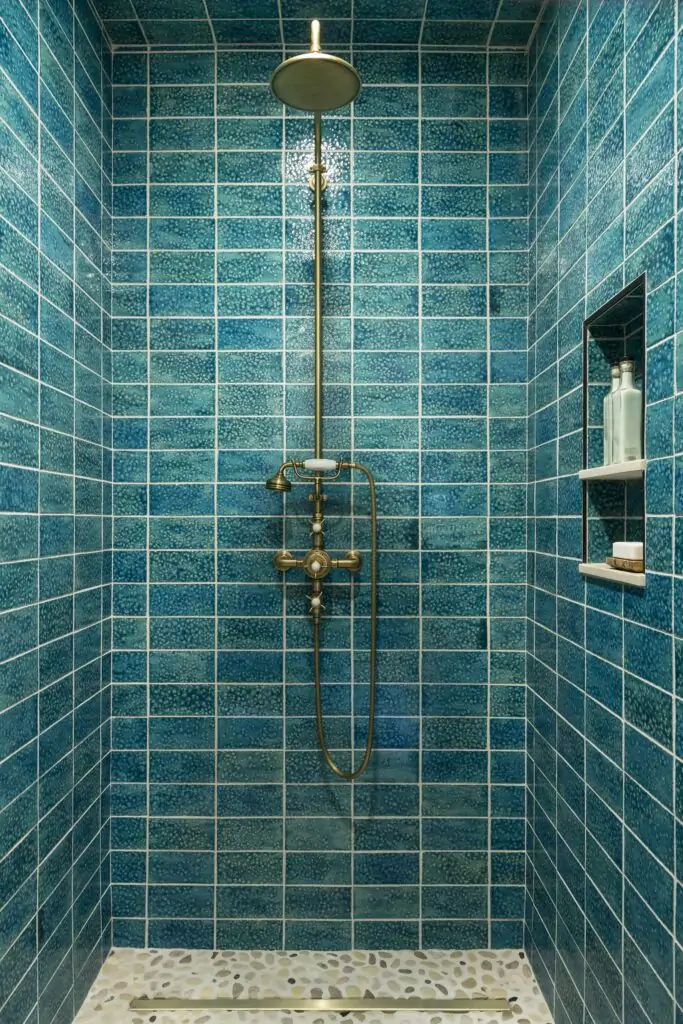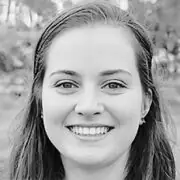 Bathroom tiles were initially introduced primarily to protect shower room walls from water damage and promote a hygienic shower area, preventing mold and mildew. Today, numerous bathroom ideas with tiles, in addition to all these functions, also serve as decorative elements that add beauty and class to your washroom.
To make the most of your bathroom tile pattern, you must consider several factors, such as your washroom size and the tile shape, size, and color. This article describes 19 ingenious ideas for decorating bathrooms to enhance beauty and functionality.
Install Checkerboard Tiles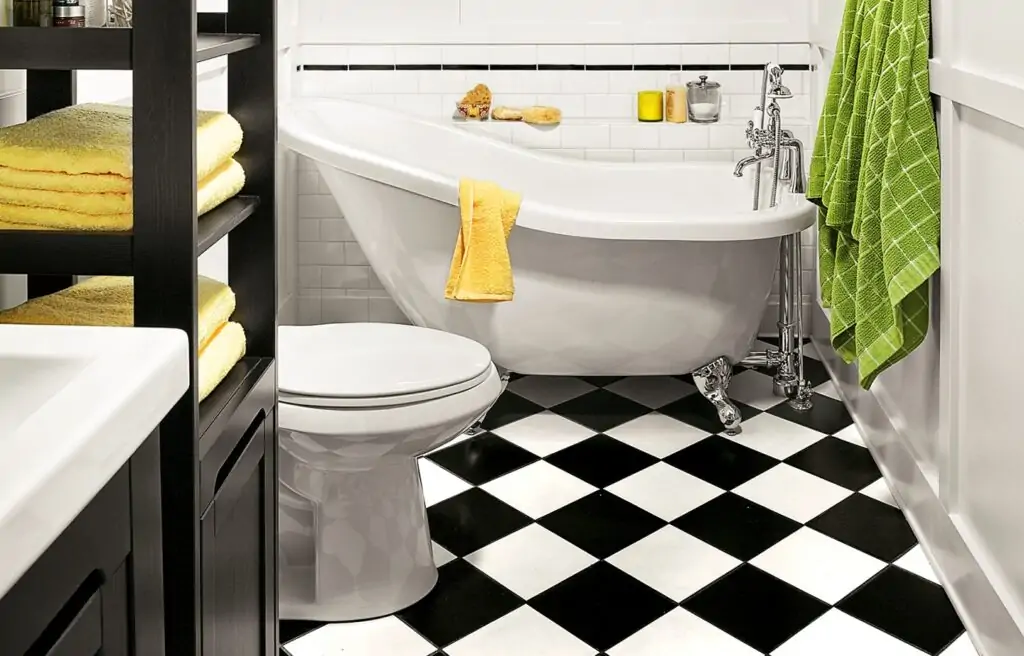 Checkerboards are one of the most popular bathroom tiles currently in use. The widely used white and black checkerboard design has become a perennial favorite because of its simplicity and versatility. You can use such patterns for your walls and floors, and they are sure to complement any other washroom decoration ideas.
In addition, checkerboards are not limited to the popular black-and-white design; they also come in different colors like yellow, red, and brown. What is more, you can also shift the focus from the regular square boxes to make a pattern of pentagonal shapes.
Highlight the Sink and Tub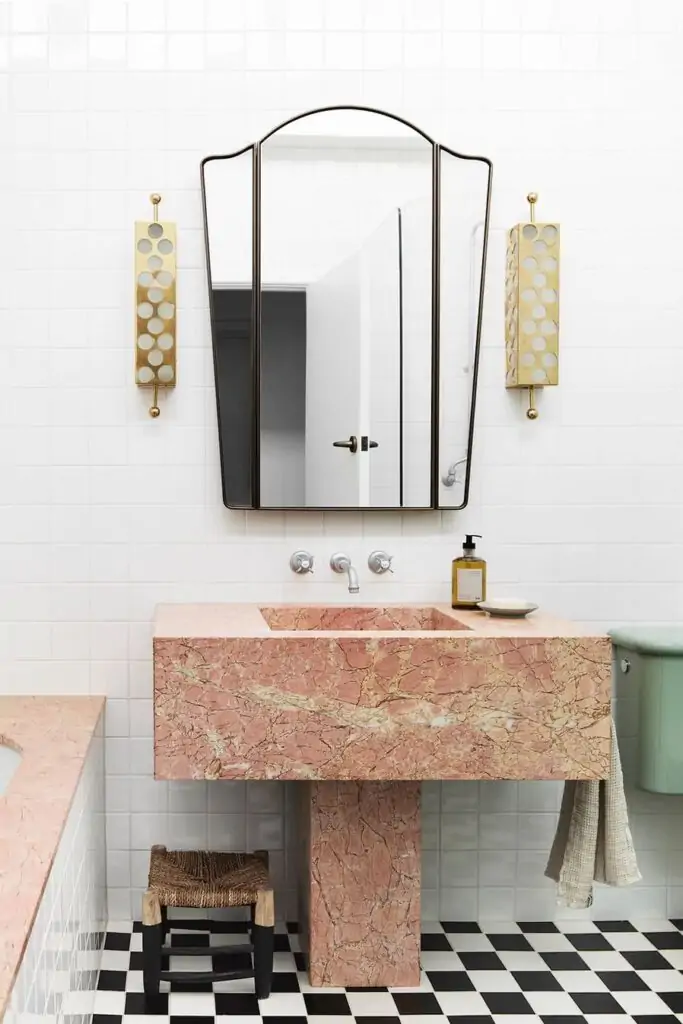 Here's a simple design idea that focuses on the tub and sink yet still extends beauty to your entire washroom. This design pattern is even more effective when your sink and tub are far apart at different ends of your shower room. It creates a pleasant parallel that gives the design its essence.
You can choose a combination of patterns and colors that reflects your taste and complements the design ideas you have chosen for your floor and walls. Still, keep in mind that the ultimate goal is to have the tub and sink stand out and hold the attention of anyone using your washroom, admiring your creativity.
Design Walls and Storage Compartments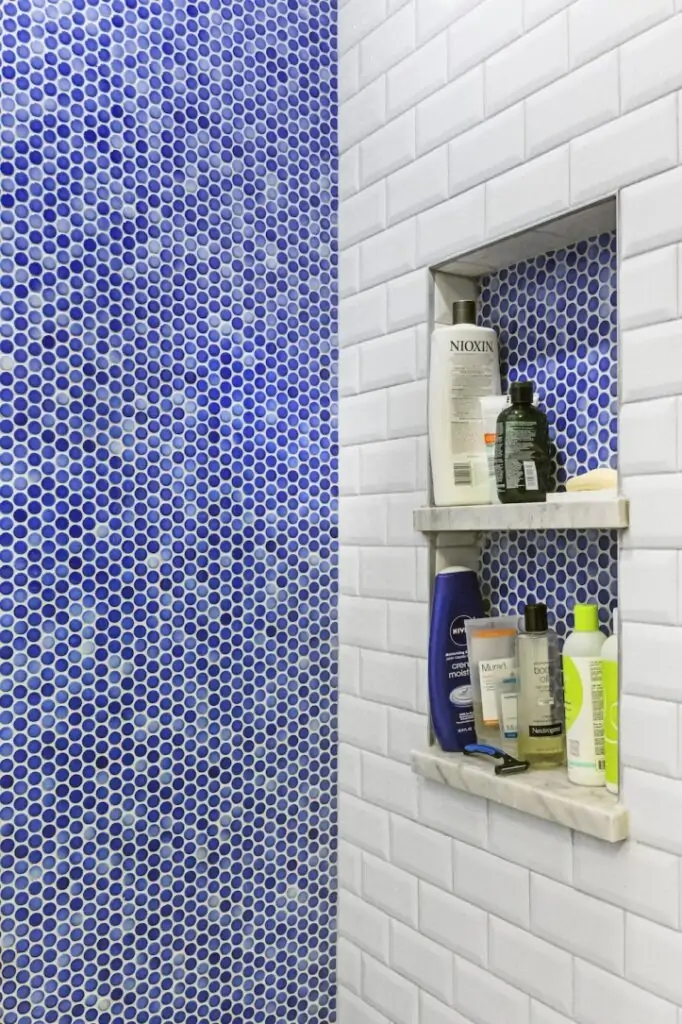 An excellent way to save space in a small bathroom is to design a storage compartment inside the wall. In addition to improving washroom storage, a good choice of tile design ideas can make this storage compartment a beautiful design concept.
The image above shows a good example you can imitate. While you can use uniform designs, creativity is enhanced by using different tile colors or shapes for the storage compartments to highlight them.
Install Subways in Alternate Directions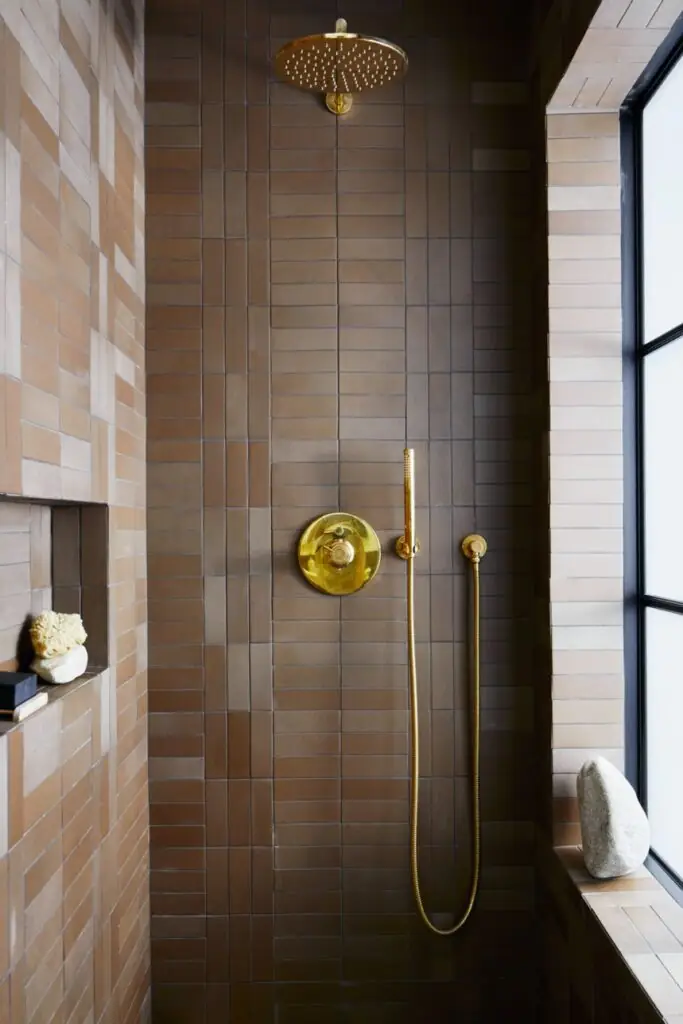 Subway tiling, or simply subways, is almost peculiar to bathrooms, where it finds vast applications. The very shape and size of subways make them easily maneuverable to fit into numerous design ideas. In line with this, here's one of the more creative bathroom ideas with subway tiles that creates a distinctive design. All you need to do is place the subway tiles in alternate directions.
While this may sound like an incoherent design, the image above shows an easy-on-the-eye pattern of alternately placed subways. This design mimics a stack of boxes alternately placed up to the ceiling.
Use Unusually Shaped Patterns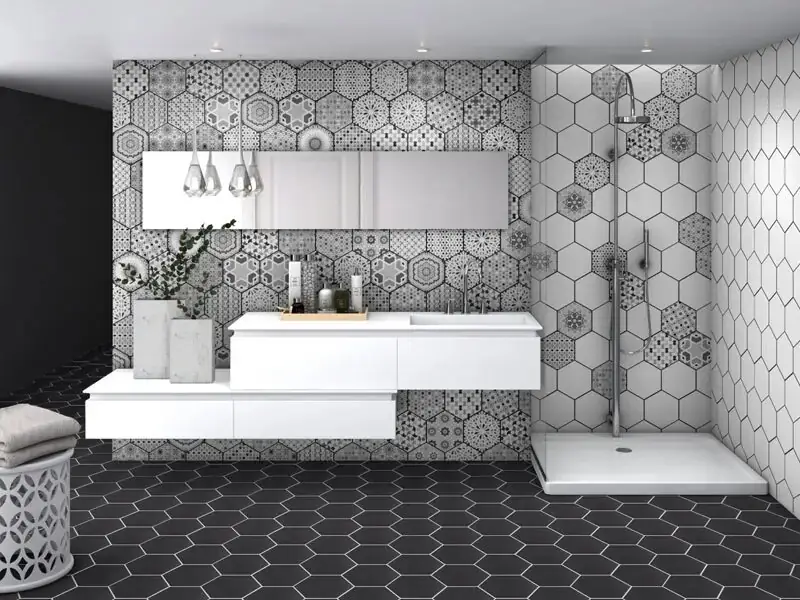 Color and shape – these features make a bathroom tile a true element of decor., A creative blend of them both can produce the most amazing design in your washroom.
Regular tile shapes like squares and rectangles depend solely on color and pattern to make a striking design. In contrast, unusual shapes like pentagons, octagons, and the now-popular hexagons are already distinctive and add a special touch to your decoration. These are the best options for monochrome design ideas because the shapes truly highlight your chosen color.
Go Trendy with Herringbone Tiles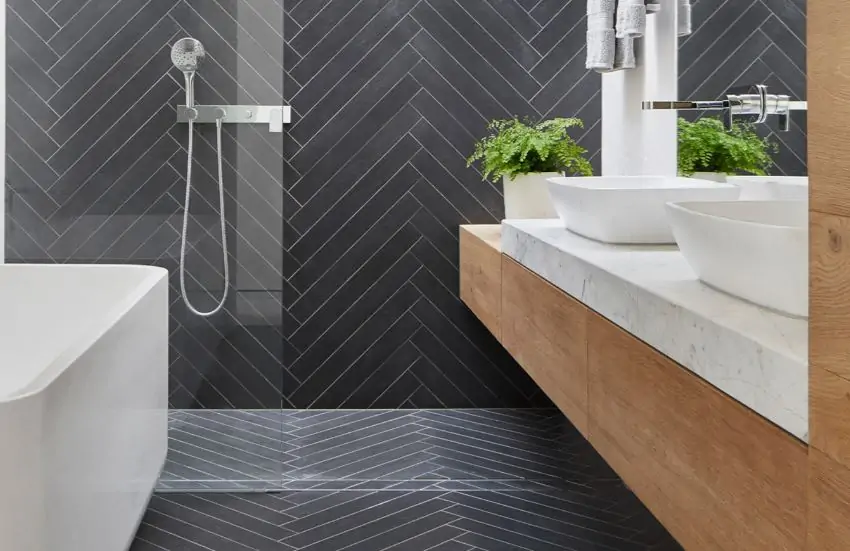 These days herringbones are among the most popular bathroom tiles because of their incredibly wide range of uses. For one thing, you can place them on the floor to complement your choice of wall paint or use them on the wall to complement your neutral floor patterns.
What's more, herringbones are excellent complimentary tiles that can be paired with other designs in handling the task of zoning your bathroom. Simply choose a compatible color and a direction for your herringbone, and enjoy the newly created aesthetic magic!
Use Different Designs for Different Sections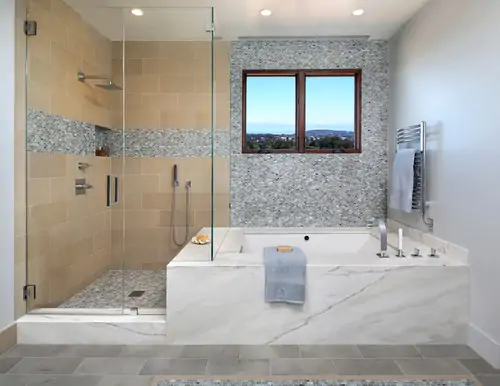 Zoning your bathroom is a great way to decorate your washroom excellently, and what can be better than tiles of different designs or colors? This model allows you to explore a multitude of shower ideas with tiles while choosing something different for your other bathroom sections, like the toilet, powder, and storage sections.
Therefore, you can use all your favorite tile colors and shapes in a single space to create an exceptional design. To make a bold statement, you can tile the walls or floor of all your sections differently.
Create a Simplistic Design Using Penny Tiles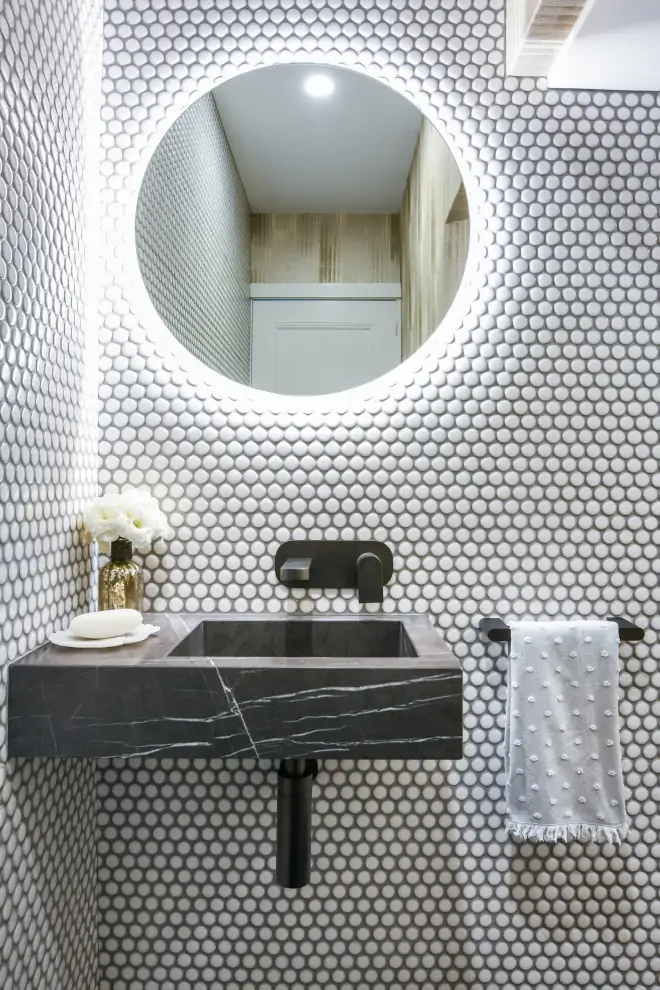 Penny tiles are your solution if you've been looking for creative bathroom ideas with tile walls for a long time yet still cannot make your choice. They fit so perfectly when installed that you can easily confuse them with wallpaper. Their neutrality makes them a great option if you're not a fan of colorful designs. This feature makes them compatible with any other washroom decoration you intend to add.
They are also excellent for wet rooms because of their closely linked design that complements wet room insulation. On floors, penny tiles are also superb, thanks to their non-slip properties.
Create an Illusion with Interlocks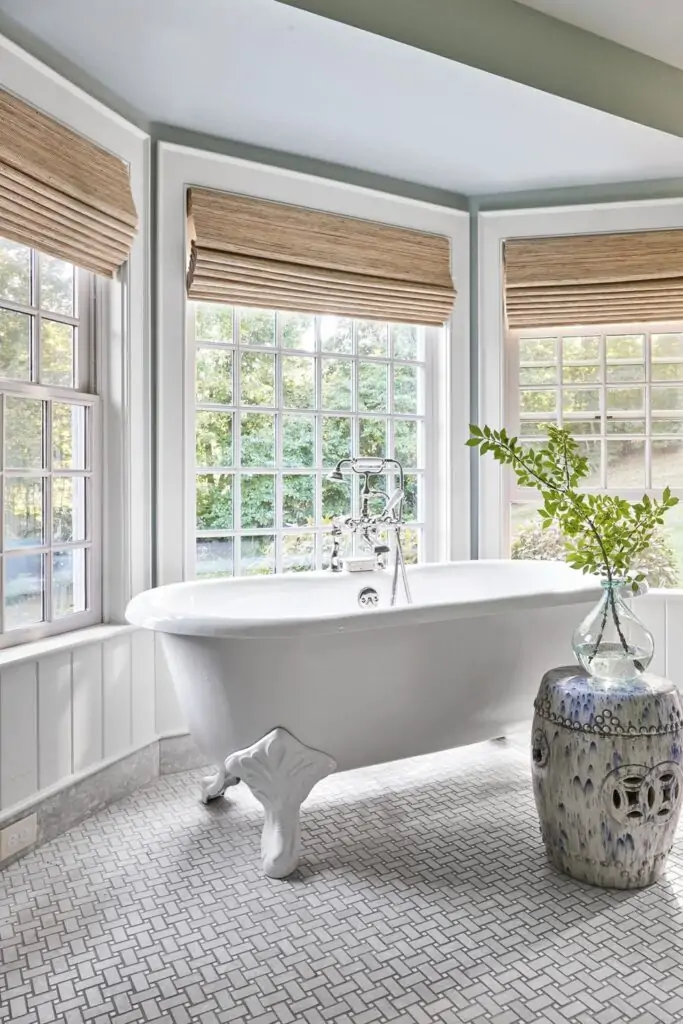 These tiles are a design and illusionary marvel. When viewed from a distance, interlocks look like they are made of soft materials woven into each other, giving them an extraordinary aesthetic appeal. They are excellent for the floor but will also make an impression if used for your shower room walls.
Pair Colors Blue and White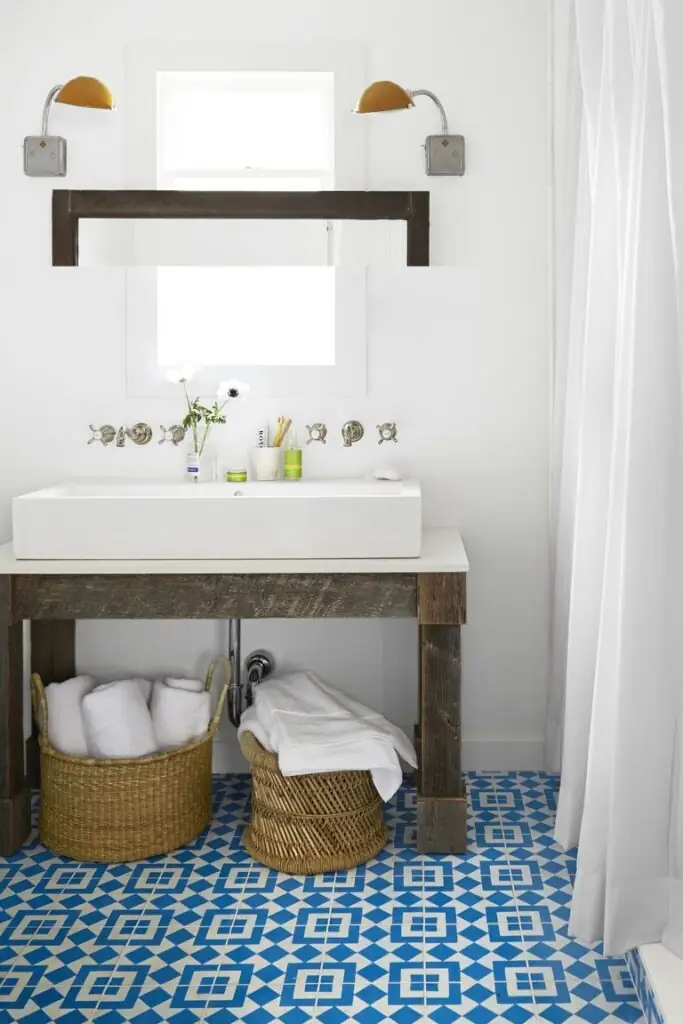 The cool blue color is a long-time favorite for bathrooms. What's more, its combination with white is really one of the better bathroom ideas with blue tiles. When used together, blue and white in this pattern create a fabric-like design that is delightful to the eyes.
The white color on this tile makes it more versatile and complements white wall paint, curtains, tubs, sinks, towels, etc. Whether planning a renovation or building a new washroom, this tile design is surely worth considering.
Mix the Tiles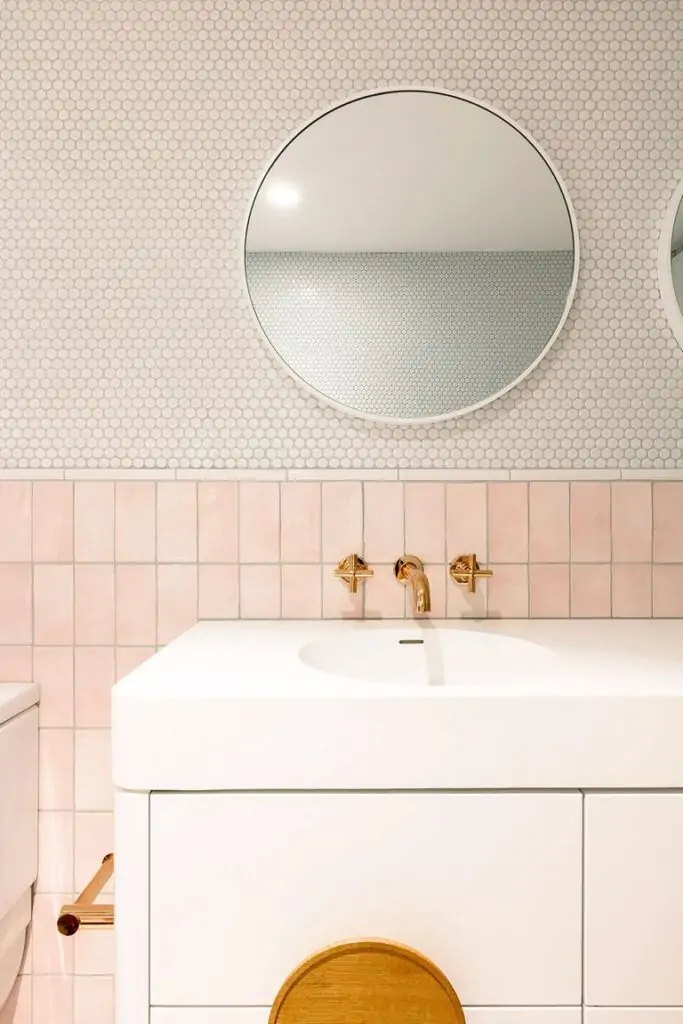 This option explores some bathroom tile combo ideas. Are you stuck with not one but two tile designs from previous options? Well, there's no reason why you can't have both. In fact, two great options can complement and amplify each other's beauty, as shown above.
You can have one tile for your floor and a different one for your wall. Further, you could also split your wall by installing one tile at a window or dado height and another at a higher level.
Fish Scale Tiles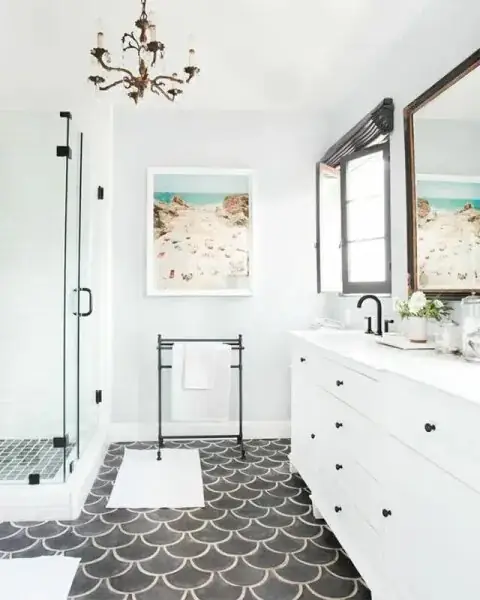 When choosing a monochrome tile design, remember that color alone is insufficient to produce an amazing decoration. Tile shape and design are also significant factors that need to influence your choice. Fish scale tiles are uncommon yet amazing designs that add beauty to your bathroom walls and floor.
You can't go wrong with installing fish scale tiles in your washroom: they are available in any desired color and will easily complement any shower room decoration. They're best for floors where their non-slip feature is put to greater use.
Use Flower-Patterned Tiles
Before purchasing a tile, you'll need to consider your washroom accessories and design to find a perfect match. Flower-patterned designs eliminate this requirement through their incredible versatility. They go well with shower room wallpapers and even neutral wall tiles.
Here's one of our top small bathroom tile ideas that uses flower-patterned tiles — bring in real bathroom plants and hang plant-based art to create a fine blend of animate and inanimate plant designs.
Complement the Paint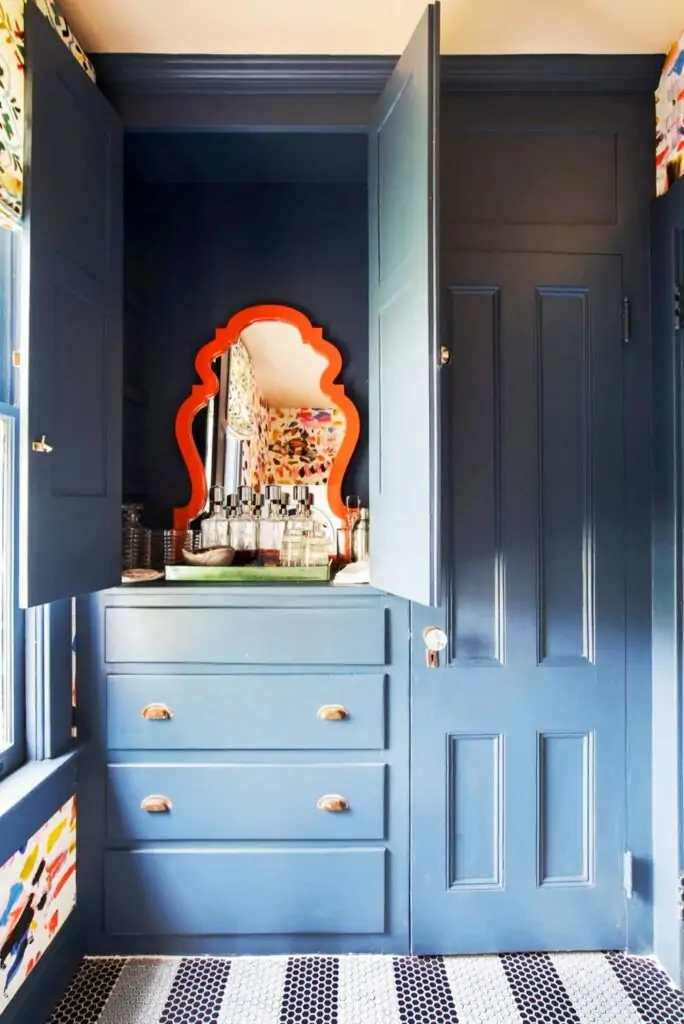 To create an exquisite shower room design, you don't need to have tiled walls and floors simultaneously. Complementary paints and tiles in your washroom can also do a great job crowning your decorative efforts. However, it is important that your colors match or complement one another.
Therefore, you can use a penny, fish scale, or herringbone design for your floor and compliment them with similar paint colors on your wall. In addition, you can go the extra mile by painting your storage compartment and mirror frames the same color to ensure a well-rounded theme.
Invite Nature with Limestone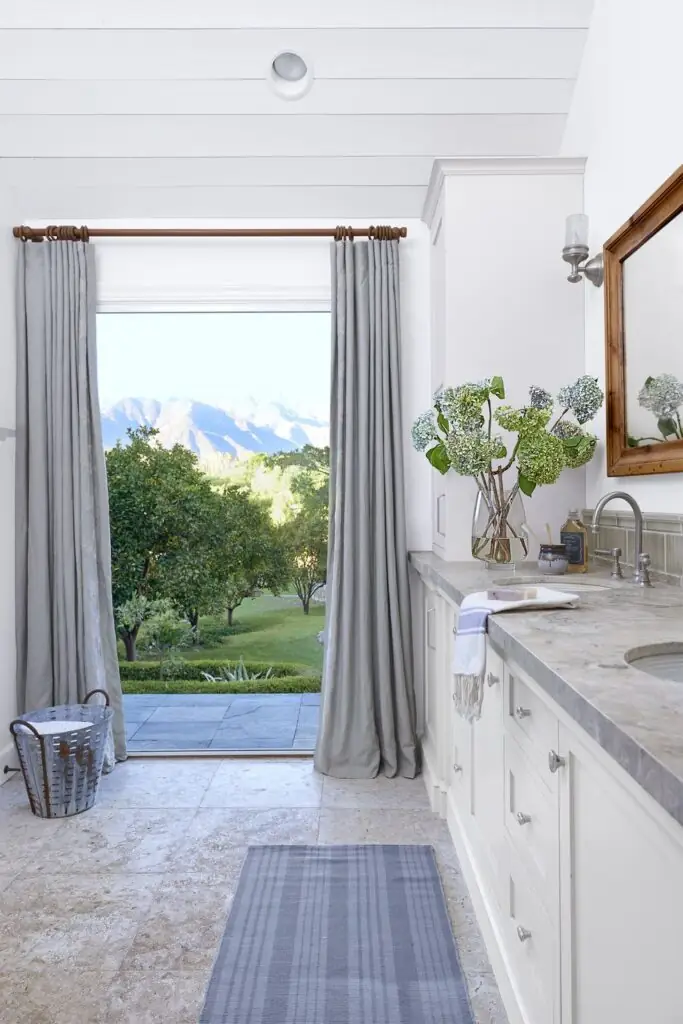 Shower room plants or natural lights are not the only things that bring nature into the bathroom; your tiles can do this too. Limestone designs are a good way to add a touch of nature to your washroom. Though they are expensive, it's a fair price for the luxury look and feel they provide.
To save costs, you needn't place them on the wall; using them on the floor, sink, and bath is sufficient to adorn your bathroom uniquely and achieve the desired results.
Design a Focal Point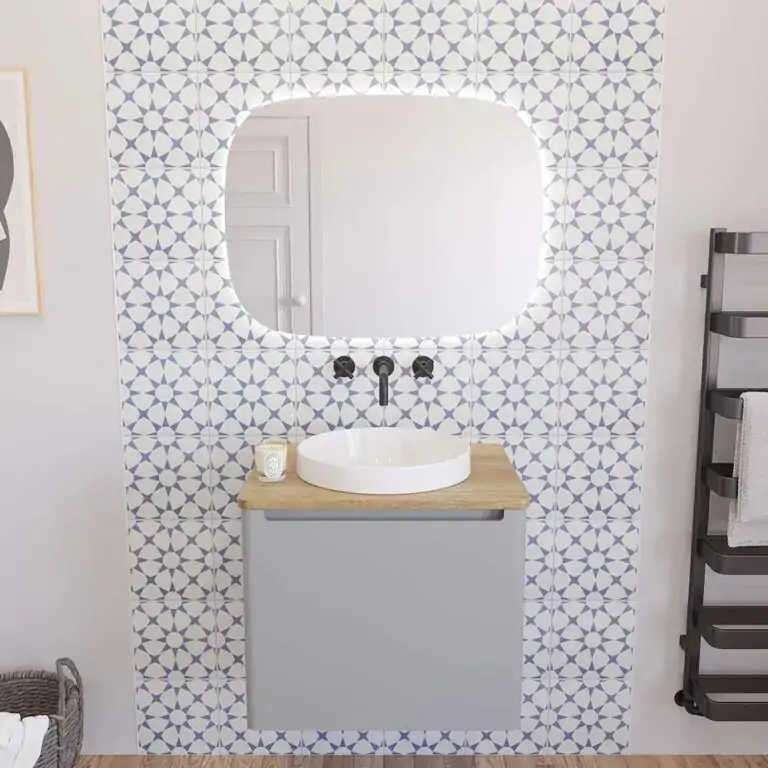 Besides the satisfaction you get when you admire the beauty of your decor, bathroom designs also serve to impress visitors. By making a tile decoration a focal point of your bathroom, you can easily achieve this wow effect.
Tiling a focal point, such as the area around your bathroom mirror and underlying sink, create a unique, satisfying, and impressive design. This focal point catches and holds visitors' attention while they wash and even distracts them from other parts of the bathroom that you might not be so proud of.
Create Color Patterns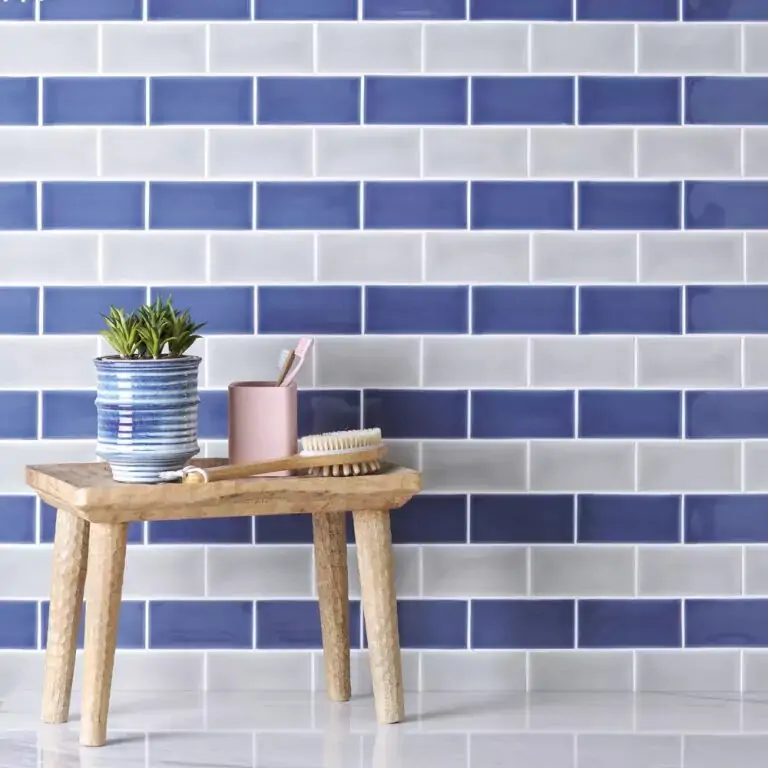 A monochrome pattern is a simple and effective choice in bathroom design; however, some people consider it limited. If you share this opinion, here's a solution that improves your bathroom design and offers satisfaction — create eye-catching color patterns.
While the pattern can really be anything you like, it is still a good idea to keep simplicity in mind. A good pattern you can adopt is pictured above. The image shows one of the better bathroom ideas with subway tiles that alternate vertically. A rule of thumb is that limited color palettes produce better results.
Tile to Uneven Heights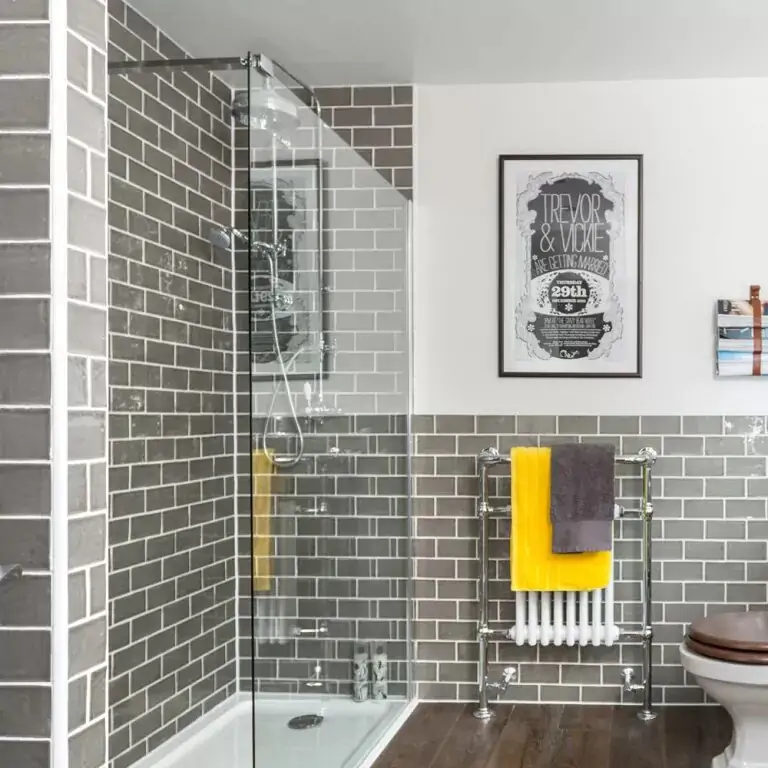 Sometimes, you don't need a pattern that runs all over your bathroom to produce a beautiful design. You can install tiles to the ceiling height only in some parts of your washroom, especially the shower section while leaving the rest at dado height.
This design approach works best if you need some part of your wall space to remain available for some other purpose. Use it to hang a painting or decorate it with some other type of artwork or simply install racks for shower room accessories. However, be sure to paint this section in a complementary color to maintain aesthetics.
Create Your Own Unique Pattern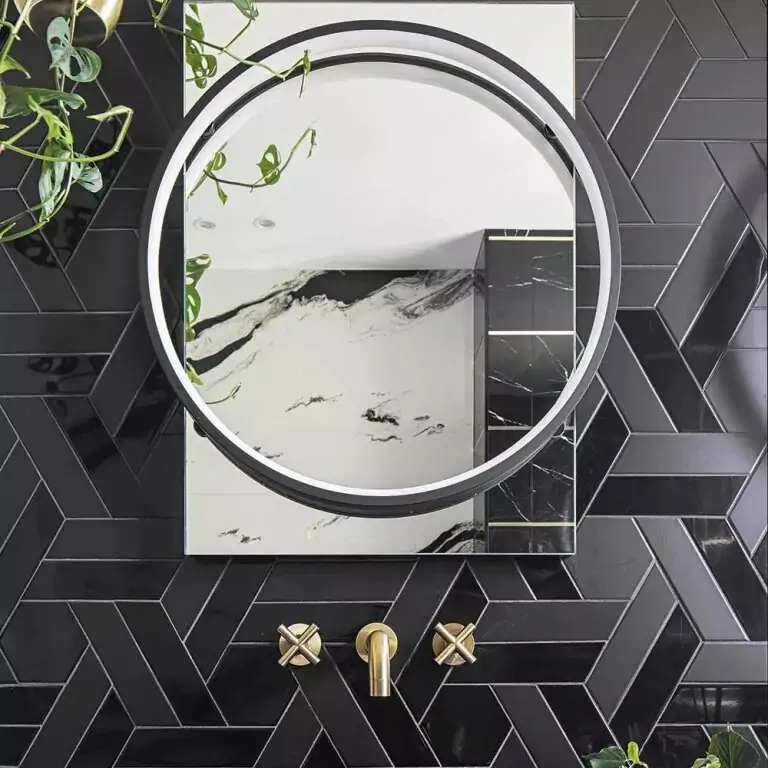 Each tile usually has traditional placement patterns that align with the manufacturer's concept to produce beautiful designs. However, what happens when you think outside the box? If you're creative enough, you can produce a unique, awe-inspiring style like the one above.
The image shows that you can use subways and still create something truly unique. Although they are normally placed vertically or horizontally, slating them in different directions across the wall has produced a more beautiful and appealing result. Why not let your creativity run wild with other tile types and see what unique style you can produce?
FAQs
Below are three frequently asked questions about bathroom decorations.
Is Tiling the Entire Bathroom a Good Idea?
There's nothing wrong with tiling your entire washroom space, and some tile patterns are a sure way to enhance the decoration. However, it is not a must-do. You can choose to tile only a few sections, although the shower area should be your top priority.
Which Tile Color is Best for Bathrooms?
Your bathroom tile color depends strictly on your preference. Nevertheless, a common rule of thumb is to use cool colors in washrooms to set the appropriate theme. Blue, Gray, Brown, and White are common colors appropriate for shower room designs.
Is It Better to Use Small or Large Tiles for Bathrooms?
Your bathroom size should influence your tile size; small sizes are good for big bathrooms, while big, glossy designs are best for small washrooms.
Final Thoughts
Bathroom tiles promote hygiene and protect your floor and walls while adding significantly to your decoration. When done right, they create a proper foundation upon which other bathroom decorations can be made. This article has reviewed 19 creative bathroom ideas with tile to improve your shower area. You can pick from the widely used checkerboards to self-designed tile patterns with subways.