Really Cute & Ergonomic Bathroom Jars: Ideas Abound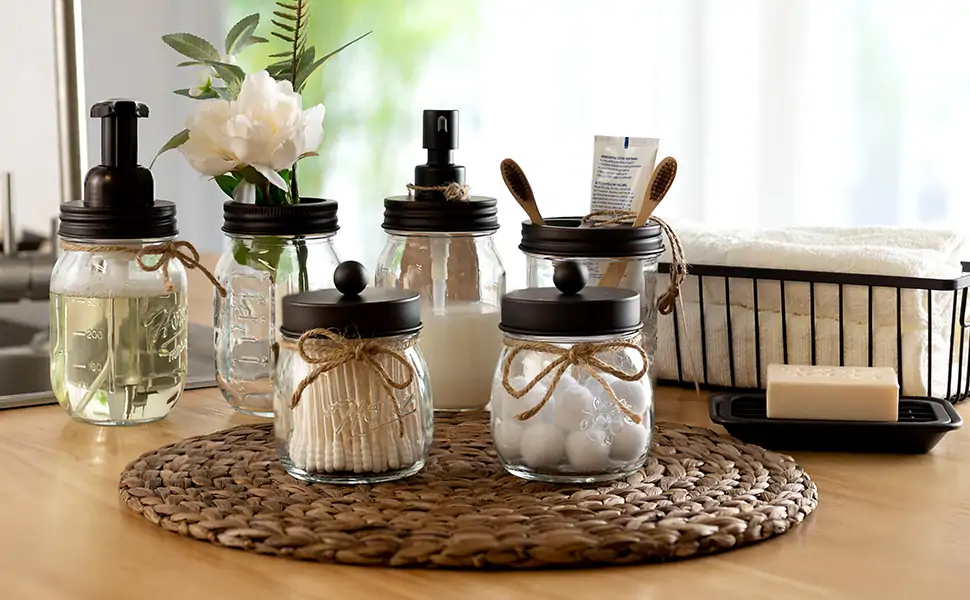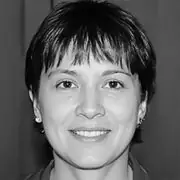 If you're in need of mini-storage organizers for your "small bath stuff", Mason and apothecary bathroom jars ideas are a pretty organizational solution to try.
These small jars for the bathroom are versatile. It's no wonder they serve functional purposes in the kitchen, from storing food items to serving as a mixing bowl, drinking cup, measuring cup, and spice can. People also use them as coin banks to save money. In your shower room, they help you feel less concerned with your small stuff strewn everywhere.
Still, there's a catch! Bathroom organization can be tricky, especially if you need to ensure your small items don't fall into hard-to-reach corners or get missing easily.
In this article, we will help you transform your chaotic bath setup into an immaculate clutter-free, elegant space using bathroom storage jars ideas that you can easily explore at home.
1. Use It as a Soap Dispenser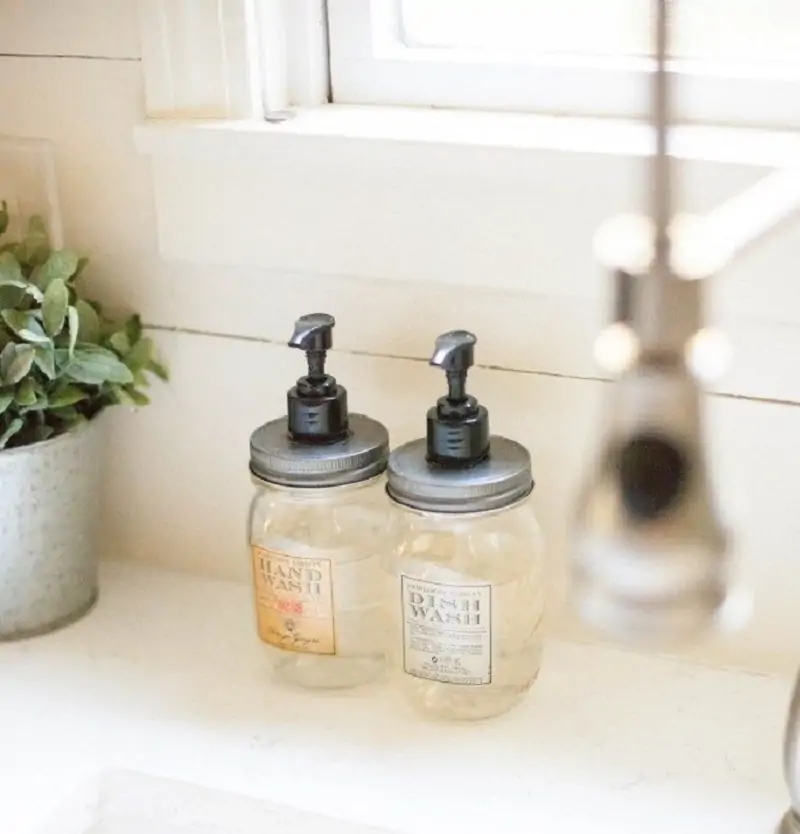 It's easy to get liquid soap in a spray can at your local mall. On the other hand, most liquid foaming soap won't come in a can or dropper bottle.
Still, the difference between a Mason jar and regular soap dispenser cans is in the decorative accents they add. Mason jars in the bathroom are an eco-friendly and easy way to keep your foam soap close by, sheltered, and, above all, easy on the eye.
2. Turn It into a Stylish Makeup and Brush Holder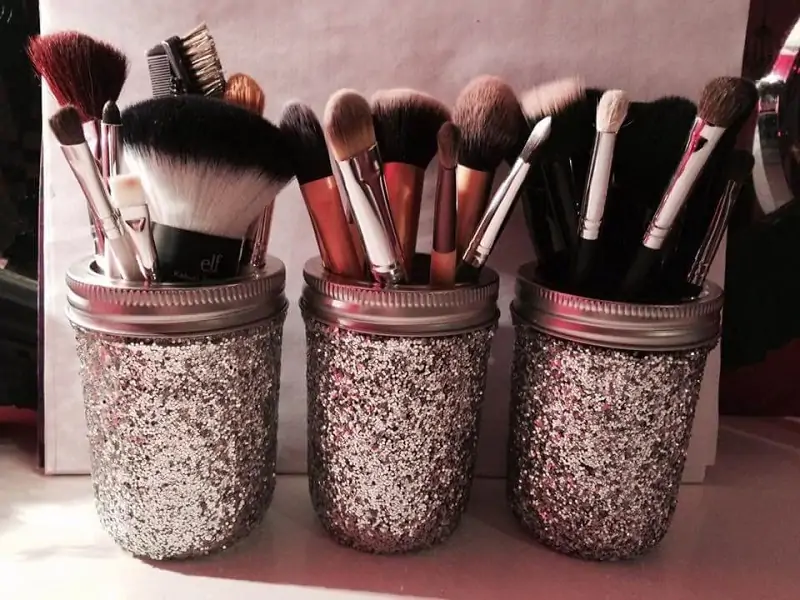 Most homeowners store their makeup powders and brushes in small cabinets, wall-mounted shelves, little trolleys, or small baskets placed on the floor. While these ideas are quite efficient in storing makeup kits, they take up lots of space in a small shower room.
The best part of utilizing bathroom ideas with Mason jars is that they allow multiplicity. So, you can get as many jars as possible to hoard makeup kits.
3. A Cute Toothbrush Holder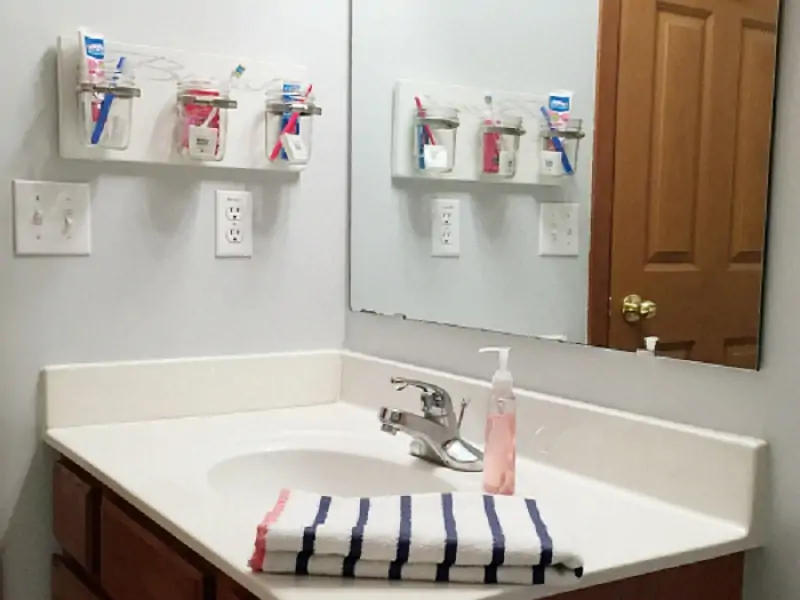 Another mini-organization project that an apothecary jar will help you handle is arranging your toothbrushes.
Imagine leaving your toothbrushes on the vanity where dust, debris, and germs can easily access them. Apothecary jars in the bathroom ensure that your toothbrushes are kept clean and healthy. They also help you store your toothpaste in a functional and compact space.
4. A Storage for Cotton Swabs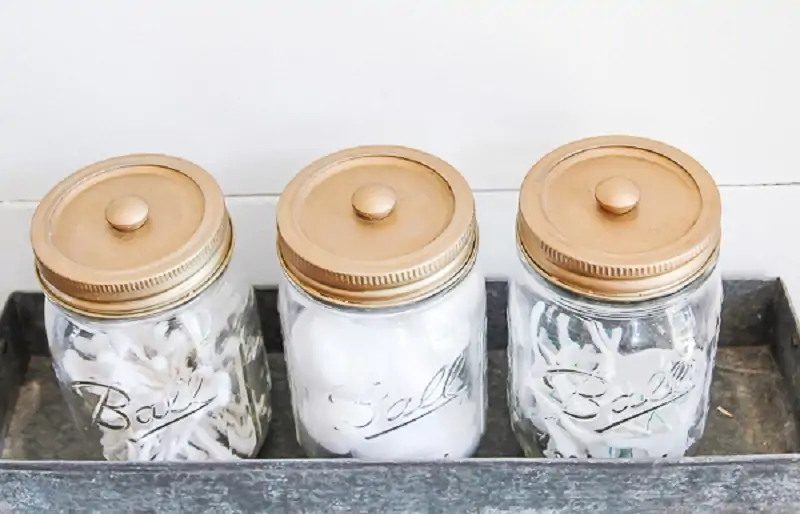 Like toothbrushes, cotton swabs can easily gather dust, dirt, and germs. While many manufacturers use nylon materials as protective layers to shield your cotton balls from these environmental conditions, the fact is that these nylons are flimsy and can tear easily, especially if made from low-quality materials. If you need organizational space for cotton swabs, they will fit perfectly in the jar. Plus, the lids these apothecary cans come with mean you won't have to worry about harmful particles.
5. Eliminate Cardboard Packaging for Tissues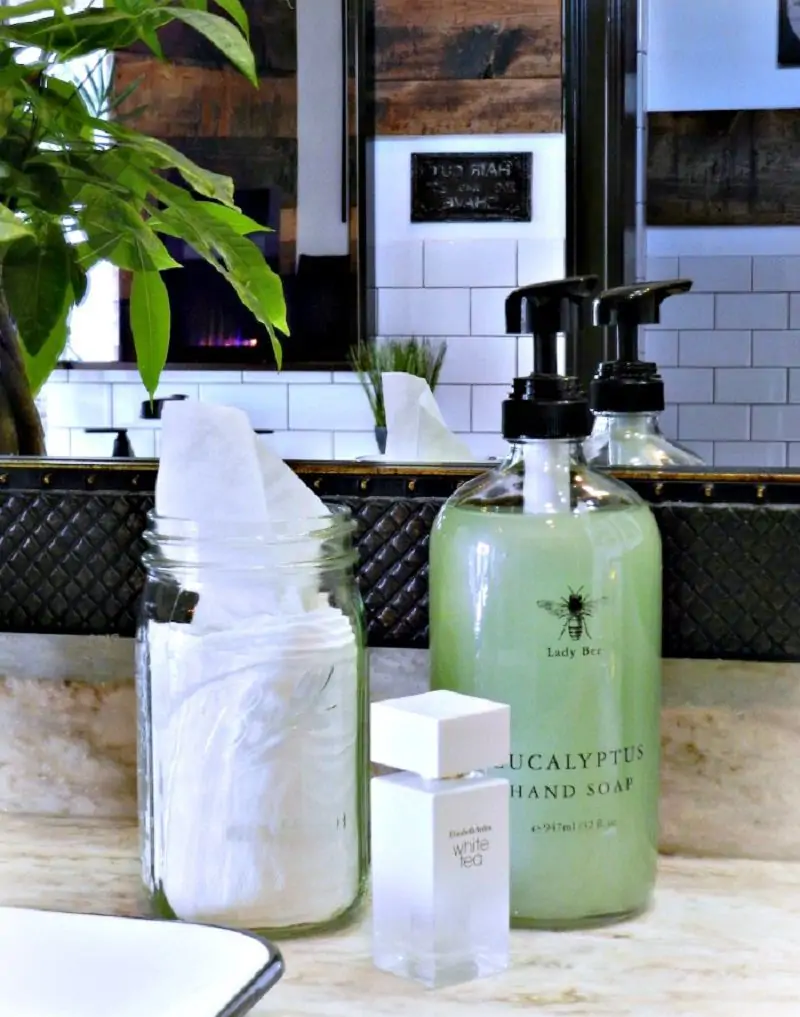 Cardboard boxes are normally good at what they do – keeping stuff in them safe and organized – and tissue boxes are no exception. However, in a small bathroom with little to no space on the tabletop, cabinets, shelves, or vanity, cardboard boxes can be a too bulky addition. Bathroom apothecary jar ideas take care of this problem.
You're probably wondering how this might be a convenient option. Well, besides its space-saving function, an apothecary jar can ensure convenience. Just open a small space on the lid so that tissue pulls out from the top like in a tissue box. These small bathroom jars will look far better than having an ugly tissue box displayed in your vanity area.
6. Use It as a Flower Pot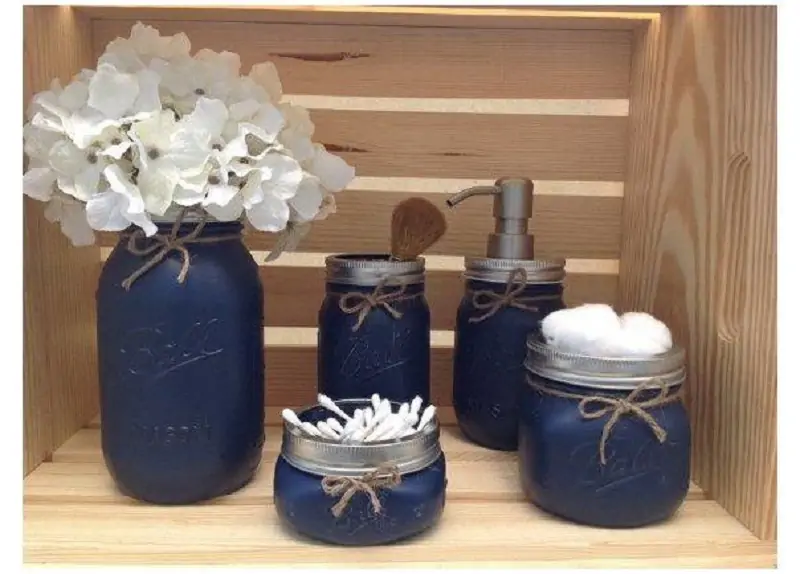 Nothing beats the natural fragrance of flowers, and having real flowers in your house never goes out of fashion. A Mason jar is something that easily goes unnoticed, but when you use it as a flower pot, it transforms your simple room into a classic and elegant mini-world of its own: your space starts to look luxurious and nature-loving, not to mention inimitable fragrance.
7. Mount It on the Wall…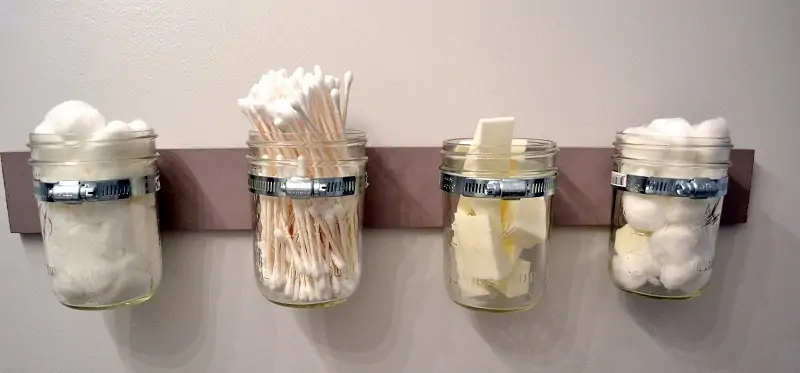 We've tried a few bathroom Mason jar ideas for different-sized bathrooms, but we truly loved how this design approach looks in a small space. If your washroom lacks space, wall-mounted bathroom jar filler ideas like this one will be a good organizational solution to try.
If you're considering this idea, ensure that you have at least three to four apothecary glass pots. This way, you won't waste wall space. This bathroom storage solution looks more like a wall-mounted pegboard. The only difference is that you can choose to clip the jars on the board with a wire or a plain metal clip.
8. …Or Arrange Your Jars in a Set on the Vanity Area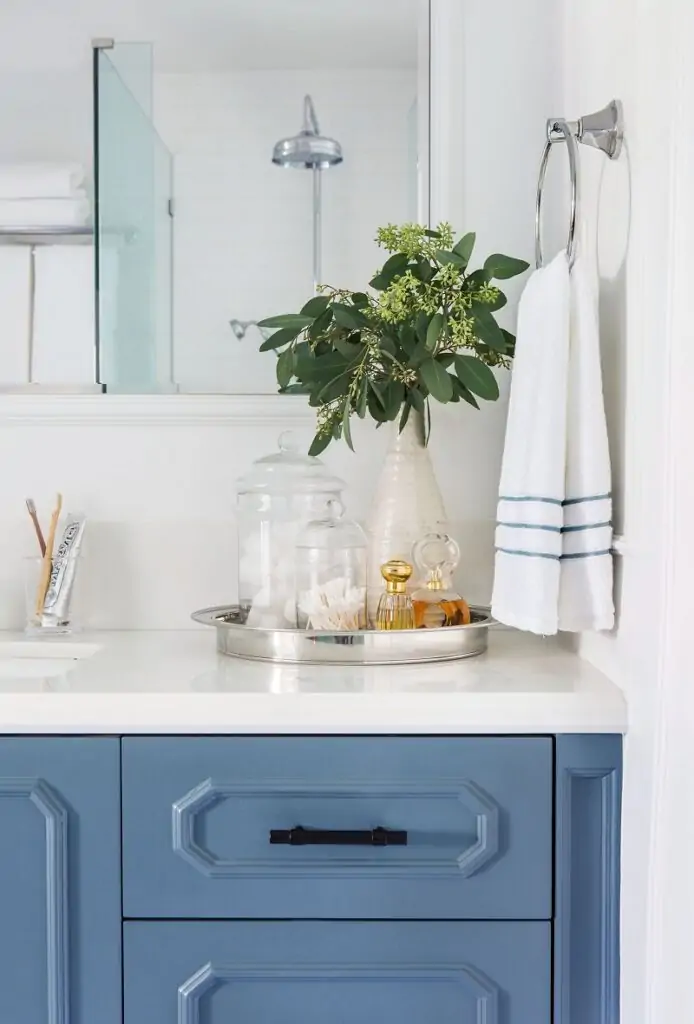 We really couldn't resist including this idea. As much as wall-mounted solutions help you store just about anything small and also add a nice space-saving touch to your washroom, the chances are that you don't want your bathroom wall decorated with holes.
To make this solution work, all you need to do is get at least four jars and arrange them on top of one side of your vanity area. Be sure to choose different-sized jars, so that you also create unique decorative accents that are display-worthy. Then again, it doesn't mean that same-sized cans won't help you create the effect you desire. Just choose the option that pleases you best.
If you spend some time painting this space-saving storage container in varying shades, this hack will be one of your favorite organizational and decorative solutions whenever you're considering an update in your shower room.
9. Use It as a Decor Piece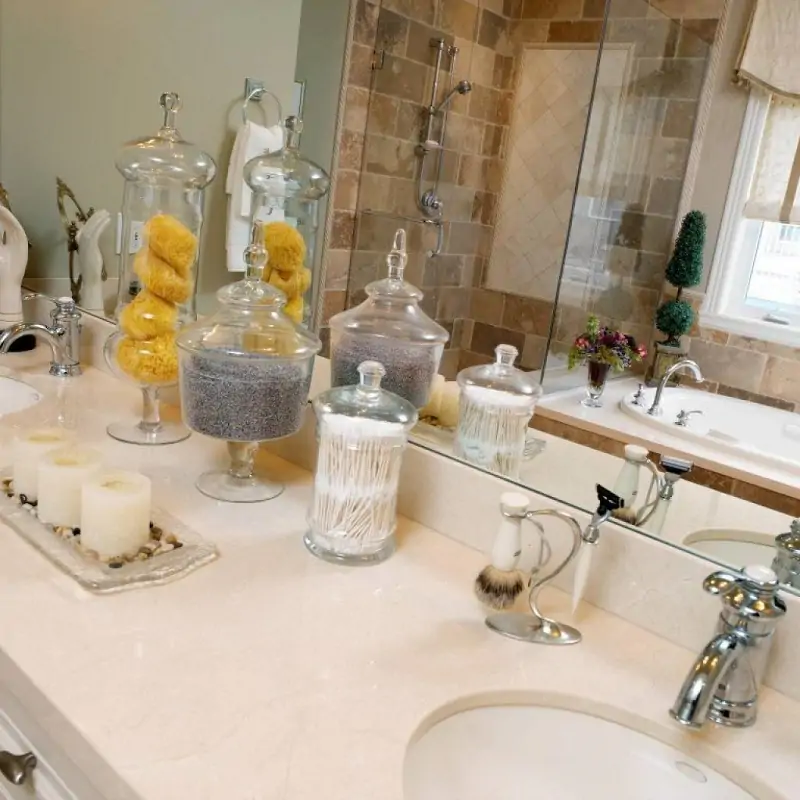 One of the best things about using Mason jars in the bathroom is that you can easily improve their aesthetic appeal. All you need to do is use a DIY approach to customize them to your taste.
As mentioned earlier, get at least four of these glass pots and paint them. Alternatively, create DIY items like ropes or paper labels with colorful patterns and glue them to your jars. Just make sure that the decorative glass jars for the bathroom show your creative personality.
10. Keep Your Vitamins Cool and Dry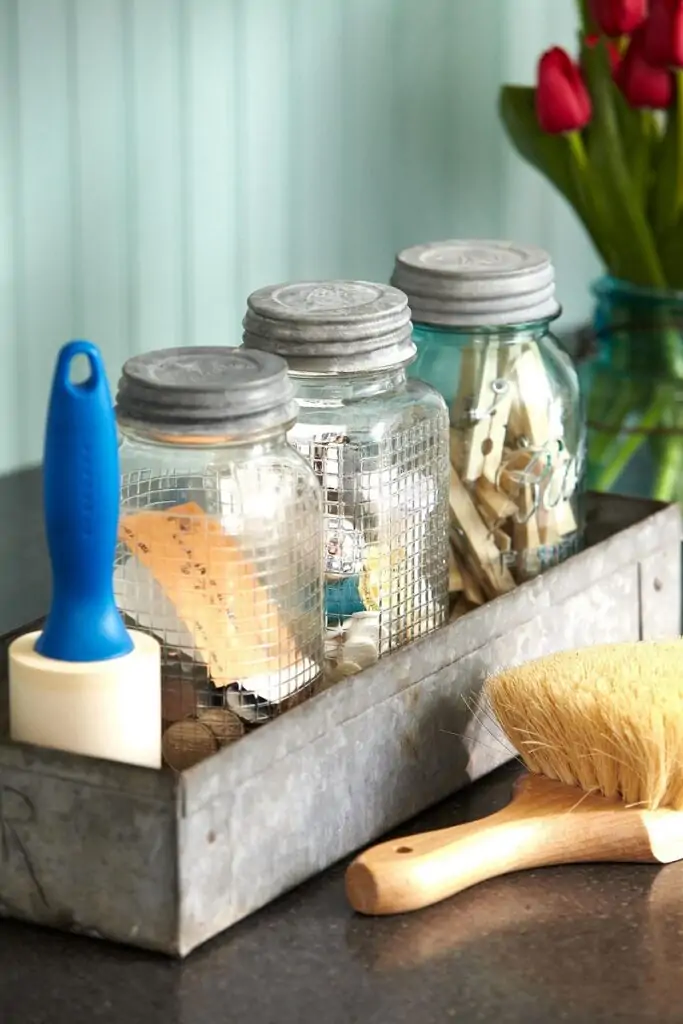 You'll always read on a medicine label to keep drugs in a cool place. This is because temperature and humidity can greatly affect their quality and have extended effects. Bathroom Mason jar ideas will help you keep your vitamins and other medications free from heat, moisture, and other environmental conditions that may lessen their effects.
How Do Bathroom Jars Work?
An apothecary jar can play two vital roles in your washroom, namely, creating additional storage and adding a simplistic style to your space.
The most significant challenge homeowners face when decluttering, updating, or organizing their bath space is finding suitable storage solutions to store their essential items. In fact, most people forgo the idea of a well-planned system to keep small items safe and only focus on large cleaning linens like towels.
On the other hand, finding suitable decorative accents, accessories, and fittings that will set up your bath space in an attractive way can be difficult. Whether you place a Mason jar on the bathroom vanity top or mount it on the wall, it is a simple and fun way to keep your bath space clutter free and elegant.
FAQs
Here you will find the answers to commonly-asked questions.
What is an Apothecary Jar?
It is small glassware that comes with a lid. Apothecary jars were originally used to store pharmaceutical products. That's why until today you could mostly find them in pharmacies. However, their use has evolved from serving as storage cans for pharmaceutical products to storing cooking ingredients and small homeware. Simply put, apothecary jars are a versatile tool for organizing stuff.
What Can You Put in Apothecary Jars?
If you're already using them as a storage solution in your home, it means you know that they can really hold a multitude of items. Most people use Mason jars for seasonal décor display in their living rooms and bedrooms. Others use them for ingredients, fruit storage, and soups in their kitchens and dining rooms.
In the bathroom, the list of what you can do with them is truly endless. You can use apothecary cans to hold your liquid soap, cotton swabs, flowers, toothpaste, toothbrush, vitamins, band-aids, makeup powder, brushes, and more.
Conclusion
Mason jars aren't the typical interior decor and organizational idea you'd easily cook up when organizing your space. Nonetheless, they offer loads of advantages when it comes to space and aesthetic appeal. From holding your toothbrushes to toothpaste, cotton balls, makeup brushes, flowers, tissues, and soap, bathroom jars ideas are a great means to organize and elevate your bath.