Top 11 Imaginative Ideas for Ideal Bathroom Wet Rooms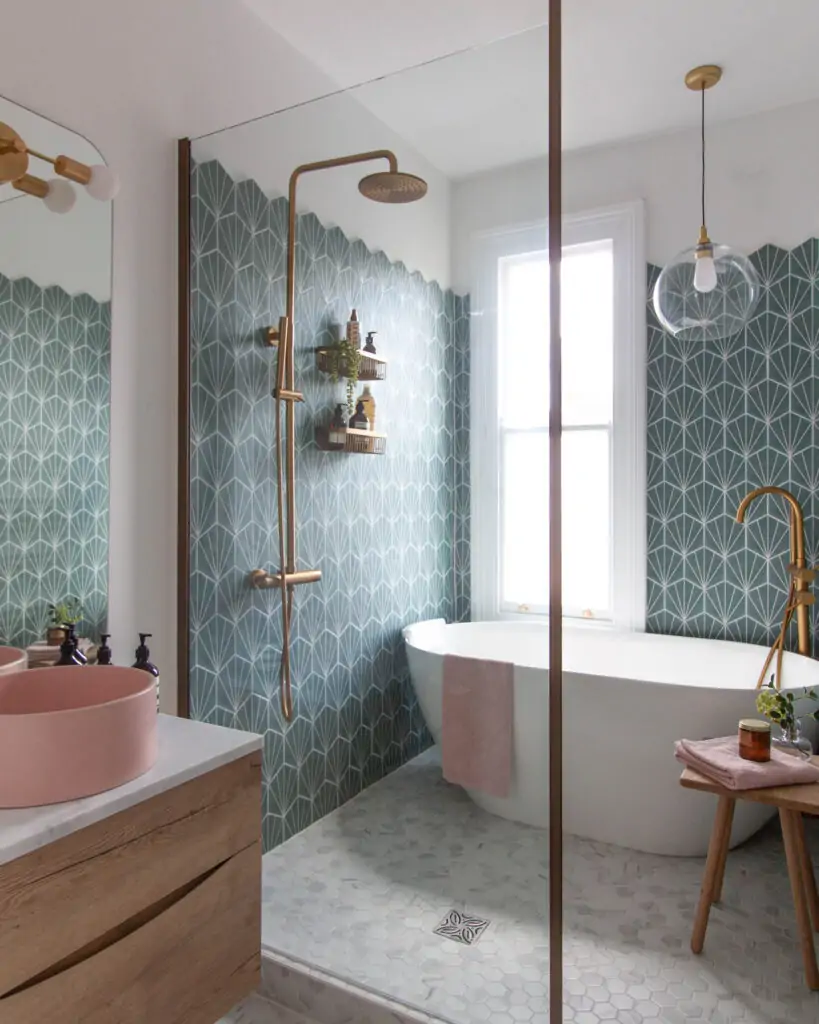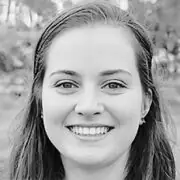 When it comes to bathroom wet rooms, there are no rules; you can let your imagination run wild and produce some truly unique ideas. A wet room bathroom is simply a watertight bathroom with a central drain and a shower that is not separated from the rest of the washroom.
See for yourself that wet rooms can be anything you want them to be, from functional to luxurious, provided they're properly tanked to prevent leaks. This article details 11 simple ideas for a unique and functional wet room. It also provides a list of the pros and cons you should know about wet bathrooms.
Create a Resting Space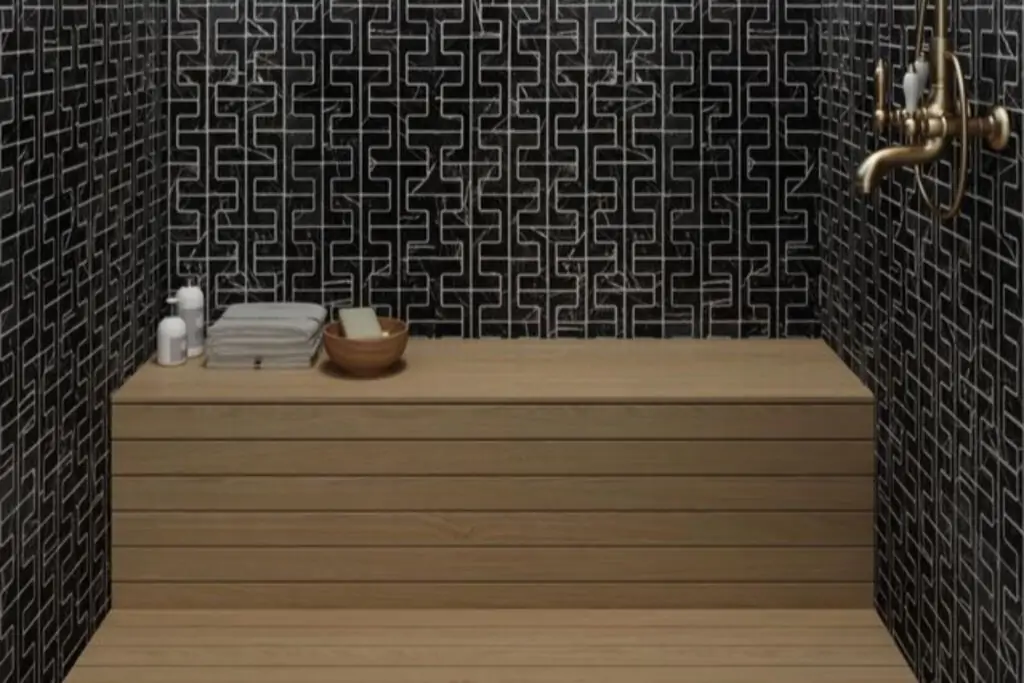 In addition to aesthetics, another important reason for these washroom designs is to enhance the spaciousness of your bathroom, giving it a luxurious, spa-like look. Why not complete this ample space with a well-designed sitting area in any bathroom corner?
With a well-placed sitting area complemented with vanity lights and proper steaming from a large showerhead, your spa-inspired bathroom with a wet room becomes a mini-sauna. This design creates another relaxation spot beside your living room, but be careful: you might find yourself spending more time bathing, although each bath will be truly refreshing.
Install Fancy Lighting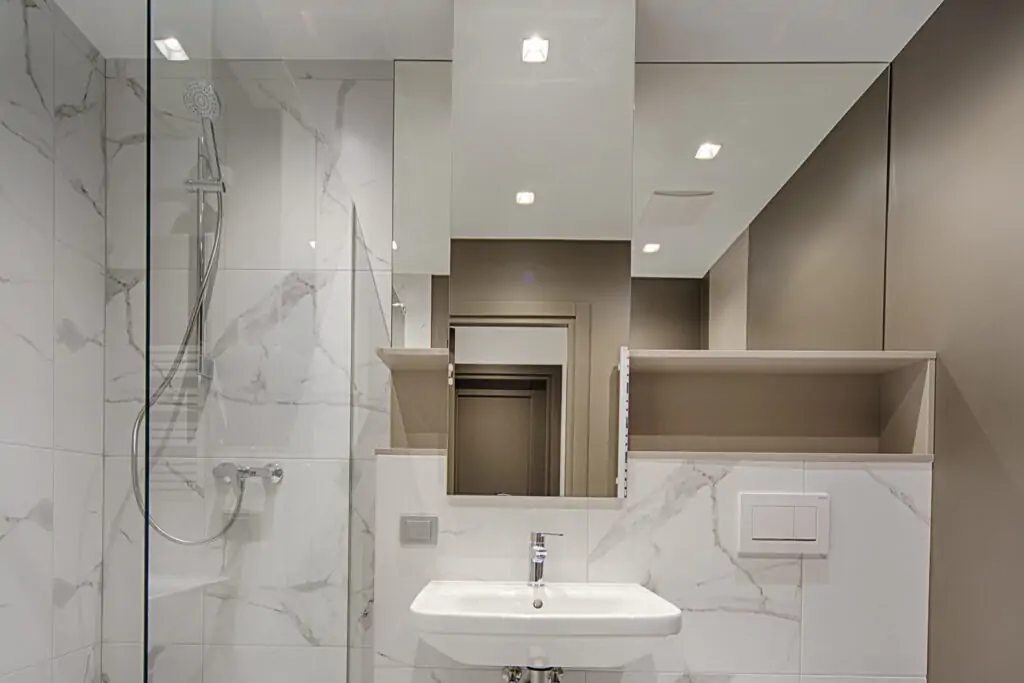 Natural light sources are great for bathrooms, and you might have a window in yours. Still, to give your washroom that luxury feel, you'll need to install additional lighting styled differently from normal room lights.
When choosing lighting, remember that the light may be exposed to splashes, so select covered and moisture-tolerant lights.
Vanity lights are a great option if you have a bordered ceiling. You can opt for wall sconces if you have sufficient wall space free of accessories like towel holders and racks. Recessed ceiling lights are also great if you prefer ambient lighting in your mini-spa.
Use a Foldable Shower Screen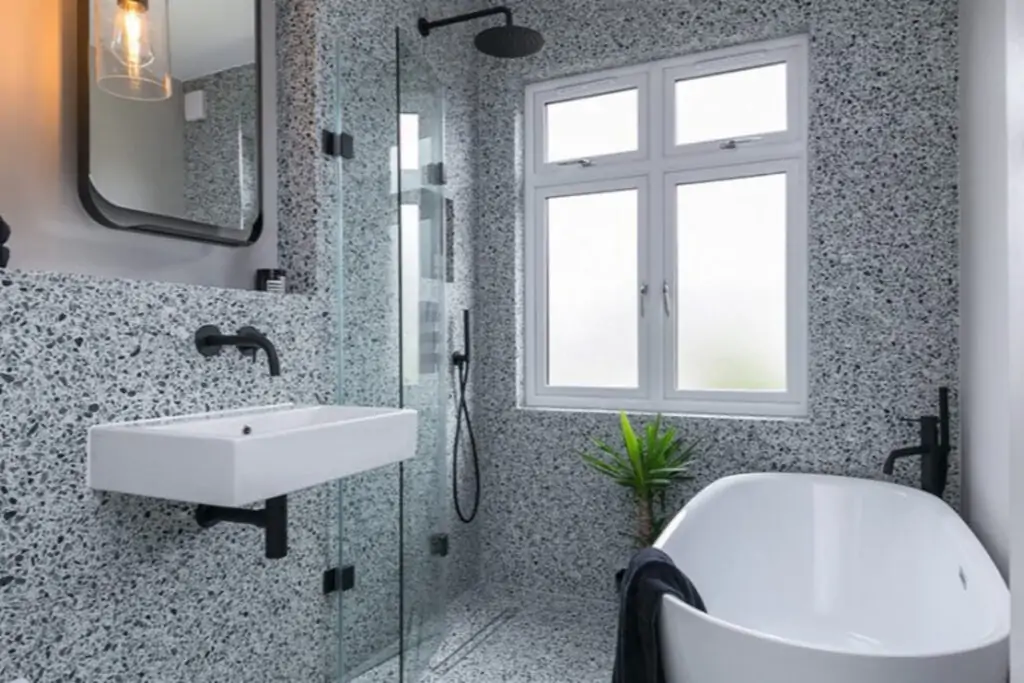 You might love the spaciousness and luxury of wet rooms but still have reservations about the high humidity that is typical of their designs. This solution allows you to enjoy the best of both worlds.
Foldable shower screens compartmentalize the space and allow for mini wet rooms in larger bathrooms. So, while the outward design gives a feeling of a spacious room, you'll only need extra insulation in the shower space, which is separated from the rest of the area by a glass door.
This design also permits you to place all washroom accessories, including a towel cabinet, in your 'extended wet room' without fear of damage from splashes or humidity. Not to forget, this feature is classy, luxurious, and high-end look.
Design an All-White Wet Room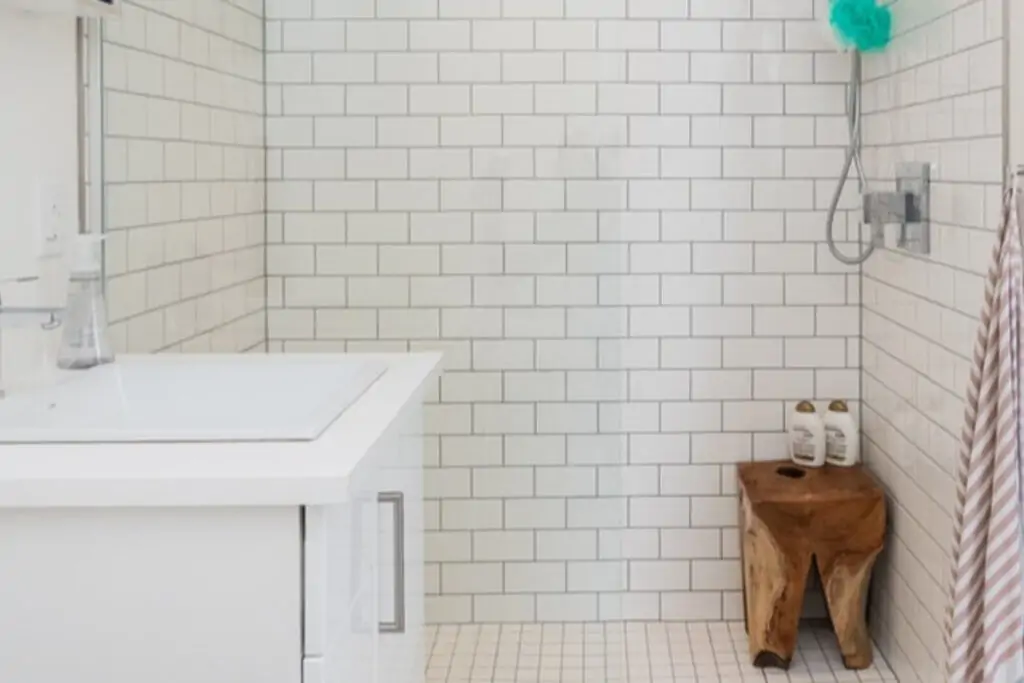 You already have a white toilet bowl, bathtub, and probably a white door, so why not keep it all white and clean? Select a great white tile to finish your floor and wall tanking, and let your window and lights do the rest.
What's more, this is one of the better small bathroom wet room ideas as all-white surrounding visually enhances the space and makes your limited area look larger. While white tiles are not the easiest to keep clean, such an approach applauds your effort the most. You can choose to go with plain white tiles or layered-brick design for the walls and white terrazzo tiles for the floor to give you a marble feel. The all-white design sets the mood for a truly refreshing bath, leaving guests amazed.
Use Designs to Sector Your Shower Area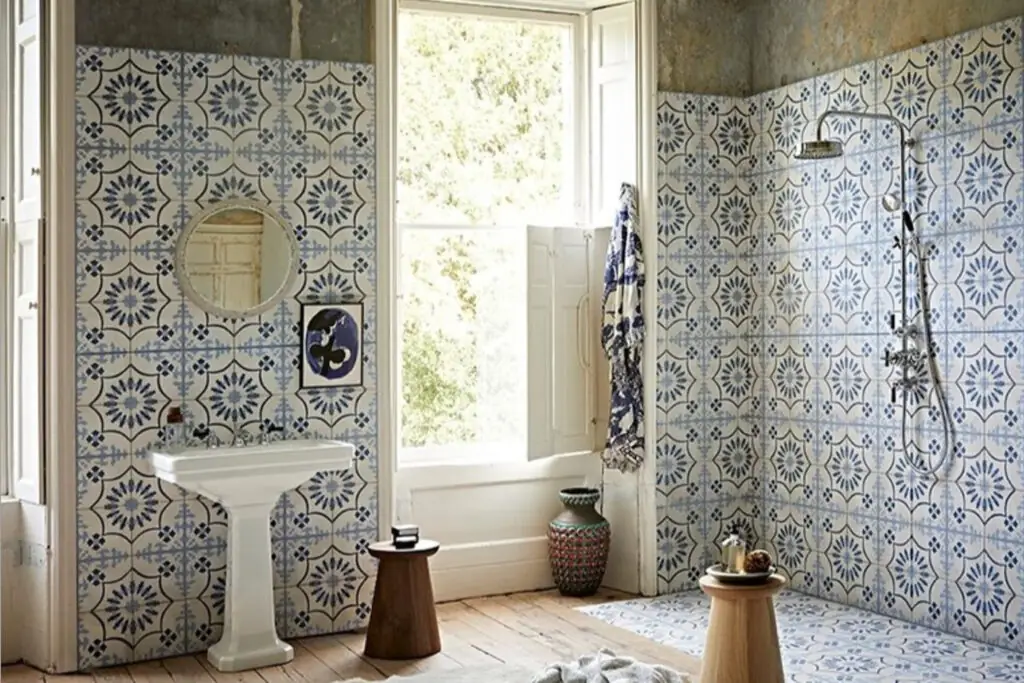 If you've got a master bathroom with a wet room, ideas on how to compartmentalize the available space can be a bit tricky. It is best not to consider installing shower screens as they would compromise the spacious feel such washrooms usually have. Instead, you can restrict your bath area using tile designs while preserving the much-needed space.
Think of a nice tile combination that leaves a truly pleasant impression. You don't have to limit the designs to the floor; you can also make matching patterns across the walls to produce unique designs that stand out. Consider designing your shower and drain areas with flowery tiles complementing plain tiles and see how it turns out.
Elevate It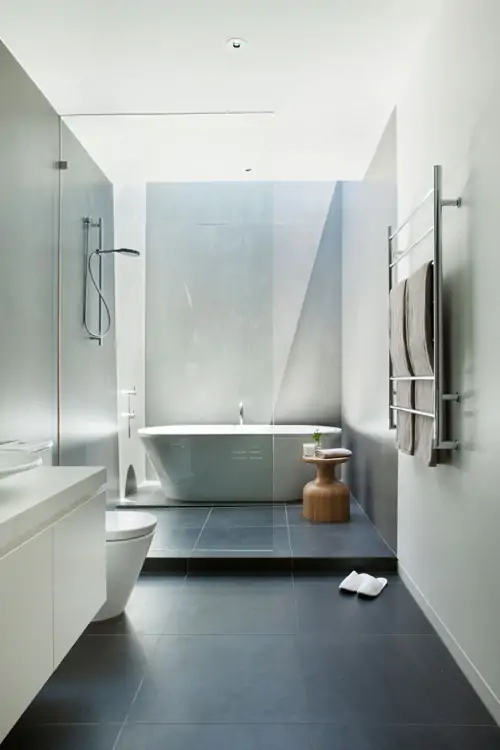 Have you ever thought of carving out wet rooms in bathrooms? The place where you bathe may be quite spacious, and converting all that space into a wet room can feel awkward. Now, this is not just demarcation with glass doors or designs but building a semi-separate room in the larger washroom.
Having decided on your wet room dimension, separate it from the rest of the area using a slight elevation. While this may seem expensive, remember that it saves you the cost of insulating a larger washroom.
To make this small yet sufficient space as comfortable as possible, fit your shower head (maybe two for saturating the room), bring in your bathtub, and install special lighting.
Install Dual Shower Heads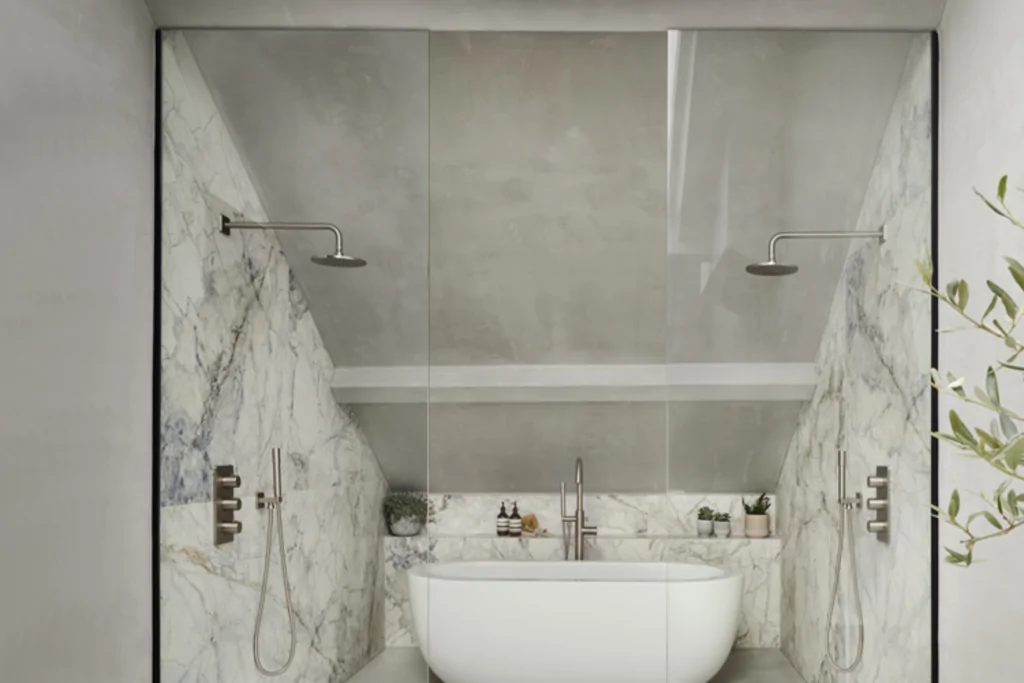 How can you call your area a wet room if it has you leaning to one side to take a shower? Remember, this bathroom is not a limited enclosure, and using a shower, especially one equipped with a smaller shower head, may not give you the bathtub feel.
If you want to enjoy that overwhelming drenching, even a single rain head shower might not suffice, so why not fit two heads? You may decide to fit them in a single line or opposite each other; either way, you'll get that irresistible rain bath feel you will want to experience again and again.
Design in Stone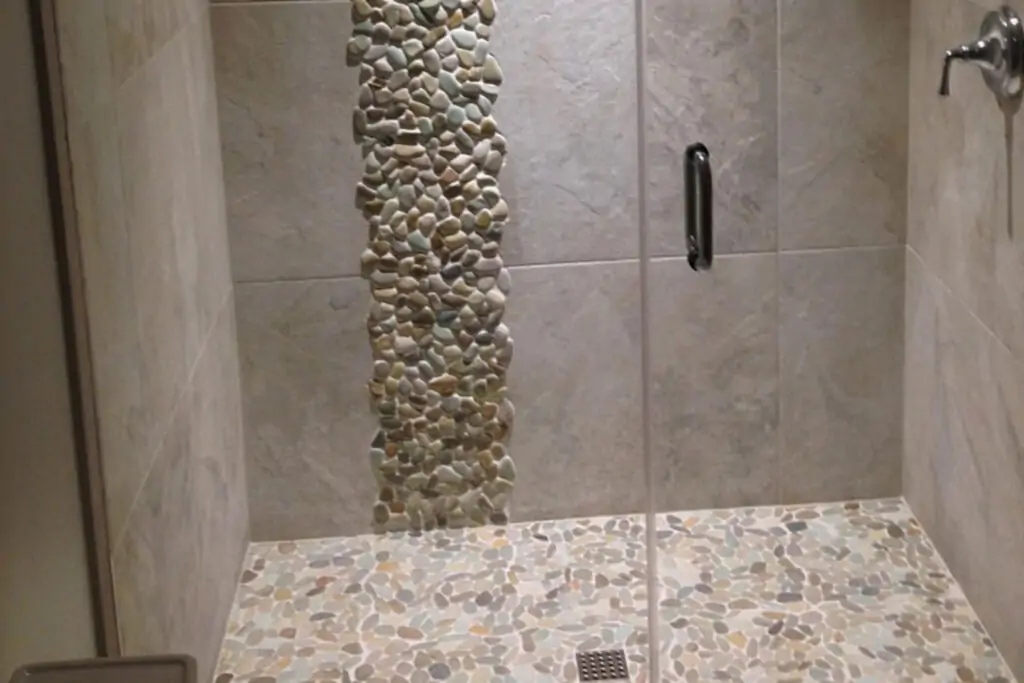 Why not go closer to nature in your wet room? Plants are great for beautifying a place where you bathe, but here is another great natural element requiring less attention after installation – stone. Mixed with resin, you can design the wall and floor with stone for a unique finish.
Properly sealed stone beats any beauty terrazzo offers. Duly installed, stones will help consolidate your water insulation and prevent seeping. They also give a distinctive cold, and welcoming feel whenever you lean on them. And if you desire ultimate luxury, pair this design with a bathtub designed in stone.
Use Unusually Shaped Tiles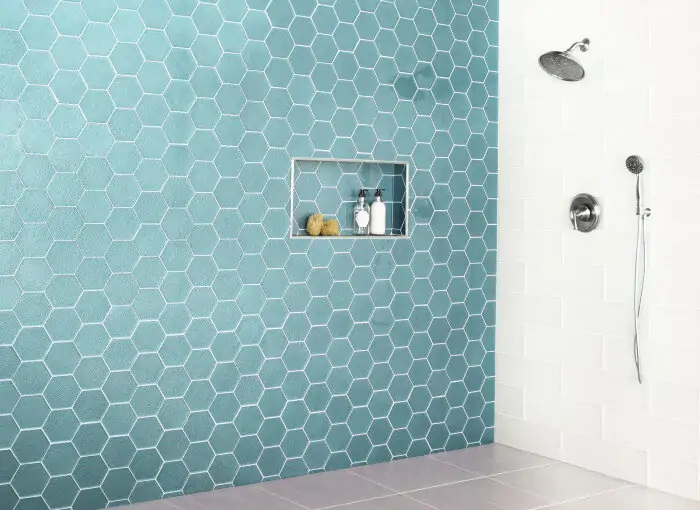 Want your bathroom to stand out in style and class? It's all about how you design it. Regular designs with bland square tiles can feel a bit old-fashioned.; So, why not go the extra mile – in shape!
You will need to hire a professional who has enough experience in dealing with uncommon shapes like a hexagon or pentagons. The end result will be well worth the effort, though: when properly fitted, such tiles give your washroom a marvelous finish.
Bath and Bask in Natural Light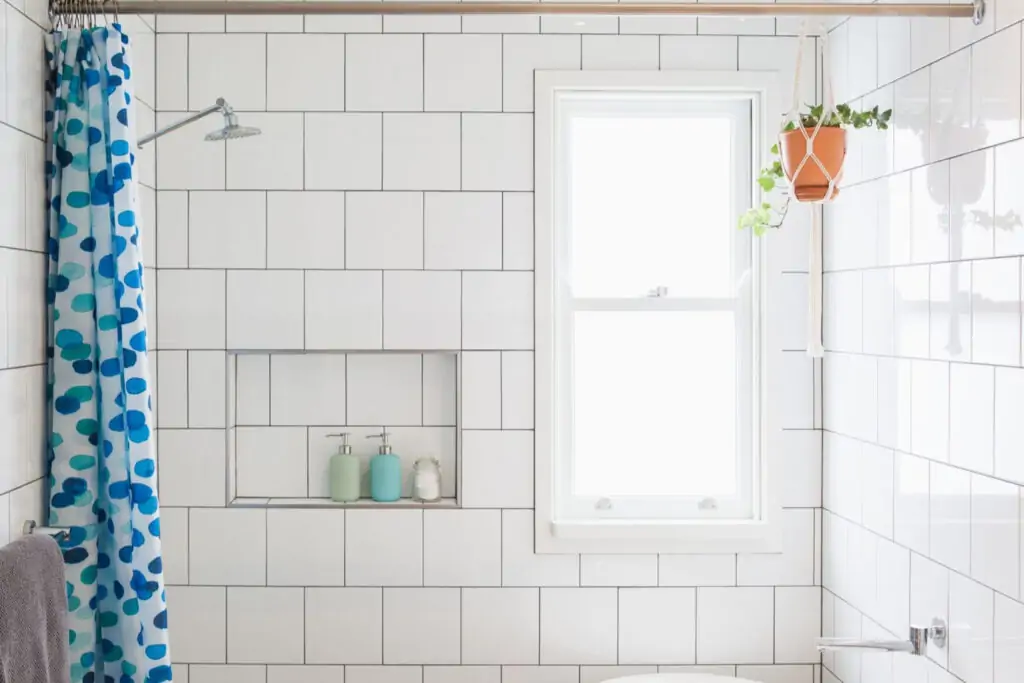 You may have a window but still bathe far from it for privacy reasons. Sometimes, the light where you bathe doesn't provide the warmth you desire. This bathroom wet room design provides a means to enjoy outdoor warmth while relaxing in your washroom.
Just place a translucent blind screen over your window, and you can install your shower close to the window to bask in the sunlight while you bathe. You can compliment it with a foldable blind; if the window cannot be opened, install an extractor fan or underground heating to manage your bathroom humidity.
Install a Minimalist Shower Head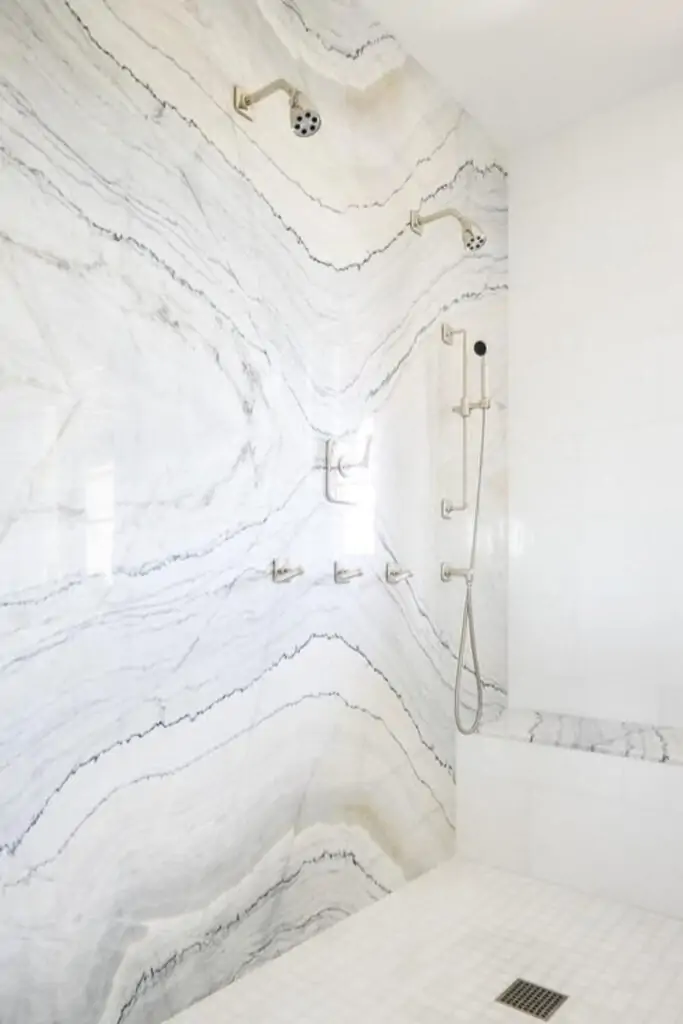 Beauty lies in simplicity: this adage remains the same when you create a beautiful bathroom. After designing with tiles and accessories, you can opt for a minimalist showerhead to crown your efforts.
A small wall-mounted shower head in a well-designed space would give the appearance of an exquisite piece of jewelry. It is also advantageous because a small shower head encourages a detailed, clean and refreshing bath, not just an indiscriminate drenching in water.
Pros and Cons of Bathroom Wet Rooms
Though popular and widely sought after, wet rooms are not all good; they also have some downsides that you should know. Let's consider some of these cons right after reinforcing their benefits.
Pros of Bathroom Wet Rooms
Below are some benefits that make these bathrooms widely sought after:
They add value to your property, keeping the house modern and trendy.
They make your washroom look bigger, giving it a spacious feel.
The floors are easy to clean.
Effective drainage in properly insulated spaces reduces the risk of mold and mildew.
The shower rooms are more accessible to the elderly and disabled since there are little or no barriers.
Cons Of Bathroom Wet Rooms
The following are the disadvantages you should consider before renovating your bathroom:
They are expensive to install.
Water splashes are uncontrolled.
You can only keep limited and water-resistant washroom accessories in them.
They require extra ventilation.
FAQs
Here are the most asked questions about these types of bathrooms:
How Big Does a Wet Room Bathroom Need to Be?
A 40 square feet washroom is sufficient and spacious for a good design. Although you can make do with less space, you should consider a bigger dimension if you desire to have a bathtub in it. In addition, more space would encourage more exquisite and unique designs.
Are Wet Rooms More Expensive?
Yes, they are more expensive than standard washrooms. Even the cheapest design costs about 20% more. More than the design, proper insulation carries the bulk of the cost, so you can cut costs by crafting a small wet room in your larger bathroom.
Final Thoughts
Why long for a day at the spa when you can have the spa experience right at home? For that, you'll only need a wet bathroom room, and this article has outlined 11 simple, cost-effective ideas. Apply any of the concepts you like, and say goodbye to spa bathrooms.