A Bedroom with an Office: Ideas for Work and Dreaming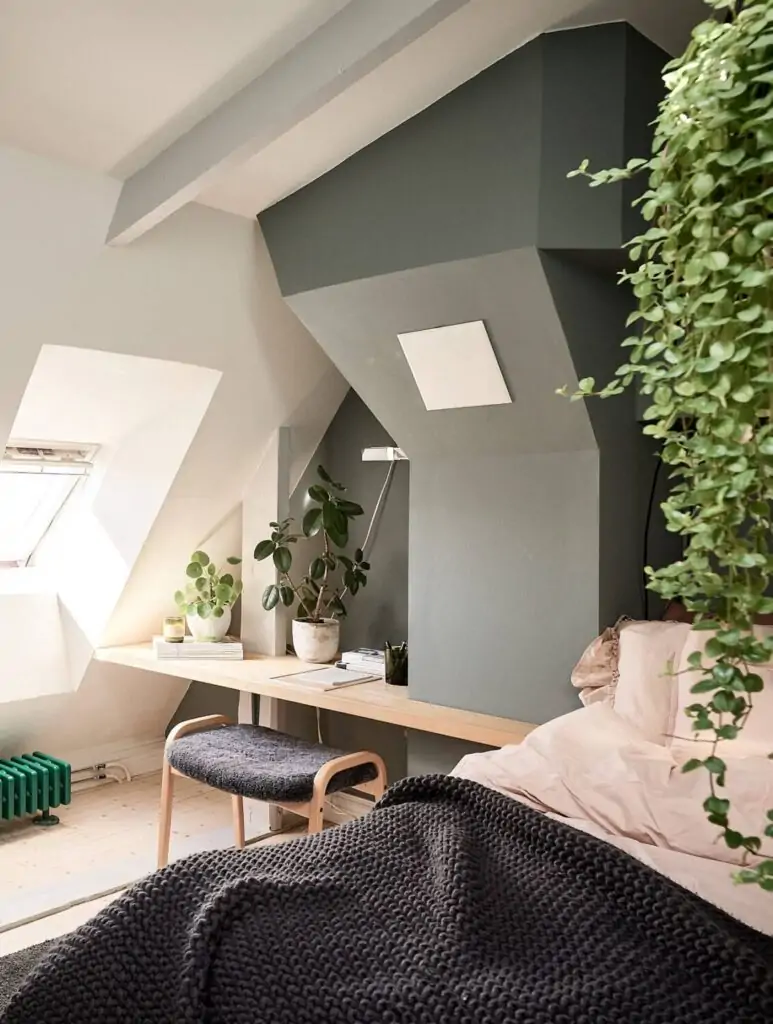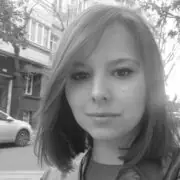 What about combining your bedroom with an office? Ideas like these may not have been all that popular in the past, but since the 2020 epidemic, the way we (and our employers) look at work from home has changed — and the demand for comfortable and functional bedroom office design ideas has skyrocketed. We invite you to take a look at some of them and bring the inspiration back into your home.
1. Adapt, Don't Copy: Use Decor That's Dear to You
The best thing about bedroom office setup ideas is that no matter what layout you choose, you can always adapt your choice to your unique style. In this example, the owner opted for a deep, cozy chair instead of a typical work one and decorated the corner with quirky art and flower pots — so that she feels comfortable and productive in this space.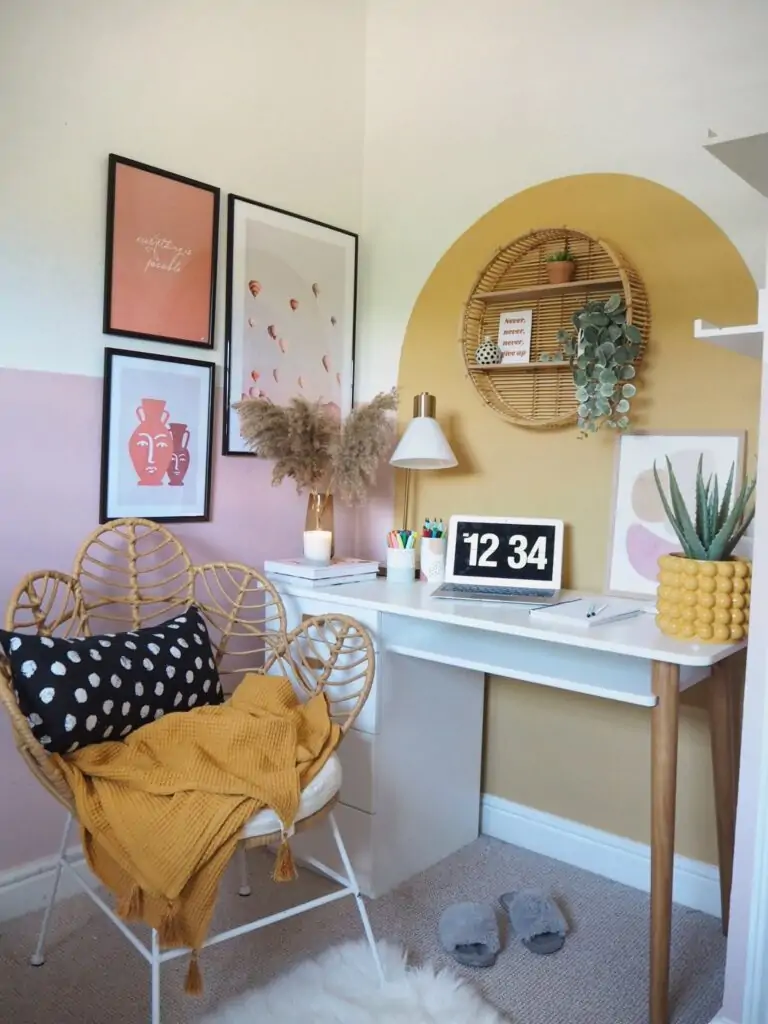 2. Double Duty: Small Desk, Large Purpose
You may think that it's hard to use bedroom office ideas in a small room, but in fact, there are many tricks you can apply in such a space! One of them is to put in a desk that doubles as a nightstand. If you use a laptop or another portable device, it won't be difficult to make this piece of furniture easily transformable from day to night.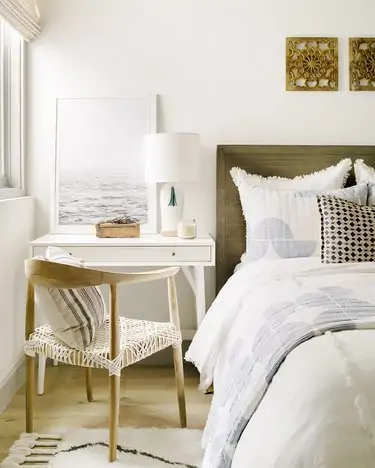 3. Low-Hanging Fruit: Walls Are There to Be Used
It is impossible to list bedroom desk ideas for small spaces and fail to mention a floating desk. There are many kinds of those for any taste and wallet; the one in the picture is built into a shelf to optimize storage space. A small addition to the room that can fit a lot!
4. Springing Out: Use the Furniture That Fits
Another well-known way to free up some space — installing a Murphy bed — works great for any room, including a bedroom with an office space. Here, the color palette and general layout make the room feel spacious even when the bed is pulled down; imagine how large this place looks with the bed neatly hidden.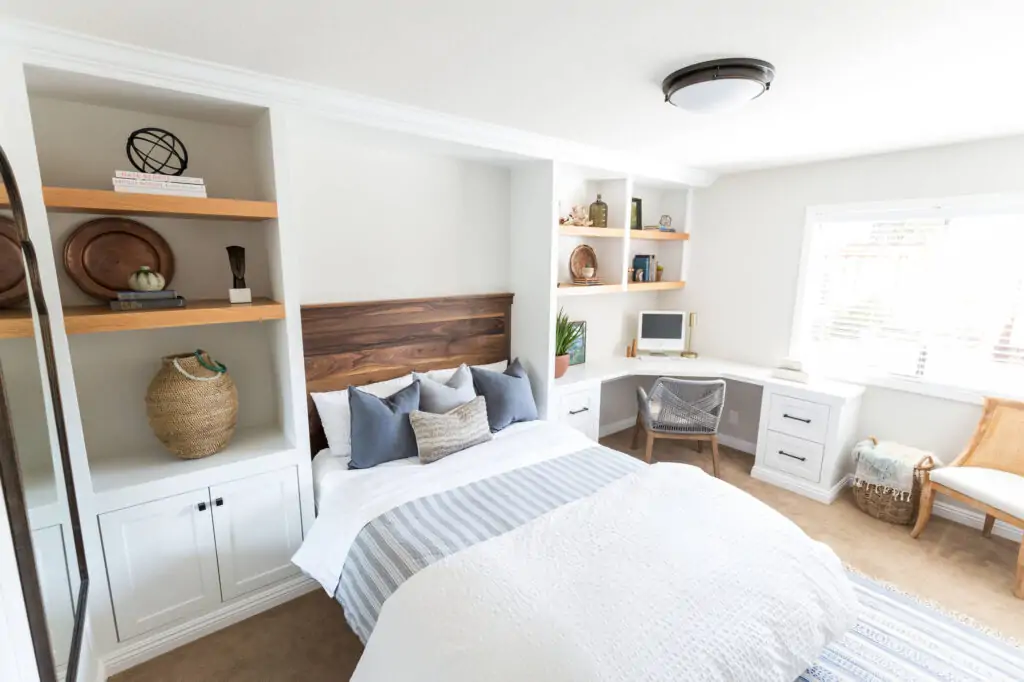 5. Closed for Business: Choose a Casual Style
If you have some more space to work with, this bedroom office combination looks very promising. The desk and other furniture in the picture lack that boring, business-like appearance, looking like they would fit either into a place to chill out or a workspace (or both!). At the same time, the room doesn't feel cluttered, despite it being a multifunctional space.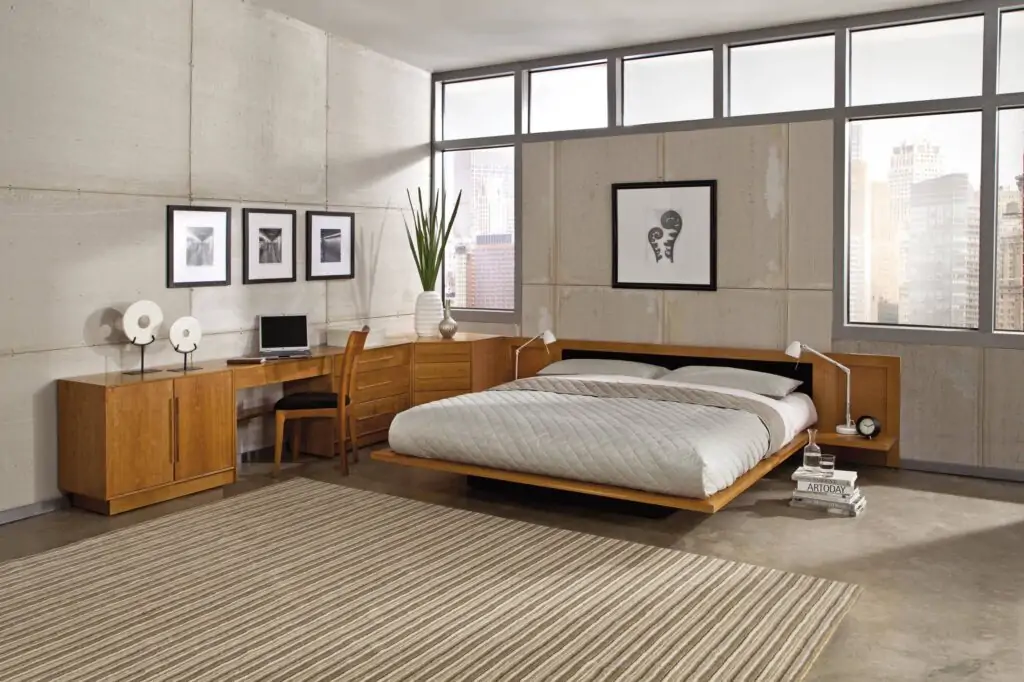 6. Corner with a View: Set (In)visible Borders
If you're looking for creative ways to divide your space into separate zones, consider bedroom office layout ideas like this one. The desk helps carve out a work corner visually while keeping its primary function as a desk. Talk about a corner space!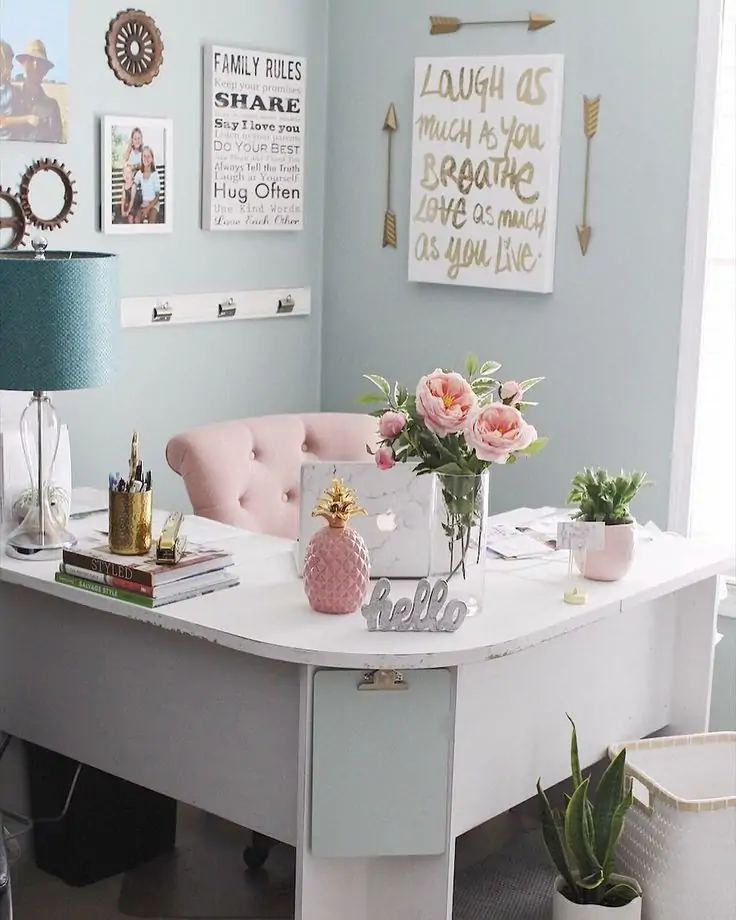 7. Office with a Bed(room): Focus on What's Important to You
Keep in mind that the variety of bedroom office design ideas that are available to you depends in part on your priorities: do you want your bedroom to be a true sanctuary, or do you think of this room as a place to sleep and not much else? If the latter is true for you, consider putting more thought into the business part of this combo. Here, a large deck and lots of bookcases dominate the space, but there's still room to put your head down — and that can be enough.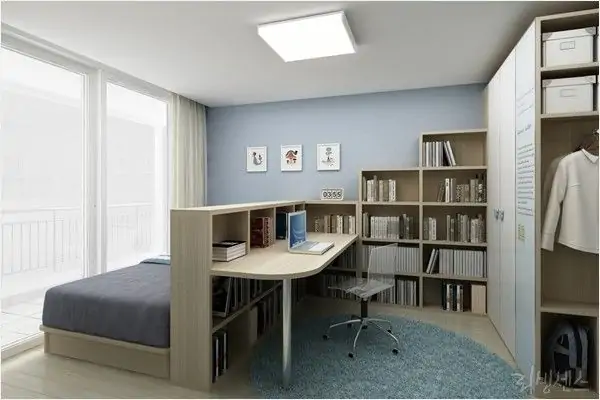 8. Sleeping Beauty: Make a Balanced Compromise
On the other hand, many people consider the room where they sleep their place of power: they may have to work from there, but it's a space to recharge first and foremost. And that's fine too. By and large, it's not difficult to equip your master bedroom with an office: ideas for doing this can be as simple as a small desk by the wall.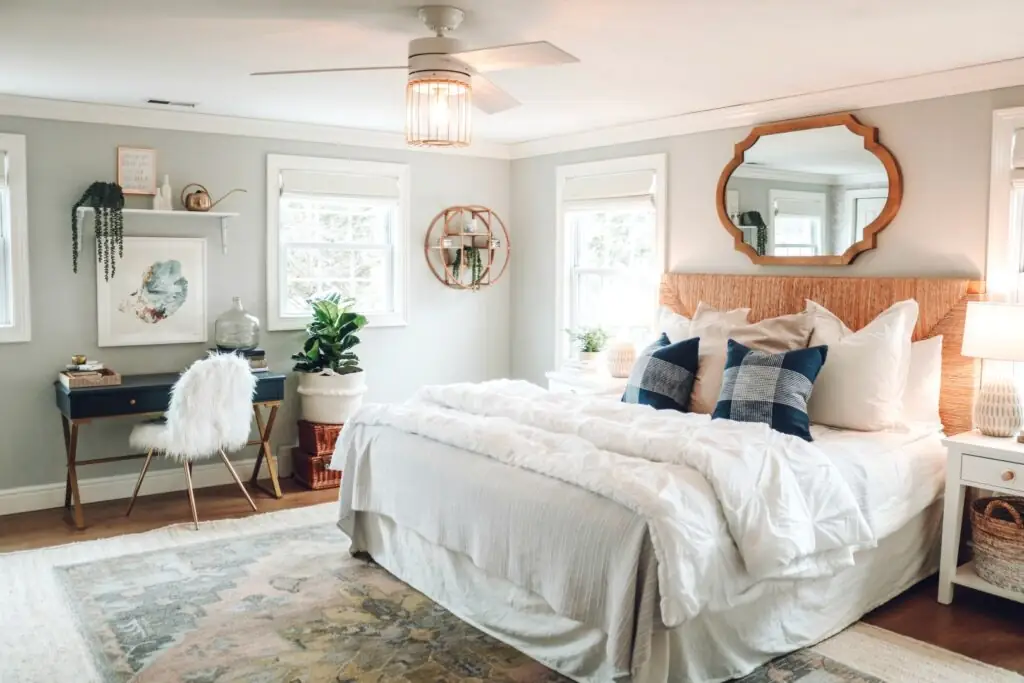 9. Middle Ground: Put More Furniture for a Smoother Transition
Want to create a truly cozy bedroom with a home office? Ideas for making the space cozier can involve adding some extra furniture to get the right vibes. In this example, a window seat is an addition that fits both the business and the pleasure aspects of this place, tying the ensemble together and creating a comfortable look.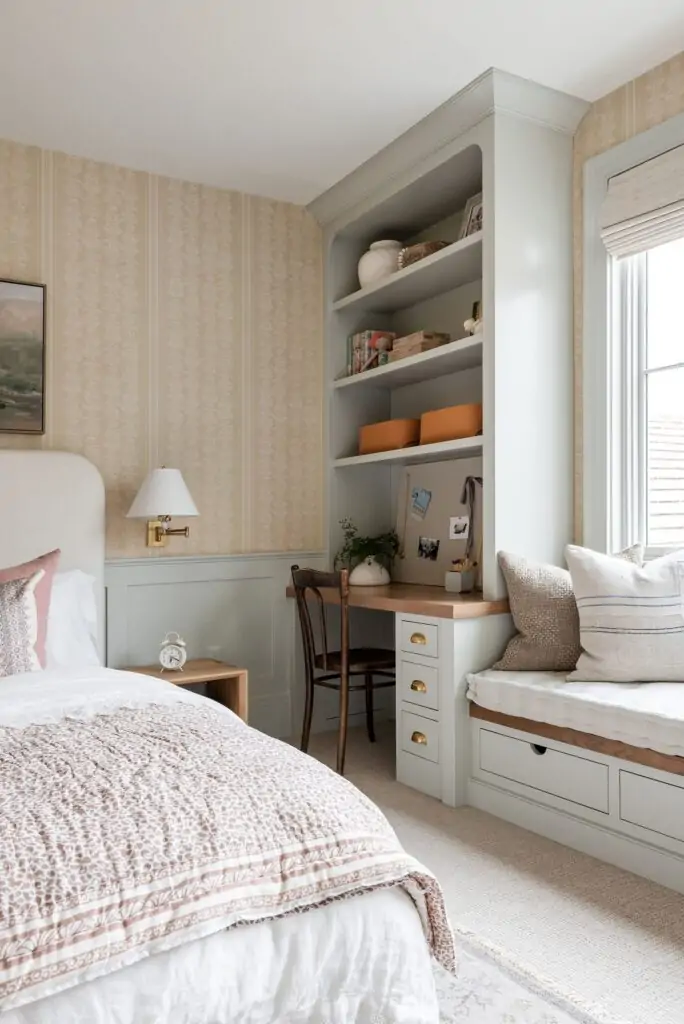 10. Elegant and Charming: Remember That the Details Matter
There is more than one way to skin a cat, and quite many a way to pair your bedroom with a desk. Ideas like the one you can see in the picture prove that creating a home workstation doesn't have to mean turning your room into a boring place. This workspace looks very fresh and energizing, thanks to the surrounding greenery. What's more, it doesn't take up a lot of space, and has everything for comfortable work — what else would you need?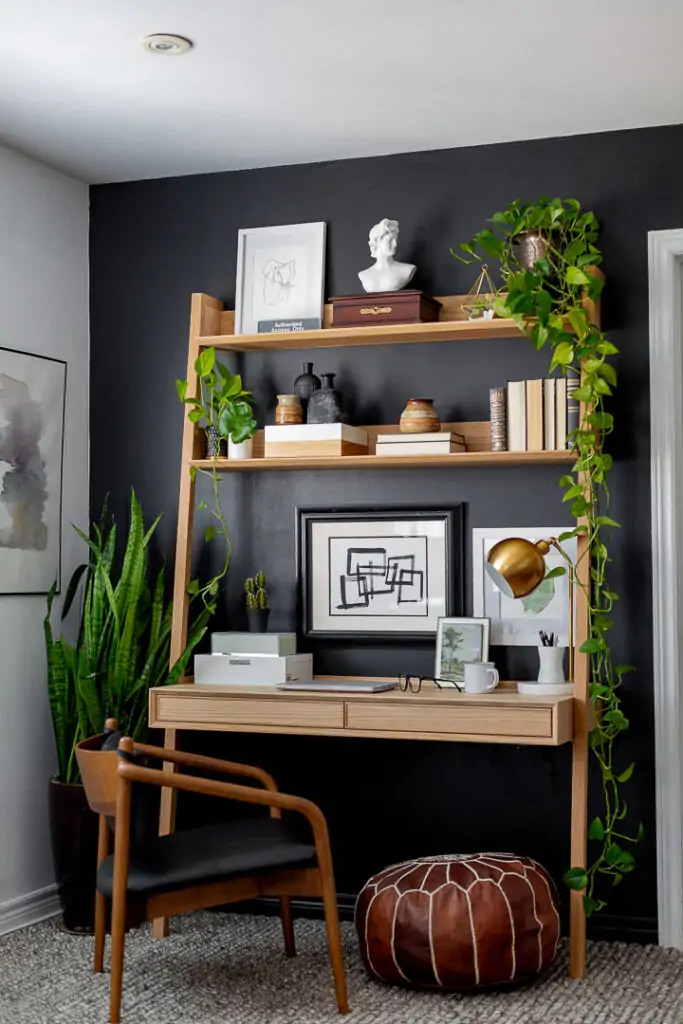 11. The Boss Baby: Make a Comfortable Workstation for Younger Inhabitants, Too
Your kids may actually be the ones who can benefit the most from having a small bedroom with a desk. Layout ideas for a tiny box room can involve using a loft bed with storage underneath and placing a desk next to the window — and there's still some space to play in!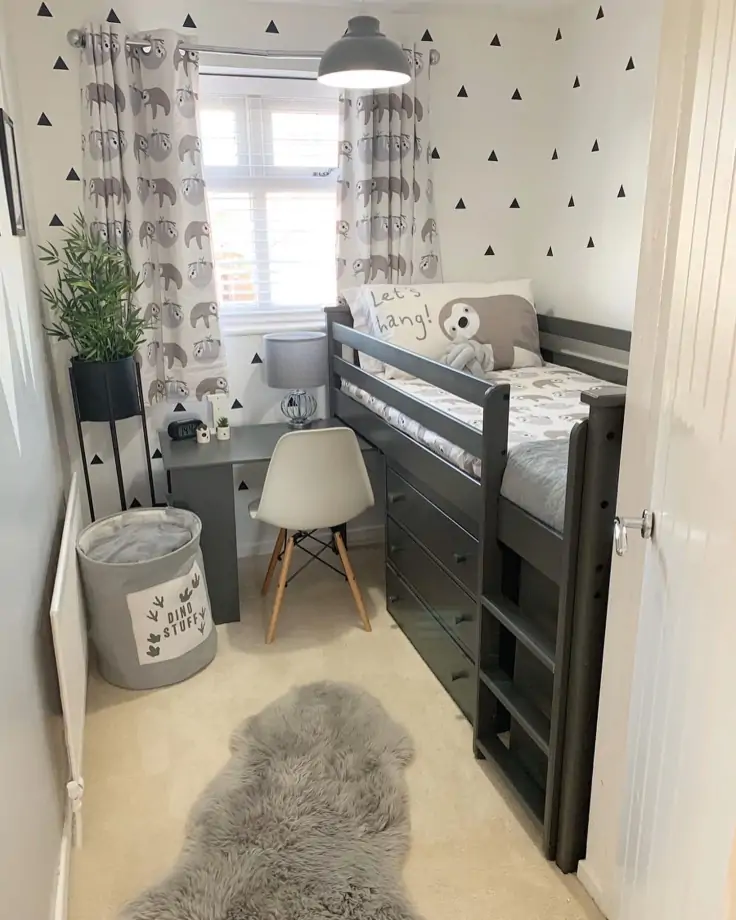 12. Choosing Sides: Combine Your Storage and Desk
Here's another example of equipping a small bedroom with an office. Ideas like this one are very simple: one side of this space works as an office, while another side is the part with the bed. On the workplace side, there's also a lot of storage space that fits nicely together with the desk (thank you, Ikea, for these creative solutions).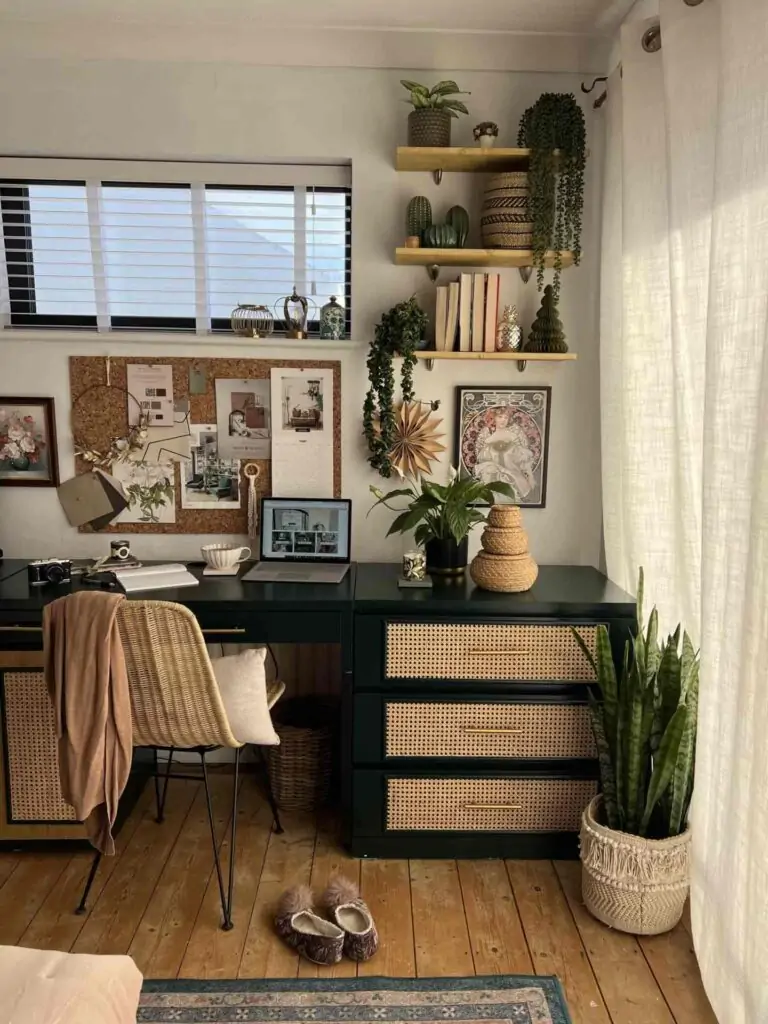 13. Come Out of the Closet (at the End of your Working Day)
When designing a bedroom with a desk, layout ideas you can consider may include putting the desk inside a closet. This is surely a fun way to hide your work life away when you're done.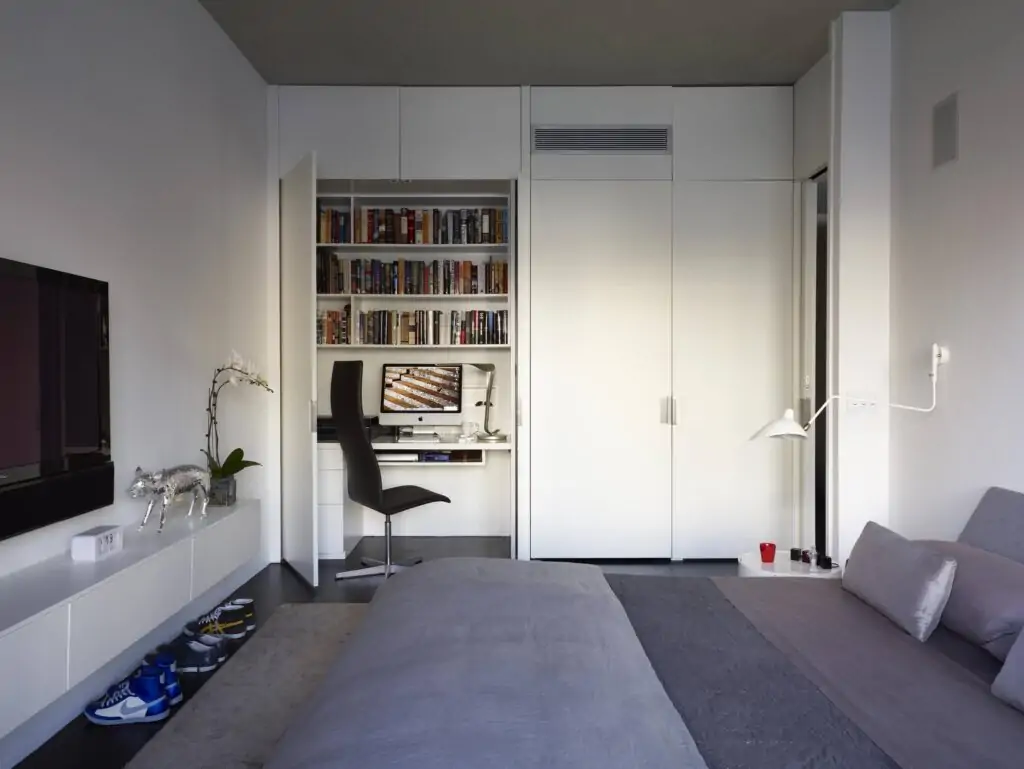 14. Out of Sight: Use Drapes to Create Zones
Here's one of the easier office bedroom combination ideas: the workspace itself is quite an ordinary setup with a desk and a chair, but there's an interesting solution to divide the place with a curtain. This simple way allows using the space more effectively: two rooms for the price of one!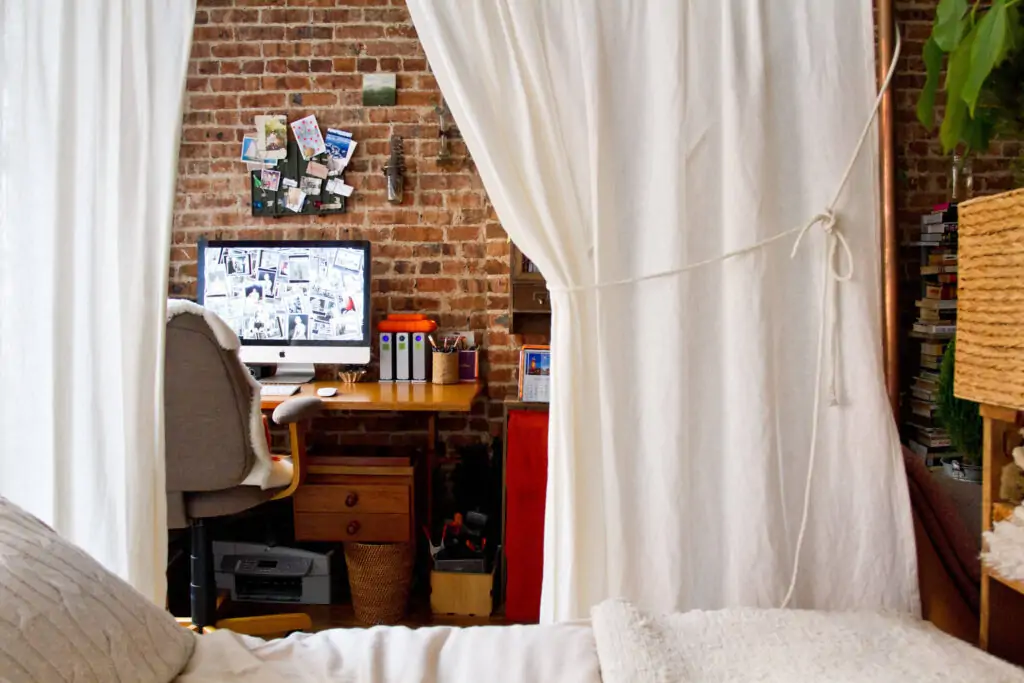 15. Never Gonna Leave This Bed: Think Creatively
Who said that you need a permanent remodel to have an office space in your bedroom? Ideas you can choose from can be as simple as just using a breakfast tray as a desk! We're only half joking: those last few years have certainly changed what we consider a proper workplace.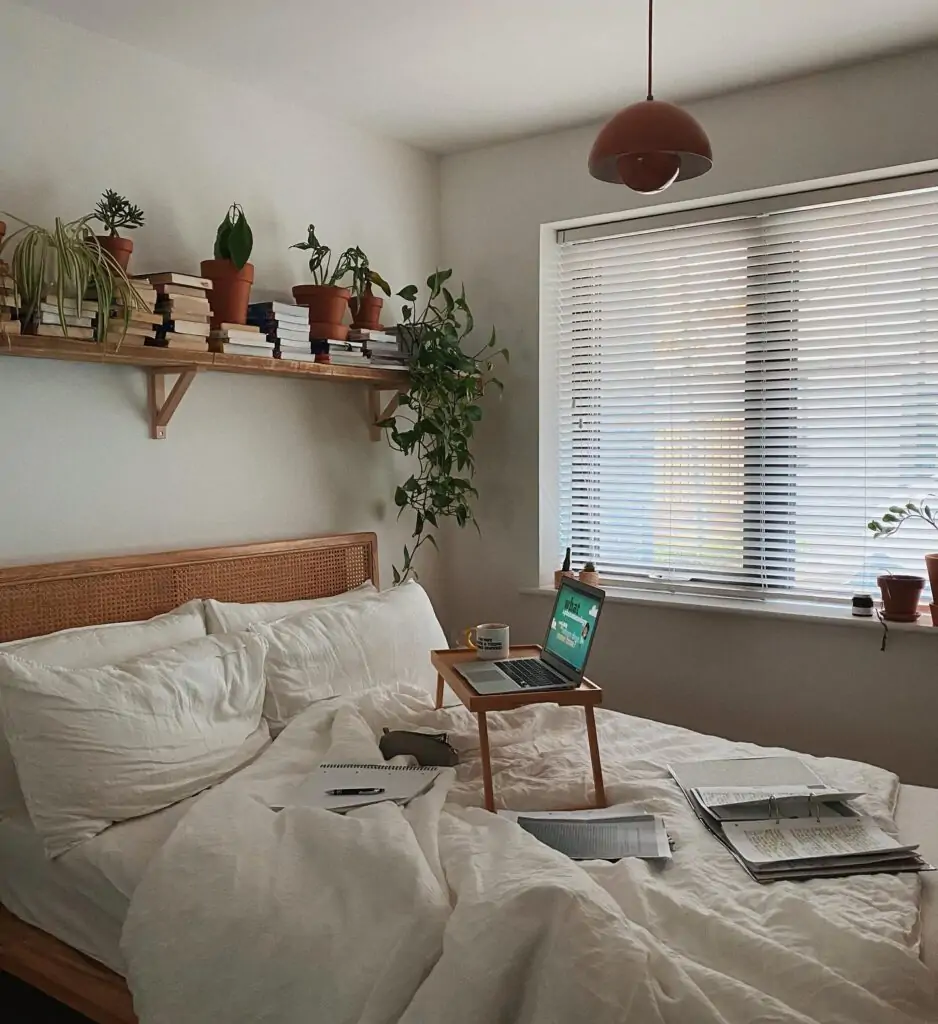 FAQ
Here are some answers to popular questions.
What Are Some Good Ideas for an Office Desk and Chair in a Bedroom?
As you noticed, the issue with a home office-bedroom combo is that the typical business furniture doesn't necessarily feel cozy — and the bed in the same room as your desk may not fill you with productivity. Here are some tips on choosing a desk and chair to mitigate those effects:
Use a chair that you personally feel comfortable in: work chairs are designed ergonomically, but it doesn't mean that your productivity will take a hit without one;
Put your desk so that your back is to the bed: it may beckon you a bit less that way;
Alternatively, make your workspace a separate zone of the room — for example, put it behind a curtain or a bookcase;
Surround your workstation with decor and plants for visual stimulation;
If you need office-style furniture to work better — try to find a place to hide it.
Of course, you may be the person who works well in bed — or who doesn't mind having a bit of a business feel to the room where they sleep. Choose what you feel is best for you!
How to Organize a Bedroom Office?
For a good organization of such a space, consider some questions first.
What's the nature of your work: do you need a lot of equipment, or can it be done on one laptop and nothing else?
Does your room's design play a big role in putting you in the right mood, or are you a minimalist and just need a bed to sleep?
Are you going to make the room convertible (i.e., will you have to put some things away or pull them out to switch between the working mode and the resting one)?
How much storage room can you put in this place?
For example, if you don't mind your work life spilling into your evenings, a desk, a chair, and some open shelves may look good. If you have to switch into the resting mode completely — you'll need drawers at the very least (or a hidden workspace). Organization starts with what's important to you.
What Are Some DIY Bedroom Office Ideas?
How much DIY can you handle? If you're a master woodworker, we'd strongly advise you to make your personal desk — not only is it a fun project, but it's also a great investment into your productivity. And if you have no such skills, simply express yourself by decorating the place! You can watch this video for inspiration:
Conclusion
Home offices are insanely popular now, as a lot of employers have woken up to the fact that there are many perks to working from home. If you don't have a separate room to work in, there is no need to worry: it is always possible to equip your bedroom with an office. Ideas you've just seen will suit every taste. Hopefully, you'll put them to work — and we'll be glad to see you again!