16 Inspiring Design Ideas for Basement Remodeling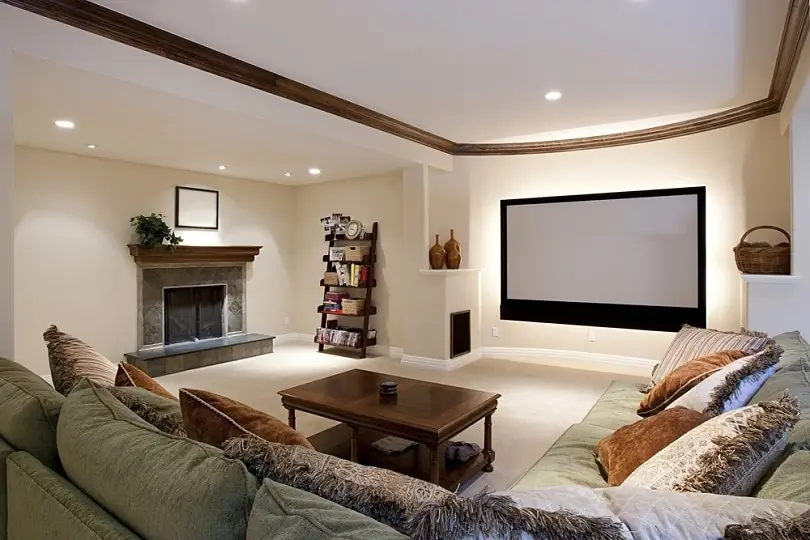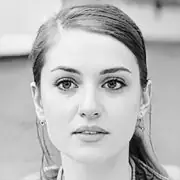 The ground floors usually serve as storage; however, with the help of design ideas for a basement, you can get the most out of your extra space. Get some inspiration and turn it into your favorite part of the house.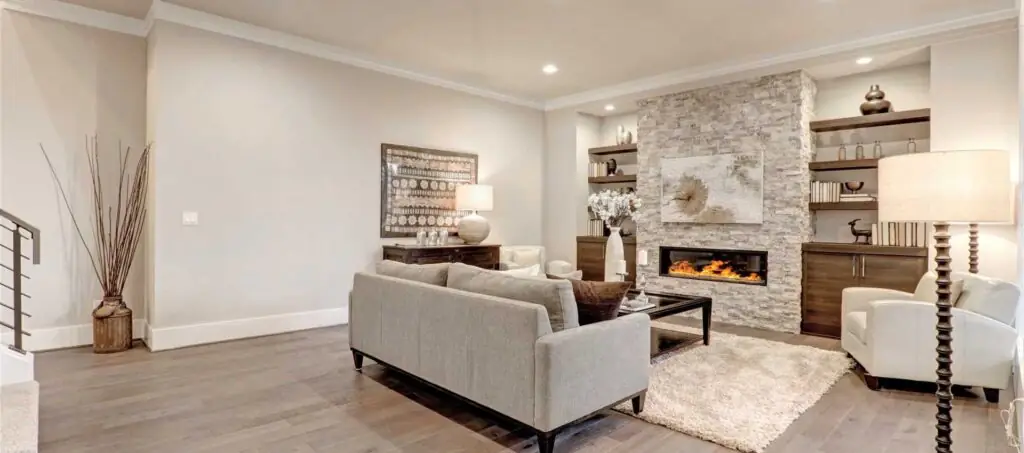 The underground room of your house has a lot of potential that exceeds being a place to store Christmas decorations, old furniture, or dusty boxes. From an extra bedroom, office space, home gym, and living room to the home movie theater and game room, the possibilities are numerous. It is time to give a new breath to the forgotten space and find ways on how to remodel your basement most exceptionally.
1. Build a Studio Apartment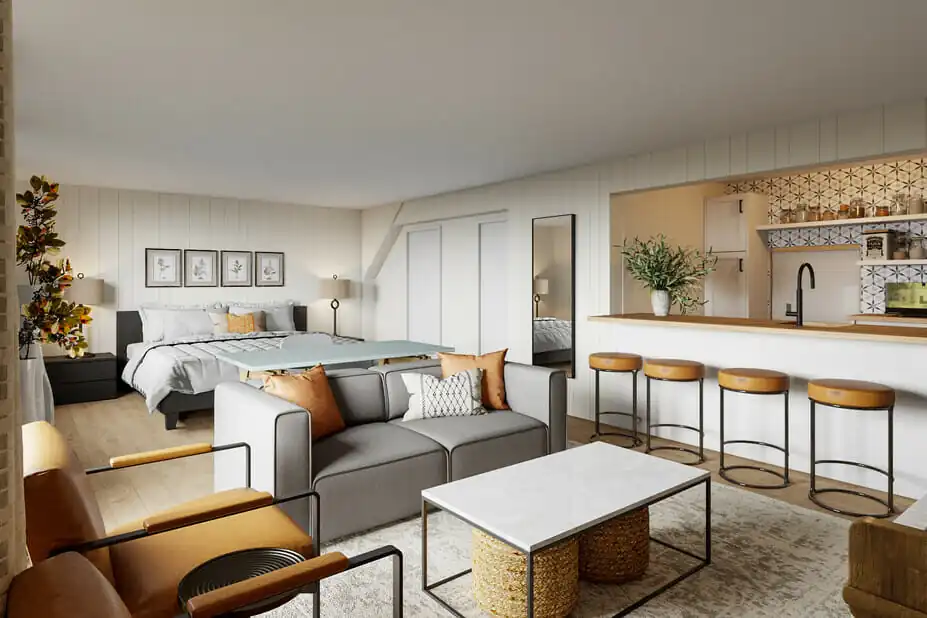 Turning the cellar into a studio apartment can be a great idea if you have ample ground floor space. Studio apartments can be an income opportunity and be great if you need extra space for your extended family. So here are a couple of ideas on how to design a basement apartment.
We recommend that you use a minimalist design, because if you are going to rent it, people may not like extraordinary style. Though it may be hard, try to bring as much natural light as possible. Add a small kitchen space, couch, table, chairs, and a separate part for a bed. You can also give it as an Airbnb, which is another excellent way for extra income.
2. Extra Bedroom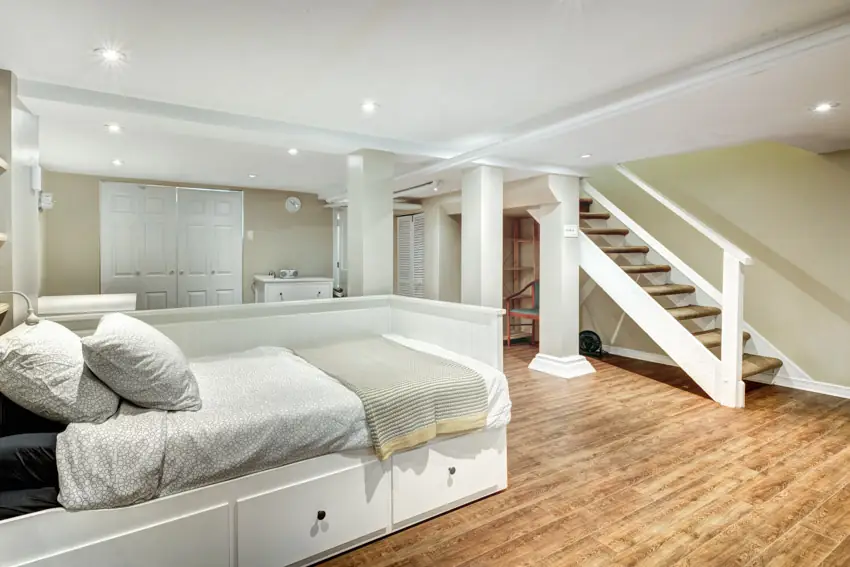 Having an extra bedroom is always helpful: either your child who wants a separate room, or a guest who stays overnight will be able to use it. If you wonder how to design a basement bedroom, we are here to give you creative ideas.
Guest Bedroom
Do you enjoy hosting, and does it happen that sometimes your friends or relatives stay at your place after a party? Well, it is the perfect time to think about how to create a basement bedroom. Choose natural colors to create a cozy atmosphere. However, keep in mind that if you host a guest, after staying one night in such a comfortable and beautiful room, they may not want to leave.
Children Bedroom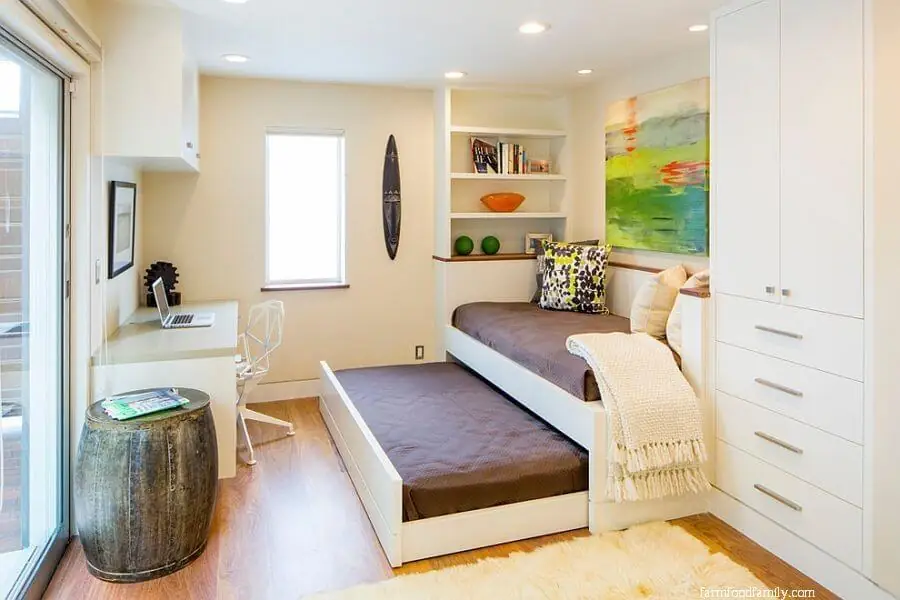 At some point, your kids will become older and desire a separate bedroom for their comfort. Raising teenagers is hard, believe us, and at some point, they will need independence. So, another great design idea for an underground room is to turn it into a bedroom for your children. If there are zero windows in your cellar, make sure that there is enough lighting for your kids to do their homework and hang out. If there is enough space, try to add a separate bathroom.
Bedroom for Extended Family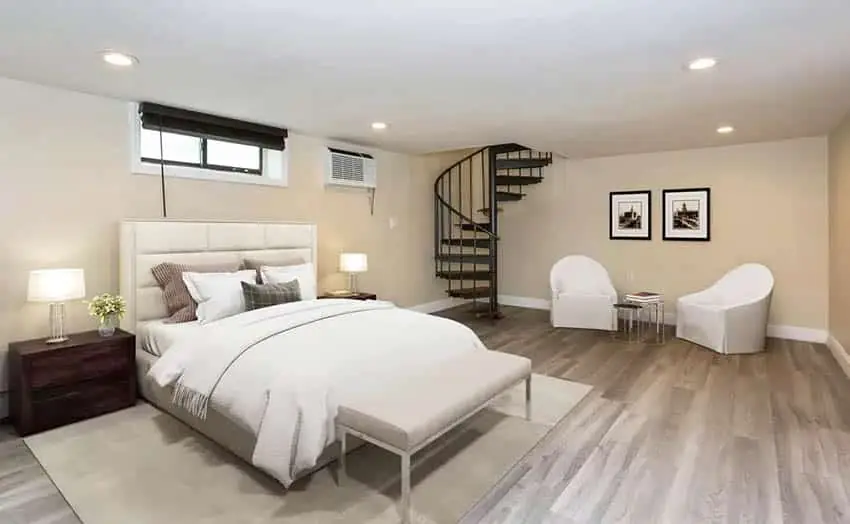 If your parents live far from you, then you'd probably like to host them at your place. Hence having an extra bedroom would be very comfortable both for them and you and a great design idea for a basement family room. One of the main things to consider while thinking about design ideas for a basement is to make it functional as much as possible. So, before remodeling, think about how you will use it, for a while.
3. More Living Room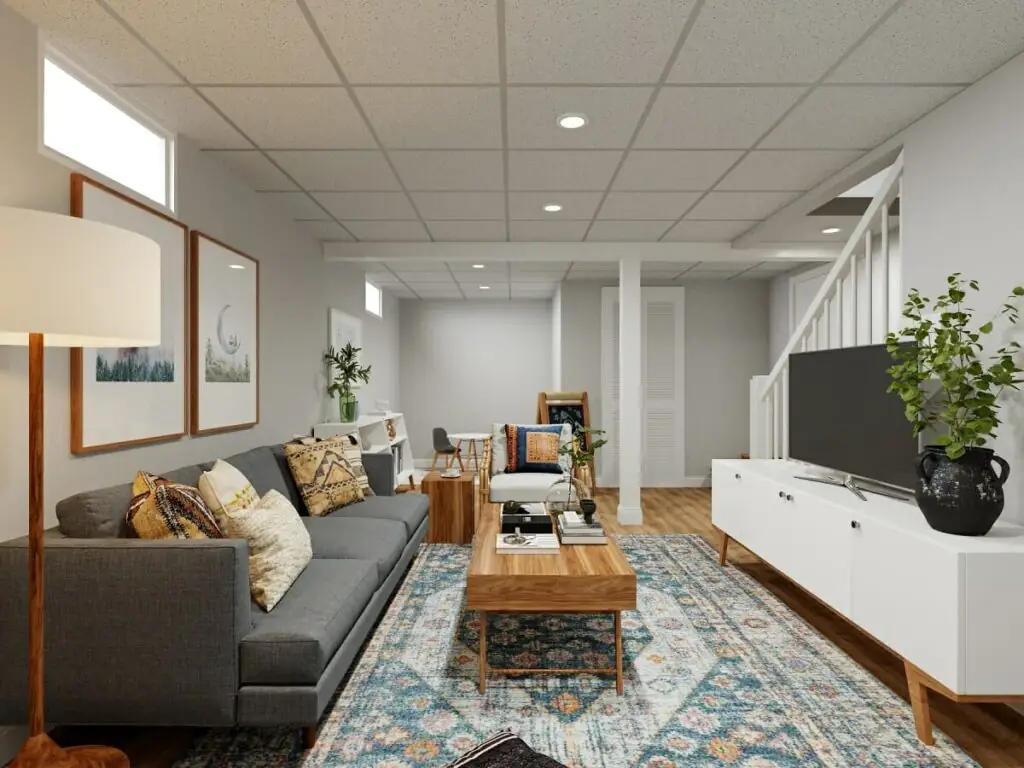 If your family is not small, having a second living room is necessary. Think about how to design a basement remodel to provide your house with two separate areas where you can spend time. A living room in the cellar is ideal for gathering with family, watching movies, or simply unwinding. Adding a pleasant living area is a perfect design idea for a basement that is both lovely and practical!
4. Home Movie Theater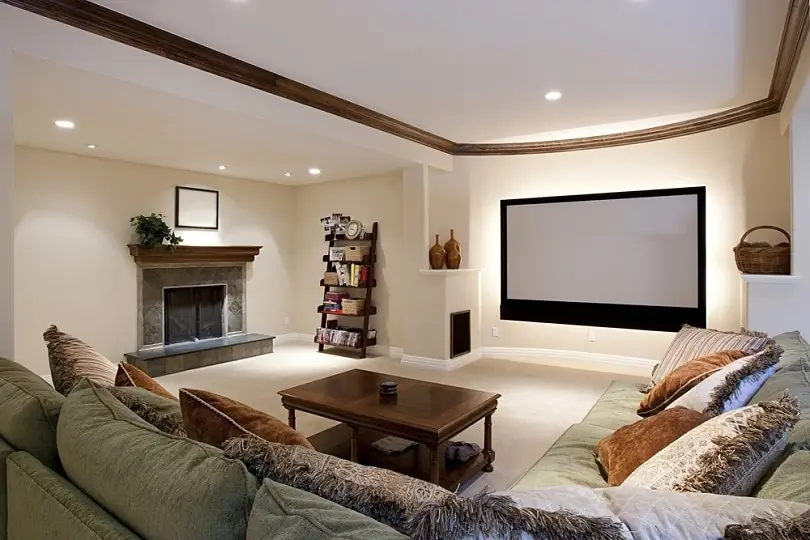 Grab your popcorn because it is movie time! Having a movie theater at your home is a dream come true. Usually, ground floors have no windows, and the dark atmosphere is perfect for a cellar movie theater design idea. Buy an extra-large sectional sofa, invest in a projector and a big screen, and voila, the movie theater is ready.
5. Kids' Playroom
Your cellar should not be meant exclusively for the adult members of your family. In reality, having a separate playing room for your children is beneficial for adults, as well. So, this is one of the basement design ideas on a budget that won't cost you much money. You can add creative home games, and they will have their place for storing toys, so those won't be all over the house. For example, think about putting a slide instead of stairs. How cool!
6. Basement laundry Area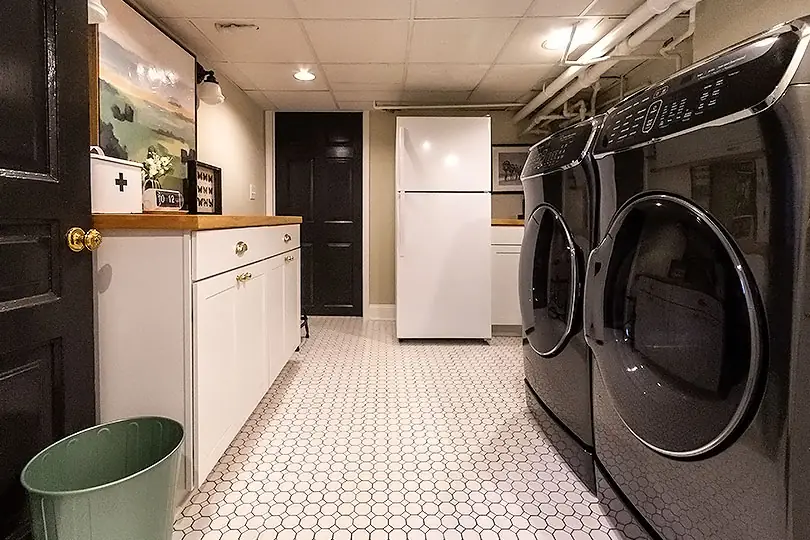 Laundry rooms in the cellar don't have to be dark or uninteresting. Some design ideas for a basement laundry room are so appealing that you'd never tell they're on the ground floor. What is interesting is that you can always combine it with other rooms.
Think vertically to optimize your space if you keep your cellar laundry room modest to create room for a bedroom or play area. The washer and dryer can also function as a table for laundry needs if the site is small.
7. Home Gym Area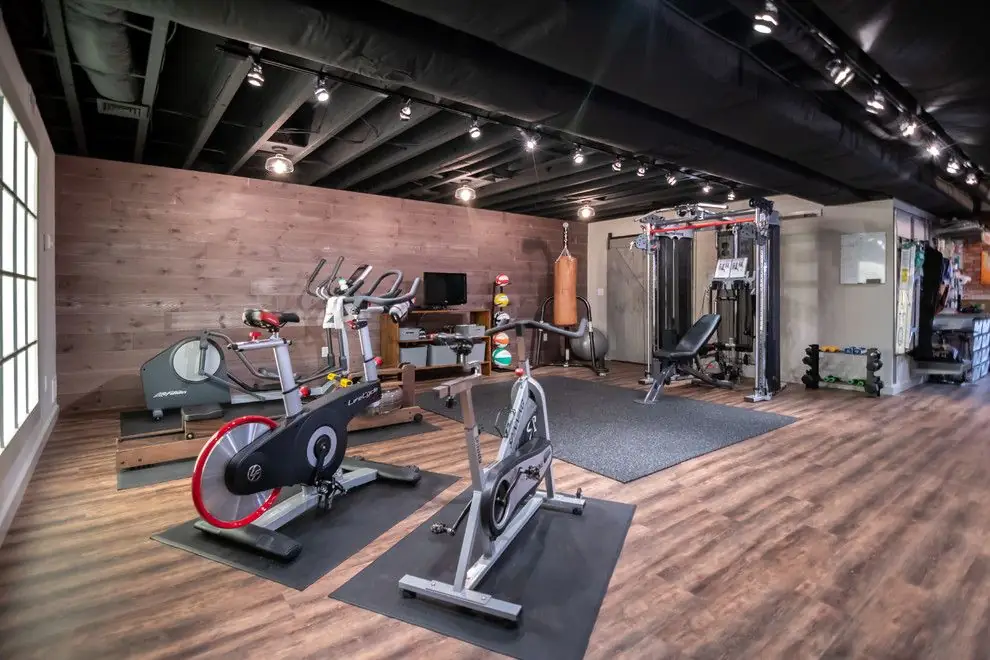 Do you enjoy working out, however you don't like crowded gyms? Then having your separate home gym should be an excellent solution for you. Choose a wood floor that is not slippery for a more convenient workout. Use rubber mats, a cost-effective cellar flooring solution that also protects the ground from heavy machinery. You can also build a sauna in your cellar to make it more interesting. If you are ready to invest, there are many design ideas for a basement.
8. Wine Storage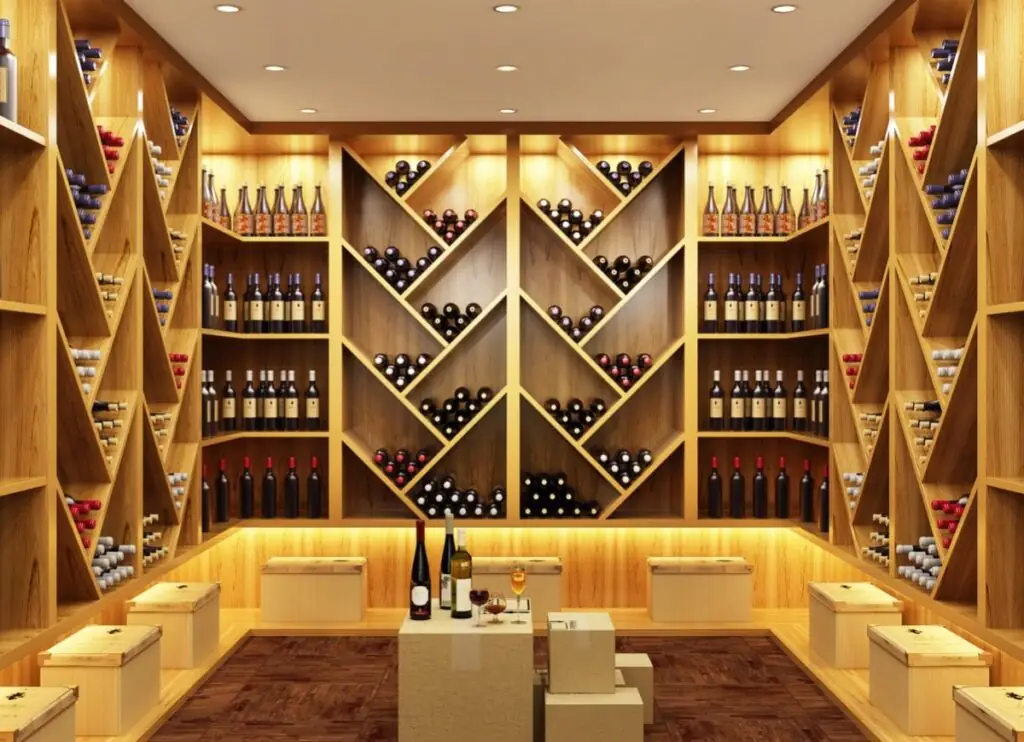 If you are a wine lover, then one of the design ideas for a basement that you may consider is wine storage. It is also an easy way to think about how to design a basement wall by creating shelves for wines. Imagine having a stylish wooden-designed place to store all your different types of wine. Sounds like heaven, right? It requires strategic planning to create the right place to keep your collection, but you can create your dream wine storage with the correct air system, shelves or racks, and insulation!
9. Home Office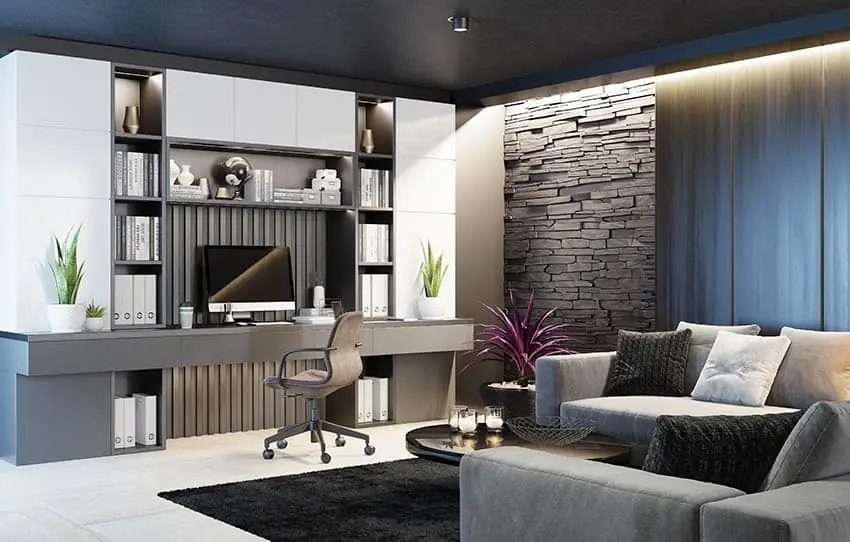 Working from home has never been that great! In the last few years, more people started to work remotely; hence it has become crucial to have a separate working space. An underground room, especially the one with windows, may easily be turned into a modern office area. Search for design ideas for a basement that use neutral colors so it doesn't tire you after working for hours in the same room.
10. Rustic Design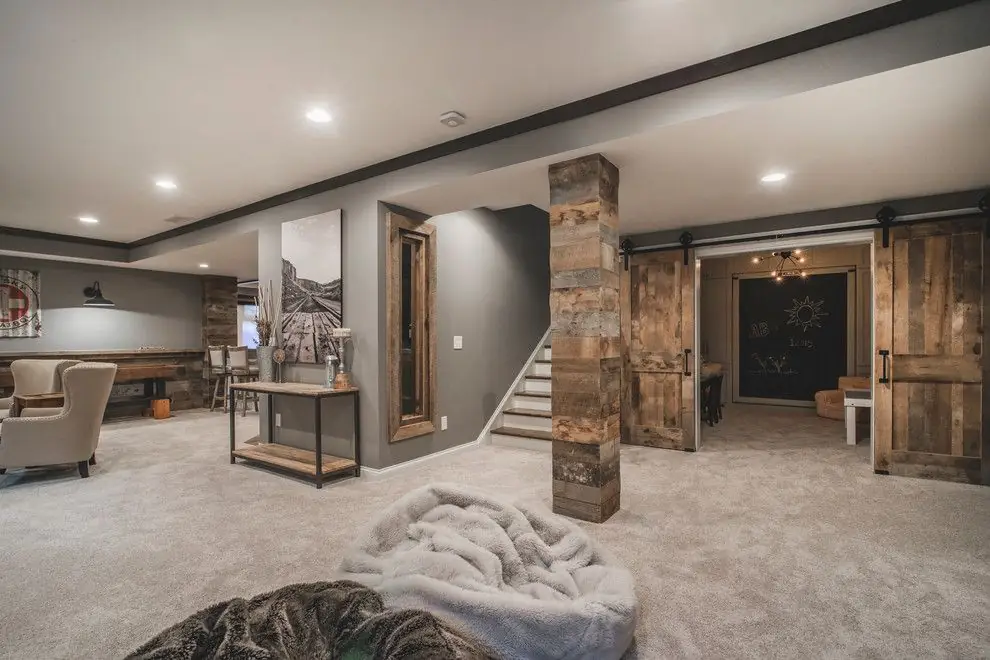 Some unique rustic basement design ideas may give your cellar a fun atmosphere and make it a place where you want to spend time after a hard day. Leather furniture with a wooden chest side table and a paneled accent wall characterizes a classic rustic basement family room. The rustic style is perfect for a relaxing and cozy space.
11. Cozy Library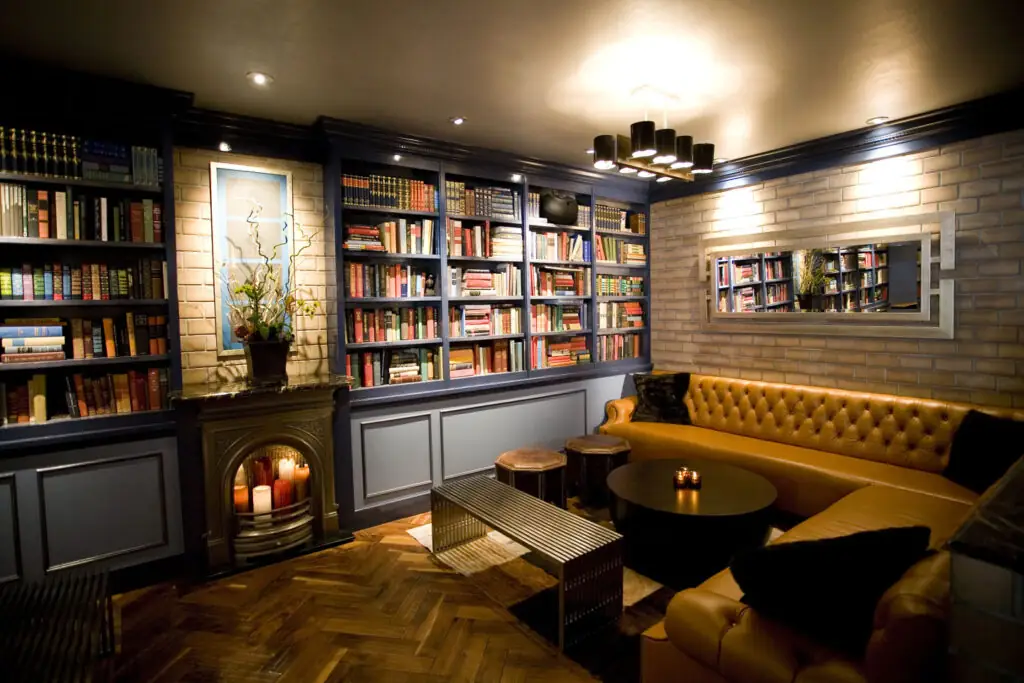 Having a library at your house is a fantastic idea, especially if you love reading and need a different place. Think about how to design a basement wall with creative shelves for your books. Create a curl-up, and switch-off zone with plump, soft, and squishy scatter cushions, an ambient reading light for the atmosphere. You can also add bag seats to make the space look cooler.
12. Underground Bar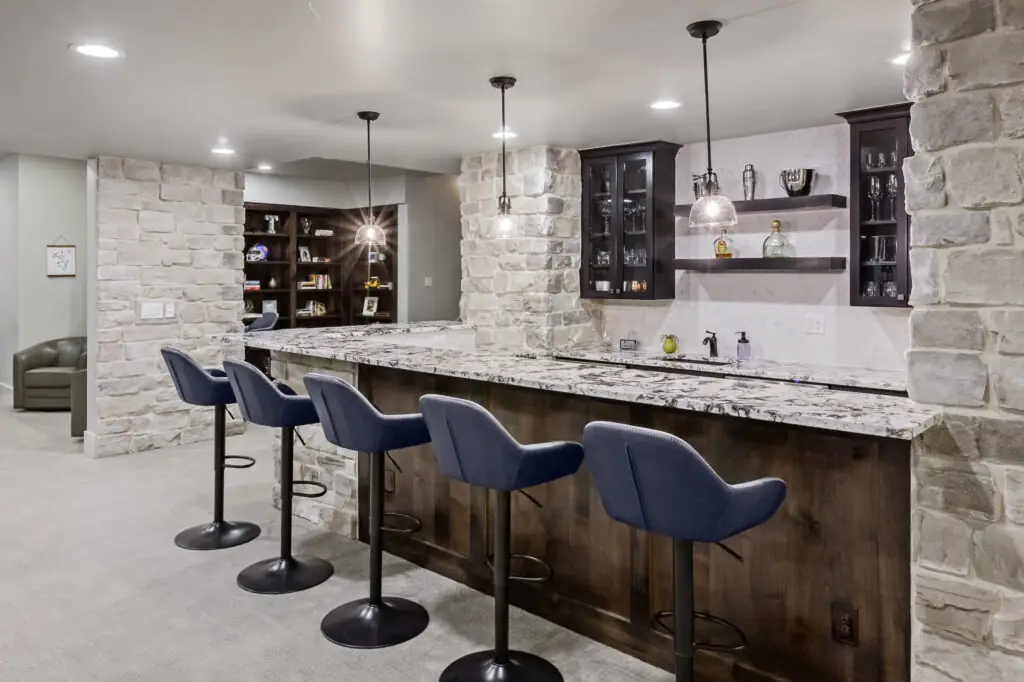 Having a bar on your ground floor is terrific if you want a modern cellar. Place some cabinets against the wall with a built-in counter to keep the area open. You can make your basement bar the primary social gathering zone. With a built-in fridge, a countertop beer tap, and plenty of snacks, your place will become a dream place! A home bar is an exciting addition to any cellar, whether you want to entertain guests or create the ideal hangout zone.
13. Study Space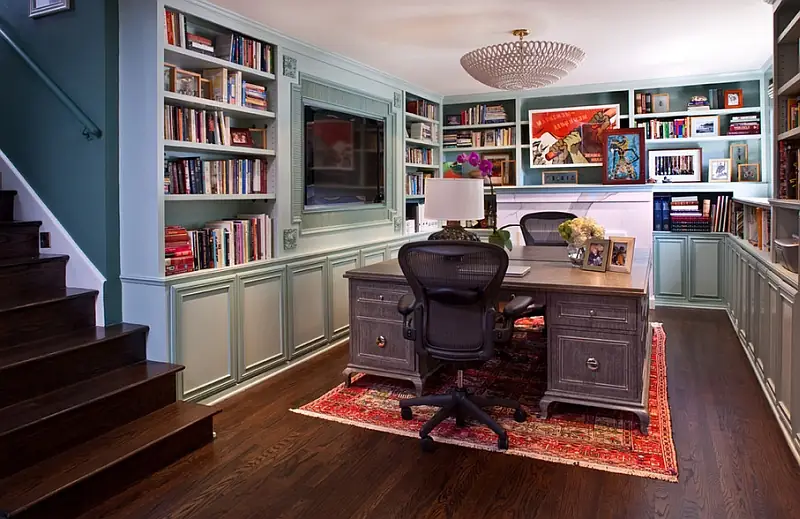 If you want to make your children do their homework with more pleasure, create a separate study area. In addition to that, they will have one room to place all their papers and homework stuff. You can build a teen hangout room on your ground floor, including a study area with a multifunctional table and comfortable seats. The study space will raise the value of your property.
As a Conclusion
The underground space conversion is a massive project, but it is far less expensive and time-consuming than constructing an entirely new addition to your house. So, keep these design ideas for a basement in mind when you begin converting your ground floor. In the end, you'll get a fantastic new room in your house!