Fireplace Tile Ideas — Best Design for Your Hearth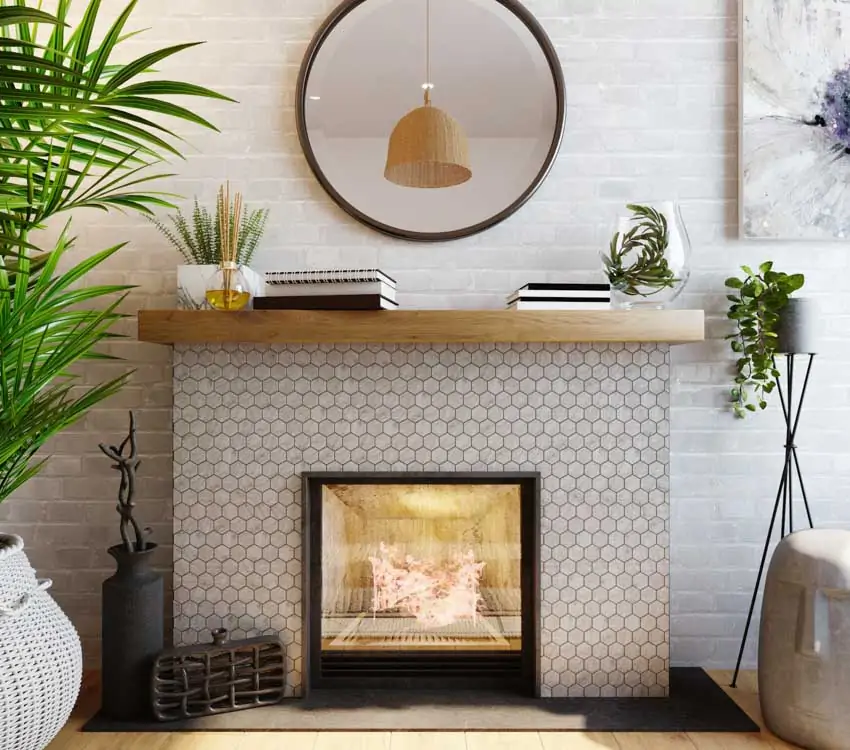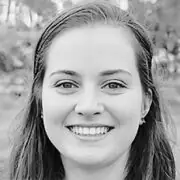 If you want to add a touch of coziness to your home this winter, why not start with the best fireplace tile ideas?
A fireplace is a perfect place for enjoying a cup of hot tea while reading a book. It can be made even more enticing by adding some festive decorations. After all, this is where you are going to keep yourself warm on cold winter nights. From classic white subway to bold and colorful patterns, there's sure to be an option that fits your style. And best of all, tile is easy to clean, so you won't have to worry about soot or ashes ruining your holiday decor.
Here are some fresh and unique tile ideas for the fireplace surround you were looking for.
Herringbone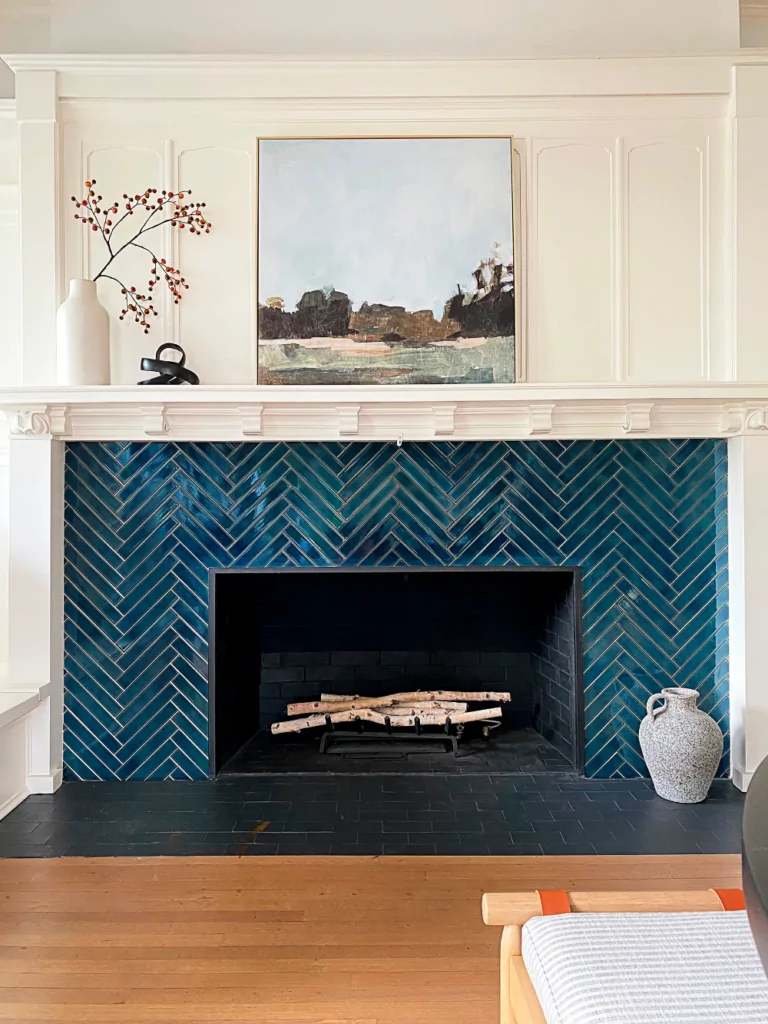 This type of tile is made up of small, rectangular pieces that are arranged in a herringbone pattern. It is often made of stone or ceramic and can be found in various colors. Herringbone has a distinct zigzag pattern resembling fish bones, giving the fireplace a unique and pleasing look.
A herringbone is a comfortable option for those who want a hearth that is easy to use and maintain. What's more, these tiles are very easy to clean, so you can use them in any room.
Farmhouse Style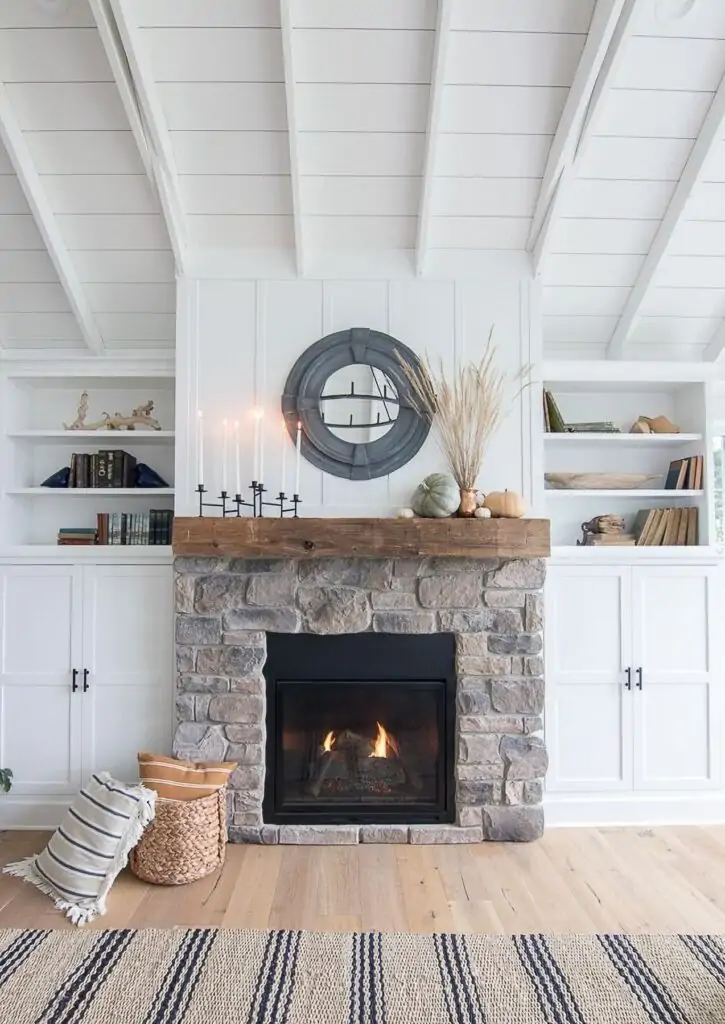 Farmhouse fireplaces typically feature a stone or brick hearth and mantel with a wood-burning firebox. Typical farmhouse hearths are wide and shallow, with a hearth extending into the room. The good thing is that they can be built into the wall or set into a surround.
Farmhouse tiles are typically large, flat stones that are used to line the fireplaces in farmhouses. They are usually made of granite or other hard, durable stone. They are generally designed to look old-fashioned.
People usually decorate farmhouse-style fireplaces with mirrors, clocks, or family photos, which help bring cozy vibes into the living room. The overall look is rustic and relaxing; therefore, it comes as no surprise that this is one of the most popular tile ideas for fireplace hearths.
Modern Style
If you are looking for modern tile patterns for fireplaces, keep in mind that some popular choices include glass, ceramic, stone, and porcelain tiles with sleek and stylish appearances. These materials can either be used alone or in combination to create an outstanding contemporary look.
Besides, placing different decorations around the fireplaces, like candles or pictures, is an irreplaceable part of any contemporary design. You should make your hearth simple yet beautiful. This is how the modern style works.
Mosaic Tile Ideas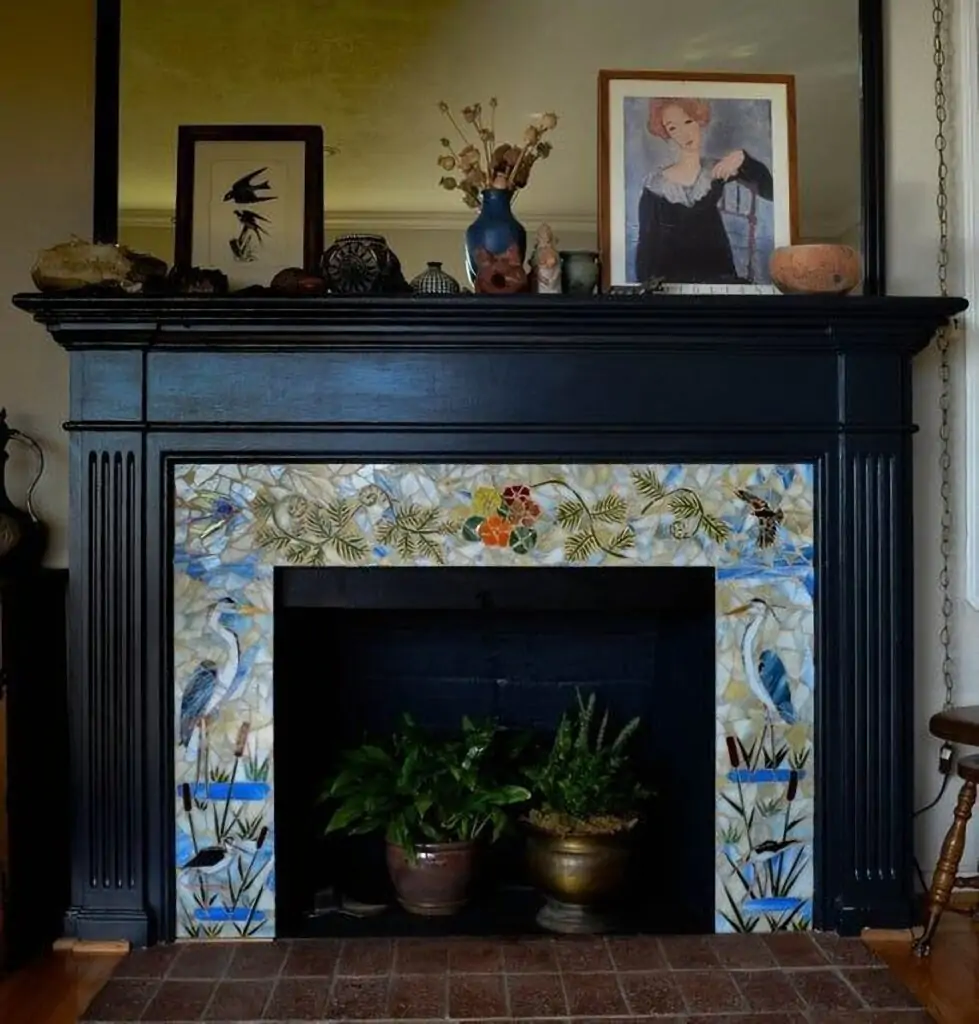 A mosaic tile is a small, usually decorative texture used to create patterns or pictures. It is usually made of glass, stone, or ceramic and is held together with mortar or grout. The good thing about mosaics is that they can be used to create a variety of looks, from classic and elegant to modern and funky.
If you have a fireplace surround that needs an update, consider mosaic tile ideas for the fireplace. This type of tile is becoming increasingly popular for hearth surrounds due to its unique look and durability. It can be used to cover an existing fireplace completely or to accentuate certain areas.
In addition, the mosaic style can also be used to create a border around the fireplace surround. This is a great way to add a touch of elegance to the room. However, it is considered to be a very intricate and detailed design since it typically features small, colorful tiles arranged in a pattern. This is why in most cases, mosaics are often used in traditional or classic-style homes.
Black Tile Ideas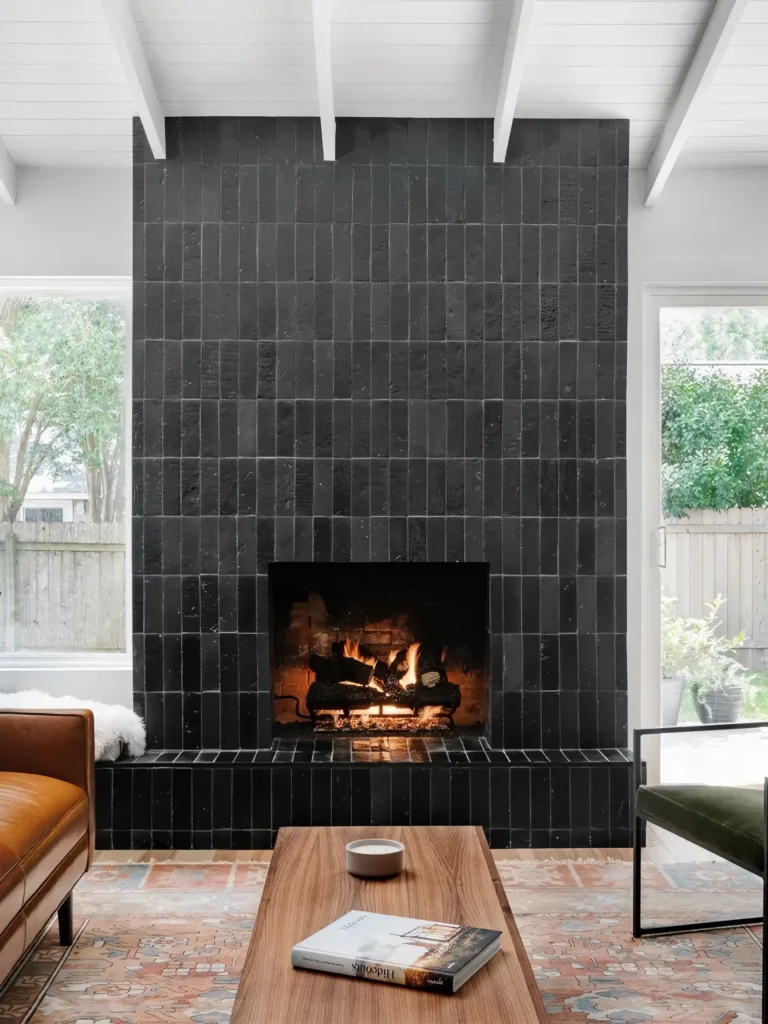 You can use black hearth tiles in many different ways to create a unique and stylish look in your home.
There are many reasons why black hearth is one of the better ideas. First of all, black is a classic color that will never go out of style.
Moreover, it adds some drama to a room. For example, you could use it to create a statement wall in a living room. This helps you to create a focal point and make the fireplace stand out.
Additionally, it is important to note that black tiles can help absorb fire heat, making the hearth more efficient. So if you are considering choosing ideas that involve using black tiles for your living room, this one is probably one of the best options.
Moroccan Style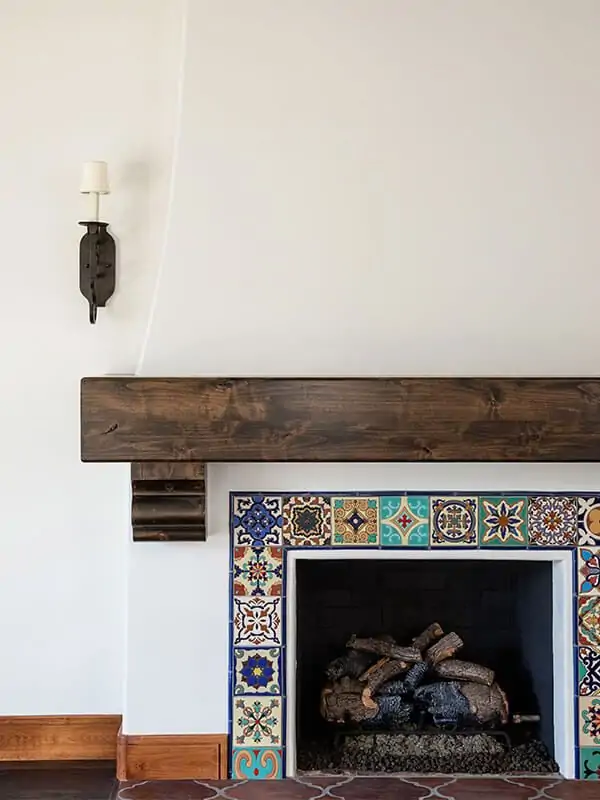 Want to make your fireplace even more colorful? Moroccan-style decor often features rich colors and intricate patterns, which can add visual interest and depth to a space.
Besides, Moroccan-style decor often includes a mix of different textures, effectively adding visual appeal. Generally, this is one of the best reasons why most people use this style for their fireplaces as well.
Moroccan styles are usually brightly colored and patterned and often have a geometric design. So if you are looking for fun and unique tile patterns for fireplaces, choosing a Moroccan style can be the best fit for you.
Tin Tile Fireplace Ideas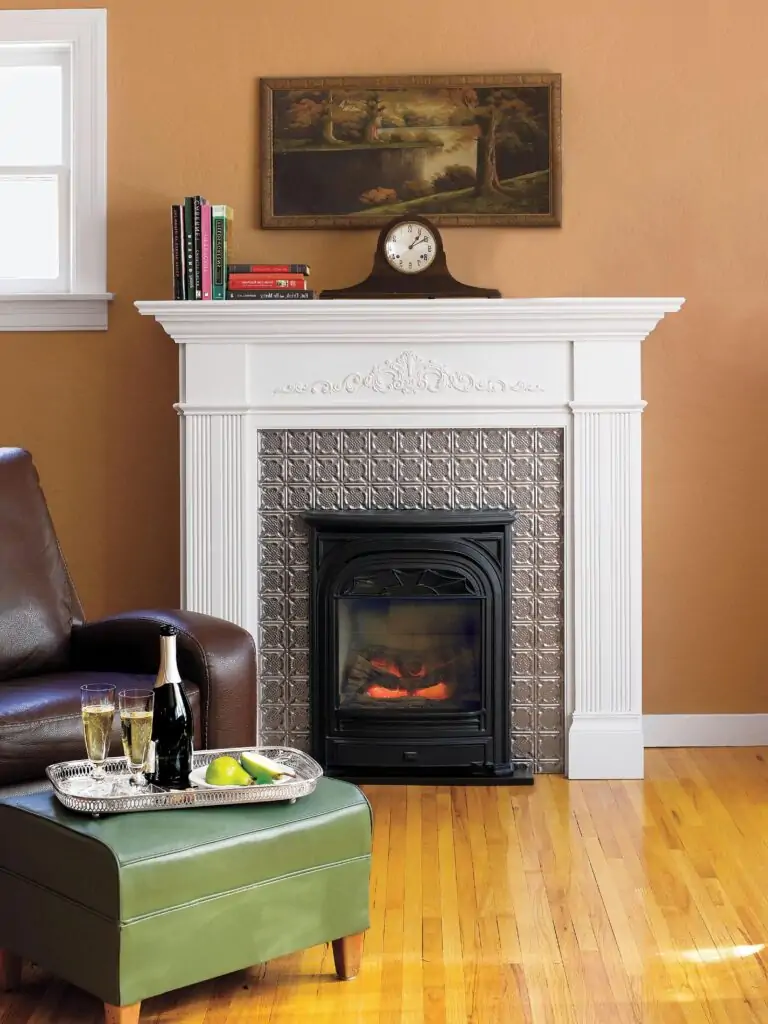 A tin tile design is a geometric pattern made up of small, equally-sized squares. Tin tile patterns can be found on many different types of surfaces, from floors to walls, ceilings, and, surely, fireplaces. In most cases, it is a popular choice for fireplace surrounds because such tiles are very durable and easy to maintain.
However, another reason for using this style is that it is a unique way to add character and charm to any room in your house. On top of that, they are also a great way to bring a bit of extra warmth to a room during the colder winter months.
Outdoor Ideas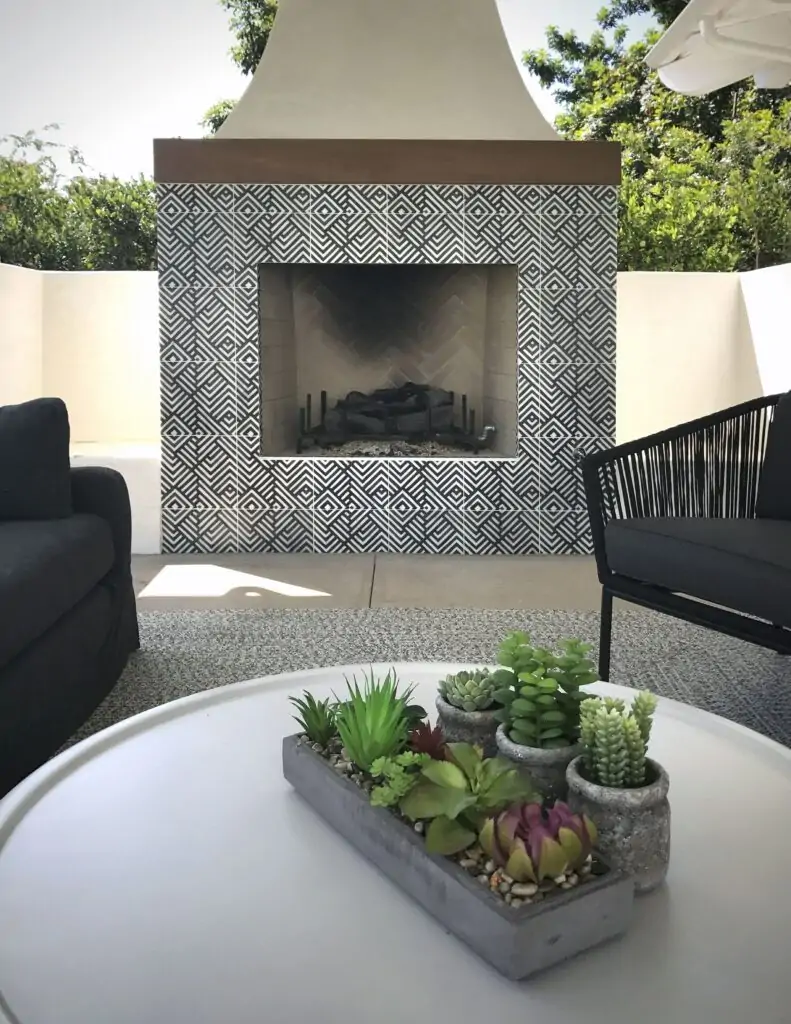 An outdoor fireplace can provide a great gathering spot for friends and family. It is perfect for entertaining guests or just relaxing on a cool evening.
You can make an outdoor hearth design in a variety of styles and materials, including stone, brick, or metal. The most common type is a wood-burning fireplace, but there are also gas and electric ones. So it's up to you and your circumstances which one to pick.
It should be mentioned that several popular outdoor hearth choices include natural stone like granite or slate or manufactured stone like concrete or brick. What's more, ceramic, porcelain, and glass are also very common choices. So in case you are looking for a tile design for your outdoor fireplace, you should consider this.
Electric Hearth Patterns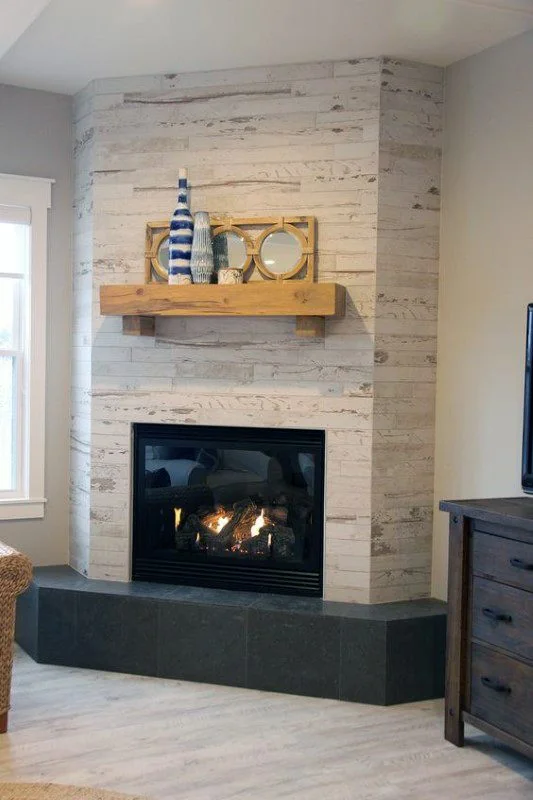 Let your ideas go wild by choosing the contemporary style. Go electric. This idea is even more attractive because electric fireplaces are energy efficient and can help lower your heating bills. Besides, they are much easier to install, can be placed in any room of the house, and do not require a chimney.
So, picking a white or light-colored texture around the fireplace is a great idea if you choose this option. It creates a clean and classic look. However, if you are looking for something special or want to achieve a unique appearance, use tiles with unusual patterns or textures. In fact, almost any decor solution will work with electric tile designs for fireplaces.
Elongated Hexagons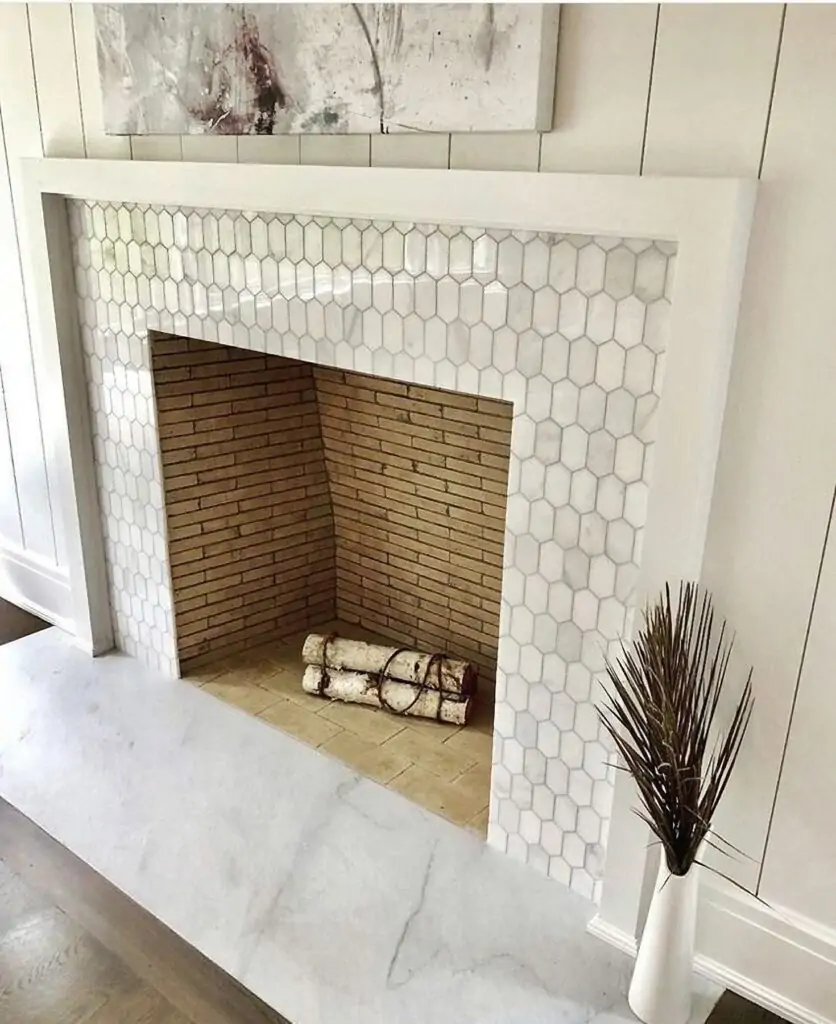 It's not a surprise that many people like to use elongated hexagon tile ideas for a fireplace wall. First of all, these types of tiles have a unique shape that can add interest to a space. On top of that, they are available in various colors and finishes, so they can be used to create a wide range of looks.
While elongated shapes can be a bit difficult to work with, and you might need to hire an experienced professional, the result you get is sure to be worth the effort and money. Use this solution to make your hearth a truly special place to be in.
Victorian Accents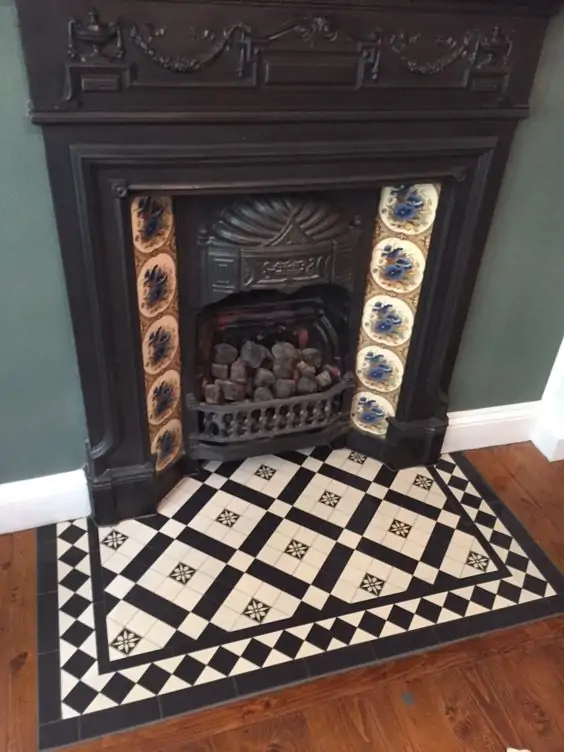 Victorian style is often associated with the Victorian era in England, which lasted from 1837 to 1901. Victorian style design is characterized by its ornate, dramatic style. Common design elements include heavy drapery, intricate patterns, and dark colors.
So if you are interested in a more traditional design rather than a contemporary one, these types of Victorian fireplace tile ideas for the area around the fireplace might be a perfect fit for your living room.
Conclusion
There are numerous different fireplace tile ideas you can choose from. Depending on your taste and/or budget, you can go with a traditional look or opt for something more modern. Overall, no matter your style preferences, there will always be a tile option out there that will suit your needs.