15 Imaginative Ideas on How to Decorate Bookshelves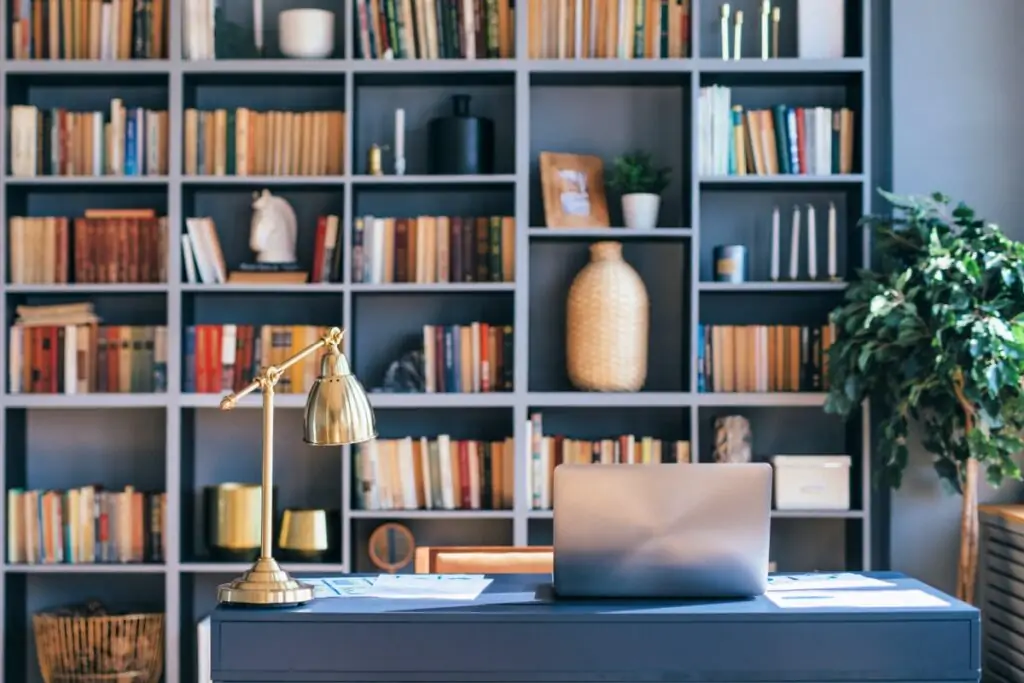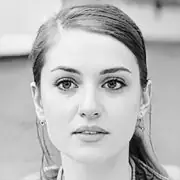 Besides being a storage for your treasured stuff, bookshelves can become one of the most stylish spots in the room. If you are struggling with how to decorate bookshelves, below we've listed 15 ways to make them both eye-catching and functional.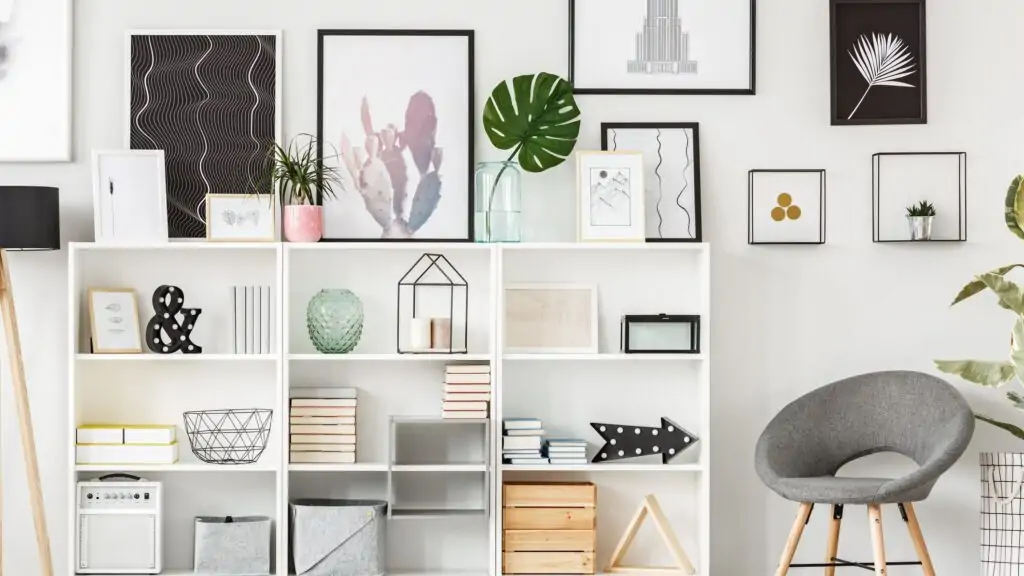 One of the most exciting parts while coming up with a design plan on how to decorate bookshelves is that you don't need a huge budget or a significant area. However, before you begin working on the project, make sure to create functional space. Styling bookshelves are all about the mix of practicality and aesthetic appearance. Keep this in mind at all times, and the outcome will be gorgeous.
1. Color Coordinated
Color coordination is the dream of every perfectionist. In reality, visual order is very much eye appealing; with a little effort you can get a great result. If you are thinking about how to decorate a shelf in the living room, toy with this idea until you make it fit your design. If you like a minimalistic style, then choose beige and white colors. However, you can get bold and choose the rainbow pattern, if it goes along with the interior design of your house.
2. Space Under the Stairs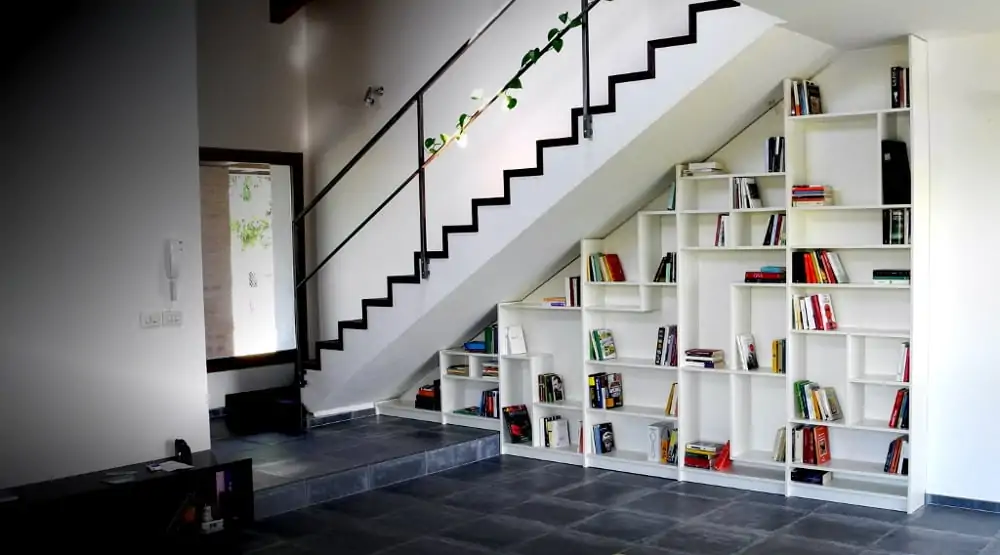 If you have limited space in your home, it is a must to use every inch of it from the standpoint of practicality. So, imagine how great it would be if you arranged a shelf under the stairs. It is not only a great way to utilize the space but also a very creative one. So, if you wonder how to decorate a ladder shelf, remember that there are many great ways. You can also turn your shelves into secret storage places by using recesses in the wall that are hidden from the view by the books.  Let this place l become a small "Harry Potter" corner at your home. 
3. Time for Plants!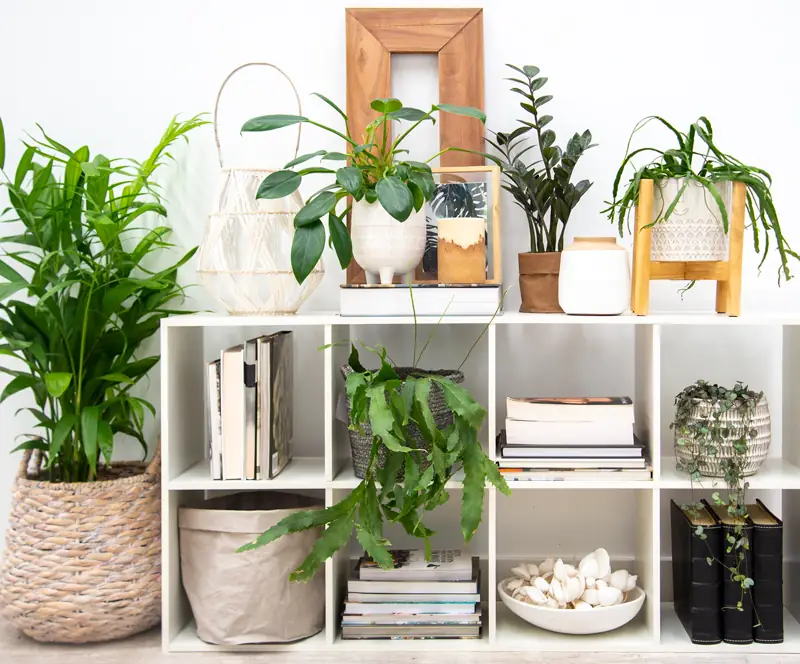 Using plants in your interiors is a win-win situation in any case. Whatever you are going to do, plants will be of help. You can place them in any area, and they will bring a unique character and freshness to it. Make sure to choose indoor plants so that they grow and bloom. It will take you no effort to hit on ideas on how to decorate a plant shelf: even if you combine just books and plants, you won't need anything else to add. 
4. Combine Different Accessories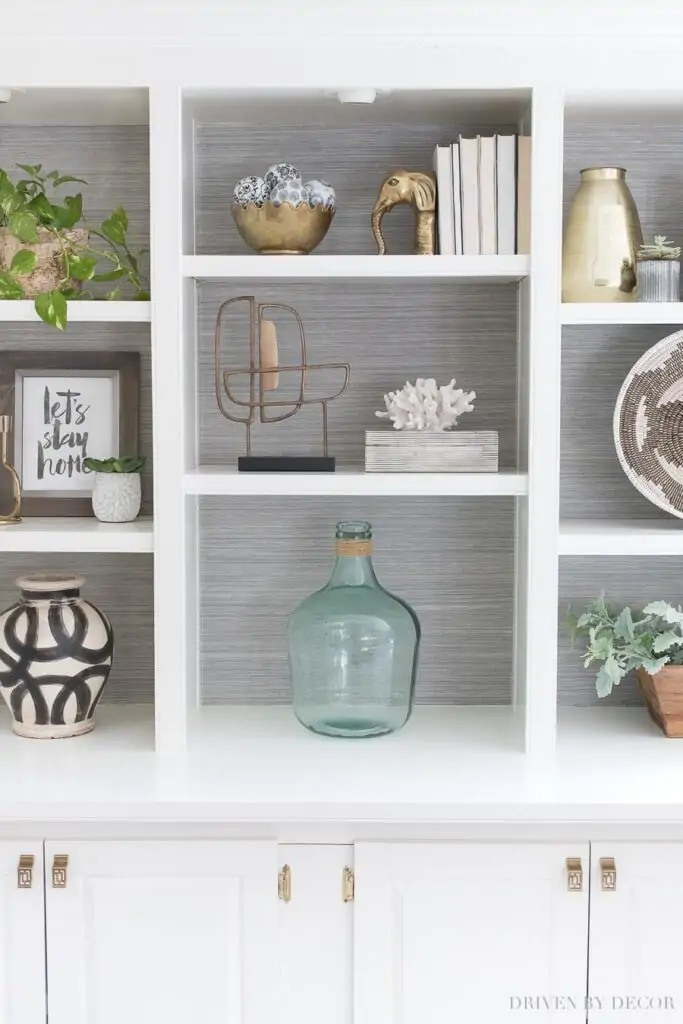 Using accessories as endpoints is one of the most fantastic ideas for decorating bookshelves. On neutral shelves, brightly colored accessories and picture frames work perfectly. Place your books vertically and horizontally, combining them with asymmetric vases, candles, or any other decoration. The important aspect is to combine the colors in the most sophisticated way, so that it fits your interior design.
5. Books as the Main Statement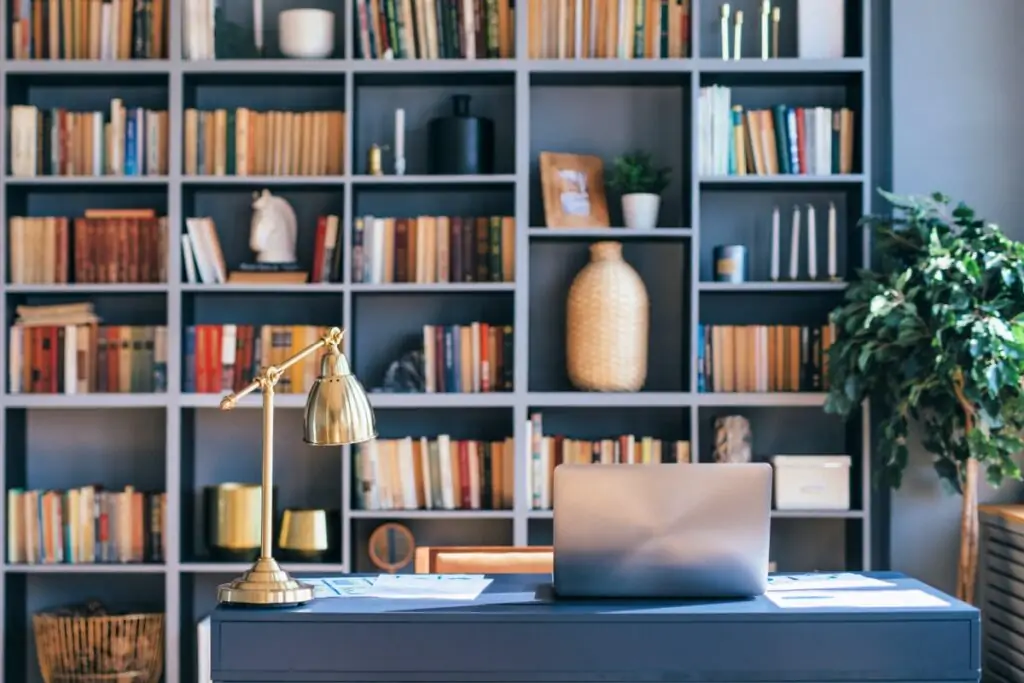 If you are a book lover, your book collection probably means the world. When exhibited correctly, books can express their owner's personality. Try to make your views and beliefs an inseparable part of your collection while considering how to decorate bookshelves with books. You can add small lights to your bookshelves and spot them on your books. And finally, make sure that the shelves' color matches the books' color scheme. 
6. Use Crazy Shapes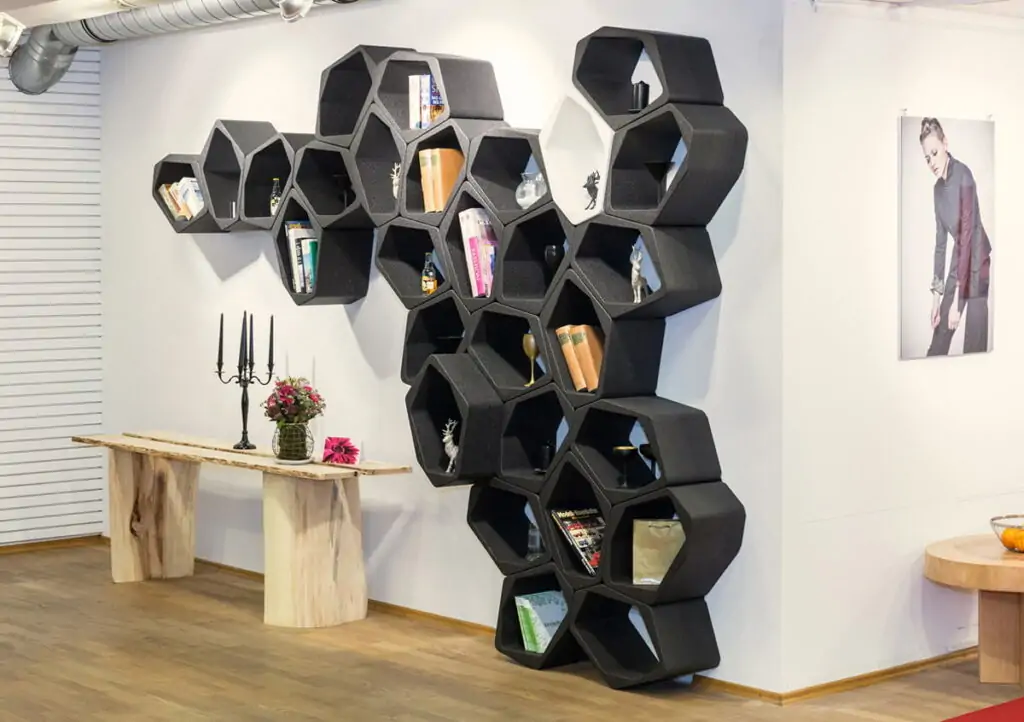 If you like creativity and prefer thinking out of the box, we recommend choosing crazy shapes instead of traditional shelves. Look for shelves with unusual forms to store your belongings, such as a round or square shape. Though it may be a bit difficult to find ways on how to decorate a cube shelf, you can find the right way by placing your books a bit crookedly. This will make them look even better, believe us.
7. Shelves as Room Dividers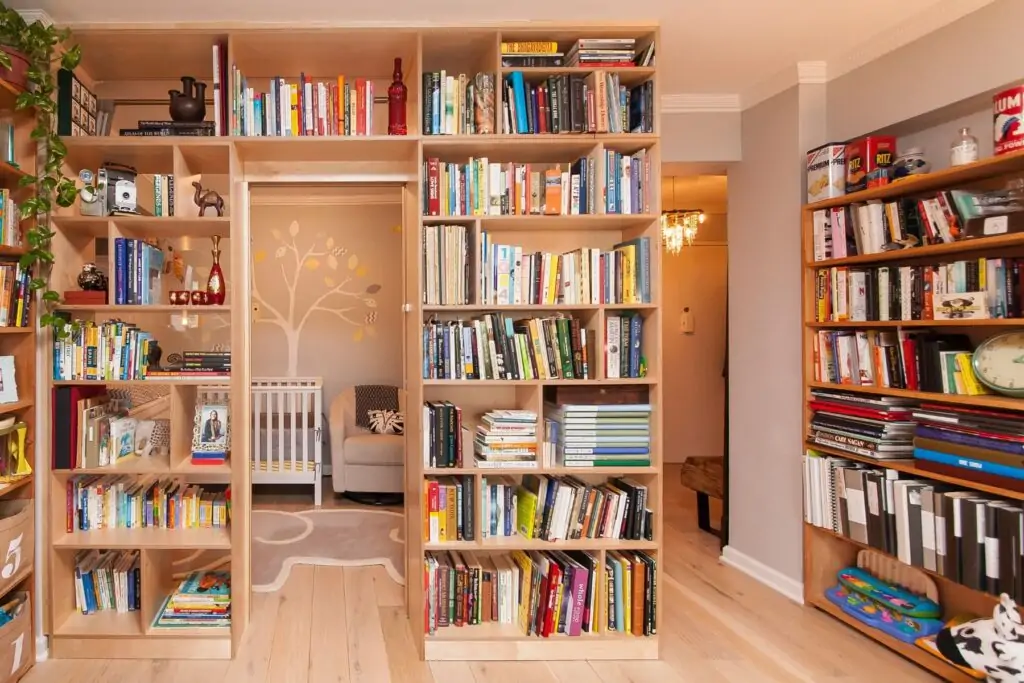 If you have a significant budget and are ready to make some major changes in your house, think about having bookshelves that divide your rooms. So, you'll have a bookshelf instead of a wall, which is very inventive. Sure, it is one of those ideas on how to decorate bookshelves which may require a bit of effort. Still, this is an excellent example of combining creativity with functionality.
8. Use Art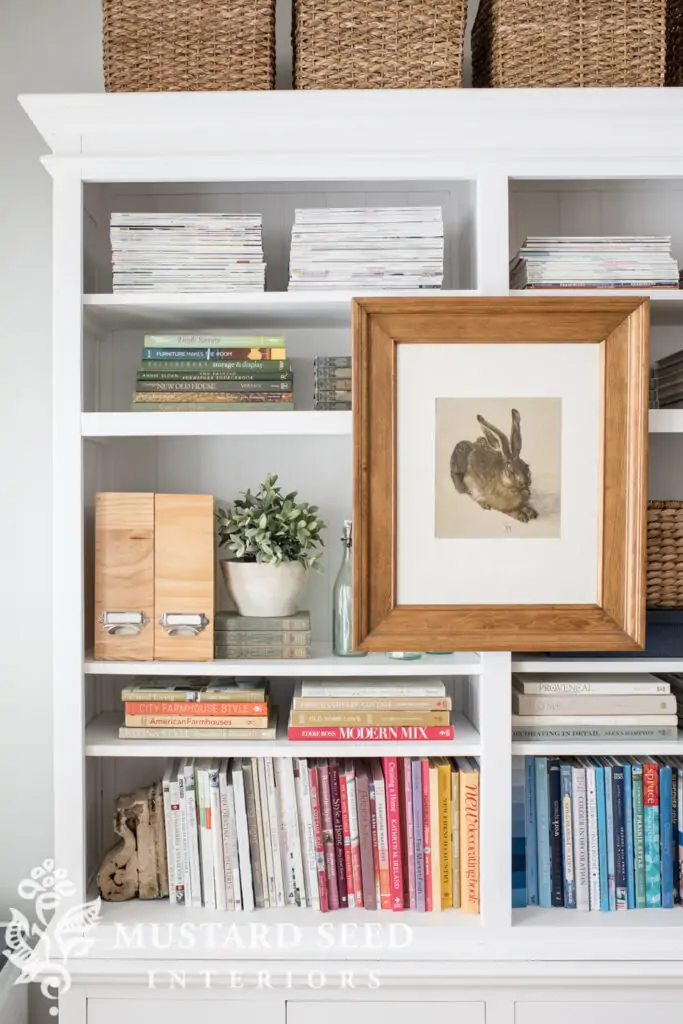 You can effectively decorate your bookshelves by hanging artwork or another wall décor in front of books. Smaller pieces and objects hung in multiples will look just as beautiful as a single large decoration. However, if you choose extensive decorations, make sure that the books behind them are not used very often. Consider also small lamps: you will need them to underline the strong sides of your decorations. Built-in sconces are a great way to transform your library into the perfect reading corner. 
9. Mix Vintage and Modern
Especially in recent years, the combination of vintage and modern has become very trendy, so if you like experiments, you must try this. In flea markets you can get vintage clocks, globes, candles, and whatnot. What's more, be sure to go through the stuff that you have at home. Most probably, your grandmother kept her old candle cup or an iron. So, you can always borrow something vintage from the older generation, which will be even more appealing.
10. Bedroom Bookshelf Decoration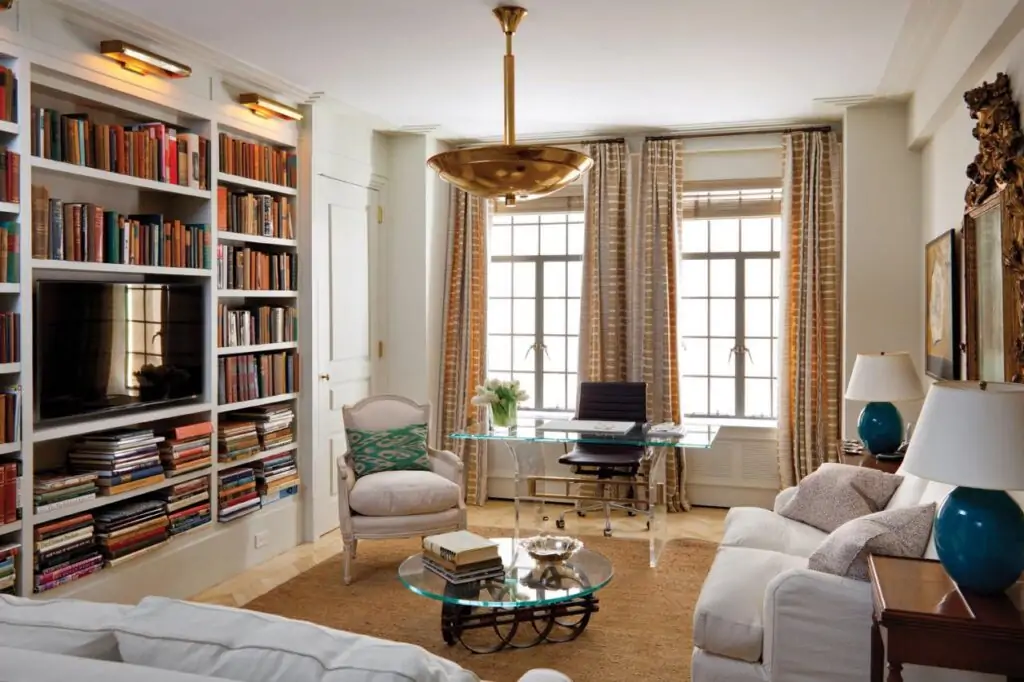 Don't forget about your bedroom, which can also be transformed into something appealing. , Utilize the upper part of your bed. Make a stylish and helpful headboard out of a built-in bookcase. Mounted sconces provide ample space for the bedroom's library of midnight reading material. Vases and frames are a great addition to shelves: they are all about charisma.
11. Photo Frames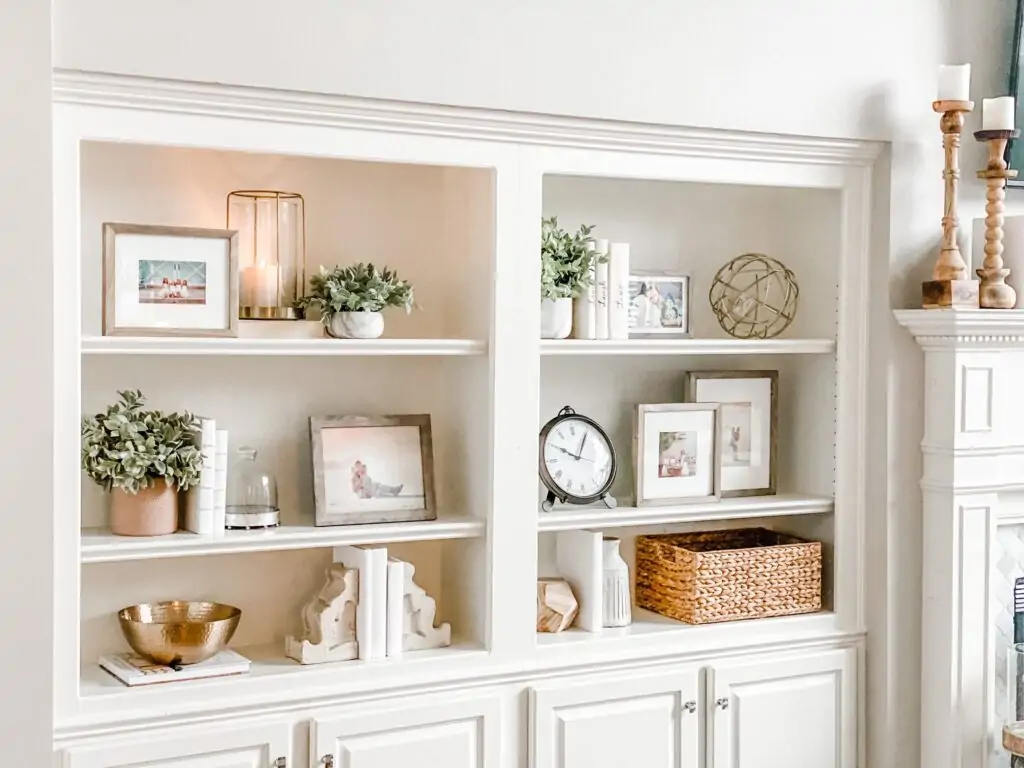 Adding frames to your bookshelves with family photos is not only very beautiful but also holds a special meaning to it. You can choose your favorite pictures or even do a special photoshoot for such an occasion. We recommend buying frames in neutral tones, like white, black, or beige, so that it perfectly fits with the books. You can have different frames and change them occasionally, which will completely change the shelves' appearance.
12. Floating Shelves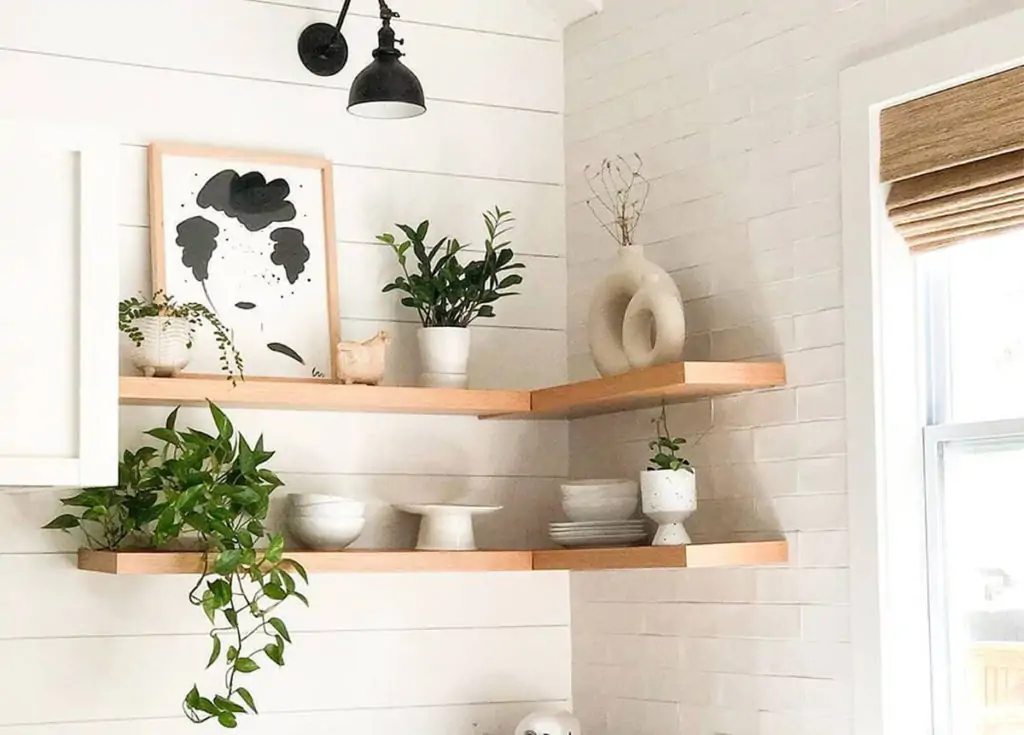 A floating shelf is excellent if you don't like to overload the wall. It is one or more shelves that are not supported by the ground. Instead, they are attached to the wall, giving them the impression of being "floating." These shelves may be placed almost anywhere. If you don't have much space, place them above any other furniture in your living room or bedroom. In case you are thinking about how to decorate a floating shelf in the most unusual place, use the bathroom space as well.
13. Kids' Corner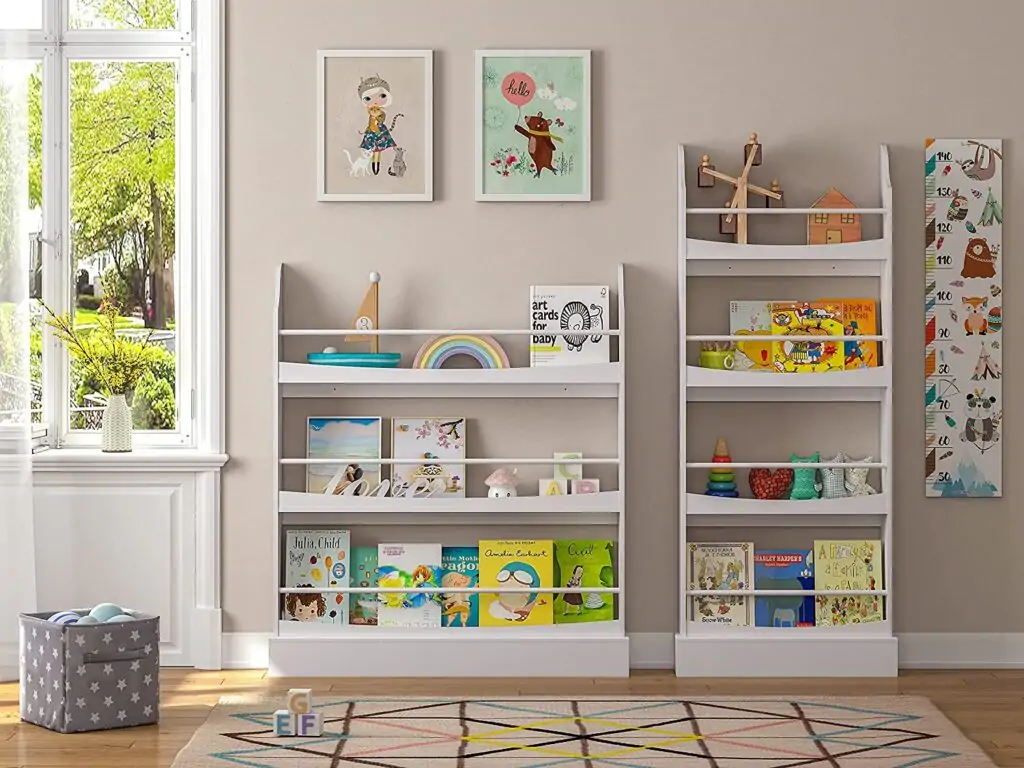 If you have children, then you can't forget about them. It is always a struggle to store the massive pile of different games they have. So, you can use your shelves to put their toys and present them. In addition to that, put some colorful books alongside the toys. This way, you may motivate your children to read the books, as they will be part of their toy shelf. We recommend you paint the shelves in a more colorful palette. It will be the final step in making the shelf corner your child's favorite part of the room.
14. More Than Books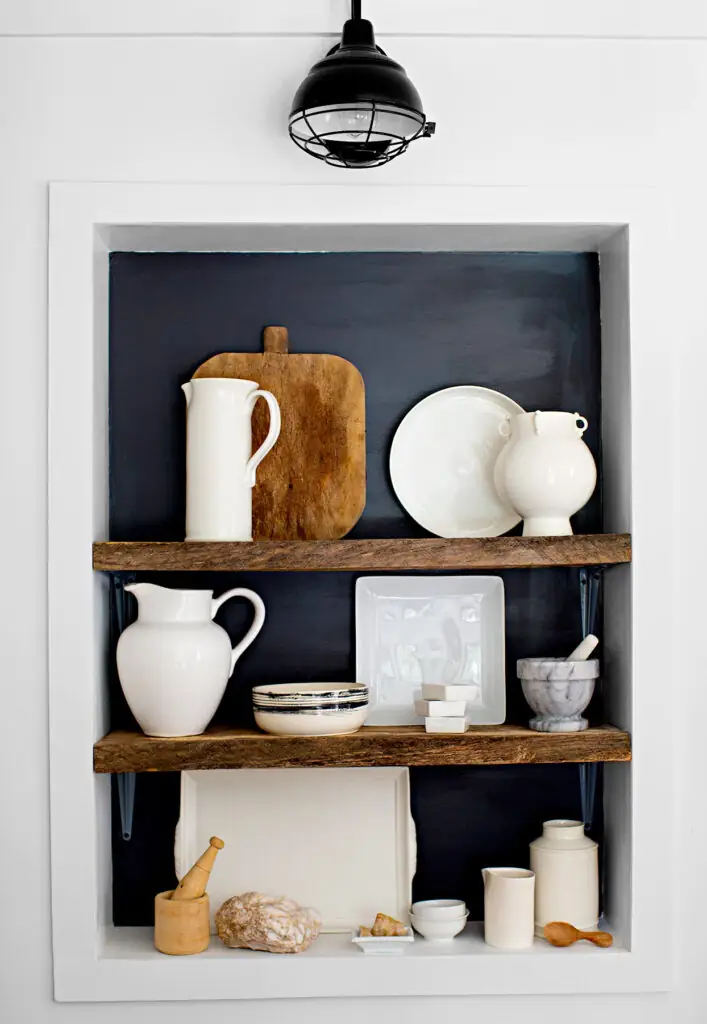 The shelves are usually meant for books; however, you can always go even further. Are you a collector? Then distribute your collection on the shelves. For example, vinyl lovers can place their collections on the shelves. Imagine how entertained your guest would be if they saw it. Another idea can be putting a cup or plate collection there. If you are not a collector, then maybe this is about time to start. Think outside the box and come up with ideas that no one has thought about.
15. Office Style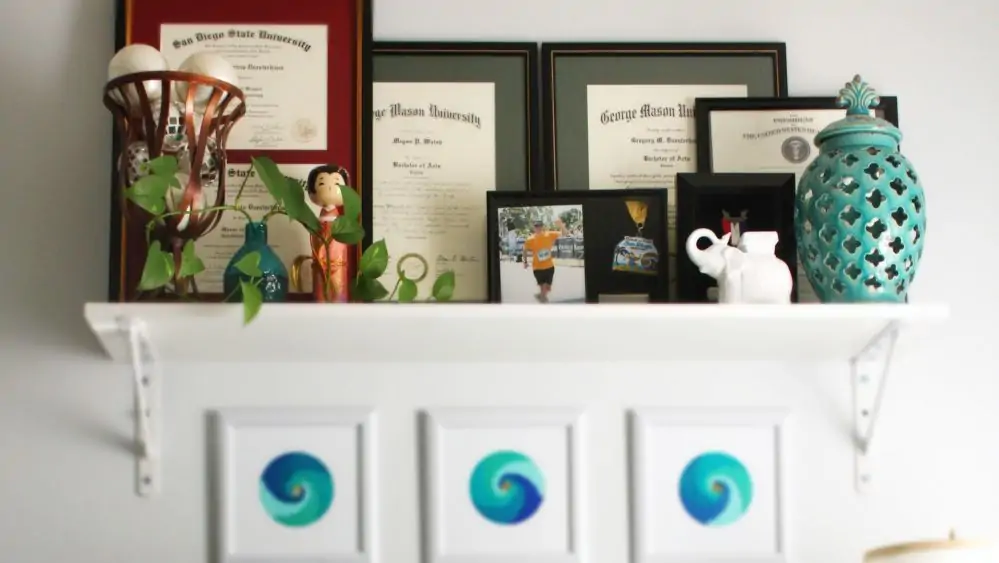 Do you have children who have graduated and have diplomas at home? Then this is the perfect time to show how proud you are by placing their achievements in the most visible place. Frame the certificates, and they will become an inseparable part of the shelf. Also, you can add other binders and even photo albums! Make sure to choose a color-coordinated palette so it doesn't look gaudy.
Final Words
Every part of the house represents the owner's personality, and bookshelves are no exception. Whether you like to put all your stuff under the bed or place it on the shelves, it is up to you! The only actual design guideline and secret is to create an environment you like spending time in. Hopefully, you can take inspiration from our list of ideas on how to decorate bookshelves and end up having a gorgeous corner at your home.