Ideas for a Wall Collage: Time to Transform Your Room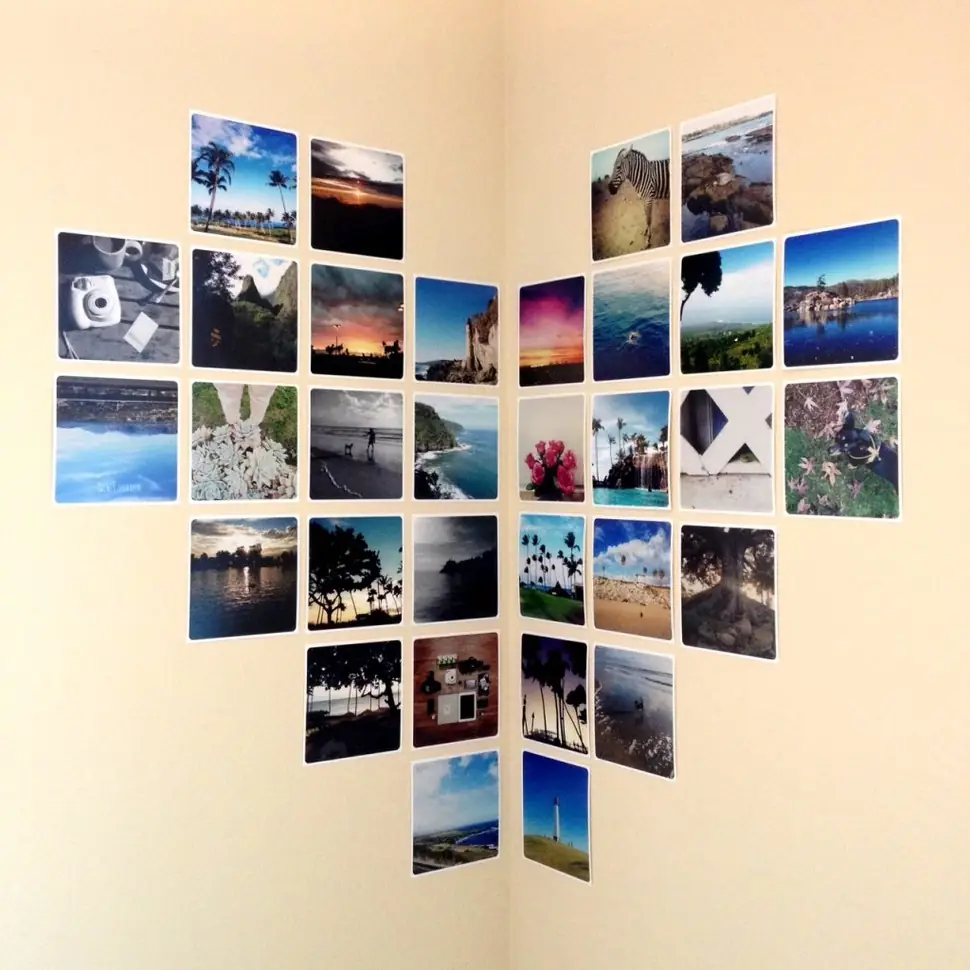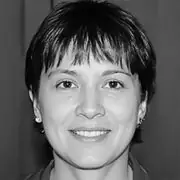 Everyone has that personal, family, or group photo that motivates and holds sentimental value to them – and when they fail to get their daily dose of these pictures, it seems like their day just got worse. If you have these beautiful photos and need an attractive way to showcase them, all you need to do is find some treasure display ideas for a wall collage to keep your favorites in sight.
One of the perks of utilizing collage photo wall ideas is that it gives your room a bold focal point while also highlighting its architectural features. Furthermore, it tells people what you care about by showcasing your personality and interests. More than this, to have a collage on the wall is one of those ideas that adds aesthetics to your home décor since the results almost always look like an art gallery.
If you're feeling a little bored of the same old neutral walls or are struggling with finding new ideas for collage making to trick out your apartment, try using the solutions you will find in our collection.
1. Create an Instagram Feed-Like Gallery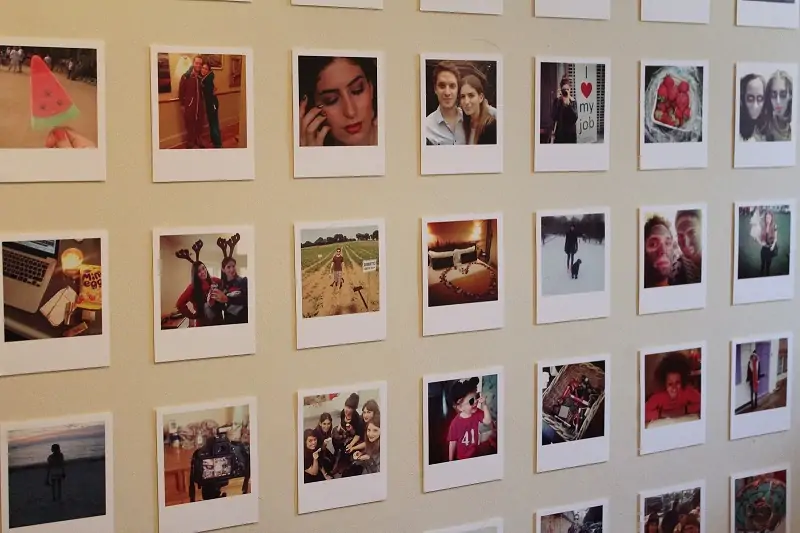 Every Instagram user, especially one who runs an e-store, knows how beneficial IG features like stories and Instagram feeds are. A feature like IG feeds help entrepreneurs showcase their products to potential clients and their niche market, thanks to their carefully designed grid format and high-grade pictures that capture attention at first glance. So, what about using this approach in your bedroom?
An IG feed wall collage idea will give your space an attractive and colorful visual interest and make your bedroom feel more relaxing. What about giving it a try?
2. Play with the Frames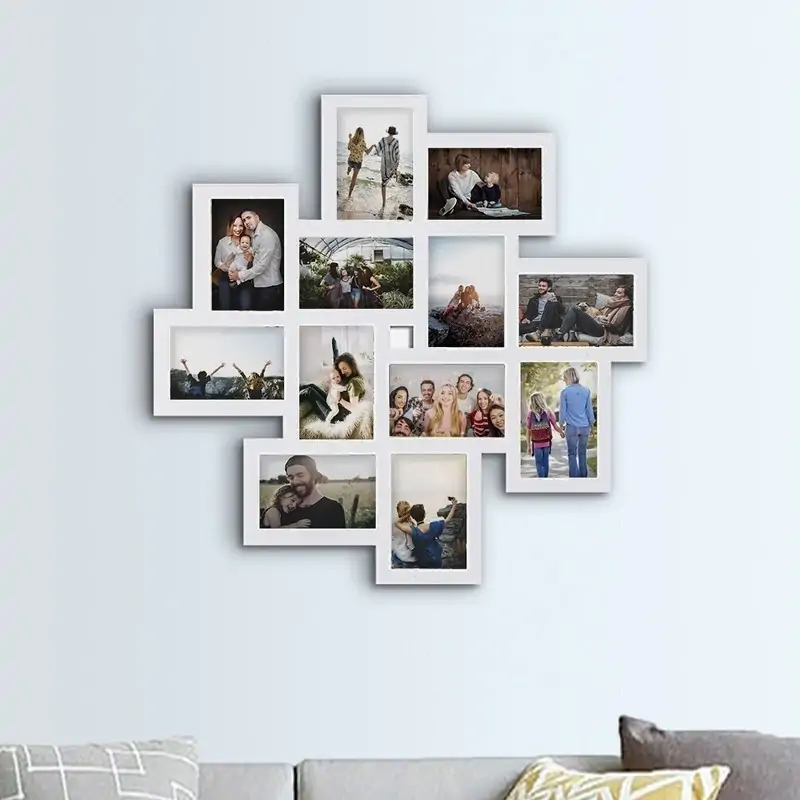 If you need small wall collage ideas for your tiny bedroom or living room, a good solution to try is to match different types and sizes of frames to fill the blank space on the walls.
The simple reason we love mismatched frame collage ideas for a wall is that while asymmetric sets may look uncoordinated, they add artsy perfection to the room without being over the top. This kind of setup also gives your space a refined and timeless feel.
Pro Tip: Don't be afraid to try out frames with different materials. From metal to brass, wood, and gold-plated frames, you can easily add fun to your blank walls, no matter how small they seem.
3. Place It on a Shelf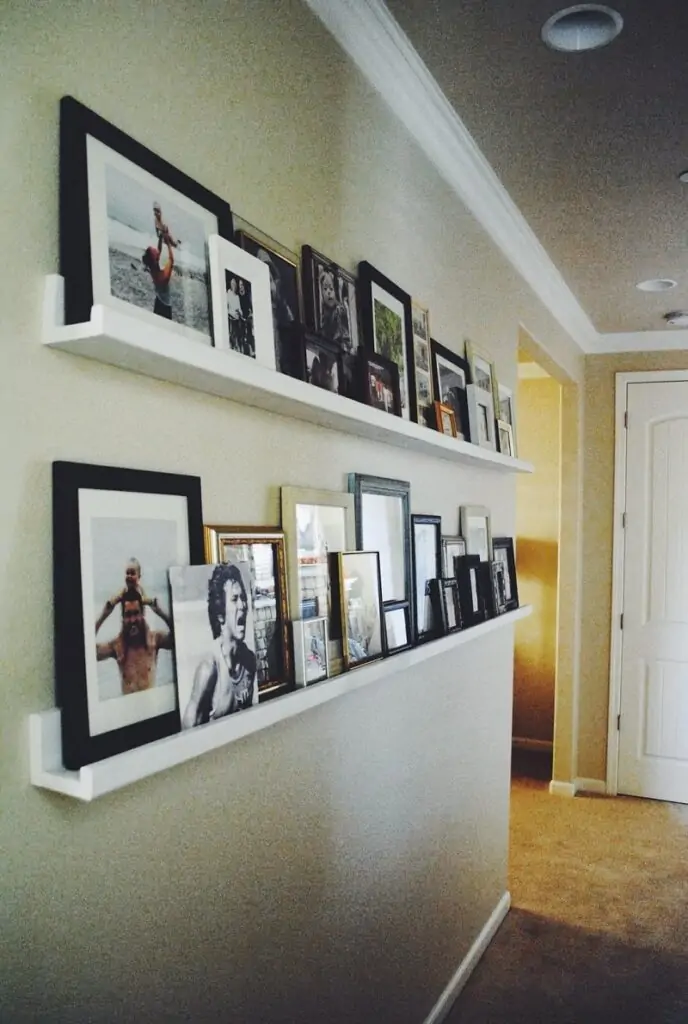 Sometimes, no matter how big a room may seem, the chances of running out of walls to add attention to your room are pretty high.
When you have used up your ideas for wall collage with picture frames, a good way to bypass this is to engage your DIY skills and create a floating shelf to place your favorite pictures on. Shelving wall collage ideas add aesthetic appeal to your space and make it come alive while giving room for creativity.
We love this look for smaller spaces since it adds a modern twist to any tiny area. Just make sure to play around with the pictures so that your gallery looks colorful enough to stand out.
4. Create a Clean Grid Photo Gallery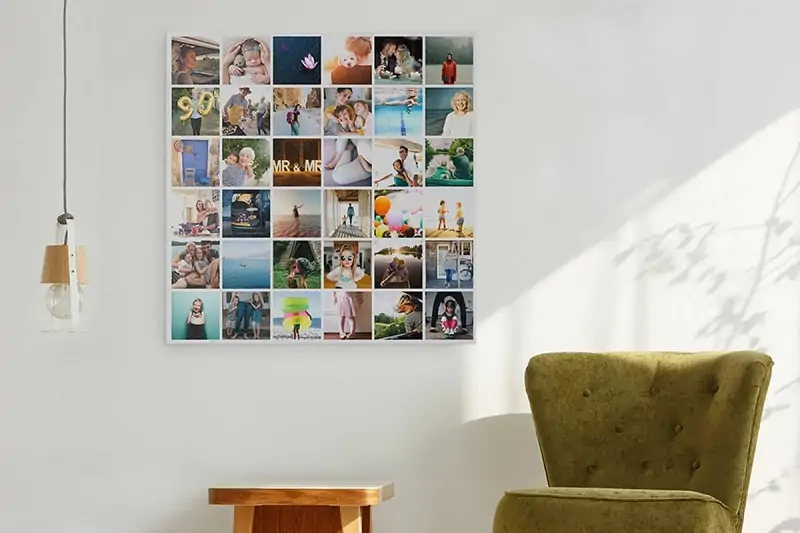 One of our favorite ideas for wall picture collages is to use a grid layout when designing a picture gallery at home.
This idea ranks top among our favorites because it always gives a clean, crisp, and purposeful result rather than the chaotic look of incompatible pieces. So, if you don't fancy the mismatched frame collage ideas for the wall, this grid layout may better suit your preferences.
Pro Tip: To get an accurate grid layout, keep a measuring or masking tape close. It ensures that the grid boxes are the same size.
5. Bedroom Photo Gallery Ideas Without Personal Pictures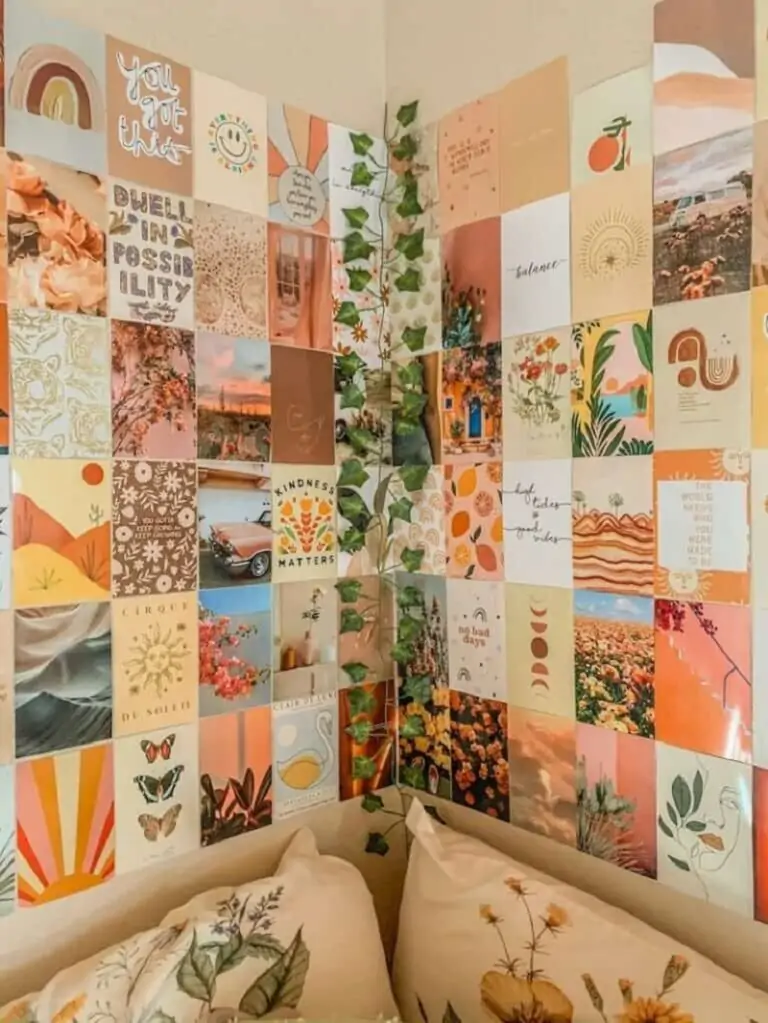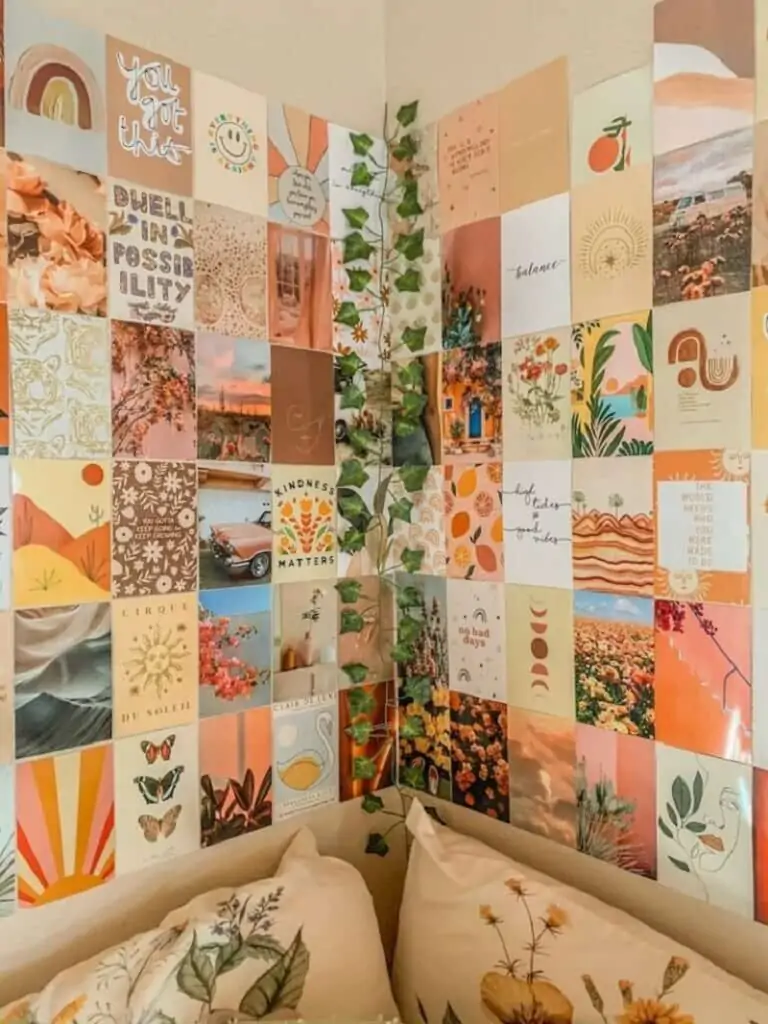 For some reason, most people aren't fans of taking personal pictures – but that doesn't mean they don't love art.
If you don't have enough space to spare for a photo gallery but want to add some artsy touch to your bedroom walls, get an already-designed collage kit to decorate your corner space.
Wall collage kit ideas like this one are extremely affordable and easy to access on platforms like Amazon, Walmart, and Etsy. Just choose a kit with a theme, color, pattern, and design that suits your bedroom space.
6. Hang It Up with a Clothespin and String Lights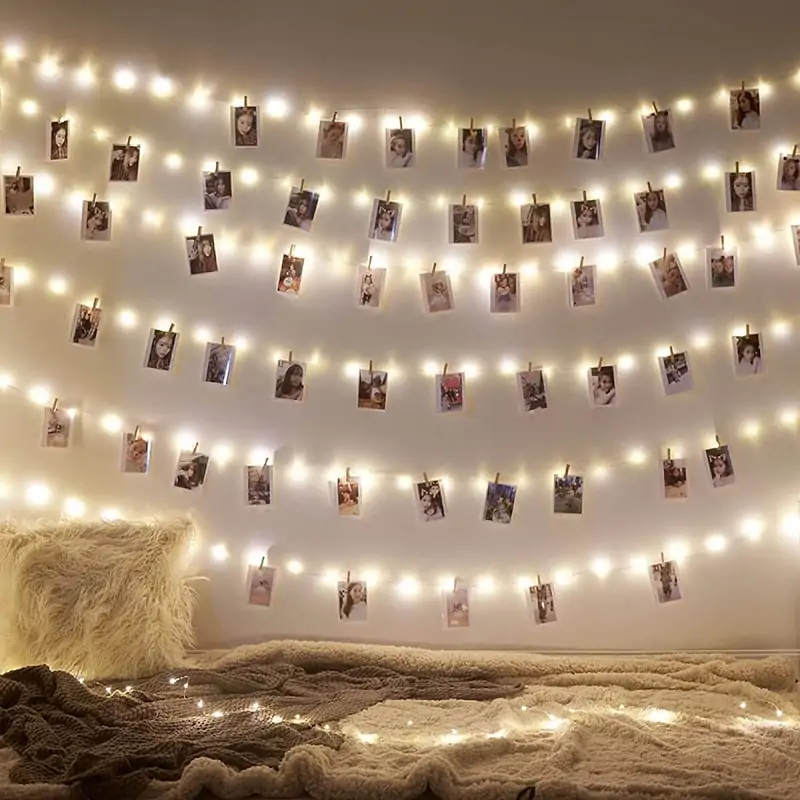 If you need some easy picture collage ideas for a wall without frames to hang in your bedroom, suspending your pictures on a string light using clothespins may work.
String lights on their own look like a fairy-tale dream come true. When paired with clothespins to help suspend family photos on the bedroom wall, this design draws attention to your pictures at first glance, so no one can ever miss it, no matter how small your space is.
Ideas like this are easily affordable statement pieces that make your pictures truly stand out. They are surely worth giving a try.
Pro Tip: Online stores like Etsy and Amazon sell string lights that come with clips attached to them. So, this will make recreating a magical atmosphere in your bedroom, or living room table side seem effortless. Otherwise, if you already have a string light, get some mini clothespins from the hardware store to hang your photos.
7. Use the Small Space Around the Closet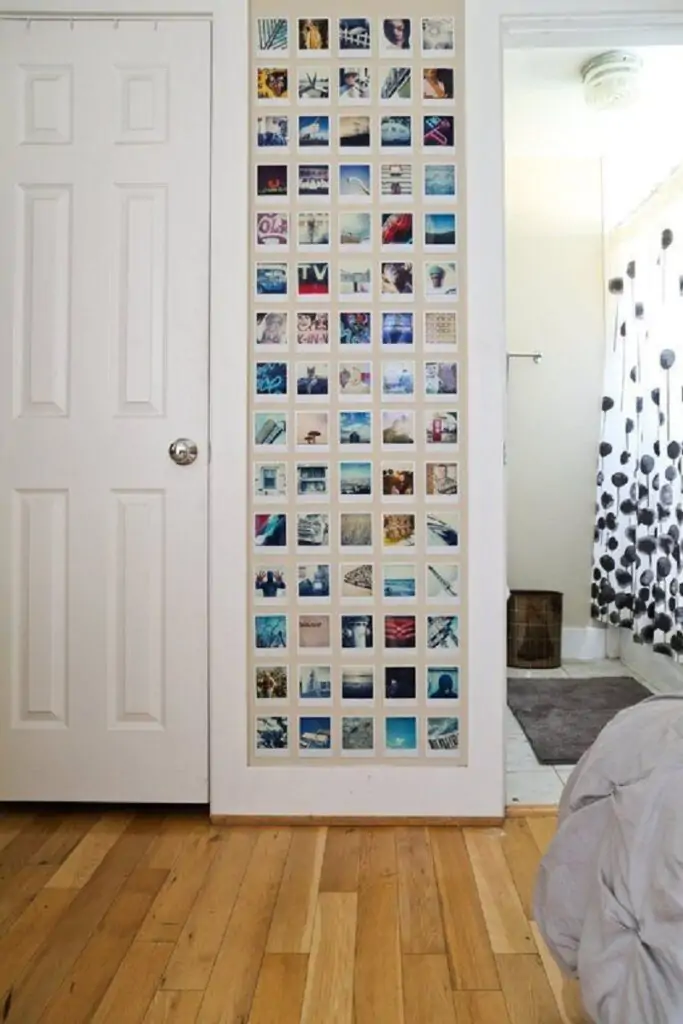 Of all the places in the bedroom, the closet area is arguably the most lifeless part of the house, except if you have a glass closet with colorful clothes displayed.
The best way to make your closet area feel alive is to create an art gallery that holds some of your regular humor-filled photos with your favorite memories. One of the perks of this idea is that it makes you feel happy each morning since you get to see the most embarrassing and fun times you share with loved ones.
However, the best part of this idea is that it doesn't matter how small the area around the closet may seem. With a few photos, you can quickly change the overall feel around your wardrobe door. Just get a double-sided tape or an adhesive to glue them beside the closet.
8. Line the Stair Walls and Hallways with Family Photos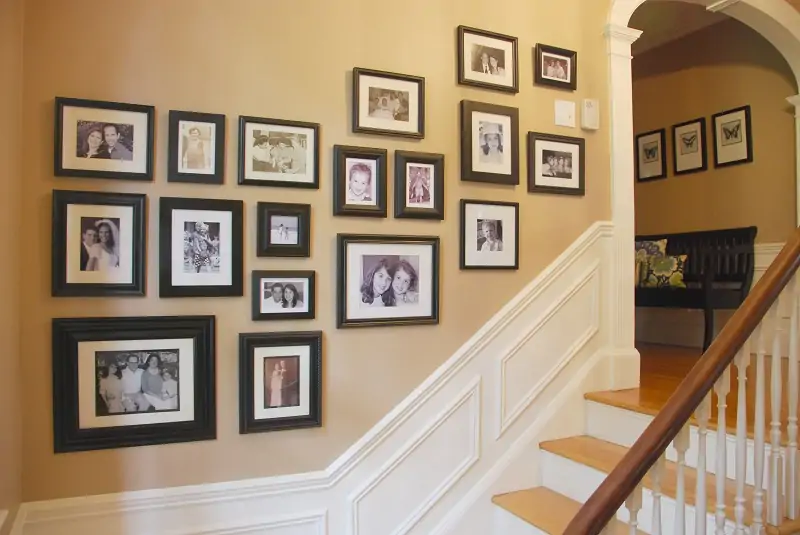 The stair walls and hallways are usually very bland, with only a light bulb to give them color. If your entryways and stairs feel anything like this, it's never too late to get some family collage wall ideas with or without frames to elevate its bland look.
The biggest advantage of this idea is that stair walls and hallways often have large spaces to accommodate any type of décor.
9. Create a Collage with Photos of Friends and Family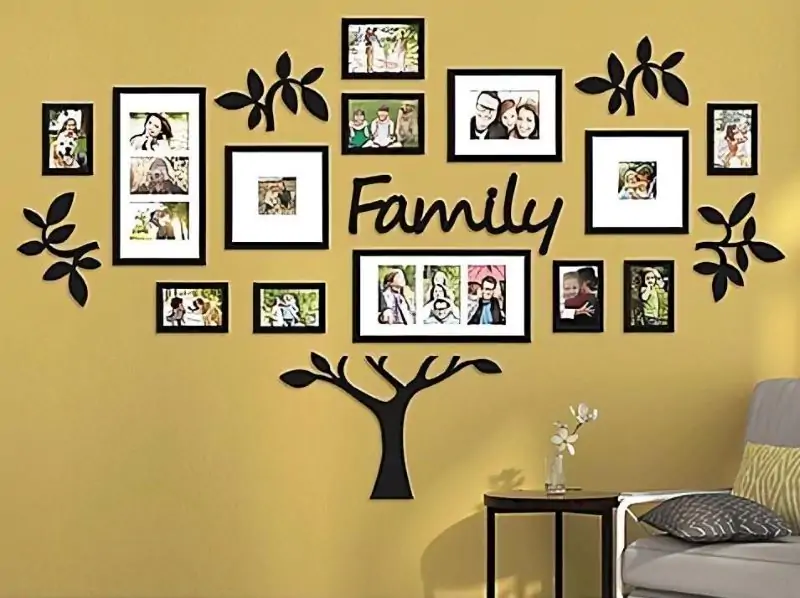 Family collage wall ideas like the one in the photo are a great way to show off your kids or your pets. You can also create an image collection with images of your friends.
An installation like this makes for a wonderful conversation piece that's sure to make people smile.
When creating a photo-collection with images of your loved ones, think about the ideas and overall theme you want to go with. Are you going for a specific color scheme? Do you want to go with a certain type of frame? Have fun with your ideas, and don't be afraid to get creative! Remember that you don't have to use just images. You can also include other framed items, drawings, or mementos to add some variety.
10. Create a Photo Collage of Your Travels!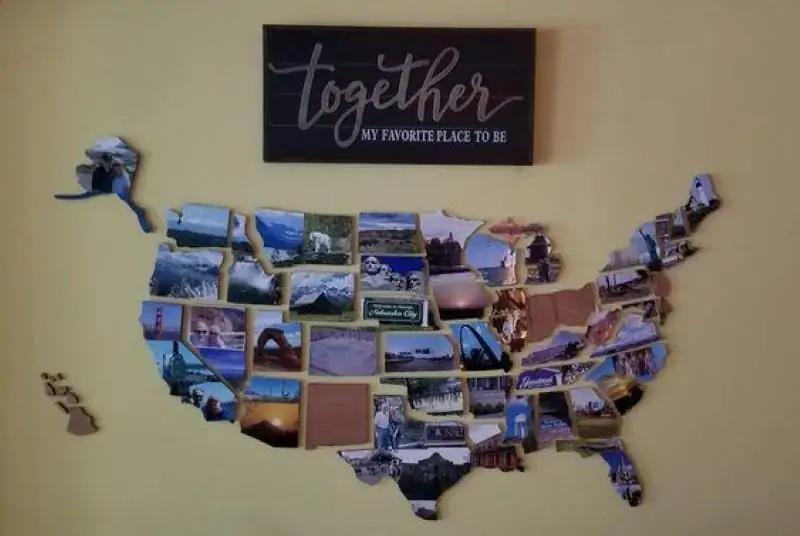 If you've been lucky enough to travel the world, you have so many ideas and memories to share. A photo-collection of your travels is a great way to bring these ideas and memories to life. Pick out some of your favorite images, and arrange them in a layout that tells a story.
You can choose to place them in a grid or a layout with a central image. If you have images of a specific moment or place, you can do a layout of just those photos.
Or, if you want something that looks more like a scrapbook, you can include captions and journaling on the images as well. When creating a travel photo collection, you can use almost any frames you like. Simply pick a frame style that fits your personality and let the photos tell your story for you.
11. Turn Pictures into Shapes with an Optical Illusion Collage
If you love optical illusions and want to turn your photos into shapes, an optical illusion idea is a great way to go. You can use this photo-collection technique to make your photos appear to be 3-dimensional shapes. This is a great way to turn your photos into something creative and fun.
This technique is fairly easy to do. You can use Photoshop or an online app to make your images 3-D shapes. Or you can simply cut your images into shapes with scissors if you're an image artist, or get one to do it for you and pay them.
12. Use Colored Prints as a Wall Collage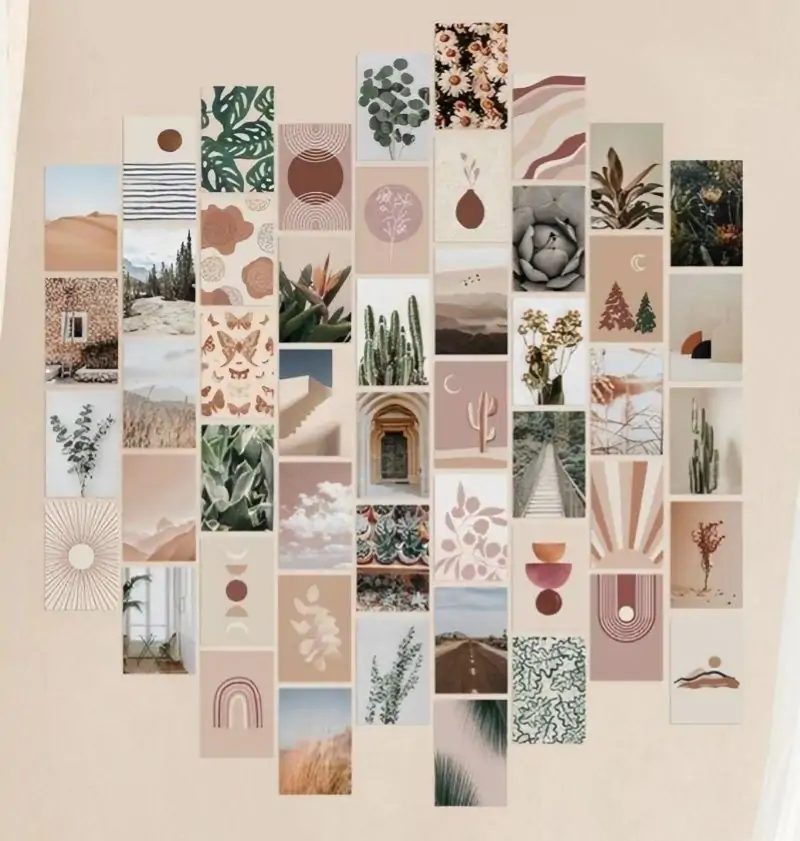 If you're in the mood to shake things up, you can use colored prints for a picture collage without a frame. This is one of the best wall collage ideas for the living room; that is made up of colorful images that work together to create a fun, vibrant, and artistic style that's both youthful and sophisticated.
If you love the idea of a colored photo-collection but don't have photos you'd like to display, don't worry. You don't have to take photos from scratch; you can simply use online image search engines to find images that you like.
Once you've found the photos you'd like to display, you can print them at home or at your local print shop. You can also choose to print them in black and white for an artsy touch..
13. Bring in the Colors with a Rainbow Wall Collage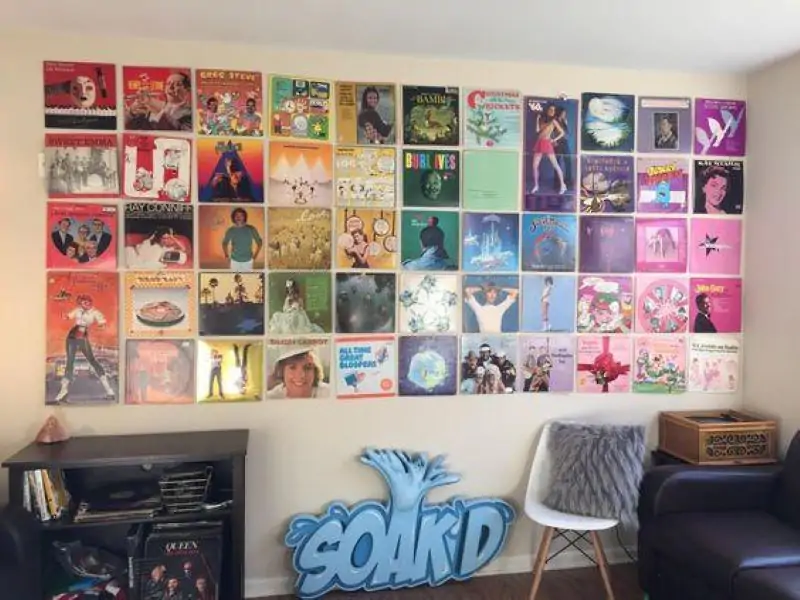 If you love bright and bold photo collage ideas for your bedroom wall, a rainbow photo-collection is a great way to bring in the colors. You can choose photos that reflect different moods or themes, or you can choose photos that are just plain fun.
A rainbow photo-collection can be a great way to bring joy and happiness into your home. It can be a great way to celebrate your favorite things and bring them to the forefront of your home.
You can choose to display photos of your family, friends, hobbies, interests, or pretty much anything that makes you happy. A rainbow photo-collection can be done in a variety of ways.
You can choose to display photos that are all the same size and place them side-by-side in a straight line. You can also choose to display photos of different sizes and create a more scattered design.
14. Bring in Bright and Playful Colors with a Tropical Wall Collage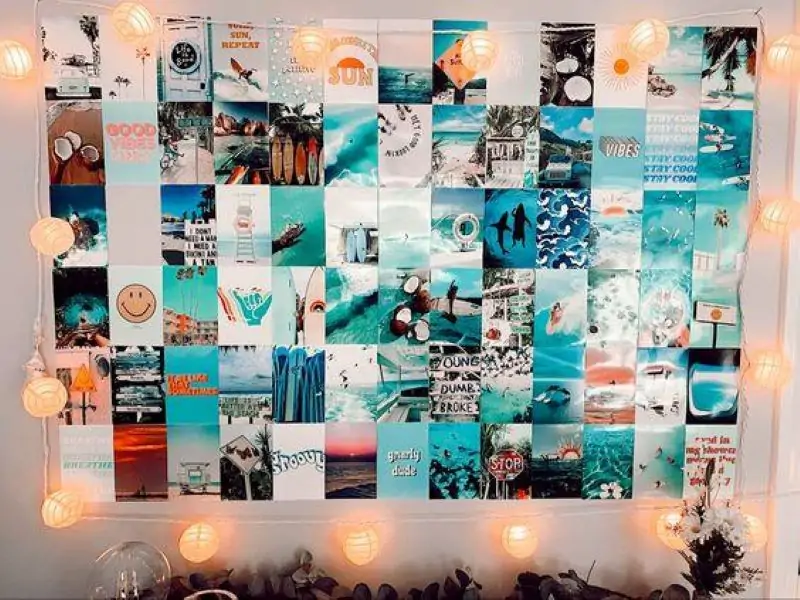 A tropical image-collection is one of many great ideas to bring in bright and playful colors. It can be created with images that have a tropical feel or images of tropical flowers, beaches, or places. You can also create it with just a single image.
If you are creating this photo-collection with multiple images, you can choose to use images with a tropical theme or photos of tropical flowers. You can also choose to use images that are already printed on cards or gift tags.
15. Black and White Collage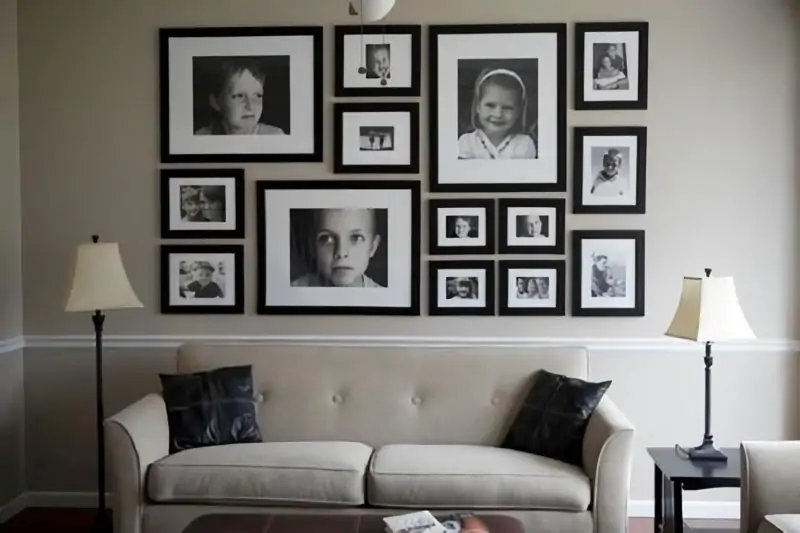 If you're looking for more subdued ideas, a black and white photo-collection is a great choice. It is also a great option if you want to create a more artistic and sophisticated space.
You can choose to do an all-black and white installation or use a large black-and-white theme that also uses other colors and prints. This idea is a great option for bedrooms, living rooms, and offices. It can add a sophisticated touch to any place and is a great choice if you want to keep your home decor simple and clean-looking.
16. 3D Printed Wall Collage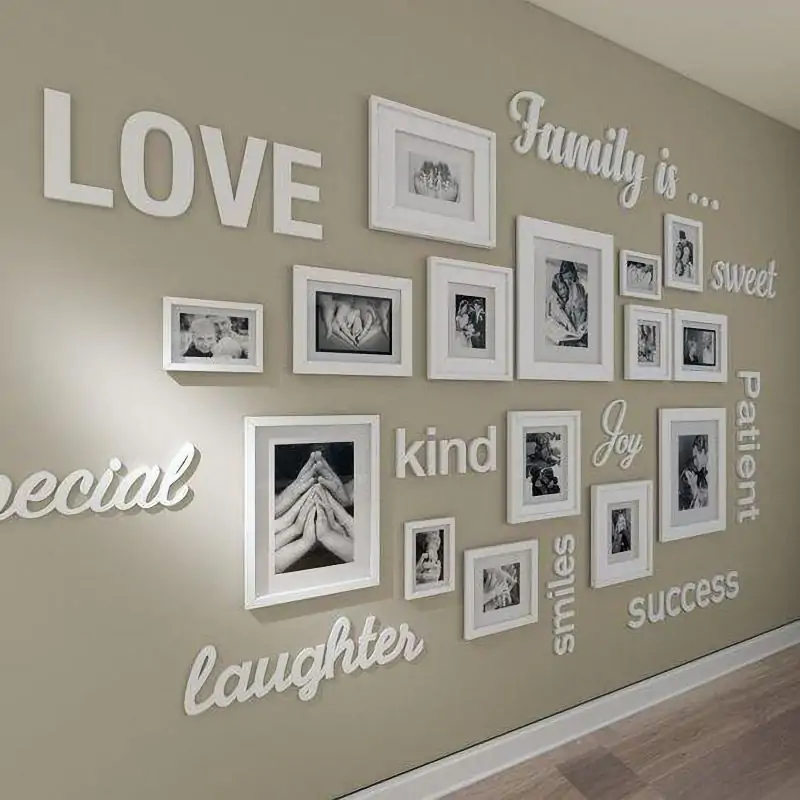 A 3D printed photo-collection is a unique idea that is sure to stand out and make a big impact! You can use 3D printers to create pictures of your family, pictures of your pets, or even your favorite landmarks: these devices can be programmed to create all kinds of images and designs.
This idea is also a great way to showcase your creativity and show off your interests. It's a unique solution that is sure to make people do a double-take when they walk into your home or office! Last but not least, it's a fun and easy way to add a ton of color, patterns, and designs to your home.
FAQs
Where Should I Set Up a Photo Gallery?
Gallery walls fit into any space, from the bedroom to the living room, kitchen, patio, entryway, hallways, and even stairs. However, you really want to avoid creating one in the bathroom since pictures can easily collect moisture.
What Picture Collage Idea Will Best Fit My Space?
The best ideas that fit any space are those that create that stop-in-your-tracks kind of experience in your home. Then again, you really want to think about the atmosphere you aim for and which style best suits your personality.
Is It Necessary to Measure Walls for a Grid Layout?
To get a clean-looking grid pattern with consistent results, especially when it involves shapes and sizes, you need to take measurements of the walls. It ensures your photos are aligned accurately and purposely.
Conclusion
Photographs are a good way to save lasting memories of important events and loved ones, but they often get little to no attention if stored in a safe box. More than this, a blank wall could leave your home feeling lifeless. The best way to live your favorite memories each day and add a statement piece to your home is to create a gallery wall.
So, no matter which idea you choose, from our IG feed-like patterns to the DIY grid layout, shelf designs, string lights, clothespins & string lights, or mismatched frames, we hope our ideas for a wall collage will help you create a unique gallery you will love.