Ideas on How to Paint a Bedroom: Make It Truly Yours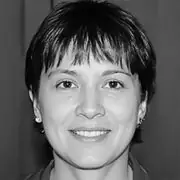 The best ideas on how to paint a bedroom can effectively add inspiring interest to your bedroom décor without overwhelming the space. On the other hand, bedrooms are a tricky spot to paint because it is where you spend significant time daily, and you need to be really sure that you like the color you are going to choose.
Paints are a powerful coat that transforms your room's atmosphere. You want the place you sleep to feel relaxing and soothing enough to unwind comfortably. You also need a space that lulls you effortlessly to sleep after a stressful day. So, while colors play vital roles in setting the tone and atmosphere of your room, the wrong color palette will give your tired bedroom a more negative focus.
The good news is that bedroom painting ideas vary tremendously. From the ceiling to feature walls, flooring, and headboard, you'll always find the best fun paint schemes to make a statement and uplift the look of your tired bedroom. Do you love bold and bright colors or dramatic shades? We've found some interesting ideas to help you make a one-of-a-kind statement in your sleeping space.
1. Create a Bold Black Oriental Inspired Bedroom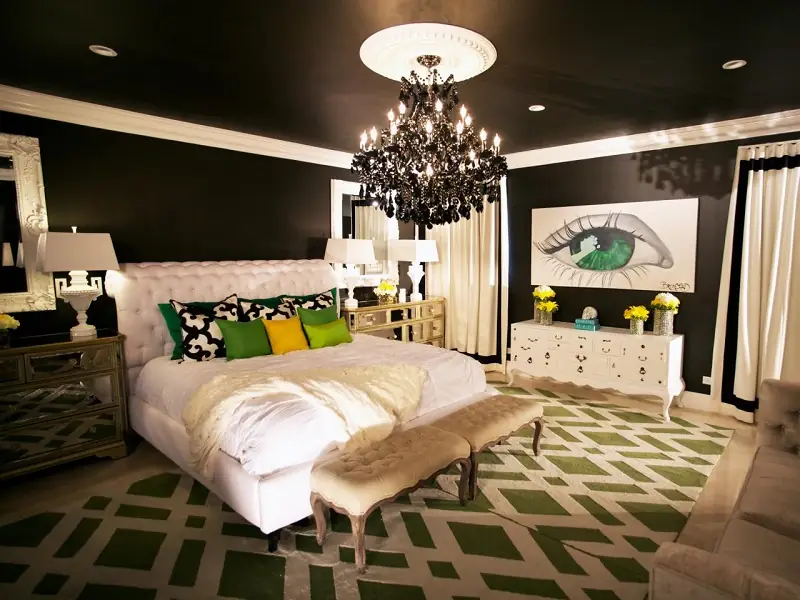 Black can be a tough nut to crack, especially if you've never liked its serious tones. But it is one of the most effective ideas to paint a master bedroom. Design experts see black as a bold and dramatic statement color that adds aesthetic value to your home. So, if you love black tones and have a large room, why not explore a bold, dramatic black to add interest to your room?
A black painted wall will make the hottest trend in your sleeping space. On the other hand, you can explore a black feature headboard to add exotic depth.
2. Use Dark Shades on the Ceiling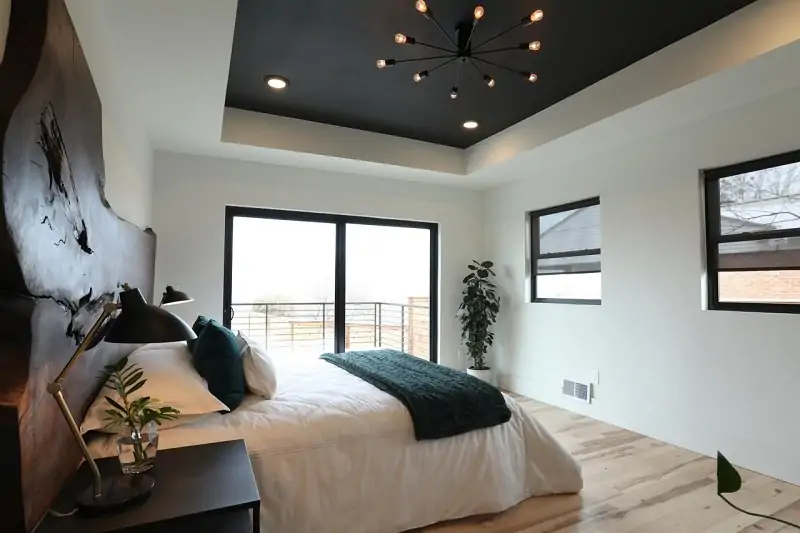 Love a dramatic dark theme but don't want to use it for your walls? Then the ceiling is exactly the place you need! Like dark walls, dramatic ceilings make a stunning statement, especially when contrasted with bright and neutral vertical surfaces. Regardless, be sure you bring in some fun textures and accessories so your room décor won't feel too cold.
3. Enjoy a Minimalist Neutral Scheme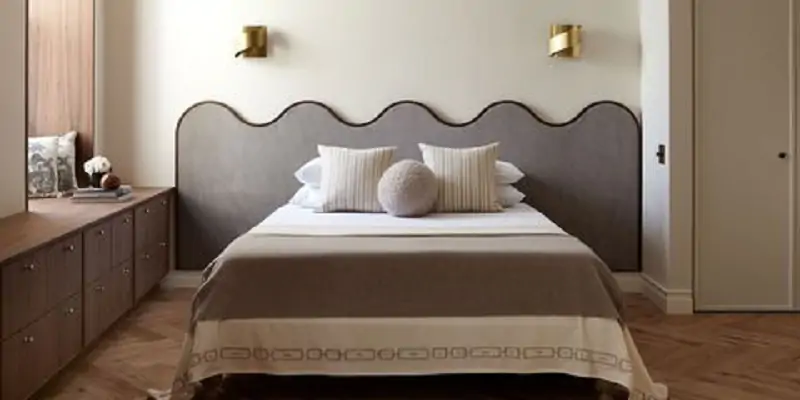 Today, neutral tones are the craziest trends in modern homes since they add texture and natural allure to the bedroom. Plus, a neutral pallet adds warmth to your space. This design is especially useful if you're looking for ideas to paint a small bedroom since it makes your compact space seem large. Small bedrooms with neutral tones like cream, beige, and brown will benefit more from this idea because it makes the limited space lose its cramped feel and seem bigger.
4. Create a Feature Wall with Different Shades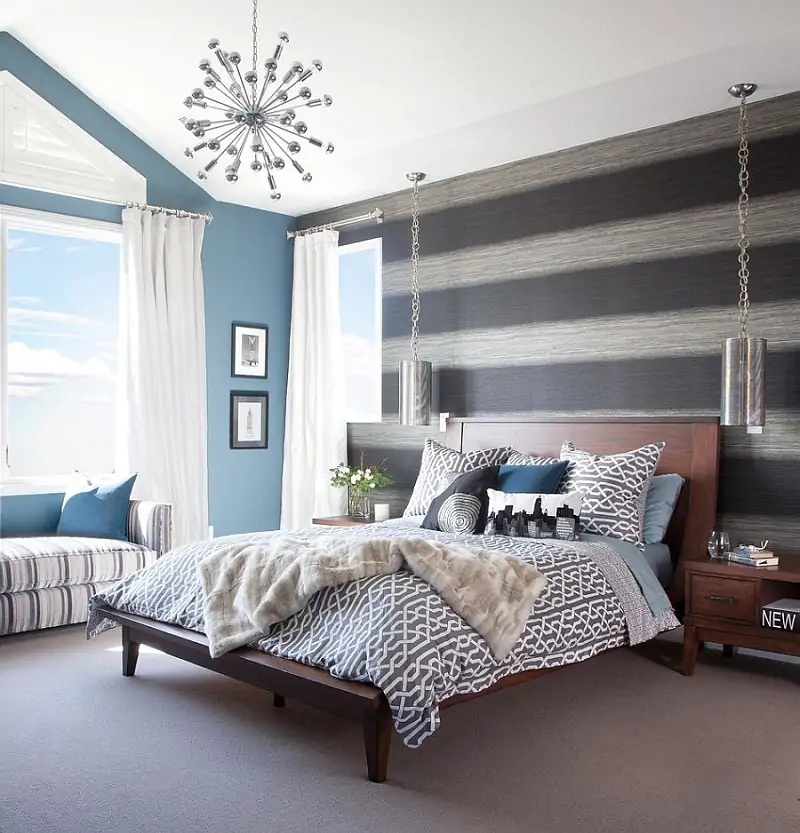 If similar tones do not appeal to you, try mixing different shades of color to highlight your bedroom features. Still, make sure you choose two contrasting colors to create an unusually striking feature wall. For instance, if you love purple but want a creative mixture of colors, use a soft shade of pink or white to create a unique accent design on the part of the wall.
This is one of our best ideas for painting a bedroom in two different colors because it allows the combination of strong and light tones. Want to try this idea? Pick one strong color and a lighter one to show off your room's features and add an extra touch of character.
5. Opt for a Painted Mural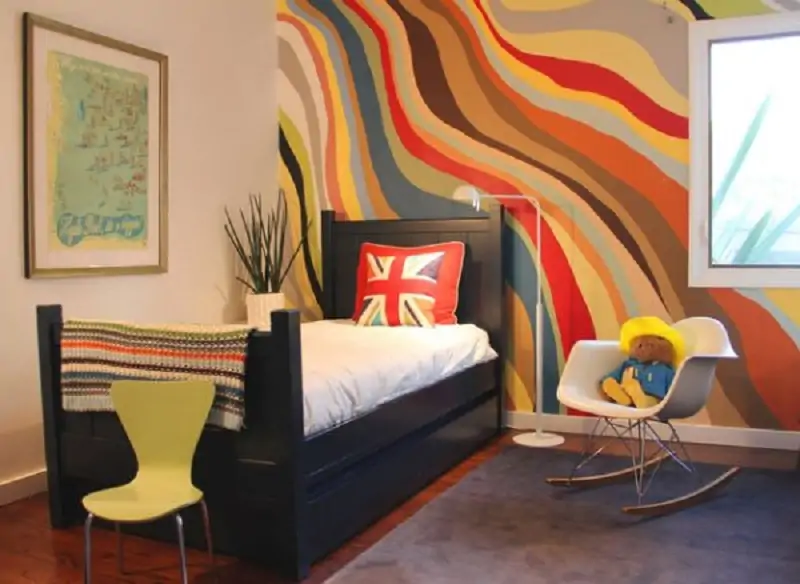 Ideas for painting a bedroom accent wall leave eye-catching results, but many people won't always love this idea. So, if a feature wall isn't your thing, opt for a mural painting. Murals are exquisite iterations of a feature wall. But their picture and pattern designs make them different from the traditional wall accents. If you're not great with pictures, try an abstract mural for a more funky design.
6. Add a Touch of Glamor with Polka Dots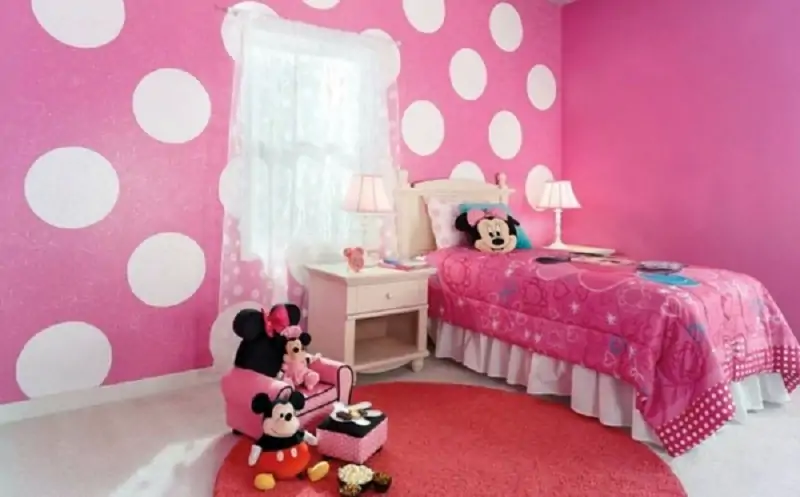 You'll think that making polka dots on your bedroom walls will be a challenge since we mostly see them on clothes. Then again, creative ideas like this are not impossible: when it comes to creativity, there is really nothing that cannot be done.
What's more, this is one of the most striking ideas to paint a little girl's room. If you have kids, you might want to give this design approach a try. Kids love their space but want to feel comfortable when left alone. Polkadot ideas are a colorful way to add interest to an otherwise cold and uninteresting room.
7. Divide Walls with Colors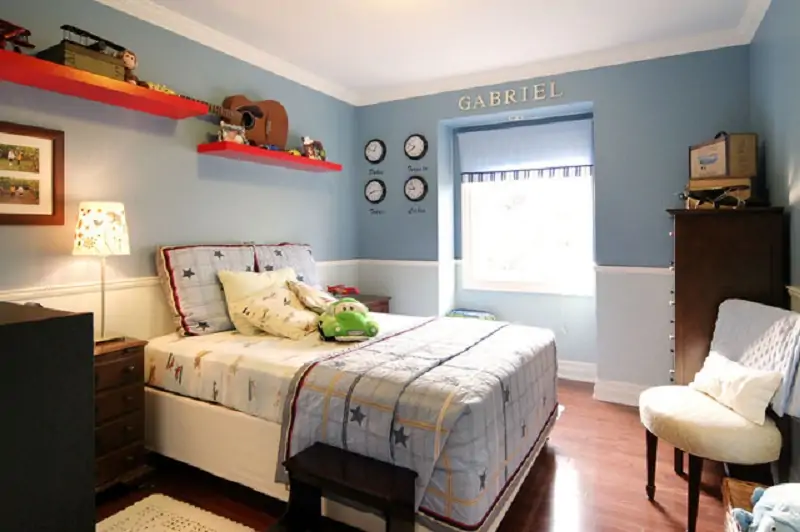 One of the best ideas on our list for painting bedroom walls is division walls. Breakers could take horizontal or vertical forms. The gist of this simple idea is to divide the wall so that each part is layered with different color details.
8. Experiment with Painted Wooden Flooring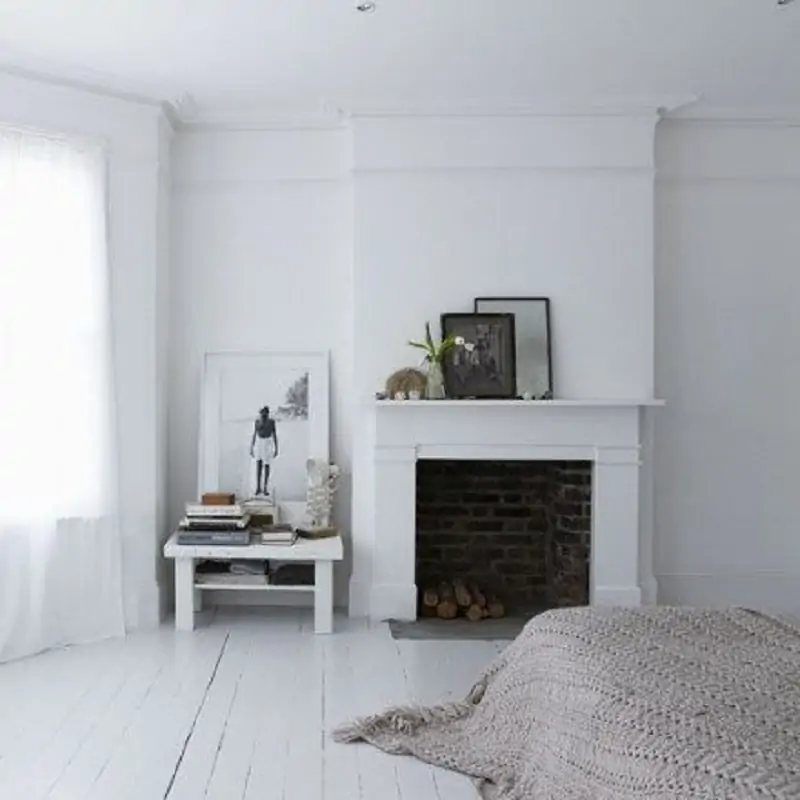 When we hear the word paint, the first thing that comes to mind is walls. But, you don't have to restrict your bedroom paintings to the walls. If your sleeping space has wooden floors, consider painted floorings, whether in patterned or plain schemes. The floor is one of the largest surfaces in your room. How effectively you utilize it truly matters in making – or breaking – your room décor. A crispy white color on your wooden floors will offer a fresh modern appeal.
9. Highlight the Bed Alcoves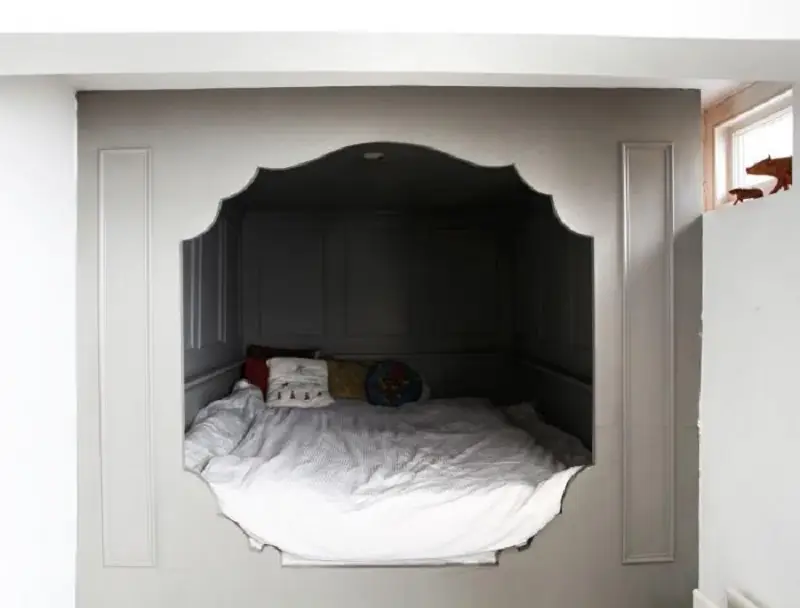 An alcove is a special recess feature in your walls that gives your home that medieval architectural feel. It also serves a functional purpose. But, it can be more than this. When you highlight your bed alcove with color schemes, you transform its look, giving it a more modern and cozy feel.
To make your alcove stand out, use smile-inducing light tones, so your cocooned alcoves look colorful like the ones on the pages of glossy magazines.
10. A Geometric-Inspired Painting Stands Out
According to psychologists, geometric patterns are great for reducing mental and emotional stress. So, since your bedroom is a place to unwind, a stress-reducing shape like this can be a great addition to your room features. But how do you achieve this? Try geometric-inspired DIY bedroom painting ideas using painter's tape.
To do this, simply tape your preferred geometric design directly on the wall and paint over it. When dry, peel the tape off, and you'll be pleased with the stunning sharp geometric design the painter's tape offers.
11. Chalk It Up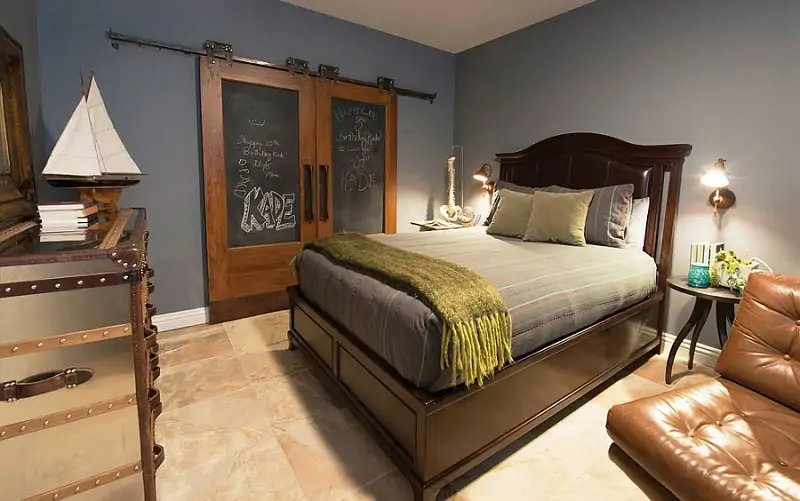 Do you prefer a painted door over a plain one? Chalkboard paints are among the more practical ideas to paint a bedroom door. Chalkboard paints are a fun painting feature you won't find in many homes. Get creative with chalkboard paint and draw painted messages or artistic designs on your door.
FAQs
Do Paints Affect Your Room's Atmosphere?
When considering paint ideas for your bedroom, the tone you choose impacts the overall mood and feel of your space. Using dark tones like red, black, and terracotta equates to less lighting. Instead, it creates a seductive atmosphere with depth. On the other hand, light and neutral tones like pink, cream, and beige create a calm and tranquil atmosphere where you can peacefully unwind and feel refreshed and revitalized.
What Kind of Paintings & Design Approaches Are Good for a Bedroom?
The best tones for your sleeping space are ones that suit your style. However, you need to consider the size of your room, the amount of natural light it gets, and the feeling you aim to create to choose a suitable color scheme.
For a sleeping space that lacks natural light, opt for warm neutral tones like orange, pink, white, beige, and yellow. Small bedrooms will look dazzling with bright and neutral colors to add depth to the space.
What Shades Should I Avoid in My Room?
Small bedrooms will do better without dark tones like black and red. Still, it doesn't mean you have to completely give up on them. Try to contrast these colors in a creative way with light accessories or use a feature wall with black and red shades.
Do I Need to Prepare My Walls Before My Painting Project?
Before trying out these ideas in your room, prepare the wall. Wall preparation is a crucial step in the painting project because without it even the most alluring and brilliant color schemes lose their aesthetic value, fade easily, and won't last long.
If you have a hollow wall, remove the old plaster and paint layers. Then, apply new plasters before painting. This way you will make sure that the painted colors will last long.
If you have a wallpaper-covered wall, remove it before the project.
To paint a room with opaque hues, scrape the paints. But avoid using force while scraping the wall since it damages the fine plaster. Alternatively, get a special paint removal product. 
Conclusion
Modern trends make it easy for us to get braver with colors and creativity. So, if you're considering remodeling projects and need ideas on how to paint a bedroom, sticking to the traditional painting norm won't always help you create the sophisticated modern chic design you want. A fancy makeover on your ceilings, flooring, door, and walls will instantly uplift your room and add life to it.