7+ Ingenious Outdoor Lighting Ideas for Your Patio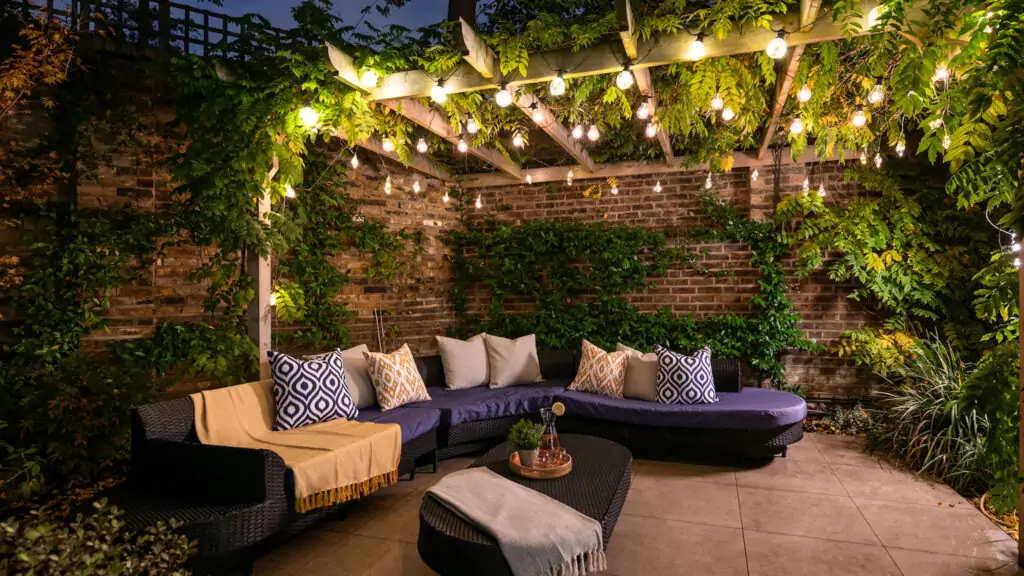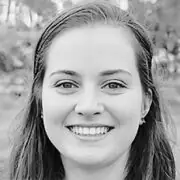 Whether you are looking for an intimate setting for a romantic dinner or festive lighting for a summer barbecue, there are many lighting ideas for the patio to choose from that will help you enjoy the perfect outdoor experience.
A properly lit patio can truly be the cherry on top of any outdoor gathering, making the atmosphere come alive and creating an inviting ambiance for your guests to enjoy. From string lights to torches, your options are limitless. All you need is the fixture that will ideally work for your patio and transform it into an amazing space for entertaining your guests, basking in the sun, or simply relaxing and unwinding.
Here are just a few ideas to help you get started.
Hang String Lights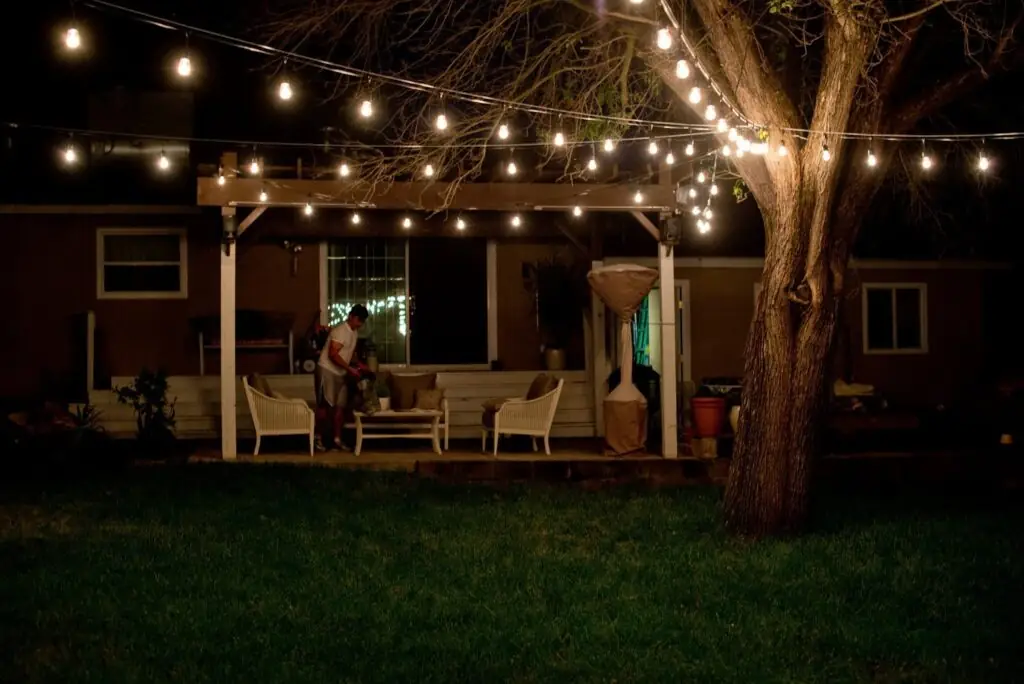 One of the more obvious yet still effective lighting ideas for patios is to use string lights. String lights come in various shapes, sizes, and colors, so you are sure to find something that matches your style. What's more, they are also relatively inexpensive and easy to install.
There are numerous ways of using these strings to create a beautiful and inviting atmosphere. Hang them over a seating area or outdoor dining table to create a cozy gathering place. Use them to mark the borders of a stunning outdoor pathway or lounge area. The possibilities are endless, and you can let your imagination run wild when it comes to string lights.
Paper Lanterns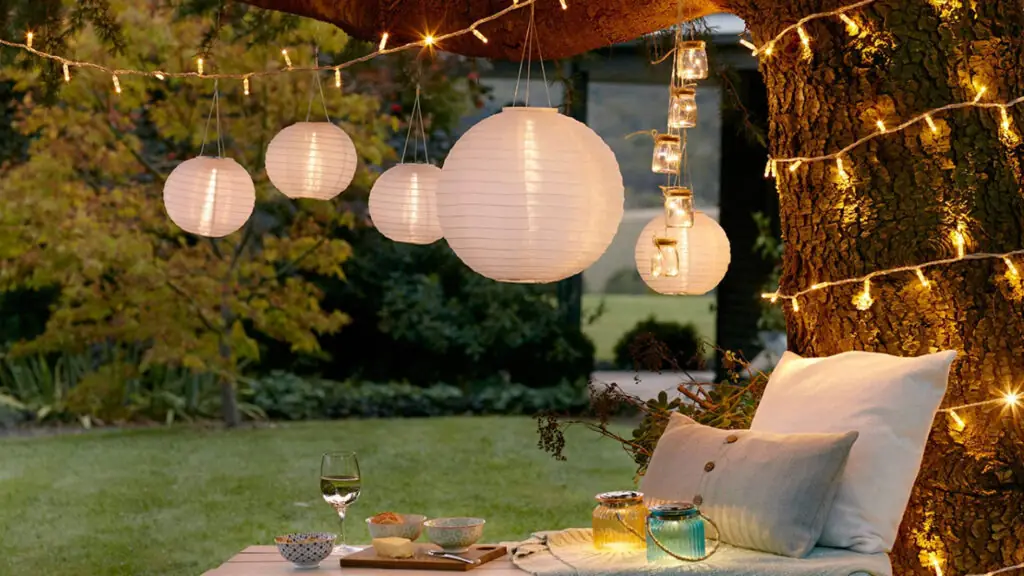 Paper lanterns have become increasingly popular in recent years due to their versatility and ability to create a warm, relaxing atmosphere. Not only are they attractive and elegant, but they are also incredibly easy to install and provide a beautiful, diffused light that can be adjusted to any mood or activity.
When choosing paper lanterns, make sure to select weatherproof ones. This will guarantee that the lanterns last for years to come, and you won't have to spend extra money and effort updating them each season.
You can easily find lanterns in all sorts of colors and patterns, so it won't be difficult to get one that truly fits your style. If you want to add a pop of color, choose bright and vibrant lanterns. You can also opt for a more subtle look with white or pastel-colored lanterns. So, if you are looking for unique and beautiful patio lighting design ideas, paper lanterns will be a perfect choice.
Candles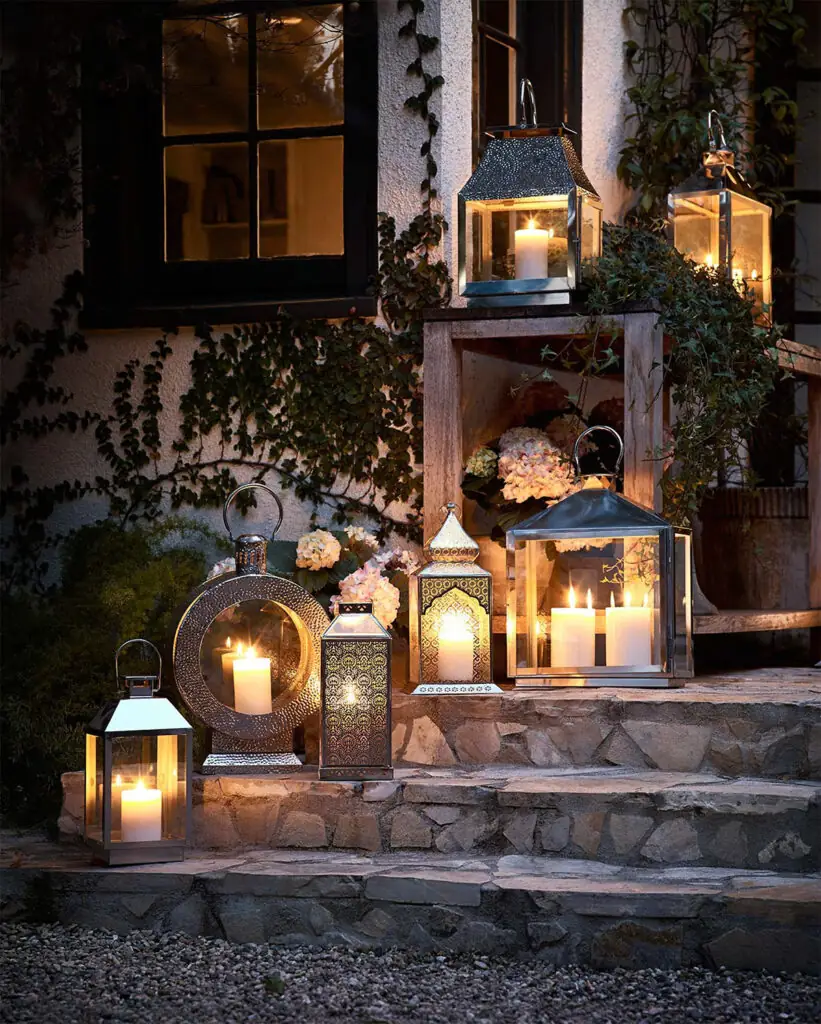 When it comes to creating an inviting outdoor space, nothing beats using candles to set the mood. Whether you are hosting a party or just relaxing after a long day, candles will help you enjoy every second of your time to the fullest.
Options you have range from traditional tapers to floating lanterns. Keep in mind that when you are selecting candles, it is important that you consider their size and color. You may want to stick to neutral hues if your patio has a lot of bright colors or use bold shades to make a statement.
If you are worried about the safety of open flames, consider using LED candles instead. They are battery-operated and will provide a soft, soothing glow with no fire hazard at all. So with a few simple steps, you will be able to transform your patio into an enchanted space filled with a warm, inviting glow.
Get Practical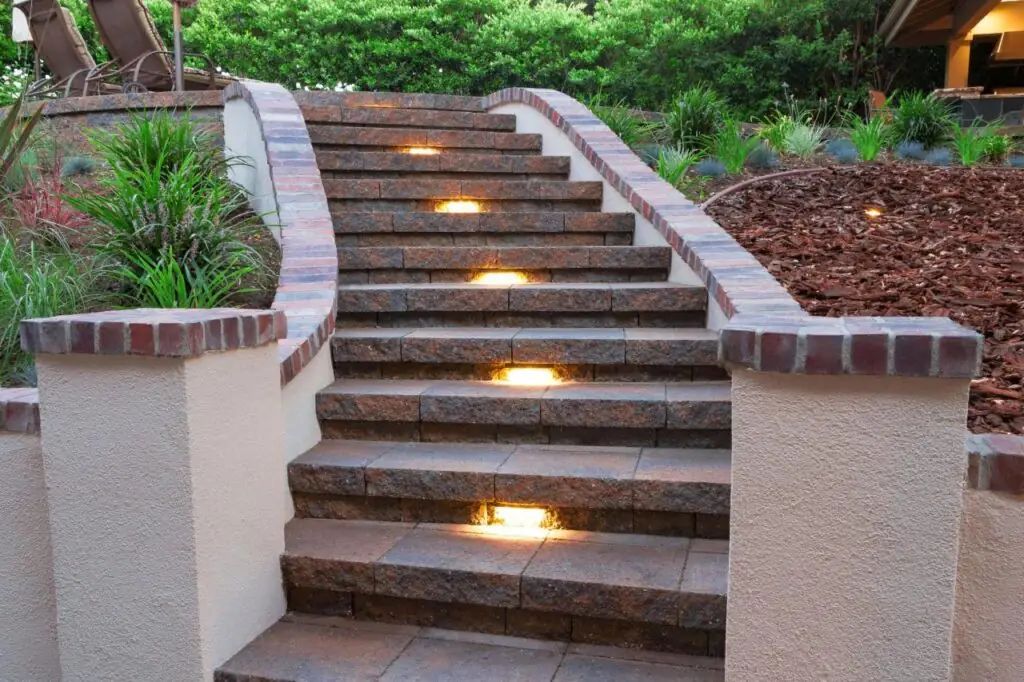 Sometimes being practical is more important than the design itself. If you are looking for practical lighting ideas for the back patio, solar-powered lights are an excellent choice. Not only are they energy-efficient, but they also come in a variety of shapes and sizes to fit just about any outdoor space. Whether you are creating a cozy, romantic atmosphere or looking for bright, functional ideas, this eco-friendly option can get the job done.
On top of that, you can get even more practical by installing lights on garden stairs in a stylish and efficient way. Solar-powered LED lamps for the risers are easy to install: they can be used to provide both ambient and direct light. Plus, they can be controlled to turn on and off automatically, making them an ideal solution that requires no attention at all.
Get Cozy with a Firepit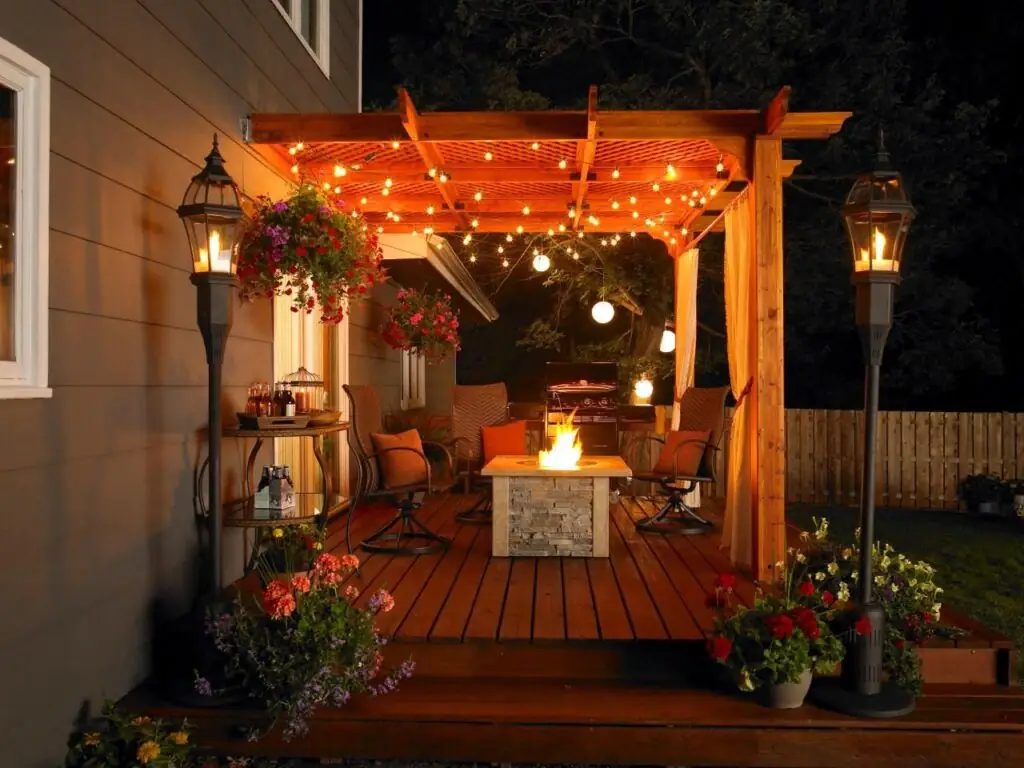 Lighting ideas for the covered outdoor patio that involve using a firepit can take your outdoor space to the next level: they are an excellent way to provide ambiance and create a cozy atmosphere that you and your guests will enjoy.
If you prefer a traditional look, wood-burning fire pits might be a great option for you. These can be made from a variety of materials, including brick, concrete, or even stone. You can also add some extra blaze around the fire pit using string lights, candles, or even hanging lanterns. This will add both ambient illumination and an inviting atmosphere to your home.
By the way, if you love to grill, why not use a fire pit equipped with a grill grate? This will allow you to cook delicious meals while simultaneously enjoying the warmth of the fire.
Hand a Chandelier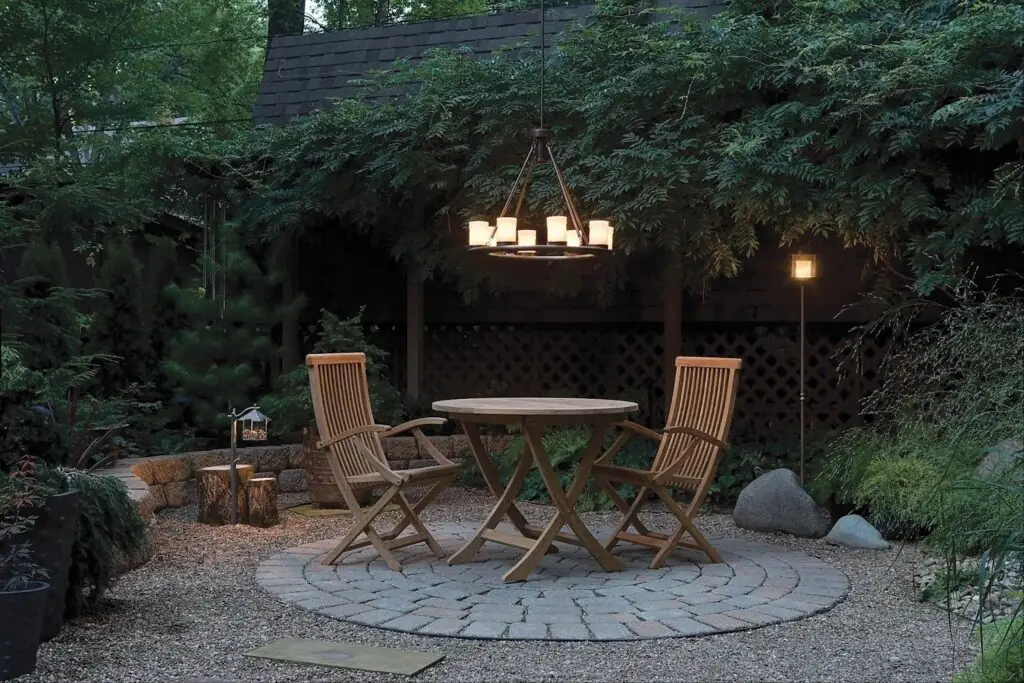 A chandelier is always a great choice: as it both illuminates your patio and makes it seem more elegant and stylish. A chandelier can be used to light up an entire area or just a specific place. For example, you can hang a chandelier over your seating space to give it a more intimate feel. Or you can also hang a chandelier over a dining table to create a more romantic atmosphere.
When choosing a chandelier, you will want to make sure that it isn't too big or too small for your space. You will also want to think about the type of light it will provide. You can opt for a more modern look with an LED pendant lamp or a traditional look with a crystal chandelier.
Overall, when it comes to the best outdoor patio lighting ideas, a chandelier is one of the most versatile and stylish options, as it provides a beautiful focal point.
Use Walls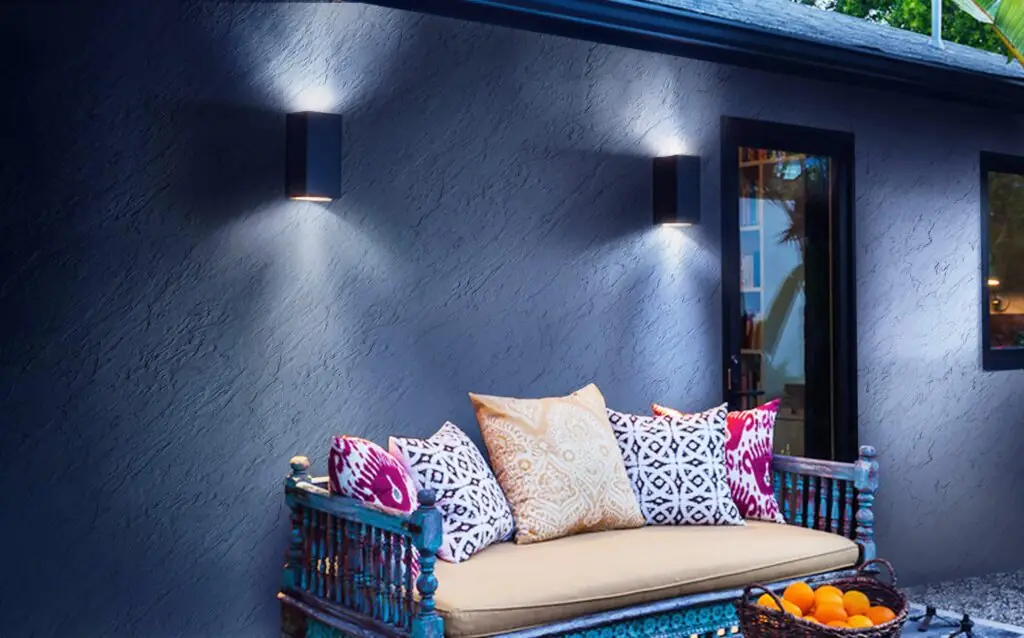 If you are looking for something a bit different, why not try one of the numerous outdoor wall lighting ideas for patios? By placing lanterns like the ones in the photo in several strategic spots around the perimeter of the house, you will create a truly dramatic lighting effect. For example, you can use several small wall lights to highlight a feature wall or to draw attention to an interesting architectural feature. You can also use larger wall lanterns to create an inviting ambiance or an interesting contrast between light and shadow.
If you want to reduce your energy bills, look for more energy-efficient options. LED wall lights are great ideas as they use much less energy than other types of wall lights, making them a great choice for eco-conscious homeowners.
Summing Up
Creating a functional and aesthetically pleasing patio can increase your home's value while also making your outdoor area truly nice to be in. Whether you are looking for a place to entertain guests or to just relax in the sun, installing the right set of lights will help you make your patio a beautiful and inviting space for you and your family.
String lights, flame lamps, and hanging lanterns — all these are excellent lighting ideas for the patio that can help create the perfect ambiance for your home and bring in inviting and enjoyable vibes that your friends and family will love.