15 Examples of Loft Railings: Ideas to Keep in Mind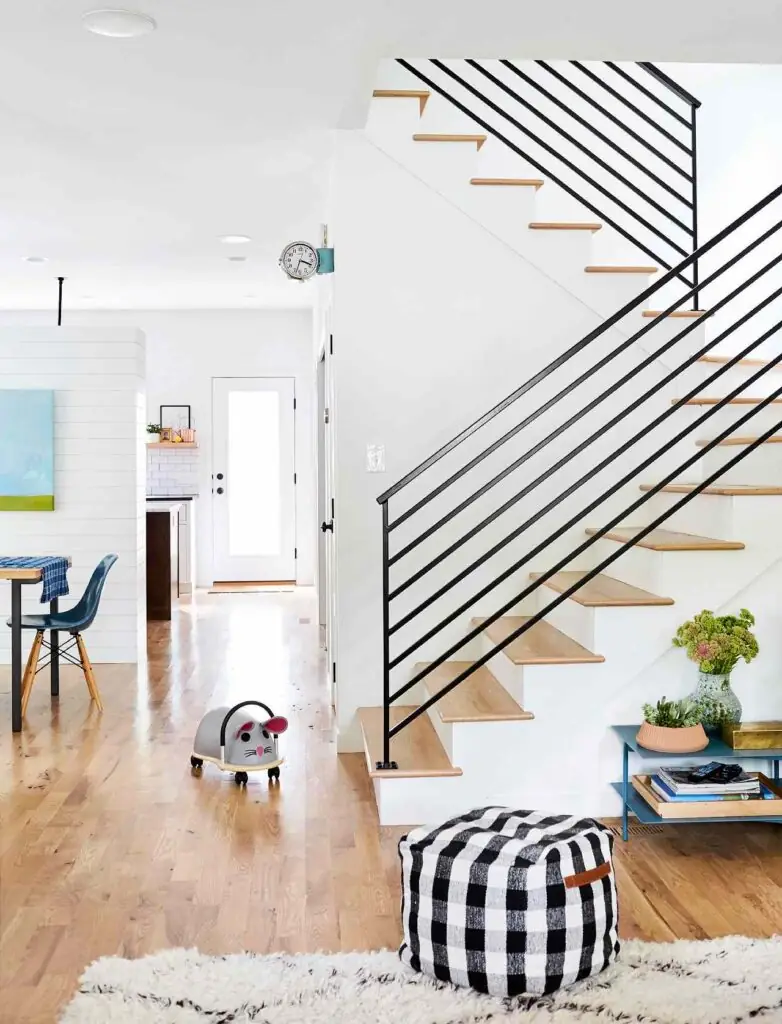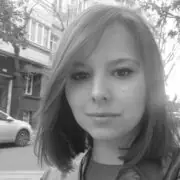 Choosing between different loft railings ideas doesn't sound like something that has to be prioritized: in the grand scheme of things, it's not the first order of business. However, sometimes the choice of a railing can make or break the room, not to mention that this element has much to do with your safety.
Fortunately, there are a lot of ideas out there, and they're often very flexible and can be adapted to any type of loft (or a staircase connecting to one). So let's dive in!
1. Looking Weightless: Choose Something Simple
Non-complicated loft banister ideas like this one are great for fans of minimalism in design. Clean straight lines and neutral colors make the place look tidy and spacious but still quite elegant.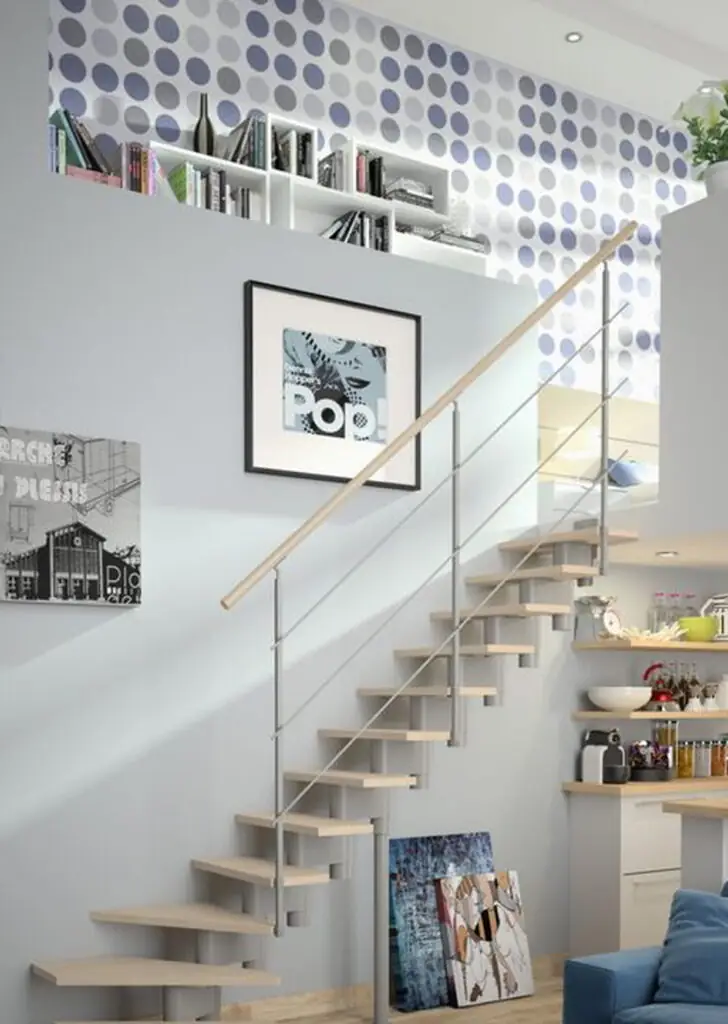 2. On the Ropes: When You're Tired of Classics
One of the popular loft railing design ideas is lining banisters and railings with rope. Ropes look very stylish, and their versatility and unusual texture allow you to customize this element and make it truly your own.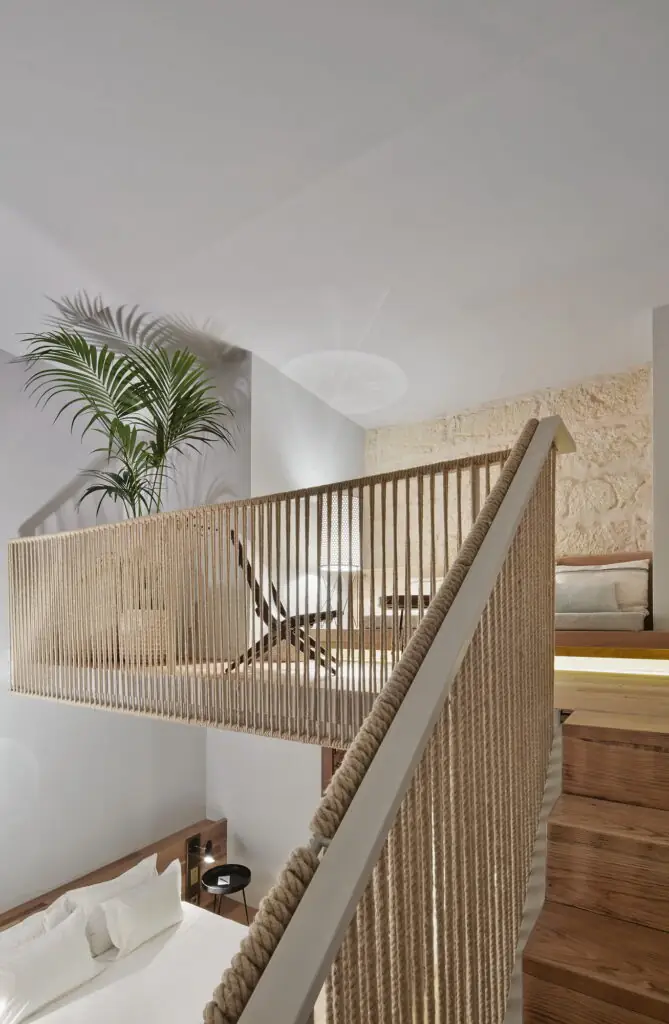 3. Roped In: Think About Security
Another advantage of using rope-lined railings for lofts is that they're suitable for children and provide enough protection and visibility at the same time. They also look very cool, too.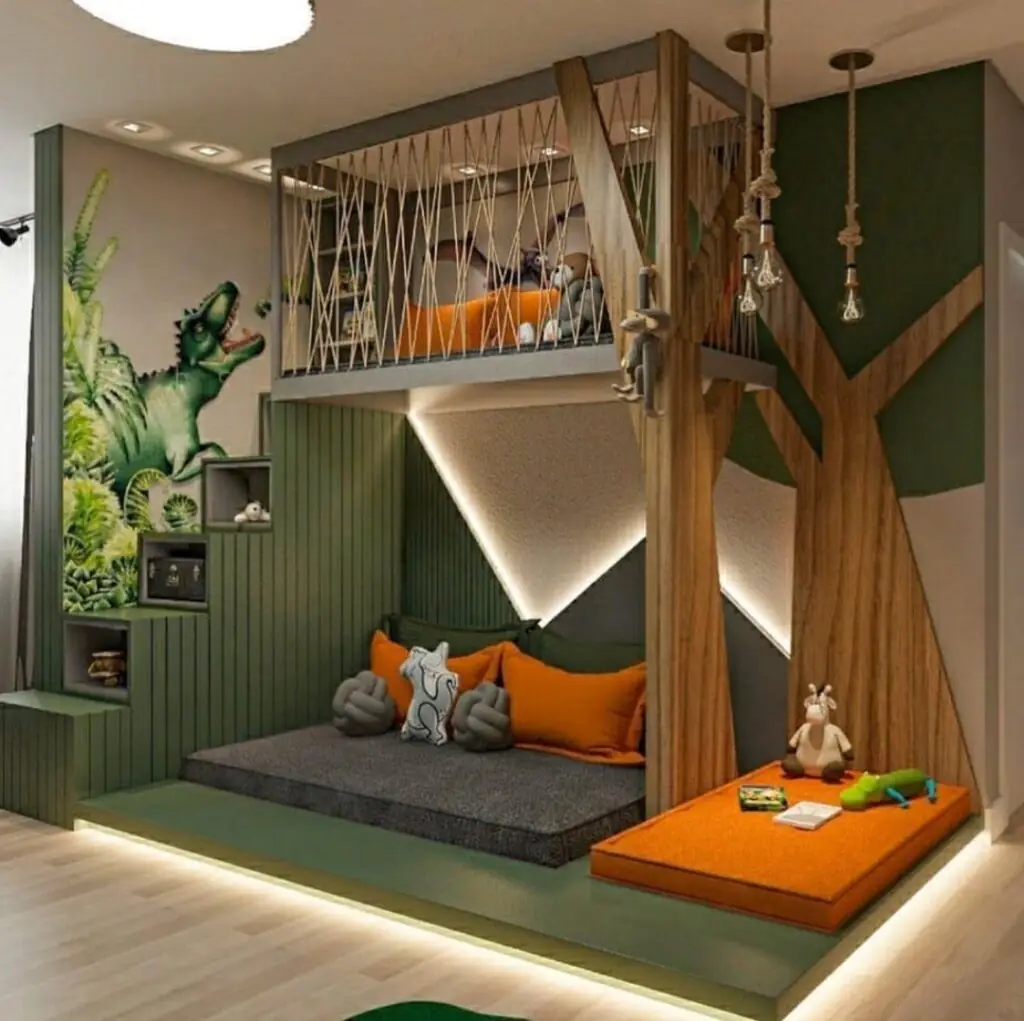 4. Something Different: Put Some Resort Vibes Indoors
This example demonstrates a fun but rarely used material for an indoor loft railing — bamboo. An original construction like this wouldn't fit just any style, sure — but when it does, it looks like an awesome addition.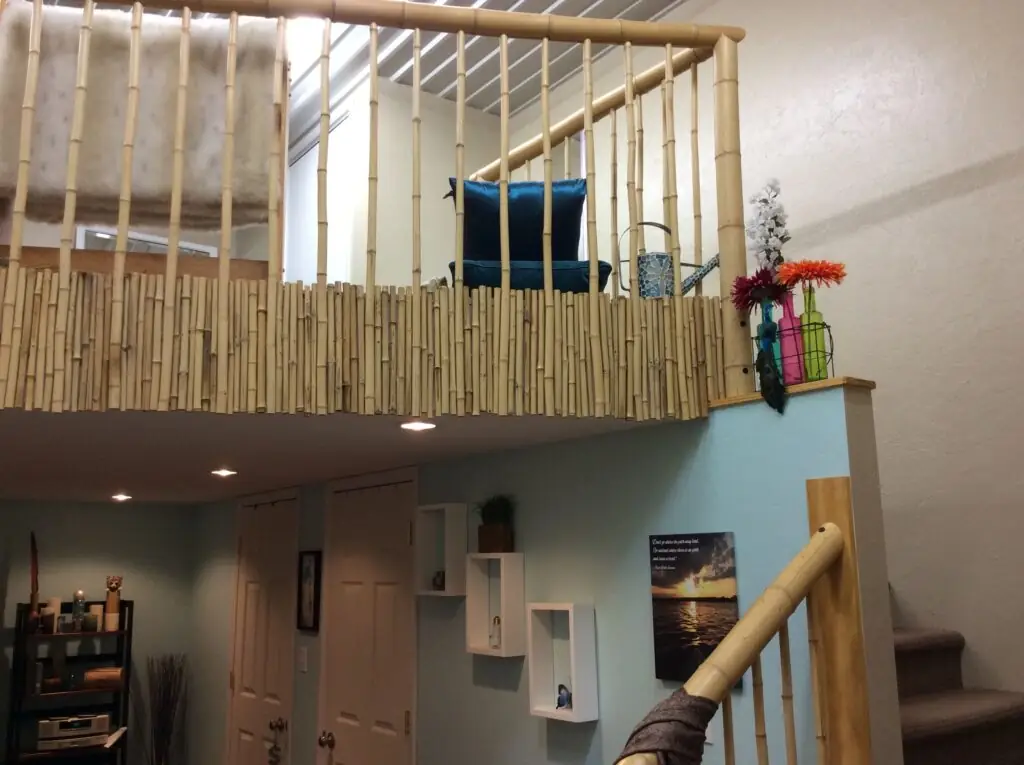 5. Cabin in the Woods: Add Natural Accents
This forest-themed design is a great example of cabin loft railing ideas to help create an amazing atmosphere that reminds us of something out of a fairytale. Very lightly processed wood and natural shapes are sure to fill you with a sense of wonder.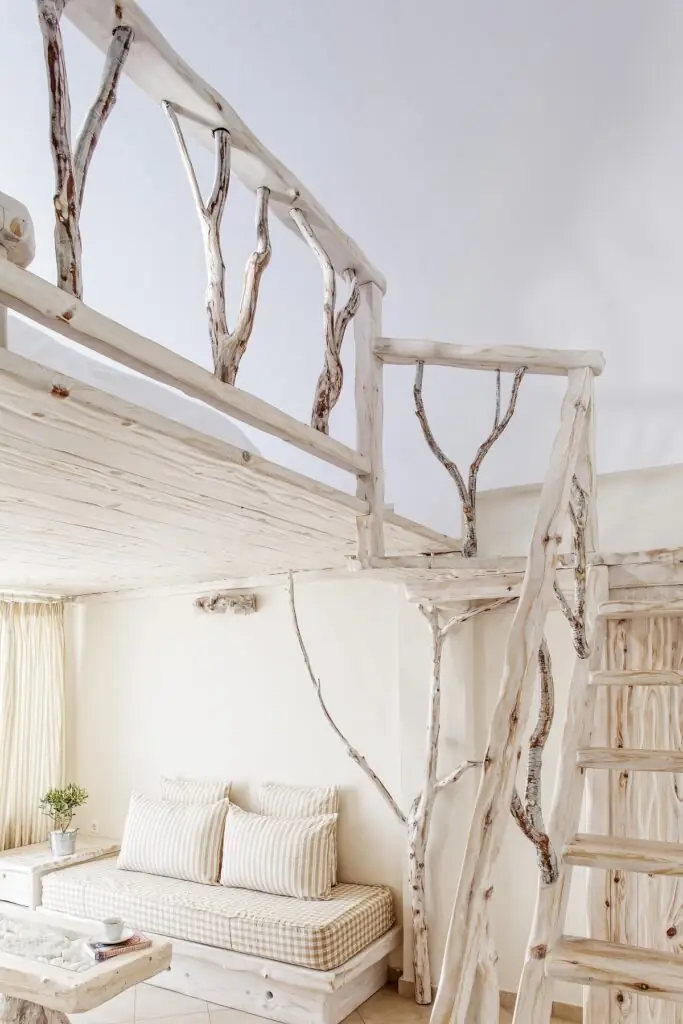 6. Glass Houses: A Fancier Option
Another material to consider if you're looking for beautiful and stylish indoor loft railing ideas is glass. Framed with wood for sturdiness and comfort, glass gives a lot of visibility, making the room feel spacious and well-lit.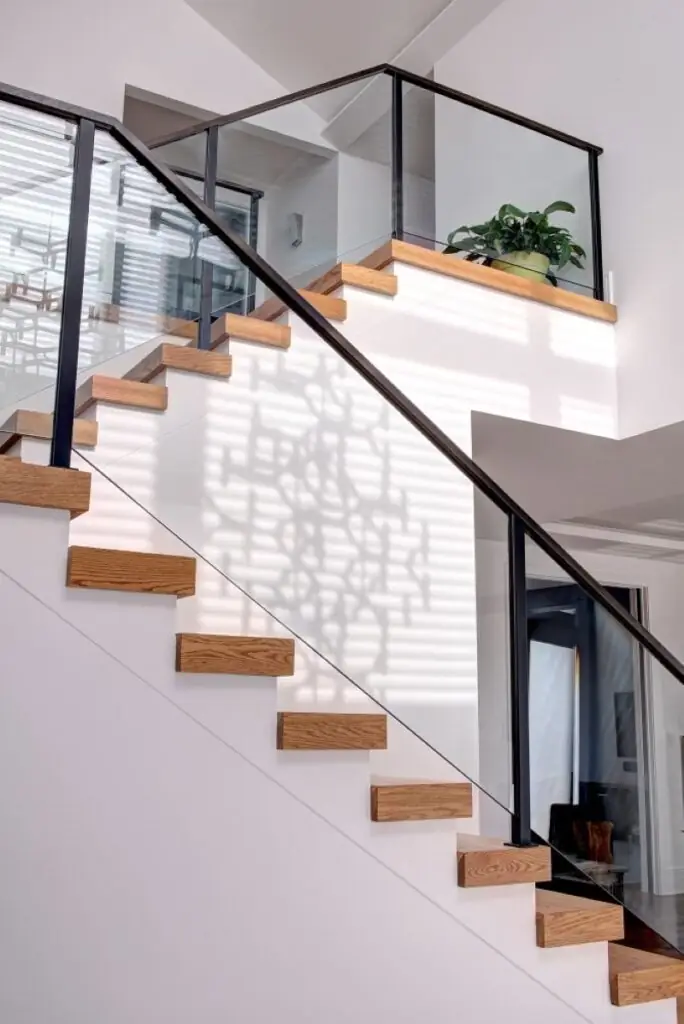 7. Sleeping In: Don't Trade Beauty for Safety
If your loft is small — or if it's just a bed — you should put safety first: flimsy railings in this case can lead to some serious trauma. It doesn't mean that all loft bed railing ideas should prioritize nothing but simplicity and sturdiness — you can take all that into account and still enjoy something quite fancy.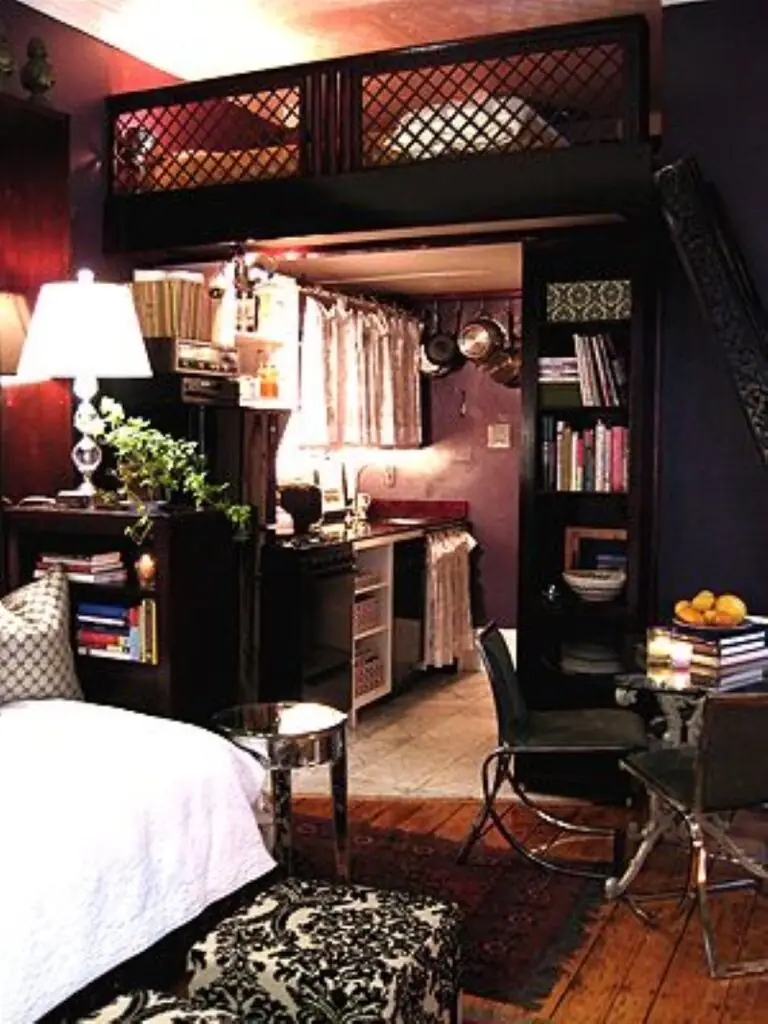 8. Going with the Flow: Put Your Railings Front and Center
This beautiful architectural ensemble is well complemented by the railings. Horizontal lines remind us of streams of water or even air — light and flowy. Those railings are so magnetic that it's hard to pay attention to anything else — for example, the fact that this space is quite small. Right what the doctor ordered, huh?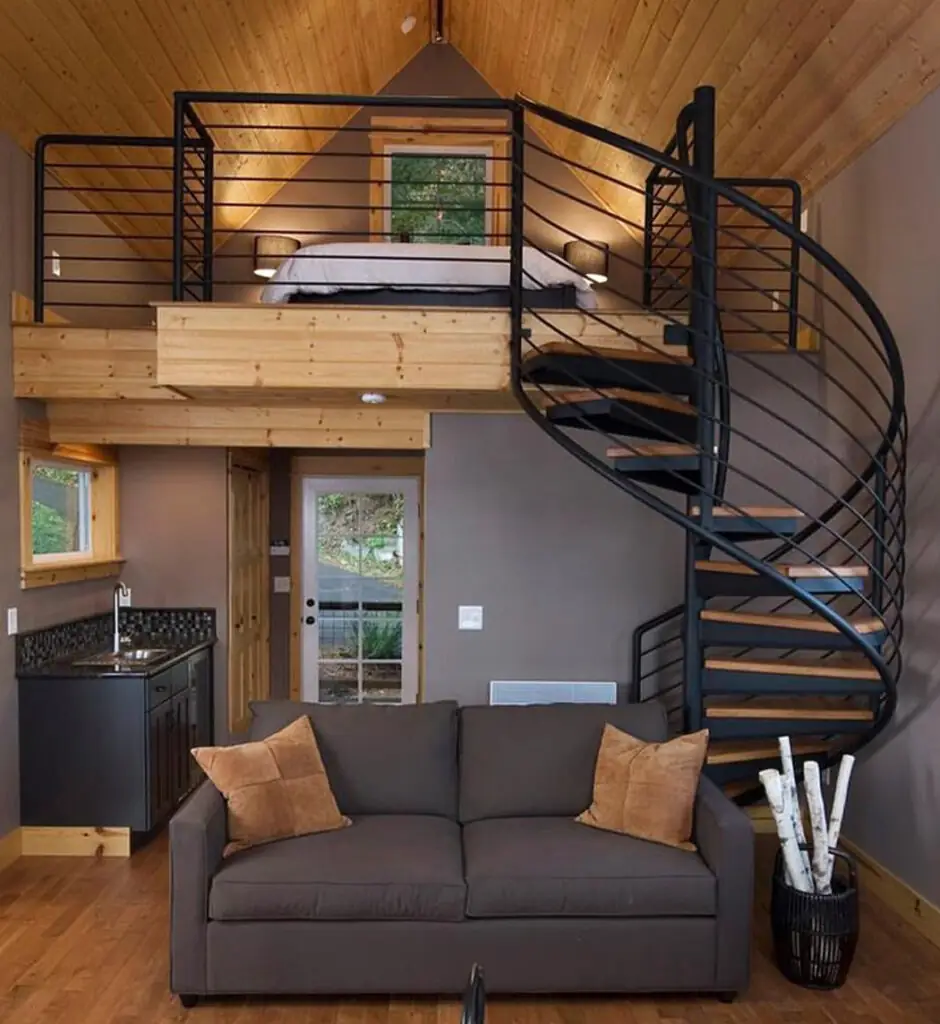 9. Color Makes a Difference: Pick Your Palette Wisely
There are other ways to make your space look larger, and every detail plays its part. For example, many small loft railing ideas feature slim lines and light tones — it's a great way to add some volume to the place.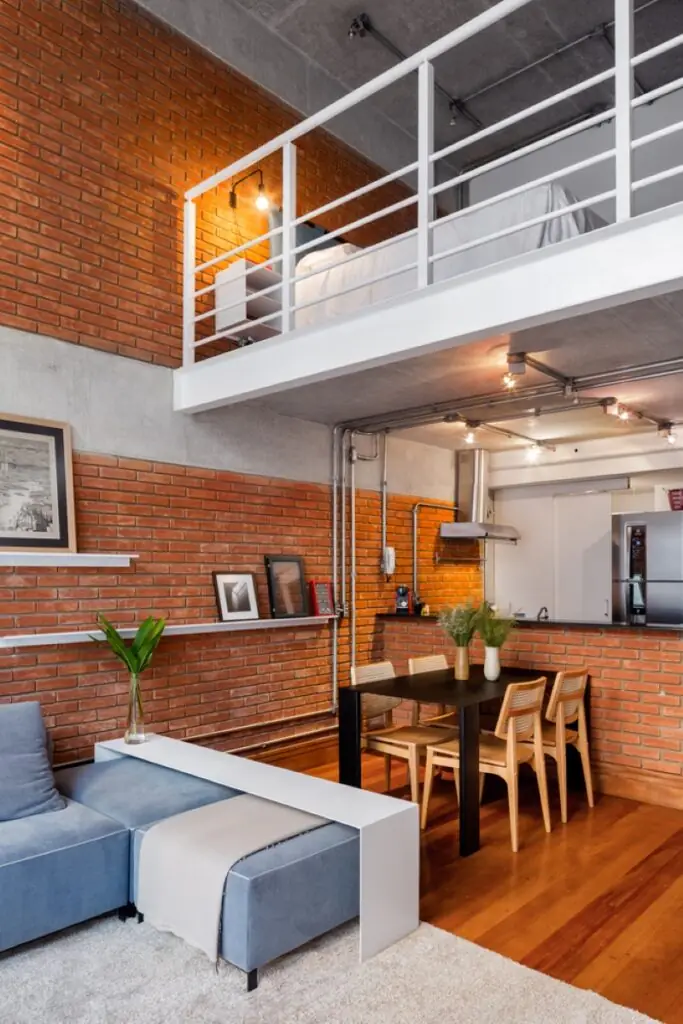 10. Double the Function, Double the Fun: Create Useful Combinations
If you're more inclined to look for DIY loft railing ideas, consider this example. Many people know how to put a bookcase together, and if you're one of them — by strategically choosing its placement, you can make your loft safer and get additional storage space at the same time. Don't forget to secure the bookcase to the floor, though.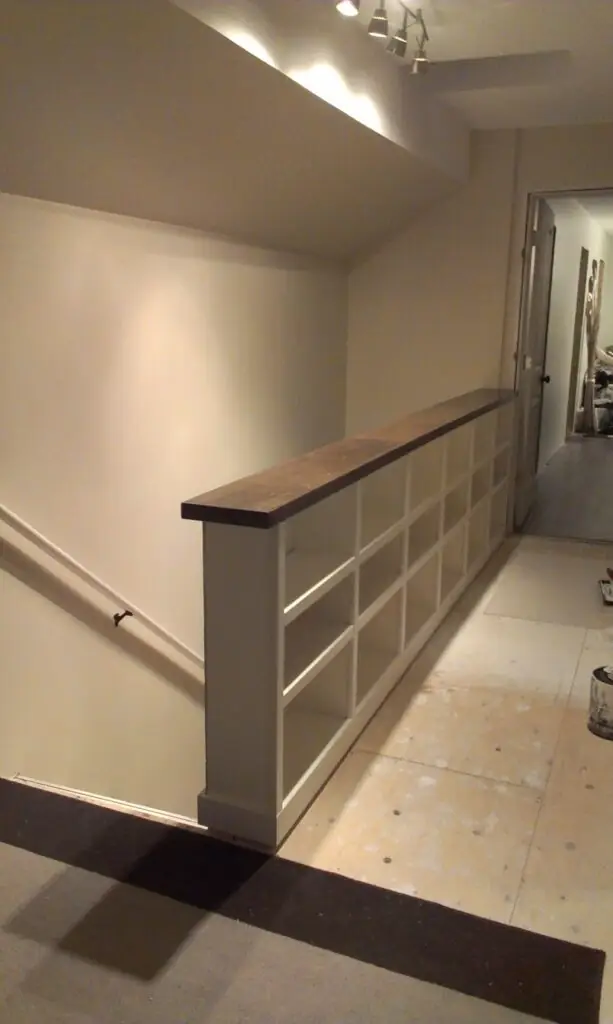 11. Second Life: Waste Reduction Is Always Trendy
Here's another suggestion for fans of renovating houses with their own fair hands. If you're such a person and want to start a new project, building a DIY loft railing using reclaimed metal and wood is a great idea!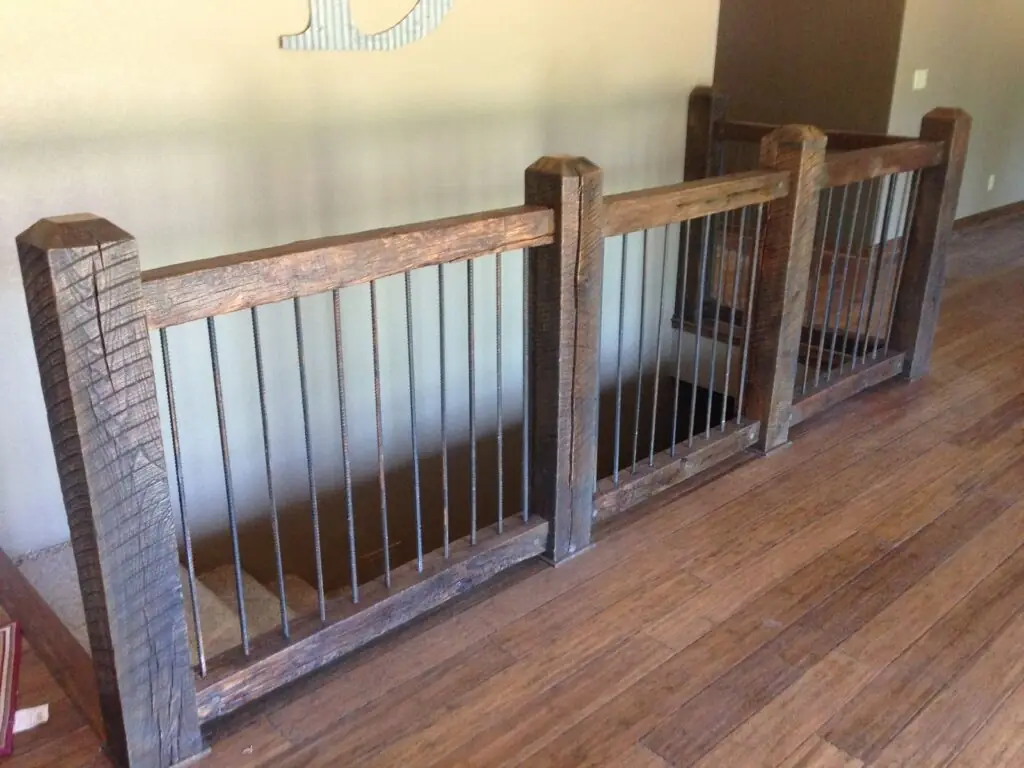 12. Museum of Modern Art: Make Your Home an Exhibition
If you like to surround yourself with highbrow aesthetics, we have some great news: even a seemingly insignificant design feature can be turned into art. This modern loft railing is a great example, with its Mondrian references made out of wrought iron and stained glass.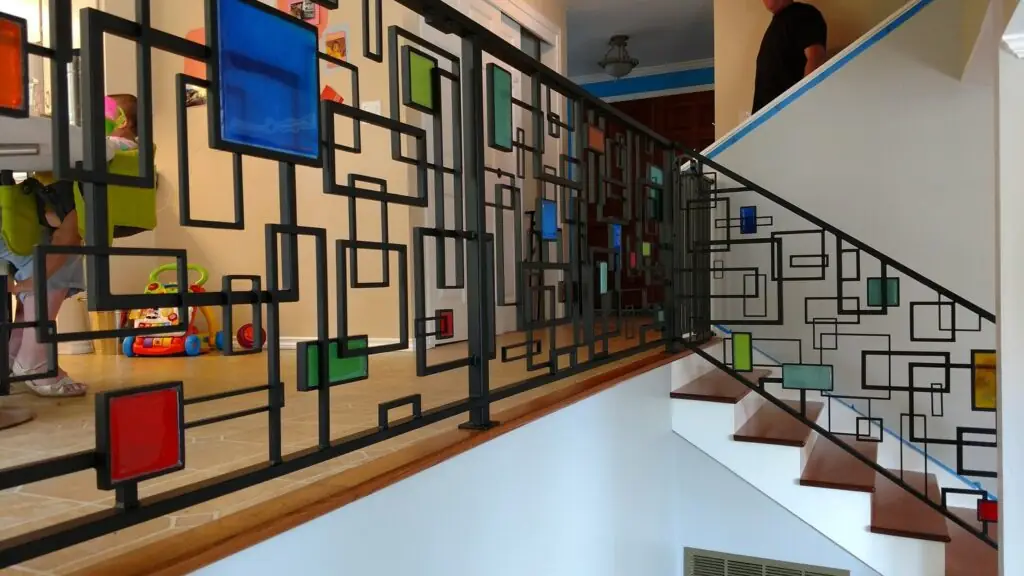 13. Fancy Austerity: Nothing's as Simple as It Seems
Wrought iron is used in many modern loft railing ideas, even those that are less complex than the one described above. Here, shapes and patterns are the central elements of design — and they are interesting enough to stand on their own.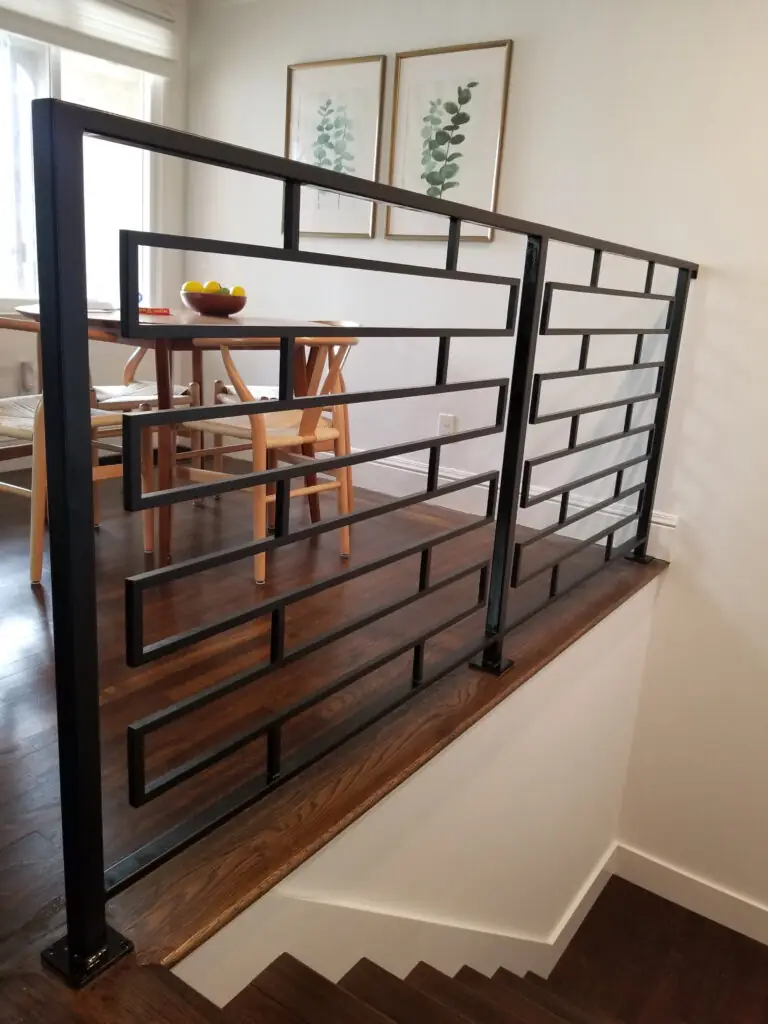 14. Spiral Up: Safety and Beauty
Even the tiniest staircase can fit some guardrails — and combined with loft handrail ideas with a similar appearance, the whole ensemble can be made to look amazing. This small room radiates elegance and style, despite its size.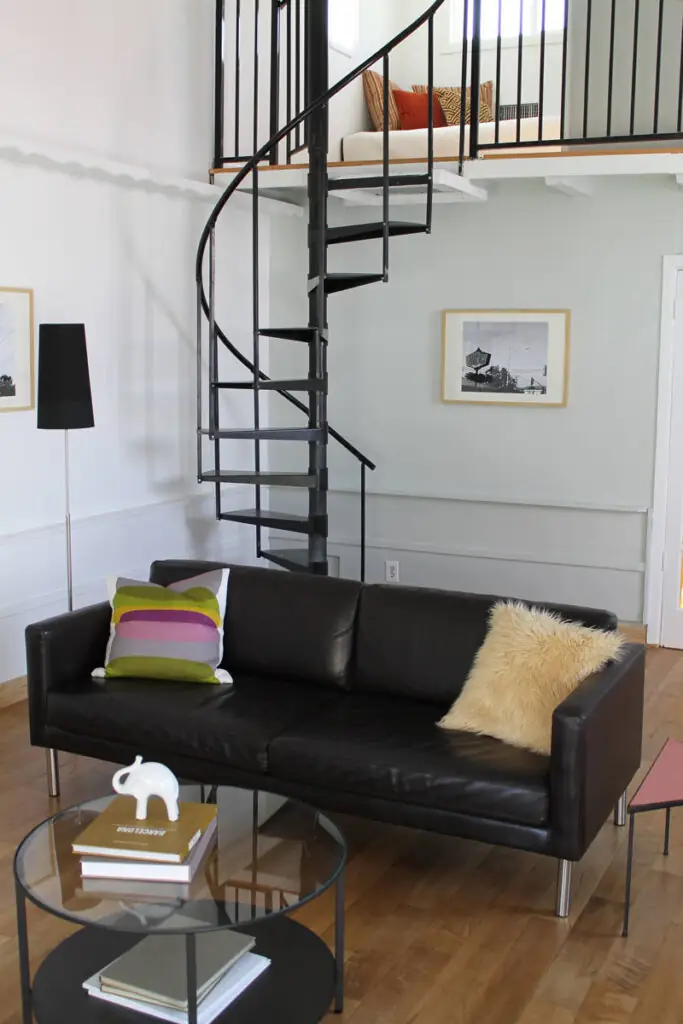 15. Look, Mom, No Hands: Consider This Carefully
On the other hand, you can put the banister next to the wall or even disregard the need for railings for your space altogether. It can look awesome, but keep in mind that this is a viable option only for a home populated by very well-coordinated adults. And, of course, make sure that you're up to the safety codes.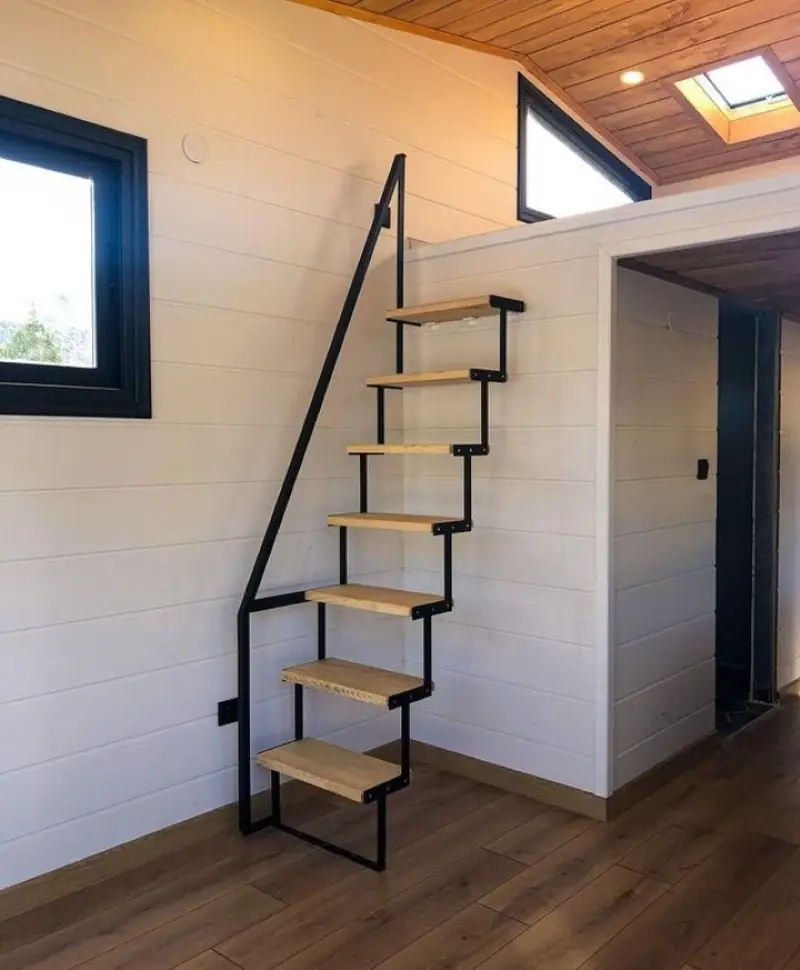 FAQ
Here you can find answers to some of the popular questions about lofts and railings.
Are Lofts Dangerous?
The safety here depends on many factors. If you're turning your old attic or storage space into a trendy loft, you should carefully consider the state of the joists in your house so that there are no surprises about their ability to bear weight. If you're putting together a loft from scratch, this may be easier to control. And, of course, in most cases to ensure your safety you should install a railing. If you manage those risks, lofts can be quite safe.
How High Should a Loft Railing Be?
There are various legal requirements for railings in different countries, so check your local standards and regulations. For example, in the US common heights are 36 to 42" (90 to 105 cm). For elevated beds, railings can be lower, although it depends on such things as mattress height, the owner's build and sleeping habits — all of this should be taken into consideration.
Who Should Install the Railings?
To install railings, you can contact your local handyman — this service is often included in their offers. If you want a more specialized approach, there are contractors focused specifically on stairs and railing installment. Also, you can do it yourself, although this task is not for beginners since your (and your family's) safety depends on how well it's done — so plan accordingly.
What's the Best Way to Approach Loft Railing?
You should consider several factors in your planning. Think about the style you want to convey and which will influence the materials you can use. Another determining factor is who's going to use the space — kids, younger or older adults? This will also help you choose the right height and pattern — for example, kids like to climb everything, so horizontal cable railing is probably out of the question, while floor-to-ceiling rope mesh is still fun but safe. Yet another thing to consider is cost: both material and installation costs differ depending on the style and approach (custom banisters vs. premade pieces of railing).
If you're looking to cut costs by DIY, watch this video for tips:
Conclusion
Railings may seem like an insignificant design element, but an ugly one will stick out like a sore thumb, and a stylish one can elevate the whole room. Luckily, there are many options to choose from nowadays for any style and budget. We chose just a few loft railings as ideas to inspire you, but we're sure that you can breathe new life into them and make them uniquely yours. Good luck with your renovations — and come back for more ideas!