12 Mirror Ideas for Small Bedroom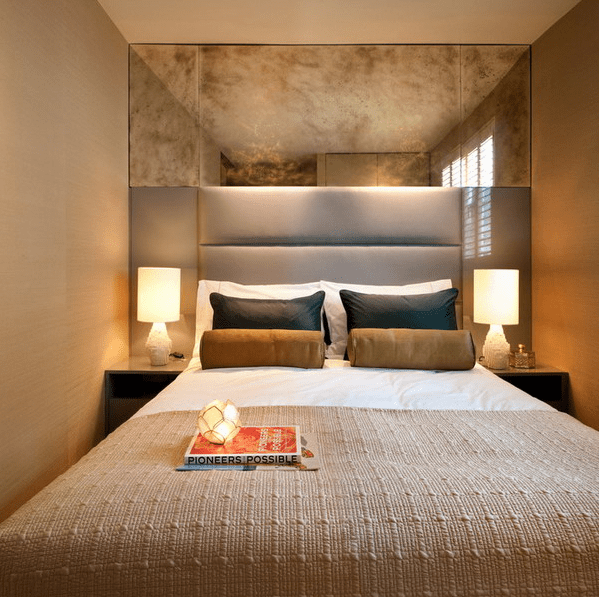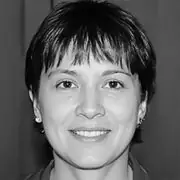 Space, focal point, appeal, and lighting are four things many small bedrooms lack. Mirror ideas for a small bedroom can remedy these — and numerous other — gaps.
Mirrors are practical decorative pieces you can place anywhere in your home, from the living room to the bathroom, kitchen, and even the bedroom. It serves various purposes, from its use as a visual aid during makeup to a necessity during teeth floss. Aside from their everyday role, when placed strategically they can give your small boudoir the illusion of space while acting as the focal point to make a statement. Plus, they can make your small sleeping suite bright and more appealing.
In this guide, we discuss some interesting DIY bedroom mirror ideas to improve the décor and individual style of your room.
Where to Put A Mirror in A Small Room?
Before placing mirrors anywhere in your minuscule sleeping suite, consider their size, space, position, and overall placement pattern that will work well for your room's size.
Style and shape are two essential features worth contemplating. However, they won't determine how well a large, curved, full-length, rectangle, or square mirrored glass will fit in your bedchamber. Once you've figured this out, that's one battle won.
The next step is to find out how many mirrors should be in a bedroom. Usually, the number doesn't matter. You may choose to use one, two, or three, and your tiny sleeping area will still look drab. What matters is how stylishly you arrange them to suit your room's size and personal preference.
Below are some inspiring ideas to get you started.
1. Place It over a Bedside Table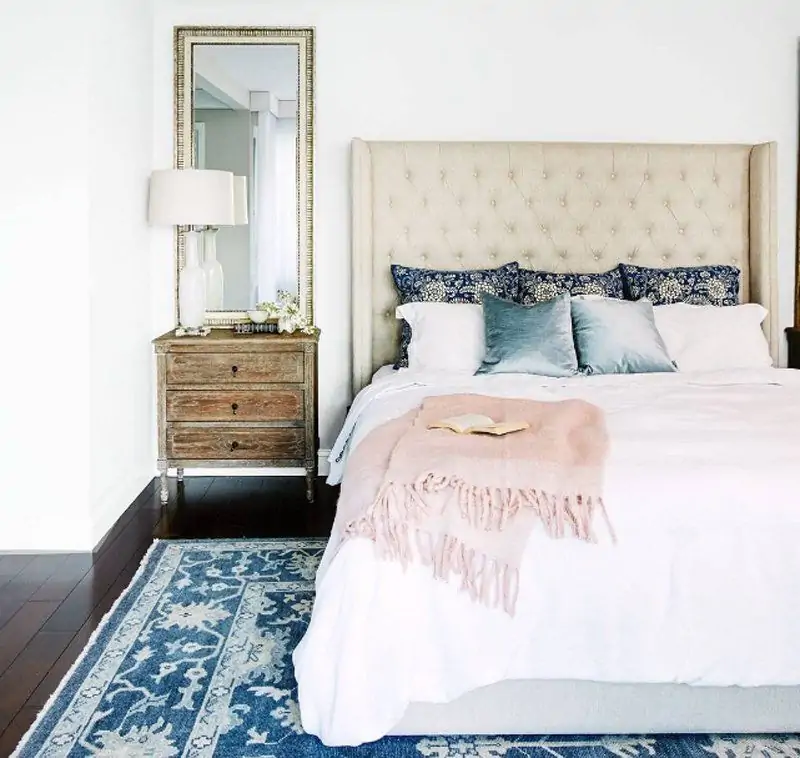 A sleeping suite, whether large or modest-sized, often has a bedside table positioned on the left or right side of the bed. So, consider a bedside placement plan that allows you to hang the mirror over the table.
We love this bedside table idea because it doesn't just add dimension but also brings a cozy and elegant feel to your space.
2. Use It as a Headboard
There is more to a headboard than vinyl or leather fabrics. If you've got a small bed chamber that lacks space, an effective way to make it spacious is to use a crystal viewing cut-glass as a headboard. This 2-in-1 bed remedy lightens up your room and makes it feel larger since the mirrored glass won't really take up much floor or wall space.
3. Twin Bedside Mirrored Glasses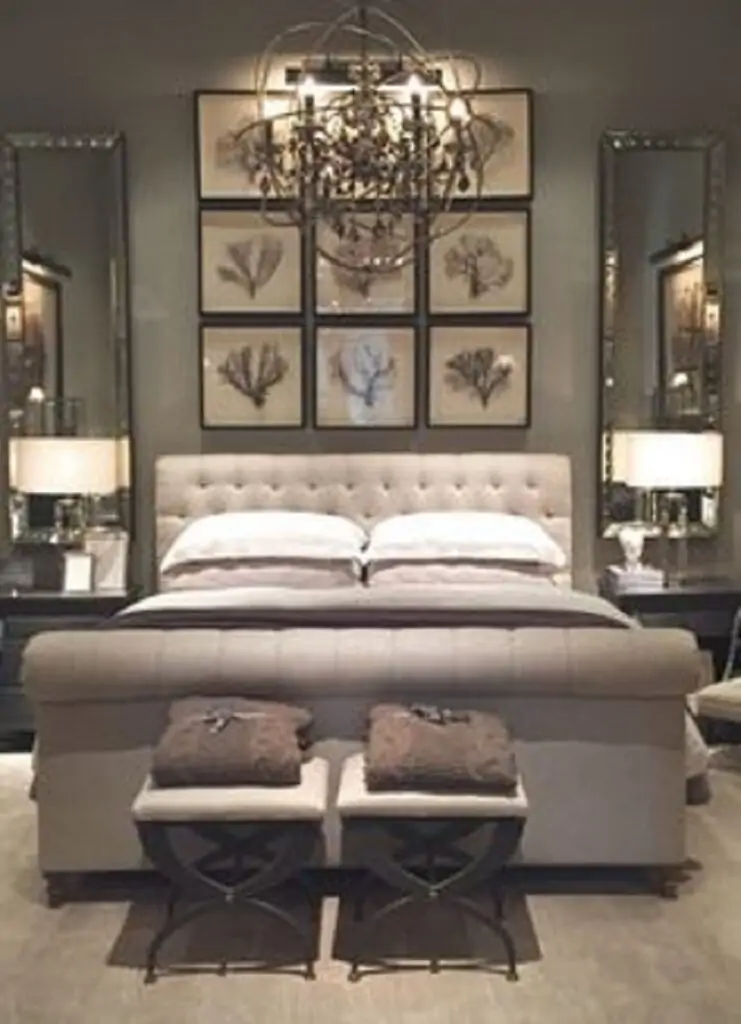 Another creative interior design for bedrooms is twin bedside glasses. An idea like this means you position two tall mirrored glasses on each side of your bed. For this idea to work, your room does not necessarily need a bedside table since the glasses will be full-sized. The double mirrored glass means your sleeping quarters get more lighting no matter the time of the day.
4. Place It Right on the Floor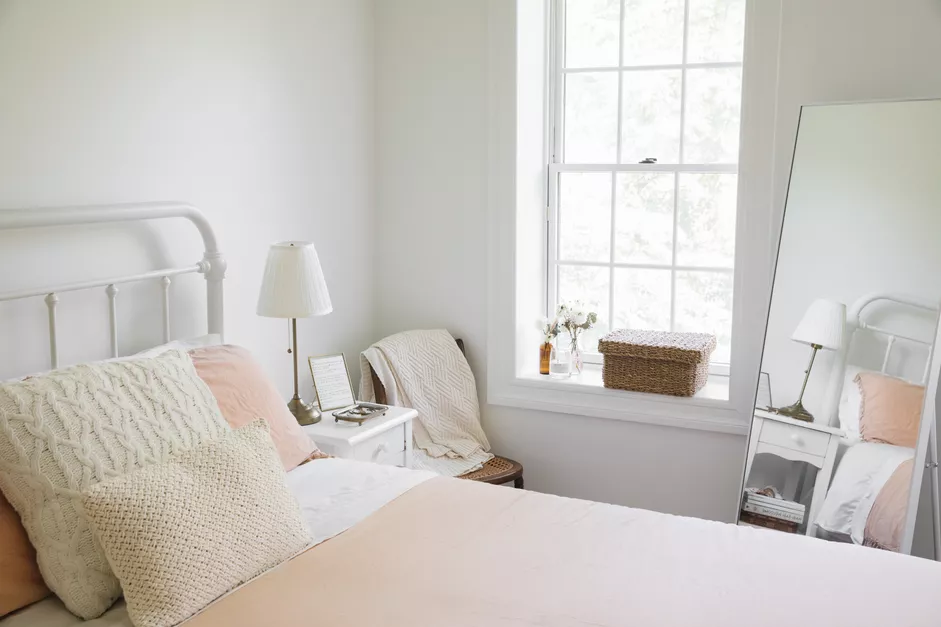 When your sleeping quarters lack essential furniture and you don't plan on overcrowding your space, the best way to use mirrored glass ideas is to leave the mirror sitting on the floor. This design approach draws attention to the floor and makes it your room's focal point. However, ensure you don't simply place the mirror as you like. Instead, get décor items like book piles, wicker baskets, or flowers to make the floor area nearby more attractive.
5. Small Bedroom Ideas with TV
If you stay in a single-room apartment, it means your TV will be found inside your bedroom. On the other hand, many people love the idea of creating a cinema vibe in their home, and the perfect way to achieve this is to place a TV set inside the sleeping space. No matter your reason for having a TV set in your sleeping suite, you need to find a way to make sure it fits your small space. You can do this in either of two ways:
Create a wooden frame with glass edges to house your wall-mounted TV
Use a mirrored panel to hide your TV inside the wall
We like mirrored TV ideas because they are minimalist, cost-saving, and, above all, unexpected.
6. Use a Mirrored Wall Clock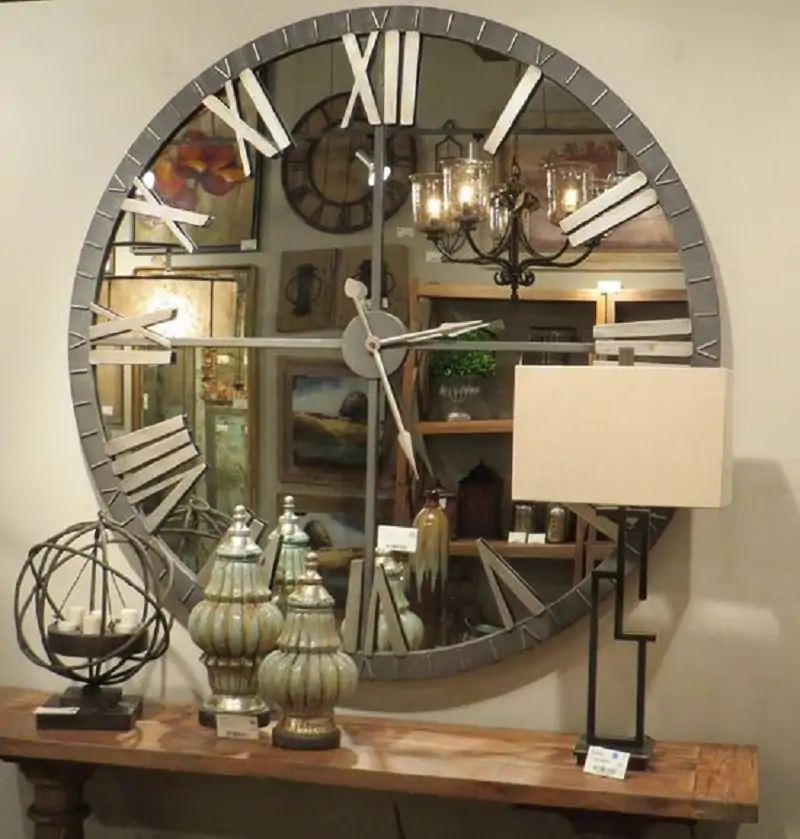 Wall clock mirror ideas are one of the most effective mirror decoration ideas for a small living room that helps brighten up the space and improve the room's décor. The good news is that they are not restricted to only the living room.
Adding a mirrored clock in your sleeping room won't just serve to tell the time. The bold clock design and glass surface make the wall clock an artistic piece that instantly leaves an elegant statement.
7. Use It to Create Wall Accents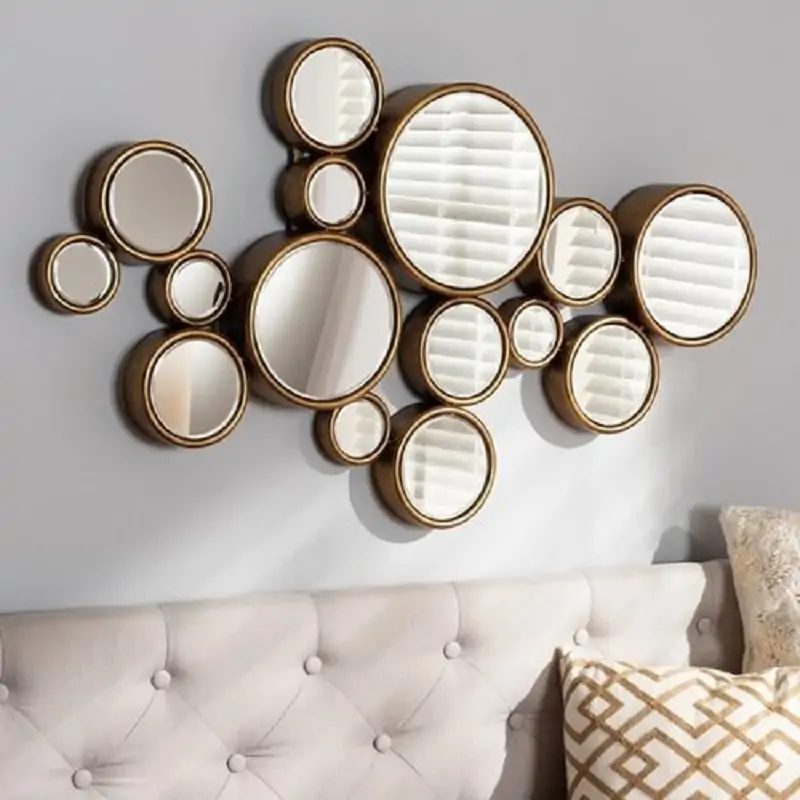 You don't have to focus solely on wall clock mirrored designs. Instead, you can create wall accents using different mirror sizes, shapes and styles, so they look like painted wallpaper designs. For the artsy enthusiast, mirror wall accents will also be good DIY mirror ideas for small bedrooms because they showcase their creativity and love for the arts.
8. Tiled Wall with Glass Accents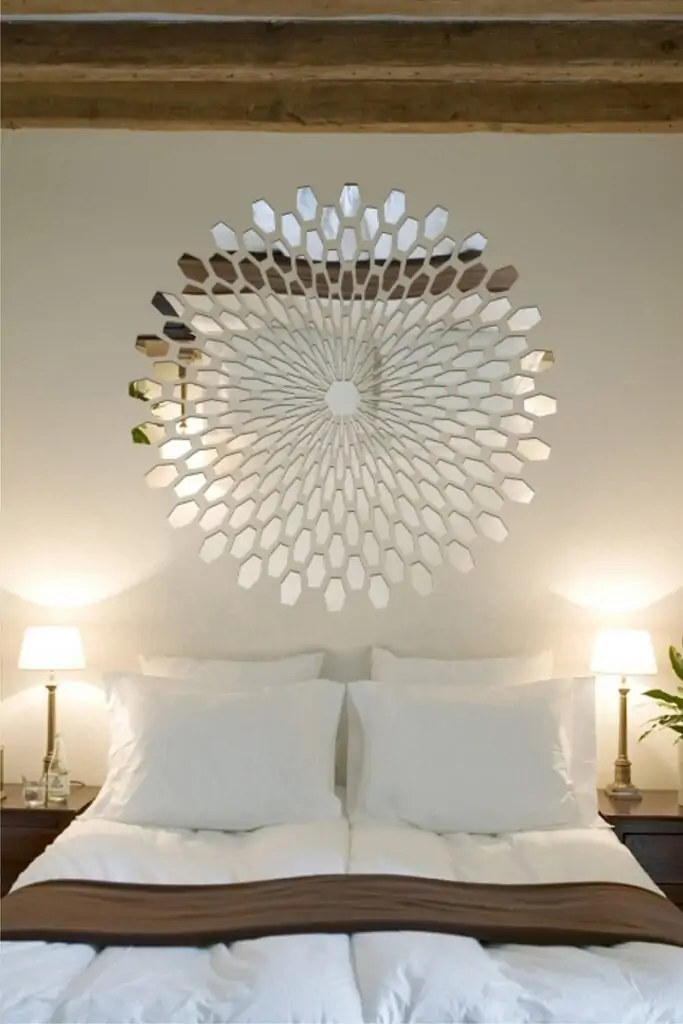 Another unique way to add wall accents in your tiny bedroom is to tile small pieces of mirrored glass into the wall to create any design type you like. This incredible design stands out because the mirrored pattern can take the shape of a picture, drawing, or even flowers. Using this idea you can quickly make this area of your wall the focal point of the room while elevating its overall style.
9. Smart-Saving Mirrored Closet and Cabinet Ideas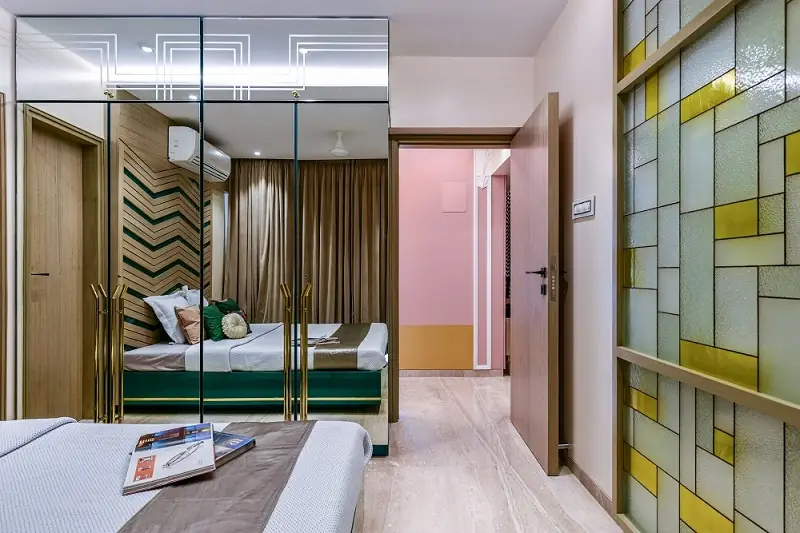 The chances are that you have a walk-in closet or wall cabinet in your bedroom. Most certainly, you want to utilize them to the fullest. Instead of a bare wooden door frame, attach the mirrored glass to the door of your closet and cabinets. These full-length mirror ideas for a small bedroom make your tiny area feel spacious and give it enough lighting to make it aesthetically appealing.
10. Fix It on the Bedroom Door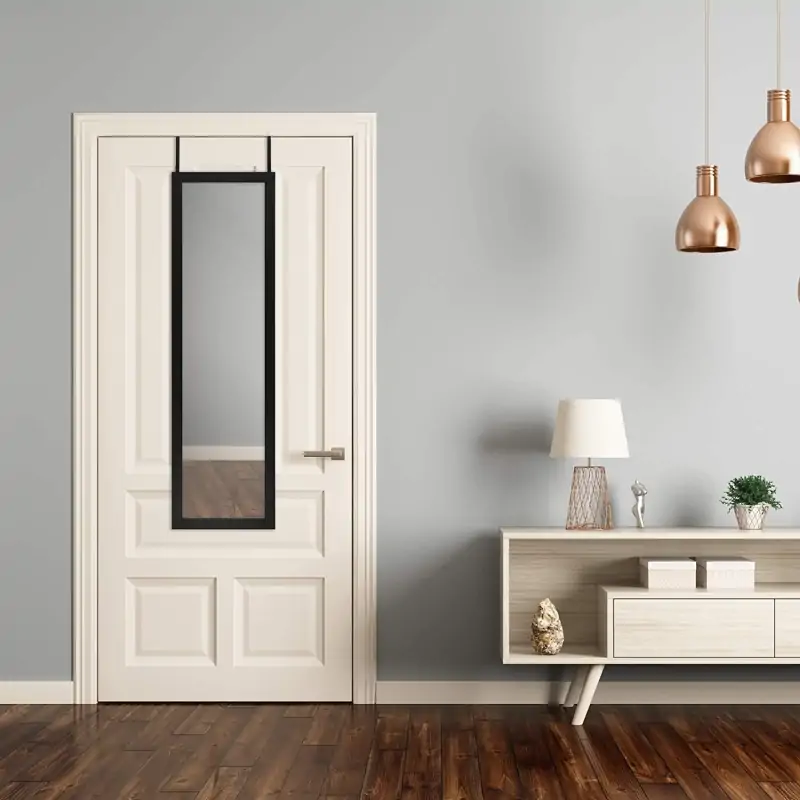 If your room doesn't have a clothing wardrobe or cabinet, another functional and creative way to achieve striking and spacious appeal is to fix the mirror right on the bedroom door.
Yes, you've read it right. While these small room mirror ideas may seem impossible due to the open and close motion of the door, it will be a smart move because it allows you to use your available space for other creative setups. Apart from this, mirrored door ideas are a simple and effective way to add a decorative feel to your door.
11. Try a Mirrored Window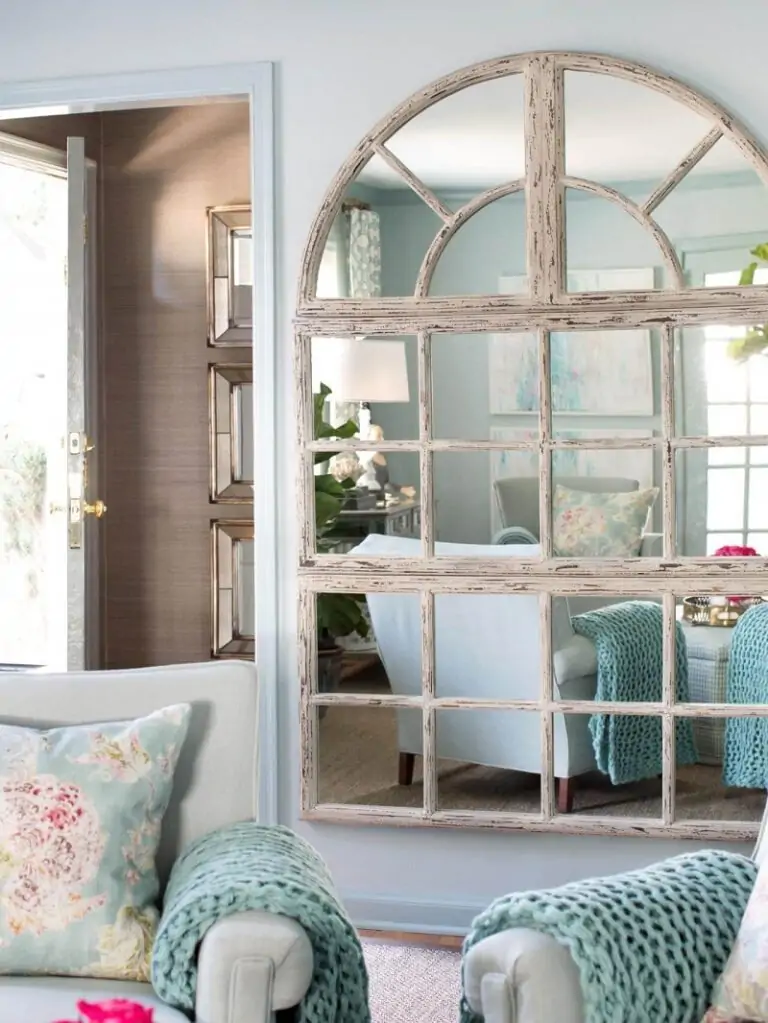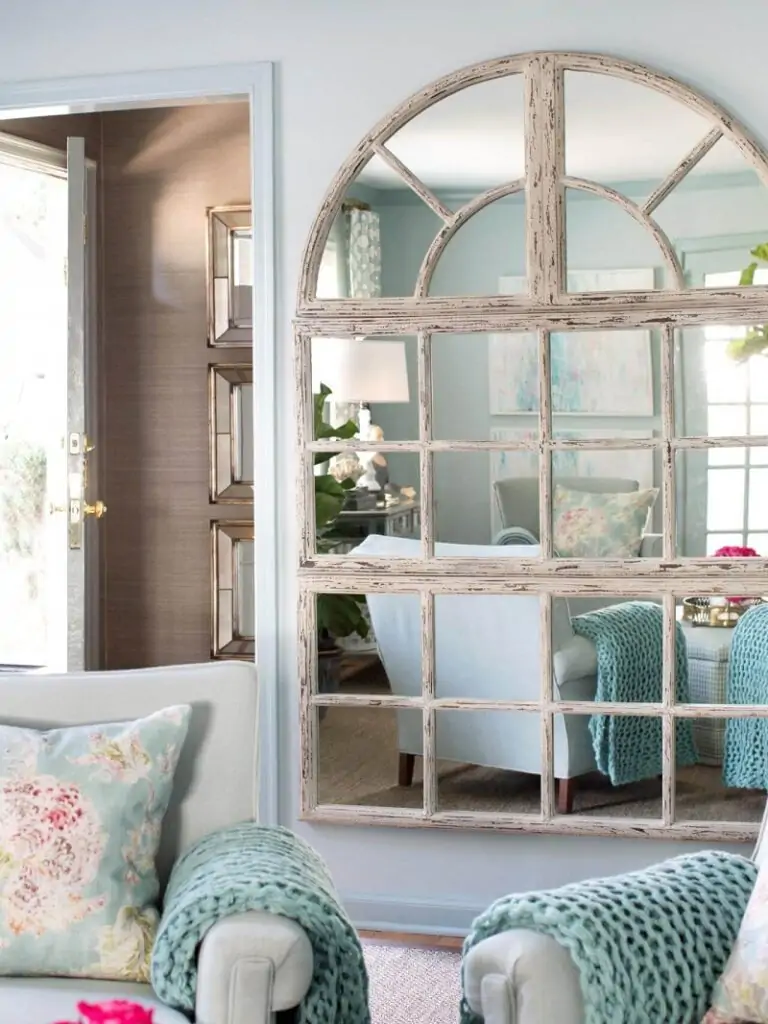 Who says your mirrored glasses have to be placed inside the room?
Instead of a regular glass window, choose one with a mirrored insert to serve lighting, aesthetic and everyday purposes. The window frame may even be the exterior focal point of your home.
12. Frameless Mirror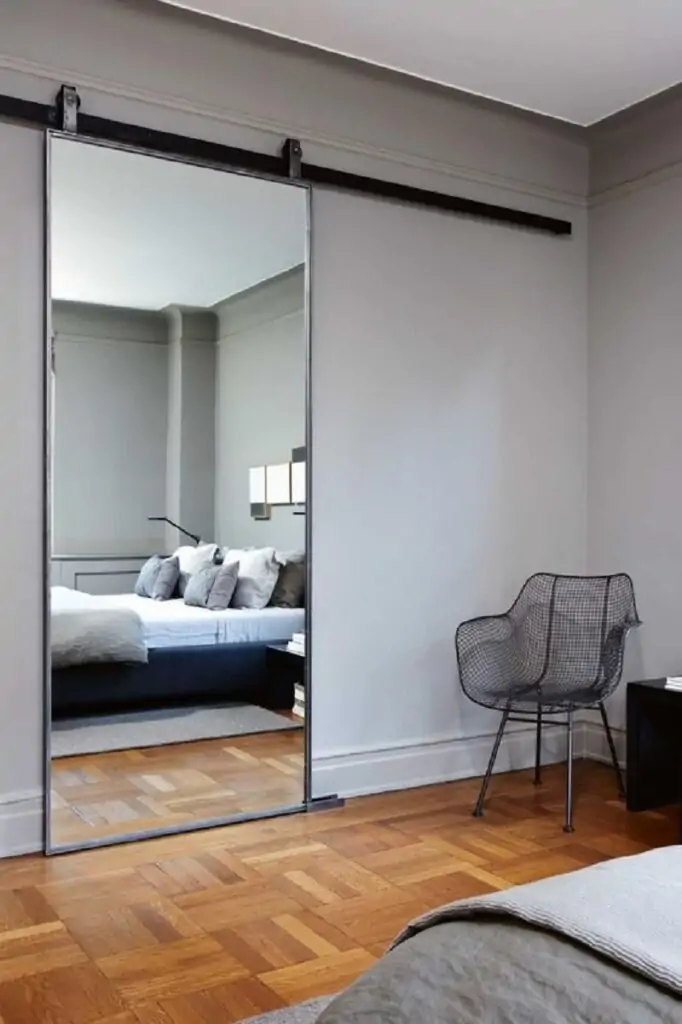 One of the best mirrored-glass ideas your inner minimalist will love is a frameless glass design on the wall that sits perfectly in any modern home. The best feature of this design is that it blends easily into a room with minimal furniture and colors. All you have to do is find that perfect spot to place the frameless glass, whether on the ceiling, over the bed, behind the TV, or on the closet and cabinet door. Frameless mirrored glasses make any space seem larger, sharper, cleaner, and homier.
FAQs
Where Should I Place My Looking Glass in the Bedroom?
Where to put mirrors in a small bedroom depends on the size and available space. Most petite sleeping quarters lack the space needed to position full-length glasses. The simple DIY remedy would be finding some good creative ideas that allow you to position them strategically in your sleeping space.
I Have a Really Small Bedroom. Does That Mean I Don't Need Mirrors?
Whether you have a modest room or a large one does not affect your decorative pieces. Mirrors come in different shapes, sizes, and styles, meaning you can use a DIY route to create a placement pattern that will work for your space. All you need to do is position them where they make your room feel more spacious and beautiful.
What Is a Good Size for a Bedroom Mirror?
The ideal size of a rounded mirror for modest-size rooms is typically around 19.7 inches (50cm). Larger rounded ones are usually between 31.5" and 35.4" (80-90 cm). On the other hand, square glasses range between 50 cm and 80 cm (sometimes 60 and 80 cm depending on the room layout). If you need full-length glasses, choose one between 40 and 140cm.
Final Thoughts
A mirror is a resourceful piece you can place anywhere in the room to serve decorative, viewing, and lighting purposes. Beyond their practical function, strategically placing them in your home, especially your small bedroom, will not only add sparkle to your space but also add life to previously overlooked areas.
Place a mirror over a bedside table on your upholstered headboard, floor, window, cabinet, closet, or door. Whatever option you choose, our mirror ideas for a small bedroom will leave a stunning effect on your room.