11+ Captivating Outdoor Green Wall Ideas You Will Love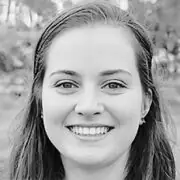 When it comes to creating an inviting and stunning outdoor space, green walls are a fantastic option. Also known as living walls, these structures are made up of plants and foliage that are carefully arranged to create a natural and visually appealing backdrop. Therefore, you should not miss out on finding the best outdoor green wall ideas to make the most out of your space.
This article will offer 11+ captivating ideas that are sure to inspire you to create different types of green walls. From simple and minimalistic designs to intricate and elaborate structures, these ideas are perfect for anyone looking to add a touch of greenery to their outside space. Let's get started.
1. Vertical Herb Garden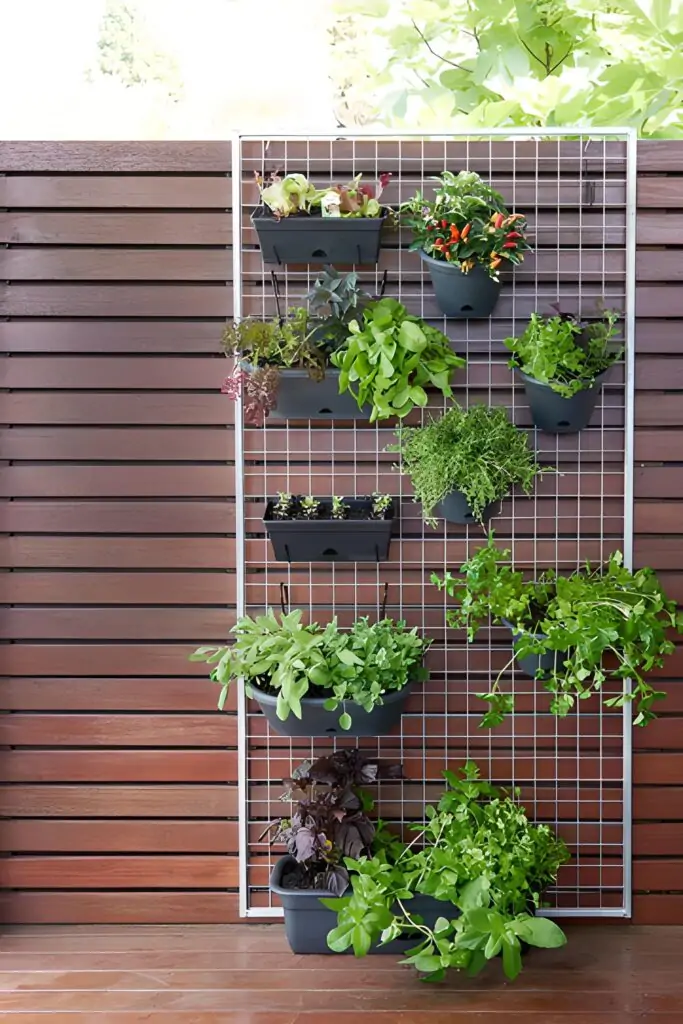 Incorporating a vertical herb garden into your house is the ideal way to enjoy outdoor green walls' aesthetic appeal and practicality. Herb garden walls not only give your house a touch of natural beauty, but they also give you a constant supply of fresh herbs for cooking.
A vertical herb garden is a space-saving option for people with small patios, which is one of its advantages. Also, avoiding the need to buy herbs that are packaged in plastic is a sustainable way to lower your carbon footprint.
2. Get Creative with Succulents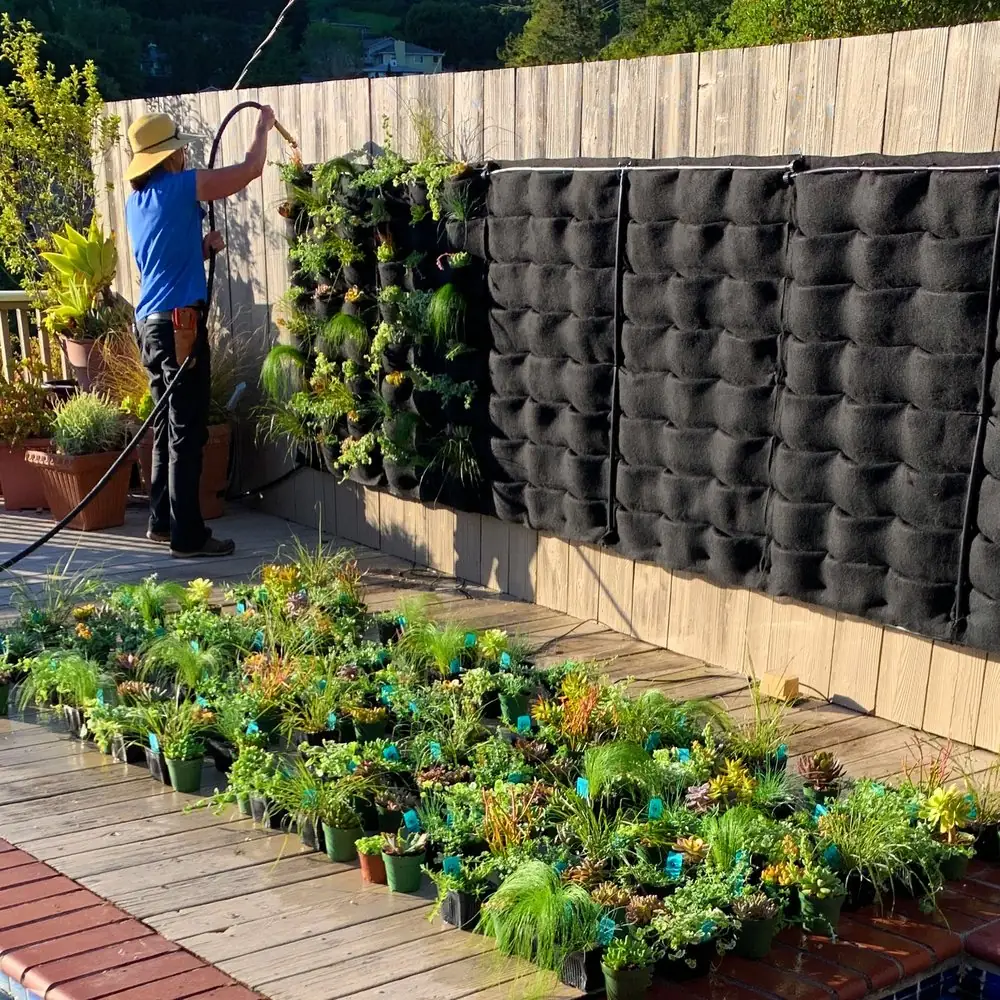 To add some greenery to your outdoor space, succulents can be a striking and low-maintenance option. Due to their reputation for growing in severe environments, succulents are ideal for outdoor wall greenery. These plants are ideal for locations with little access to water since they can store water in their leaves and are drought-tolerant. Sedum, Sempervivum, Echeveria, and Crassula are a few common succulent types for living walls.
3. Add Delicate Flowers for Color and Texture
You shouldn't miss this because it is one of the best green wall examples. Consider putting delicate flowers on your outdoor green walls if you want to give them a little color and texture. Flowers are a wonderful way to give your patio space a splash of color and visual intrigue. Also, they may draw pollinators like bees and butterflies, which may maintain a healthy ecosystem.
It's essential to choose plants that are appropriate for your space's conditions while choosing flowers. Petunias, violas, pansies, and nasturtiums are a few common flower types for living walls. These flowers may grow in a range of conditions and require little maintenance.
4. Cheat It With a Tiled Mural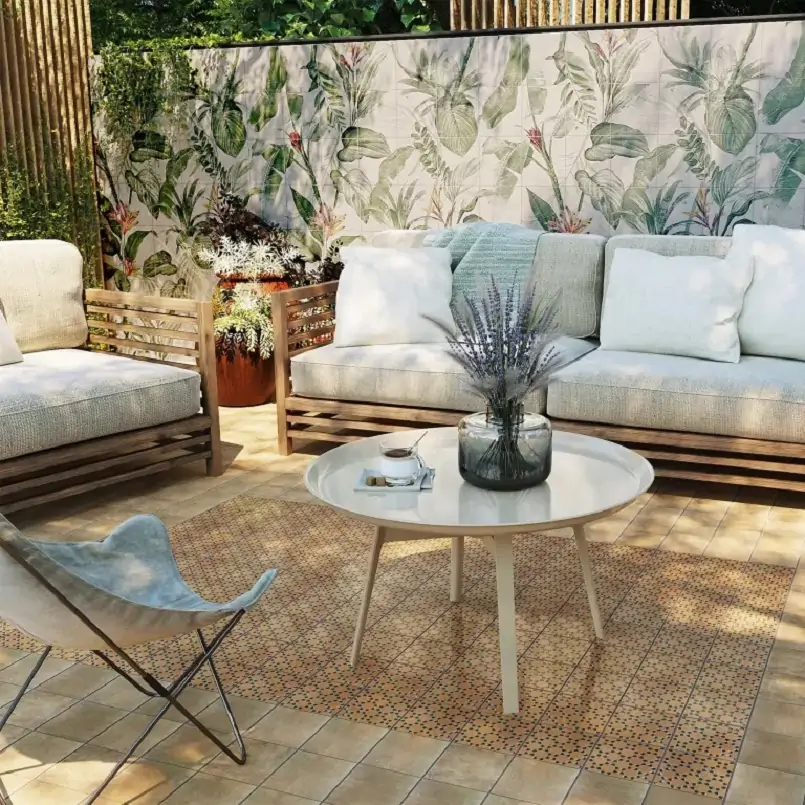 If you're looking for a quick and easy way to add some greenery to your outdoor space, consider cheating it with a tiled mural. Ideas like these are exactly what you need if you want to create a feature space without the maintenance required for a living wall.
To create a tiled mural, choose a design that incorporates greenery or natural elements. There are many pre-made designs available, or you can create your own design. Use tiles that are specifically meant for outdoor use to ensure that your mural will stand up to the elements.
5. Go for Wild Planting
If your goal is to design green walls that embody a natural and untamed vibe, wild planting may be just what you need. This approach involves choosing plants that are indigenous to your area and allowing them to grow freely on your walls.
One of the advantages of wild planting is its low maintenance requirement. As native plants are accustomed to the local weather and soil conditions, they are less likely to require additional watering or fertilization. Moreover, they possess greater resistance to pests and diseases, potentially reducing the necessity for chemical treatments.
Furthermore, welcome wild planting is a great option if you're looking for a low-maintenance approach to creating living walls. With the right selection of native plants and a little bit of planning, you can create beautiful and vibrant living walls that are both functional and sustainable.
6. Get Creative with Moss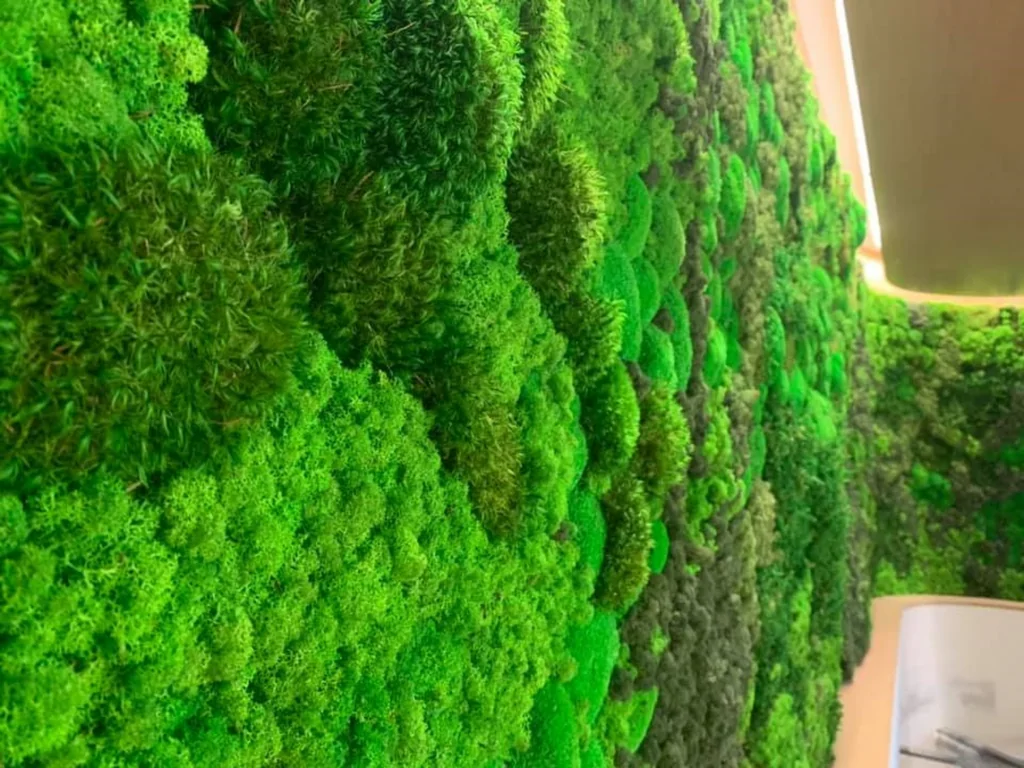 If you're looking for unique and low-maintenance ideas for living walls, consider the moss option. Moss walls are made up of different types of mosses that grow on a substrate material and can create lush and vibrant walls that require very little maintenance.
7. Don't Underestimate the Bamboo Plants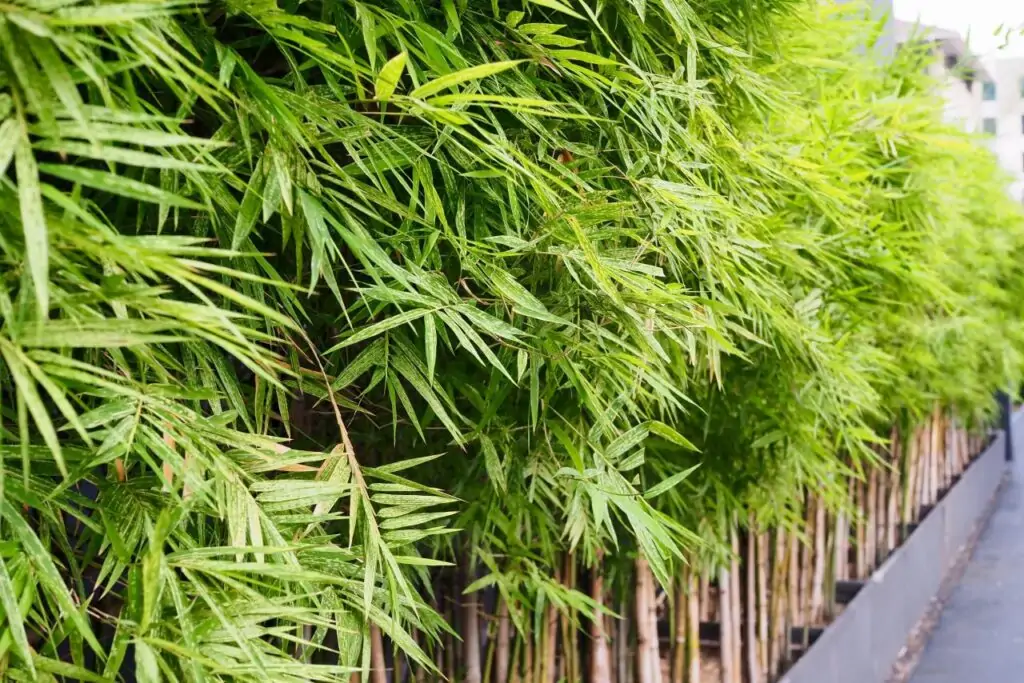 For those looking for inexpensive outdoor living wall ideas, bamboo is a sustainable and versatile option to consider. This fast-growing plant can create a lush and vibrant outdoor space that provides privacy and shade quickly. Furthermore, bamboo is an excellent choice for a low-maintenance and environmentally friendly approach to designing outdoor green walls. By meticulously choosing the appropriate bamboo species and containment technique, you can create a beautiful and functional space that will bring joy for years to come.
8. Try Climbing Plants to Get the Look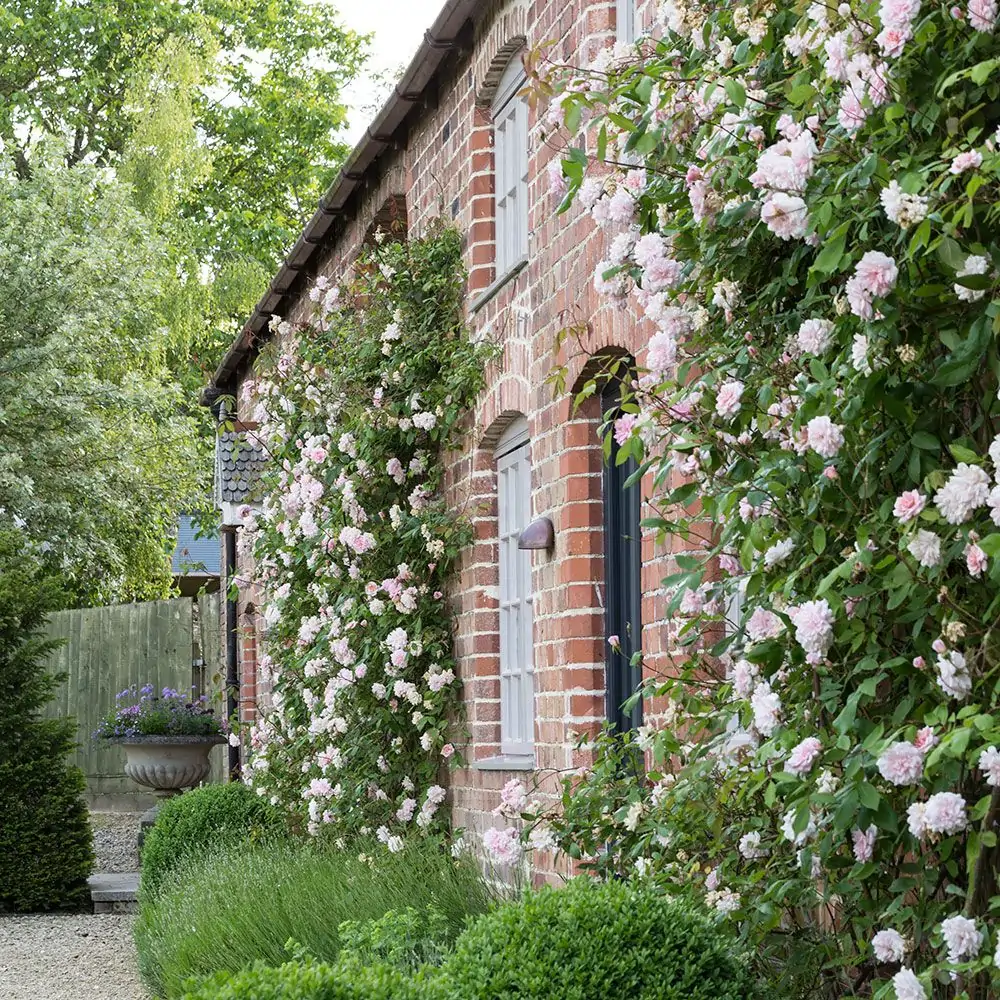 One of the finest options for designing an outdoor greenery wall that is both aesthetically pleasing and functional is climbing plants. These plants come in various shapes, sizes, and colors, making them a versatile choice for any outdoor area.
After the climbing plants have taken root, they can develop into luxuriant and vibrant living walls, providing a perfect blend of shade and privacy. With careful planning and maintenance, you can create exquisite and practical patio walls adorned with climbing plants.
9. Keep It Leafy with Ferns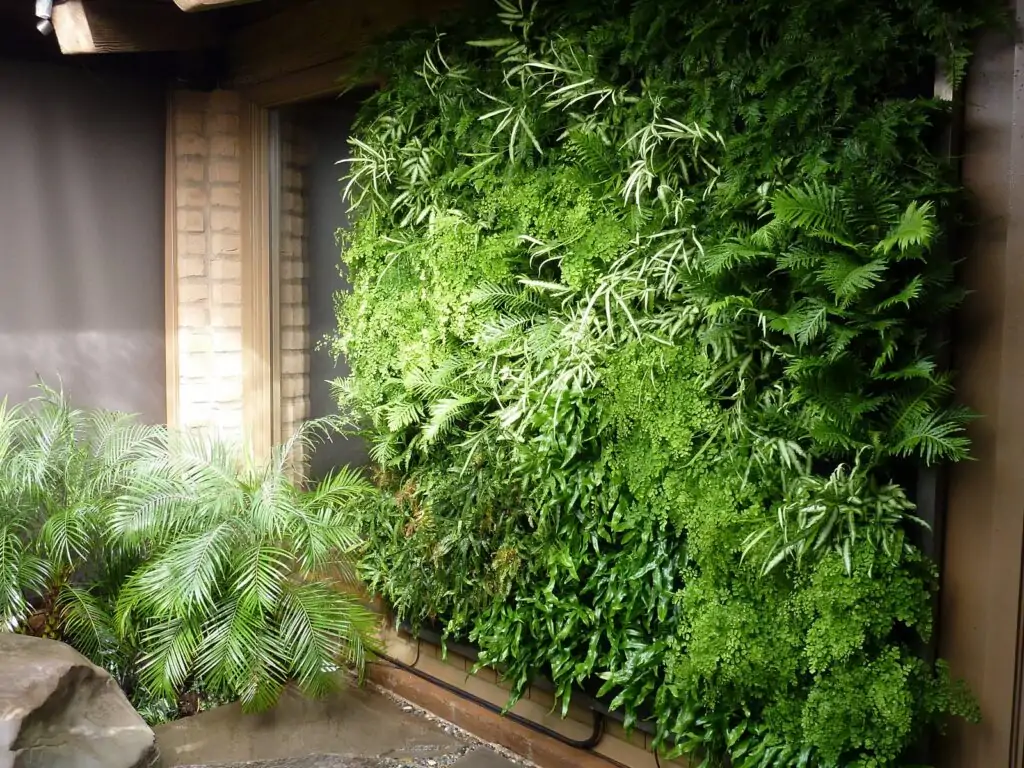 Making a fern wall is a terrific option for an outdoor area that emits an indoor garden feel. This kind of wall can provide a peaceful, natural environment that is ideal for relaxation. Ferns are a great option for giving any space a green, lush appearance that adds a touch of natural beauty. You may create a lovely and simple-to-maintain living fence by carefully choosing the right ferns and substrate material.
10. Get Creative with Raised Beds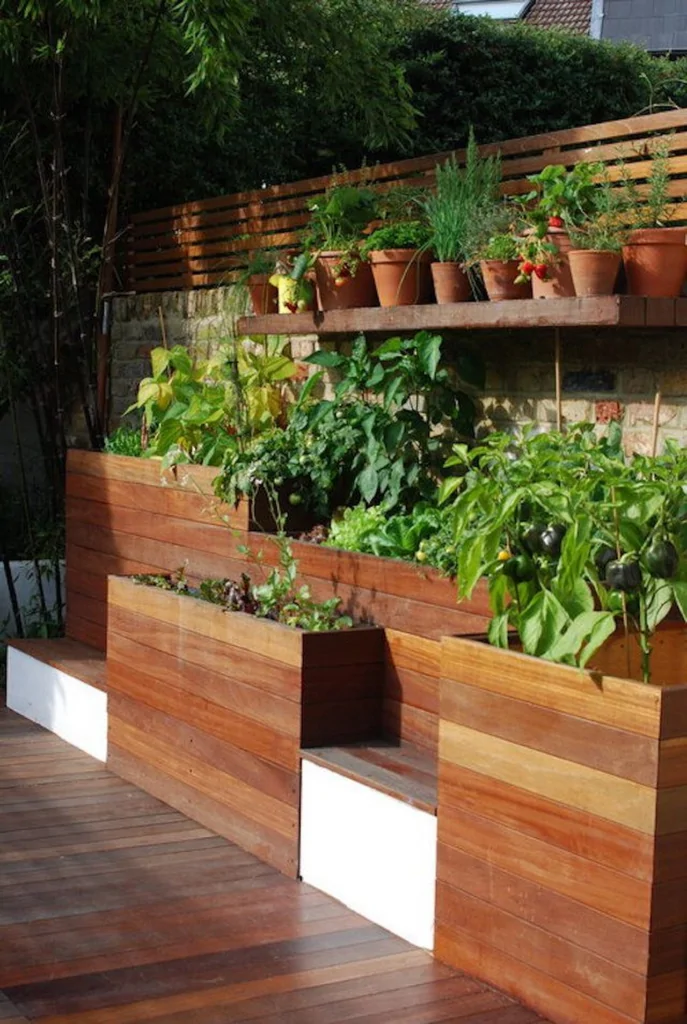 Raised beds are a fantastic method to integrate your outdoor green wall into the environment. By using this technique, you may give your outdoor area a more appealing, balanced, and coherent appearance.
You will have an outdoor space that is not only aesthetically attractive but also useful once your raised bed green wall is grown. You may create a dramatic and distinctive living wall that improves the beauty of your outdoor area with careful planning and maintenance.
11. Air Plant Wall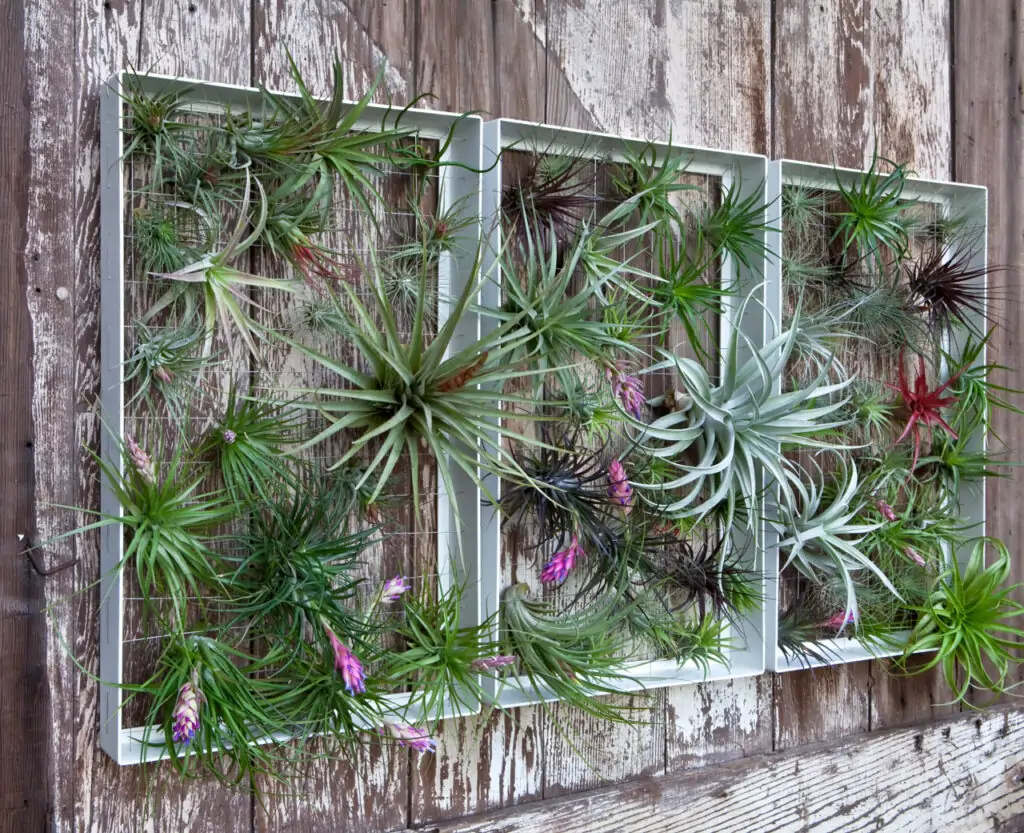 It is a unique and low-maintenance way to create an outdoor green wall. Air plants, also known as Tillandsia, do not require soil to grow and absorb nutrients and moisture from the air, making them perfect for a vertical planting arrangement.
Air plants offer several benefits, including minimal maintenance requirements and the ability to enhance the natural beauty of any area. By choosing the appropriate air plants and mounting materials, you can construct a distinctive and impressive living wall that will catch everyone's attention.
Frequently Asked Questions
In this section, you will find the answers to the commonly asked questions about green walls.
How to Build a Green Wall Outdoors?
Undoubtedly, constructing a green wall outdoors is no easy task! Finding the ideal location, choosing the appropriate plants, and erecting a reliable support structure are some points to remember. Following that, you'll need to set up a drainage and irrigation system as well as a framework to support the plants. For your wall to remain strong and healthy, use the appropriate soil and plants. It can be a good idea to hire a skilled contractor or landscaper who is familiar with green walls for larger projects. Last but not least, maintaining your wall properly is essential to keeping it attractive and lush for many years to come.
How Much Do Green Walls Cost?
There are a variety of aspects that can affect the final cost of installing green walls. The overall cost can be influenced by elements like size, plant type, construction materials, and continuing maintenance requirements. A smaller living wall with succulents or air plants, for instance, would just cost $50, whereas a larger living wall with expensive foliage might cost thousands of dollars. It's essential to consider installation costs and ongoing maintenance expenditures into account.
Hence, it's important to evaluate the expenditures and make plans properly if you're thinking about establishing a green wall garden. Therefore, if you are wondering how to create a green wall garden, you should also keep the costs involved in mind. 
Conclusion
Do you want to add a touch of elegance to your outdoor space? Don't miss out on these outdoor green wall ideas. You may design a stunning and simple-to-maintain green wall that perfectly complements your outdoor environment by carefully considering the plant types, materials, and support systems. Beyond just being attractive, green walls can also aid with noise reduction, thermal insulation, air purification, and promoting a more sustainable environment. By making the correct decisions, you may create a gorgeous outdoor space that improves your outdoor space's aesthetic appeal and environmental friendliness.