19 Simple Outdoor Kitchen Ideas That Will Get You Excited to Build Your Own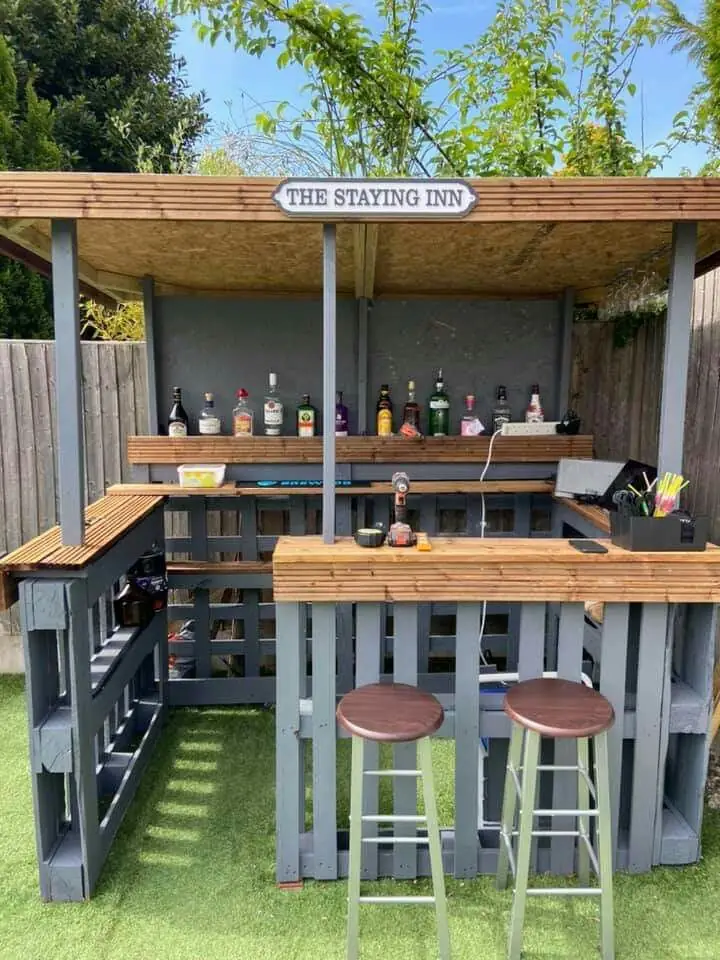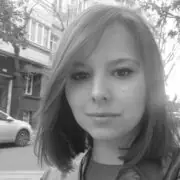 There are probably a lot of people looking for outdoor kitchen ideas, and with good reason: it feels nice to cook food in your own backyard instead of staying in a stuffy house. And if you're one of the people who enjoy spending time making food, you've probably thought about building a full-fledged outdoor cooking zone (and not just a BBQ) at least once.
Of course, such a project requires you to consider some factors, to name just a few:
the amount of money you'd like to spend;
the space that's available to you;
the appliances you're planning to use;
your fuel needs;
the legal side of things, like zoning.
Above all, the thing you need most is some inspiration. So take a look at those outdoor spaces to kickstart your creative process!
1. Just Getting Started: A Minimalist Idea (Which is Also Affordable)
This example presents a great "starter pack" grill island, which is probably one of the top simple outdoor kitchen ideas for those who are on a budget. It's DIY — and as such, very customizable: you can add more storage, a refrigerator, or even a roof if you need it. Throw in some seating space, and you'll have a full deck!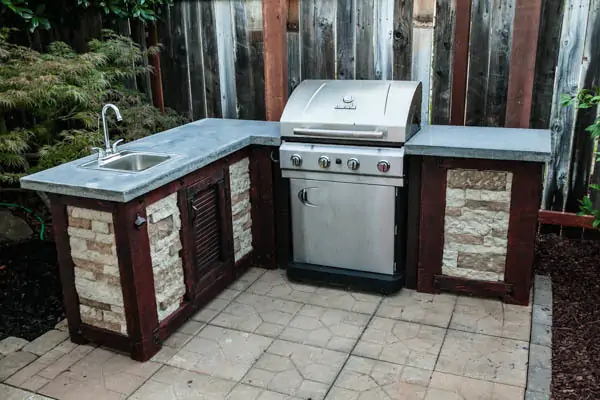 2. An Idea for a Small Space (with Lots of Value): A Setup That'll Fit Anywhere You Like
If you want some outdoor kitchen ideas for small spaces, try mobile modular solutions like this one. Notice that a part of a counter doubles as a serving table. This can give you a hint when you go through the ideas for outdoor kitchen countertops: look for a material that's durable and looks good at the same time.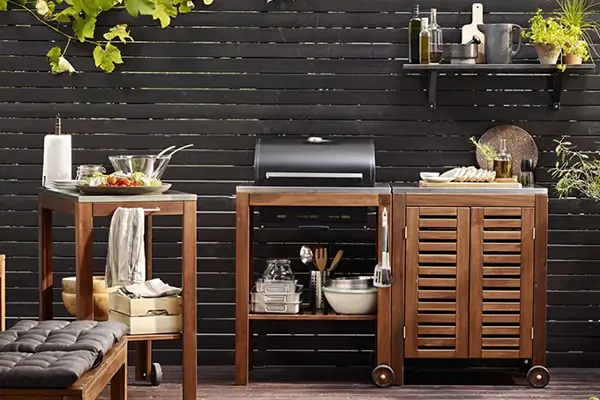 3. Relaxing next to the Hearth — but Outside: An Idea Both Rustic and Elegant
If you are not that restrained in your budget or space, this might be just the right idea for you. Rustic doesn't have to look cheap, as evidenced by this spacious room with a huge fireplace that will certainly become your family's place for relaxation (and gatherings).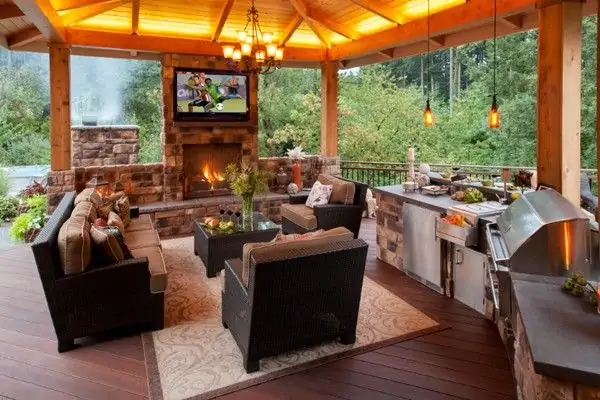 4. A Space to Spark So Many Ideas: A Modern Take
This sleek design can be a source of inspiration for numerous fine details. Note the colorful furniture standing in contrast to the cooking area, the roof access, and lots of greenery around. Of course, it also has more common elements, such as the design of the floor or the grill placement (it's hidden inside that huge cinder block, by the way).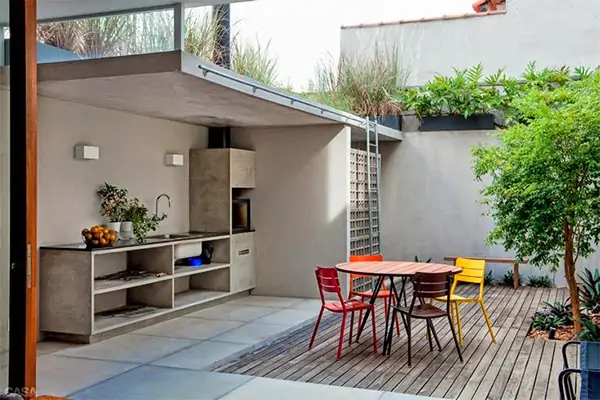 5. A Piece of Luxury: A Poolside Bar — Not Just for Hotels
It may seem that cooking and swimming don't mix, but that's simply not true! Here's one of the outdoor kitchen pool ideas that stole our hearts. This space has everything a cook may need while looking simple and elegant. The cooking space is complete with the space to dine (or party!) made of a high counter and some chairs. Get some margaritas on the rocks and relax!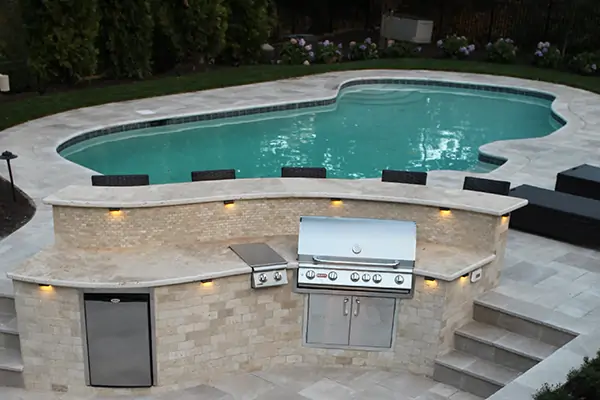 6. Making Pies: One of the Outdoor Kitchen Ideas with a Rustic Vibe
A grill is not the only appliance that's perfect for cooking outdoors. A pizza oven is a great addition to your backyard kitchen! This example features a sturdy brick oven which is sure to make you the star of pizza parties among your friends.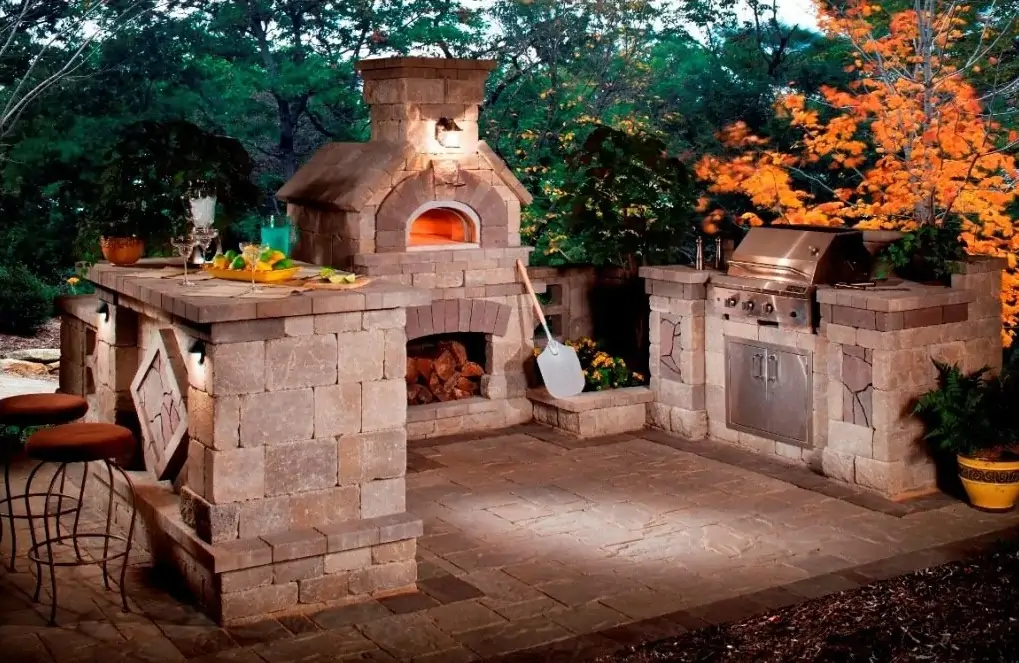 7. Perfect in All the Right Places: A Compact Space with Everything You'd Want
This small space is an example of numerous individual details that come together very nicely. There's a variety of storage, from a large cabinet and shelves under the grill, to a utensil rack, to floating shelves — and everything seems well-thought-out in its placement. Everything's covered to protect the cooking space from the elements. But in addition to utility, this design is simply beautiful, with its clean straight lines and deep shade of blue.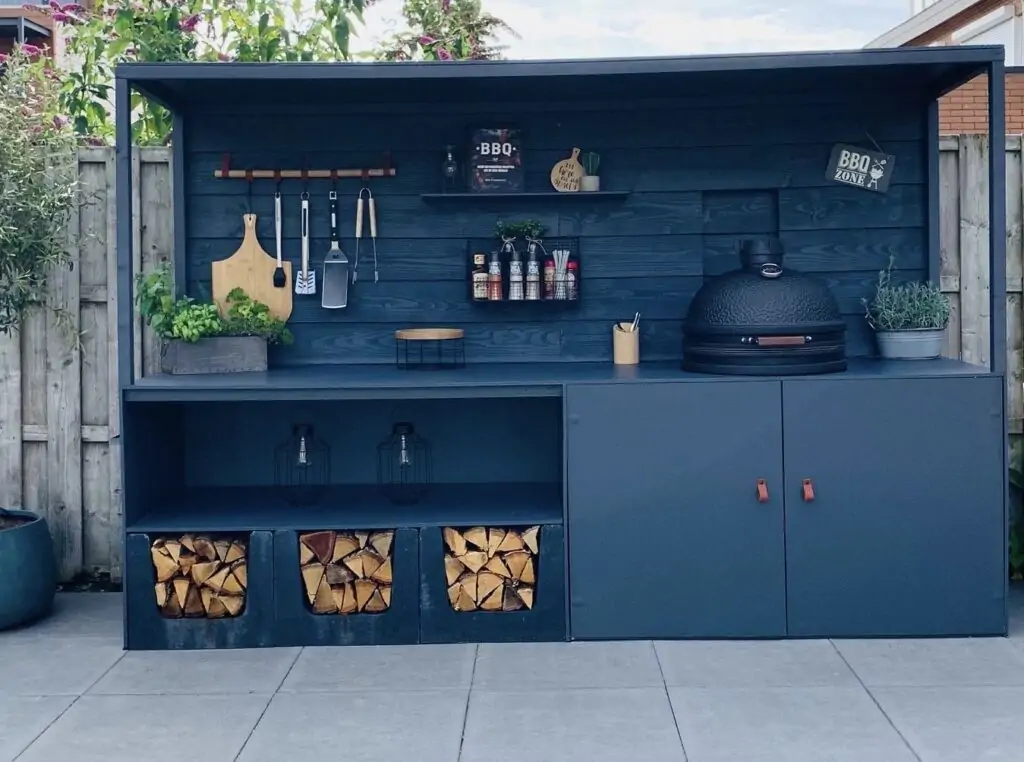 8. Set in Stone: Built-In Appliances Are Not Just for the Indoor Kitchens
If you're looking for unusual outdoor kitchen grill ideas, here's one! This grill is built right into stone, along with a faucet and some lighting. The combination of steel and stone definitely draws the eye, so if you like statement pieces in your design, you might think about something like that.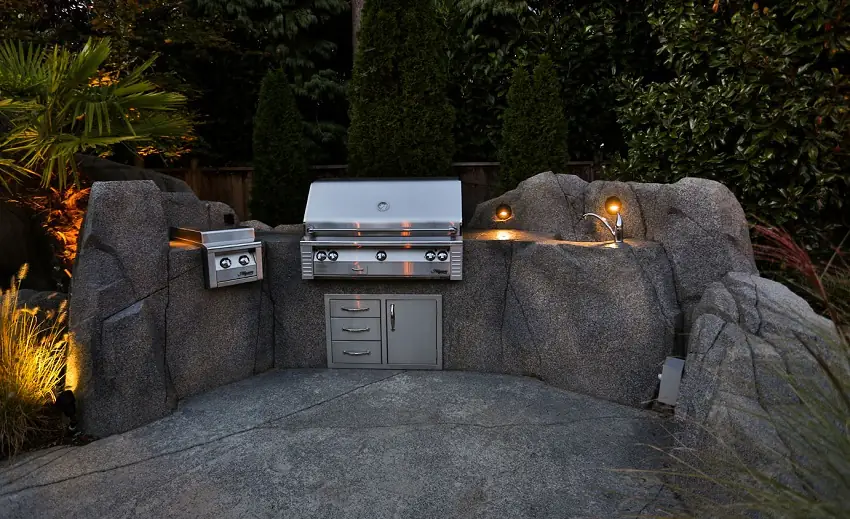 9. Just Enough: A Combo to Make Your Kitchen Feel Cozy
Speaking of outdoor kitchen lighting ideas — a cozy stone-lined place like the one in the photo really benefits from an old-school chandelier. Nothing too fancy, just a warm overhead light to create an intimate atmosphere of a family meal. Fitting!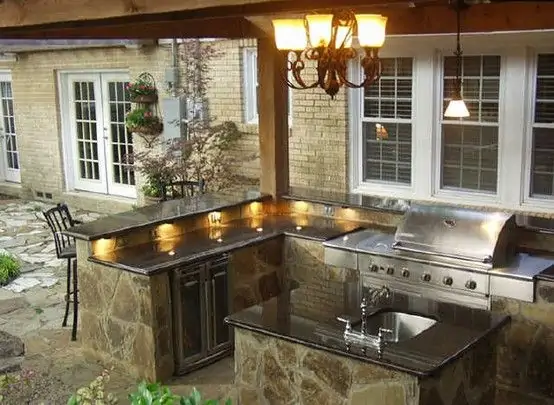 10. All Hands on Deck: Dividing the Space
Looking at the bigger picture, here's an example of fitting an outdoor cooking setup onto a deck. This multilevel space has all the appliances one might need for their cooking or cleaning up and a place for a family meal — all in one area. But take a few stairs up — and you get to a small lounge where you can relax with a snack and a drink.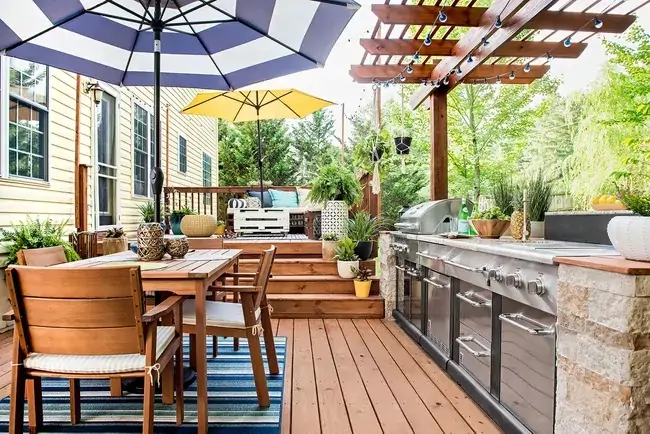 11. Modern Solutions: Clever Seats to Save Some Space
If you're looking for some unusual furniture — consider using swing-out stools like these! They look great and, above all (though this picture doesn't show it), can be counted among the best outdoor kitchen ideas for small spaces: stools that you can fold away after use are perfect even if all you have is just a tiny backyard corner.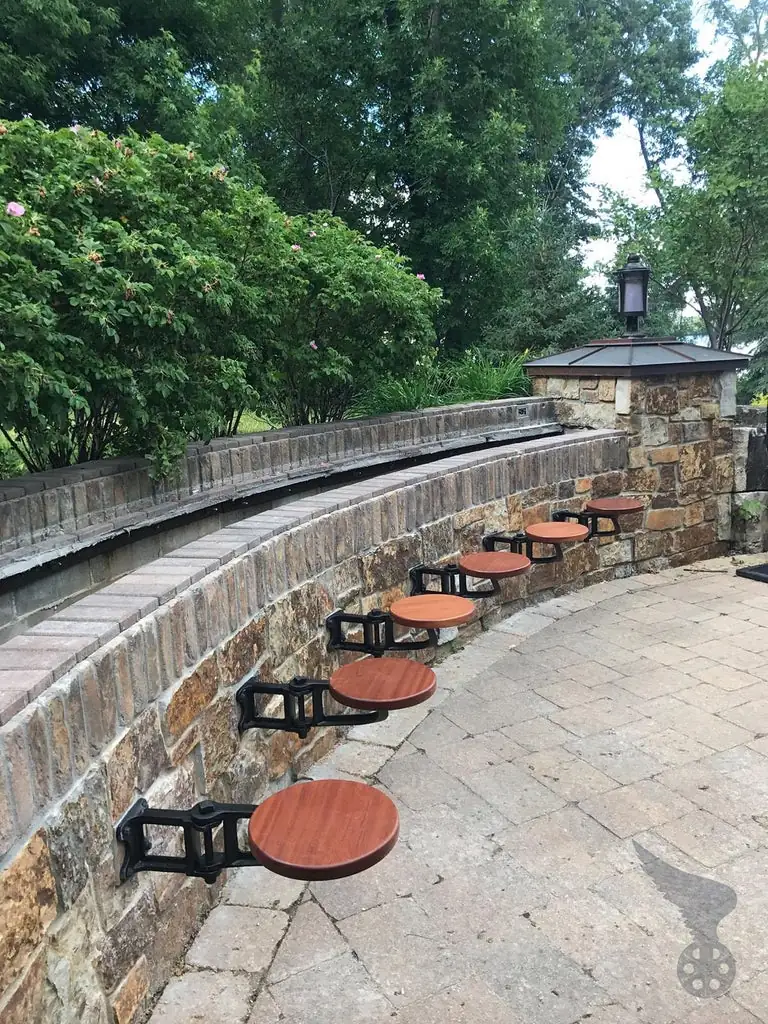 12. BBQ and the City: Nothing's Impossible
If you live in the city, you can still bring the backyard vibe into your home — all you need is a terrace! Sure, there are some changes you'd have to make compared to building a cooking space in your yard — for example, you need to consider flooring more carefully so that it's both fire-proof and nice-looking. Luckily, there are plenty of outdoor kitchen tile ideas to make it work!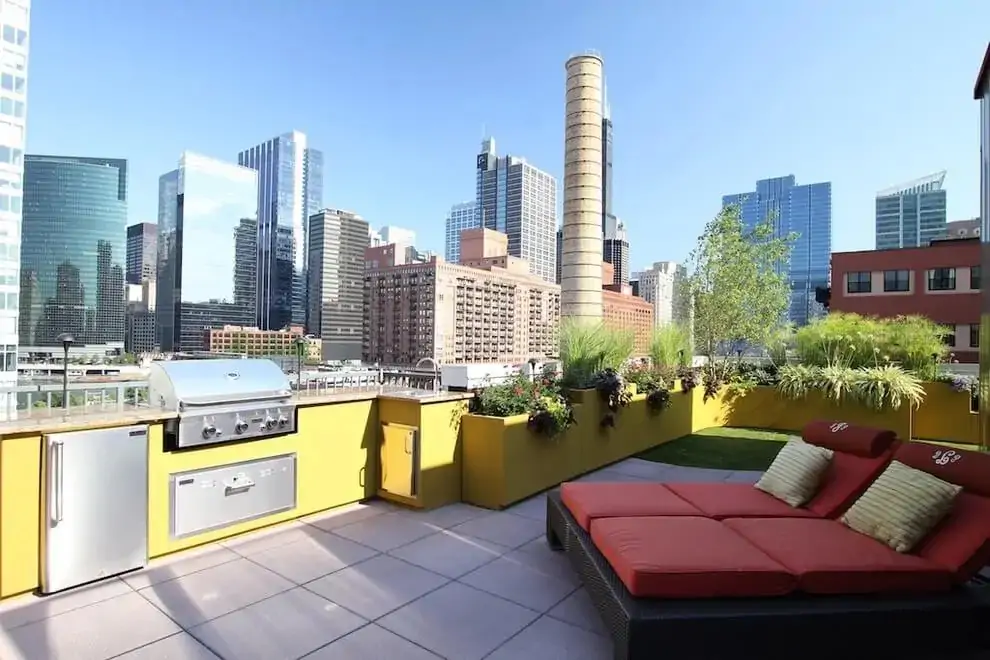 13. Lit Up: Unforgettably Pretty Outdoor Space
This place to cook and lounge in looks striking due to its elegant design and calming color palette. Also, it utilizes LED lights which is one of the best outdoor kitchen lighting ideas to make the space feel cozier. Add a large table and a fireplace — and you get a place you won't want to leave!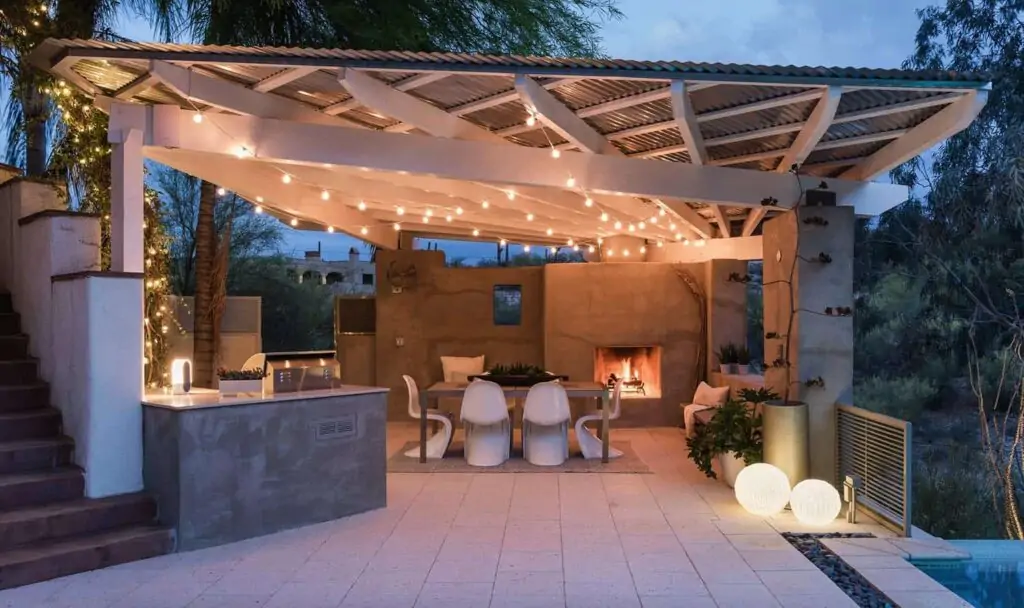 14. And Now for Simpler Outdoor Kitchen Ideas: Cheap & Cheerful
There are many creative outdoor kitchen ideas on a budget, too. This one is very fun — it's a DIY bar with some storage space made out of a pallet. Just a bit of your time (and even less of your money) — and you can make one yourself!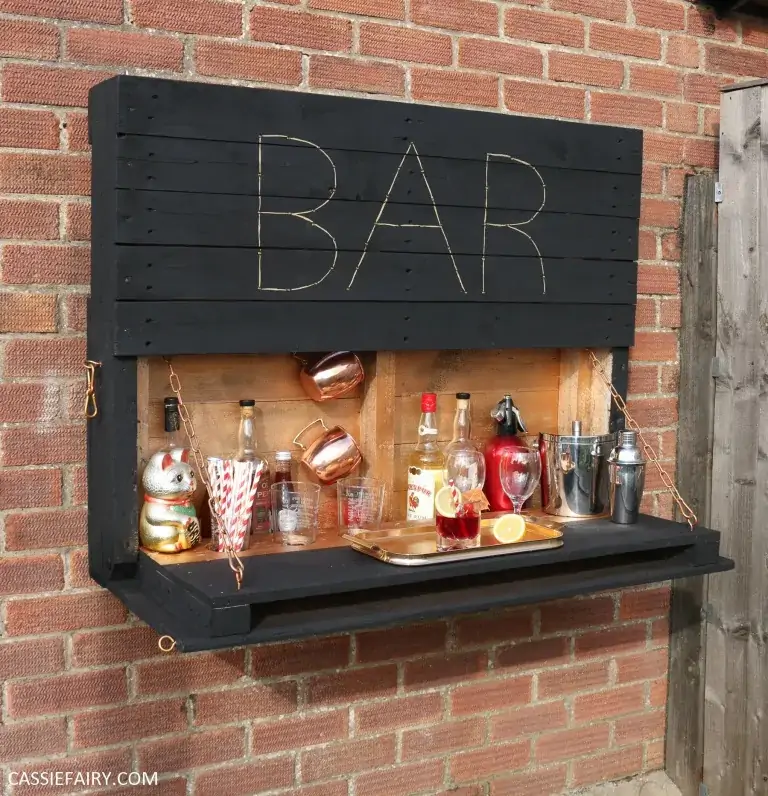 15. A Memento from the Faraway Land: Travel Without Traveling
Adding some Mediterranean notes into a summer kitchen design is an excellent idea for a warmer climate. Here, a patterned counter really brings a seaside mood into the place. The lights add to the vibe: it's easy to imagine this space as a summer terrace of a cafe in some small coastal town.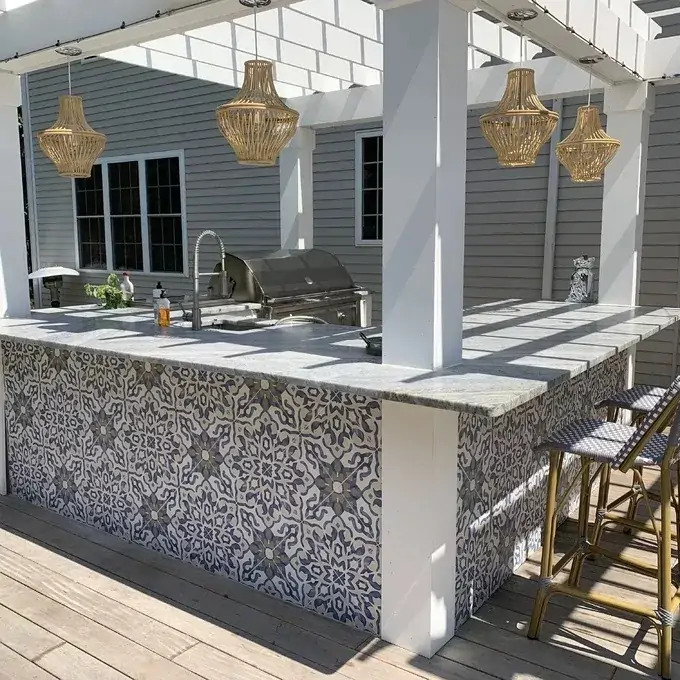 16. A Stern Look: Elegance Is Always in Style
Many people like simple, even austere designs for their kitchens. It's good that it's not hard to reach this look! In this example, dark wood and brick are used, both looking clean and simple. And when it comes to outdoor kitchen tile ideas — there's nothing like a classic checkerboard floor pattern for an elegant look!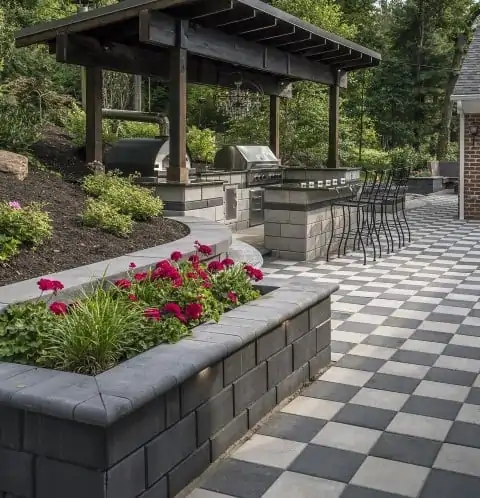 17. Make the Most of Your Space: A Small Cooking Zone Can Be an Eye-Catcher
If you're short on space, you can fashion a small cooking area out of just a grill, some storage, and countertops! In this example, the BBQ area is protected from the elements by a wooden cover, which gives it a finished look.
18. In the Jungle: Cooking Under the Green Canopy
If you're someone who likes greenery, why not put it where you cook? This space looks very cozy with the vines and palm leaves all around, and this picture proves that you can keep the place squeaky clean even surrounded by plants (not to mention that it looks amazing). Probably worth thinking about!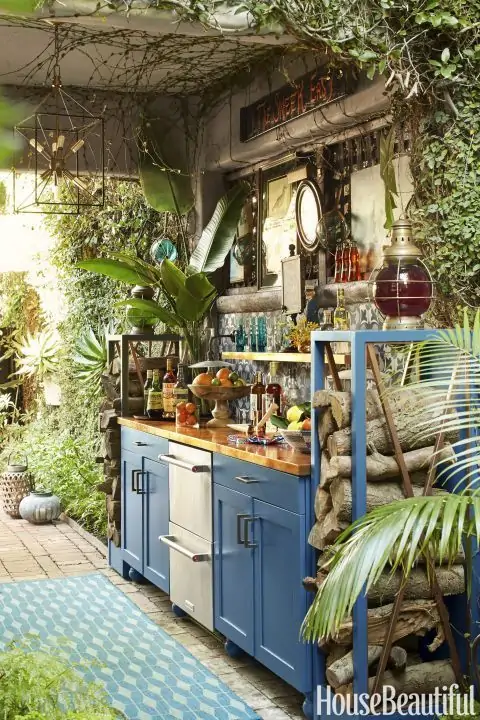 19. A Cocktail Bar: Here Are Some Dishes That Really Worth a Try
On the other hand, you might not be a fan of cooking at all, preferring to relax with a cocktail. This doesn't mean that you should deprive yourself of an outdoor kitchen! Just focus more on building a bar, like in this photo. After all, isn't the purpose of all this just to have a good time?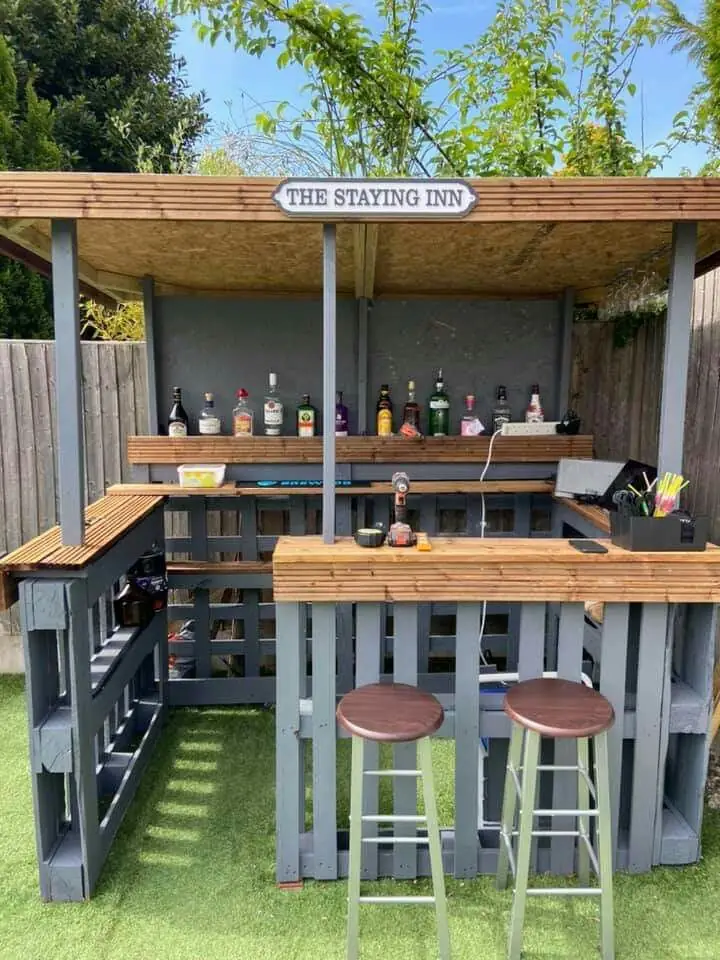 FAQ
Here are some popular questions about outdoor kitchens.
Is an Outdoor Kitchen Worth It?
The answer to this is highly dependent on several factors. To name just a few:
The climate you live in: backyard kitchens are best suited for warm places, where you can get much use out of them;
The size of your backyard: there are ideas even for very small spaces, but still, for some yards, fitting a whole setup in won't be worth a try — although you can still create a BBQ island;
Your cooking preferences: grilling, frying, and even baking are all much better and easier in the fresh air, so, for example, if you're a fan of BBQ — getting a backyard setup is a great choice for you.
Overall, just ask yourself: are you somebody who enjoys the outdoors or prefers to stay inside? If the former is true — then an outdoor kitchen is definitely worth it for you!
How to Build an Outdoor Kitchen — Ideas?
There are probably as many variations of this kind of kitchen as there are people who own them — we gathered some of those variations above. But in general, when thinking about building an area to cook in the backyard, consider these ideas:
Put in more appliances than just a grill. Sure, backyard kitchens are usually centered around a BBQ but think about what else you may want — a stove or a pizza oven, maybe a smoker;
Remember about the access to utilities (water, electricity) and fire safety;
Decide on the layout that suits your preferences: do you want only to cook outdoors (and eat in the house), or should it become a place for your family to have a meal and hang out?
Add enough storage space. Keep in mind that you'll have to store more than pans, dishes, and utensils — outdoor cooking usually requires something like firewood or propane tanks;
Consider covering the place. If it sometimes rains suddenly where you are, or the sun often feels scorching — the cover is a must, either to protect solely the cooking zone or the space where you eat too.
What Are the Ideas for Covering an Outdoor Kitchen?
Popular choices for covering a backyard cooking space include:
Permanent sturdy roofs and walls, like a pavilion — for a space that has to be well-protected from the elements;
Awnings — for a summer vibe; this choice may look light but still offer plenty of protection;
Pergolas — if you don't need a cover that much but would still prefer to enjoy some shade.
To build the kitchen of your dreams, you don't even need to start with an expensive design project! Simply watch this video on DIY techniques:
Conclusion
If you're somebody who likes spending time outside, you've probably already thought about building an outdoor kitchen (and if you haven't — it's time to start!). Lucky for you, it's easy to start planning to build one since there are so many outdoor kitchen ideas to get inspired by! So, hopefully, you found the design solutions above useful. Come back for more inspiration!