10 Beautiful Pool Lighting Ideas Your Guests Will Love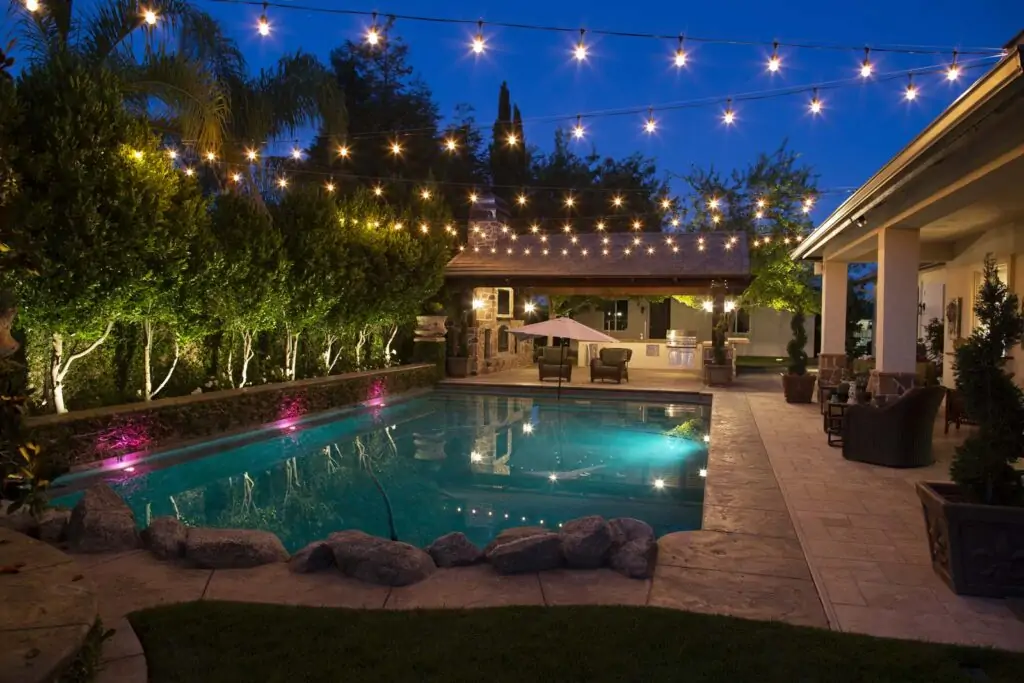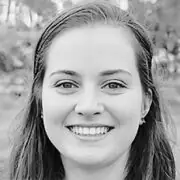 Coming up with the right set of pool lighting ideas can sometimes be a herculean task. Swimming pools are one of the most popular additions to any home. They provide a place for relaxation and recreation, and they can even be used for continuous exercises.
If you're building or remodeling an existing swimming place, it's important to take into account all the needs — including those of both current swimmers and swimmers to be. In this article, we will highlight creative pool patio lighting ideas that will make your swimming area the most inviting place in your home — and any of these solutions can blow your mind. Here are some of them:
1. LED Lights
LEDs are becoming a more and more popular choice for backyard pool lighting ideas, especially in residential areas. There are not one but several reasons for this:
They consume much less electricity than other pool lighting options. This is relieving because it means you'll be saving money on your electricity bill. What's more, LEDs reduce the overall impact on the environment. Last but not least, if you leave your LEDs powered on all night long (an unfortunate but not uncommon oversight), your money losses won't be too high.
LEDs are brilliant, so they're excellent for illumination at night.
They are easy to install, so you won't need to spend a lot of money on expert help to get them up and to run. If you're tired of paying someone to come out and replace the traditional fixtures every couple of years, then a LED system is a better option because LEDs normally last very long.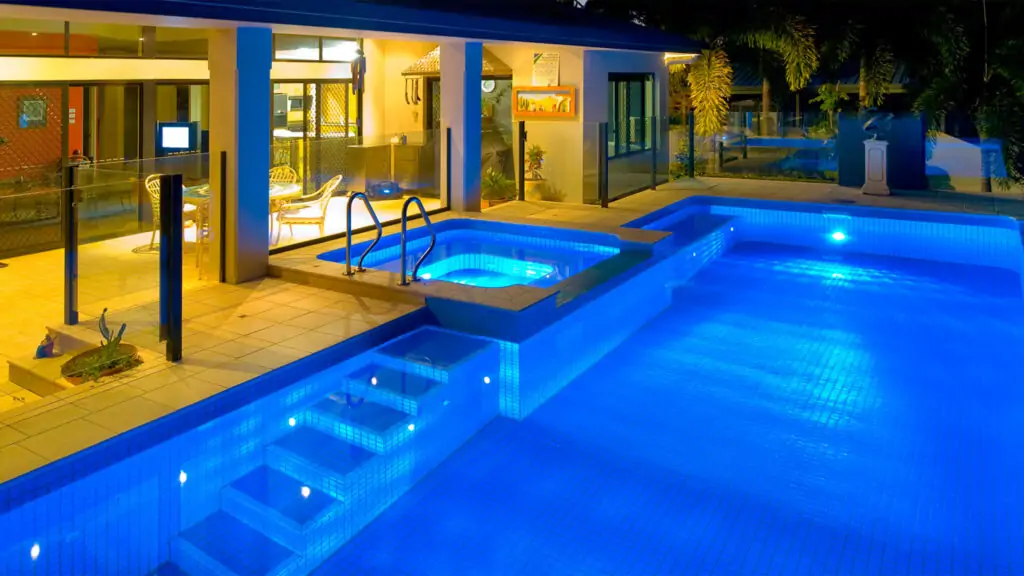 When purchasing LEDs, it may also be prudent to buy some sort of sensor so that you can control them remotely and they get turned on and off automatically.
If you're looking for an environmentally friendly way to illuminate your swimming pool without sacrificing brightness or style, look no further than LED lights!
2. Underwater Lights
Underwater lights are among the eye-catching pool landscape lighting ideas that can add a whole new dimension to your swimming experience. They make you want to know what is happening below the surface, not only above it. Your guests will never miss an opportunity to get in the shallow end and take a look around: while it feels great to be immersed in the water, it feels even better to be immersed in the liquid light.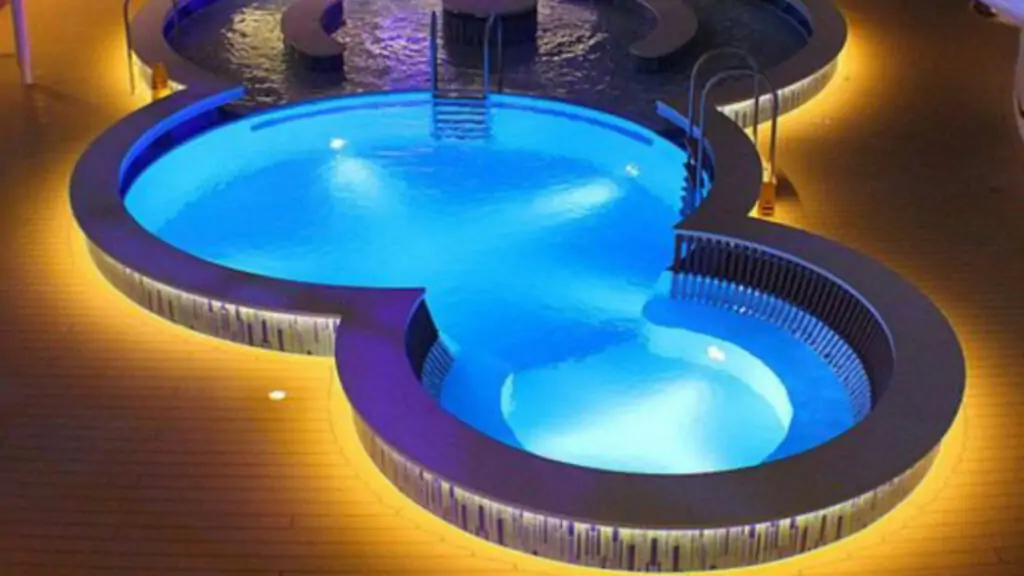 When underwater lights are used, they're installed on the deep end near the bottom. This is because that's where most people are swimming—at least 2 meters (about 6 feet) below the surface.
The lights will be installed flush with the bottom or slightly raised so that guests can still see their toes when they're standing in the shallow region.
Most underwater lights are installed on the floor and then covered with a layer of clear vinyl tiles, but you can also fix them around waterfalls and fountains or even on top of water slides. If you do this, make sure that you choose lamps that don't emanate too much heat so they won't scorch your slides.
3. Fiber-Optic Lights
While these can be a great addition, they are not something to install on a whim. Fiber optics are also called "glow" or "laser" lights because of the way they make lines and patterns in the water.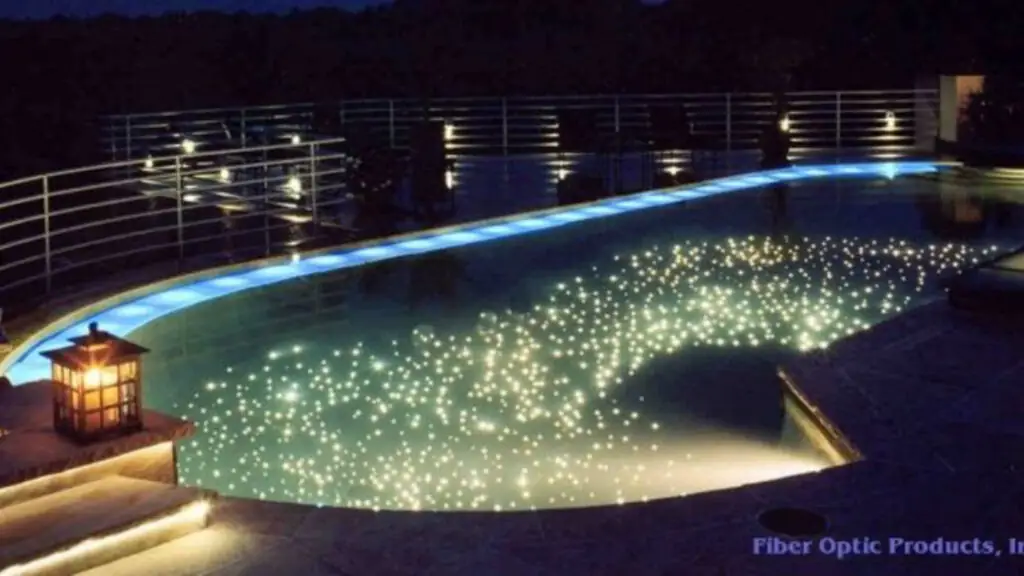 There are several reasons why so many people choose to use this type of pool lanai lighting ideas:
Economic: Fiber-optic lights are an affordable way to add drama and style to the area without spending a fortune.
Versatility: They can be used for many different applications, from lining the perimeter of the water area to installing them around your deck or patio.
Either way, this type of lighting makes it easier for swimmers to see each other when underwater or at night, and it does so without compromising the look or feel of the water area.
4. Color-Changing Lights
These are relatively new addition to the market. They give you a new way to glam up your place of relaxation and add a little fun to your swimming moments. This is one of the pool deck lighting ideas that not only creates a cool effect but also has some practical applications as well.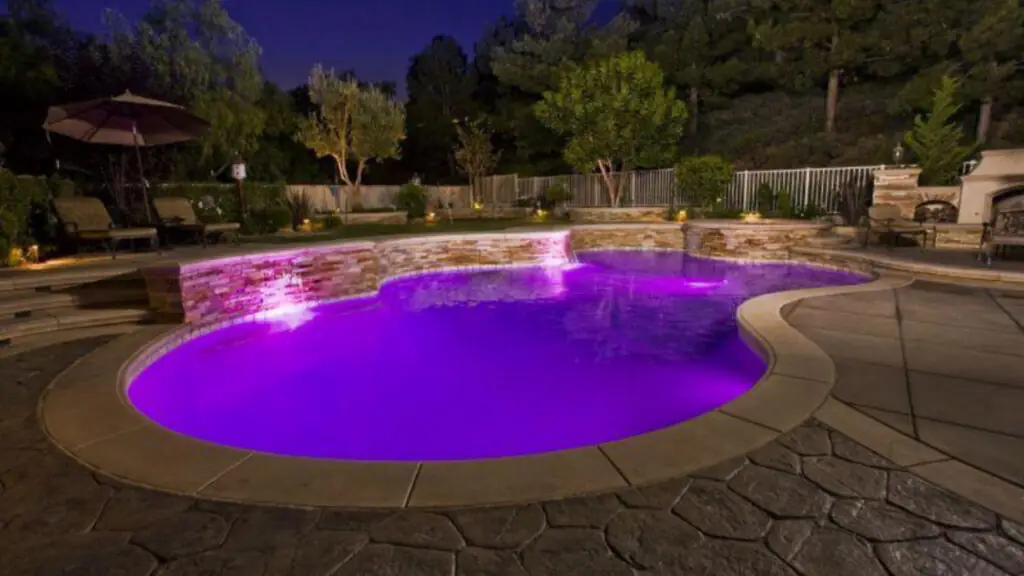 One of the newest trends in design, the color-changing light uses a total of 72 high-power multicolor LEDs arranged as 24 red LEDs, 24 blue LEDs, and 24 green LEDs. Working together, they can produce any color there is — just like your TV screen does.
Color-changing lights are great for parties because they allow you to create your own special color scheme for each event; you can even use different colors for each room of your house.
5. Lighted Pool Covers
These are one of the more cost-effective pool enclosure lighting ideas for people who want to be able to enjoy their patio areas without additional light fixtures. The covers are not just for safety, and you can also use them to illuminate the water and your deck near it, making it easier to see when using this place after dark.
To get the most benefit from your cover, make sure it is designed to your preference. It should be properly sized so that it fits snugly over the edges of your swimming area without allowing any water to leak through.
6. Floating Luminous Toys
While there is nothing wrong with the fun of swimming at night, it can be boring without anything to do. By adding some luminous toys, you can make your swimming time more exciting.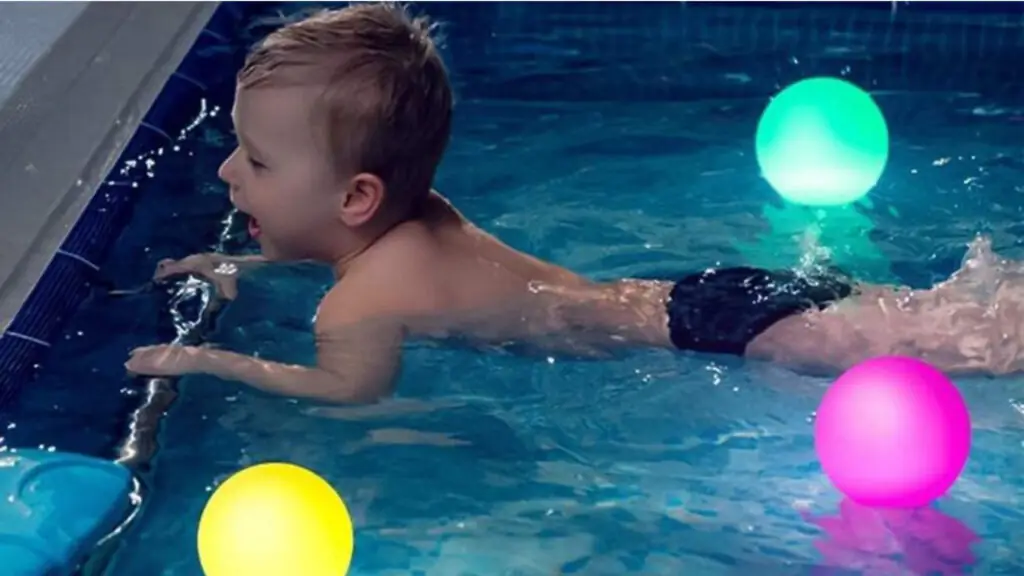 In addition to being safe and easy to use, these toys also come in a wide range of colors, shapes, and sizes, so you can find something for both children and adults. What's more, if you ask your kids to adorn them, you will get some really cute diy pool lighting ideas. Unlike some other types, these toys are also very affordable.
7. Pier Lights
If you have an above-ground pool, such fixtures can be especially good for you because they don't take up too much space and never block your view or sunlight from above or from the sides.
Then again, if your swimming place is in-ground, pier radiance may not work as well because the sources of light are typically placed on concrete piers that stick up out of the ground. What's more, if your swimming place is already surrounded by trees, shrubs, or other landscaping features, pier lights might not be the best idea either because they'll cast shadows over your yard.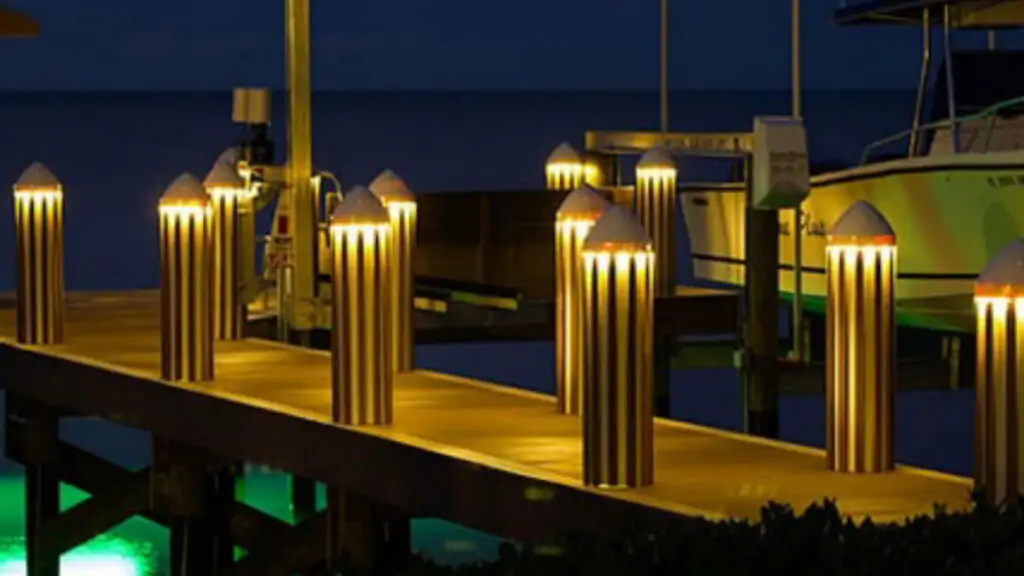 Also, while these piers illuminate the deck area and waterline and are one of the better above-the-ground pool table lighting ideas, they won't necessarily illuminate all areas of your yard. If you want more general lighting in your yard, then you should look into other options instead.
8. Flamingo Fun
If you're looking to set the mood for a romantic evening, you might want to consider adding Flamingo Beams to your space. The idea is that these lights look like beautiful pink and white birds, which makes them perfect for an evening when you want to cuddle with your loved one.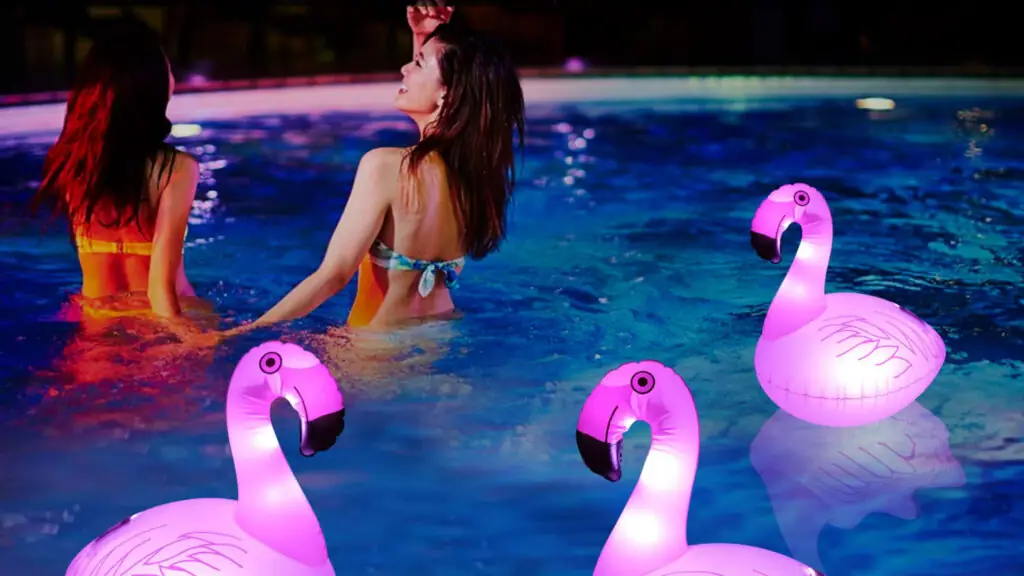 These are more than just ordinary designs — they look like flamingos! This means that they will blend into any backyard landscape seamlessly and can be placed almost anywhere.
The best thing about these lights is that they're versatile no matter what kind of space you have.
9. Fireworks Fountain
Fireworks fountains are an interesting choice for pool lighting installation. These colored beauties have a fountain shape and are designed to be submerged in the water. Their purpose is to create a show in the water which can add new dimensions to your setup.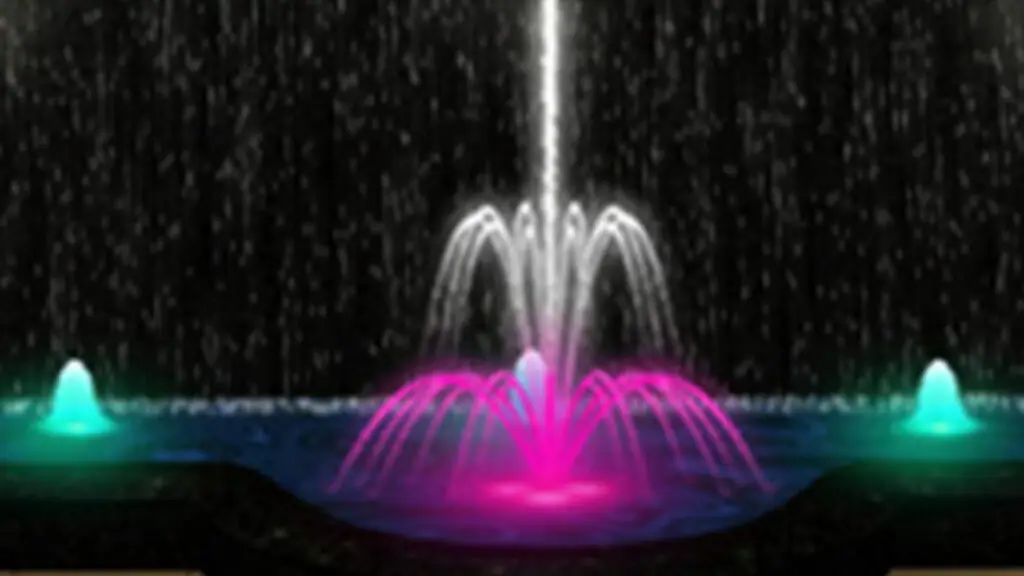 The way they work is that there is a small battery-operated motor inside the base that causes the lights to rotate in a circular motion. This happens every 15 seconds, creating the illusion of fireworks going off in the dark water of your pool.
The most popular fireworks fountains come in packs that let you create all kinds of different patterns. Though simple, they are very effective in making it a wonderful addition to your event.
10. Underwater Waterfalls
Underwater waterfalls are the last on our list of pool patio lighting ideas but not the least. The underwater waterfall is like a fountain but in reverse. How does it work? The illusion is created by running water through a series of small steps, creating the appearance that the water is flowing down from one level to another. The current illusion happens when light bounces off the ripples on the surface of the water, which gives it a white appearance that simulates a rushing waterfall. This effect is most pronounced when viewed from below.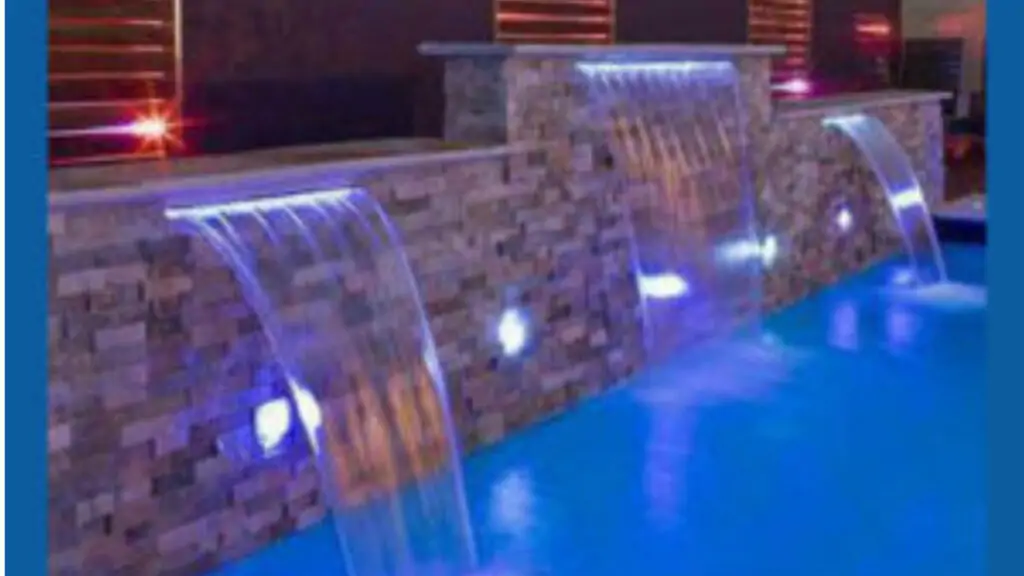 This idea creates a beautiful effect, with the rays shining through the water to create dancing shadows on the walls and ceilings around the water.
Conclusion
If you are trying to enhance your swimming area, as per the trends and pool lighting ideas today, then these will come in very handy. Don't forget to check with your local council for any precautionary regulations before buying or installing any of these products.