Top 11 Shower Niche Ideas for Your Bathroom Design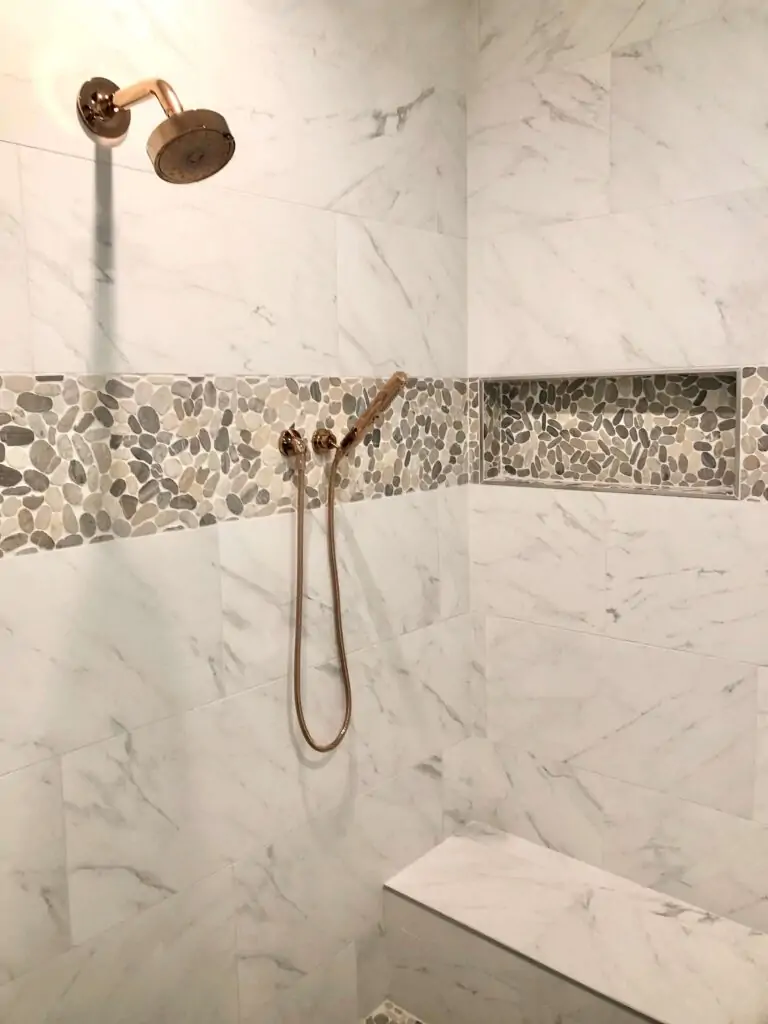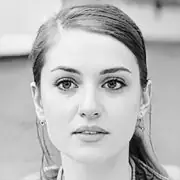 Not only are shower niches a modern-looking accent in your bathroom, but they are also a great way to add more space as well. All these skincare bottles of yours need a place to be stored, don't they? It is no wonder that shower niche ideas have become almost ubiquitous in modern bathroom design because they greatly help in making the most of your limited space.
These recesses are both extremely practical and help you create a truly appealing modern bathroom. Say goodbye to falling shampoo bottles from unsteady shelves and welcome a new era of comfortable shower niches! We've collected the very best shower niche ideas that will completely transform your bathroom area.
1. Placement
The placement and dimensions of the niche greatly depend on the size of your walls and how they can be utilized. For example, if you don't have a wide wall, you probably should go for the vertical placement to have more storage space. In the text below we discuss both the horizontal and vertical options as well as how to combine them.
Vertical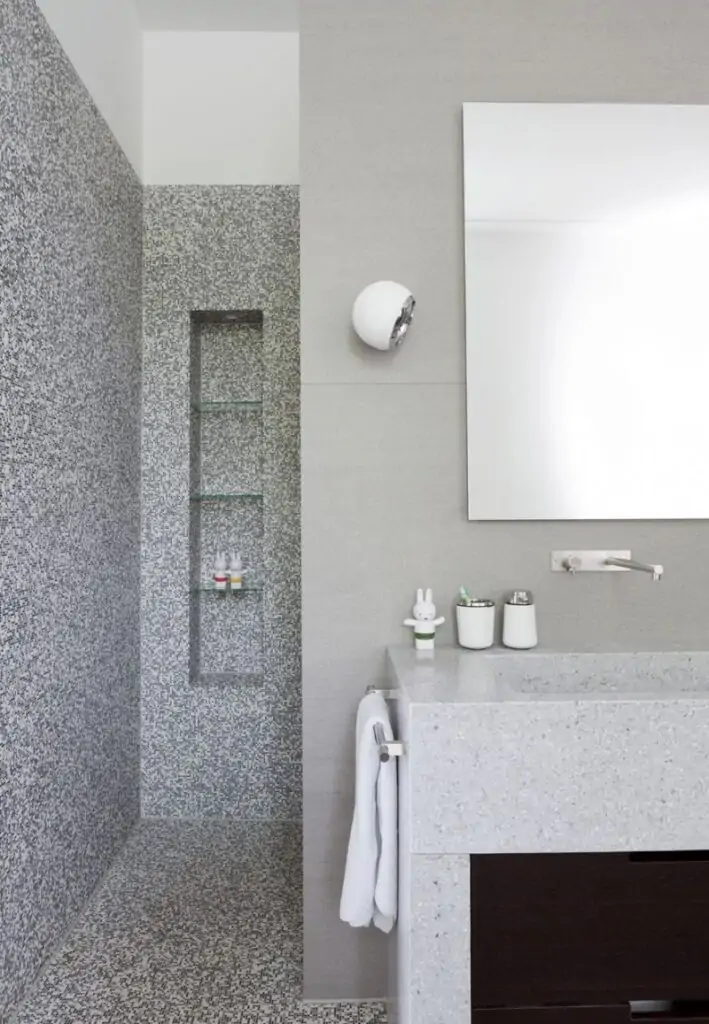 A vertical option is a good solution if you have a small shower stall. A tall recess with a couple of shelves will be a nice-looking addition to your bathroom. If the sprinkler is in the middle of the wall, you can add two identical vertical shelves on each side of it. You can sort and separate all your bottles into neat batches on each shelf, which is especially significant if you love being organized.
Horizontal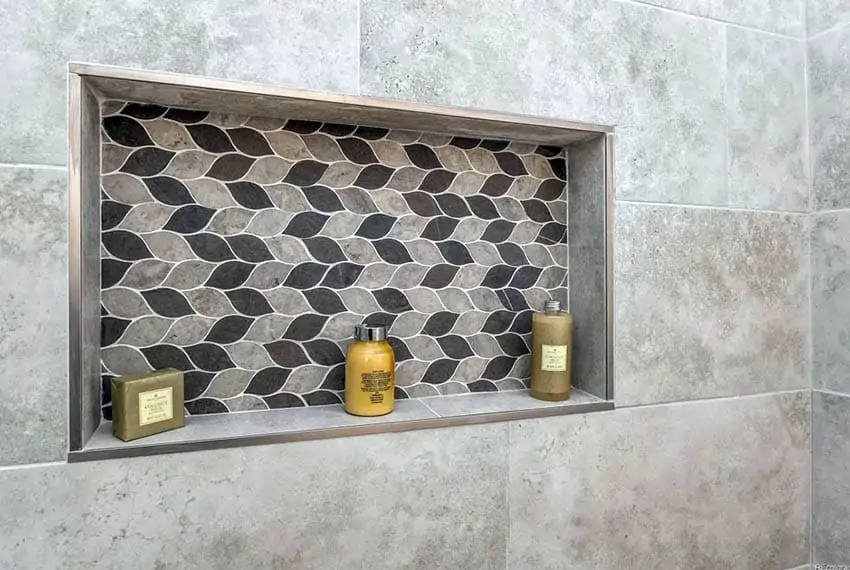 Do you have a wide wall? Then go for the horizontal shower niche ideas. All the items will be displayed in the same eyesight, and you won't need to stretch your arm every time you try to reach for the higher shelves. Install such a recess in the area where you can quickly get the bottles. Also, if you don't like adding contrasting colors and like it when the recess blends with the wall, use the tiles of the same color, and your recess will look seamless.
Various Heights
Of course, you can choose between horizontal and vertical options, but if there is an opportunity, why not combine them both? A recess that combines a vertical and horizontal design will have enough room for bottles of various heights. This gives larger bottles plenty of height while allowing for the placement of smaller bottles and soaps on the smaller shelf. With the help of this trick, you can place any bottle in your recess and not worry that some unusual forms won't fit.
2. Choose Contrasting Colors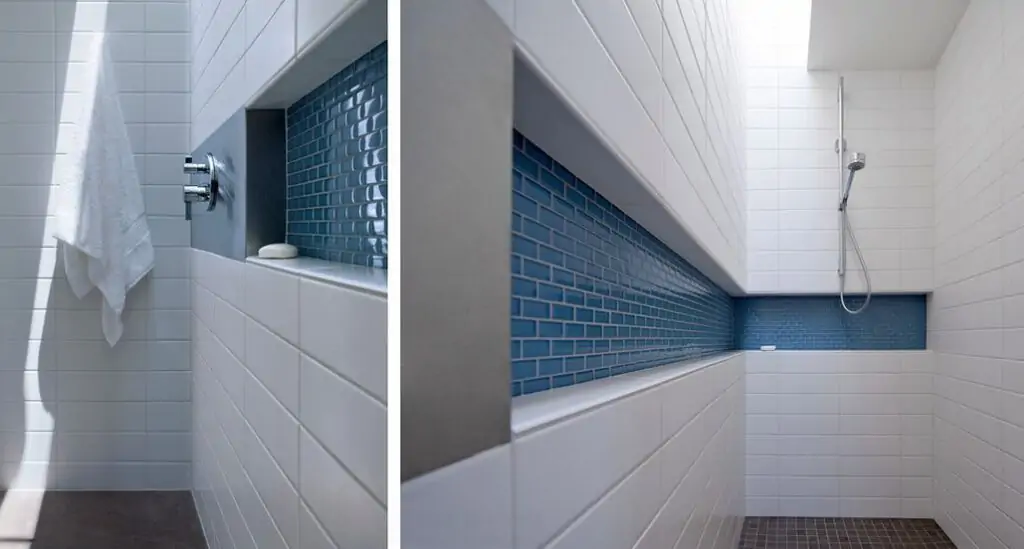 If you like to have a contrast between the wall and niche, then you might want to choose tiles of different colors. Be sure to find neutral bathroom niche tile ideas that can easily match anything. For example, you can pick whitish wall tiles and choose a black niche in contrast. It will help to create more depth and get a truly sophisticated appearance.
3. Blend Your Niche In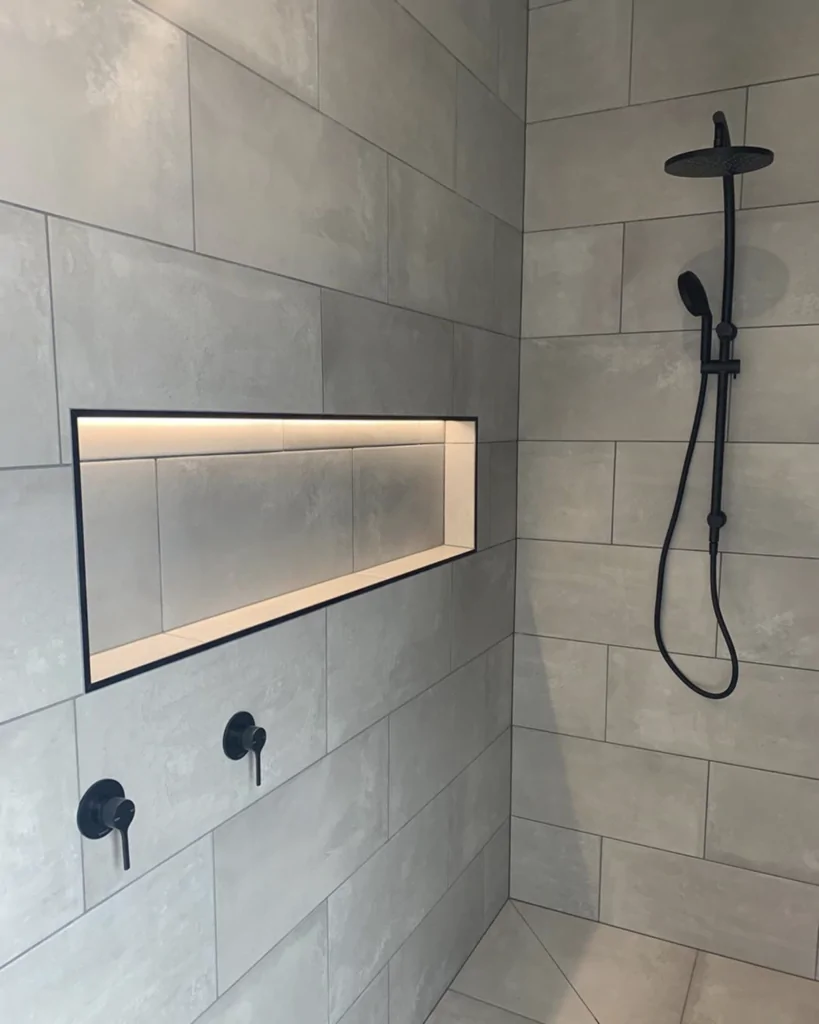 Consider utilizing the same tile on the walls surrounding the recess if you want your shower niche to blend in and not differentiate. You don't have to go too elaborate when creating a new shower niche. If you like the modern, minimalist style, you can create a recess that blends in with the background.
What's more, you can conceal your stuff in a tiny wall recess or a dark cubby that fits in with the shower's overall gloom. Only people in the shower can see it and use it if you arrange it in such a way that it is hidden from view from the outside.
4. Nice Frame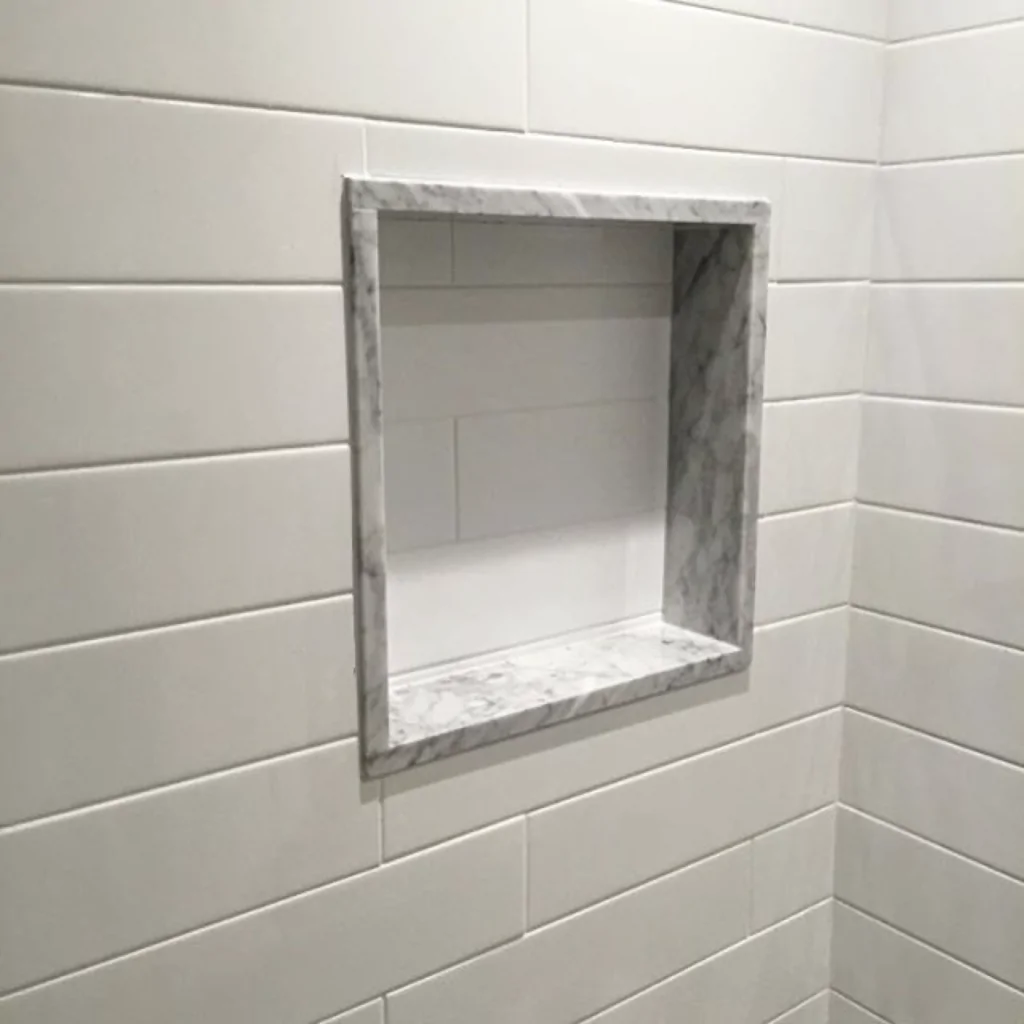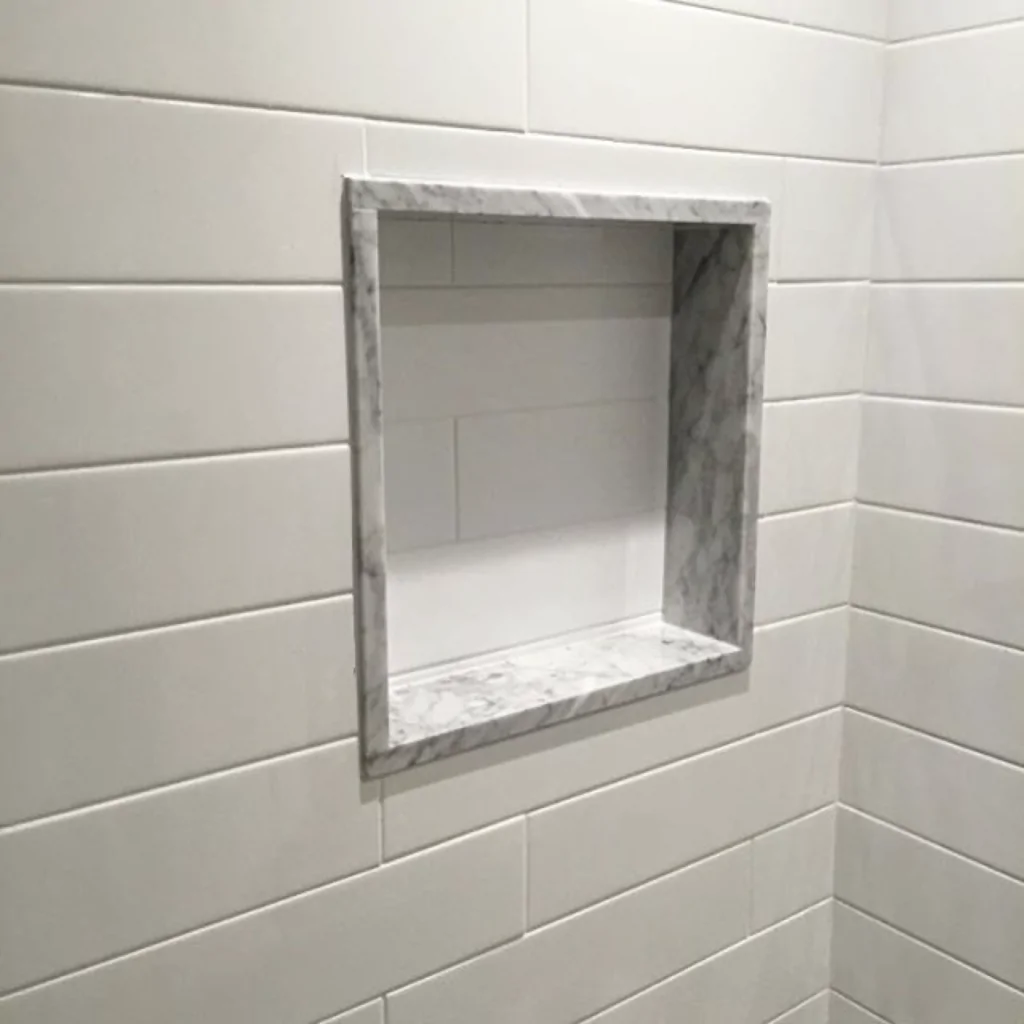 Why not make every part of your house a little bit artistic? Details matter, so you can frame the recess in order to make it more fancy and eye-catching. What's more, this is an excellent option if you are looking for one of shower niche ideas with a DIY twist because you can easily make the framing yourself. So, if there is an opportunity, why not make your recess look like a picture?
5. Experiment with the Shelves
If you like creative and extraordinary ideas, then indeed, experimenting with textures is what you need to try your hand at. Different types of shelves can completely change the appearance of the recess. Also, as the niches will be exposed to drops of water, it is essential to choose a material that will last for a long time. Here are a couple of ingenious shelving ideas.
Wooden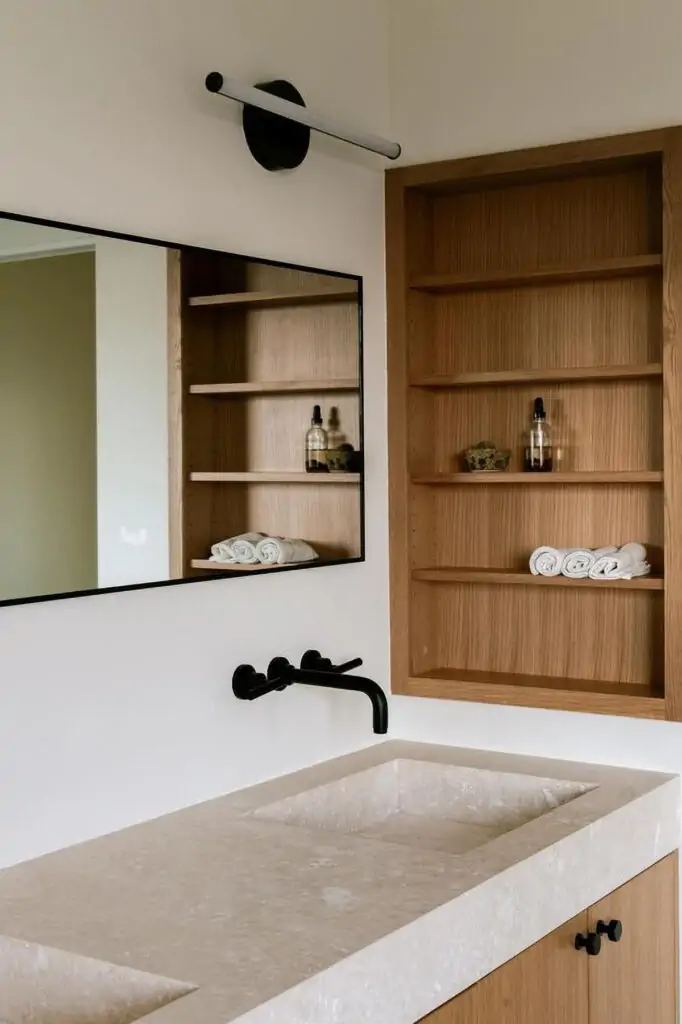 Wooden shelves bring in warm natural tones. Teak wood is a fantastic material that is suitable for moist environments due to its water resistance. You won't have to change the shelves regularly and worry whether they will get ruined if an occasional drop of water falls on them. What's more, wood is always a great idea if you want to make a statement.
Glass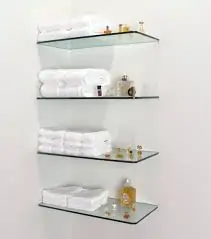 Glass shelves are one of the great options if you want to spend as little time as possible cleaning them. Also, it is more or less a budget option, so you won't need to spend much money on it. Another significant advantage is that your bottles will seem to be floating in the air since glass shelves are almost invisible.
6. The Main Statement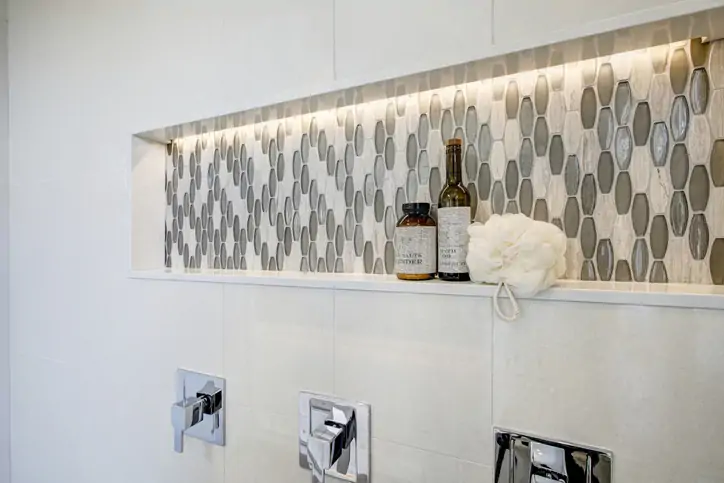 Shower niche ideas don't have to be boring; what's more, they can be the main statement in your bathroom. You can make the recess the most creative part of this room by employing some unusual design ideas.
The shelves in the recess can be a place for something more heart-warming than mere bottles, so think about putting other water-resistant stuff on them as well. For example, you add some decorative and artificial green plants. Alternatively, you can consider choosing especially colorful and creative tiles for this spot.
7. Lighting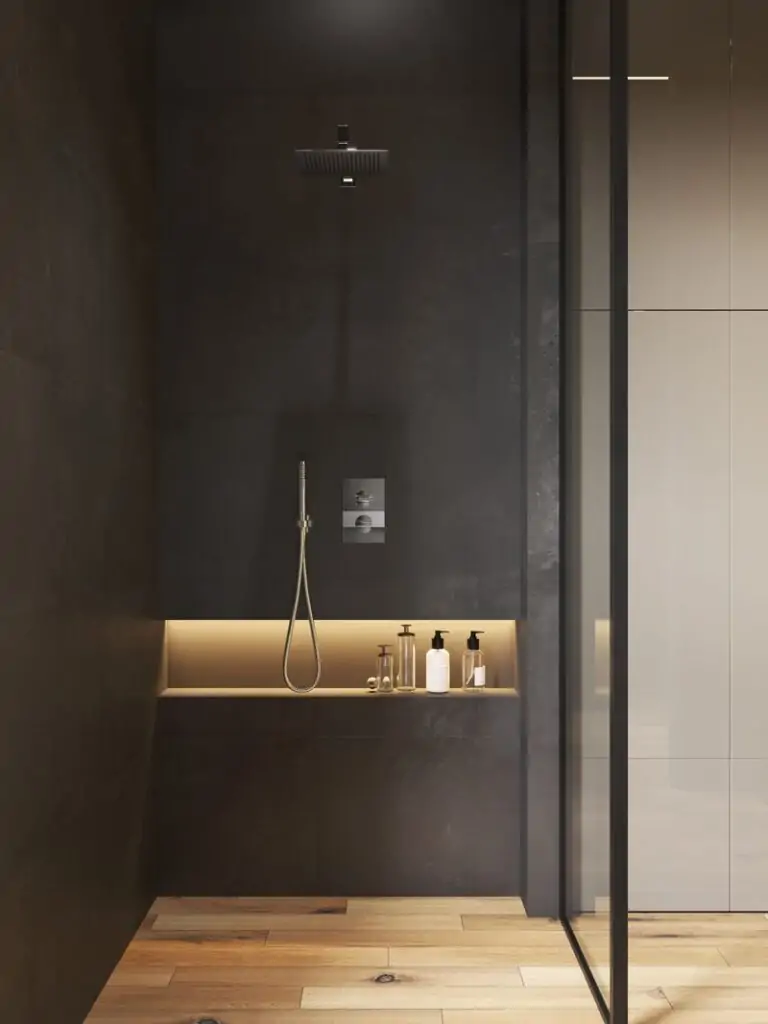 Need one of the more dramatic and mystic shower niche design ideas? Then consider integrating lighting into your design. You can have recessed lights installed inside the shelves. Make sure, though, that they are water resistant so that you avoid any electrical issues. Your shampoo bottles will feel like an art object, as they will be – both literally and figuratively – in the limelight. Also, you will always be able to find your water bottles, which is a good thing indeed.
8. Play with the Tiles
Tiles are the main design feature in your bathroom and thus have the capability of changing the whole look of the area. You can choose bright colors to make the room a place or pick more minimalist colors to make it a place of calm and tranquility. Here are some ideas for showers with different tile options.
Pebble Tile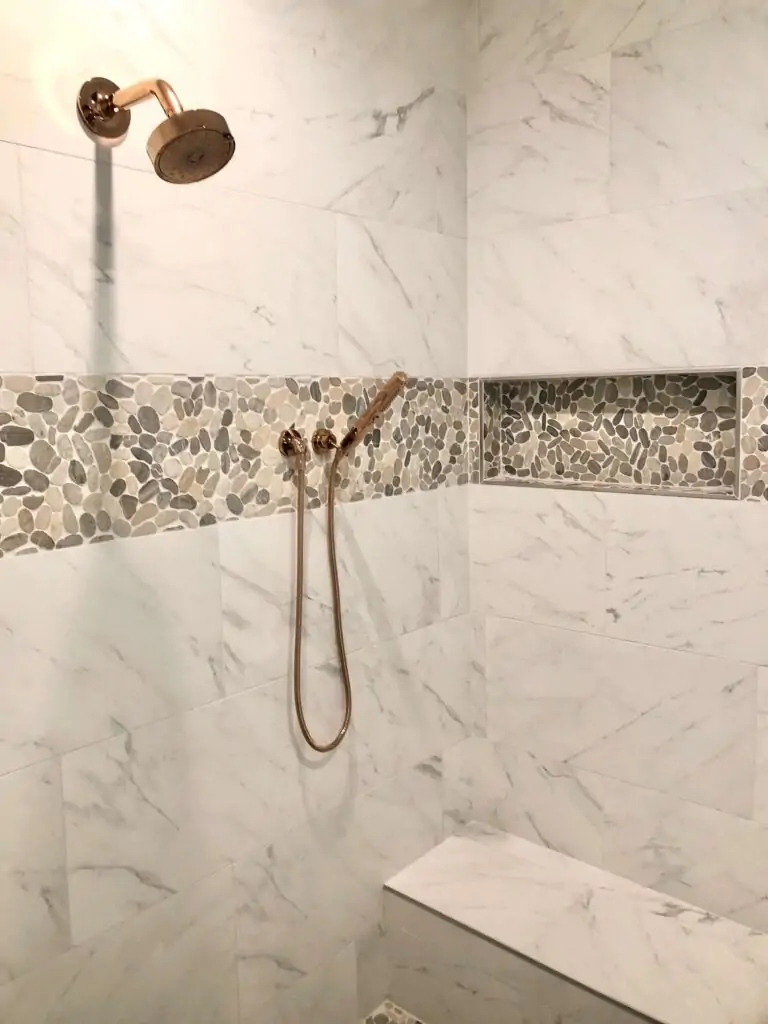 Pick an off-white wall and combine it with pebble tiles for the niche. The recess will perfectly blend in with all other design elements and create a playful tropical atmosphere. What's more, as these tiles are already a statement, we would recommend choosing simple shelves to set them off. To match your niche, you can also use the pebble style for the floor.
Small Tiles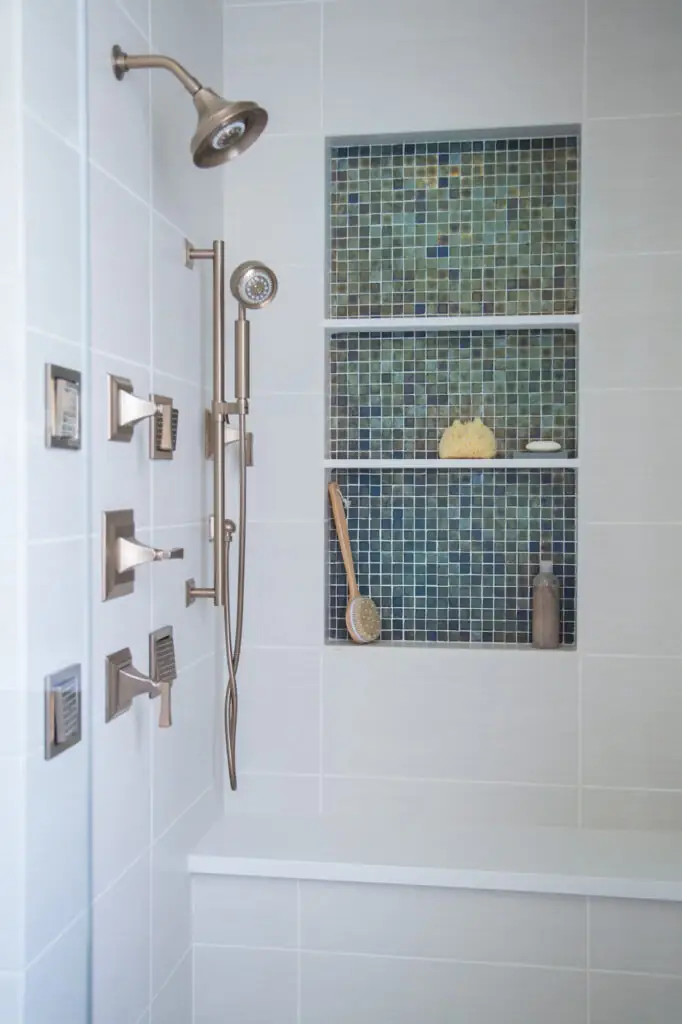 A small blue mosaic tile will give your bathroom an aquatic appearance. Use a couple of different underwater colors to boost the impression. What's more, you can combine small tiles with larger ones: in this way you will create a major contrast. Isn't it quite a creative shower niche idea?
Same Tile Pattern
Choosing the same tile pattern seems to be one of the most straightforward designs and the less expensive options. Such bathrooms will have a very minimalistic and balanced look. Make sure the tile is perfectly aligned and there are no imperfections. The aim is to design a spot that appears well-built, balanced, and skillfully crafted. While it might be difficult to pick the right tone for your tiles, if you take your time and prepare ahead of time, this job is both doable and worthwhile.
9. Minimalistic Design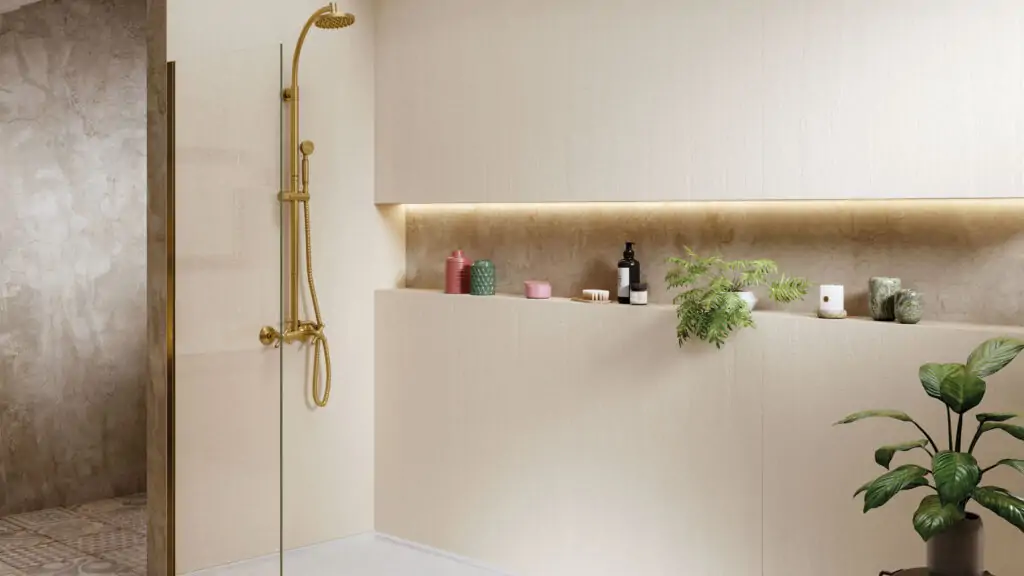 You can never go wrong with a simple and minimalistic design. Such spots give a clean and sophisticated look to the whole bathroom. To make the place stand out a bit, use a marginally different color there. It's not really necessary to use elaborate decor to add personality and meaning to your bathroom's space. Make sure that the area is practical and gives you all the functionality you need.
10. Multiple Options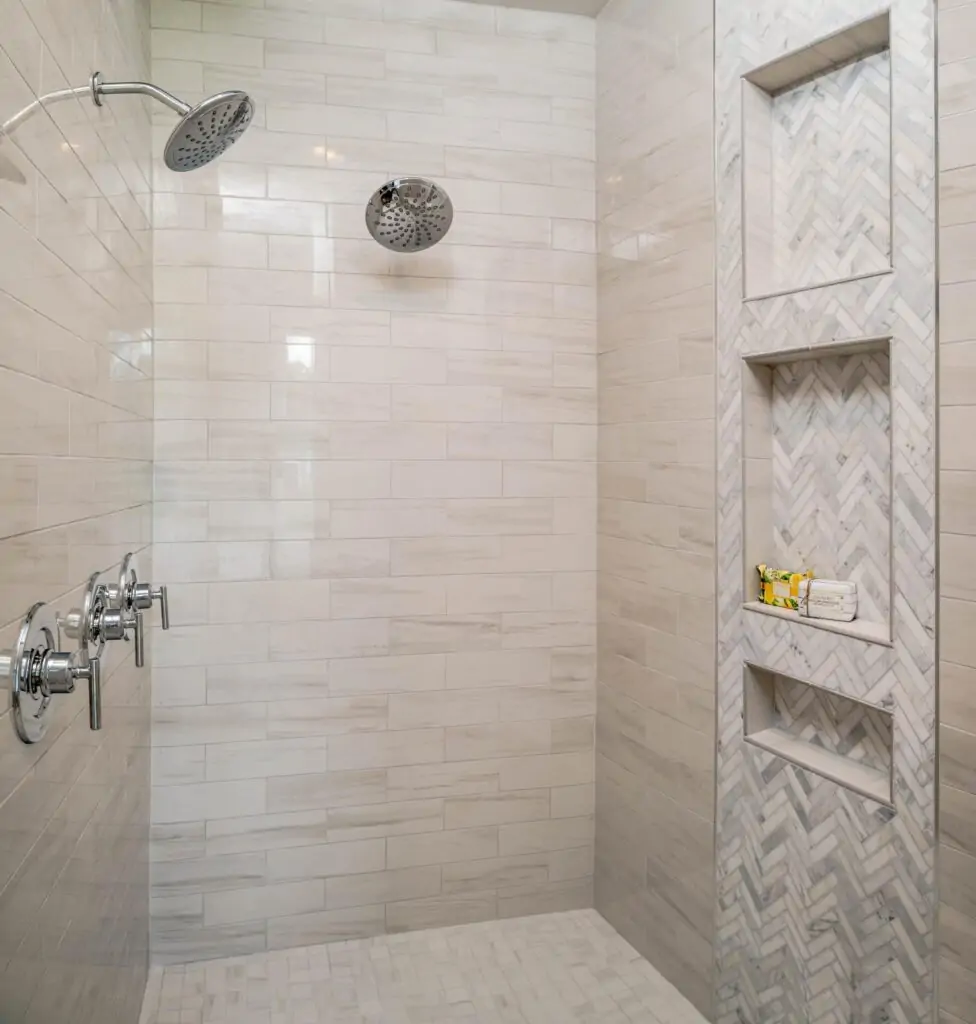 Why not have several decorative and practical shower niches if you have enough room for them? They can be easily integrated with the design, and what can be better than having several tiny recesses for different types of shampoos? If you choose to have a couple of small square niches, you can use them not only for the bottles but for decorations as well.
11. Corner Shelving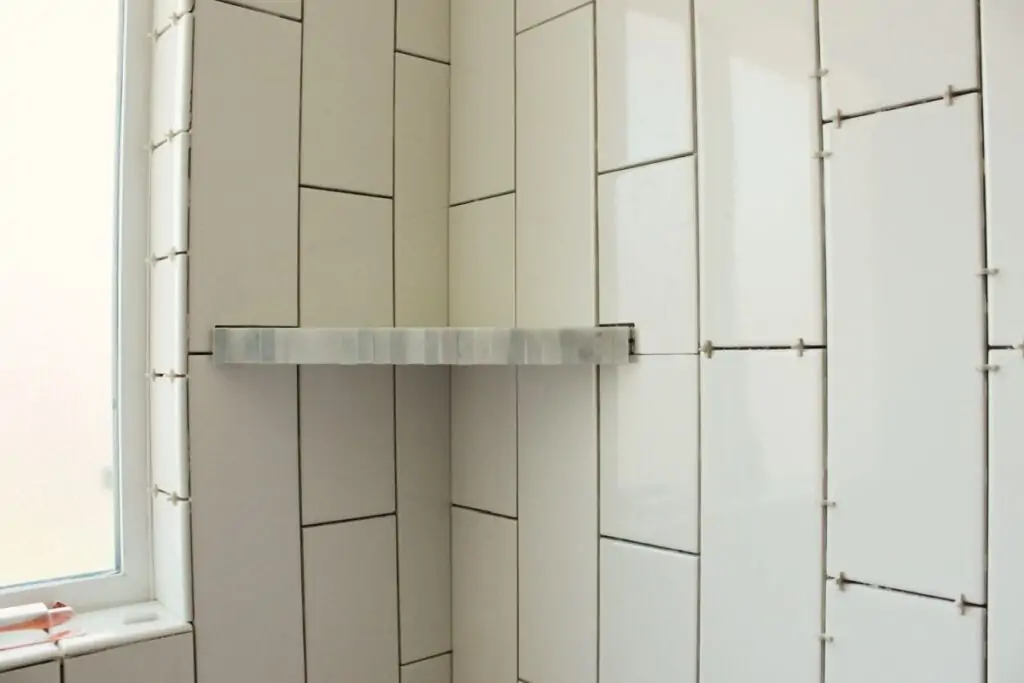 If you have an extremely small space in your bathroom, you will greatly benefit from corner shower niche ideas that will help you make the most out of the tiny area. They won't take much space and will be enough for all your bottles. Simple yet functional, this corner shelf has plenty of room for the essentials. Despite being hidden, it is easily accessible. You can select tones and hues that match the color of the walls or use contrasting ones to give your bathroom a vibrant appearance.
Final Words
Any bathroom would benefit from having a wall niche since it adds style and storage space. When it comes to creating shelves, there are really no strict guidelines. It's okay to mix and match patterns, colors, and materials. Anything is acceptable as long as it is created with care and skill. Use our review of shower niche ideas, and you'll be able to make the most out of your bathroom space.