Stylish Wall Clock Decoration Ideas Everyone Should Try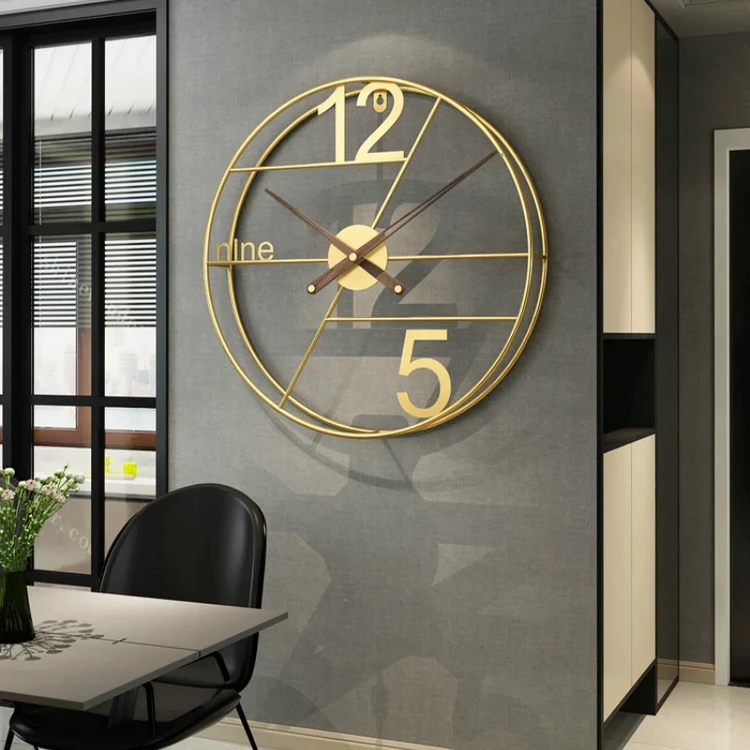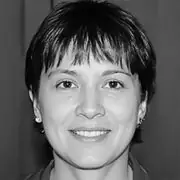 Although wall clocks are often overlooked, this shouldn't happen because clocks serve as both practical timekeepers and decorative elements in any home. When used as a statement décor piece, wall clock decoration ideas can be enough to take your lackluster walls from drab to fab in an instant.
Then again, their practical function means clocks can help you maintain your schedule, whether you work from home or simply want to keep track of time throughout the day. With a wide range of styles to choose from, adding the best decorative wall clocks into your home decor will be a great way to add timeless — pun intended — charm to your area.
Discover some of our top wall clock home decor ideas that look good in any home, regardless of its size, style, and space.
Industrial Style Pieces Create Dramatic Charm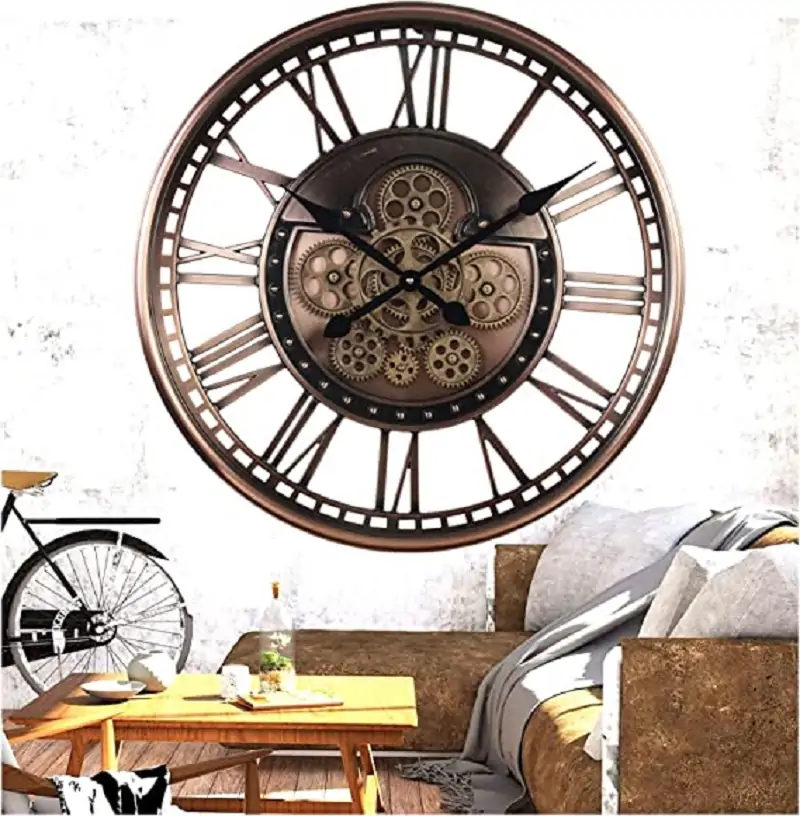 If you need something that adds dramatic and futuristic fantasy elegance to your industrial home, one way to do that is to use an industrial-style clock. They typically feature rustic materials such as metal and an engine-like design, which gives them a rugged and unfinished look.
This type of clock can add a unique and striking focal point to any room. Then again, the most appealing way to get them to create the effect you seek is to pair them with other industrial elements, from metal lighting fixtures to concrete accents and vintage or repurposed decoration accessories. With various styles and materials to choose from, there are perfect industrial clocks out there for any home.
DIY Wall Clock Décor Ideas with Light Fixtures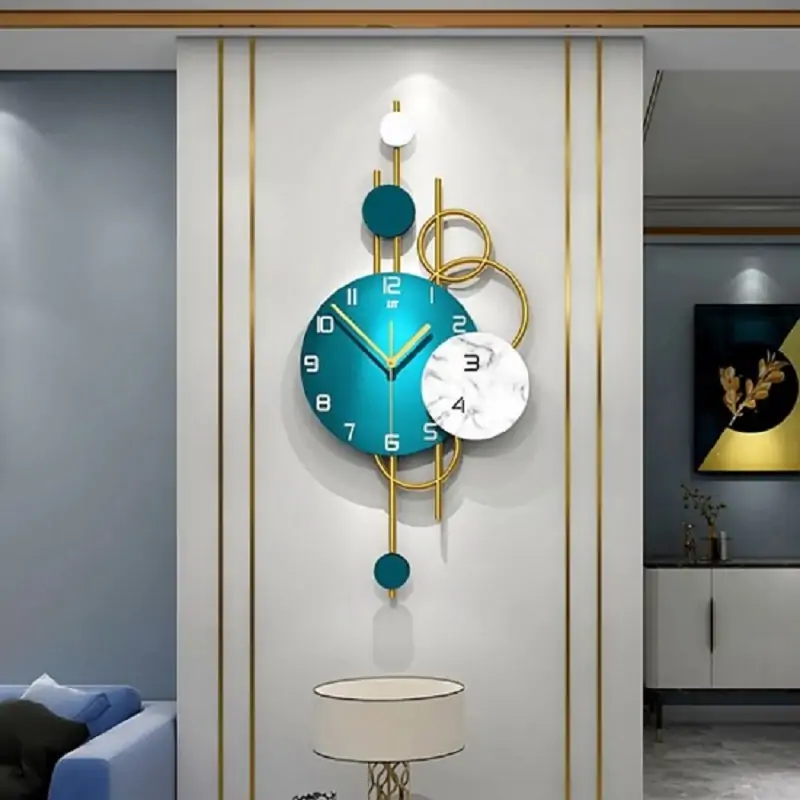 Love how Christmas lights make a place look and feel ethereal? You can also achieve this by using simple light fixtures around the timepiece to create a beautiful focal point in your home. This type of DIY doesn't require any advanced skills: all you really need to do is find the right place for your lamp.
Illuminating the walls is a unique and stylish way to add ambiance to your room. Depending on the nature of the decoration fixtures you use, the results you get from this idea may be minimalist or bold.
More than this, strategically placed lamps will help you create a warm and inviting atmosphere, especially if you want a romantic theme. Plus, you have options. From dimmable bulbs to string lights, you will find various lighting fixtures that suit your style. Just find the perfect decoration piece to seamlessly improve your interior decor.
Gallery Walls are Still in Trend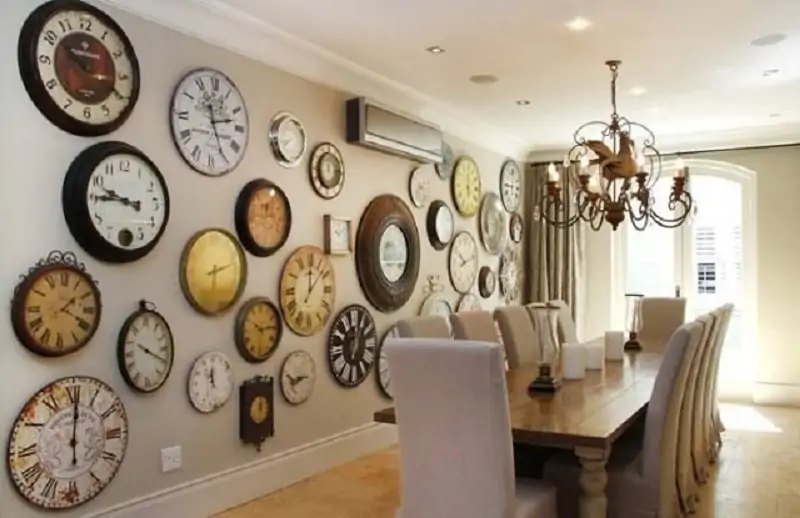 Gallery walls are a unique way to add interesting decor to your space. While people use pictures, art accessories, mirrors, paint, and even printed quotes to make gallery walls, you can make your home stand out with clocks.
The best part is that gallery wall clock ideas will tie the other elements in the house together to create a cohesive look. Then again, the best way to achieve this is to get your clocks in different styles, colors, and sizes, so you can create a beautiful feature wall that perfectly matches your taste and style.
Pro Tip: Always consider the placement and size of the clock first before other elements. Large clocks should always be placed at the center to create a centerpiece within your feature wall that draws attention at first glance. Then, use smaller clocks for a more cohesive look. Also, ensure you properly hang the clocks so that they don't look out of place and disrupt the overall balance you desire.
Grandfather Clock Decorating Ideas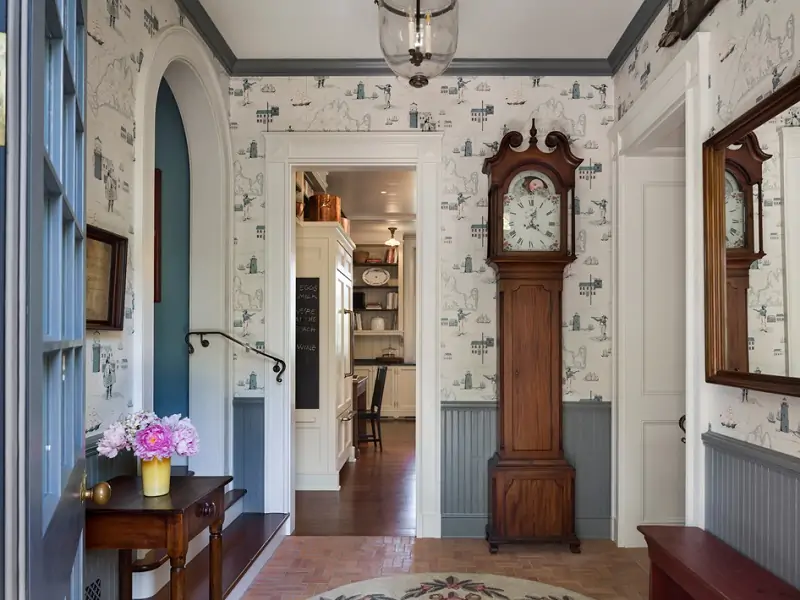 Grandfather clocks are tall, freestanding clocks that typically feature a wooden cabinet and a face with Roman numerals.
They are one of the best farmhouse wall clock décor ideas anyone can use for decoration in their country house because they introduce ornate and intricate carvings you won't typically find in modern homes.
It needs to be said, however, that decoration pieces like these have a traditional style that some people don't like in their modern homes. Still, they make a good décor addition to any room, as their classic style promises a timeless elegance.
Add Bold Textures with a Geometric-Styled Timepiece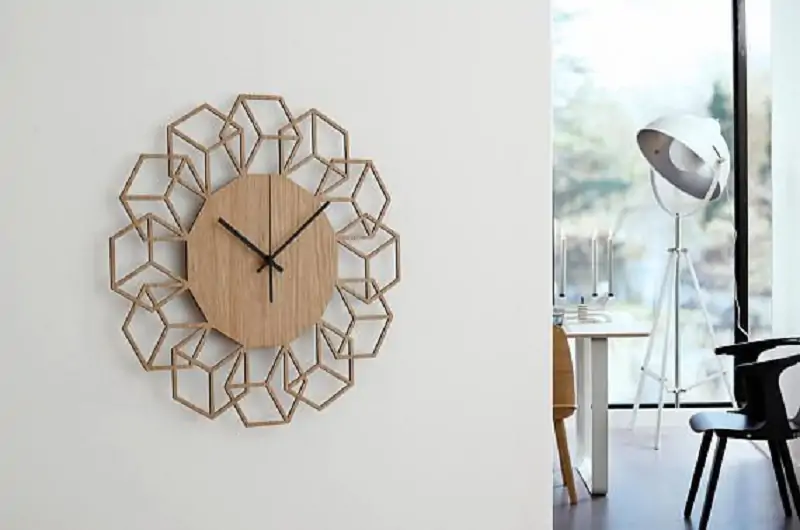 Is there a timepiece that is ideal for today's digital age? If you are tired of timepieces that look similar and offer the same decorative appeal, it is about time you used a geometric clock for decoration.
Geometric clocks have various styles, patterns, and sizes that make them stand out. Also, their bold colors and clean lines give your room a catchy texture, especially with white-painted walls.
More than this, they fit into contemporary, minimalist, or industrial homes. With a few basic materials and some creativity, you can create a stylish accent that makes your space the talk of the town.
Place It on the Center-Stage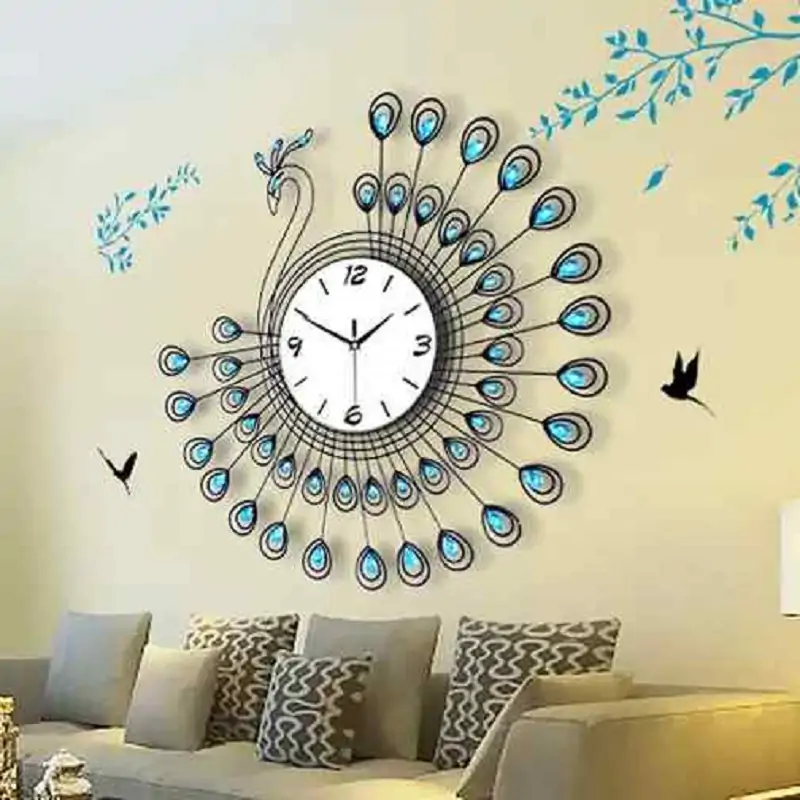 If you are looking for minimalist wall clock design ideas that win your guest at first glance, then a center-stage placement will be a great option.
Unlike large traditional grandfather clocks, an impressive wall clock (8 to 10 inches) is sure to make a stunning statement piece. Just fix it in the center, so it takes the stage, but with a simple and classic feel every beautiful work of art possesses despite their functional purpose.
This idea is perfect for those who prefer a clean and toned-down look in their home. Center-stage yet minimalist ideas like this will add elegance to your space without overwhelming it.
What's more, if you are good with a brush, you can add a painting to your extra-large statement piece — just like they did in the photo. Isn't it a great choice for your room's decoration?
Use Photo Frames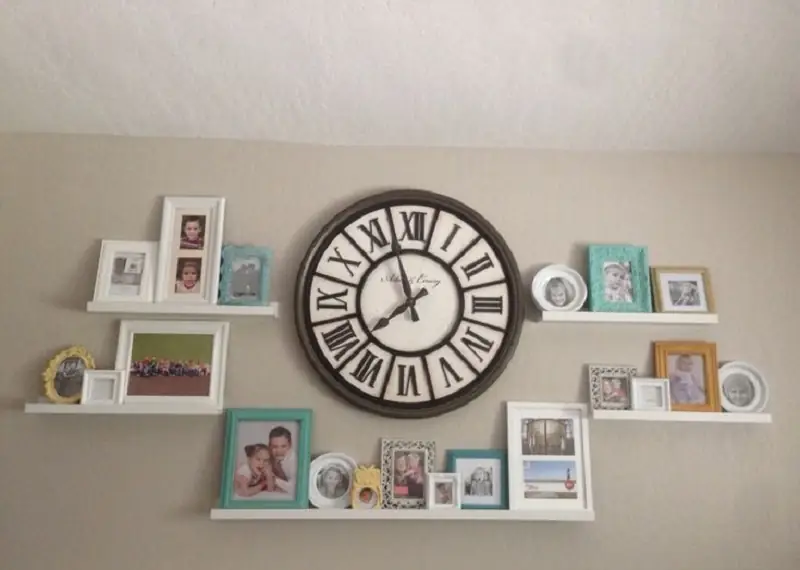 Don't know how to decorate a wall clock at home? The easiest way to do this is to get crafty with photo frames.
One of the latest trends homeowners use to create truly stunning feature walls with a clock in their home is to place different-sized photo frames around the clock to add inspiration and appeal. Trust us, it actually works.
The best part of this idea is that it makes your house feel homier while allowing you to add a personal touch that resonates with your style.
Beach-Styled Textures Look Stylish in Modern Homes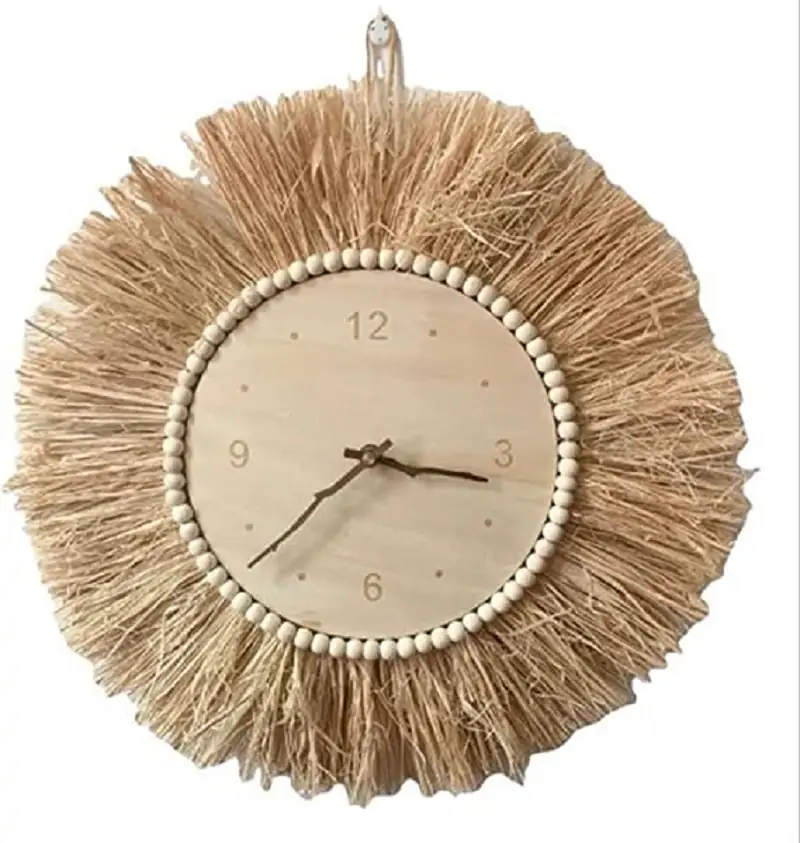 A carefully crafted and strategically placed art piece can significantly impact the overall look and feel of your home's interior space. If you are a sea lover, then tropical materials are the real deal. So, if you want a beach-themed design, use a Seagrass clock.
Seagrass clocks feel airy and add a tropical flair to any home. Just make sure to choose neutral tones to get the perfect finishing touch that screams attention.
FAQs
Find answers to some commonly asked questions here.
Are Wall Décor Ideas with Clock Still in Style?
Wall clocks have long been a staple decoration piece for many homes, providing both functionality and style. They are a great way to keep track of time while adding a decorative touch to a room.
However, with the introduction of digital devices and smart home technology, traditional clocks have become less necessary for keeping time. But that doesn't mean they have lost their place in our homes. They still serve as a unique and creative way to add a focal point to your room.
Which Wall Should I Hang My Timepiece On?
The most common wall people hang their clocks on is often the one opposite the door entrance. Still, which wall you place your timepiece on should depend on your specific needs and preference. If you prefer a corner space, then place them there but still keep in mind that a center-stage placement will attract more attention than corner positions.
How to Add Decoration Around a Wall Clock? 
The key to decorating around your clock is to find a balance between your timepiece, its placement pattern, and the other elements in the room. Experiment with different styles, sizes, colors, and arrangements and see what works best for your room. Most homeowners prefer to create gallery walls, add photo frames or use light fixtures to achieve the results they desire.
Conclusion
Wall clocks have different styles and sizes. Hence, knowing which clock should be on which wall, especially to create decorative accents, can be challenging. A good trick we recommend is to use minimalist or bold timepieces that fit your style, then place them strategically with either a photo frame or lighting fixture around it, create a gallery feature, or put them on the center stage, opposite the door.
Whether you choose to add dramatic charm to your space with an industrial clock or prefer a beach theme and traditional grandfather designs, these wall clock decoration ideas will help you streamline your space while adding visual appeal with ease.