Imaginative Wine Racks Ideas for Your Prized Collection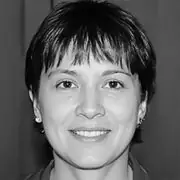 A glass of champagne may be a relaxing way to cool off after a tiring day, but while collectors love their wine, most homes lack the convenience of a wine cellar, making wine collection a challenge. Luckily, there are plenty of creative wine racks ideas that will make storing your alcoholic beverages possible even if you lack space.
Homemade wine racks save space while adding some decorative accents to your dining, kitchen area or living room. Besides, they keep your liquors safe from possible damage due to cluttering.
Whether you own an extensive collection or keep a couple of bottles, continue reading to find some of the best homemade wine rack ideas for a small kitchen to keep your bottles organized.
1. Create Built-in Storage on Walls…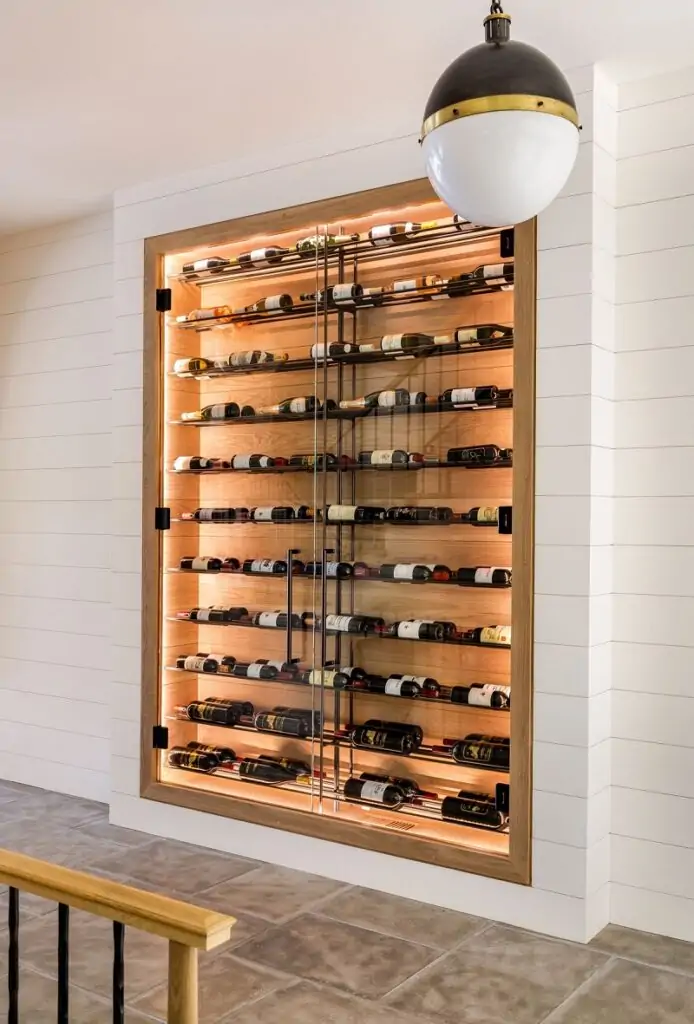 Space is the biggest hindrance to storing homewares and valuables. If you lack space, a built-in wall rack might be the perfect storage solution for your liquor bottles.
While the biggest advantage of wall wine storage ideas like this one is that it is a space saver, another merit of this storage solution is that it makes your vino bottles look beautiful.
This built-in wall design adds easy elegance to your kitchen area thanks to its unique shelf patterns, and with its location on the wall, it ensures easy access to your alcoholic beverages and also guarantees a permanent stowing space so your favorite bottles won't get damaged.
2. …Or Try Wall-Mounted Designs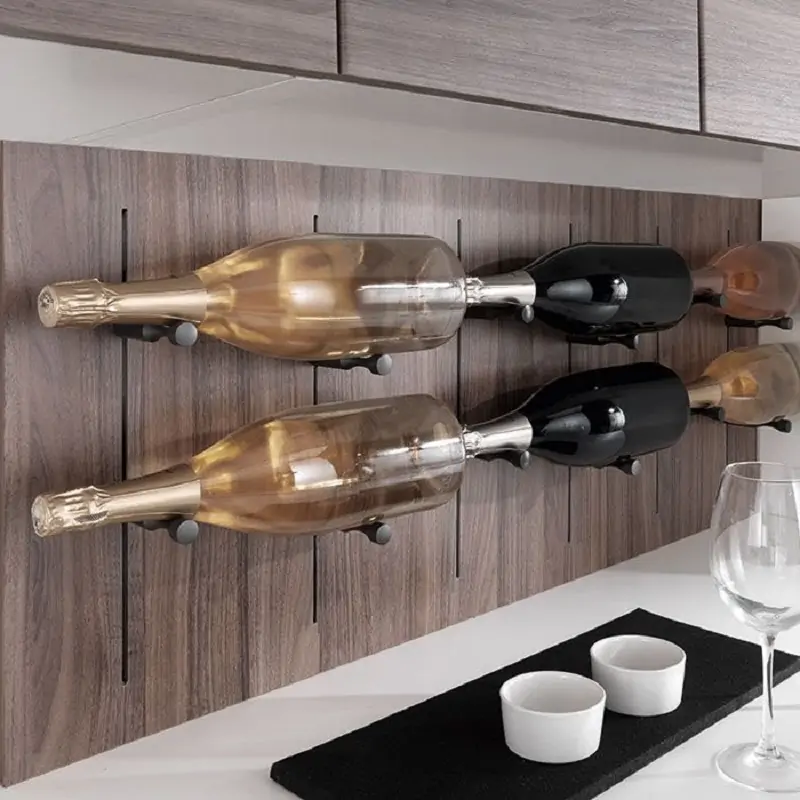 Besides a built-in storage option, organizing your liquor collection will be a breeze with wall-mounted storage options.
The best part of this idea is the decorative accents it adds to your living room. This wall-mounted design hangs seamlessly in any position you place it due to its smart mounting system.
So, if you intend to create a visually appealing feature wall with your wall mount shelves, all you need to do is place two or more racks on the wall, ensuring their placement pattern varies (alternate horizontal and vertical placement patterns). Another good feature of this rack is that it sits sturdily against any wall.
3. Create a Cellar Style Design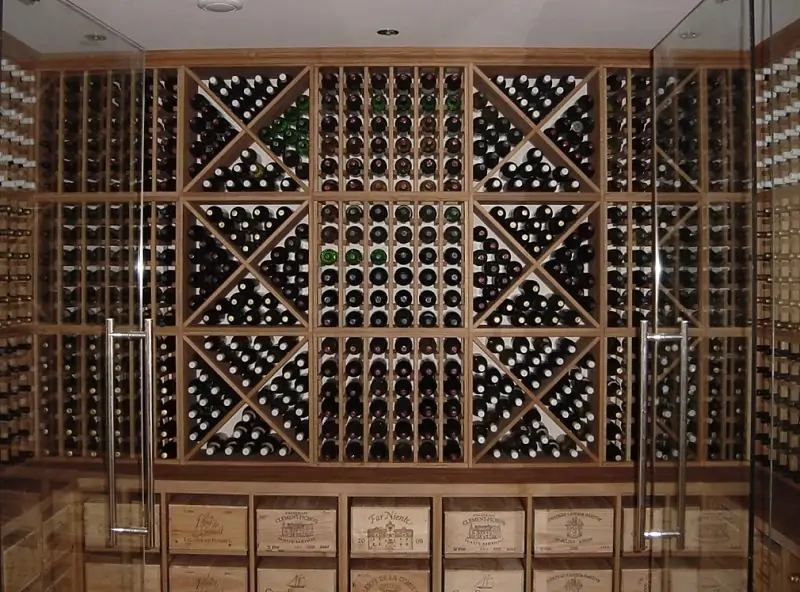 A cellar is the best way to store alcoholic beverages. But, since your home lacks this option, wooden wine rack ideas will make imitating a cellar-like design possible. The only drawback of this idea is that it may not suit small spaces.
If you have enough space in your basement and this design idea suits your taste, consider converting a small part of the underground room into a small cellar. With a wooden rack fixed on one part of the wall, you will be able to make a storage space for your liquor bottles.
Still, you need to ensure that the basement is airtight when applying this idea so that your vino bottles are kept in the best preservative conditions.
4. Minimalist Storage for Tabletops and Countertops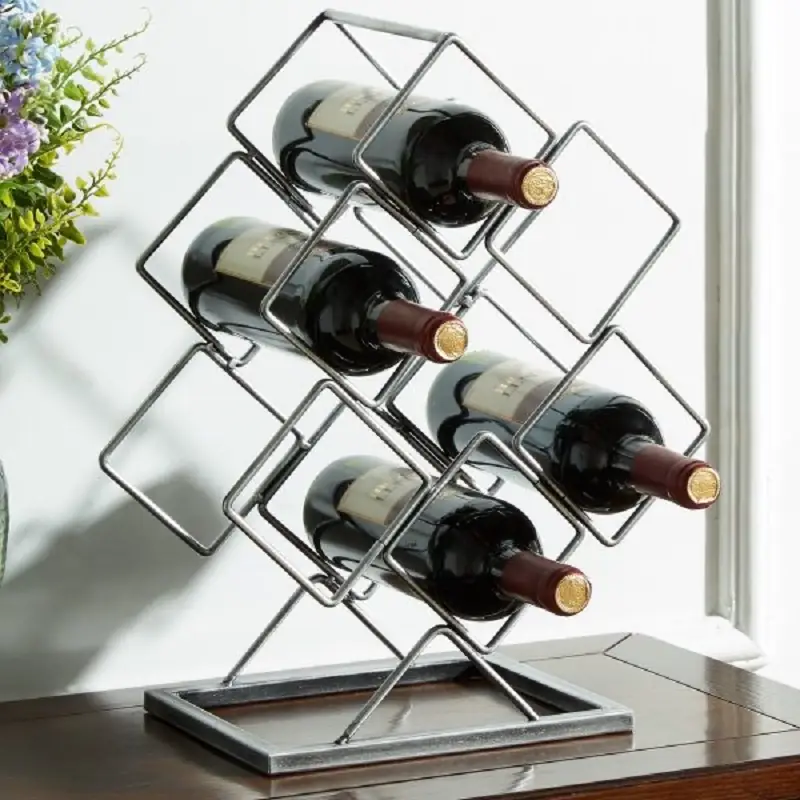 Storing alcoholic beverages as far as the basement means accessing your vino bottles will take time. This minimalist organizer makes your task effortless.
These wine rack ideas for small spaces will keep your small collection close at hand when you need it. Then again, the major benefit of this rack is that it fits well on spaces like tabletops and countertops. Added to its simple, easy-to-access, and space-saving design, your bottles will look incredibly good.
5. Create a Stowing Space Above or Below the Fridge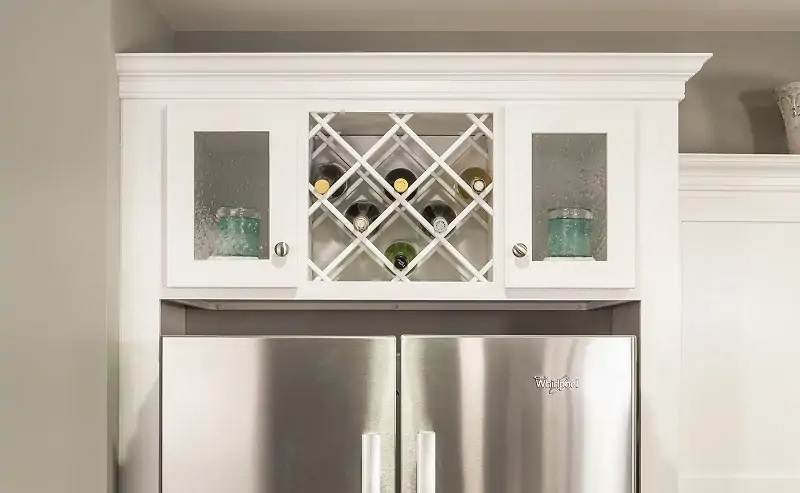 Placing wine racks in the kitchen will almost seem impossible, especially if your kitchen lacks space. The good news is that if you have a fridge that stops a few inches below the ceiling, there won't be any need to fret!
This smart storage idea displayed in the picture proves that even the smallest and weirdest spaces have their benefits. Get your wooden boards, nails, measuring tape, hammer, and cutting saw to make this storage space around your fridge.
6. Design a Foldable Ladder Rack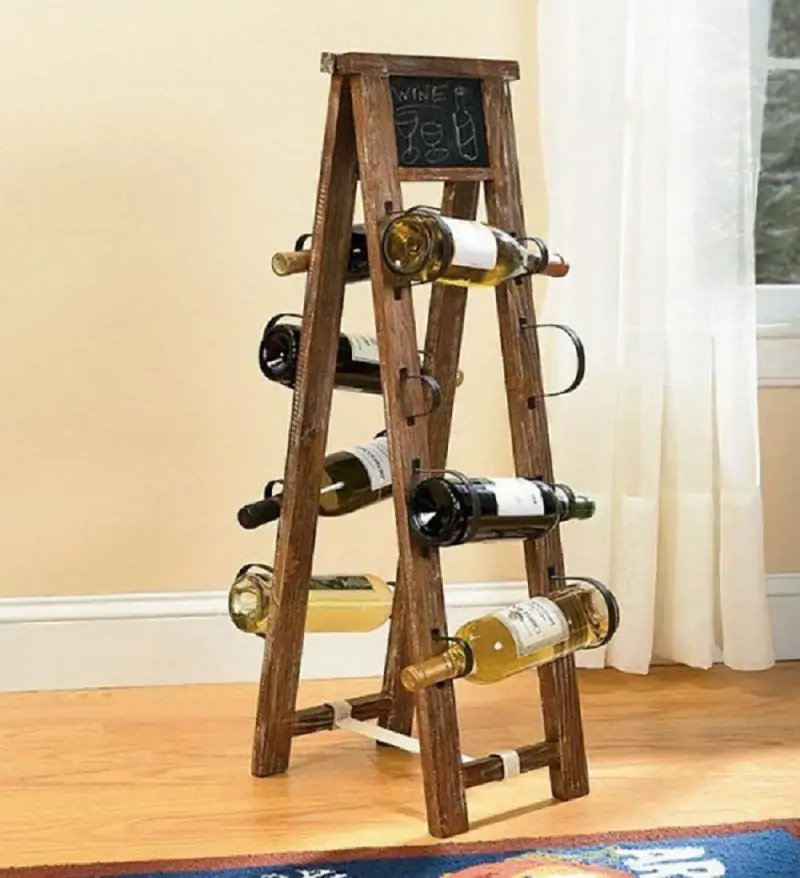 A ladder may be used for construction and maintenance purposes, but it can also make an eye-catching and fun statement in your living area.
A foldable ladder rack like this one won't take up much space, but it still works well for proper organization. Then again, the best feature of this rack is its foldable design, which allows you to either leave the rack standing when folded or resting on the wall when closed.
Besides this, the small size of this ladder means it can help you store a small bottle collection in your living room, kitchen, or dining area.
7. Get Savvy with Kitchen Cabinets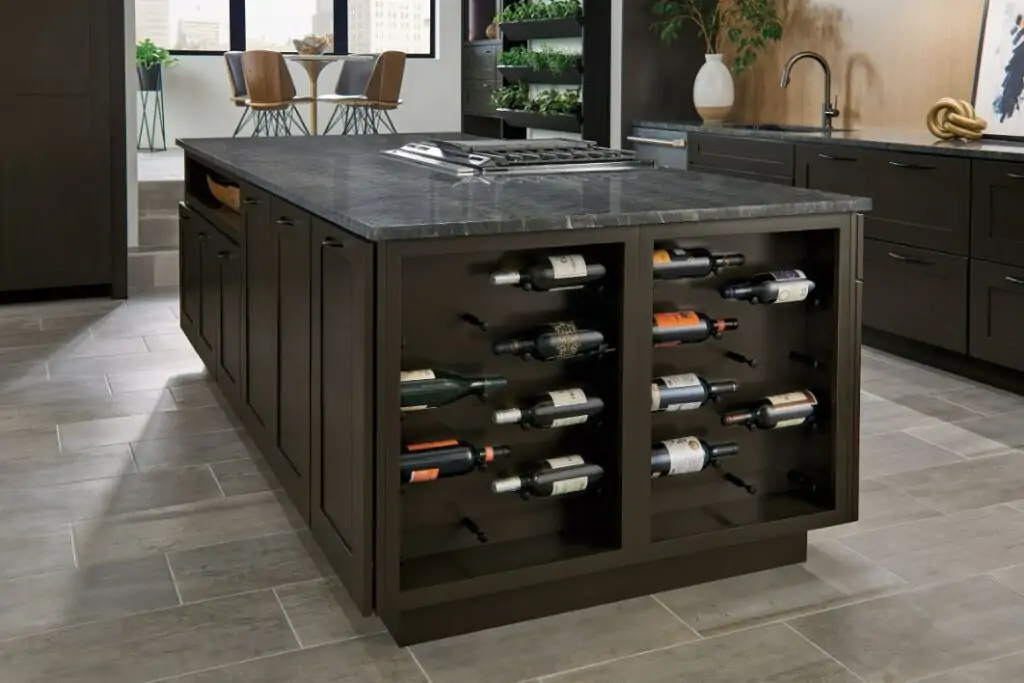 Built-in or wall-mounted liquor storage units are space-saving and beautiful, but kitchen cabinets are budget-friendly and time-saving. How come? The picture provides a simple answer.
Cabinets are technically a must-have for every (including a very small) kitchen and living room. With kitchen cabinet wine rack ideas, you won't have to worry about a DIY approach, which may not cost much but may be time-consuming to build. So, if you have cabinets in your house and are out of space, consider using a section for storing wines.
These wine rack ideas for a small kitchen look exceptional with the alcoholic beverages firmly settled in their places. All you need is to add some wooden boards to refine the look of the cabinet and make it liquor-storage-worthy.
8. Create Geometric Accents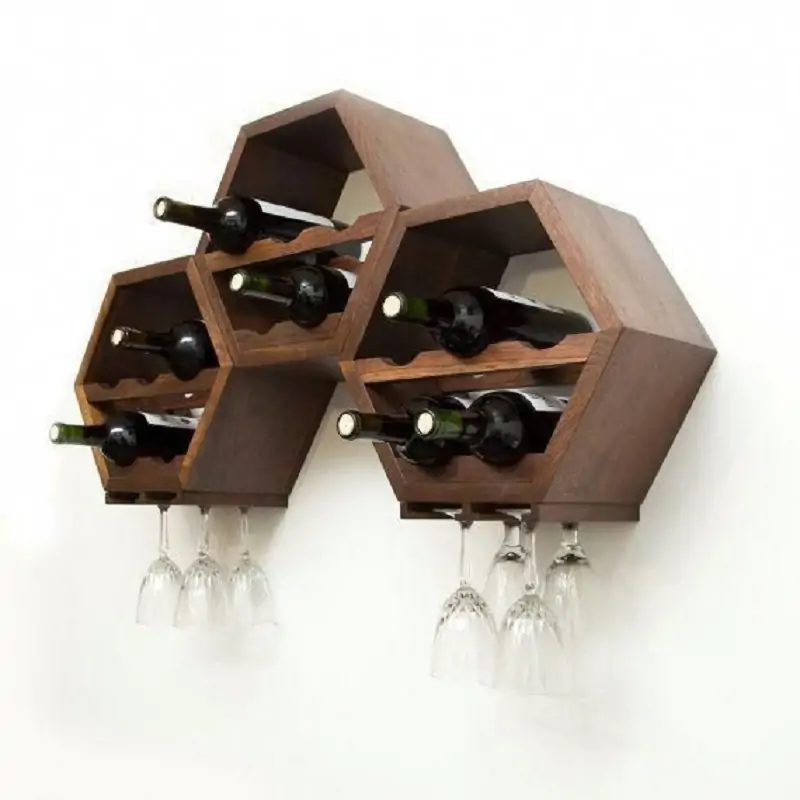 Geometry may be a mathematical puzzle, but it provides a pleasing pattern that is sure to add a decorative accent to any space. When you need something more unique than the regular square, rectangular, horizontal, vertical, or slanted racks for your liquor collection, a geometric sequence is a go-to choice.
The best part of using these decorating ideas for wine racks for your kitchen, dining, or living room is that you get the chance to play with patterns and shapes. Geometric patterns vary in shape and size. So, you can always find one that showcases your personality. You can also add some depth to the wooden materials with paint to make them stand out.
9. A Wooden Riddling Storage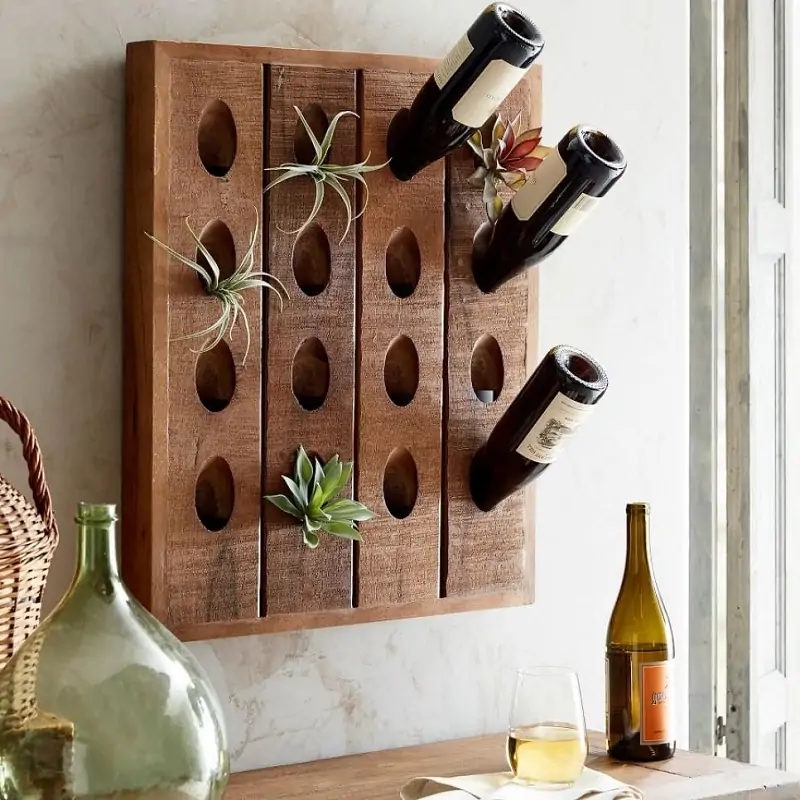 History buffs know how the riddling rack came into existence thanks to Madam Clicquot's creative thinking prowess. She designed this rack to make champagne, specifically Veuve Clicquot's champagne. Over the years, wine collectors have used this invention to its full capacity.
We love this idea because it is ideally suited for wine racks DIY plans you might have. Besides, the angled position alcoholic beverages will be settled on makes the design elegant and charming at first glance. This design will look good hung on the dining wall or alongside a bar corner.
10. Use Barrels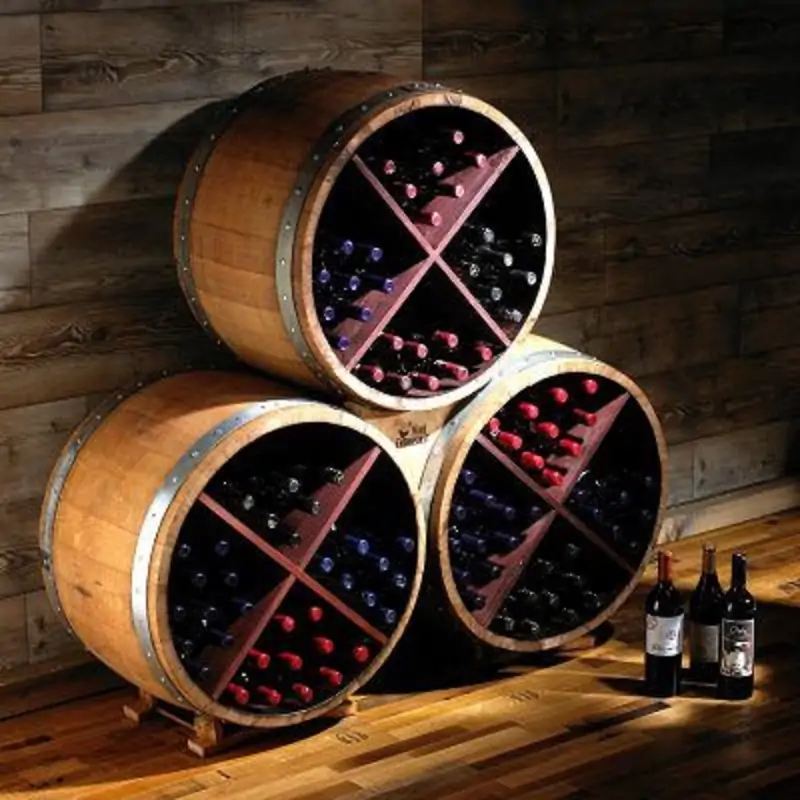 Who says a barrel has to hold just liquid stuff? This barrel-style rack proves otherwise.
Barrel-style racks look unique in a traditional home, giving it a vintage, rustic, and retro design. Another benefit of this design is that it is stackable. The only difference between racks like this and regular barrels is the open divider design that allows settling bottles so that they can hold up well. So, if you don't have space but have a large collection of bottles and like wine rack repurposed ideas like this one, simply stack the barrels together.
11. IKEA Shelves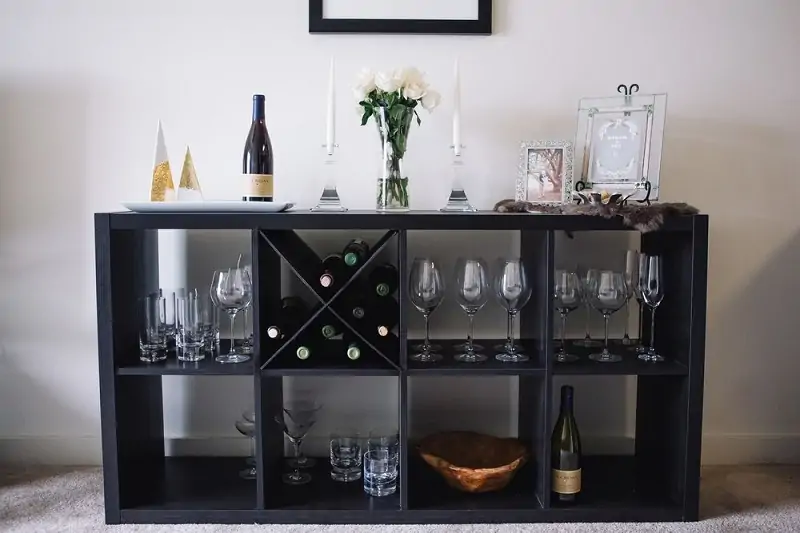 If a DIY route doesn't sound so nice, an IKEA shelf will be a win-win.
This design is quite simple but allows for an upgrade. Just get wooden x-inserts to act as a divider for liquor bottles. Another reason this idea stands out is that it is easy to set up while ensuring quick organization so that your bottles of champagne, sparkling or red wine do not remain clustered on the floor.
Final Thoughts
Wine cellars ensure your favorite alcoholic beverages are stored in the best conditions so they last long. But, when you don't have a liquor cellar, wine racks are a must-use. They elevate your home decor, help show off your collection, and ensure your liquor bottles are properly set up, no matter their market value.Whether you want a retro design like the barrel style idea or a more modern approach like the built-in and wall-mounted solutions, use these wine racks ideas to make something that ideally suits your personality.