A Viable Alternative to Closet Door:  9 Ideas to Try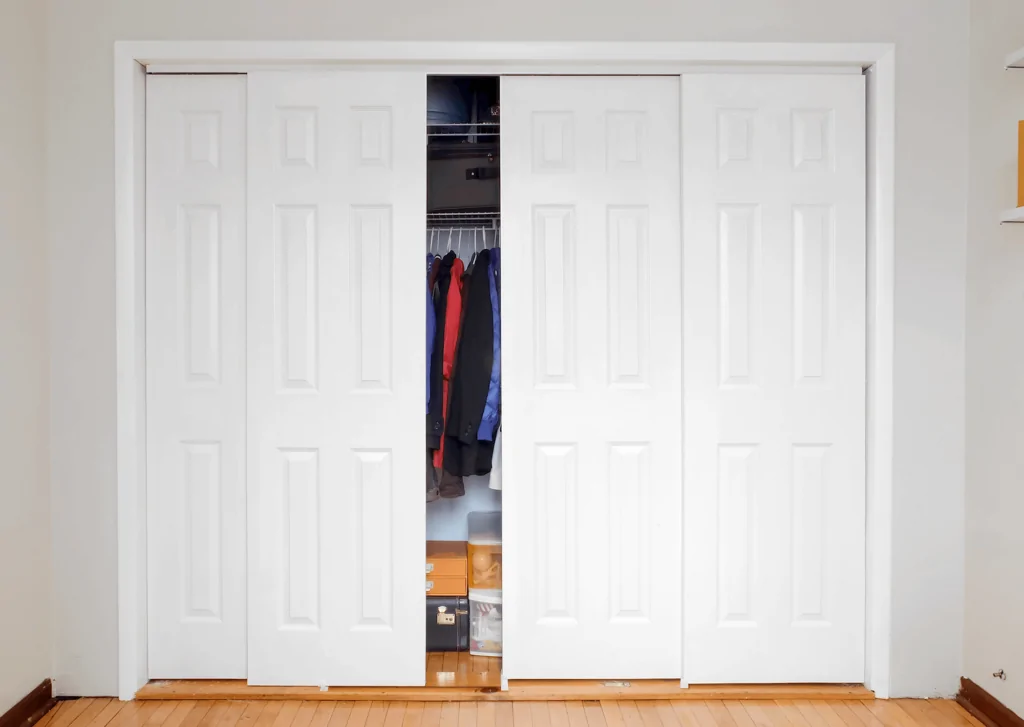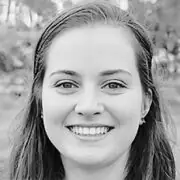 Wardrobes are the last thing you see when you leave your room and the first thing you see when you enter it. It is little wonder, then, that you might be looking for a creative alternative to your closet door. Ideas you will find in our article are stylish, inventive, and easy to implement.
A beautiful wardrobe helps your bedroom feel more like a home instead of just another room in your house. The good news? You don't need a ton of space to make a big impact, and there are tons of alternative closet door options and ideas for making any wardrobe feel special.
What Can I Choose From?
These are closet door alternative ideas that you may want to consider when planning to change your wardrobe doorway. They may vary from sliding doors, French screens, and French doors to not even having a door at all. Each alternative to having regular doors on the closet has its own pros and cons for usability and aesthetic appeal.
When you're looking for workable closet door ideas, you'll want to consider the available options from a design and functionality standpoint. You'll also want to factor in your budget, as some alternative options are more expensive than others. The goal is to find a doorway that works for your space and keeps your clothes organized.
With that said, here are some amazing ideas for your home that you're sure to love!
Try Sliding Doors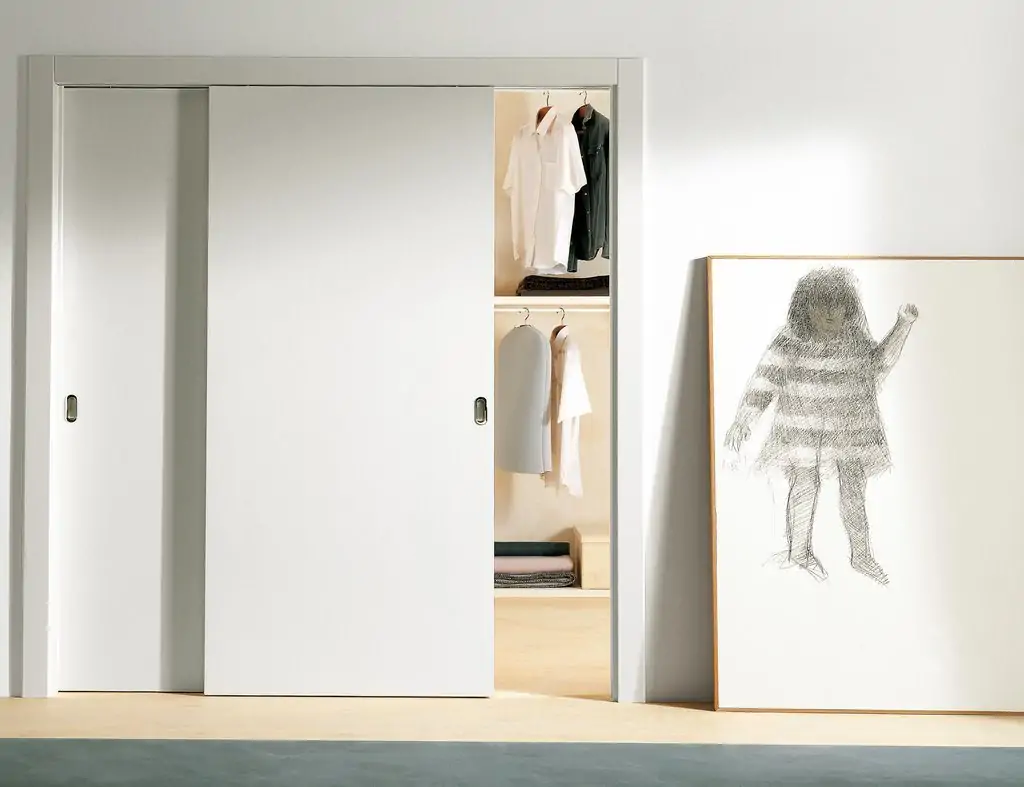 If you're looking for small closet door alternatives, then you may want to consider ideas that involve using a sliding door. These sliding options are a stylish, modern way to give your wardrobe a major makeover while being extremely cost-effective.
These systems come in tons of different styles, colors, and designs. They're a simple, fast, and affordable way to totally transform your wardrobe into something attractive and unique.
Add Beauty with Sliding Barn Doors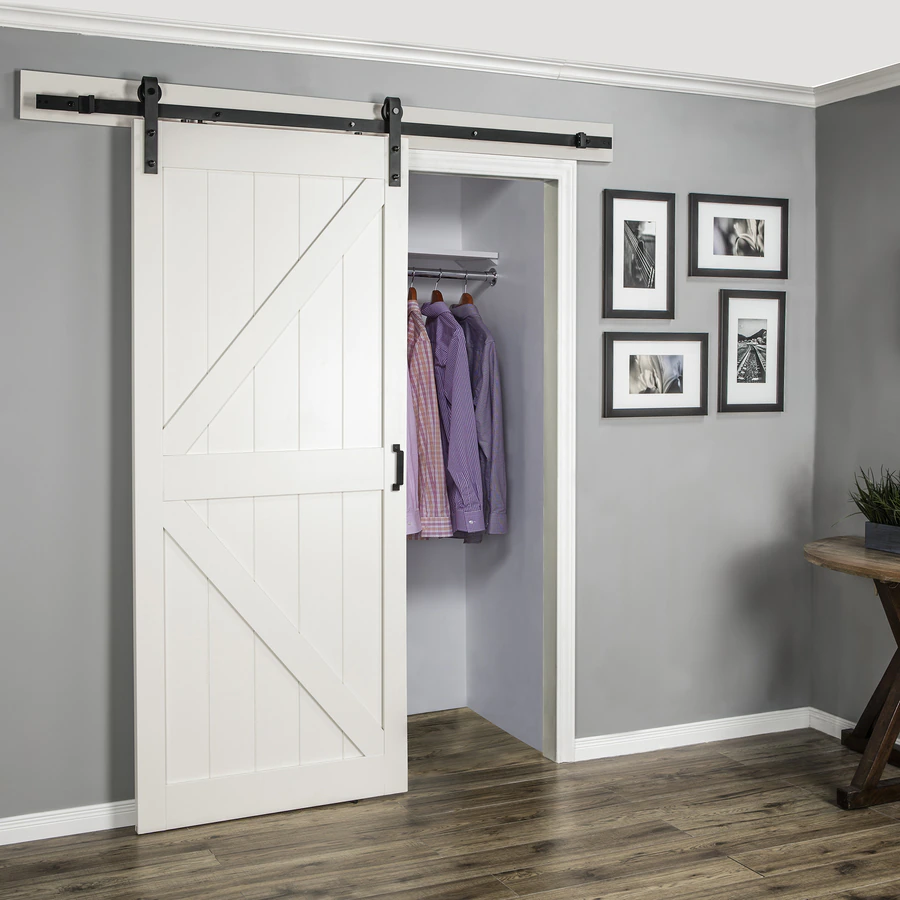 Sliding barn doors have long been a popular choice for wardrobes due to their versatility and ease of use. Options like these have the important advantage of being incredibly easy to open and close, and they can be installed on either side of the doorway to suit just about any layout.
What's more, a solution like this is a stylish way to hide your clothes and shoes that has an incredibly high WOW factor. It will be one of the better closet door alternatives for any wardrobe, no matter the size or layout. It can easily fit in with any style of decor and be designed to fit just about any budget.
No Door at All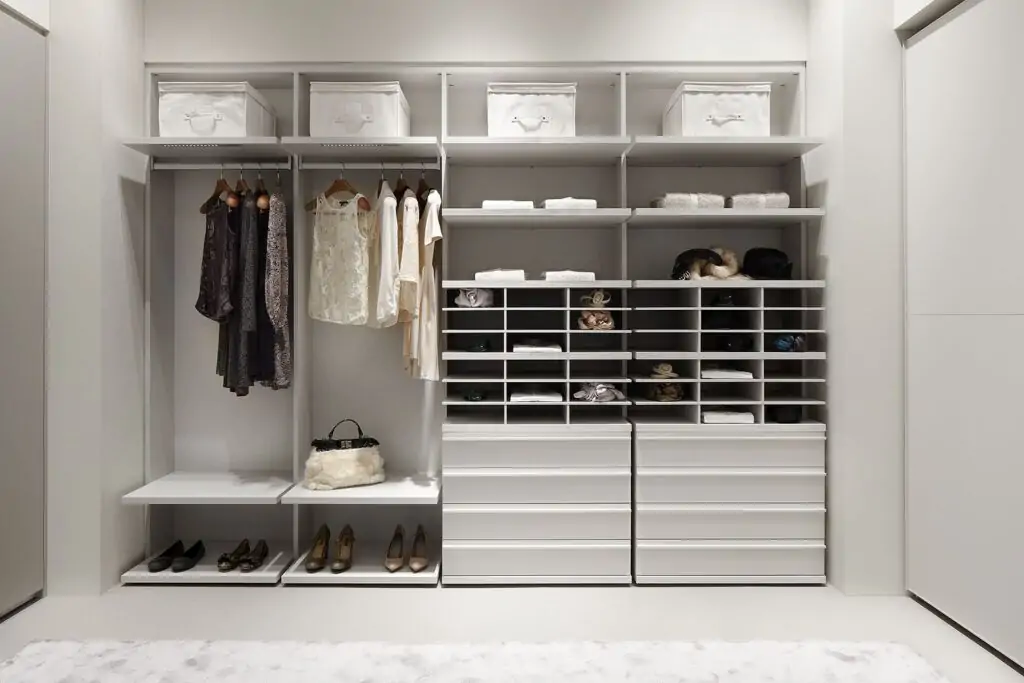 Did you ever wonder what to do instead of closet doors? Well, here is the best possible answer to the question, "What can I use instead of a closet door in my bedroom?" You should probably consider not using any. Don't do anything at all. Yeah, you heard that right!
A common misconception is that you need a door to have a closet. While this is technically true, it doesn't mean that you have to close your wardrobe off and turn it into a stuffy, unusable space.
If you just don't have the space for a door in your room, there's no need to panic! A wardrobe without a doorway can still look beautiful and create a sense of calm and serenity in a hectic world.
A completely open closet can be one of the best ideas for a small bedroom or kids' bedroom where you just don't have enough space.
Open closets don't have to be boring and uninspired, either! You can explore different décor ideas and options to add charm to any open closet by decorating the wall above it, adding a rug on the floor, and adding decorative shelves and hooks for storage.
Consider a Glass Door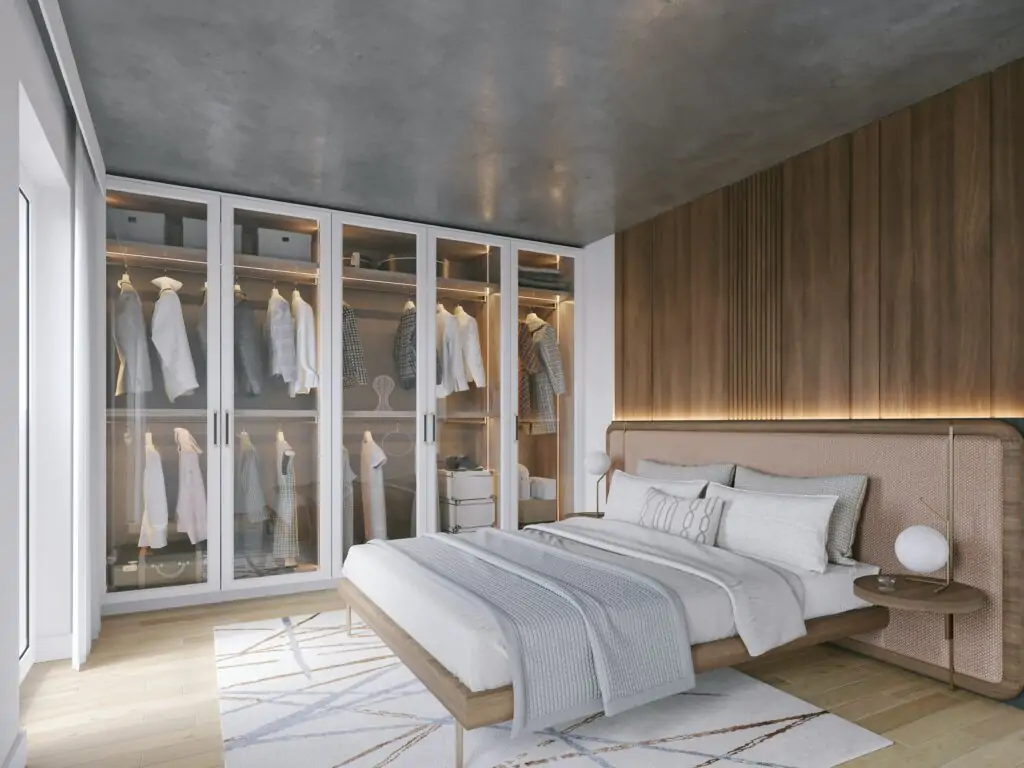 Grass doors are one of the best ideas for a great wardrobe doorway if you don't want to completely hide your wardrobe from guests but you'd still like to provide a certain level of privacy.
A solution like this works best if it's placed over a full-length wardrobe with different types of clothes in it to create a beautiful and organized view while also keeping the room calm and serene.
A glass door is also a fantastic way to decorate a room that doesn't have a regular doorway, like a walk-in closet in a master bedroom.
Install French Doors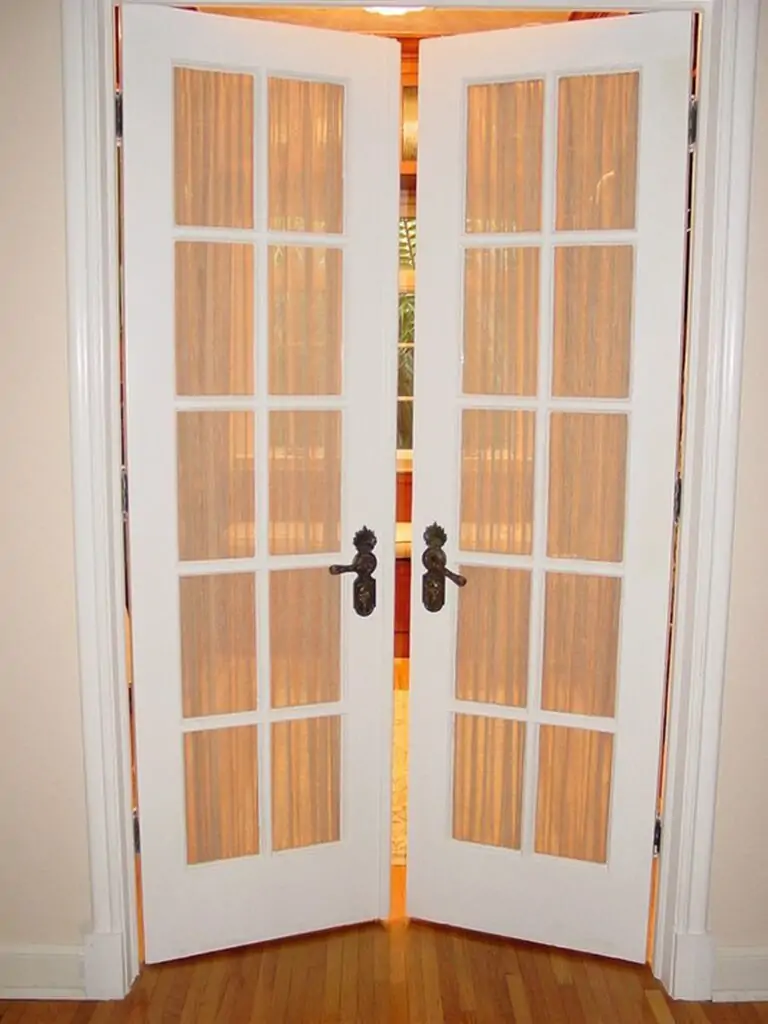 This is one of the best ideas for an elegant and classic doorway. French doors come in a wide variety of styles, designs, colors, and materials and add a touch of luxury to any room while also being incredibly functional. What's more, they are a great choice for any wardrobe layout because they can be used with any type of opening.
Last but not least, they are also a major investment and can be an excellent solution for anyone looking for a long-lasting, high-quality piece of carpentry that will last for decades.
Try a Mirror Door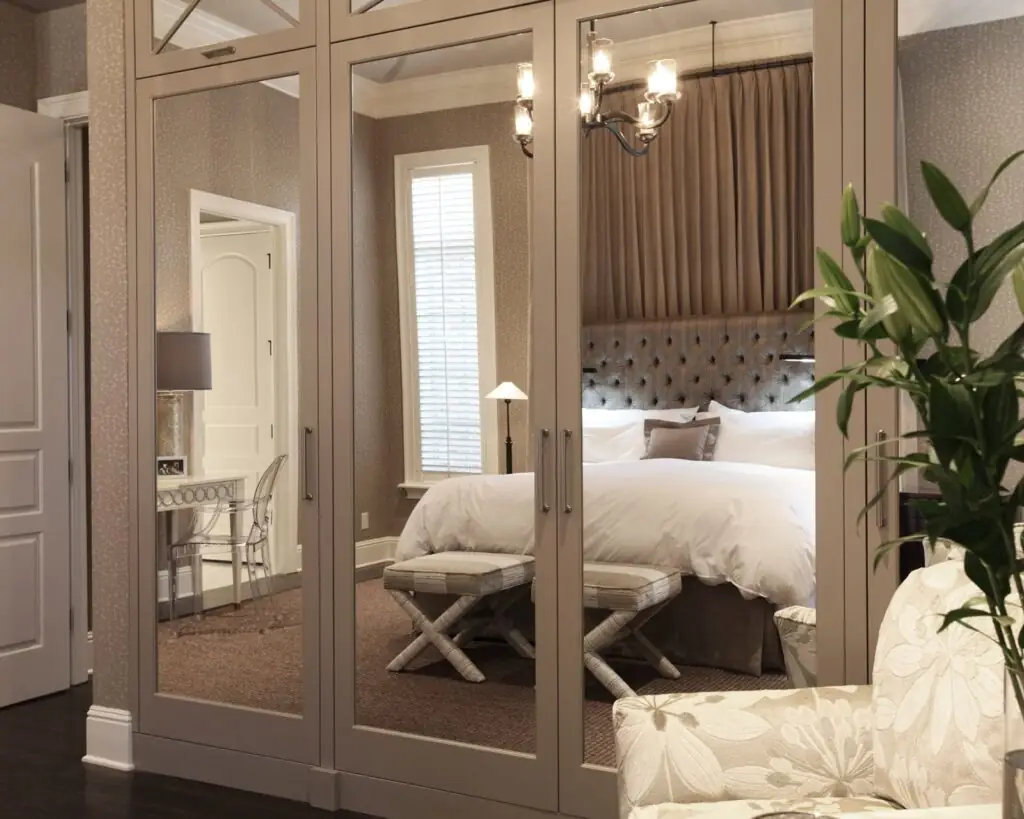 If you want a solution that is both modern and beautiful, you can't go wrong with a mirrored door. Mirrors are an excellent choice for wardrobes, as they are a wonderful way to bring light and brightness into your space.
Large mirrors add beauty and elegance to any room; they come in lots of different styles, colors, and designs, so it's easy to find one that matches your home.
They are also an excellent choice for rooms with neutral or light color palettes, as they will blend right in and look amazing. Options like these will be an excellent choice for bedrooms where light and brightness are desired but where privacy is also important.
Hang Curtains or Drapes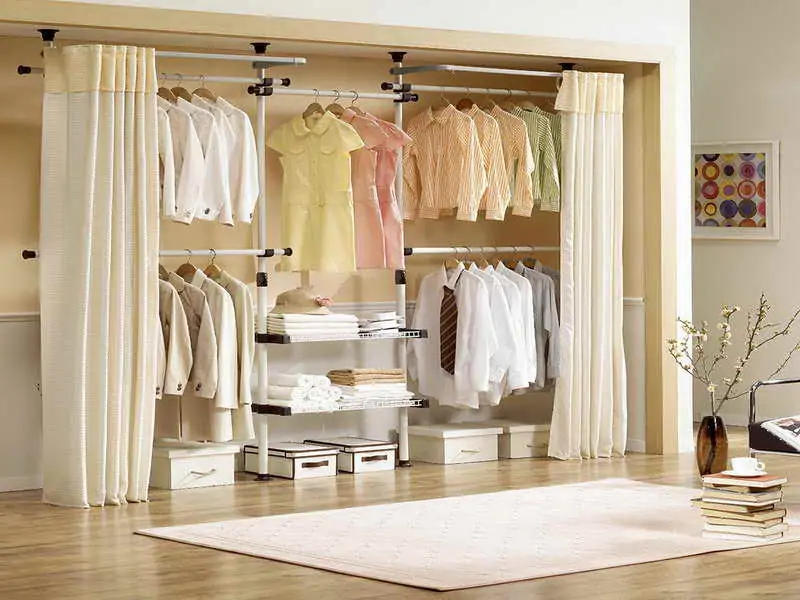 Your budget is small — minuscule, in fact? Well, here is the second best alternative you have (the very best being doing nothing at all). The answer to the question "What can I use in place of closet doors?" is that you should simply use curtains or drapes to cover the empty space.
If you have a smaller walk-in closet, curtains and drapes will be a great alternative, as you can choose fabrics that are as bold and dramatic as you like. And if you have a large walk-in closet, and don't want to make a bold statement in your room, simply choose a fabric that is elegant and unobtrusive.
Try a Pocket Door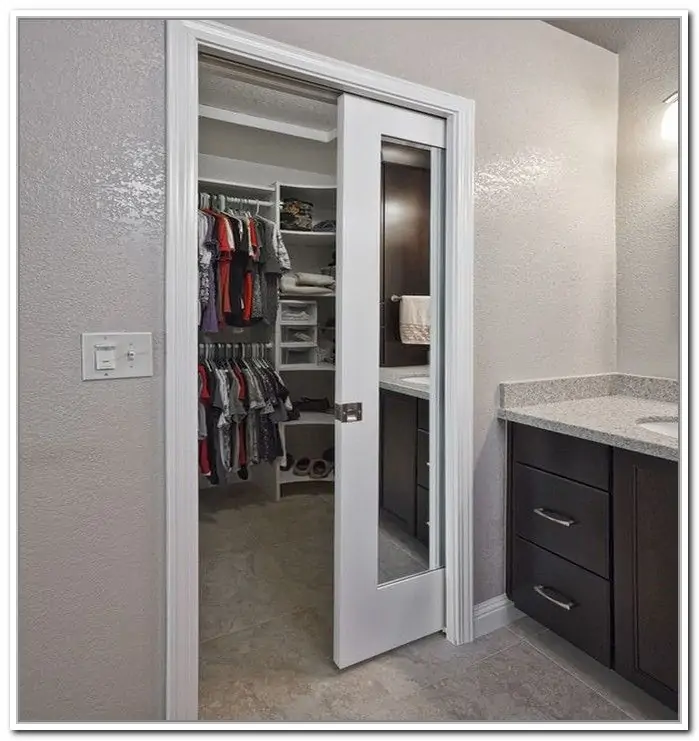 Pocket solutions are an excellent choice for any wardrobe. They're a great way to add charm and character to any room while also saving space. They simply slide into the wall on either side of the entrance, taking up no space at all when open.
A solution like this is an interesting and unique way to add style and functionality to your bedroom. It will be great if you want to maximize your space and keep your room tidy. Pocket options are available in both sliding and folding designs. They are easy to install (by professionals) and are the perfect choice if you want to add a unique twist to your wardrobe.
Go for Double Doors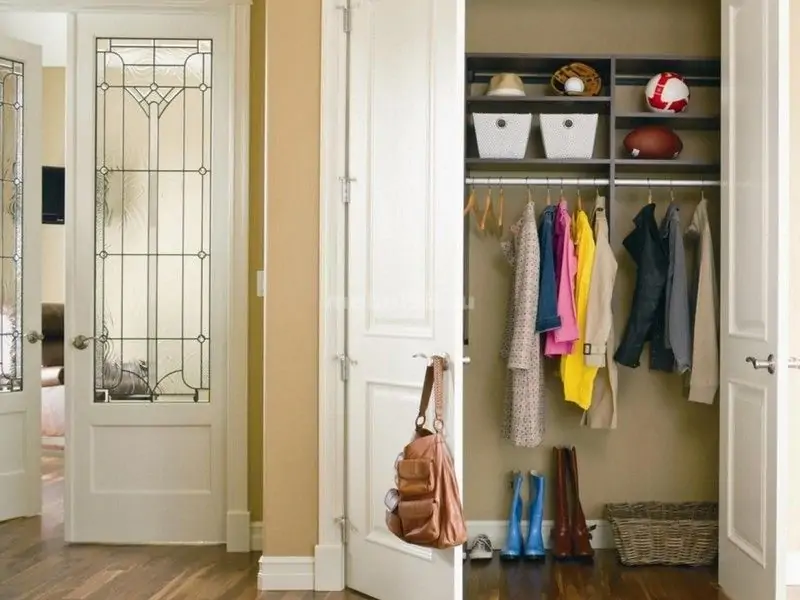 Double doors are an excellent choice if you have a large wardrobe. They add a touch of elegance and opulence to any room. They are particularly useful in walk-in closets where you need extra space.
Double doors are also a great option if you have a lot of items that you need to store. With two smaller doors, you can choose to open only one of them to get access to the things you need, so less space is taken up.
How Much Do These Alternatives Cost?
The cost of the particular alternative depends on the type, quality, style, and materials of the door replacement you have chosen. The average cost of a French doorway suitable for a walk-in closet is around $400-6,000. And a double-sided door can cost $400-8,000.
Installing alternative doors is not always easy, so you might want to consider paying a professional to do the installation. There are many online retailers that offer a variety of door types and prices, so you can easily browse and compare different options before making a purchase.
What is the Most Affordable Alternative?
The cheapest alternative ever is doing nothing at all. If you are ready to spend only a limited amount of money, then the most affordable of all possible ideas is to hang a curtain or drape. This alternative requires no professional installation and can be handled easily with the right DIY guides.
A curtain or drape can be purchased for as little as $20, and you can choose any pattern and fabric you like.
Wrapping up
An uninspiring wardrobe doorway is one of the easiest places to overlook when designing your home, but it doesn't have to stay that way! A beautiful doorway is an excellent way to add character and charm to any room. It won't be difficult to find something that works for your space, as there are more than one alternative to the closet door. Ideas you can use might be different — you might want to try sliding or French doors or choose something entirely different — yet still, there are tons of ways to add style and character to your wardrobe.