Backsplash Ideas for a Kitchen with White Cabinets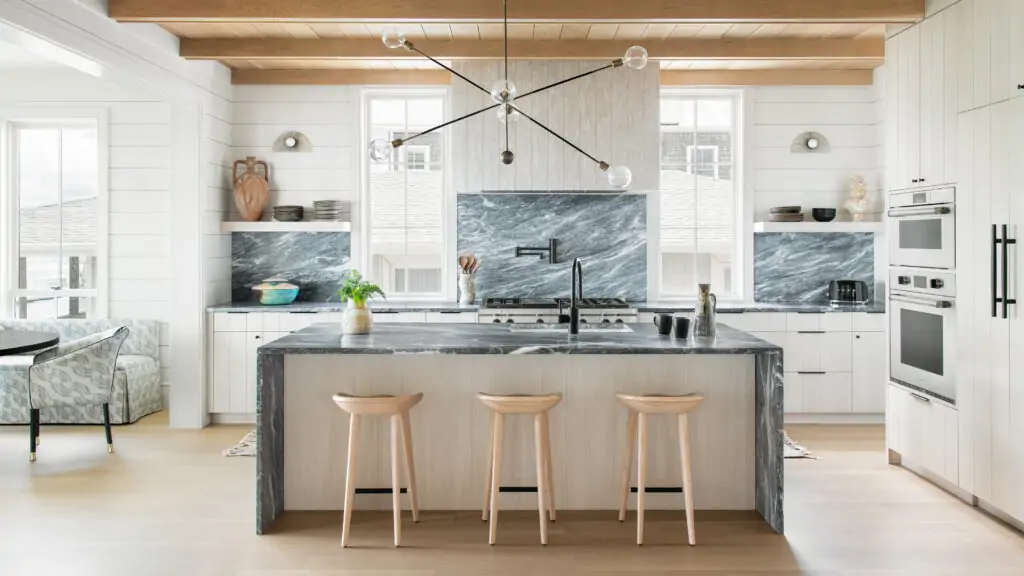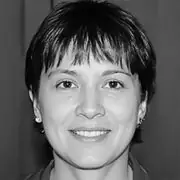 White cabinets are among the trendiest designs these days due to their modest, minimalist, yet classic feel. Still, finding suitable backsplash ideas for a kitchen with white cabinets to further enhance its appeal is another story entirely. Wonder why? White is a color that promotes a serene atmosphere, but it can also look dull and emotionless.
You don't want a place where you cook up various delicacies for your stomach to feel lifeless and listless. It'll certainly make you lose the desire to create mouth-watering cuisines, for one thing.
A combination of a kitchen with neutral-colored cabinets and an abundance of designs to choose from can make finding the perfect style that resonates with you not an easy task. Luckily, there is no need to worry about that because we've got you covered with some white cabinets beautifying backsplash ideas for your kitchen.
1. Use Wooden Materials for an Earthy Feel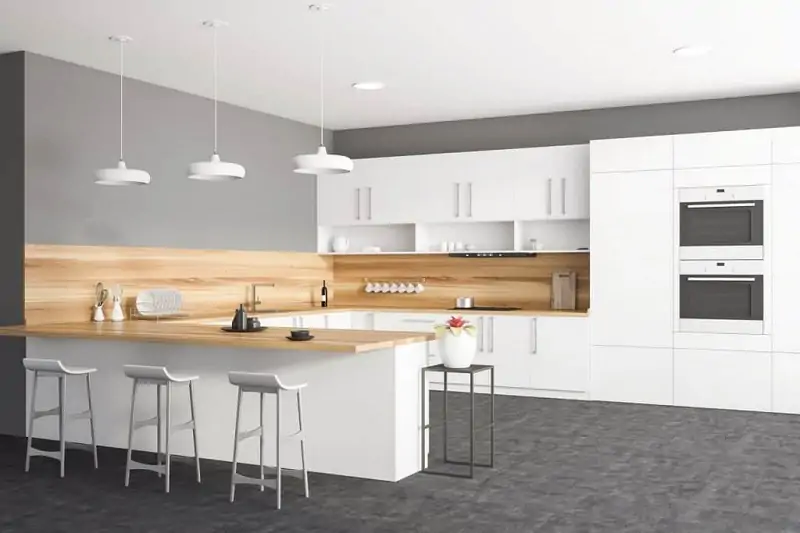 Wood can be a tricky material to use for your kitchen backsplash, especially if you're considering using real wood. It can easily retain moisture, which in its turn will invite bacteria, mold, insects, and foul smells into your cooking area. So, rather than use real wood, a fake one would be more appropriate.
A good fake wood alternative to use is a wood look tile. Try a combination of classic brown color and stripes of real wood in places that are far from your faucet. Some tiles even come in lighter shades giving you ample varieties to choose from. The greatest advantage of this design solution is the earthy warmth that a wood backsplash adds to your cooking space.
Pro Tip: if you intend to use real wood, be sure to seal its surface so it becomes water resistant, and you won't have to worry about harmful bacteria or toxic smells.
2. Compliment Them with a White Subway Tile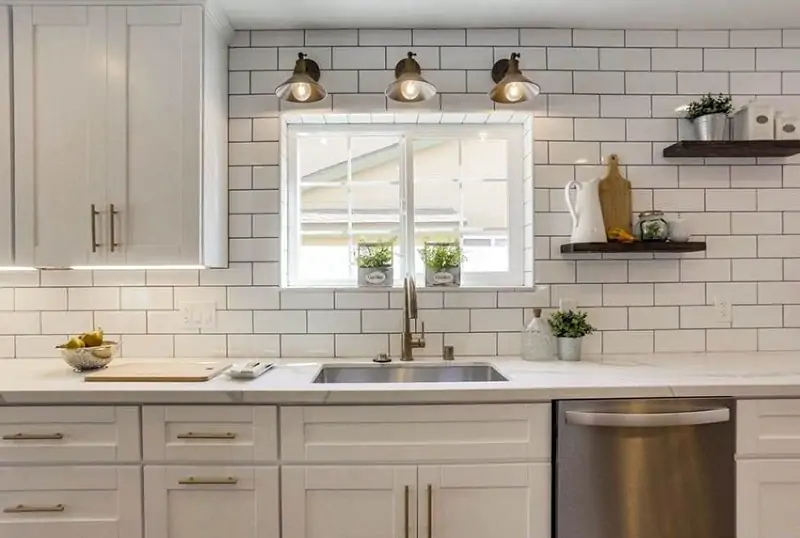 Yes, an all-white ambiance often equals a kitchen that is devoid of vitality, but not when you use backsplash design ideas that create patterns on your wall.
Subway tiles are a traditional trend that has lived on today, and it isn't going anywhere. Installing them as a backsplash makes your cabinet walls look like a puzzle game pieced together. Their glossy appearance also means the cabinet area looks shiny no matter the time of the day.
3. Use Glass Mosaic Tiles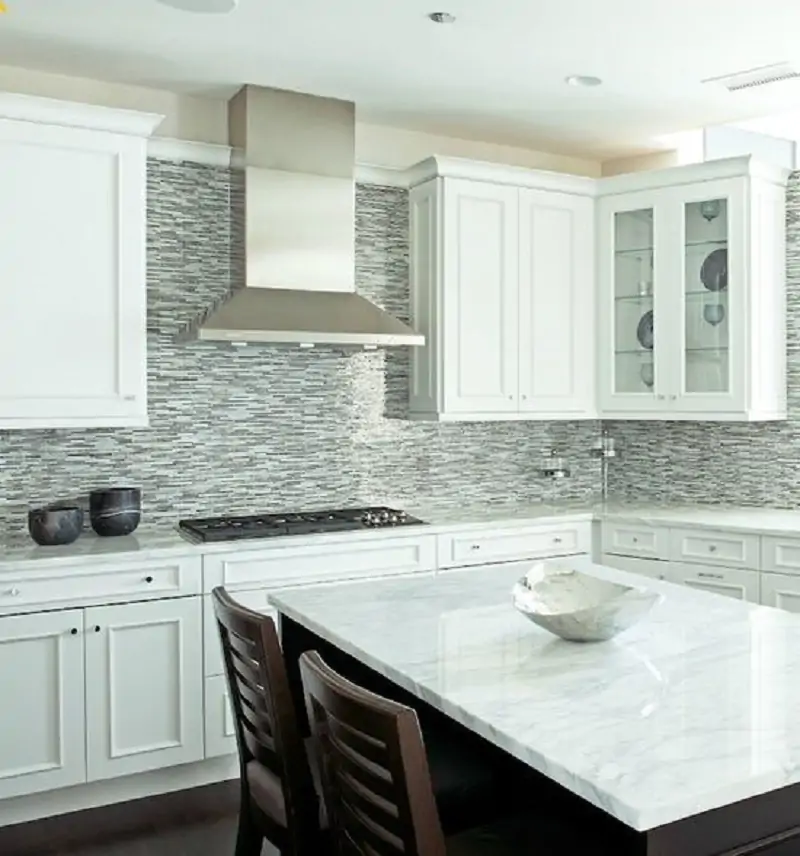 Glass tiles are among truly eco-friendly kitchen backsplash ideas with white cabinets and black countertops. They add an edgy look to your space, yet their most significant perks are that they are low maintenance, non-absorbent, and reflective.
Their reflective frame can make many homeowners reconsider using them in their cooking space, but it actually elevates the style of your kitchen.
Glass tiles are often used in the living room and bedroom because they seem expensive and high-class. So, using them for a backsplash will let everyone know you have classic tastes when it comes to decorative pieces.
4. Metal Makes Your Cabinets Look Sleek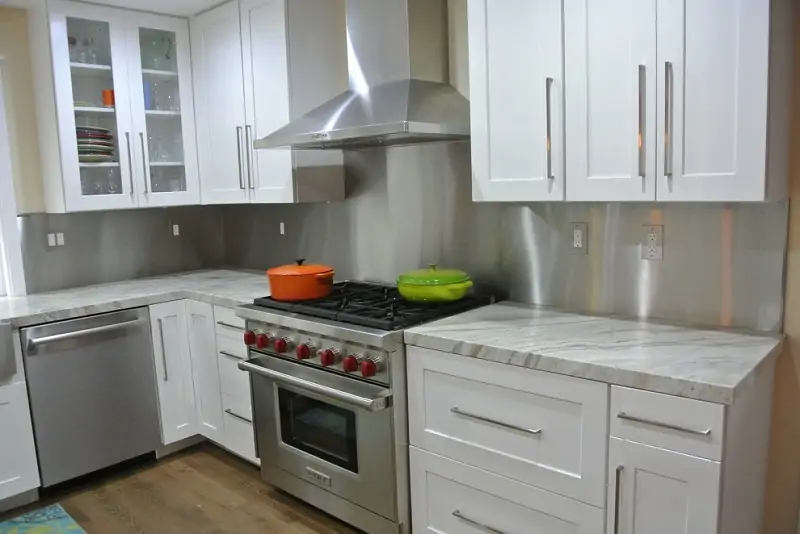 Like glass, metals, whether stainless steel or copper, are expensive, but their muted color and minimalist style leave a sleek and gorgeous appeal that heightens the overall aesthetics of your space. The best thing about metals is that they are easy to clean and long-lasting.
If you have a contemporary kitchen with a white cabinet, it would be a good addition to its overall style.
5. Black Bricks are Bold and Beautiful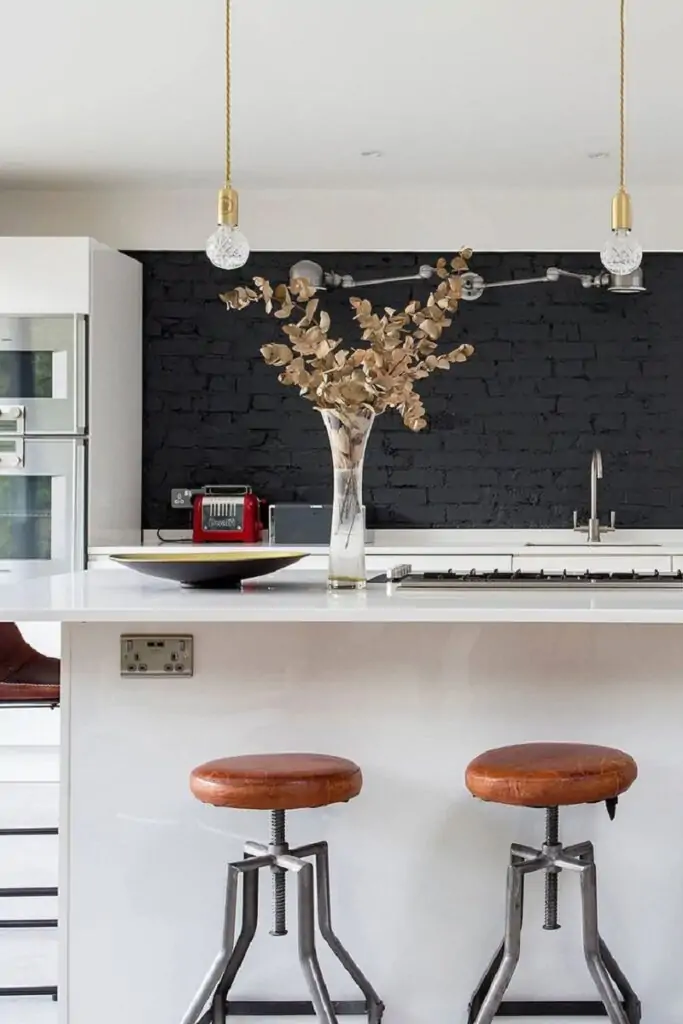 One of the best backsplash ideas for a kitchen with white cabinets you can try is a statement black tile.
Black tiles are bold and remove the bare feeling of plain cabinets so that your space feels edgy and used. Furthermore, the contrasting texture and color of the white cabinet and black bricks make the decorative style of your cooking island look unique.
So, whether you aim to create a traditional look, farmhouse style, or contemporary feel for your white cabinet, you can't go wrong with ideas that employ black bricks as a backsplash.
Pro Tip: Depending on your aim, black bricks allow you to play around with different styles to find one that suits your taste. In fact, they even allow for a grout line backsplash design that will add a rustic vibe to your space.
6. Use Bold Colors as Backsplash Paintings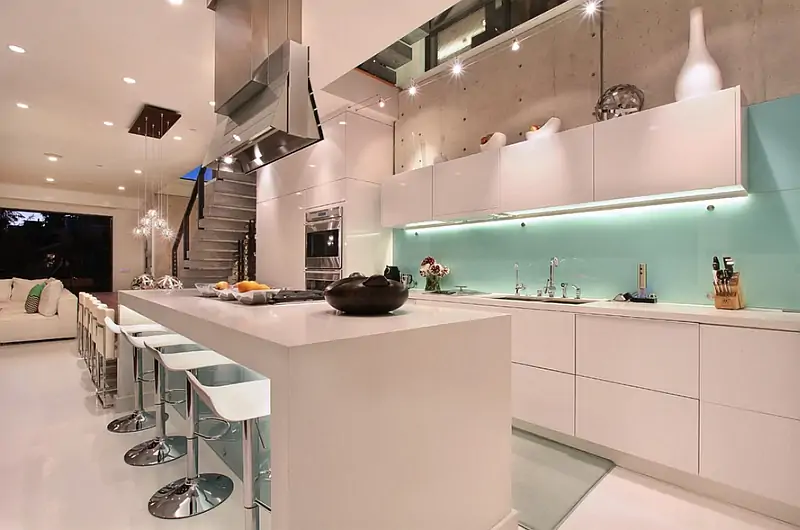 If you're looking for the best backsplash for a kitchen with white cabinets on a budget, boldly painted walls are the way to go. Wall paintings are minimalist, budget-friendly, and less mainstream. Needless to say, they also look a lot edgier than brick or tile ideas.
When considering how to use colors or what colors to use, there are really no rules except that you need to let your imagination run wild. Ideas that work are always about finding the best colors that would make a bold statement while also pleasing you and your family.
7. Stone Adds a Charming Texture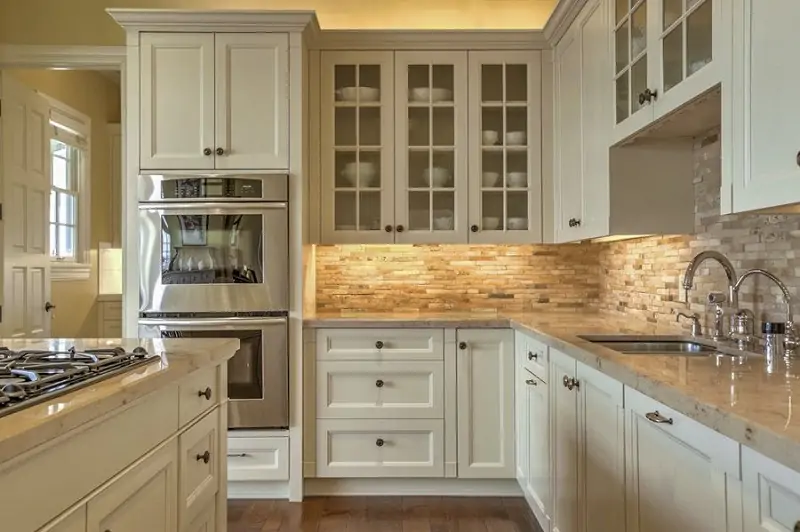 Much as how brick adds a country feel to your cooking space, stone does the same. It can promote a natural style that seamlessly blends with your furniture pieces and plain cabinets. Stone also comes in various shapes, sizes, and colors, making it easy for you to choose something truly appealing. Plus, depending on how you use it, your kitchen can look more polished, rustic, charming, and elegant. All these reasons make stone a sure candidate for kitchens with white cabinets.
Pro Tip: for a charming feel, use river rock stones. Stacked stones will give your cooking area a more polished appeal.
8. Incorporate Geometric Pattern Wallpapers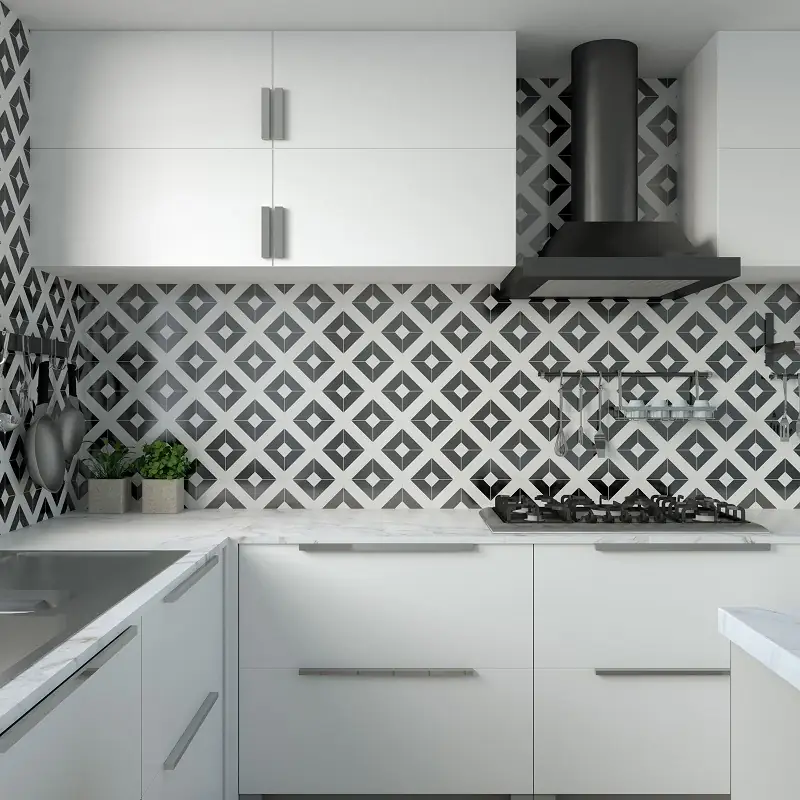 Sometimes, the best kitchen backsplash ideas for white cabinets and granite countertops are neither tiles, stones, or bricks. Something like a geometric pattern wallpaper could be a big win when decorating the area around plain cabinets.
An idea like this adds contrasting features where the countertop and cabinets are plain white, and the backsplash has a bold geometric pattern.
Still, no matter how good this idea may sound, it all depends on how well the colors in your wallpaper blend with the cabinet's color.
Pro Tip: your cabinets are white, so any color will blend well with it. Still, you may need to be selective with colors depending on the style and vibe you aim to create.
FAQs
How Can a Backsplash Complement Your Cabinets?
There are so many reasons why you should add a backdrop to your white cabinets. First, it offers a decorative advantage over a plain kitchen area. It may seem like an unnecessary addition to your space when you can easily add colorful fixtures. All things considered though, it makes a huge visual impact while adding value to the space, especially if you plan to sell your home in the future.
Besides this, it protects the walls as you cook. Cooking means water can easily penetrate the walls, and the ingredients you use can dirty these surfaces. The simple addition of a backdrop means your walls won't fade easily, and cleaning will be no chore.
Which Backsplash Will Suit My Kitchen with a White Cabinet?
It all comes down to your aim. Some backdrops can make your cooking area look more modern, classic, and refined, while others will add cool and charming undertones. It all depends on the color scheme and style you choose.
If you choose to use tile or marble materials, you will get a classic and refined vibe. Slightly gray tones of marble will add warmth to the cupboard.  
Should My Backsplash and Countertops Match?
The simple answer is no, but if you want them to match, why not?
The choice of whether they match or not is totally up to you. However, keep in mind that we live in a modern and creative era. The days when people loved matching items are long over. Homeowners today love to try out different styles, designs, and colors to showcase their creative personalities in their space.
Will a Black Grout Suit My Kitchen Better?
Black is not the only color you will find for brick grouts. Its color varies. So, whichever color you choose is up to you. Black only adds a bold feel to the bricks. 
Then again, if you have a granite countertop, black might look great. Avoid using this color if your countertop is already painted black, except in a case when a full black theme is your aim.
Conclusion
A backsplash is a huge investment that has the power to change the overall appeal of your kitchen space. Fortunately, choosing one for your kitchen with white cabinets will be an easy task since it uses a neutral tone that easily matches any color, pattern, or style.
From backsplash made with wooden materials to subway tiles, glass tiles, sleek metals, black bricks, colorful paintings, stone design, and geometric pattern wallpapers, there's really no shortage of ideas to get your kitchen looking edgy and well-used. All you need to do is take your cooking space to the next level with these backsplash ideas for a kitchen with white cabinets.