How to Improve Your Bathroom: Ideas for Towel Storage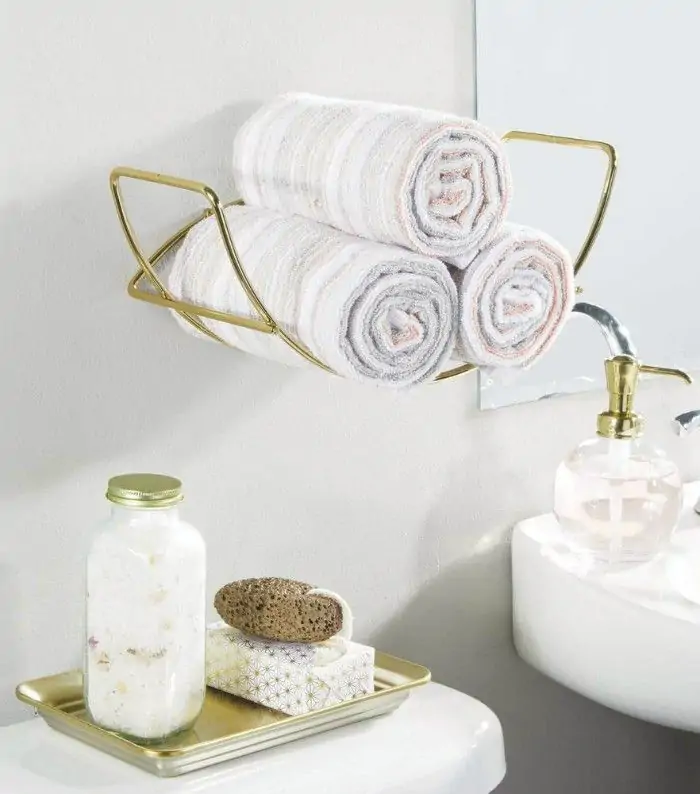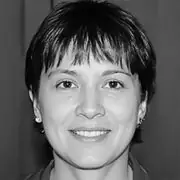 Towels are hardly ever on top of a bathroom organizational chart when decluttering and arranging things. Then again, you can greatly improve the appearance of your bathroom using ideas for towel storage holders that help maximize space and uniquely display your towels and small linens.
From taking up space in the wardrobe to cluttering the small available area on a floating shelf or inside a basket, towels are a bulky inconvenience that makes organization a hassle. The good news is that even in a small bathroom optimal towel storage is not something impossible to achieve: an easy-to-use wardrobe unit or a handy vanity can do the trick.
In this guide, we'll provide you with the best budget-friendly towel storage ideas for a small bathroom that work wonders in the simplest ways possible without sacrificing your taste.
1. Mount a Rail over the Toilet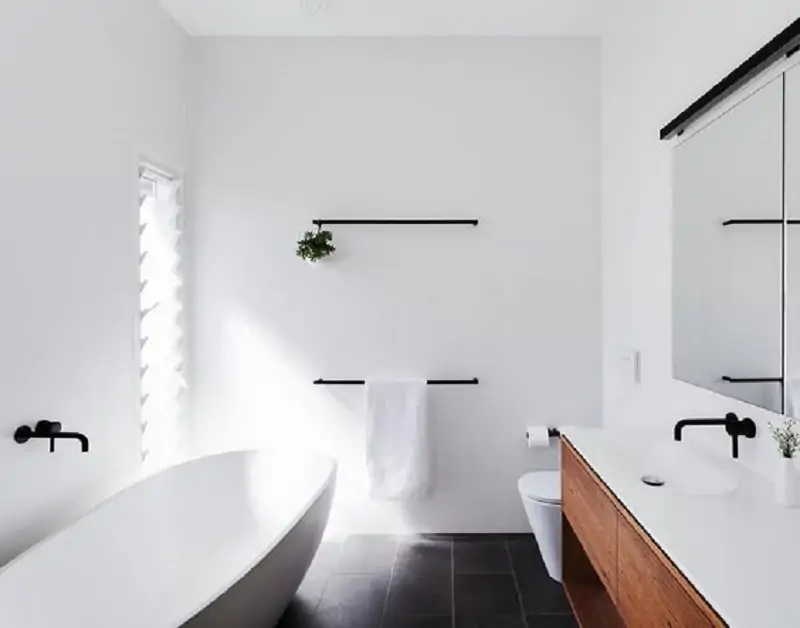 If you don't have enough space in your washroom to fit in large linens, installing bathroom towel storage over the toilet is one of those ideas that simply cannot fail.
The best part of utilizing this trick is that you wouldn't have to go elaborate on the design. Just choose the rail size you want and fix one almost touching the ceiling and the other below so that they are parallel to each other.
In this minimalist washroom there is a wall-mounted rail over the toilet. Crafted from metal and clad in black paint, this bold rail adds a stylish element to your bathroom space. Plus, it perfectly complements the white theme and pleasing lighting effects from the side window. We also love this rail because it can also be considered a striking decor feature on its own, so you don't really have to use it as a storage unit.
2. Use a Wooden Suspended Stand…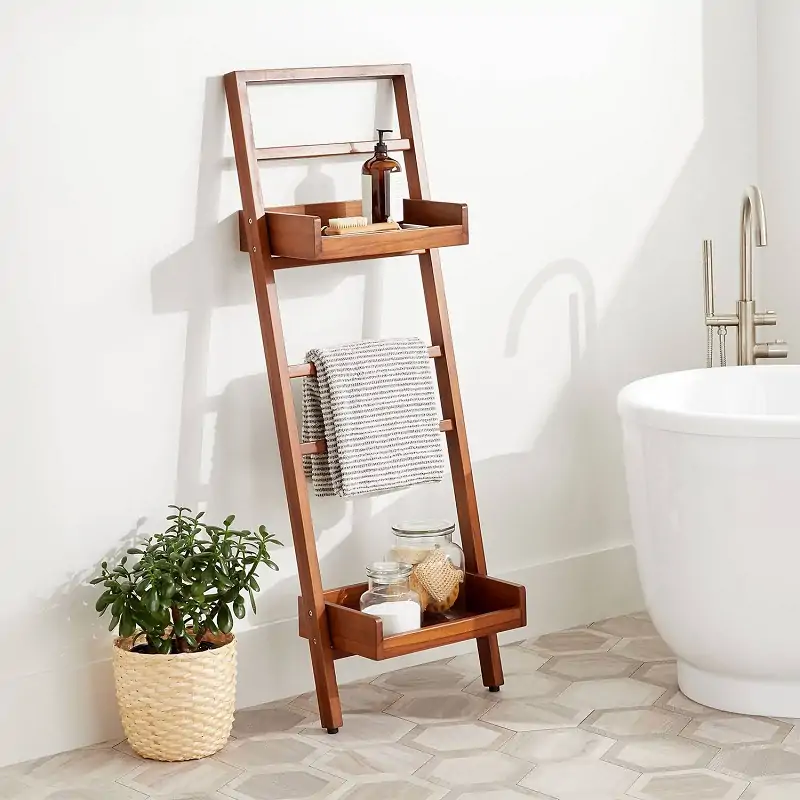 Need a multipurpose setup? This towel storage idea will make it easy to achieve.
It has an in-built shelf that allows you to arrange bath essentials, cleaning accessories, and plants. Plus, it also serves as a mini-table and provides extra space for baskets and additional storage.
We love this suspended stand because it is made of water-resistant wood that keeps your towels free from moisture. What's more, they come in different sizes to fit any space and desired style.
3. …Or Consider a Utility Rack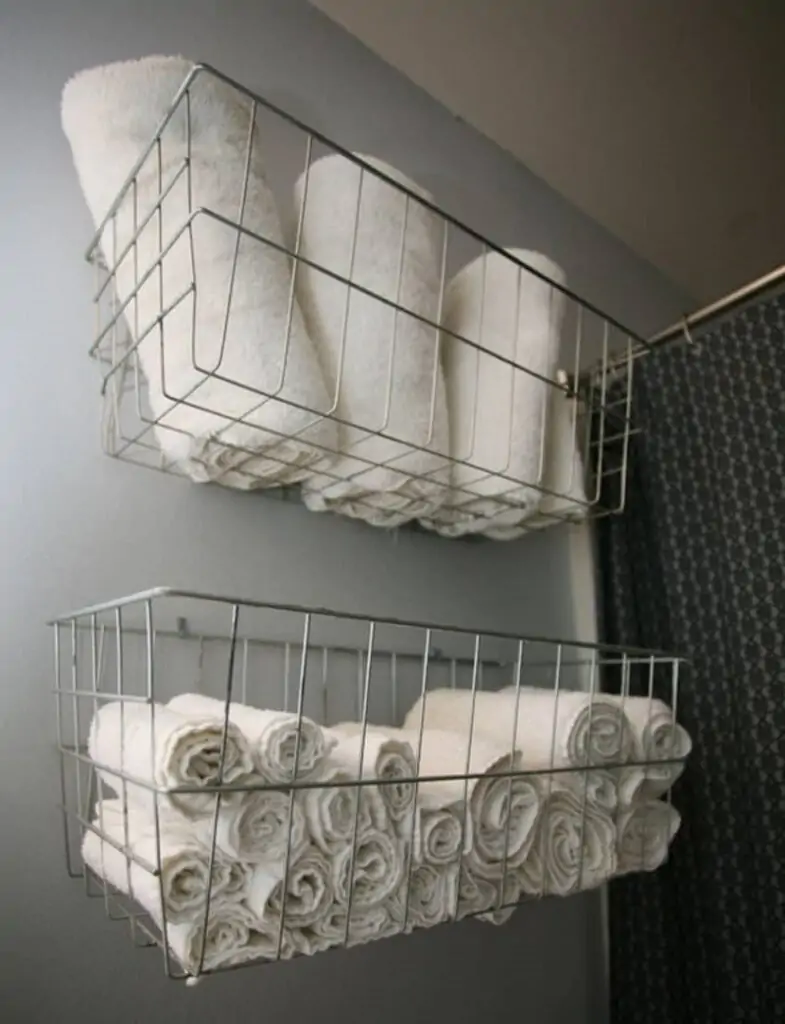 The reason why we love bathroom decorating ideas with a towel rack (or several racks) is that they come in different styles to suit any space. You can use either wire racks or plastic ones.
Wire racks are a more durable option thanks to their metal build. Plastic racks are more moisture-friendly since they don't rust easily. Besides this, both options add decorative accents and help you create an easy system for organizing your bath supplies and linens.
In the photo of the bathroom, the small towel rack is all about durability and a total lack of any unnecessary features. With just a few screws, you can get the rack positioned on an open wall with a shelf height in mind.
4. Install a Ladder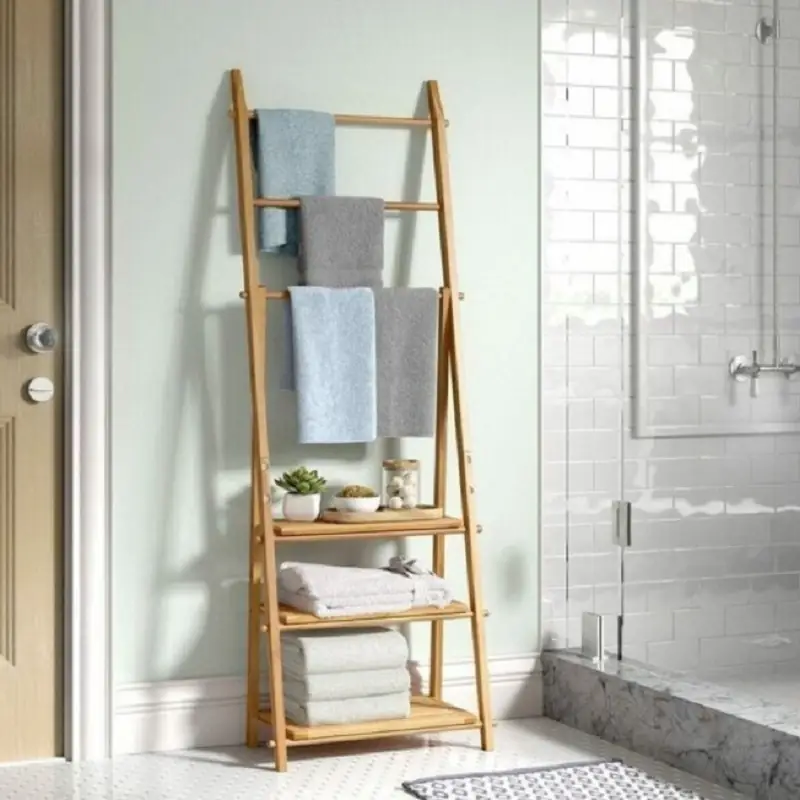 While these towel ladders may resemble utility ladders, in reality they are something completely different. Towel ladders will add functionality and style to a bathhouse.
The thought of placing ladders in bathrooms may seem absurd and out of place. (No, you don't really need snakes to complement them.) Yet, the best part of this idea is that you won't have to worry about getting your towel fresh and sufficiently aired for the next bath.
Besides airing benefits, a ladder also adds rustic and subtle elegance to modern houses. The mood it evokes totally depends on the material your ladder is made from. A wooden ladder invites texture, warmth, and a subtle statement into your bathhouse. Just paint it brown to create a calming atmosphere or adorn it with sleek and colorful lines so that it blends seamlessly with your bath's interior decor. On the other hand, a stainless steel ladder upgrades farmhouse-style baths to acceptable modern standards.
In this space, this classic-yet-modern wooden ladder allows you to store multiple towels at once without taking up too much space. It also creates a breathtaking contrast with the colorful painted wall and tile floor but matches the assembly of the basin and wooden countertops.
5. Use Wall-Mounted Cabinets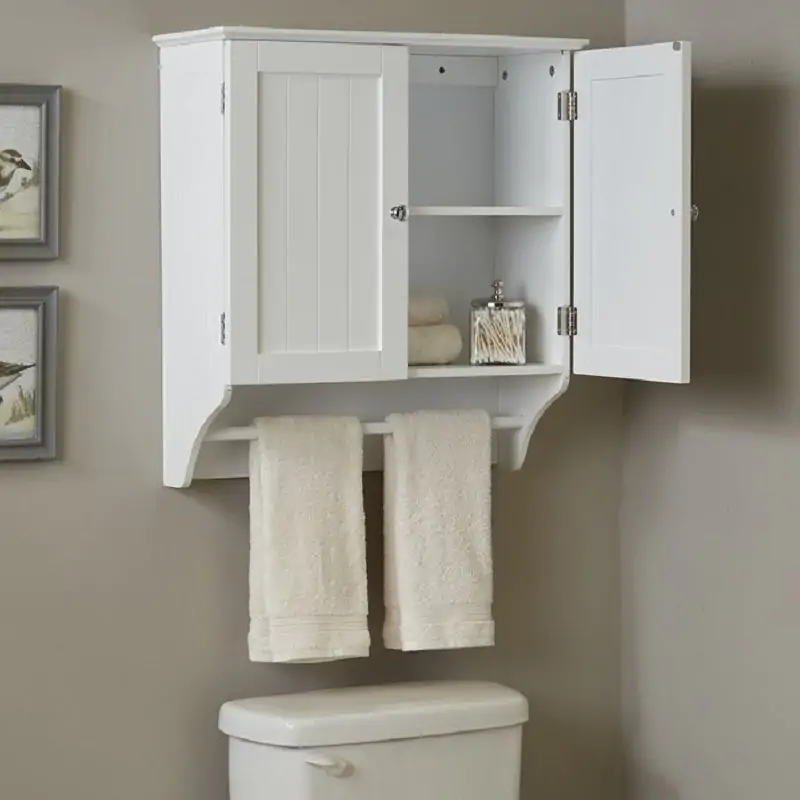 Here is one of the better ideas for bathroom towel storage: wall mounted cabinets in the photo look almost like the typical cabinets you'll find in your bedroom. With two rectangular halves and classic white color to make the wooden material pop, this wall-mounted cabinet will leave your space looking like a bold work of art.
Then again, small wall-mounted bathroom towel cabinets don't really have to take the form shown in the picture.
A stylish cabinet can also come with a glass panel, which allows you to see towels without opening the cabinet doors. Behind the beautiful glass panels is the sophisticated appeal it adds to your bath space while keeping steam and moisture away from your linens.
In a small bathroom towel shelves are simply indispensable. Simply fold clean wash clothes together and place them on the shelves installed in the cabinet. Try different pattern arrangements, with one part of the cabinet holding rolled linens and the other filled with other bathroom essentials and small accessories (this idea works especially well with glass cabinets).
6. Hooks are Simple and Space-Saving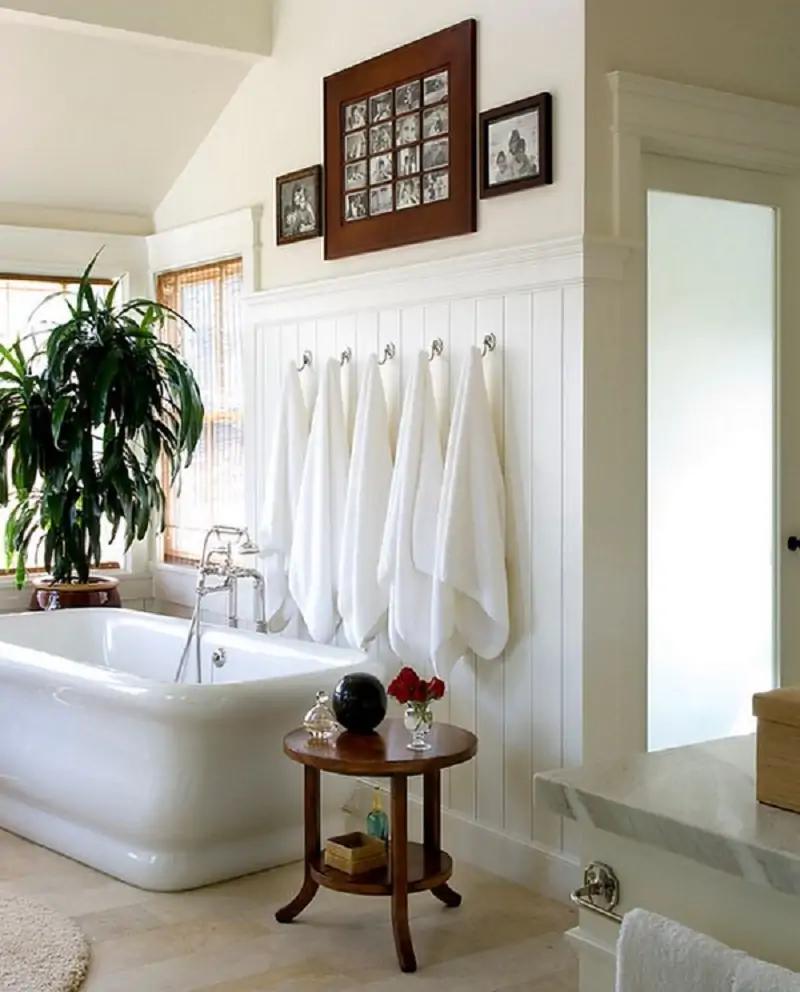 Are you almost running out of space? Large cabinets and vanity won't work. Instead, use a hook.
Most homeowners won't always resort to such ideas for bathroom towel storage because finding the perfect setup that makes them stand out is often quite a formidable task. Still, it cannot be denied that hooks offer a nice low-key storage option for bath towels. Plus, with hooks, you don't need so much space to organize towels perfectly.
Go DIY by nailing at least five fishing hooks on a wooden board and hanging it on any open wall space. Or, get customized hooks for extra towel storage.
7. Install Pegboards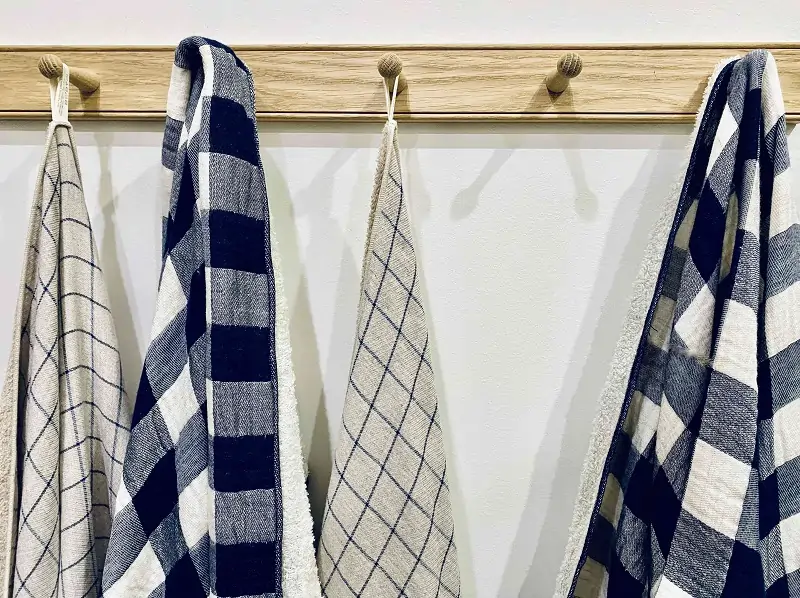 The playroom theme of pegboards is often minimalist — just like hooks. Besides, they are a budget-friendly option every homeowner should try.
Thanks to their simple yet classic form, pegboards will effectively boost your bathroom's overall appeal while providing additional space for storing cleaning linens.
This Scandinavian bathroom utilizes a small pegboard on the open wall space: unpretentious yet functional, it is all about effective storage.
8. Get Crafty with Rings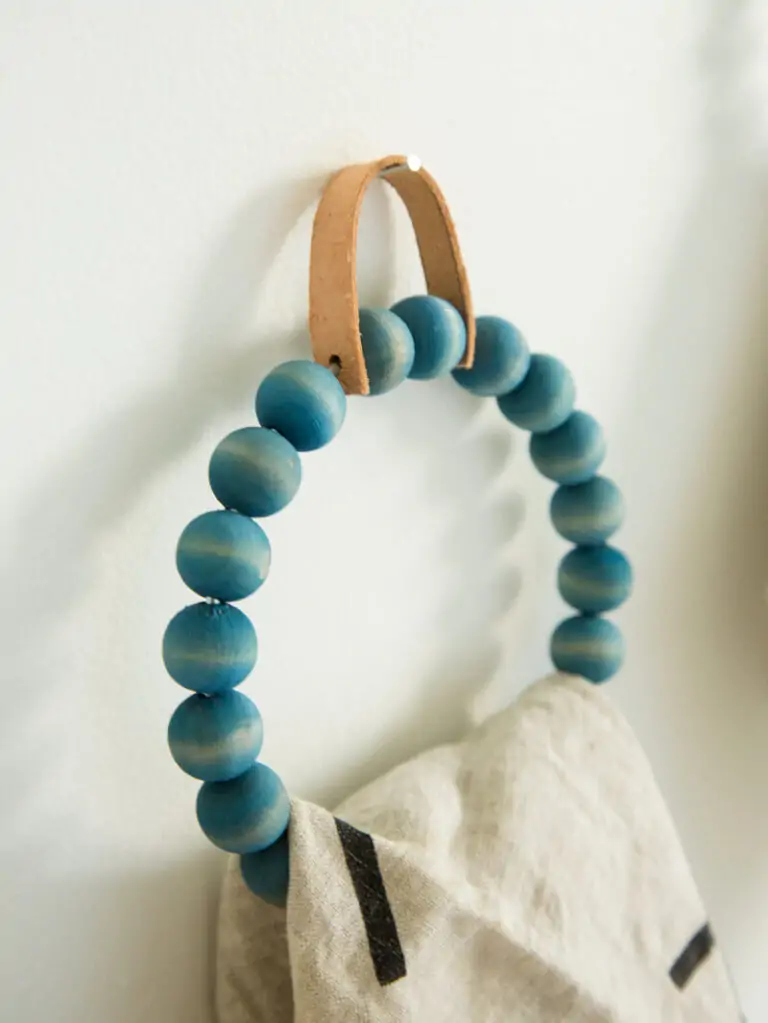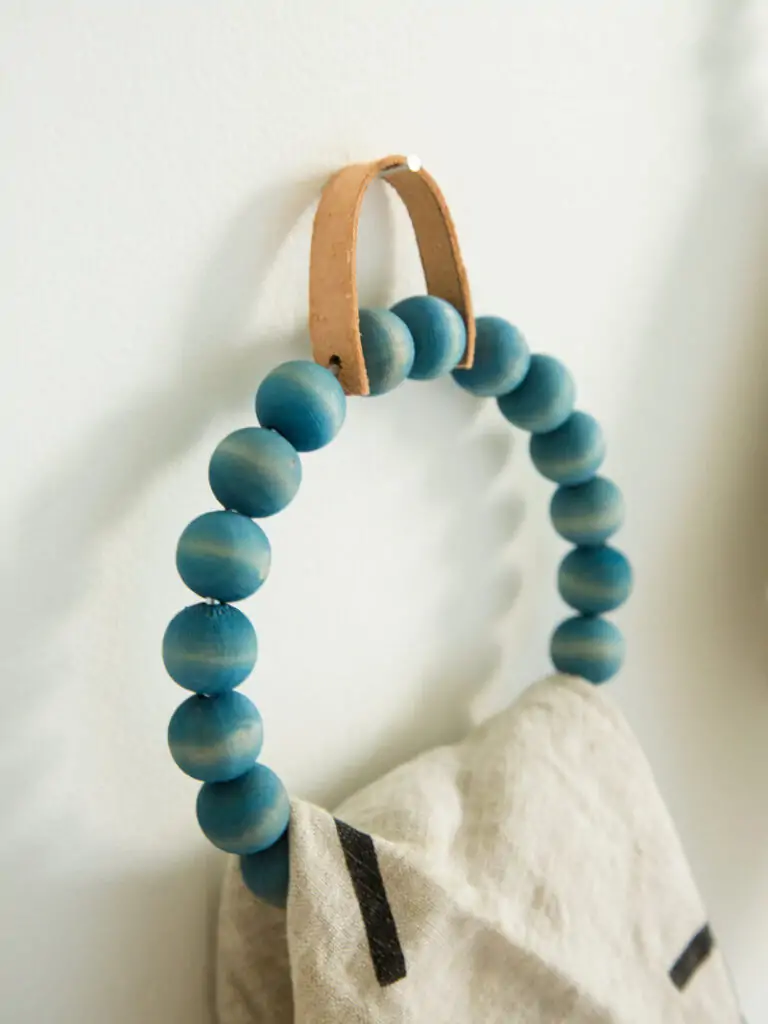 A ring is a truly versatile idea for a small bathroom: a towel holder shaped like a large O can be made from any material and decorated in any possible way. Rings come in different shapes, sizes, and styles: your options are really innumerable.
While they may seem unnoticeable, rings are the best way to add an exquisite spa-like effect to a small washroom. Just integrate them beside a medicine cabinet or on trim wall space. Alternatively, place them beside your washing basin for a more simplistic effect.
Rather than being fixed on a cabinet or beside a shelf, in this bathroom, the DIY towel ring is positioned on an open wall. This idea is perfect if you have lots of wall space or if you just want to add more creative decor pieces with hanging materials.
9. Creative DIY Basket Towel Rack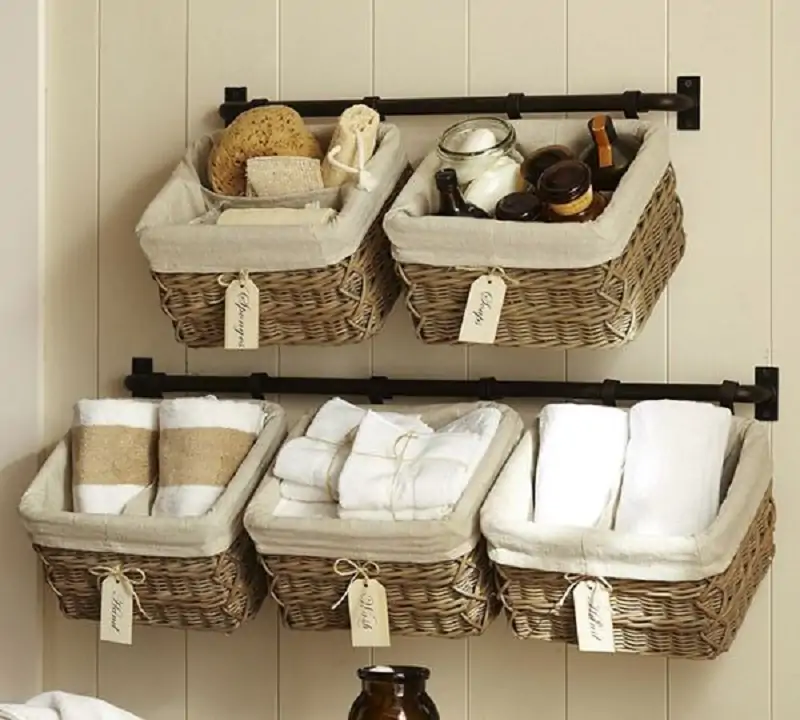 Another creative towel display homeowners should try in their small lavatories is a basket island.
Baskets are among the more simple display ideas. All you need to do is mount three to five baskets together, whether wicker or ring baskets and place them above the vanity to act as floating shelves.
FAQs
How Can I Store Towels in the Bathroom?
How you store bath towels mainly depends on the amount of space available and the design aimed. Truly successful bath storage towel ideas for a small bathroom can range from placing large rails close to the vanity or using a repurposed ladder behind the door. When decorating your washroom, just make sure the ideas you choose will help you place towels cleverly and in an organized way.
How Should I Store My Towels Without Space?
Two of the best ways to store towels in the washroom are: to create a practical space or area where they can hang to dry and to store towels in a folded or rolled pattern.
Where Do You Put Towels in a Small Bathroom?
Larger bathrooms make the work of organizing towels easy. So, utilizing ample spaces is nowhere near as adventurous as finding the right towel placement in small bathrooms. With a small bath, you can consider unique placement plans like behind the door, under the vanity, on the ceiling or wall, over the toilet, and even beside it.
What Can I Store My Towels In?
In a well-designed bathroom (especially a small one), a towel holder can be anything that works. You can store your towels in/on:
Wicker baskets
Wire baskets
Cabinets
Floating shelves
Ladders
Hooks
Rings
Bucket
Bar
Wine racks
Rail
Storage bin
Conclusion
Towel organization can quickly be a headache, and finding storage for these bulky linens can be a puzzle for many small bathroom owners. In a small bathroom, ideas for towel storage that really work and effectively declutter the space can be things like a well-mounted rail, built-in racks, hooks, simple rings, pegboards, basket folders, wall-mounted cabinets, and stylish ladders. It turns out, then, that organizing your towels is not impossible.