14 Cool Bathroom Accent Wall Ideas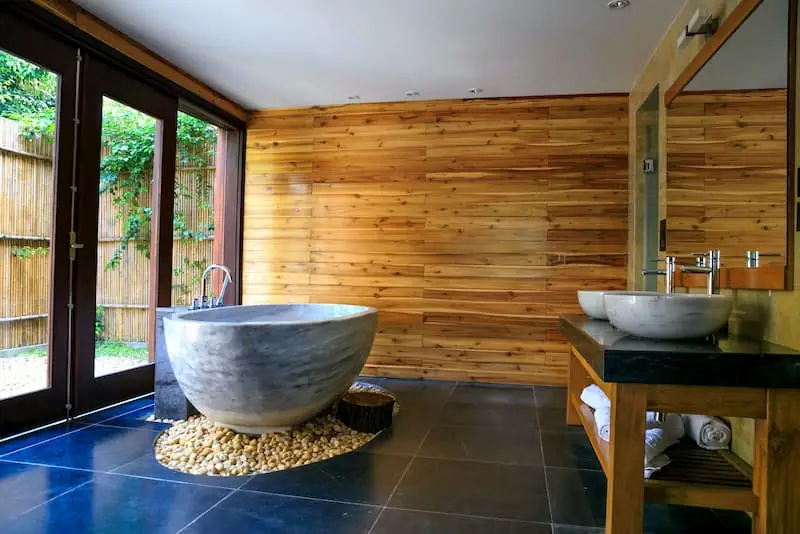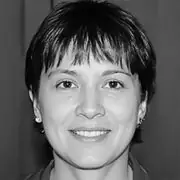 Accent walls have been at the forefront of interior decor for decades, especially as many people use them in focal points of their residential properties like the living room. However, bathroom accent wall ideas seem to have gained more popularity today. The reason is that accent wall ideas for bathrooms incorporate both multiple colors or bold and soft paints to create unique designs on your bathroom walls to achieve an improved facelift.
Yet, for many, accent walls in the bathroom are never a go-to option since the bathroom is never an entertainment space for family, friends, neighbors, and loved ones. If you are wondering whether you can have an accent wall in a bathroom, the simple answer is "YES!" The shower room is a "live-in space" where you spend 20% of your time relaxing. Hence it is an unwinding space that requires them to be comforting and inviting. Accent walls add light and life to your messy and ugly bathroom walls.
Do you want to know what looks good on bathroom walls or what wall should be the accent wall in your bathroom? Here are 14 ways to incorporate an accent wall in your powder room.
1. A Touch of Natural Barnwood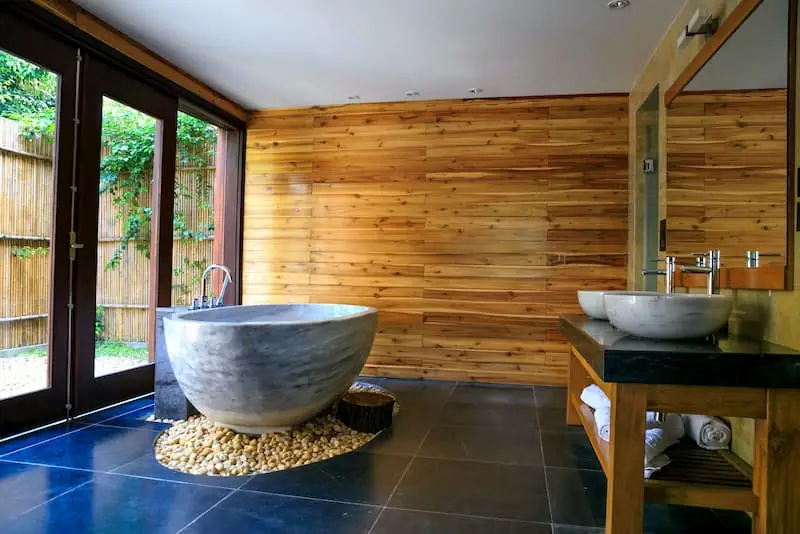 Nothing beats the feeling of having your bathroom walls designed with natural wood patterns to liven up your space. What makes this design stand out is its natural design and look achieved with a wood plank.
Whether designed with faux woods or real ones, Barnwood is the perfect way to give your home that rustic yet authentic feel. Plus, they are timeless designs that are easy to maintain and cut down on construction waste.
Add character to your interior design while attaining a warm natural space with reclaimed Barnwood.
2. Add a Blue Feature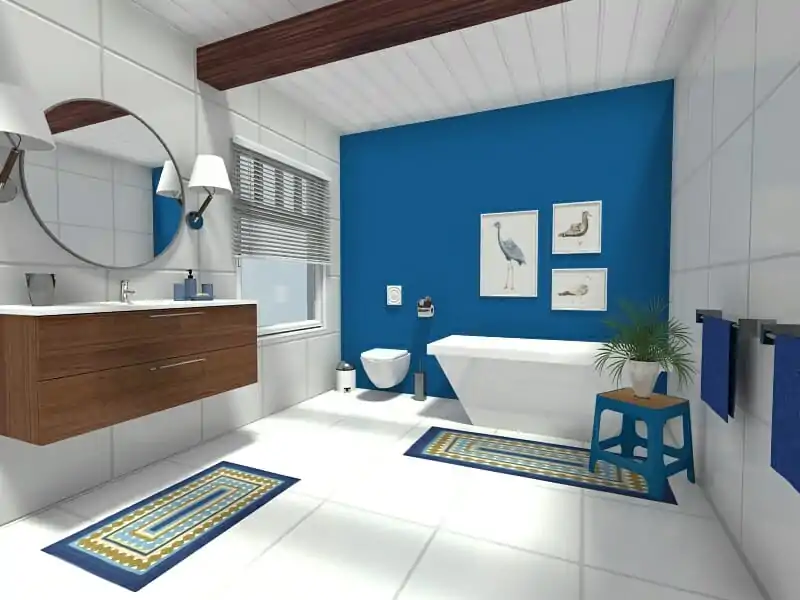 The color blue represents tranquility and freedom. So, if you dream of an open space with no limitations or a relaxing space to be uniquely you, a blue feature in your parlor room is an excellent choice.
On the other hand, if you love watching the sea bodies or sky, a blue color scheme could add a unique sea or sky-like twist to your lavatory walls.
3. Bathroom Accent Wall Tile Ideas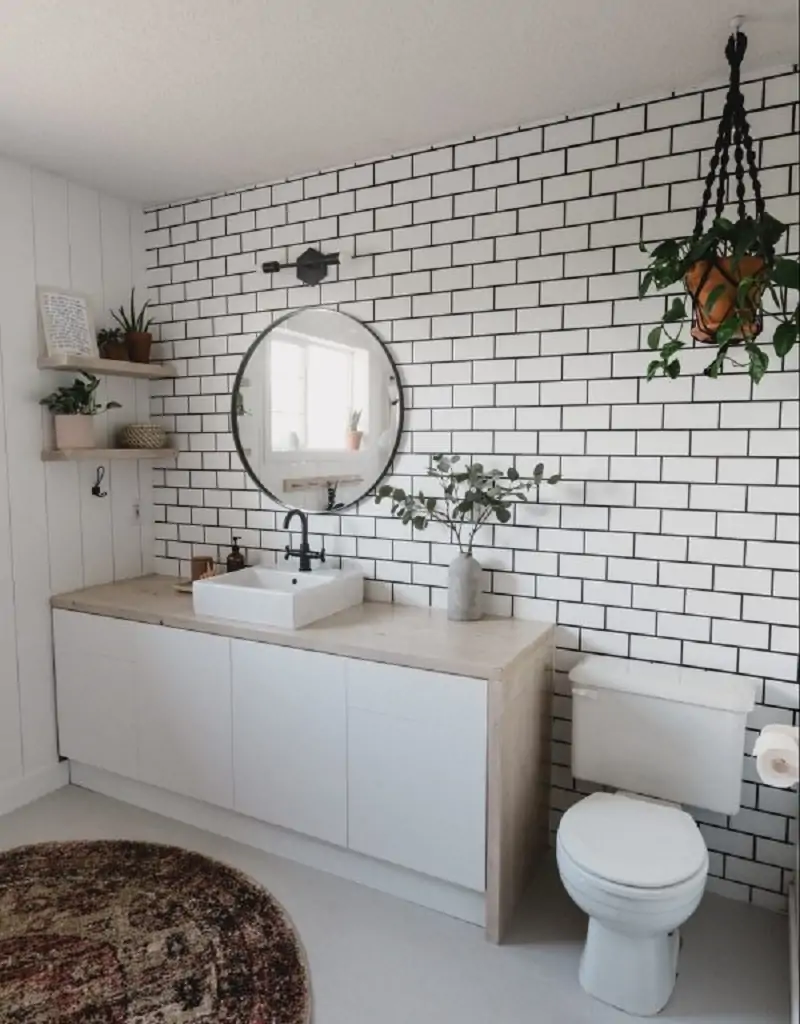 Did you know that installing a bathroom accent wall behind the toilet, shower, bathtub, or behind the mirror can change your drab bathroom into a fabulous one?
Among our favorites are the ageless tiles that accentuate your shower zone to create an eye-catching and relaxing décor. Tiles are made with different materials and come in different shapes, patterns and sizes. So, you have tons of options to suit your preferences and the overall theme of your space. Whether you prefer a mosaic black and white tile, gray marble, black marble, or aqua tiles, tile features will give your parlor room a unique and timeless glow.
This restroom feature wall idea ranks high on our favorites because tiles are easy to maintain, especially in a wet and humid room.
4. Vintage Accent Wall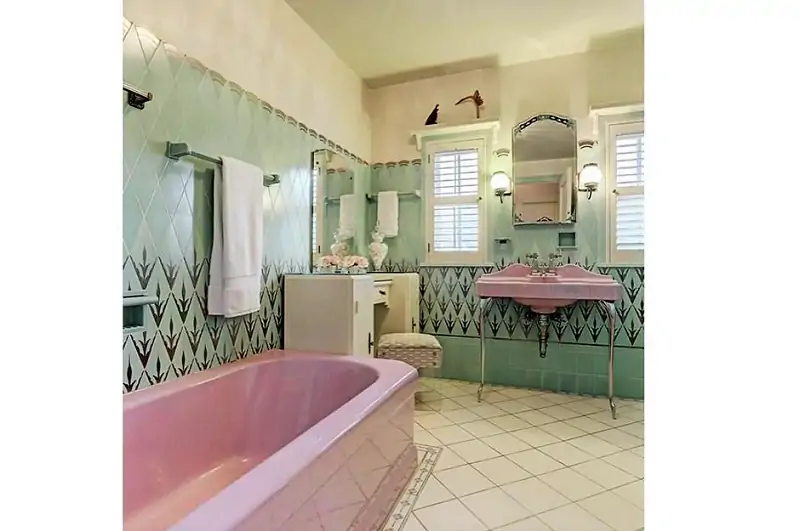 Love the vintage-themed parlor room? Then get a vintage feature wall to improve the cozy and charming aesthetics of the lavatory. This vintage design adds intrigue, class, and sophistication to your parlor room.
We love this look because it adds a rough and rustic dramatic statement that evokes nostalgia while embodying a fairy-tale look. Flanked by a beautiful bathtub, together with its pink and lime-green color scheme, this vintage feature takes you back to the vintage period while improving its look.
5. Bold Color-Block Ideas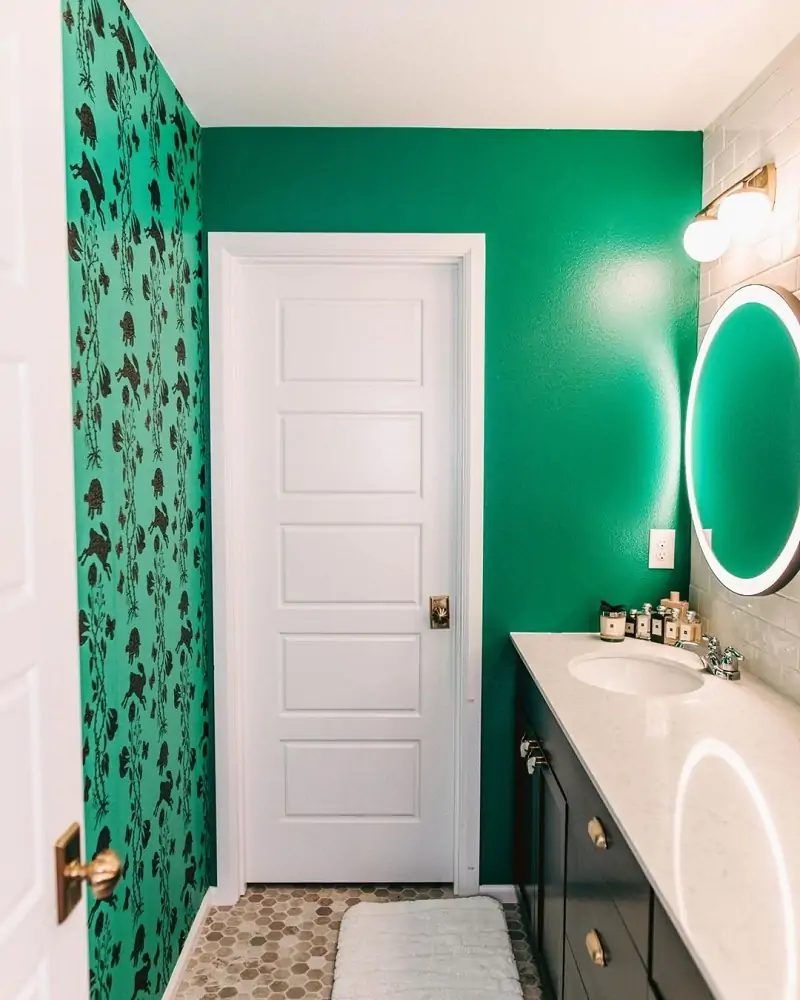 If you have a deep love for bold colors, there are many options to make your lavatory stand out; from wall stencils to murals and bold paints, you could make your dark and sad shower space look lively with bold and colorful feature wall updates.
6. Minimalist and Stylish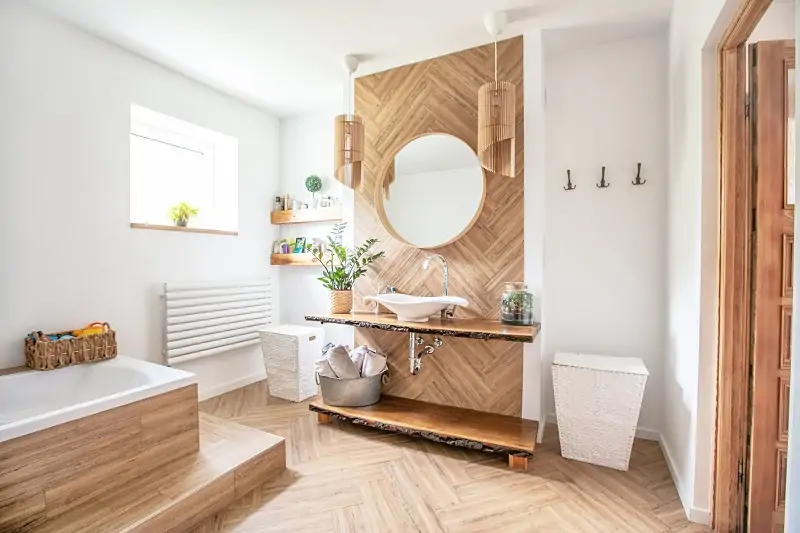 If you're not a fan of bold colors, a minimalist color scheme will also help you make a bold statement on your feature walls. For instance, this beige color pattern keeps your lavatory looking stylish without drifting from the neutral theme of your home.
You could also use various shades of neutral colors, such as black and white, to create a subtle yet impactful accent design. Make sure to curate a color scheme in different patterns to add the desired visual contrast you seek.
7. Create a Floral Mural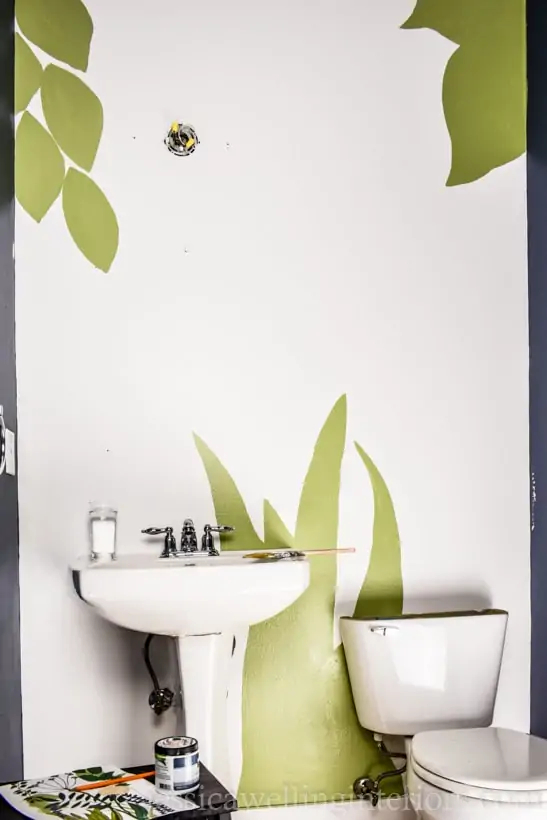 While many accent walls incorporate abstract designs to make them stand out, yours don't have to follow this norm. Flower murals shy away from abstract realism to help you curate a simple and easily recognized flower picture pattern to accentuate your interior lavatory décor.
8. Peel and Stick Wallpaper Ideas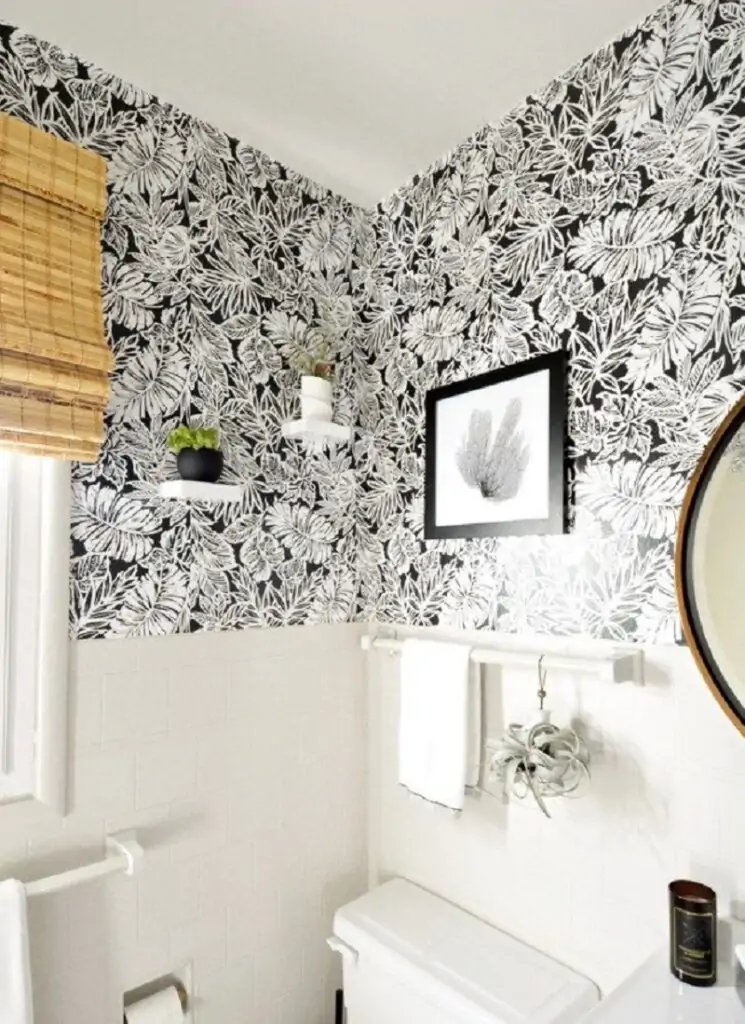 Apart from murals, wallpapers are a great way to improve the overall look and feel of the bathroom. However, peel and stick wallpapers offer double perks since they are easy to install and uninstall. We love this wallpaper idea because you never have to deal with wallpaper mud when applying wallpaper, nor do you have to worry about damage to the sheetrock.
9. Black Accent Wall Bathroom Ideas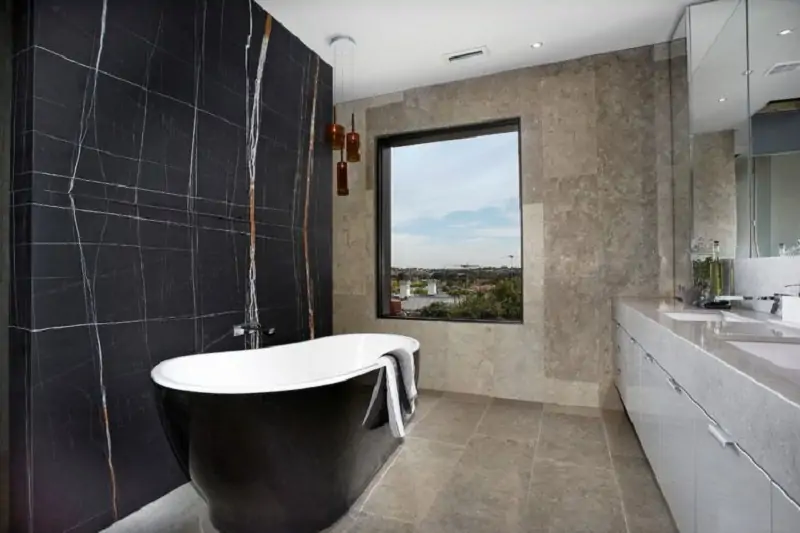 Most people associate black with sophistication, elegance, and class. If you need these three quality features in your restroom, this picture is the perfect example of how to choose an accent wall in the bathroom with a black theme.
The focal point of this picture is that it covers the longest wall in the bathroom, thereby emphasizing the length of the space, which makes the room appear longer and larger. To create more fascinating highlights, consider finishing the space with uniquely crafted hardware such as black cabinet knobs, mirror with black frames, and black light fixtures. The black accent backdrop in this picture even features a colorful line design that makes it stand out.
10. Shiplap Features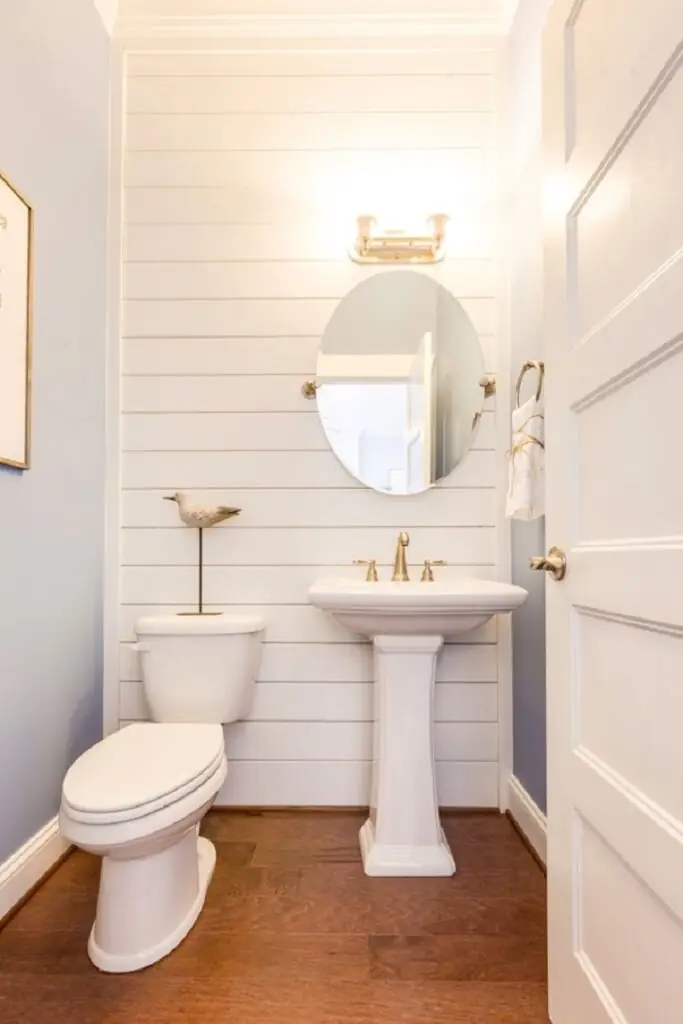 Shiplap décor adds texture and character to your feature patterns in your restroom. It gives your space that rustic and country charm while making it feel comfortable and homey.
However, the best part of this feature idea is that a shiplap can be painted. So, if you previously had one in plain white color, shiplap gives you access to bathroom accent wall paint ideas that would make your space exclusive.
With a shiplap feature, the washroom could transform into a gorgeous space for unwinding.
11. Stone Accents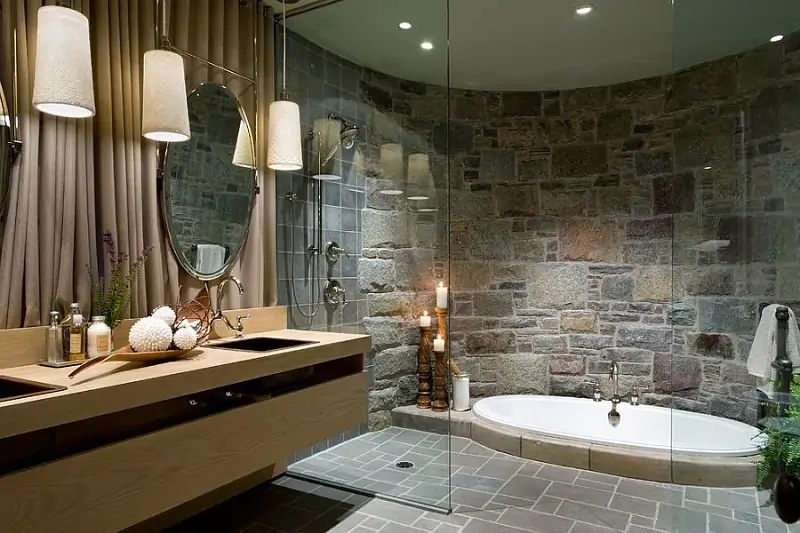 Are you trying to replicate a cabin ambiance or ski-lodge décor? Or do you want your restroom to have that comforting and humble farmhouse style? Either way, these stone accents are a great way to veer away from the polished, sophisticated, contemporary, or modern look.
Stone features give your parlor room that natural feel that adds a relaxing layer to your home. Whether you choose the rough-cut stone wall or natural brick patterns, stone accents can make your restroom area feel more lively and tranquil.
12. Contrasting Stone Balance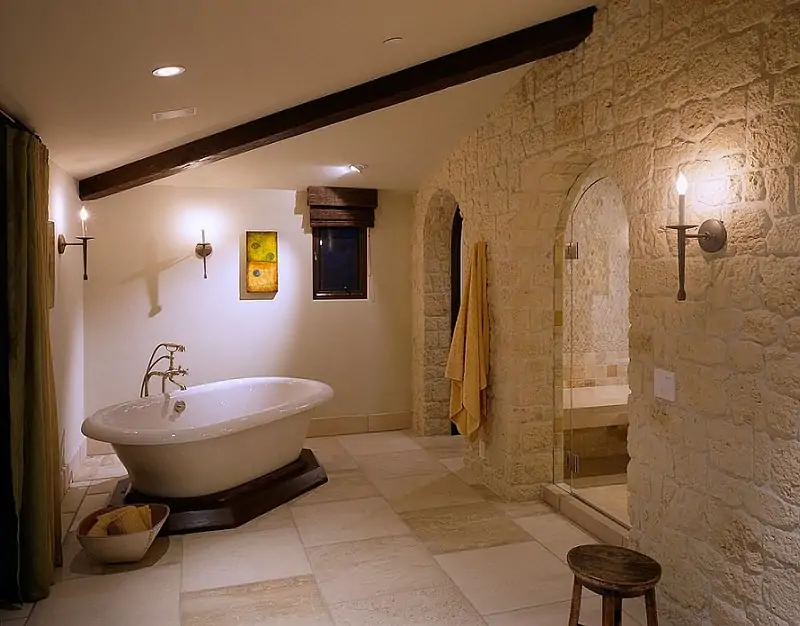 Don't want to stick with the country, rustic and vintage farmhouse restroom styles? Mediterranean style bathrooms accent walls are the next big trend for you.
This picture showcases a Mediterranean-style bathroom with a stone wall revealing contrasting styles and textures. This style stands out because it displays creative patterns and drives away any lurking lifelessness from the bathroom setup.
A combination of limestone and sandstone gives this Mediterranean wall features beautiful textural and visual contrast. If you have a modern bathroom, a natural fieldstone contrast will provide it a rustic, farmhouse, or country flair.
13. Cityscape Mural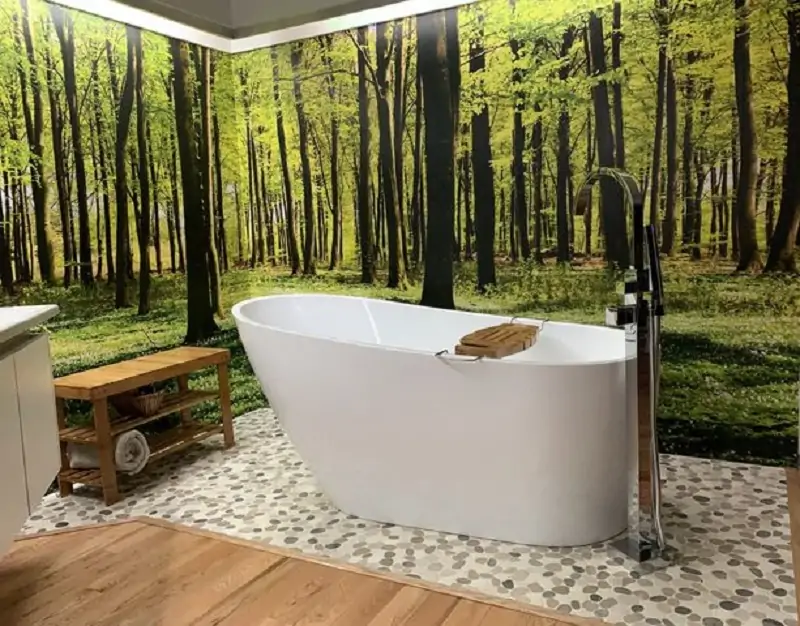 If you want your traditional restroom to look more urban, urban cityscape accents will set the tone for your parlor room.
The best part about cityscape murals is that you get the chance to place an image of your favorite or dream city in your space. Cityscape murals also come as maps, so you remind yourself of all the adventures awaiting you in the world.
14. Get Crafty with Onyx Walls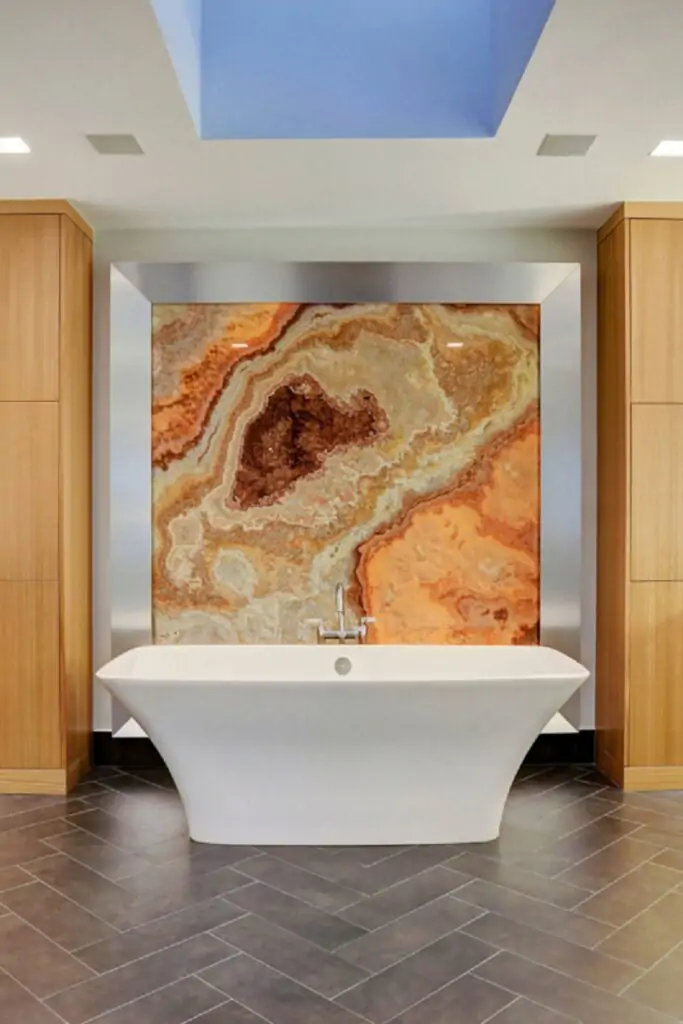 One of the rarest decors used in restrooms, onyx walls make your parlor room look like a real art piece. For art lovers with any art pieces in their lavatory, onyx features truly make that unique artsy difference while making your space feel like a palace within tiny confines.No room is better left in a shabby state, not even your restroom. While the effect of bathroom accents may be subtle, especially for people who love the minimalist approach, feature walls also offer a dramatic and unique feel that will make your parlor room less plain and noticeable. Transform your parlor room in no time with these eye-catching bathroom accent walls ideas.