21 Small Laundry Room Ideas You Didn't Know You Needed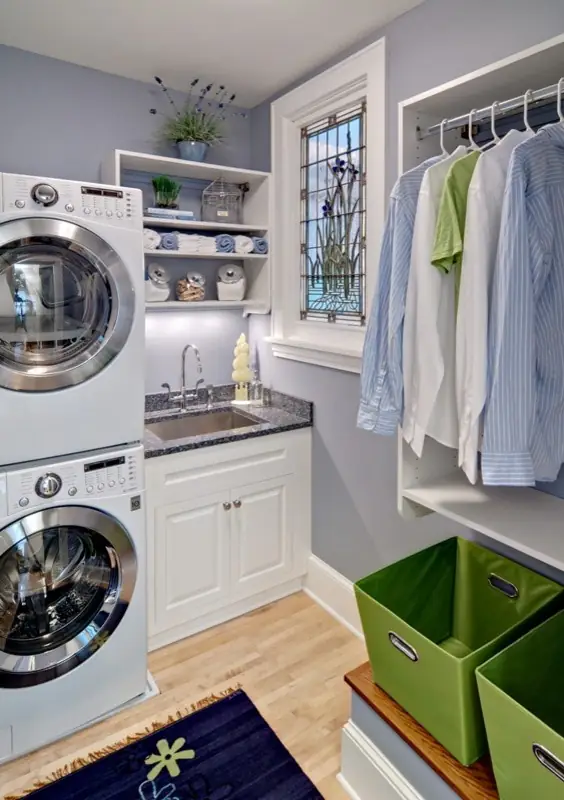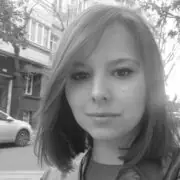 A laundry room is usually a small and unassuming place where you generally don't plan to spend much time, so not many people designing their home give any thought to small laundry room ideas. But why does this area of your house have to be an afterthought? We're convinced that being smart with your design decisions will allow you to get much more of this place — so we gathered small laundry room ideas and photos to show you how it can be done.
1. It's All in the Wall: Storage Doesn't Have to Be Boring
If you don't have a lot of space, the obvious solution is to put shelves above your washer and dryer to store your things. It matters how you go about it, though: there are many ways to design this kind of storage space.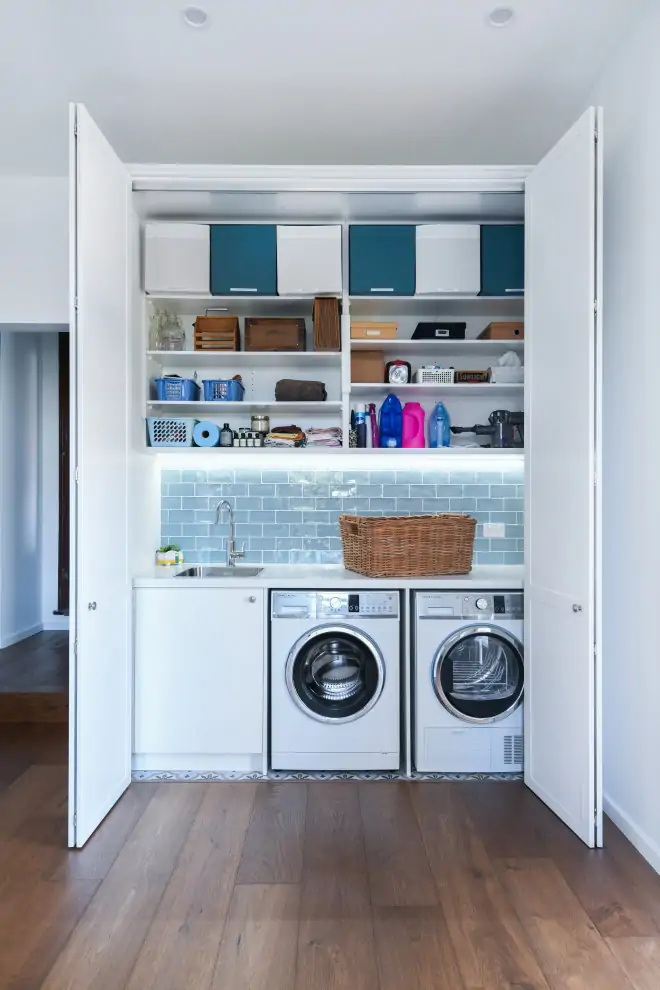 2. Staying in the Closet: a Good Idea (for Washers and Dryers)
Not everyone can afford a separate place for their appliances. Worry not: you can make a nice space for a washer and dryer out of a closet!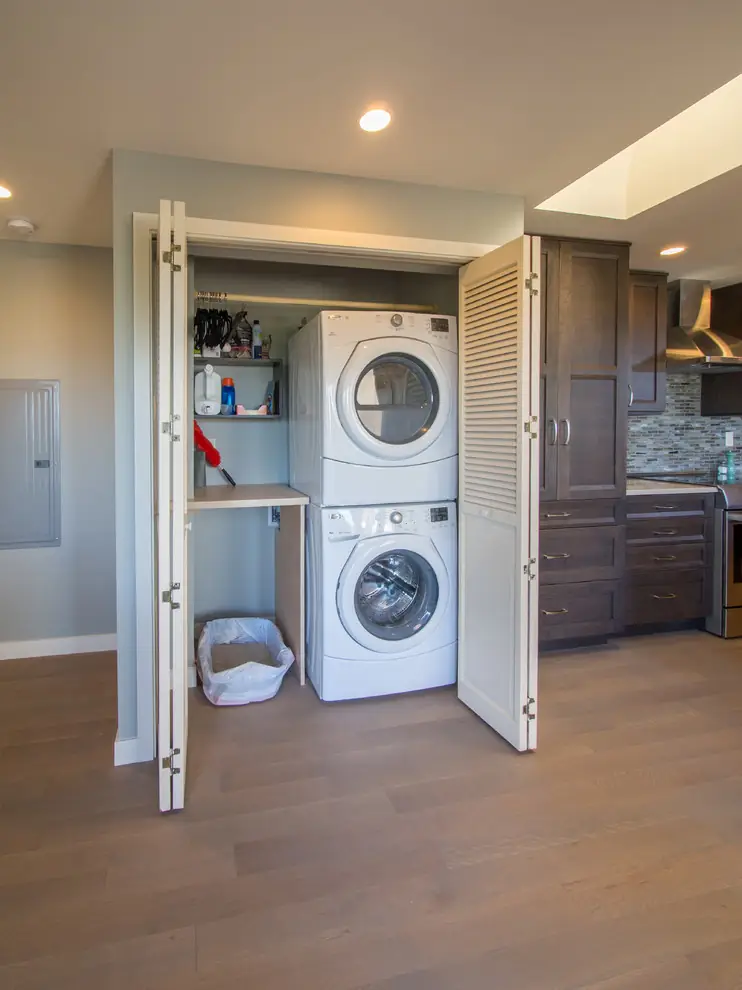 3. Like Tetris Pieces: Moving Things Around
If the room's dimensions don't even allow putting your washing and drying machine next to each other, consider stacking them on top of each other.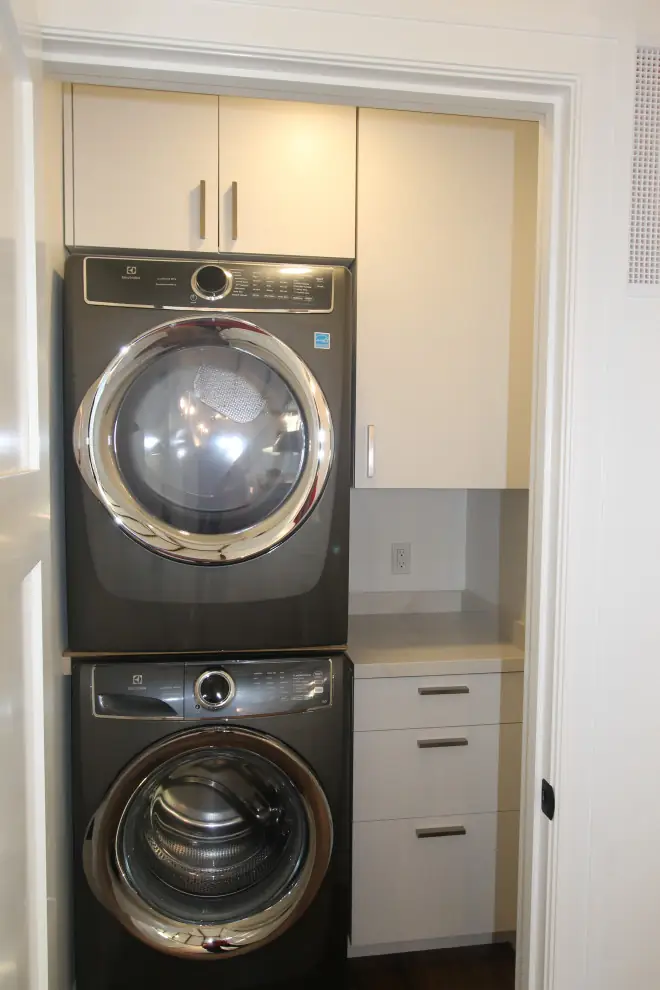 4. Looking Like a Million Bucks: Such a Tiny but Fashionable Place
There are very small laundry room ideas around — lots of them, so here's another one: compensate for the lack of space with the quality of materials. In this one, cabinets are custom made, giving the whole premises the air of luxury.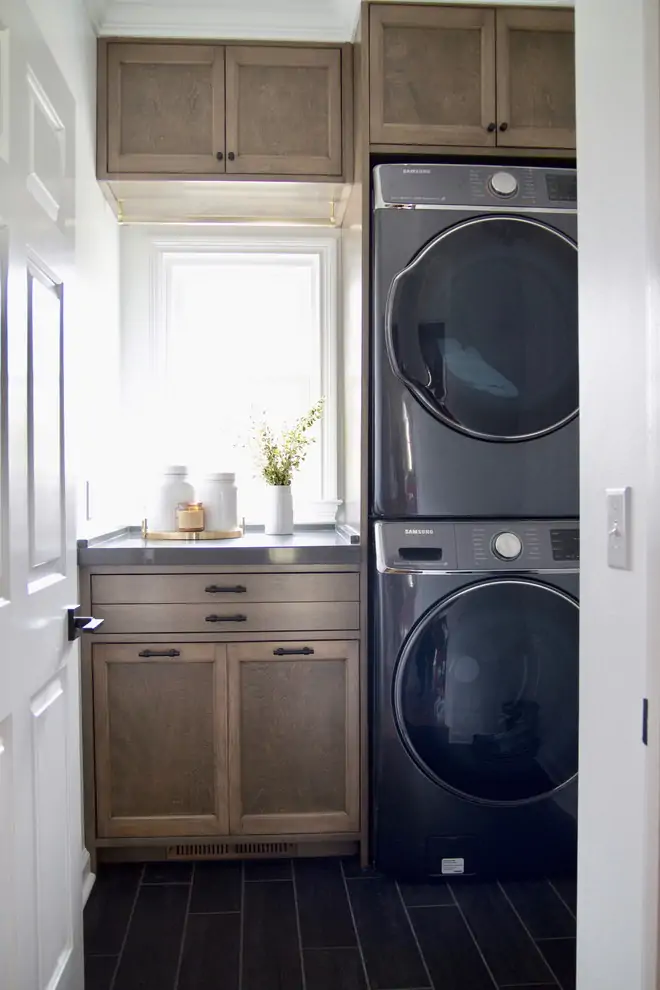 5. Thinking About Usability: Consider Your Layout
Small transitional rooms are often narrow by design. Thankfully, when it comes to appliances, front-facing doors that block the whole passage are not the only option! There are enough small laundry room ideas with a top-loading washer (or/and dryer, if it's relevant to you) to help make it work.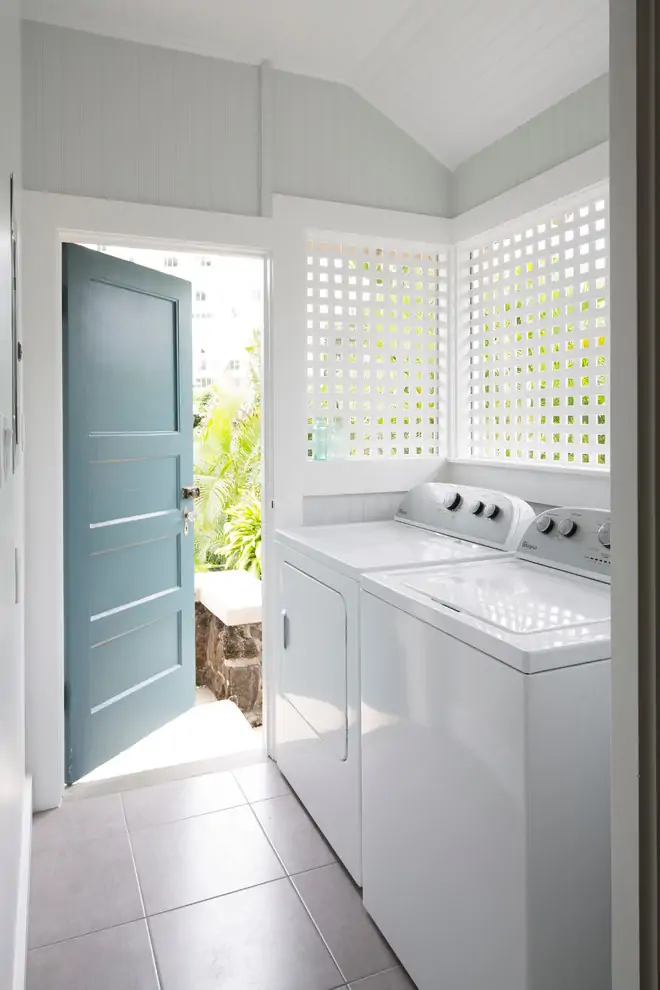 6. Go Multifunctional: Compromise on Space, Not Purpose
Who said you couldn't have it all, even if you're pressed for space? Enclosing your washer and dryer within wood panels allows you to use the surface for anything. It doesn't have to be related to washing the clothes: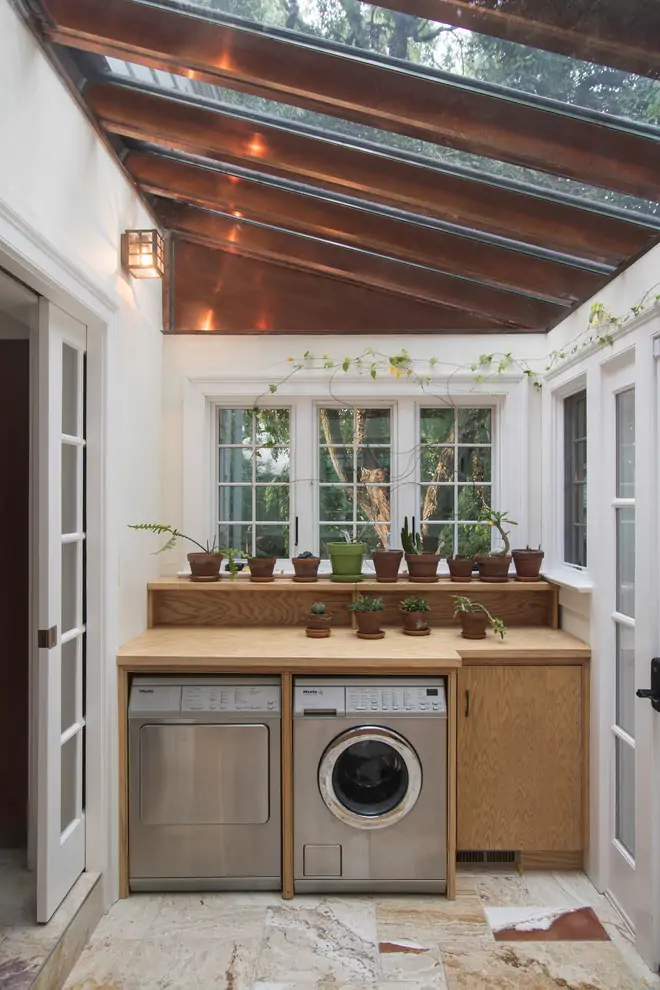 7. Washing Everything Away: a Clean Room
Speaking of multifunctionality, a more obvious choice is to put your appliances either in the kitchen or bathroom, like here. It certainly makes it easier to work out the "guts" of the house like the pipe system. It doesn't mean that the design can't be beautiful, either: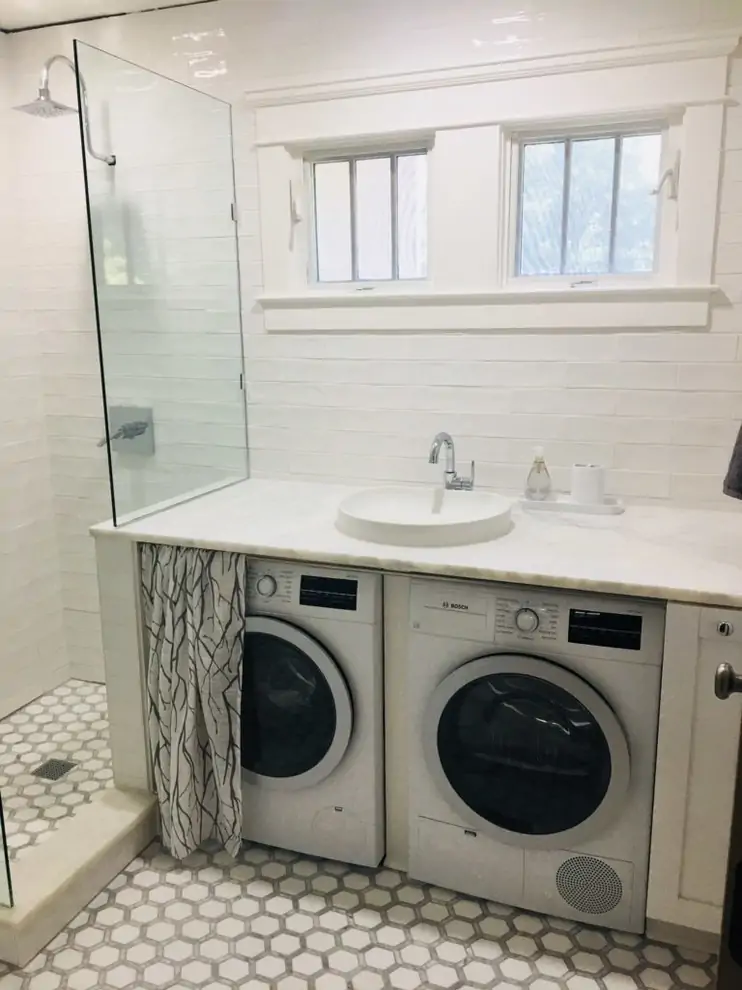 8. Let This Sink in: Utilizing the Corners
When you consider must-have add-ons to your washer and dryer, a sink is, without a doubt, close to the top of the list: it's nice to have it close by, whether you need to hand-wash a stubborn stain or clean your hands. That's why there are a lot of small laundry room ideas with a sink! Here's one: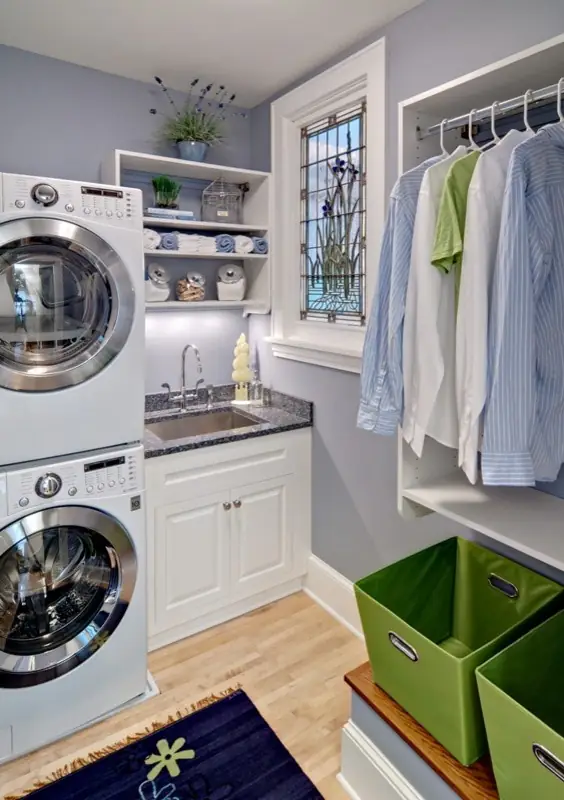 9. Bold and Beautiful: a Serious Look
Consider this example if inspiration in visual design means more to you than the practical side of things. This chamber is elegant in its combination of simplicity and style: The appliances, a sink, and some storage space that feature luxurious, rich-colored materials and a multitude of details elevate the design to unprecedented heights.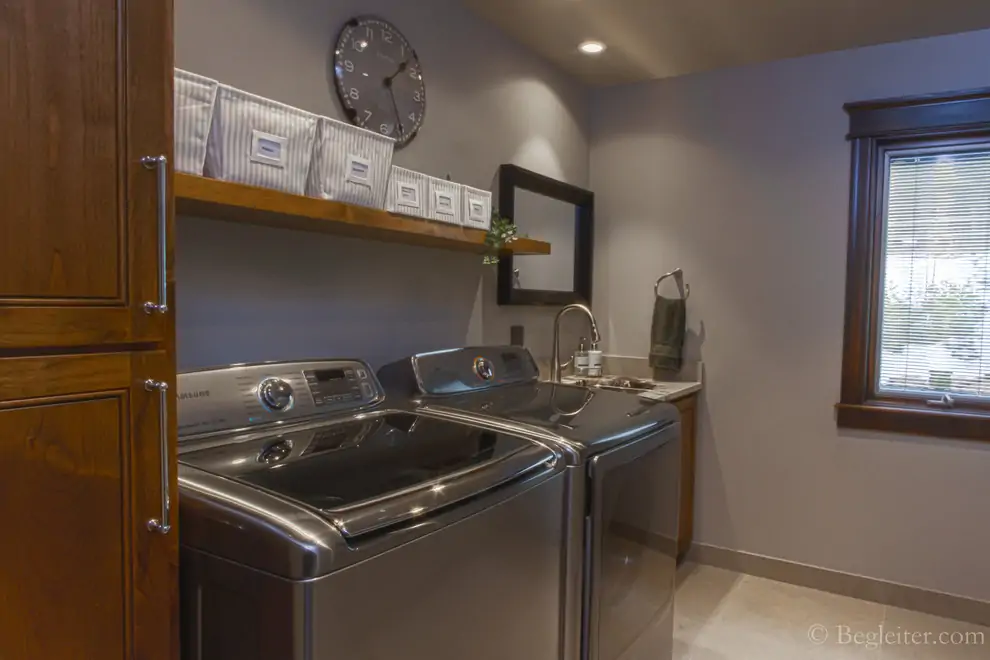 10. Out of the Doghouse: Keeping the Whole Family Clean
This is not just an area to wash the clothes, but a real mudroom! There's a doggy shower next to the washer and dryer, prompting everything and everyone to come out of this transitional place clean and tidy.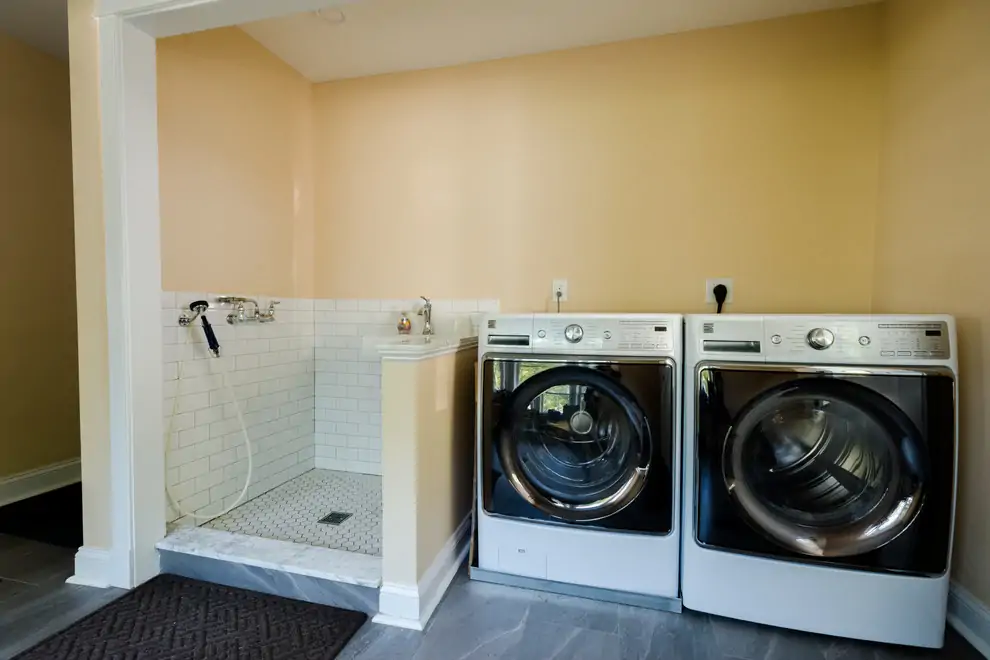 11. Hide and Seek: a Perfect Place for a Cat's Business
You can use an area of this kind to accommodate pets other than the family dog: this small cabinet has been put in to hide a cat's litter box, as evidenced by the door's design.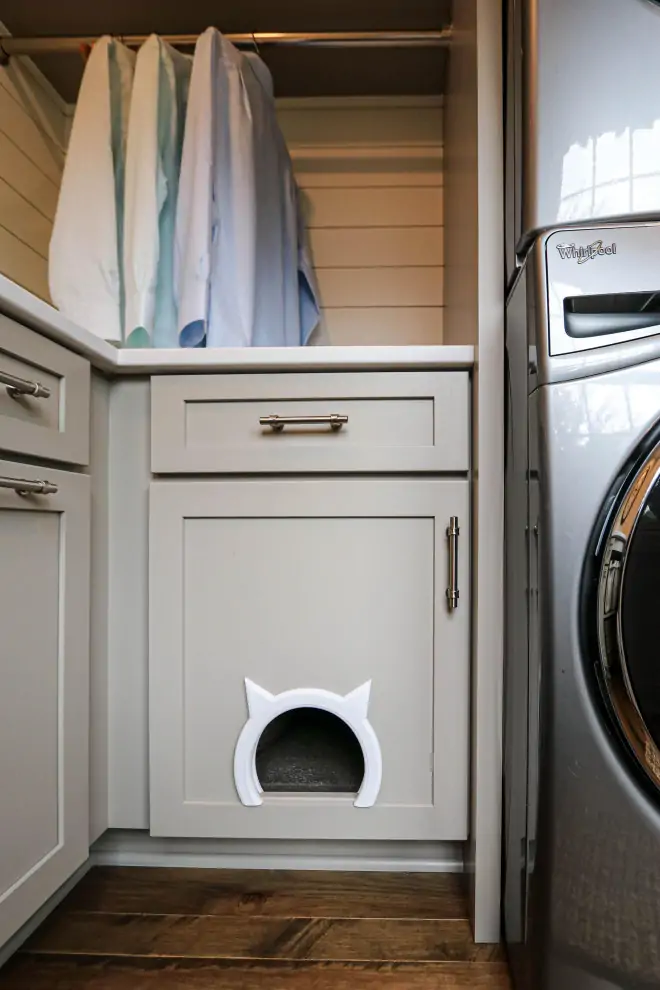 12. A Neat Freak's Heaven: Two Halves to Make a Whole
One of the well-known facts is that symmetry usually works well in design — even if the space's purpose is mostly practical and not aesthetic, it's no exception. Here, the washer and dryer are separated by storage space to create visual harmony, complete with the cabinets above also mirroring each other.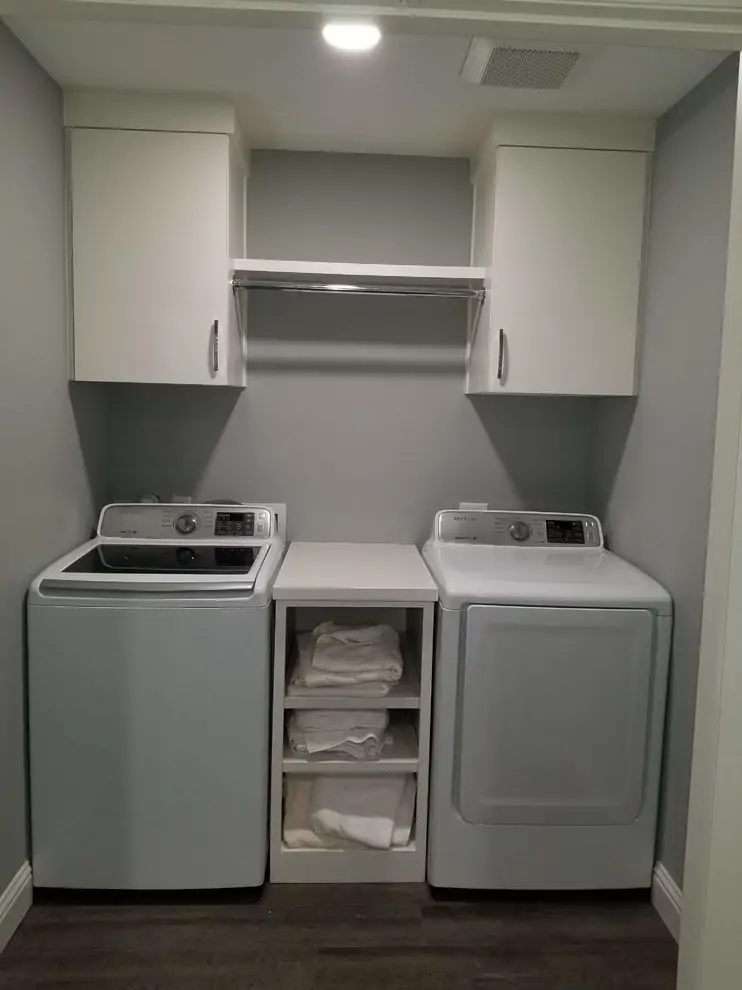 13. Hangin' on: a Simple Solution to Keep Your Things
Here's another idea for storage: put a metal rail above the washer and dryer. This helps organize your clothes while saving space: you can put everything on the hangers, freeing up the cabinets and shelves to store other things.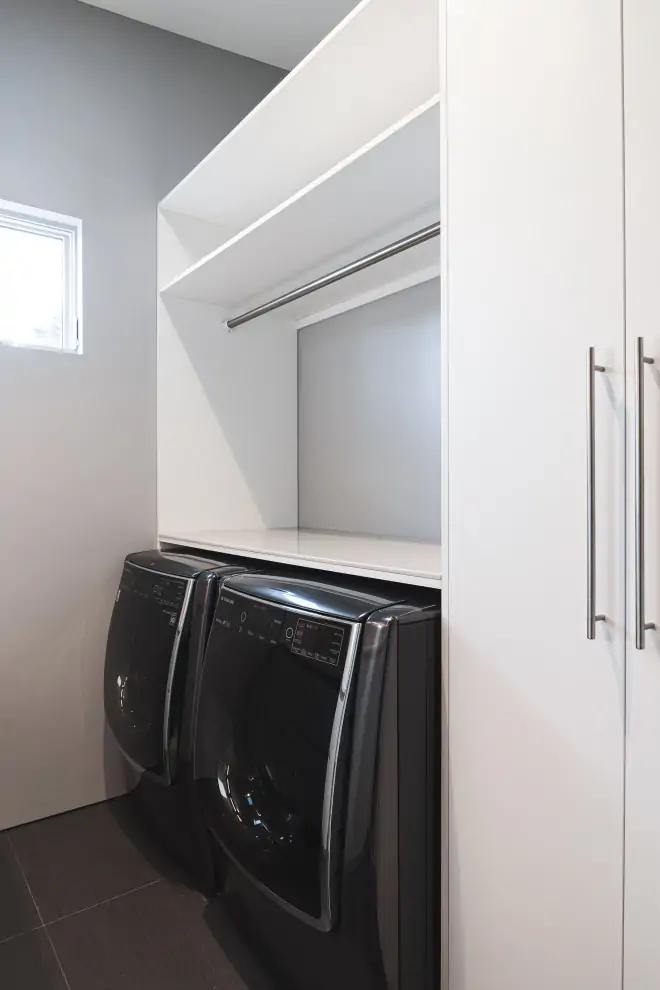 14. Feeling Good: It's a Room, Not a Dungeon
A laundry room doesn't have to feel like a cramped, stuffy space. Consider putting a window into yours if the layout of your house allows it: here, a sunny expanse with a grassy color palette and intricate wallpaper evokes a light-hearted summer feel.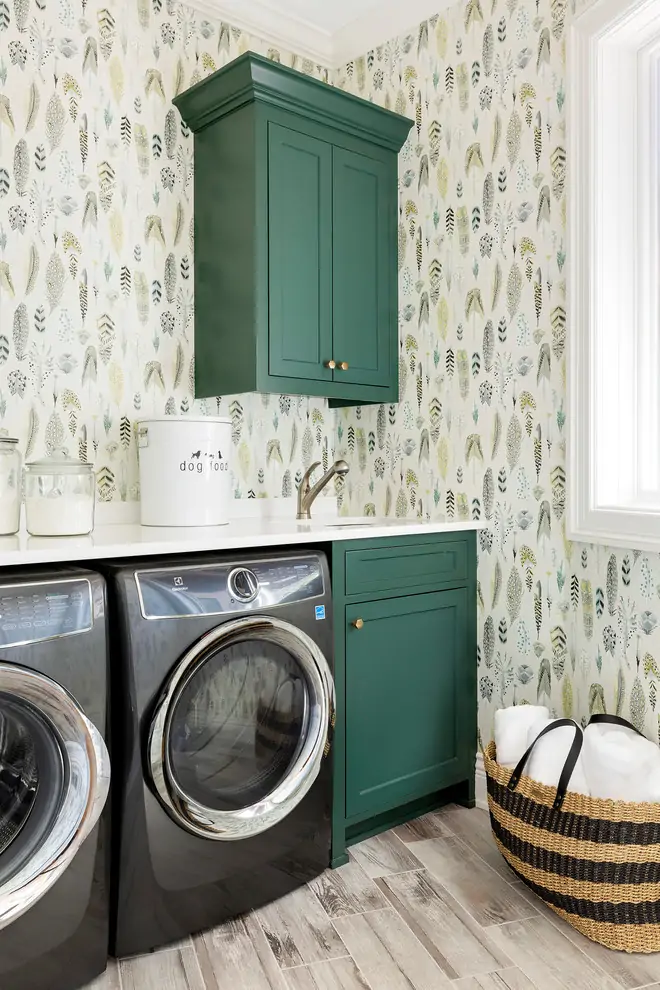 15. A 3D Solution: How to Get Some Extra Square Footage
An easy way to use your space efficiently is to mount a foldable drying rack to the wall. The best thing about it is that you can fit it almost anywhere.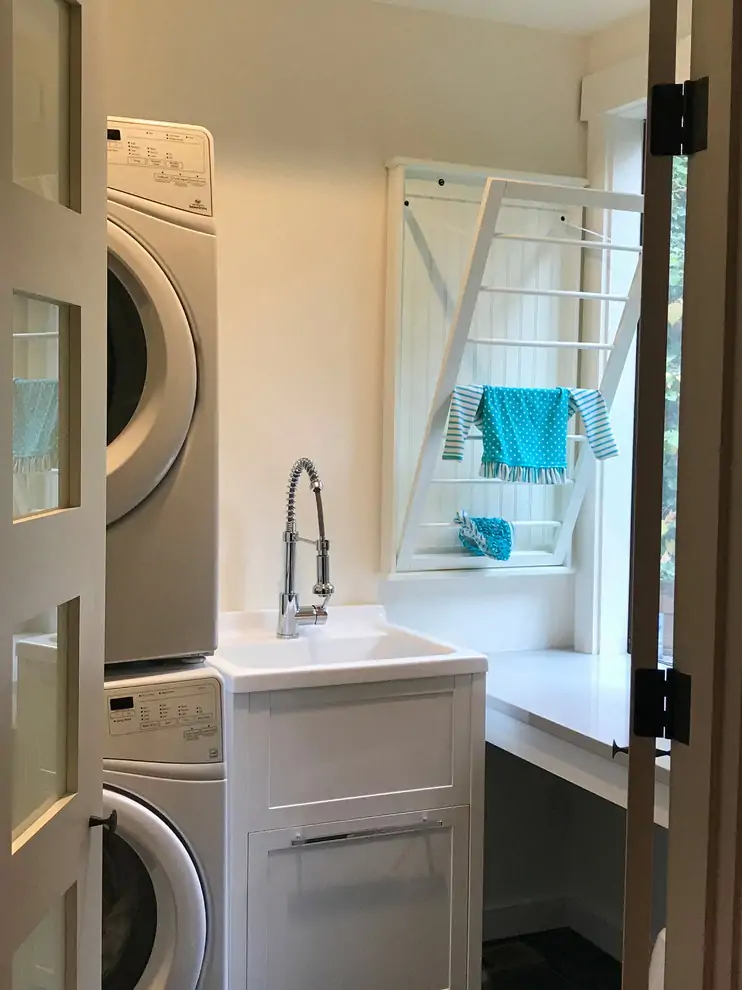 16. Shine on: a Dazzling Room With a Lot of Heart
Here's a laundry room with a roll-out ironing board — an amazing way to save space. This whole place is also simply stunning, with shiny metallics, white brick, and wooden shelves.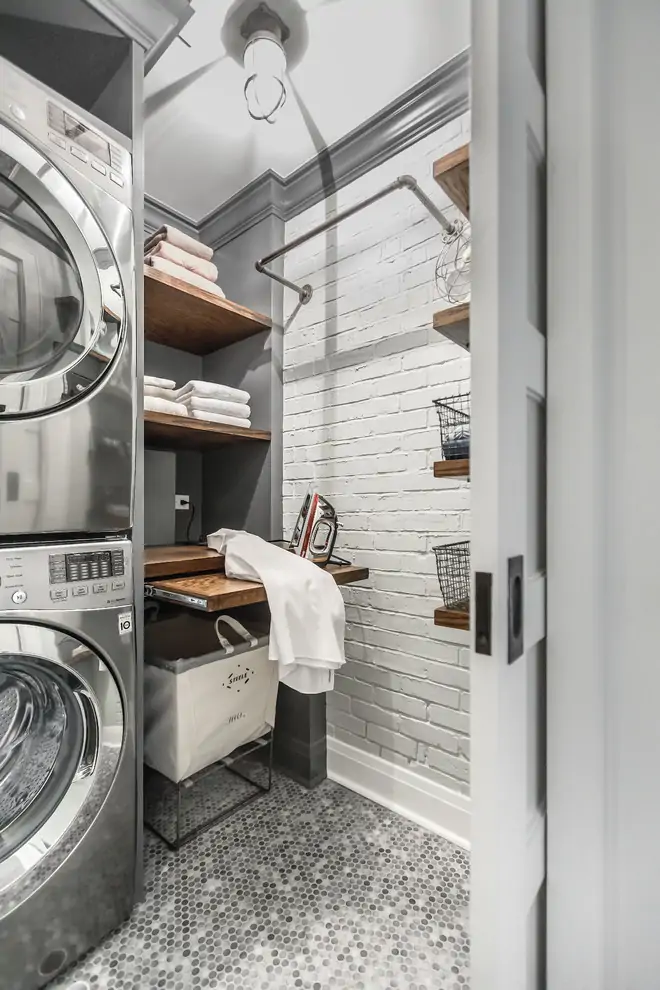 17. Pack It Up: Like a Storage Space (but Better)
Another fun way to conceal the appliances is to use a roll-up door. It will fit right in if you prefer light colors and straight lines in your home design!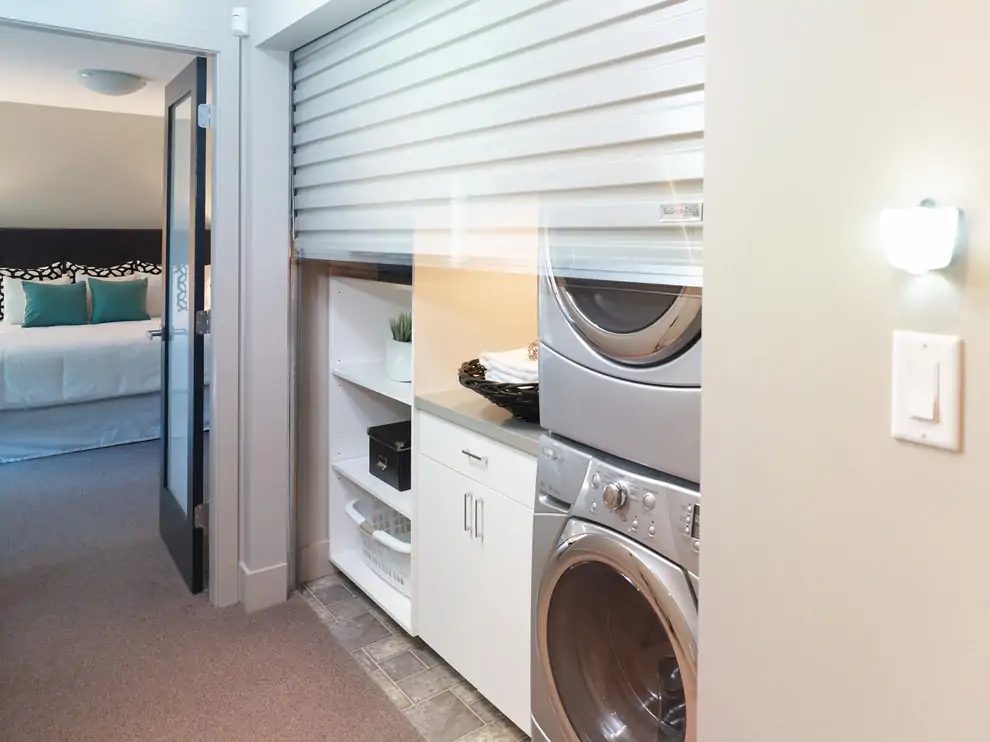 18. Making Something Out of Nothing: the Tiniest Laundry Closet
Here's one of the smallest spaces for laundry you can imagine — but it packs a punch! This clever way to use a closet goes into our pile of DIY small laundry room organization ideas since this storage solution can be quickly done with your own hands.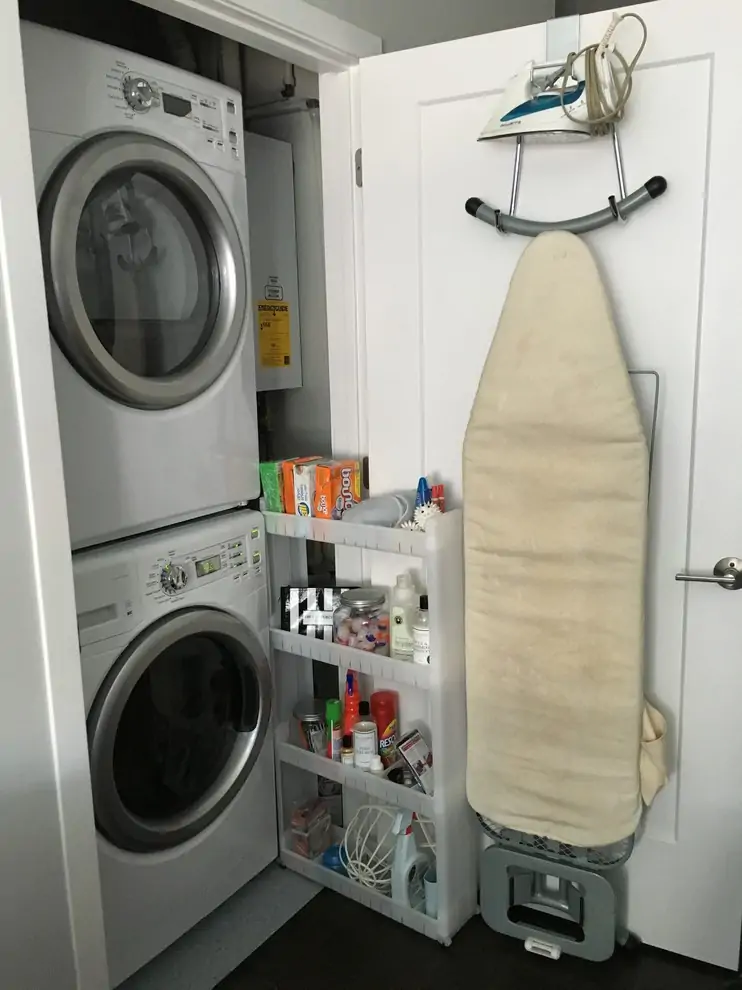 19. Pieces That Fit: There's an Idea for Anyone
It may seem like the wall above your appliances is usable only if they are front-loading, but that's not true: when considering cabinets for a small laundry room, the ideas with the top-loading washer are numerous — you need to be mindful of the lid. In this example, it's obvious that the appliances' opening won't interfere with the use of cabinets.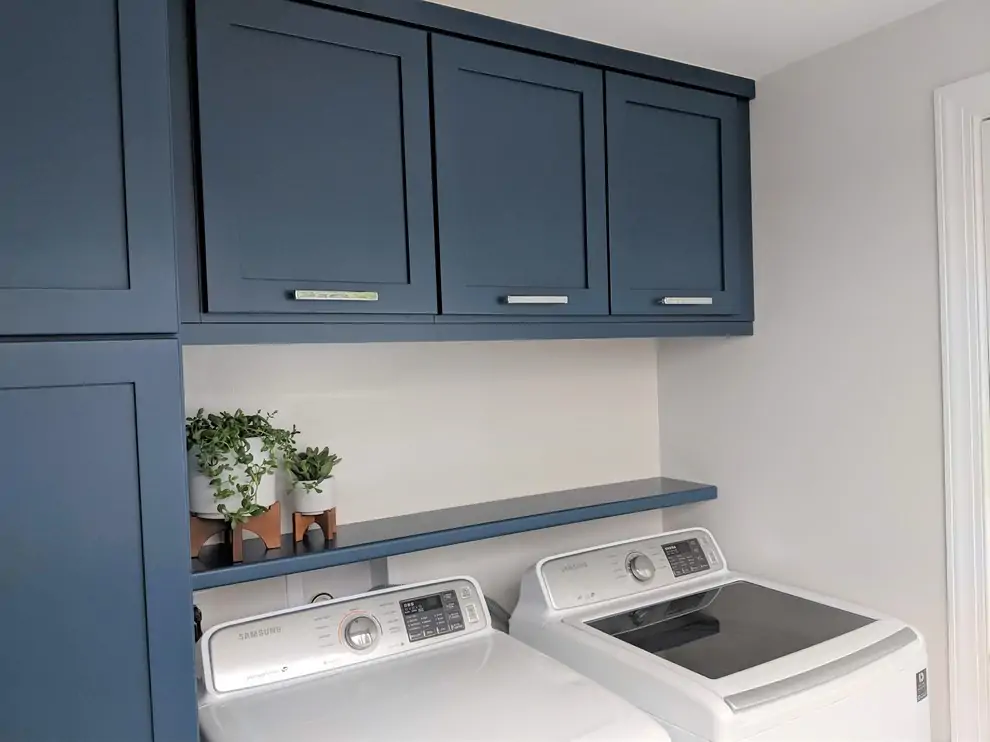 20. Storage That Features Enough Breathing Space: Designing Visually
What about some small laundry room closet ideas? What matters most is how the closet fits with the space's design. One of the designs we truly like is this one, with dark wooden furniture: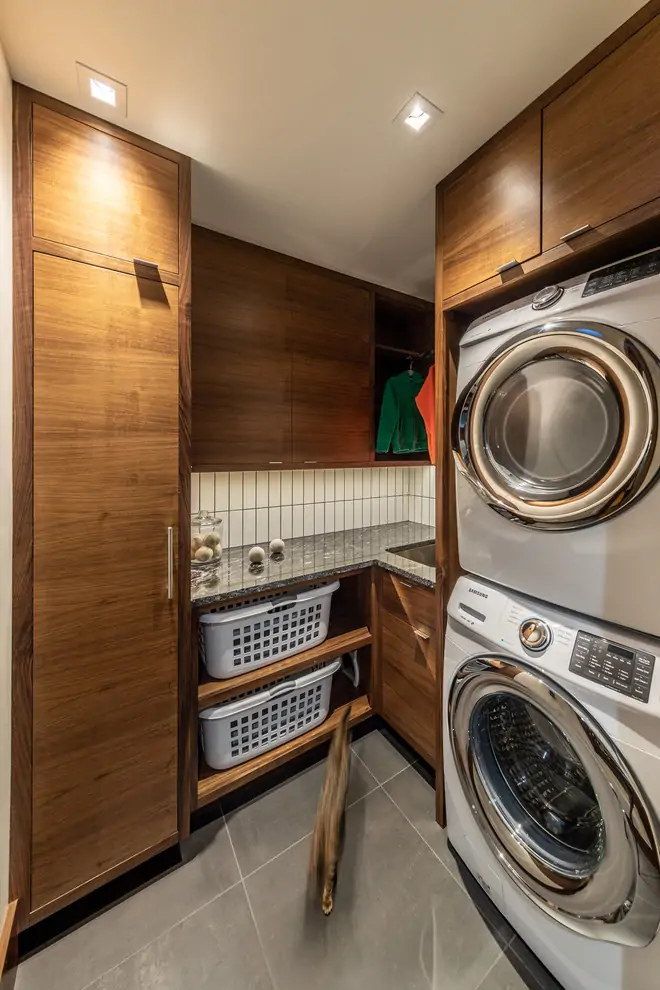 21. Doing It Yourself: a Little Work for a Lot of Impacts
There are a lot of small laundry room ideas for DIY fans since, at its core a laundry room can be elementary: the necessary appliances, a fitted countertop, and some details to brighten the place!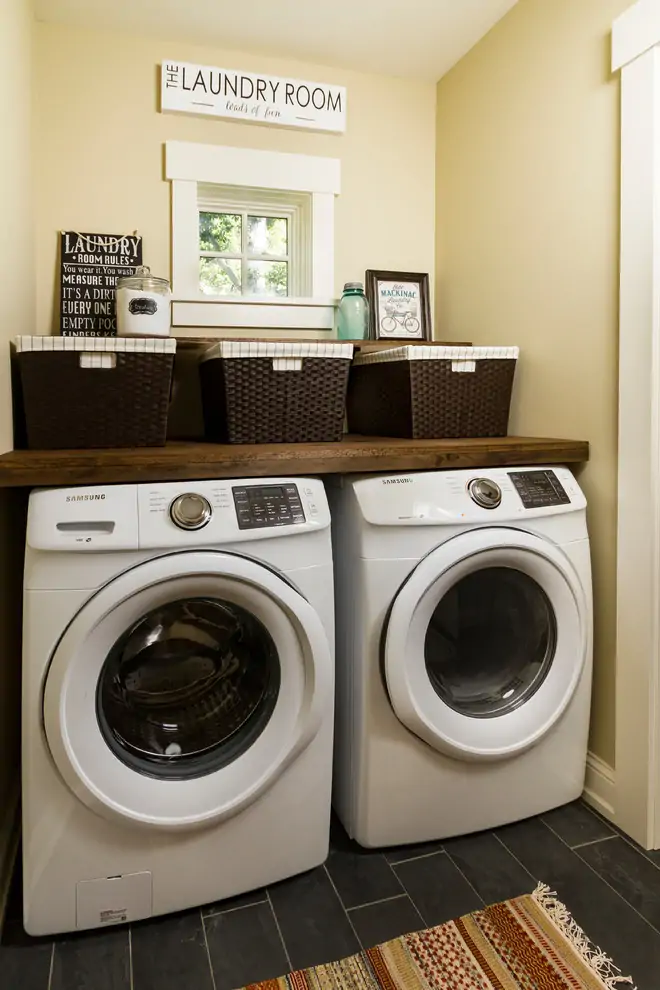 That's it for now — and if our small laundry room ideas have aided you in making your home even sweeter, we're happy to help.