9+ Sleek and Stylish Color Ideas for Your Bathroom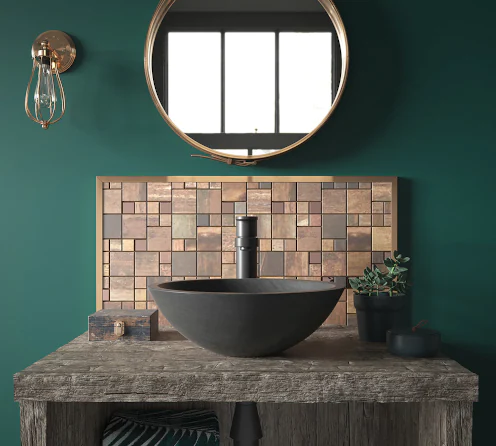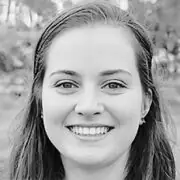 All too often, bathrooms look generic, as imagining unique color ideas for your bathroom can be challenging. Still, as the classic white theme is going out of style, there are many different options that would transform your space from classic and boring to chic and stylish.
Unlike the more public spaces in the home, the bathroom is a relatively private space where you can let your tastes go haywire. Depending on what you are into, your color choices can range from a monotone to a modern style. Don't be afraid to choose colors with more hue to give your area some life.
This article will discuss the different color options and the impact these colors would have on the bathroom space.
Different Color Schemes For the Bathroom
Picking out colors might seem overwhelming because of the endless color ideas for your bathroom walls and various other surfaces. The first step in picking the perfect color(s) is knowing what works for you and what colors go together.
Whether or not you like bright colors, neutral tones, or a monochromatic look, the good news is there are many color palette ideas for bathrooms that will work for you. Rather than coming up with new color palettes, here are some popular ones from which you can draw inspiration.
Neutrals
Neutral tones are among the most common paint color ideas for the bathroom. Neutral tones are popular because they usually make the space feel extra clean, calm, and inviting.
Although neutral colors cannot usually be found on the color wheel, they complement both primary and secondary colors well. The most common neutral tones fall between white, brown, gray, black, and some other shades that result from mixing any of the already mentioned colors.
Brown
Brown is a popular choice and is one of the most commonly used neutral colors for bathrooms. Many people use this color because it gives the space a very earthy and homey feeling. Another reason is that adding accent colors to brown bathrooms makes these new colors pop.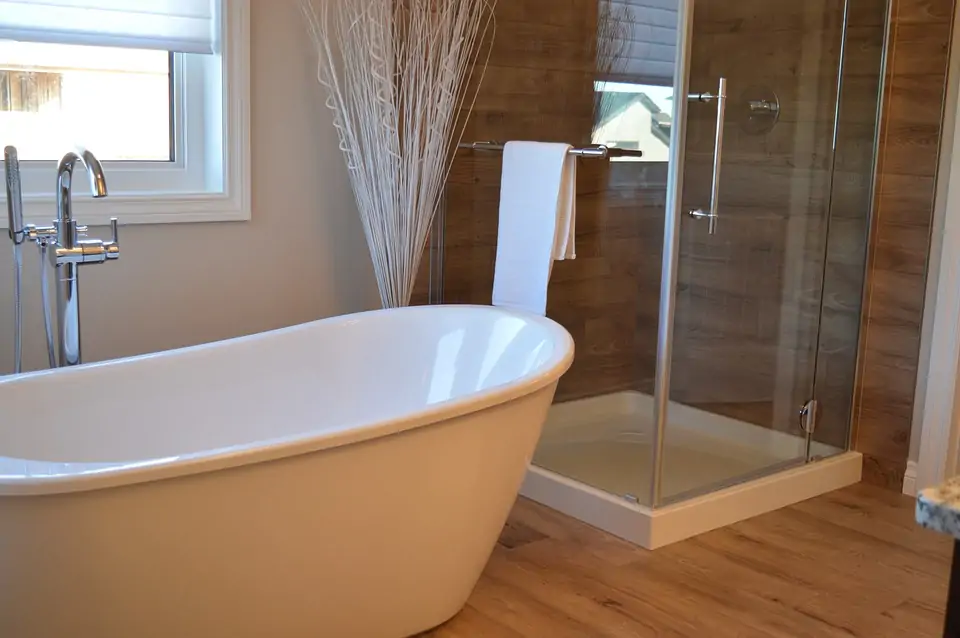 Beige
Another popular neutral color that is one of the perfect paint ideas for a bathroom is beige. Unlike brown, beige can be described as a warm neutral tone that would bring some life into your space. Warm neutral colors are obtained by mixing pure neutral and primary colors. Beige is a perfect example because it can be created by combining white, a purely neutral, and a drop of yellow, a primary color.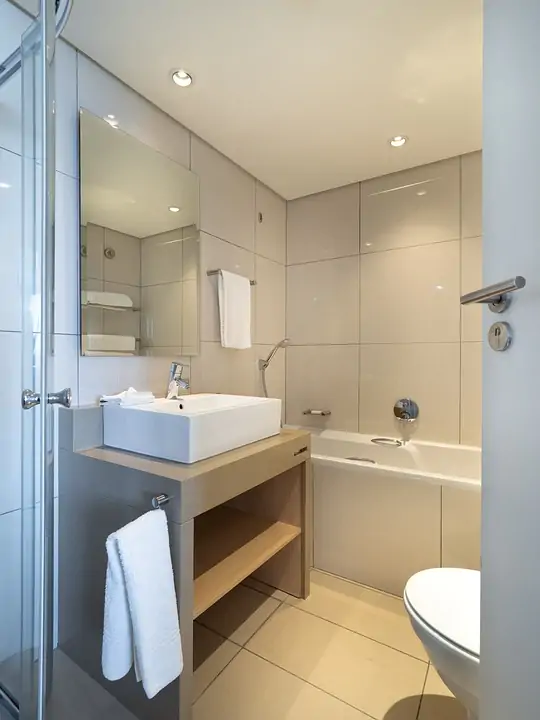 Cream
Like beige, cream is also a popular warm neutral color perfect for bathrooms. Cream is derived by adding a little white to brown or mixing yellow and white, as cream is the pastel color of yellow.
The great thing about neutral themes as bathroom shade ideas is that they complement each other well. Also, they pair well with numerous colors, patterns, designs, etc. If you have trouble settling on any of these neutral tones, you could easily pair them with something bolder to get your preferred design.
Neutrals have a calm and inviting feeling. They can quickly transform your space into one of the most exciting places in your home or office. Another advantage of using neutrals is that they work well with all possible color ideas for your bathroom vanity.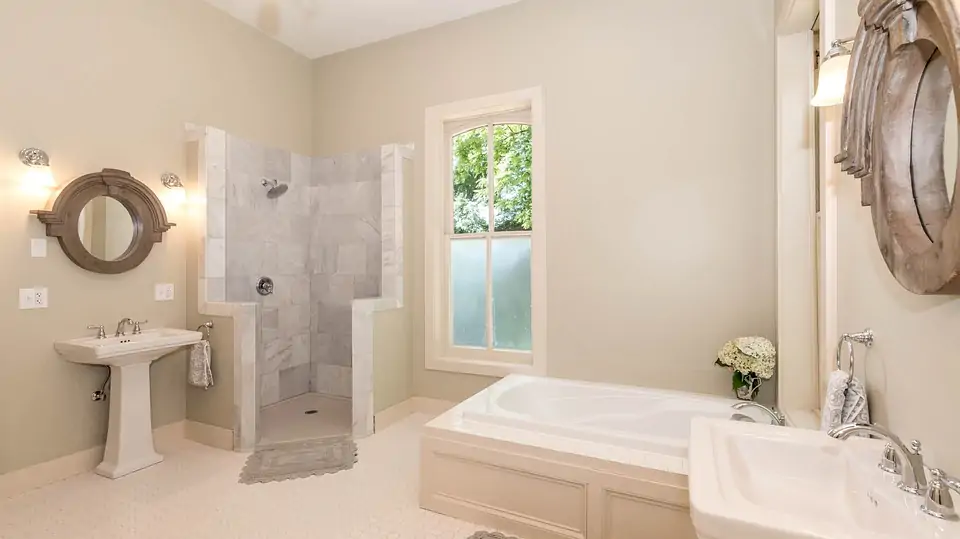 Monotones
Despite the need to make your space feel unique by spicing things up with colors, there is nothing wrong with sticking to a simple monotonic scheme. Two of the most popular monotones are black and white. Apart from these, you can also throw some gray into the mix.
Black
Many people like to make safe choices when picking color schemes for the bathroom, but you can be bold and decide to go black. There are several ways to incorporate black into your bathroom. There is the option of getting black walls, but this could be a hit or miss depending on how you intend to get them done.
Instead of plain black walls, you can try black marble or black brick walls for some spice. Apart from this, pairing black with gold accents and white marble tops makes your space look chic and inviting. Even if you are not a fan of bright colors, you can throw in some greenery to liven up your space even more.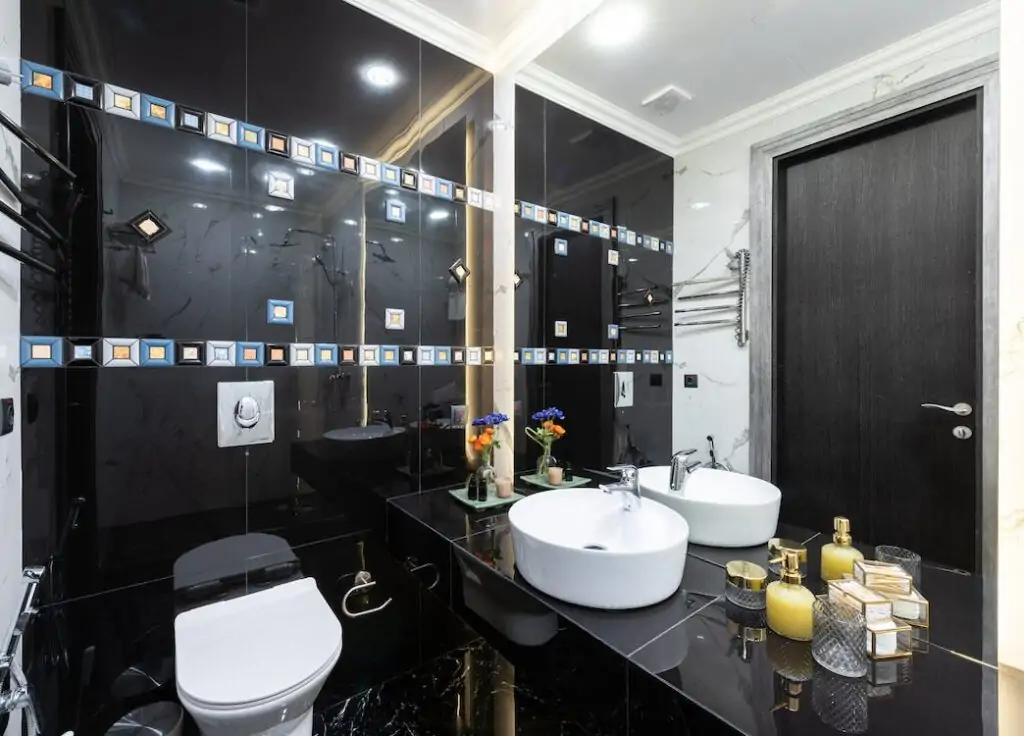 White
One of the most important things to consider before using dark colors is the size of your space. It is best to make your walls white if you have a small space because black is usually not one of the best color ideas for a small bathroom. With white walls, it is almost like you have a blank canvas to build on.
Your tiles don't have to be plain and boring; you can pick any design in another monotone color, like gray. For instance, you could introduce patterns and texture using tiles paired with crisp white walls. Aside from patterned tiles, you could also add unique furniture pieces, artwork, or even a tub.
Also, because your walls are white, there is a chance to explore unusual paint ideas for the bathroom vanity. You could go with a wooden finish or even marble. It is also worth noting that gold accessories and details can work well with a white background.
Gray
When considering monotonic ideas, gray is also a great option. However, to prevent the space from looking dull and flat, there is a need to add more in terms of patterns and designs.
One of the easiest ways to make your gray-themed bathroom idea come to life is to use gray patterns on your walls instead of plain (and often dull) gray. There are several wallpaper options that could fit your vision instead of spending a lot of money on murals. Also, it is easy to transform your space by adding stylishly patterned gray tiles.
You can add different grayish patterns to make the space pop. You could play around with varying shades of gray and even throw in some greenery for a more dramatic effect. Adding wooden accents or metallic gold is also a great idea to tie everything together.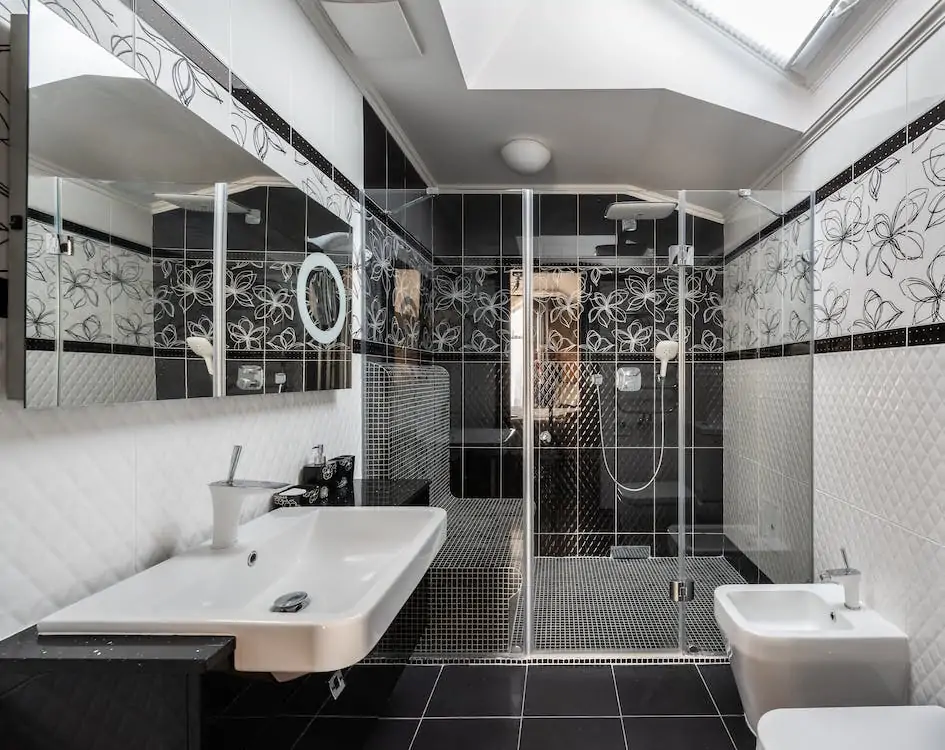 Bold Colors
For several reasons, bold-colored bathrooms are hit or miss. Generally, bold tones are a way to ensure you don't have to put up with boring color ideas for your bathroom walls. Still, with bold hues, you need to decide on what works best for you because, in this department, things can get a little wild.
With bold and highly saturated tones, choosing your preferred option is easy. However, you must figure out how to properly use what you have picked without turning the space into a disaster. It is easy to mess up at this stage, especially if you don't know how to mix and match different tones.
Red
With red, it is best to use it subtly rather than for your entire space. If you decide on red, you could make your area stand out by simply painting one accent wall or your ceiling red.
It is essential to use different shades of red to add variety and avoid making your room seem dull. Red also pairs well with white, black, and natural wood tones. You can incorporate it in several ways, like the tub, towels, or cabinets.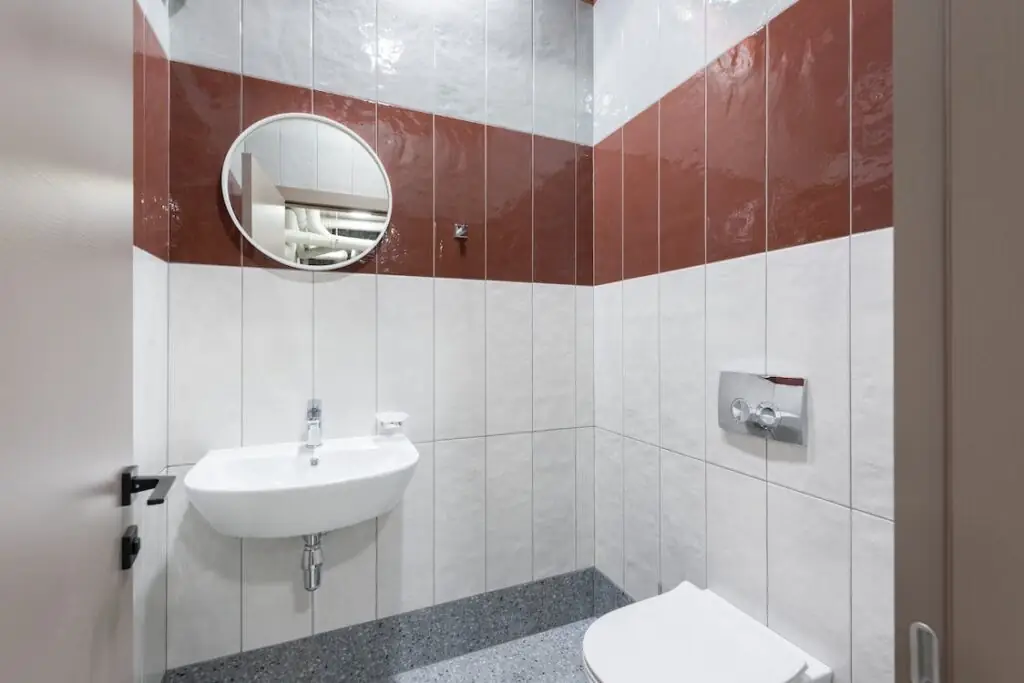 Yellow
Unlike red, yellow is a bit easier to use since it instantly brightens the room and makes it feel much bigger. If you decide to make your walls yellow, providing some contrast by adding some darker shades in the form of accents would work well t.
If you pair a shade of yellow with a bold print or pattern, it is best to use a cooler shade of yellow to draw more attention to the wallpaper. This trick works even better for smaller bathrooms.
Yellow also pairs well with green—for a comforting and earthy feeling, and black—for a sense of luxury and opulence. If your vision does not involve using yellow tones in conspicuous places, you could use them subtly on your tiles. In this case, a cooler shade of yellow works better.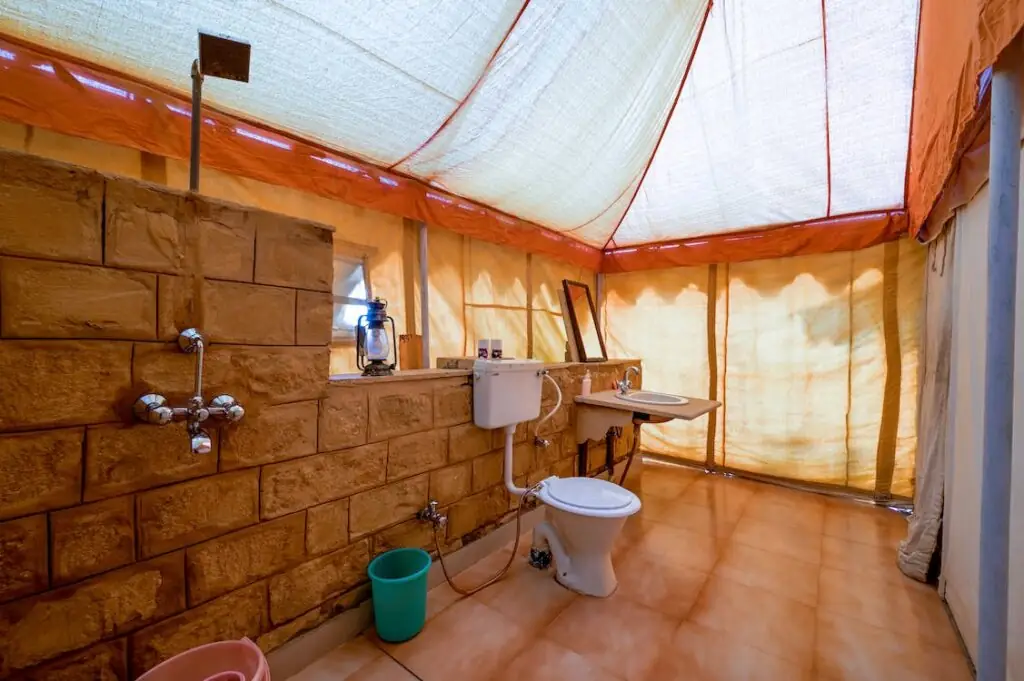 Blue
Like yellow and red, it is easy to transform your space drastically using blue. Blue comes in many shades and hues, and it might be challenging to select from the pack. Once you have chosen a shade that stands out, you can find out how to incorporate it.
One of the easiest ways to use blue is by painting it over all your walls. In this case, because your walls already stand out, other parts, like your vanity or countertops, could be a different but matching theme, like white or even rustic-style wood. This way, your walls are the center of attraction.
Instead of covering your walls in blue paint, you can also opt for incorporating blue in other ways. For instance, you can decide to paint your vanity (or even your tiles) blue. You could also have a bunch of blue accessories, like your towels, lamp holders, shower curtains, etc., to add variety to the space.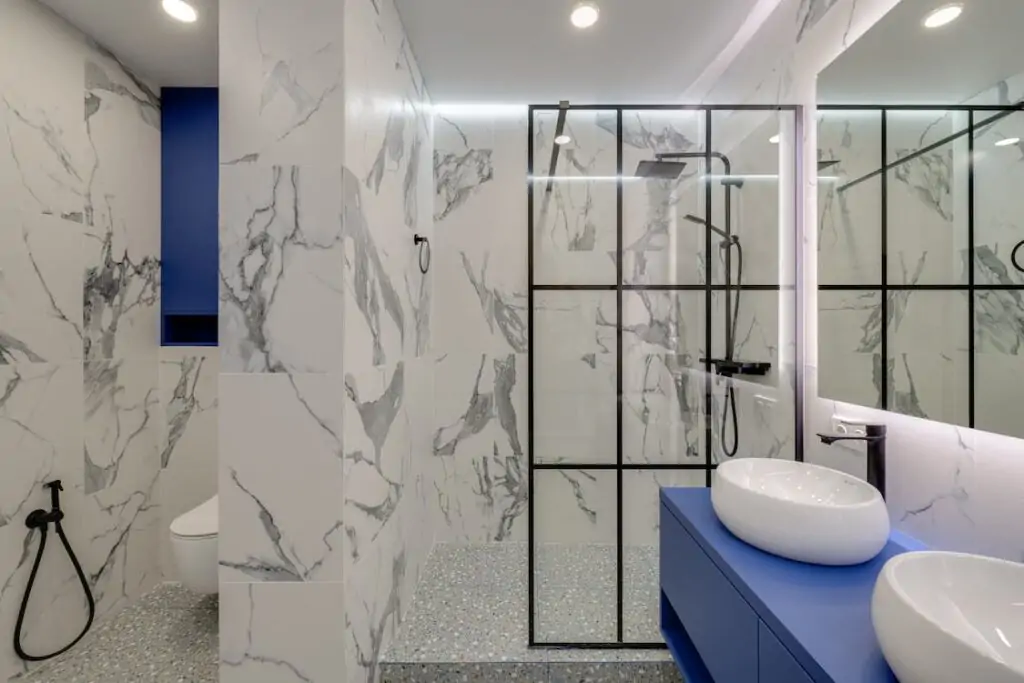 Conclusion
Overall, there are many color ideas for your bathroom to choosing from. Getting the perfect bathroom depends on several factors, like the size of your bathroom, the amount of lighting it gets, in some cases, the type of flooring that comes with it, and the palette you choose.
Finding hues that appeal to your sense of tranquility is the key to success. Once you find them, all that's left is to ensure other fixtures match your paint choice.