17+ Bed Ideas for Small Room to Shape up Your Space Cunningly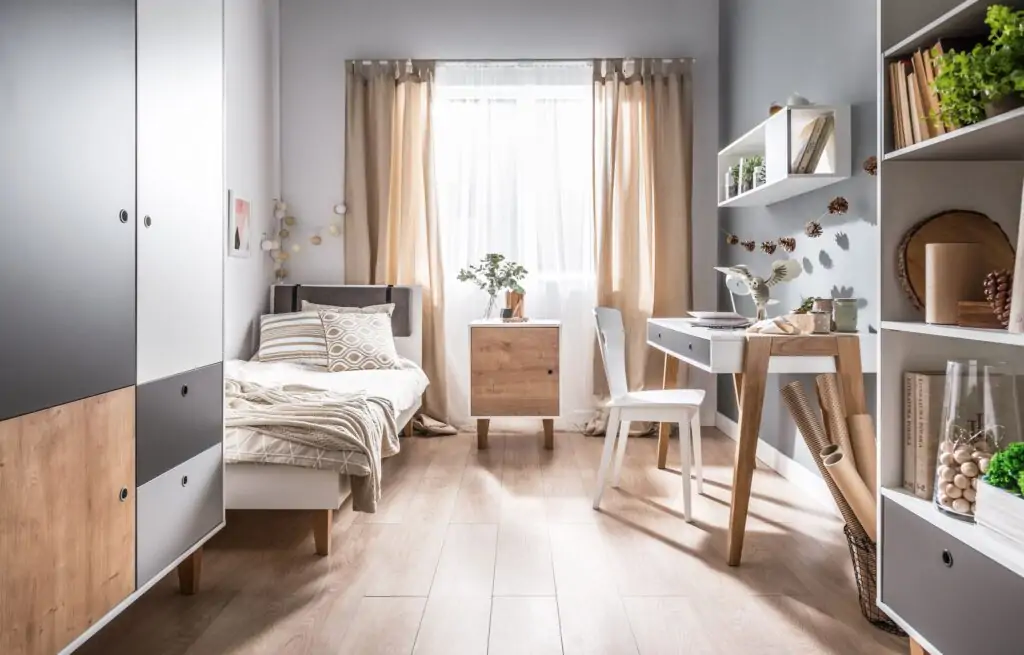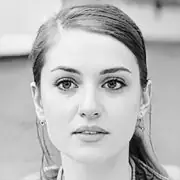 The standard-sized beds may not fit the conditions of a limited area. Below we've collected some space-saving bed ideas for a small room that will forever transform the little corner of your home.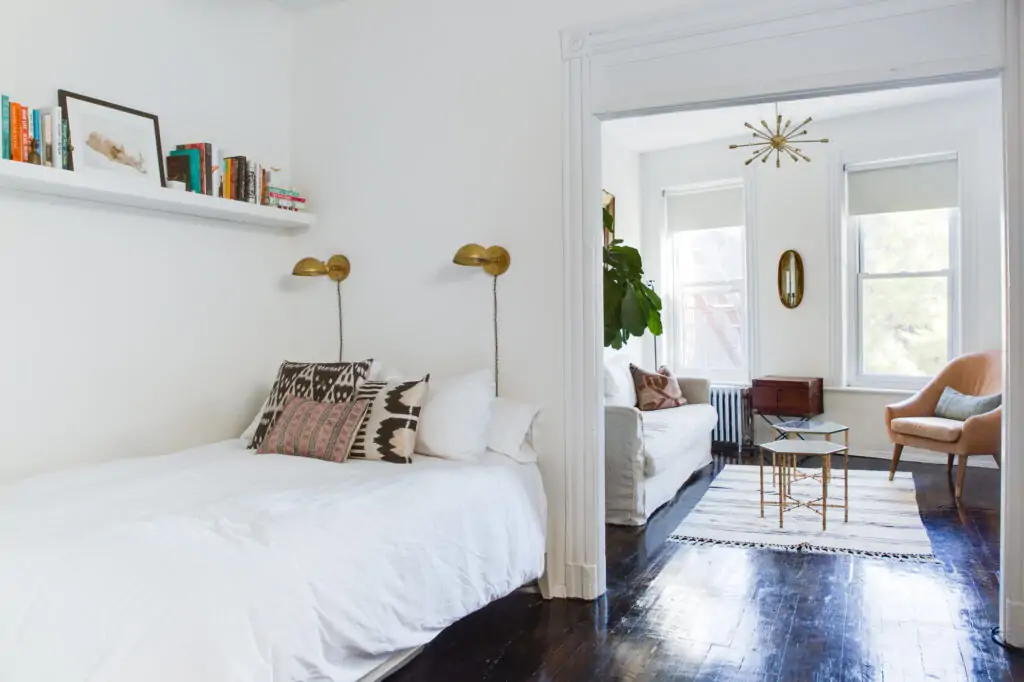 Creating a comfortable and well-designed area is not the most straightforward job if you deal with limited space. It would be best to be extra attentive and determined while designing a compact space because low ceilings and limited floor area can be quite an issue.
However, despite the size, there are plenty of ways to make a tiny room a comfortable and chic place. The biggest space takers are beds, so before designing your room, you must be careful when choosing one. Let's take a look at your – very numerous – options.
1. How to Make a Small Room Seem Bigger?
First and foremost, it is essential to know some special tricks for making the area seem bigger and brighter. Clever use of decorations, furniture, and light can make your room seem visually more significant.
Bring in the Natural Light!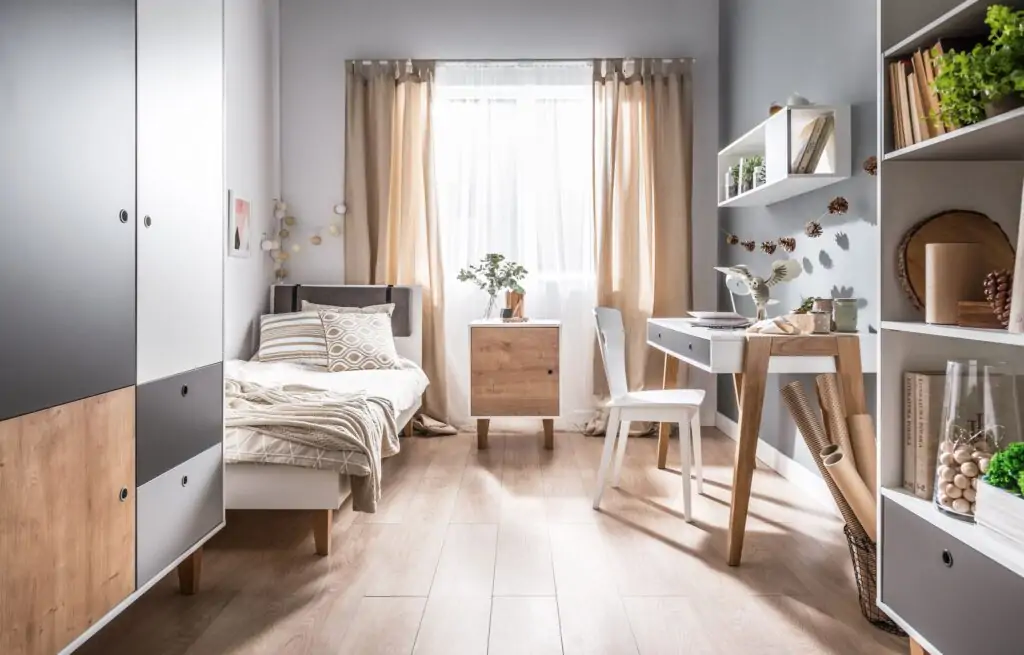 Bringing as much natural light as possible to your area is an excellent way to make the room seem visually more significant. The area will appear more open and brighter. You can cover the windows with sheer curtains, to keep your privacy.
Use Minimalistic Colors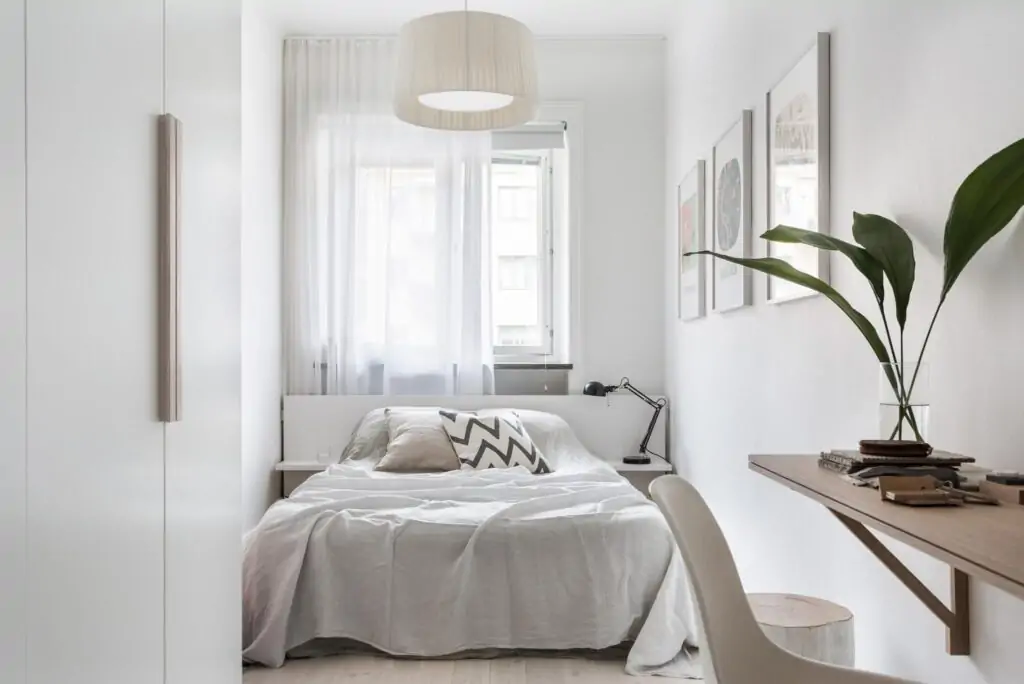 When choosing the wall color, to stay on minimalistic and pastel colors is a wise decision. The color white is an especially valuable color choice for compact room design. It prevents the area from appearing cramped or overly cluttered. Hence your room will seem visually larger if you paint it white. If you are afraid of making the area look too cold with white color, you can add other decorations to drive attention to them, such as plants, bright sheets, etc.
Use Mirrors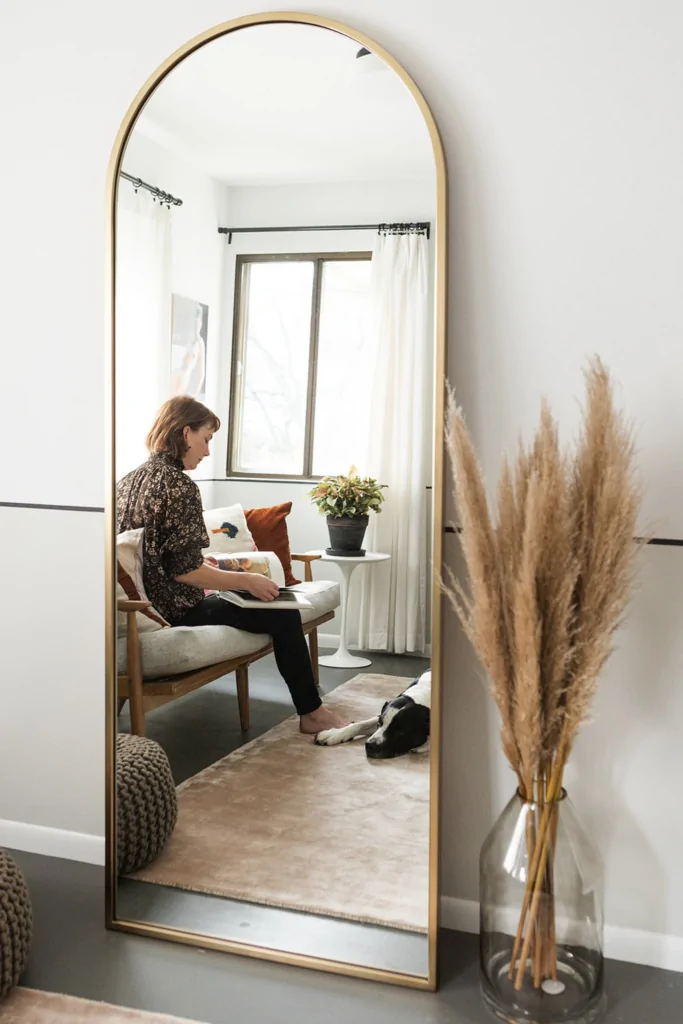 Mirrors enlarge tiny areas by giving the visual impression of a larger space. An excellent way to increase natural light in your room is to place a mirror to reflect the light coming from a window.
2. Placement
While it might seem that there are not many options to pick from when contemplating the bed placement, the exact position of it can play a huge role, especially in a limited space.
Central Placement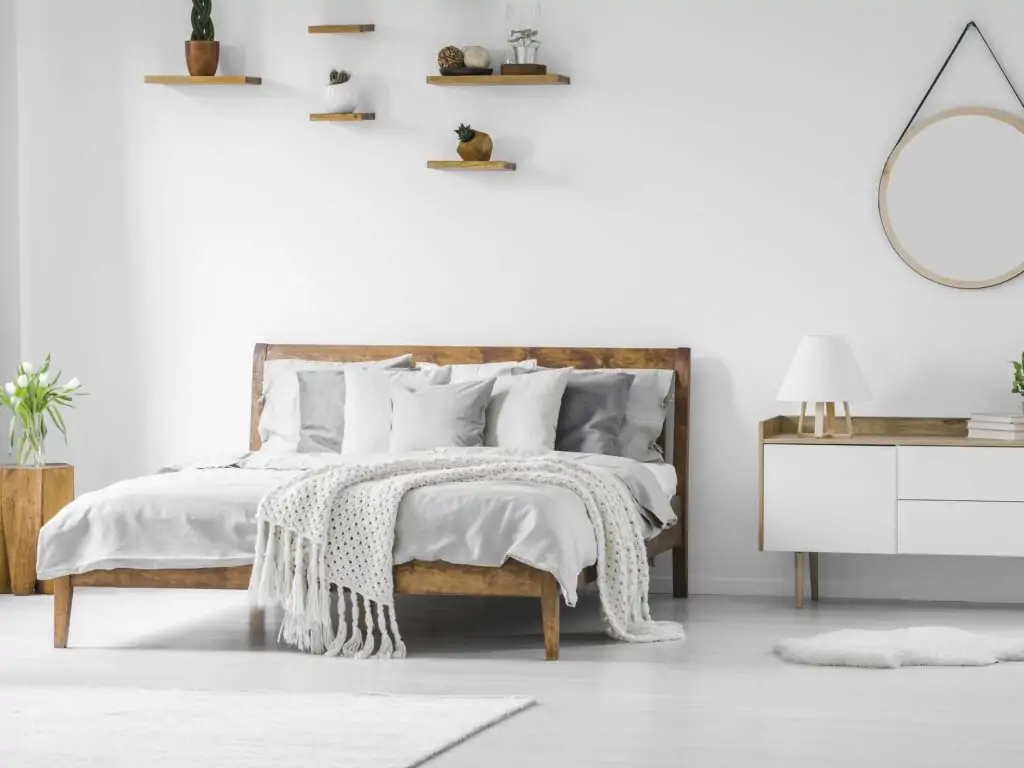 First, you must eliminate all the unnecessary furniture in your room to free up some territory. Central placement when the bed is in the middle of the room's main wall will draw attention to it. All other decorations and furniture should align with it. You can choose exciting and eye-catching sheets and pillows, which will add some charm to your space. This will distract everyone's attention from the size of the room and put emphasis on the central item.
Corner Placement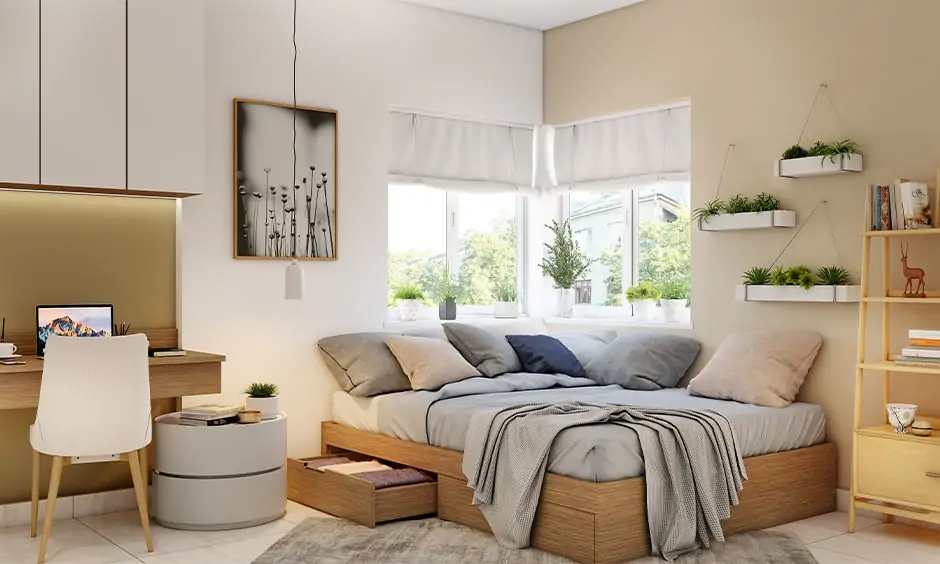 Central placement may sometimes not be possible for specific areas. So the next option is corner placement, which will open the floor area. Make sure to place the bed in the right corner, so there are no doors or other disturbing things around it. If there is a window on one of the walls, you can still choose it as a good place option as it will make a cozy corner.
3. Use a Sofa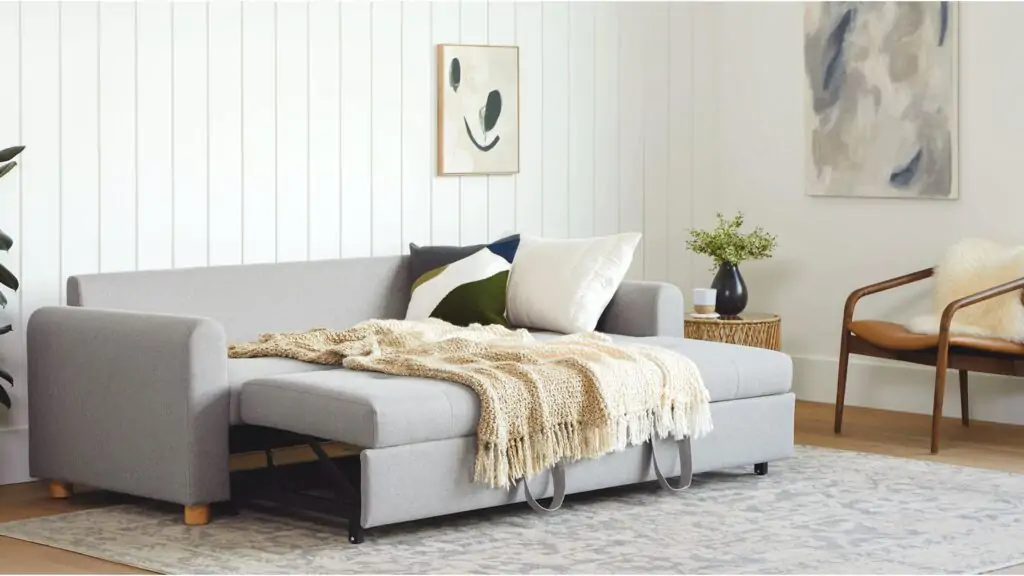 Sofas are genuinely ideal for small spaces. Not only are they very functional, but they are also incredibly comfortable, especially if you need affordable guest bed ideas for small spaces. Sofas open up an opportunity to have a usual place to sleep and fold it when you need some additional floor area. You can pull out your sofa for a sleepover and fold it back the following day.
4. Murphy Bed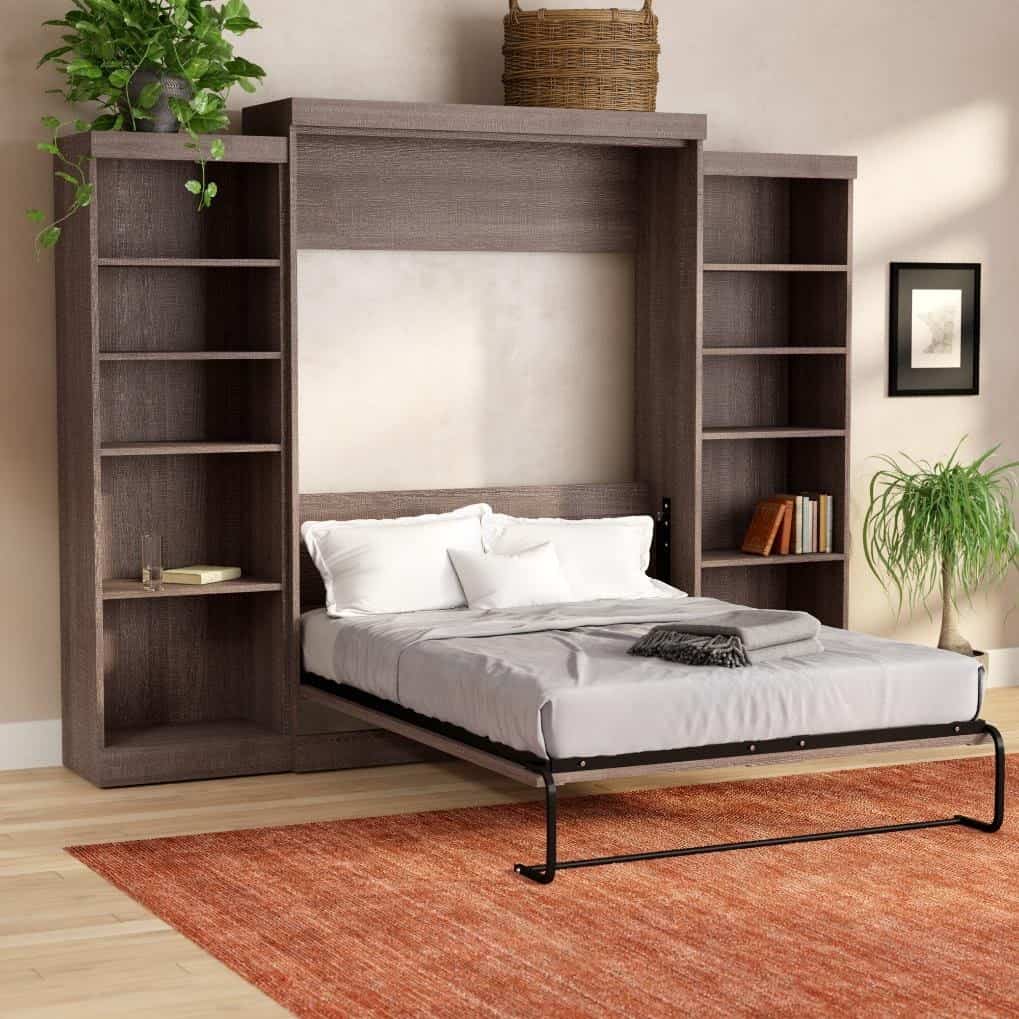 Usually, it is difficult to find double bed ideas for a small room; however, it is still possible to get a solution. A classic Murphy bed idea for small spaces can be a game-changer because it can be stowed away when not in use and leave a large area free. What's more, it won't be difficult to find a comfortable mattress that will fit a Murphy size.
5. Bookshelf Placement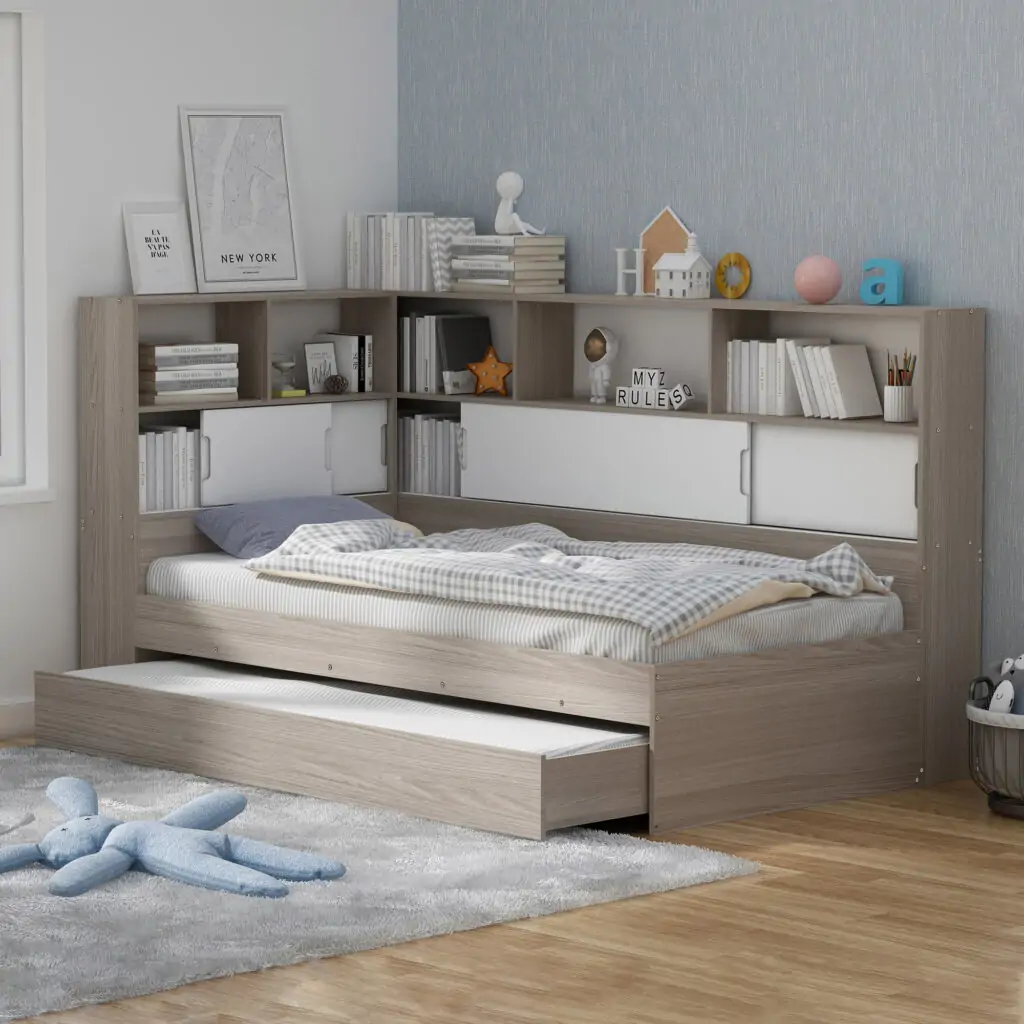 If your area is not only compact but also has a low ceiling, here is a great space-saving idea for you. Design a bookshelf bed with extra storage underneath or above the head. This can be especially suitable for your kid's room as they will be able to store their books and other possessions easily.
Both under the platform and along the length of it, such options feature a ton of storage space. The shelves may keep books and trinkets, while the drawers can hold socks, blankets, and other items you wish to hide from view.
6. Loft Style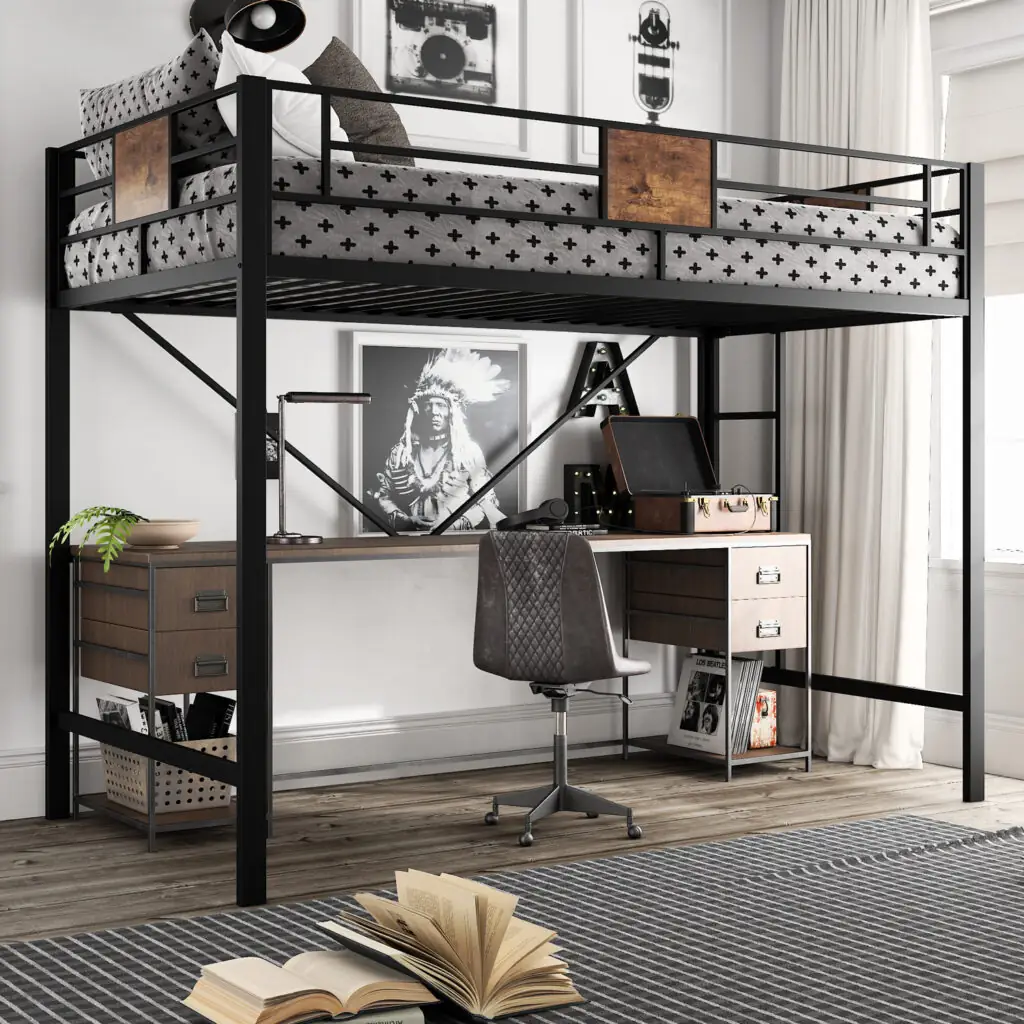 Utilizing a loft style in a compact area is a clever way to add a small desk if you plan to work or study in that room. Another idea is to create a storage or place a sofa underneath the loft bed. You may utilize a similar arrangement in your kid's room as well. Teenagers can use this option to save space in their limited area if they need a relatively large spot for their projects and schoolwork.
7. Create a Hidden Storage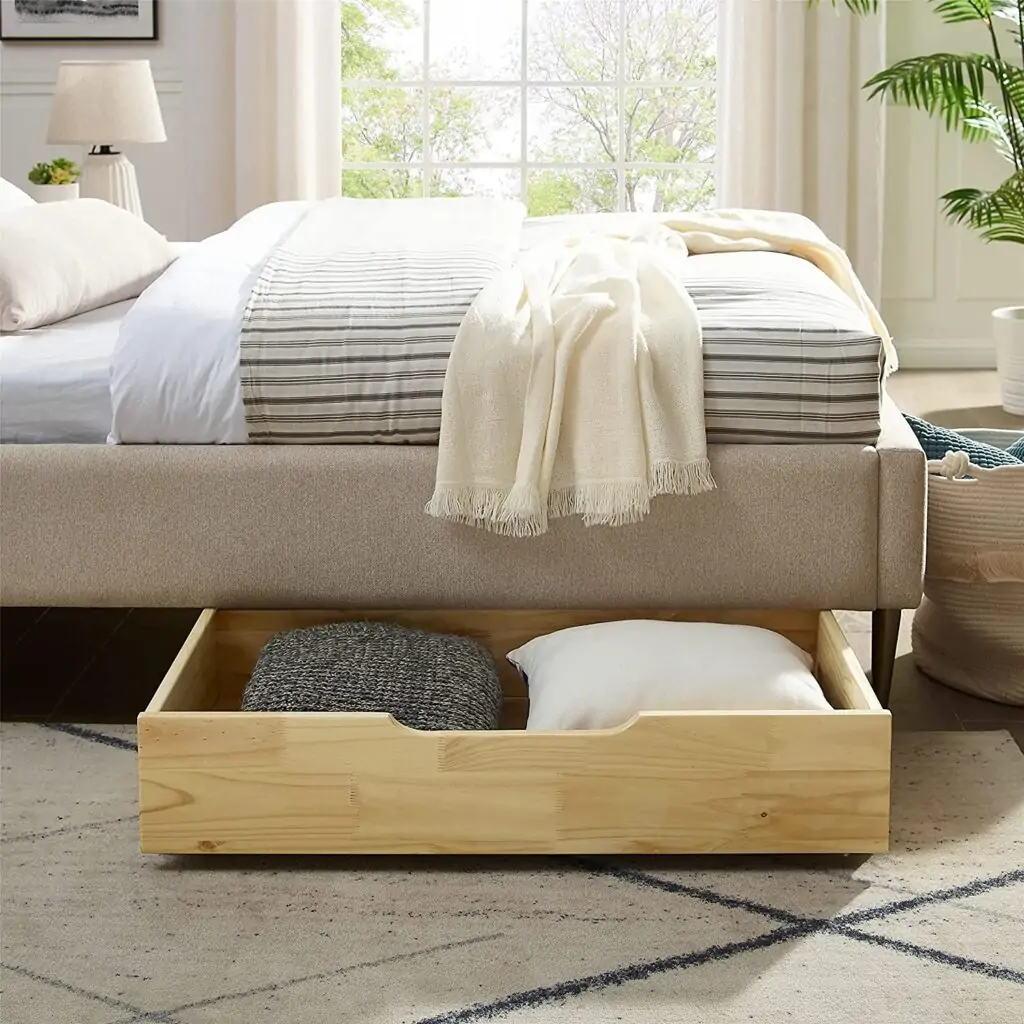 The main challenge of tiny areas is the limited area for storage. That is why we recommend using the beds' lower part to maximize the available space. There are unique options for small rooms, which have shelves underneath them; nevertheless, if you don't want to buy one, it is possible to build it by yourself. This way, your belongings will not take up a lot of visible space and will be easy to get whenever you need them.
8. Design a Nook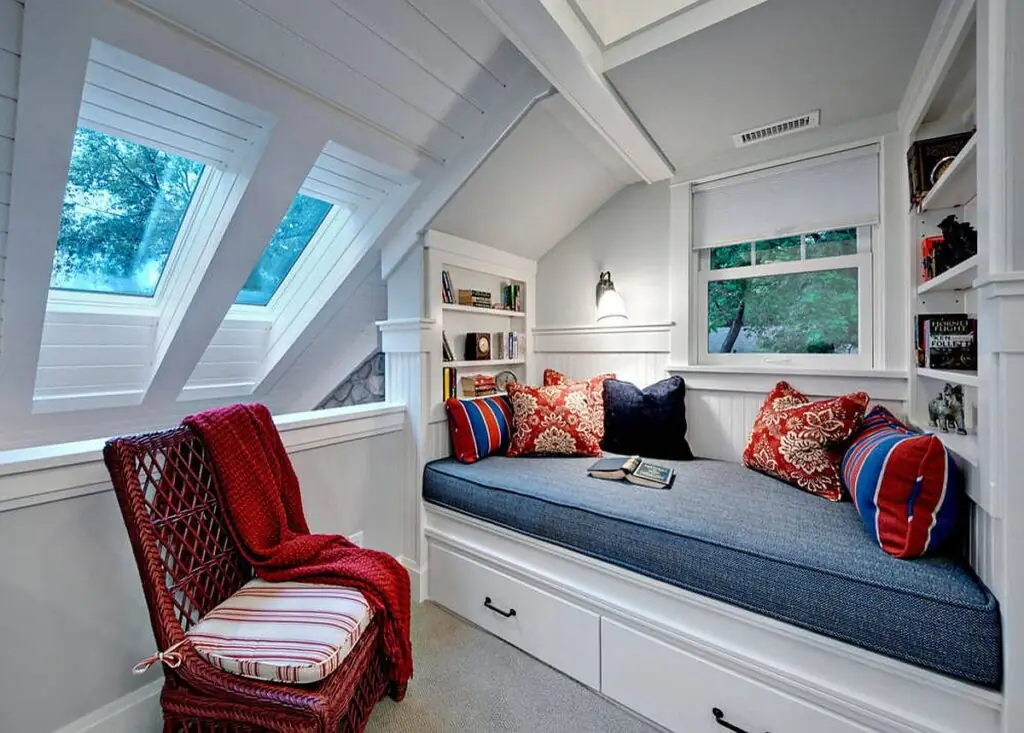 Do you want cool bed ideas for small rooms? Consider designing a bed nook. Bonus points if you want to create it for your kid. A nook allows you to utilize a very limited area and can be super entertaining to be in. When combined with a low ceiling, this idea will work even better because the bed can fit the side of the room and not take too much space.
9. Use Bunk Beds Combined with a Loft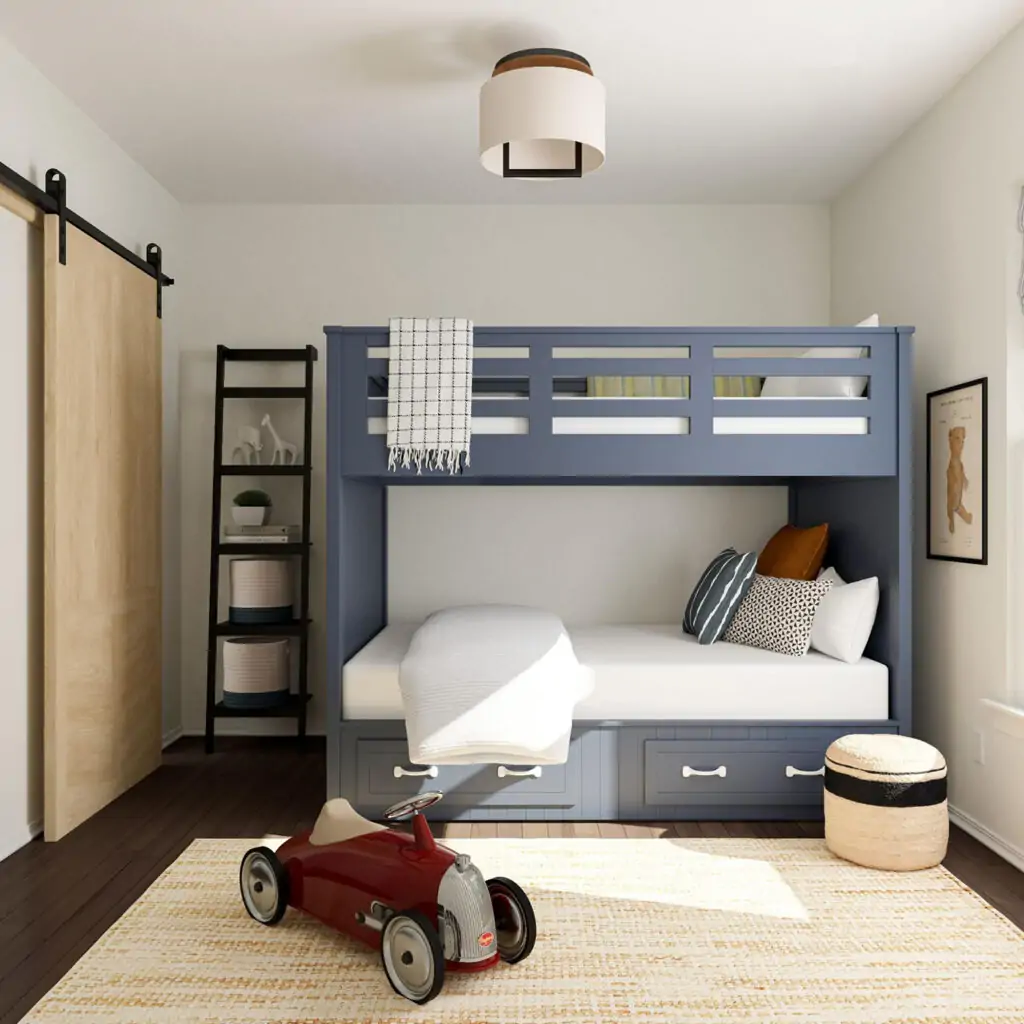 If you have a small space with high ceilings, bunk beds are really what you should be looking for. If you have more than one child, the room will fit them perfectly and still remain comfortable. What's more, you can use loft bed ideas for a small room by placing a desk under the bed so that your kid gets a nice cozy place to study at.
10. Foldable Options
Consider a foldable option if your area is too narrow for constant bed placement. This compact option that unfolds accordion-style into a tiny square is one of the more inventive ideas for small rooms. Unfortunately, it's relatively small and won't accommodate many people. Make sure to consider this option in your list of small space bedroom ideas. Though it may not be the most comfortable, it is undoubtedly better than sleeping on the floor.
11. Trundle Beds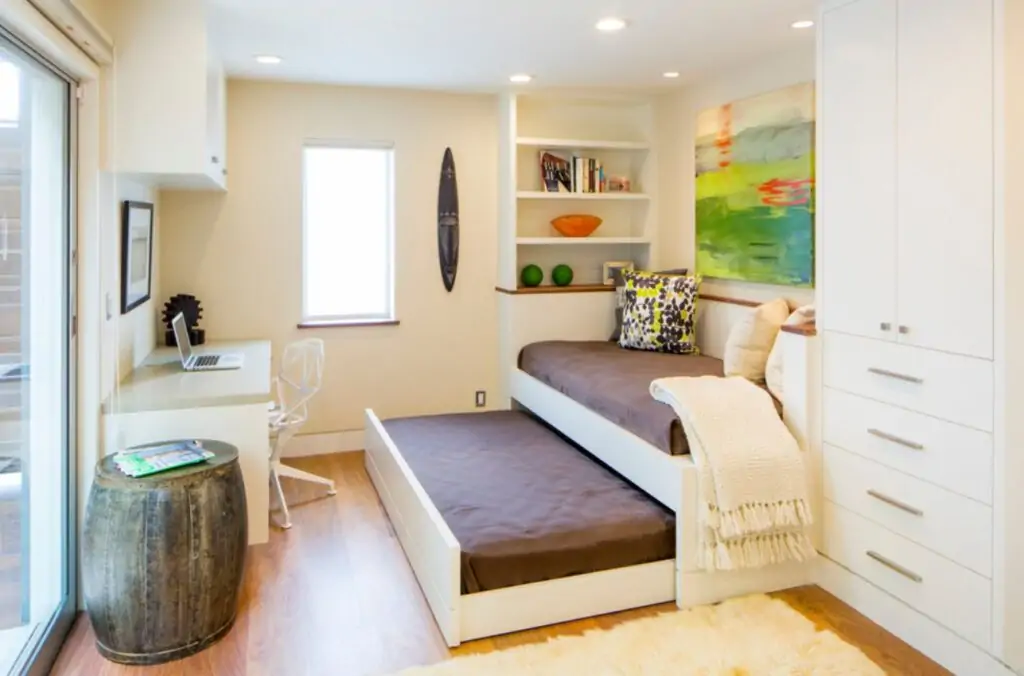 Trundle beds are another great option for a kid's room because two kids can have enough space to play and study. If you need an extra sleeping place, simply roll out the lower part, creating an additional sleeping location. It is also a very suitable option if a guest or friend is staying over for a night.
The main benefit of trundle beds is that they can be unfolded in a matter of seconds. Your children are sure to adore this creative idea. Trundle beds are also a good budget option, so keep it in mind.
12. Adaptable Chair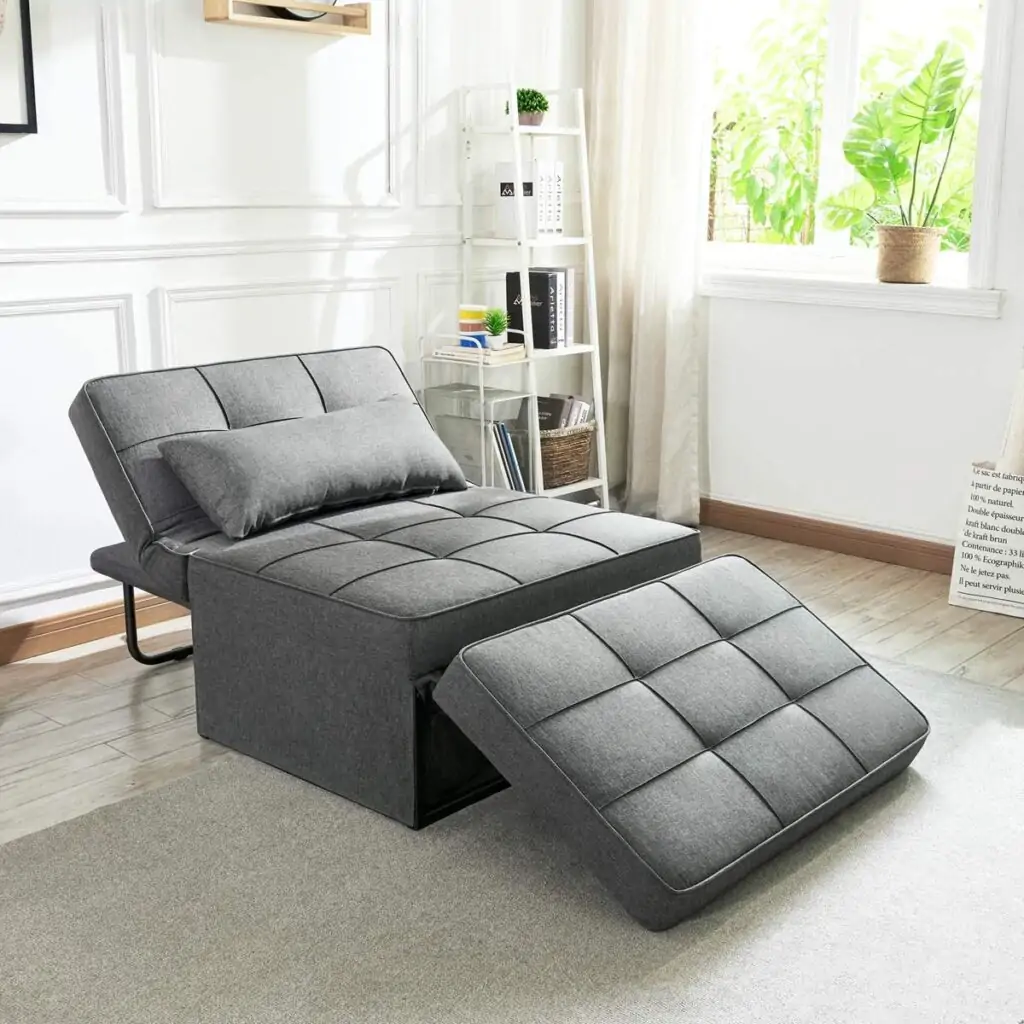 A convertible chair is an excellent alternative if you have a spare space in your house that doesn't need to be occupied by a bed all the time but is meant to be a place for guests to stay. A single chair won't take any considerable amount of space. Hence the area can be used for other purposes, such as the office. Just make sure there is enough space in the room for the chair to extend and become a mini-bed for your guests.
Final Words
There are plenty of ways to design compact areas that are both comfortable and gorgeous; however, you need to have a detailed plan on how to proceed. Beds are the most significant statement in a room, and you must ensure they fit perfectly in your limited area without making the space too crowded. Whether you want a twin or a double-size bed, there are some excellent options on the market. A good choice will both save space and create a feeling of peace. Get inspiration from our list of bed ideas for a small room and start designing the tiny corners of your house!