11 Bench Ideas for Bedroom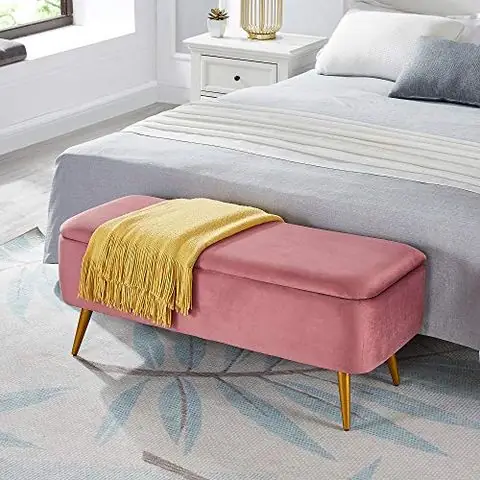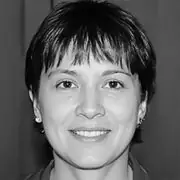 If you are planning to revamp your traditional boudoir to a more classic, chic, and contemporary style, bench ideas for a bedroom are simply indispensable. They embody the perfect classic charm your sleeping quarters need to achieve.
Understand that your bedroom is more than just a sleeping space. It is where you set the mood for your day and unwind from the day's stress-filled activities. Hence, adding a comfortable seat to your bedchamber will be a welcome addition and detail to your space, no matter its style. Apart from this, bedroom seats are incredibly functional while giving your sleeping space that high-end appeal that makes all the difference.
Wonder how to make a bedroom bench stand out or how to decorate a bedroom bench? No matter what you desire, from style to storage and functionality, this guide provides you with some useful DIY bedroom bench plans that will perfectly fit and blend with your room setup.
How Do You Style a Bench in a Bedroom?
Unlike many large home fixtures like desks and sofas, bedroom seating can offer texture and functionality without overwhelming the aesthetic of your space.
However, it can be challenging to find the perfect ideas for bench seating when looking for how to incorporate classic seats into your bedroom's décor. Below, we highlight some of our favorite bedroom bench ideas to update the look of your sleeping quarters.
1. Introduce New Silhouettes and Textures
Most people fail to realize that using similar print and pattern combinations inside the room won't always give that personal and contemporary chic vibe. For this reason, shape and texture play is necessary.
A bench in your bedchamber will stand out from the theme and design of your room when you use prints or designs alien to its main themes and ideas. This addition will offer your sleeping area that beautiful contrast and varied texture it needs to look different.
This picture showcases two small benches with a blue fabric different from others used in the room. Plus, the patterned design on the fabric gives the room a contrasting appeal unlike any other.
If you aim for a more contemporary style, choose a bench that employs both stone and glass materials. The combined texture sets a whole new vibe, especially for a bedroom with wooden tones.
2. Ditch Contrast, Choose a Blended Theme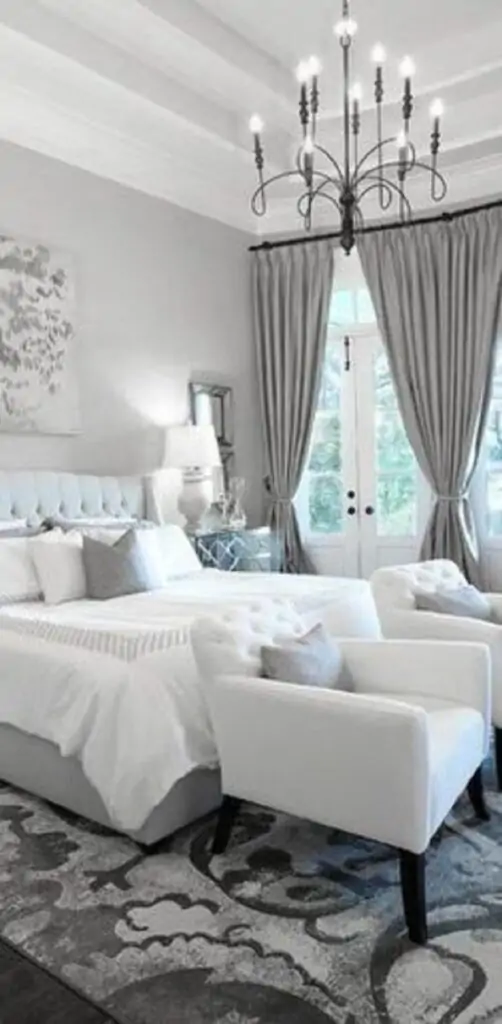 If you are not very keen on a bedroom setup with conflicting shapes, patterns, and other contrasting elements and ideas, your next best decision would be to pick one that effortlessly melds in with the current design pattern and color scheme of your space.
You could either pick the seat fabric to match the same pattern as the upholstered bed frame fabric or the window drapes. Alternatively, the seat material may take the same color as the bedroom space.
Additional Tip: Even if you want a blended theme and know that purchasing a bedroom suite may provide you with the unified setting you seek, avoid buying a complete bedroom suite decor. The simple reason is that you may not get that personal touch you need to make your sleeping area feel like you. Hence, you won't always feel relaxed. Instead, consider getting décor pieces separately, especially the bench. This approach allows you plenty of convenience and space to showcase your personality and creativity in your sleeping quarters.
3. Choose Short Bed Seats for High Bed Frames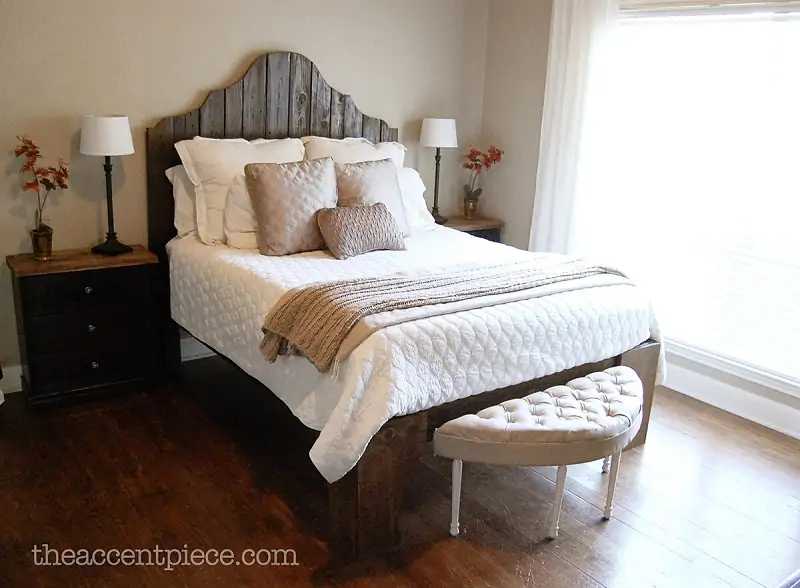 80% of interior designers would often advise using higher seats at the foot of your tall beds since they are wider, higher, and offer more resting support. While higher seats are the norm, rules are meant to be broken, and interior décor rules are no exception, so, let's introduce some fresh design ideas.
Your bedroom benches don't have to be as high, large, or wide as the bed, and this picture showcases just that. In this picture, a smaller seat is placed at the foot-end of the bed to achieve a more chic design.
4. Compliment Accents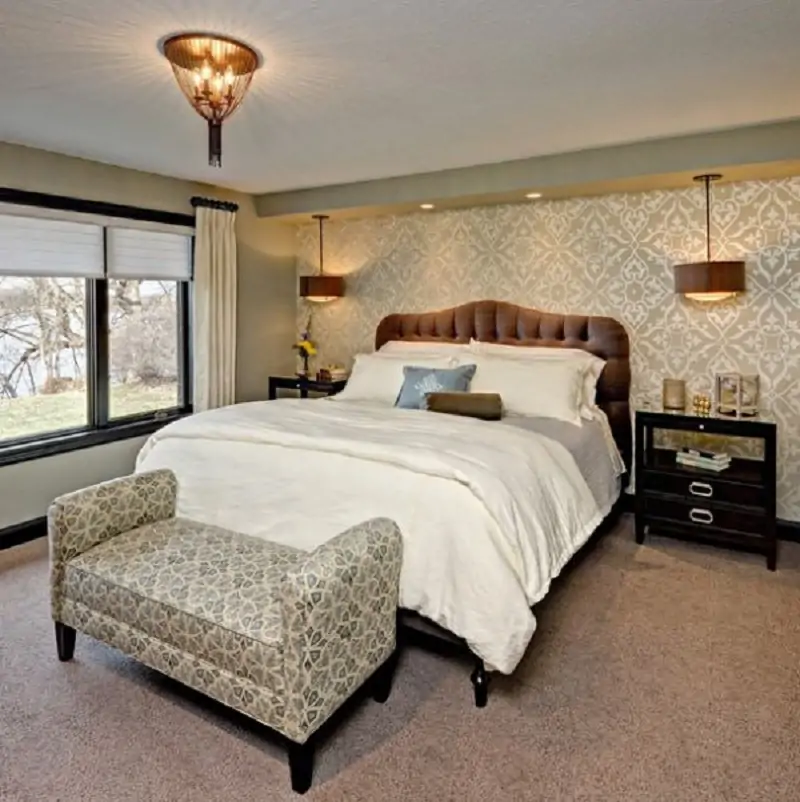 Does your bedchamber spot accents, whether on the bed, frame, pillow materials, or wall? Another way to incorporate benches into your resting area is to pick up on feature designs or colors used in the room. For example, the seat in this picture complements the accent walls so that the decor matches effortlessly.
5. Tuck All the Mess in a Storage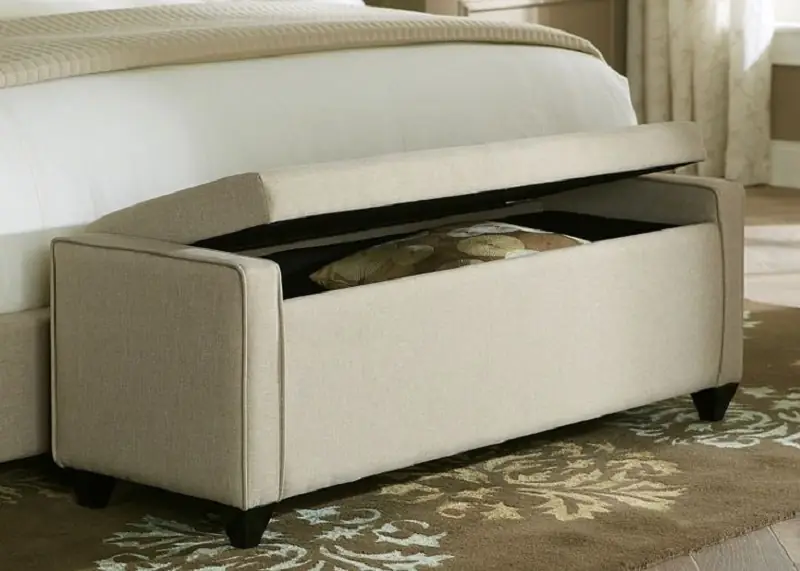 Do you have lots of clutter and no space to relax in your room? Bed seats also come with innovative designs that help them serve as a seating area and double up as storage. Storage features like this mean your room will always look clean.
The ideas for getting additional storage space like the one shown in this picture will come pretty handy for storing bed sheets, pillows, books, and other small items that demand space.
6. Experiment with Crazy and Unexpected Colors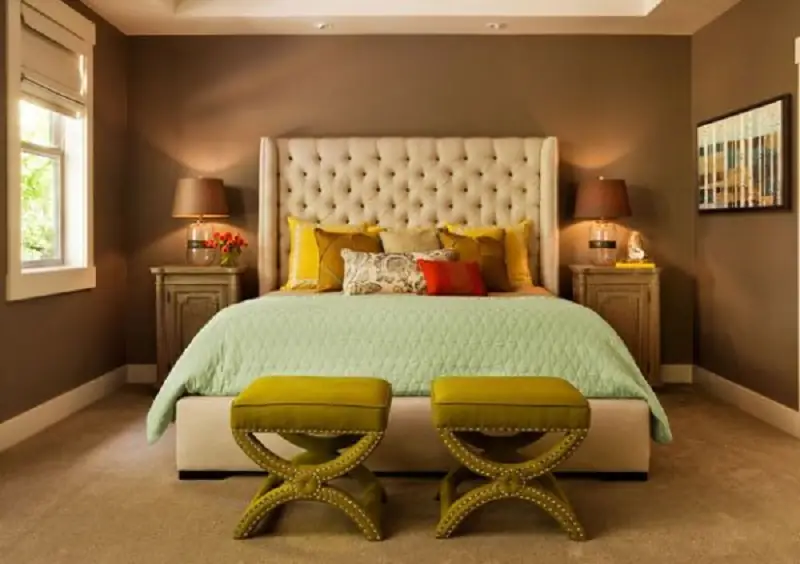 For those that love the vibrant and colorful assembly, choosing a multicolor seat will also project your vivacious personality while improving the atmosphere of your room.
Another perk of using different colors is that you get many results that meet your taste no matter the color combination you try on your bench. The only downside to trying these color combos is that many people would think up the same color as you. To give your bedroom a unique facelift, experiment with different colors people won't expect to see in a room because designing your room seating is all about finding what works best for your bedchamber.
7. Forego Foot End Benches, Choose Window Seats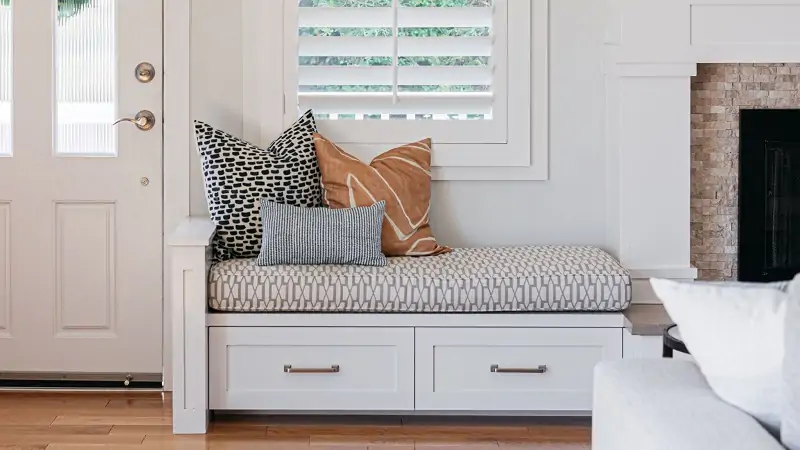 Rather than the conventional foot-end benches many people opt for, a classic way to create a unique statement and enhance your boudoir style is to add a cozy window seat.
The perks of this feature are that it allows you to enjoy a relaxing time while basking in the natural sceneries. It also provides the perfect spot for a refreshing morning cup of coffee while you read. Just add a pillow as an accessory and open your windows, then you get to experience the joys of having a seat in your bedchamber.
8. Choose Minimalist with Simple Accessories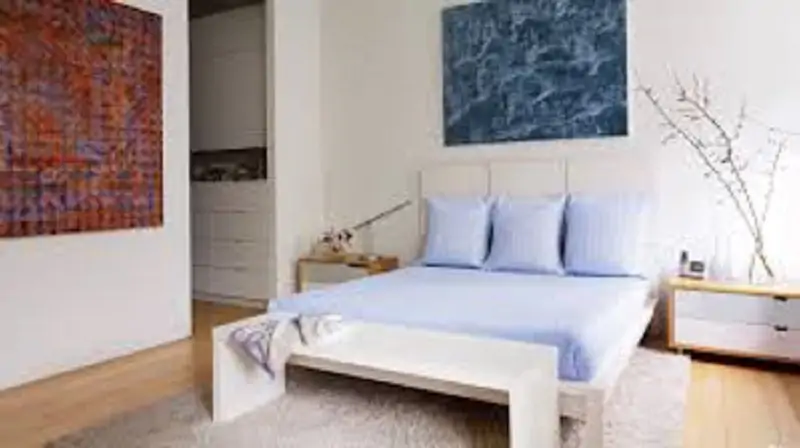 If you feel that the all-white color theme in your sleeping quarters needs a vibrant touch, adding a bed seat with unique, yet, minimalist textures, patterns, and colors will improve the aesthetic appeal of your room without compromising on its simplistic feel. Adding some form of chair accessories will also heighten the overall appeal of your chair.
9. Contrast with Tufted Headboard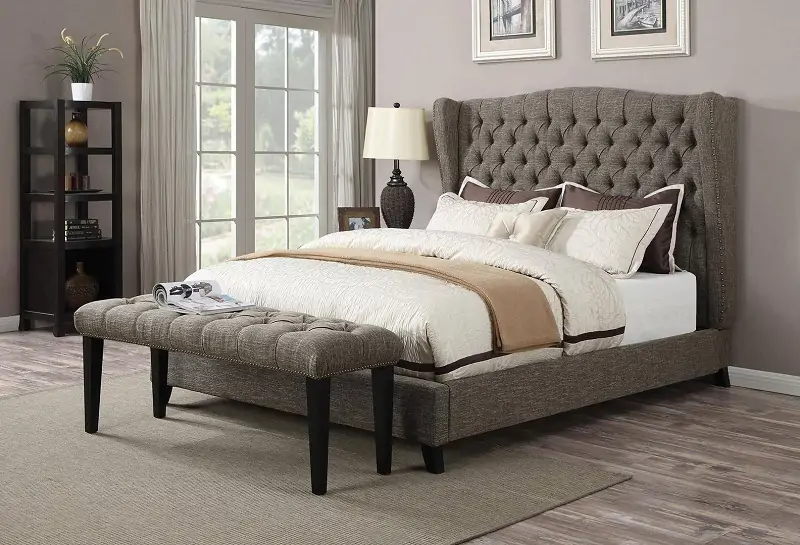 If you have an upholstered headboard, take advantage of the upholstered and tufted pattern on your seats. So, instead of the traditional benches, get an upholstered bench. However, choose one with a tufted pattern different from the headboard. Variations of the same pattern tufting create an interesting result.
The bench matches the headboard but features a vertical tufting pattern instead of a horizontal one. Alternatively, choose one that has deeper tufts but follows the same headboard patterns.
Perfect for any sleeping space, this bench features wooden legs with a comfortable foam cushion, gray fabric and decorative button tufting that matches the upholstered bed frame. With this setup, this seat adds a dramatic feature to your modern sleeping space. The taupe fabric and buttoned tuft blends with the natural wood base to offer a pleasing, contrasting and two-tone look that stands out.
10. Bring the Rustic Vibe into Your Space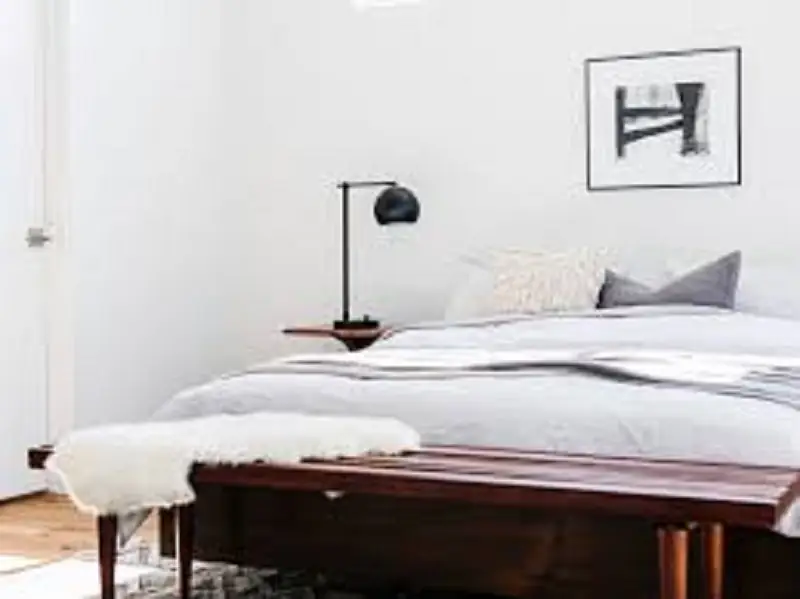 Love the traditional setup more than the contemporary one? This simple wooden brown chair gives your space a movie-like rustic vibe. 100% crafted from acacia wood, this bed chair is durable, provides plenty of space to lie down and offers more functionality than most bed seats. The glossy finish and sturdy wooden legs makes the baby-blue color scheme of this room standout. The best part is that even if this seat does not act as a storage bench for the bedroom, it is versatile and will leave a charming accent wherever you place them in your home.
11. Go for Storage Bench with Arms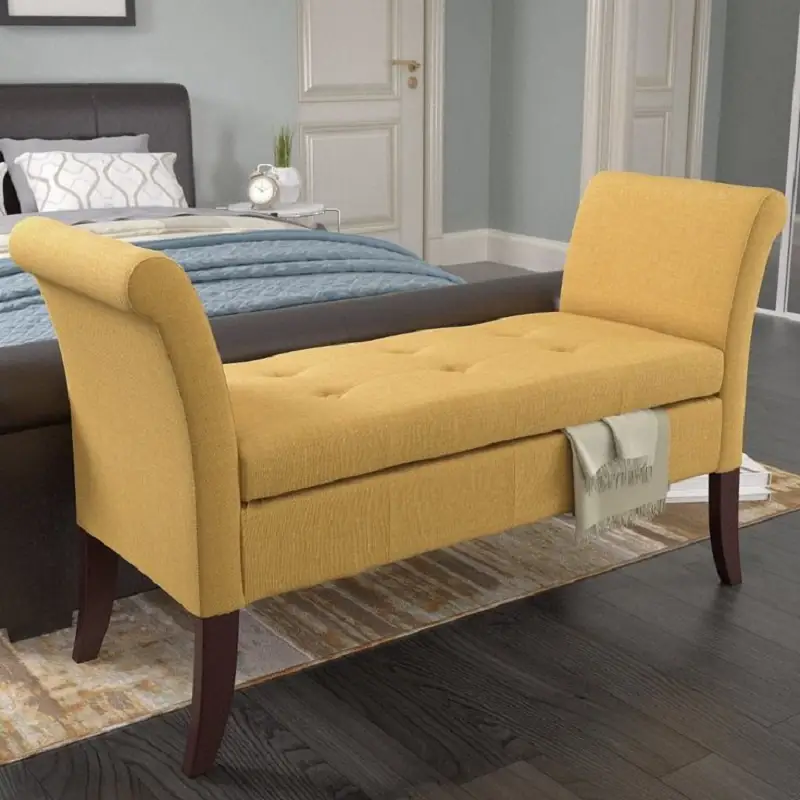 Typical benches used in a bedchamber come without an armrest or backrest. Yours don't have to follow the norms. For a classic modern look and convenience when sitting, opt for a seat with an armrest. The best part of these bedroom storage bench ideas is that they are great for people with mobility issues, back pain, or herniated disc.
Wrapping Up
Benches are a stylish addition to your sleeping area, especially since they come in different shapes and introduce different colors, materials, and textures that stand out. However, you need to understand that peace, relaxation, and tranquility is the greatest objective when refurbishing your sleeping area.You may focus solely on appearances in other spaces like the living room, bathroom, and dining, but in the bedroom, comfort is supreme. Hence, when considering design ideas for a bedroom bench, the functionality should always precede form. Hopefully, these bench ideas for a bedroom will add the functionality and glamor you need to make your traditional sleeping quarters stand out.